Show Dogs - Family Comedy
Natasha Lyonne, Orange is the New Black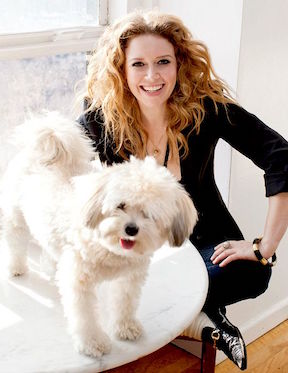 SHOWTIME TV's Orange is the New Black actress Natasha Lyonne is promoting the release of her latest movie, Show Dogs. Natasha is excited about her new movie, Show Dogs, and tells is she loves it so much! She even had fun watching it. She wishes she were only in this movie forever, as there was so much joy in this movie. She loves dogs so much and was fully blown away that they have figured out how to make dogs talk. She is forever impressed!
Also co-starring in the movie is Will Arnett, Ludacris, Stanley Tucci, RuPaul and Shaquille O'Neal. It's just a very satisfying bunch of people and the dogs are amazing. She said she had so much fun going to the premiere of this movie and this is what entertainment should be, which genuinely makes everybody feel good and happy.
Everyone has heard of the famous quote by W.C. Fields, "Never work with animals or children." Natasha explains that this quote actually came up at their press junket. It just so happens that one child had a great question and asked Will Arnett, "Is anyone famous in the movie?" Natasha said it was very thrilling to watch him experience that roast!
Personally, Natasha said she would prefer if everybody she worked with were a dog. She tells us she would change the quote and say, "Only work with dogs and only work with animals and never real people." That would be fine by her. She claims that if you really think about it, dogs are naturals. Like if an actor's whole job, take for example Meryl Streep, is that she wants to communicate the human experience, the human condition, what it's like being a person and Meryl's so brilliant at it, but a dog does that all very naturally. They don't even have to work for it. They are always method acting because they're already dogs. They have no egos and all they want is to make you happy. They're really the best. Natasha wasn't surprised that they had much better catering than the humans did on the set. Also, during filming, they got much more coverage and close ups and direction that the humans did. Natasha was fine with all of it, as she said they deserve it - they're dogs!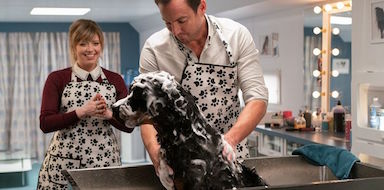 While she has a boyfriend, Natasha tells us her full time job is taking care of Root Beer, her dog. Her ex-boyfriend, Andrew, is Root Beer's father, so she spends a lot of time organizing Root Beer's routines and visitation. Natasha tells us that Andrew recently had a baby, so they're like a very modern family with Fred, her current boyfriend, Root Beer and the new baby. She says it's very integrated and obsessive, like only a true obsessive pet mother could be. It's like the world revolves around Root Beer.
Root Beer is a Malti-Poo, and Natasha sometimes likes to scare people by telling them she has a Rottweiler and then shows up with Root Beer. She said it's too easy!
Natasha describes herself as a very bad pet parent when it comes to rules. Not only does Root Beer sleep in the bed with her, Root Beer sometimes even sleeps on her face. She tells us she has read articles about sleeping with pets and that she knows that Root Beer thinks she's the boss. However, Root Beer comes from a broken home she's doing her best.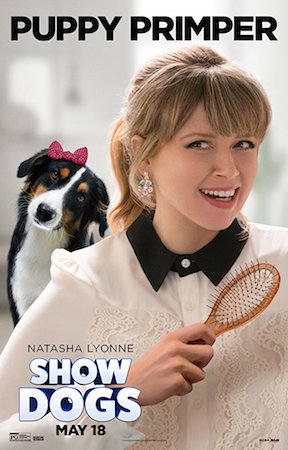 And what about pet manners, does Root Beer always pee outside? No, absolutely not. In fact Natasha asks us for tips to train her dog to pee outside. Perhaps she's too old to change, she's four years old, but Natasha claims that she doesn't look a day over two months. She's so gorgeous she can get away with anything.
Of course we had many solutions. Judy Francis' solution was to train her on the BrilliantPad, the automatic indoor dog potty. Hal Abrams' solution was to rip up the carpet and let her go right on the concrete. And last, but not least, Dr. Debbie's solution was to have Natasha move her bed outside and place it on a grassy area.
According to Natasha, Animal Radio is really all about solutions and she appreciates that out of the box thinking. She said she will be moving her bed outside in New York City.
Show Dogs opened May 18th starring Will Arnett, Chris "Ludacris" Bridges, Natasha Lyonne, Jordin Sparks, Gabriel Iglesias, Shaquille O'Neal, Alan Cumming, and Stanley Tucci. Show dogs is a family comedy about the unlikely pairing of a human detective (Arnett) and his canine partner Max (voice of Chris "Ludacris" Bridges) a macho, solitary Rottweiler police dog is ordered to go undercover as a primped show dog in a prestigious Dog Show, along with his human, to avert a disaster from happening.
This is an adorable movie that has a sweet message - never underestimate the underdog (pun intended!).




Psychotropic Drugs - For Humans & Pets
Dr. Lisa Radosta, Fear Free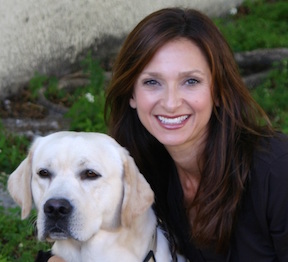 Dr. Lisa Radosta explains the use of common human behavioral medicines, including Prozac, for use with anxiety-ridden dogs and cats. She says veterinarians are more eager to prescribe psychotropic drugs to help our pets live a Fear Free life.
Along with the anti-depressant Prozac, there is another branded product called Reconcile that has FDA approval for use in dogs, says Dr. Radosta. Then there's a completely different anti-depressant, in a completely different drug class, called Clomicalm, also approved for use in dogs. These two medications are approved for use in dogs with separation anxiety.
However, dogs aren't the only animals that need anti-depressants; sometimes cats need help as well. Dr. Radosta explains that there are lots of pet parents out there with cats and cats need some help too with better living through chemistry just like the rest of us.
The medications that are used in cats are called extra-label or off-label use. Cat owners need to know what that means, because a lot of the medications that your cat takes are extra-label or off-label. What this means is that the FDA has not gotten their hands into these drugs so they are not approved for use in that species or for that problem. However, that does not stop veterinarians from using these medications, because there are studies out there looking at Prozac, Buspirone, Valium, Clomicalm and all kinds of what are called psychotropic medications for cats. While there is a lot of information, these drugs are not necessarily FDA approved.
So how do you know if your pet is a candidate for these drugs? You're going to look for help when your pet's quality of life is affected. So for dogs, let's say your dog has separation anxiety and they are at risk for hurting themselves while you're gone, they're destroying your house and they're panicking. A panic response, if you've ever had one, affects your quality of life. And if your dog is going through that every time you leave, or with every thunderstorm, his or her quality of life is affected. If so, you need to seek help.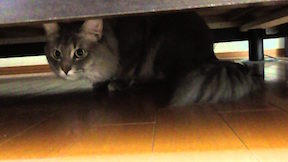 Does your dog lunge at other dogs or people on the street? Think of this example. You are with your friend and you are walking down the street together. You're going to go and have some coffee at Starbucks and your friend starts screaming at the guy across the street. They are acting like a crazy loon. That's what this lunging and growling is that your dog is doing. You're going to tell your friend that they need some help and that they need to go see a doctor. So it's that kind of thing that means your dog or cat needs help too.
You really need to be very critical if you have a cat. Many cat owners think that a hiding cat is normal. He's under the bed. That's normal. No, no, no. That's not normal. That means he's scared. So a cat who's under the bed a lot, a cat who bites you, who urinates or defecates outside of his litter box, these are the signs that help you to see your pet's stress and that they need help. Not every one of these pets needs a medication, but they certainly need help because we all deserve to live our very best life. Even if they have four legs, they still deserve that best life, says Dr. Radosta.
It seems that veterinarians are pretty eager, more than they have ever been, to sedate or medicate animals. Dr. Radosta says this is true that veterinarians want to sedate more than ever when it comes to veterinary visits. They don't want animals to walk through their lives like zombies, which is the number one question she gets from owners when she talks about medications to improve an animals' quality of life. Dr. Radosta wants to say up front, that is not the goal. The goal is not to sedate the pet on a daily basis.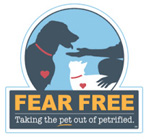 Now for a vet visit, it's just like when we go to the dentist and the dentist is free with the drugs, aren't they? Dr. Radosta feels veterinarians should be just as free with veterinary medicine. There isn't a reason not to be trying to alleviate that stress during those visits. So, she wants to kind of follow the lead of those dentists who are saying, "Hey, if you're stressed, it's no problem. Let me help you with that." Dr. Radosta feels that vets are getting the message. They're getting the message partially because there's a lot of continuing education. There's a lot written, so there are a lot of resources out there for vets.
There is also this incredible Fear Free Movement, with a new book out called, From Fearful To Fear Free, which outlines everything you need to know to take your dog from being scared to comfortable.
If there's one book you pick up this year about your animals, pick up From Fearful To Fear Free. It will open up the world to your animal in so many ways that you could have never imagined.
Visit Fear Free Happy Homes for tips on making your home fear free and to locate a Fear Free Veterinarian near you. Go to Fear Free Pets to become certified.
Listen and Explore the Fear Free Expert Series




Wild Wiener Game App
Christian Savalas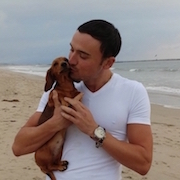 Christian Savalas is the son of Hollywood legend Telly Savalas and is pretty amazing in his own right as a mobile developer. In addition to mobile development, Christian is a performing singer/songwriter.
Christian has just finished designing a smartphone gaming app revolving around his mother's dog called "Wild Wiener," the wildly addictive Dachshund game. Up until his new game, Christian's apps have been geared towards fellow musicians and recording artists. They include SwiftScales Vocal Trainer, for singers to use while warming up and Perfect Pitch Pipe. But this time he wanted to create something that everyone could identify with. So making a game called, "Wild Wiener," where squirrels mercilessly attack a little dog from all directions seemed like the obvious choice to him.
Wild Wiener puts a Dachshund hero in five distinct environments where she faces not only every day pesky Squirrels, but also Pirate Squirrels, Fairy Squirrels, Space Squirrels, and Luxury Squirrels! Venturing ever upward along trees and man-made structures. The Dachshund must dodge everything from acorns and daggers, to meteorites, mechanical claws and "Make Squirrels Great Again" hats. Users must adapt to new settings in real-time and avoid obstacles to progress in the game and score points.
The Wild Wiener app was designed after Christian's mother's Dachshund, Lucy. Christian explains that it is actually Lucy in the game. He doesn't go into the technical details, but he figured out a way to scan her into the program. So the dog you see in the game is not a cartoon or a 3d rendering, it's actually Lucy.
So is Lucy a big squirrel chaser? Yes, and Christian states it really wasn't his creativity that gave him the idea for the game. It's based on reality. Lucy is obsessed and will try to climb trees anytime she hears anything that could have the remote possibility of being a squirrel or any kind of wildlife up in the tree. Every time Lucy is outside, she is on squirrel patrol and ready to kill. While Lucy can't climb a tree by herself, she thinks she can. Christian explains that this is part his fault, because he helps her climb trees by supporting her back while she propels herself upwards until she can't go anymore.
Check out Wild Wiener right now at your APP store. It's available for both Android and iPhone and is a free download. However, if you'd like, you can buy funny little squirrels theme packs and different worlds as well.
Christian tells us he doesn't have any animals of his own, but he tries to see Lucy at least every few days. He grew up with Dachshunds and had lots and lots of Dachshunds everywhere! While his father, Telly, wasn't a big fan of these dogs, he eventually grew accustomed to them. Christian tells is it was his mom's side of the family who started the tradition, as her own mother had Dachshunds. So there's been a long succession of Dachshunds in the family. Eventually, Christian says he will keep the chain going and get his own Dachshund, as he claims they are the best dogs even though they are completely insane!




Pet Flipping - Seven Tips to Safeguard Your Pet - Dr. Debbie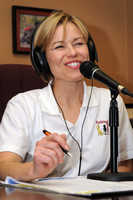 Pet lovers beware of the disturbing criminal trend called "pet flipping." This is when a person steals a pet or takes ownership of a lost pet, and then sells the animal. Pets are typically sold on the Internet to make a quick profit. The American Kennel Club (AKC) reports a rise in pet thefts.
Pet flippers most commonly target purebred dogs because they can fetch a high price, but even mixed breed dogs are at risk. Dogs are swiped from porches, fenced in back yards, dog parks, and cars. Some pet scams involve a person advertising as a pet sitter or trainer, who then disappears with your pet. Other scams involve someone who steals a pet and then responds to the lost pet ad, making money on rewards.
Top 7 Tips to Prevent Pet Flipping:
1. Don't Leave Your Pet Unattended
Avoid leaving your pet unattended, even in your own backyard. Don't leave your pet outside of stores or coffee shops. Tying your dog's leash up while you run that quick errand can give a thief the few minutes he needs to snatch your pet while you step away. Keep a watchful eye on your dog when visiting dog parks.
2. Get Your Pet Microchipped
A microchip is one of the best tools to reunite lost pets and serves as legal proof of ownership. Be sure to keep your contact information up to date with the microchip company.
3. Use GPS Collars
A GPS collar allows you to track your dog's movement minute by minute. These units can help you find your pet quickly if lost, but are of little use if a pet flipper removes the collar. I use the Tagg Pet Tracker for my dog and like that I can locate him to a precise location with my smart phone.
4. Get Your Pet Spayed or Neutered
Dogs that aren't spayed or neutered are especially prized targets to thieves since they are perceived as a money-making opportunity. Spaying and neutering also decreases the desire to stray and is good for your pet's health.

5. Research Pet Services Carefully
Before signing on for pet sitting or dog trainer services, research the business person's reputation with the Better Business Bureau. Ask your veterinarian for a referral to a reputable pet professional. Request references before using a new pet service.
6. Buyer Beware
Be cautious when buying a pet online and only use reputable breeders. Check out a breeders standing with the AKC and breed clubs. Be wary of individuals that lack documentation of breeding or veterinary health care records.
7. Sign Up For Doggie Facial Recognition Apps
High-tech facial recognition technology is now available to identify and track down lost pets with services like Finding Rover. Use your IPhone to download the app at http://findingrover.com. Upload your pet's photo in their database, and promptly notify Finding Rover if your pet is ever lost.
Pet flipping is so heinous because it exploits the cherished relationship between family and a beloved pet. Share this information with fellow pet lovers to spread awareness and halt this criminal trend.
Featured veterinarian known as "Dr. Debbie" on national pet radio program, Animal Radio. Ebook author of "Yorkshire Terriers: How to Be Your Dog's Best Friend"; "Pugs: How to Be Your Dog's Best Friend"; "Mini Schnauzers: How to Be Your Dog's Best Friend"; and "Shih Tzu: How to Be Your Dog's Best Friend." Dr. Debbie's books.




Animal Radio News - Lori Brooks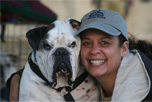 Amazon Launches Its Own Pet Products
Amazon has launched its own brand of pet products, called Wag, adding to the Amazon list of private-label brands. Wag debuted with dry dog food, with other pet products to be added later. Like some other Amazon private-label brands, Wag products can only be purchased by Amazon Prime subscribers. The profits are fetching, with US consumers expected to spend nearly $30 billion this year on pet food purchases, according to the American Pet Products Association. Wag launched about a year after PetSmart made a $3.3 billion winning bid to buy pet supplies online when it purchased Chewy.com. But Wag does not lag behind. Amazon has been in testing for several weeks with members of its Vine Program, which invites trusted reviewers on Amazon to post opinions about new and pre-release products.
Football Stadium Dog Park
In Florida, the Jacksonville Jaguars have made a big announcement saying the NFL team will be building an in-stadium dog park at its newly renamed stadium. And yes, the team named for a big cat is prepared and is even having fun with the dogs and cats theme posting; "Now dogs can cheer on their cats at their games." The team is partnering with a Paradise Pet Resorts to build the stadium dog park, which features a "pet paradise," including a walking area, umbrellas, a bone-shaped swimming pool, a fountain and, of course, a view of the field.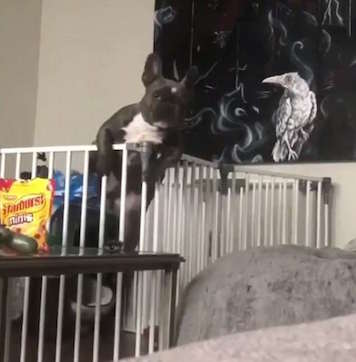 Dog Takes After Football Dad
NFL superstar JuJu Smith-Schuster, who plays for the Pittsburgh Steelers, isn't the only one in his family that is athletic. Have you seen his French bulldog, Boujee, who Dad JuJu posts on social media? He recently shared footage of his famous pet trapped behind the tall walls of his cage while Dad wasn't home. With the theme from Mission Impossible playing in the background, JuJu pondered for a second, before deciding to leap over one of the sides of the fence, which is at least four feet high. After a running start, Boujee got most of his upper body above the edge of the fence. He then used his back legs to boost himself over the barrier. He fell on some nearby furniture, before taking on his next task: securing a bag of Starburst candy. "This is how I get out when my dad isn't home," Smith-Schuster wrote on his dog's Instagram account.
Can Animals Really Predict Earthquakes?
It's been believed by many people that dogs, cats and other animals can anticipate or predict an earthquake. Now, for the first time, researchers have scientifically studied the claim. More than 700 reports of abnormal animal behavior prior to 160 different earthquakes were investigated. In doing so, the scientists identified a series of problems that made those reports unreliable. The majority of the reports, scientists found, fail to base the link between animal behavior and an earthquake on clearly defined parameters, such as distance from the epicenter or earthquake magnitude. The majority of reports were deemed unscientific and anecdotal, because they included observations of animal behaviors occurring as many as a few months before an earthquake and as little as a few seconds before. The reports also included observations recorded from as far away as several hundred miles from the epicenter to as close as a few miles. All but 14 of the more than 700 reports involved observations by just a single person. The bottom line: The unscientific nature of the reports makes it near impossible to determine whether the unusual animal behaviors are predictive or coincidence. However, the experts acknowledge, "The animals may sense seismic waves generated by foreshocks. Another option could be secondary effects triggered by the foreshocks, like changes in groundwater or release of gases from the ground which might be sensed by the animals." For now, scientists say your pet probably can't predict an earthquake.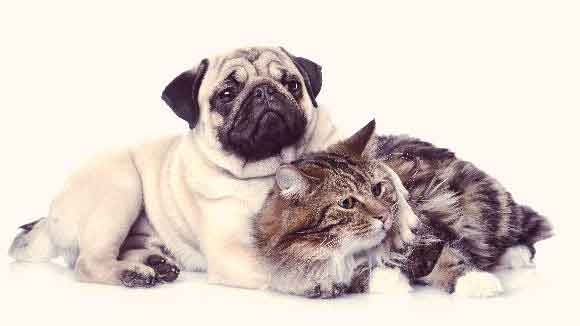 United Airlines Bans Certain Breeds of Animals on Flights
After a review of all of its policies and practices concerning animals, United Airlines is banning 25 different pet breeds when it resumes flying pets this summer. It will be a few months, but United will again accept dogs and cats in the cargo hold starting July 9 if the pet parent is booked on the same flight. And to help, United is teaming with American Humane to improve the well-being of all pets that travel with them. All of this is the result of a cluster of fiascos involving dogs in a single week back in March. One death happened when a French bulldog died after a flight attendant had the pet and its crate placed in an overhead bin. In a separate incident, the airline sent a Kansas-bound German Shepherd to Japan. The airline also took criticism over its high number of animal deaths last year. United will now no longer allow 21 dog and four cat breeds that are prone to physical problems from heat or other travel stress, including all Bulldogs, Pugs, Pekingese, Shar Pei's, Shih-Tzus, Boxers, Chow Chows, Mastiffs and Boston Terriers or any brachycephalic breed. Also on the banned list are Pit Bulls, even mixed breed American Stafford Terriers and American Pit Bull Terriers. As for cats, United will no longer allow to fly the Exotic Shorthair, Himalayan, Burmese or and Persian cats.


Listen to the entire Podcast of this show (#963)