"HERO PEOPLE OF THE WEEK" - 911 Dispatcher - Lynn Willett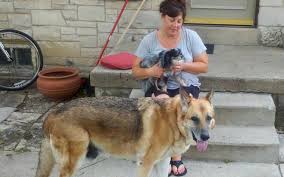 When Police Dispatcher Lynn Willett received an emergency call to check on the welfare of an elderly man, she had no idea she would end up adopting his dog. Lynn tells us her heartwarming story about a German Shepard named Sgt. Roscoe.
Lynn Willett, a police dispatcher in Milwaukee, took a call a few years ago about checking on a person who hadn't been heard from in several days. When officers went out and checked on the person, they discovered that he had passed away.
One of the first things the officer asked for was Animal Control to come and pick up a German Shepherd. The dog, Sgt. Roscoe, had been with the man for days. Lynn called Animal Control and told them the situation and asked them to come pick up the dog.
When Lynn went home that evening, she couldn't stop thinking about Sgt. Roscoe and what was going to happen to him. Lynn suspected that there probably weren't any family members who could take him because they had received calls in the past for this man, with the calls coming from his elderly mother.
Lynn then reached out to the mother to see if there was anyone who could take Sgt. Roscoe out of the pound. The mother was so distraught and was worried about the welfare of Sgt. Roscoe. She couldn't take him herself, because she lived in a retirement home.
As Lynn feared, there was no one who could take him. She then went to the pound to see how he was doing and was told that if there wasn't any family to take him, in 7 days he would be put on the "list" for euthanasia. Just because his owner died, Lynn felt that it shouldn't be a death sentence for Sgt. Roscoe.
Next, because he was a purebred German Shepherd, Lynn reached out to a German Shepherd Rescue group. Because Sgt. Roscoe was ten years old and had health problems, there wasn't any rescue group willing to take him. The groups Lynn reached said they only wanted dogs they could adopt out and stated they were not sanctuaries.
Not one to give up, Lynn called back the mother and told her she was still working on a home for Sgt. Roscoe. The mother then asked Lynn is she would bring Sgt. Roscoe to the funeral, because he was her son's best friend and had to be there.
When Lynn inquired at the shelter if she could pick him up and take him to the funeral, she was told no, "It's not like a library!"
To ensure that nothing was going to happen to Sgt. Roscoe in the meantime and to be able to take him to the funeral, Lynn filled out the adoption papers, but would still work on trying to find him a forever home. While Lynn had recently lost a dog, she wasn't ready for another dog herself, but she didn't wanted Sgt. Roscoe to die.
At first, Lynn was apprehensive when she went to pick up Sgt. Roscoe, as she had never met him before. She was very nervous and felt it was like a first date, and what if he didn't like her! But when Sgt. Roscoe walked into the room, he walked right up to Lynn and licked her in the face - it was as if he knew!
At the funeral, Sgt. Roscoe walked up to the front of the room and laid down by the head of the coffin and stayed there the whole time.
When they got home, Lynn continued on her quest to find Sgt. Roscoe a permanent home, but without any luck. Lynn felt that during those few days together, Sgt. Roscoe had been such a good, sweet dog, that she decided that no matter how long as he had left, he could stay with her.
Lynn also felt that since Sgt. Roscoe was ten years old, he should be promoted and became "Major Roscoe."
Major Roscoe lived about two and a half years with Lynn before he passed away.
Thinking Globally. Acting Locally. Do you know someone that should be nominated for our Hero Person of the Week? Send us an email to: YourVoice@AnimalRadio.com.

Animal Radio's HERO PEOPLE is brought to you by Zeuterin a safe, permanent and virtually painless alternative to surgical castration.




Laser Therapy on Pets
Dr. Marty Becker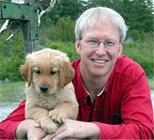 Animal Radio Veterinary Correspondent Dr. Marty Becker is excited about his new gadget. It's only the size of an iPhone Plus but it has multiple applications in the veterinarian's office. Could Laser Therapy be used on your pets?
Laser therapy has been around for a few years and laser products can be used to treat a variety of problems ranging from arthritis, wound care, fungus, incisions, inflamed ears, skin problems, even to calm a pet.
Dr. Marty Becker has been a proponent of laser therapy for many years and uses a Class II Laser, which is "cold" laser that he carries in his pocket. He states there are many types of lasers, and one he has never actually used is a cutting laser. However, he says many of his colleagues are using them in place of an actual scalpel.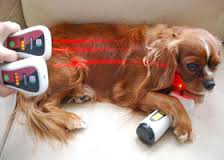 There are also other lasers called a Class IV Laser, which are actually "hot" lasers. These laser units are usually very large and are on wheels. These lasers are usually used on wounds that won't heal, arthritis and even post-surgery on stitches to eliminate the redness and swelling around the site.
Recently Dr. Becker was in California and dealt with a small dog that was in a lot of pain after being mauled by a large dog. He took this Class II Laser, called an Erchonia, and put it on this dog's back. Within minutes, all of the pain subsided. The dog stopped shivering and shaking.
Another time Dr. Becker dealt with a 140-pound police dog that is normally muzzled by the officer before going to a veterinarian. The last time the dog was seen by a vet was for perianal fistulas, which is a very painful condition in their rear, and it took three people just to hold the dog down. This time, Dr. Becker decided not to muzzle the dog and give it a "fear free visit." This meant a lot of treats, soft music and pheromones. They then "hit" the dog with the laser, which at that time only required the officer to hold his head while Dr. Becker did the treatment and fed him treats.
This police dog had been treated at this office for three years and its normal resting heart rate was in the 138-140 range. However, after using the laser therapy, its resting heart rate was only 84.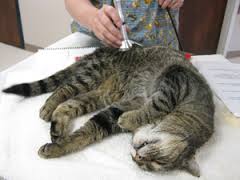 Dr. Becker also tells of treating a 15-year-old cat. He says cats normally do three things: they fight; they take flight or they freeze. It is much easier for a veterinarian when a cat freezes, but unfortunately that is not always the case. This cat in particular would normally fly around the room and get in a corner and twitch his tail, ready to protect himself. When he did this, Dr. Becker "hit" him with the laser and put clipnosis on him. The Clipnosis® Gentle Calming Clip mimics what a mother cat does when she picks up her kittens by the scruffs at the back of their necks.
After all of this, the cat then just laid down on the table and started kneading with his paws and purring to the amazement of his owner.
Dr. Becker states that the great thing about laser therapy is that you can literally see it working right before your eyes. You can see the cat calm down; you can see the dog calm down; and you can see the swelling go down.
Dr. Becker has been practicing veterinary medicine for more than 30 years and is a best-selling author, syndicated columnist and a frequent guest on national shows. You can also find Dr. Becker on Vetstreet.com, a new animal health and lifestyle website dedicated to giving pet owners the most accurate information possible to keep their pets healthy and happy. Follow Dr. Becker on Facebook and Twitter.

The Lucy Pet Foundation
Dr. Karen Halligan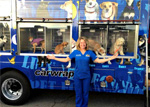 The Mission of The Lucy Pet Foundation is to reduce pet overpopulation by having mobile spay/neuter clinics across the country and to support causes that benefit animal welfare. With one mobile clinic, the group can spay and neuter 120 pets per week; it plans to eventually have 30 of them.
The Lucy Pet Foundation was started because there aren't enough homes for all the animals that come into shelters. They want to help stop the problem at its source by offering low-cost or free spaying-and-neutering programs with mobile clinics.
Today, Dr. Halligan will talk about the many mistaken beliefs regarding spaying and neutering, as well as how you can do it for free or little money through The Lucy Pet Foundation at their upcoming events.
Here are the most common myths.
Myth 1: Spaying/neutering will change my dog's personality.
Fact: A dog or cat's personality is formed more by genetics and environment than by its sex hormones, and the only changes you'll see will be positive ones. Pets become less aggressive, anxious, and distracted, thereby focusing their attention on their owners rather than on trying to find mates. They are less likely to wander, fight, howl, spray and mount. They will be more loving, protective companions because they're not worrying about breeding, fighting, or escaping - so they are much happier.
Myth 2: My pet will get fat and lazy if I spay/neuter it.
Fact: Medical evidence shows this to be false. Many spayed or neutered dogs hunt, compete in agility, become service dogs, and are trained in search and rescue. Too many calories and not enough exercise cause pets to become fat and lazy-regardless of whether they are altered. The good news is that most spayed or neutered pets need fewer calories to sustain their body weight, and since they won't need to eat as much, you'll save some money on pet food. (They'll still need plenty of exercise to keep their weight normal, however.) Weight gain following a spay or neuter surgery is the result of the owner continuing to feed a high-energy diet to a pet that is maturing and has reduced energy needs as it reaches adult size. When pets reach physical maturity, they become somewhat less physically active and thus require fewer calories for energy. Since physical maturity often follows shortly after spaying or neutering, the surgery is often mistakenly blamed for weight gain.
Myth 3: Neutered or spayed dogs are not good family guardians.
Fact: Spaying or neutering does not affect a dog's natural instinct to protect its home and family or be a good watchdog. Most pets will be more reliable and responsible after neutering and are easier to train because of stabilized hormones. Training, not hormones, makes a dog a good guard dog. Neutered pets are better protection animals because if an intruder opens the door and there is a female in heat in the neighborhood, your pet will choose mating over protecting your house.
Myth 4: My kids need to witness the miracle of birth.
Fact: Most animals deliver in the middle of the night by themselves. Kids can experience the birthing process by watching a video instead of at the expense of the family pet. The real lesson to teach kids is the miracle of life, and by spaying your pet, you will prevent the birth of unwanted kittens and puppies, so you will actually be saving lives.
Myth 5: My pet is special and her personality is so good that I want her to have puppies.
Fact: Just because your dog or cat is special doesn't mean that her offspring will be anything like her, and you have the father's genes to consider as well. An entire litter of puppies or kittens might receive all of the mother and father's worst characteristics. There are absolutely no guarantees that you will get what you want out of a litter.
Myth 6: It's better to allow your female pet to have at least one litter before she is spayed.
Fact: Medical evidence indicates the opposite is true. Your dog or cat will have much less chance of developing cancer of the reproductive organs and mammary tissue if you spay before her first heat cycle. Letting her have even one litter predisposes her to breast, uterine and ovarian cancers.
Myth 7: Siblings will not mate with each other or their parents.
Fact: Dogs and cats will readily mate with their mother, father, sisters, brothers, aunts or uncles.
To find out more about the benefits of spaying and neutering, please visit The Lucy Pet Foundation.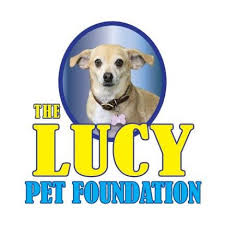 Here is a list of upcoming free or reduced fee mobile clinics:
Until the end of June:
If you live in the City of Downey or Baldwin Park and are low income (below $30,000) spays and neuters are FREE.
June 5:
Home Depot in San Pedro
Cats - spaying or neutering including vaccinations $10
June 19th
Orange County FREE Spaying or Neutering sponsored by Love Bug Rescue
You must get on a list to have your pet spayed or neutered at these locations. Please call The Lucy Pet Foundation toll free at 1-855-499-5829 to get your pet scheduled.
http://www.lucypetfoundation.org
Modern Retail Pet Adoption Center
Aimee Gilbreath, Executive Director of Found Animals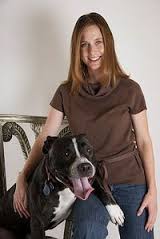 Aimee Gilbreath is the Executive Director of Found Animals. Found Animals is a privately-funded nonprofit dedicated to reversing the outcome for the three to four million animals euthanized each year in the United States. They work alongside the animal well-being community to achieve one goal: find the big ideas that advance the safety of animals in our homes, our shelters and everywhere in between.
Since its inception, Found Animals programs have helped over 1,000,000 pets and their people through adoption, spay and neuter, microchipping and other initiatives; Provided more than $12 million in funding for dozens of research projects worldwide in pursuit of nonsurgical sterilization technology; Granted over $9 million to animal welfare organizations to support low-cost spay and neuter initiatives and pet reunification technology.
About four years ago, Found Animals opened up the first of a chain of pet stores called "Adopt & Shop," which is social enterprise for pets. It is a very modern retail pet adoption center. There, you can adopt a shelter animal, buy pet food and pet products. Their newest location in Culver City celebrated its one-year anniversary on May 16, 2015. Not only can you adopt a cat or dog, the location also has doggy day care, grooming, training, food, toys and so much more for your pet. Every penny from the proceeds of the products and services goes back into helping pets.
The animals available for adoption at the Adopt & Shops are pulled from local municipal shelters. They will then stay at the store until they are adopted. So far, around 900 adoptions have occurred at just their Culver City location alone.

Found animals is also involved with an online National Microchip Registry, where you can register your pet's microchip number in a free database. Please get your pet microchipped as microchipped dogs are 2.4 times more likely to make it out of a shelter and back home and chipped cats are a whopping 21.4 times more likely to make it home!
A microchip contains a unique 9, 10, or 15-digit number (think of it as your pet's social security number). None of your contact info is on the chip! It's also not a GPS, so it cannot be used to "track" your pet's location. In order for the microchip to work, it must be registered in a registry.
Protect your pets by registering their microchip numbers with your contact information in the FREE Found Animals Registry. Then, if your pet is ever lost and picked up by a humane organization or individual, you will be contacted via phone, email and text with information on where to pick up your pet. Create your free Pet Owner or Rescue Group account in minutes at FoundAnimals.com.
Their free, 24/7, online service allows you to register new pets, change contact information, and even transfer a pet to a new adopter, anytime, at NO charge. They've made it FREE and EASY to register all of your pets, regardless of their microchip brand, so consolidate all of your registrations in the Found Animals Registry.
Aimee Gilbreath also serves as a Board Member for Spay4LA and the Spay Neuter Project of Los Angeles, which together have four clinics that provide over 30,000 subsidized surgeries to underserved communities each year.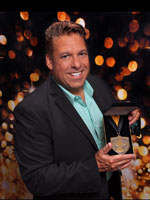 The Dogfather's Grooming Tip with Joey Villani
Degreaser
Joey recently received a letter from a lady who does cat rescue. Unfortunately these cats and kittens crawl under and around cars and get covered in grease. The woman has been using Dawn Dish Detergent to clean them and wanted to know how safe it was for them., because when using Dawn, the woman also noticed that the cats' skin appear to be flaky.
Joey states that Dawn is good in a pinch. However, it is not something you want to use on a regular basis, and not more than once every 8 weeks or so. This is because it is a degreaser and will strip all of the oil out of the cats' skin. Its best if you just spot clean the greasy area with a good quality pet shampoo.
If you use a good quality pet shampoo, you can wash your pet every day if you wanted to with no problems. One quality pet shampoo that jJoey recommends is Coat Handler. You may have a problem finding it, but if you ask your local groomer, they should be able to order it for you.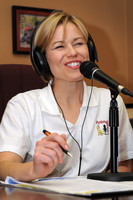 Dizzy Old Dogs - Diagnosing Idiopathic Vestibular Disease -Dr. Debbie
I came running when I heard the crashing paw steps of my 12-year-old Labrador, Magnum as he flopped and tumbled in a nervous frenzy. With head crooked to the right, Magnum's dizzy, wobbly movements resembled a carnival lover's exit from the tilt-a-whirl ride. His eyes darted back in forth in an uncontrollable movement. Many might assume Magnum suffered a stroke, and figured it was time to put the old guy to sleep. But fortunately there was hope-Magnum developed a typical case of Idiopathic Vestibular Disease.
What is Idiopathic Vestibular Disease?
Idiopathic Vestibular Disease, also known as Old Dog Vestibular Disease, is a condition commonly diagnosed in senior dogs, but also seen in cats. The term idiopathic basically means the cause is unknown. This condition affects the vestibular system and the pet's sense of balance, typically with a rapid onset of symptoms. In Magnum's case he literally was fine at the start of a television program, and was wobbly just one hour later.
Symptoms of Old Dog Vestibular Syndrome include a wobbly gait, head tilt, anxiety, panting, and an abnormal eye movement called nystagmus, a condition in which the eyes dart rapidly back-and-forth or up-and-down. In addition to mobility problems, the topsy-turvy sensation leads to nausea, vomiting, and an inability to eat or drink. Thankfully my sturdy stomached Labrador barely missed a meal during his bout.
The cause of idiopathic vestibular vestibular syndrome isn't completely known, but fortunately most dogs recovery from symptoms within 2 to 4 weeks. In some cases dogs may suffer from future bouts months to years later. Some dogs may retain a slight head tilt or unsteadiness at times.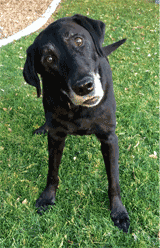 What Can Be Done?
A veterinary examination is important to identify suspected cases of vestibular disease. Other possible causes of these symptoms could include an infectious or inflammatory condition, inner ear infection, cancer, or a brain vascular episode - a stroke-like episode. In order to rule out these potential causes, more detailed testing is needed and may include tests like a CT, MRI, and CSF tap.
There isn't a cure for a vestibular episode, and some pets recover without any treatment. But other animals require supportive care including anti-nausea medications, intravenous fluid therapy, hand feeding, and physical assistance to walk and protect from household hazards.
Caring for a frightened, disoriented, wobbly, nauseated dog can be difficult. My 80 pound Labrador needed physical support to get up, walk outside and required hand feeding at times. He couldn't be left home alone without risk of injury. And because of all the hoisting, blocking collisions with furniture, and guiding away from the depths of the pool, I injured my back during his rehab time. The reality is that home care of a small or toy breed with vestibular disease is much easier than the physical demands of a assisting a large or giant breed dog.
Lessons Learned
I have seen many a patient come to my veterinary office for euthanasia after developing similar vestibular symptoms. Some pet owners assume that the severe symptoms and rapid onset mean that there is no hope and euthanasia is the only choice. I'll admit that vestibular symptoms are scary and affected pets are tough to care for at home, but if given the tincture of time, many senior dogs will eventually improve. Perhaps Magnum's story will help other pet owner's opt to pursue treatment or testing, and give time a chance to heal.
Four weeks later and Magnum is back to playing with toys and energetically bounding on walks. He still retains a slight head tilt to the right, his badge of courage as I see it. I'm thankful for his recovery and adore his charming, lovable tilted perspective of the world.
Featured veterinarian known as "Dr. Debbie" on national pet radio program, Animal Radio. Ebook author of "Yorkshire Terriers: How to Be Your Dog's Best Friend"; "Pugs: How to Be Your Dog's Best Friend"; "Mini Schnauzers: How to Be Your Dog's Best Friend"; and "Shih Tzu: How to Be Your Dog's Best Friend."

It's a Wacky Wednesday Here at the Animal Radio® Studios
WackyWed Contest IS ON - LIKE your FAVORITE pic and the three pics with the most LIKES & SHARES are this week's winner will receive an Insect Shield Bandana from Insect Shield For Pets.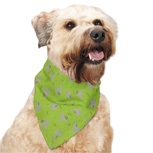 WackyWed@AnimalRadio.com - (Please put WACKYWED in the subject line & give us your pet's name, your name & where you hail from) If YOUR pic is chosen then spread the word to your friends & family on Wednesday - the pics w/the most LIKES and SHARES will be the winner!
This week we are giving away an Insect Shield Bandana designed to provide long-lasting, effective and convenient insect protection, from Insect Shield For Pets, who makes apparel and gear products that combine the Insect Shield process with a proprietary formulation of the insect repellent permethrin — resulting in effective, odorless insect protection that lasts the expected lifetime of the product.
The Insect Shield Bandana is EPA-registered to last through 70 launderings — the expected lifetime of a garment.


Join Animal Radio® on Facebook for Wacky Wednesday! Win great prizes every week for your wacky pet pictures. Last month we gave out goodies from Wham-O Inc., BH Pet Gear, Dream Bones, Oster and more. Visit us on Facebook now.






Animal Radio® News - Tammy Trujillo
Dog Flu Spreads
The new dog flu virus continues to make its way throughout the Midwest and has made more than 1,000 dogs sick. It's a strain of flu that experts say likely came from Asia, and since dogs here in the U.S. have never been exposed to it before, they have no immunity to it. The symptoms are very similar to the ones we get with the flu, coughing, nasal discharge, fever and loss of appetite. It's thought to be spread through nose-to-nose contact with other dogs, so dog guardians are warned to keep dogs on a leash and avoid dog parks if they are really crowded, especially if your dog is very young or very old dog and may have a compromised immune system. Humans cannot catch the dog flu. There is a vaccine for the previous strain H3N8 but not for this new one called H3N2. A few drug companies are working on one, but it could be as long as six months before it's available.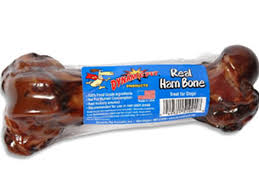 Warning About Dynamic Pet Products' Real Ham Bone For Dogs
A man in Salem, Oregon, Rodney Canutt, says the product killed his dog Teddy. He says he and his wife bought the ham bone at Wal-Mart and that Teddy loved it and was having a great time gnawing and chewing on it. They took it away from him though when they saw part of the bone. Teddy started throwing up a while later and veterinarians found three big clumps of sharp shards of the bone in his intestinal tract. Dynamic Pet Products offered to pay for Teddy's cremation and vet hills, but Canutt is still considering legal action. The Better Business Bureau says Dynamic Pet Products' Real Ham Bone for Dogs is suspected of killing or hurting nine dogs nationwide over the last six months, but that it's still available at Wal-Mart stores on it's website. The FDA says all bones are too dangerous for dogs. Both Dynamic Pet Products and Wal-Mart say they are concerned about what's happened with the product and are investigating.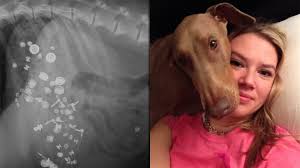 Pets Get Into Just About Anything
It seems that no matter how careful you are, pets can get into just about anything. A five-year-old Doberman named Mocha made it to the hospital just in time after she managed to get a drawer open and eat three wristwatches with leather straps. Mocha's x-rays show a bunch of watch gears, springs and other tiny parts inside her stomach. Luckily, only a few pieces had started traveling through her digestive system so veterinarians were able to do an endoscopic procedure to get most of them out. The vet says a few pieces will have to come out on their own but are small enough that they shouldn't cause any problems. Mocha should be just fine.
A Pet Could Be Just What The Doctor Ordered
A pet could be just what the doctor ordered if you are trying to deal with stress. Even fish can have a positive effect on people being able to relax and calm down, which is why so many doctors' offices have fish tanks. Many studies are backing up the beneficial effects of being around animals and their ability to lower heart rate and blood pressure. In one study, children with autism showed a 43-percent reduction in anxiety when they had a pet guinea pig in their classroom. In a study detailed in Science magazine, researchers found that dog guardians' brains received a dose of the "love hormone" oxytocin when they stared into their pet's eyes. This response may be part of what makes being around animals makes most of us feel so good. Another contributing factor may be that animals, unlike people, don't judge us.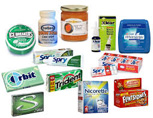 Xylitol Products Are Toxic To Pets
Anyone who has a dog knows they will pretty much chew on anything they can get ahold of, but this story underscored how careful we need to be around them. Luna, a 2-year-old Golden Retriever in Glenwood City, Wisconsin, somehow got ahold of a piece of gum containing Xylitol. She suffered severe liver damage and had to be euthanized. Luna had found the pack of "Ice Breaker" Lemon-flavor gum and chewed it open. Xylitol is found in all sorts of things, including sugar-free gum, sugar-free vitamins, toothpaste, dental floss, nasal sprays and in some baked goods. If a dog gets even as little as you'd find in a couple of pieces of gum, it can result in severe hypoglycemia, causing a life-threatening drop in blood sugar and liver failure. It's another reason to check the ingredients on the things you buy and keep ones that can be dangerous out of the reach of your pets.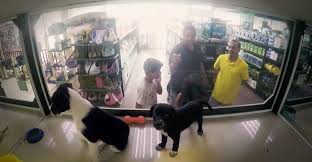 Pet Store Bait-And-Switch
A pet store in Brazil teamed up with local shelters recently and secretly put rescue animals in place of the pricey purebred animals it usually sells, and even better, offered them free to anyone who fell in love with them. People shopping for a pet had no idea that the animals they were looking at were homeless and were shocked when they found out they could take them home at no cost. Customers quickly began to realize that there is no difference between a pure bred animals and a rescue animal. The pet store says that's the message that it was trying to get across is what really matters when adopting a pet is the love that the person feels for it. It doesn't matter if the pet has a pedigree or not, or if it costs $3,000 or nothing at all.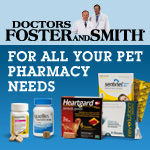 NEWS UPDATE brought to you by Drs. Foster & Smith, affordable pet supplies. Low prices every day, so you save on every order.

Listen to the entire Podcast of this show (#807)