Actors and Weathermen for Animals
Fritz Coleman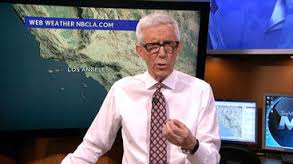 NBC Weatherman Fritz Coleman is our guest. He wants you to know about his comedy show that benefits Actors and Others for Animals' Spay & Neuter programs
Fritz Coleman is celebrating 35 years at KNBC Los Angeles after being discovered doing stand-up at Hollywood's Comedy Store. In addition to forecasting L.A. weather, he travels the country doing his one man comedy show. Fritz says, "The key to being a weatherman on television is to suffer public humiliation gracefully." Coleman has done that well, being one of the most recognized television personalities in America and states that, "I always consider myself the palate cleanser between the tragedy and the sports."
Fritz started out as a comic and was discovered one night when his current boss was in the audience. Fritz told a story about him doing the weather in the Navy and not knowing anything about the weather. But in the Navy, they didn't care; they just wanted you to fulfill your obligation. Now he says it is a general way to describe what it likes to be a weatherman in Southern California. You don't have to be a meteorologist.
Currently, Fritz doesn't own any pets, but he tells us about a Golden Retriever he had for 12 years, who was his best friend. Everything Fritz has learned about pets he learned from his dog Mac. He now lives alone and says he will definitely have another pet when he retires. He says he is still too busy right now and the animal would be left alone for too many hours.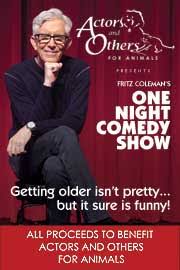 His connection to Actors & Others For Animals was because as a person in media, he was always making announcements such as to spay and neuter your pets. But he states that they are sort of ambiguous and until you experience firsthand pet overpopulation, you have no idea of the problem. When he went to adopt his dog Mac, the location had over 200 dogs available. He said the minute you walk in there, they all hold out a glimmer of hope that today is the day you are going to take them out of there and they are collectively barking and yelping. He said it was the most horrible sound he had ever heard and it stayed with him for about a month. Fritz claims that while pet overpopulation is a problem everywhere, it is especially abundant in Southern California.
Another thing Fritz learned is that while he felt guilty that his pet was home alone, his vet said that because he had such a rigid schedule and was home at the same time every night, his dog knew his schedule better than him. His vet said that normally a dog will sleep all day and just before you get home they will get up, stretch, put a smile on their face and be waiting for you by the door, which is exactly what happened with Fritz and his dog Mac.
Fritz will be doing a special stand-up show to benefit Actors and Others for Animals, a Los Angeles based non-profit focused on reducing the homeless animal population through spay and neuter education. The show will be on growing up and growing older called "Defying Gravity." It will be great for those who will one day find themselves on the other side of 50! While Fritz jokes about being on the other side of 50, he says that he has never been happier in his life than he is right now. He doesn't want to be younger, nor particularly older, and he is happy where he is.
There will also be both a silent auction and live auction at the benefit. A couple of the items that will be auctioned off is a trip to Cabo San Lucas as well as the last script that Cheers filmed all signed by the cast!
Tickets are available for the July 23rd fundraiser at the historic El Portal Theater in North Hollywood.




BullChip - Pet Owners Don't Know 'Chip' about Microchips!
Donna Casement, Michelson Found Animals
Donna Casamento, Chief Program Officer at Michelson Found Animals, is here to dispel myths behind microchips. Michelson Animals Foundation is debuting their all-new microchip registry campaign, #BullChip. This campaign focuses on educating consumers about all the myths that come with microchips, for example, microchips act like a GPS, that's #BullChip. It's a cute and fun campaign that helps spread the word about their new updated registry while also educating pet owners.
In fact, a recent nationwide survey of U.S. pet owners, conducted by the non-profit organization, revealed that 57 percent of pet owners don't actually know how a microchip works. There are 97.3 million pet-owning (dog or cat) households in the United States, and according to a recent Michelson Found Animals survey, less than half of dogs and cats owned are microchipped, that's #bullchip.
The way this technology works is that it is a microchip that gets implanted into an animal. That microchip, when scanned, will show a number. That number is then traced back to the pet owner's information. When a microchip is implanted, the number is put into a registry. There are many registries around the country and are offered by a lot of different companies. However, there is a national lookup that you can go to called the AAHA (American Animal Hospital Association) site. If you don't know what kind of a chip you have, you can still go to their site and put the chip number in, they will tell you where the chip is registered and if it is registered with Michelson Found Animals, they will provide you with their information so that someone finding your pet can put the information in and you will be found if your pet is ever lost.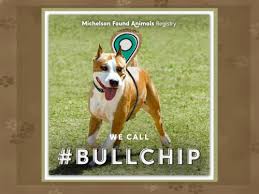 The Michelson Found Animals registry is a free registry. So when your pet is microchipped, you can go to found.org and register that microchip number in the event that if your animal ever gets lost, it can find its way home to you. They have also created a new website to make sure that they have current and accurate information. They even send out reminders to those that have registered their microchips asking them if they have changed anything, and if so, they need to make sure to let them know so they can update that information and make sure that your beloved pet finds its way back home to you should it ever become lost.
The newly redesigned microchip registry, found.org, will enhance the registration experience and make it easier to manage a pet's information to facilitate returning more pets to their homes should they ever go missing and are found. The Michelson Found Animals Registry is always free to register, free to use and free to update. By contrast, many registries claim to be free but often charge for updates and transfers. They also offer real-time notifications for pet owners and allow them to manage multiple pets from a single account.
When a microchip is implanted, in some cases, but not all cases, the person or organization implanting it might automatically register it. However, they often hand you the information and tell you to go register your pet. This also happens in an adoptive situation. Michelson Found Animals Registry also has a transfer program in cases where you might need to re-home your pet and have found a new family for them. That new owner will contact them and then they will reach out to you first to make sure that this is what you want. People are so concerned about the health of their animal or are excited about getting that new pet that they sometimes forget about registering the microchip.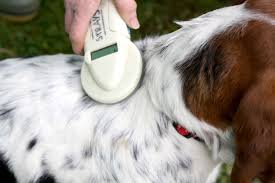 Many shelters are frustrated by what happens with the microchip information. If a pet owner's information is not up-to-date, because perhaps the owner moved or changed their phone number, and if they haven't updated the information in the registry, if that animal gets lost they have no way of getting that animal back to the owner. Unfortunately the chip is only as good as the information behind it.
While microchips are very important, it is also very important to make sure your pet is wearing a visible ID tag at all times as well, with your current information. If the tag should ever get lost, which often happens, the animal will still have the microchip.
The Michelson Found Animals Foundation is a non-profit supporting pet-owners and animal welfare organizations; their mission is Saving Pets, Enriching Lives.




There's An App For That
Jarod Reyes, Shelter Pal
Jared Reyes of Twilio has created an interactive app called Shelter Pal that will help you find your next pet. Simply take a picture of your surroundings and enter your zip code and you'll instantly receive a text message with adoptable animals in your area.
Just in time for National Pet Month, Twilio has come up with an easy way to find your perfect pet. According to the ASPCA, there are approximately 6.5 million cats and dogs in shelters across the U.S. But with just a few texts, you could find your new bff from your local shelter.
Jarod explains that Shelter Pal is not really an App, but a text-based phone number and a way to use technology to pair shelter pets with people who are nearby and looking for a new family member.
To use it, just text 'Shelter Me' to 1(980) 477-3728 and find a shelter pet ready to be rescued. ShelterPal will respond to your text, asking you:
- What are your interests?
- What are you looking for in a pet? Size, age, personality, energy-level etc.
- What is your house/living area like? Small apartment, big backyard, ranch etc.
- What is your zip code
Once you have decided what you're looking for in a pet, it will ask you to send a picture of the space where your pet will be living in. It will then analyze the picture to let you know what kind of animal you should be looking for.
Shelter Pal uses artificial intelligence to analyze basic things about the picture. For example, was the picture taken inside or outside? Is this animal going to have a backyard to run around in or are they going to be in a New York apartment? It will also analyze whether there are children present, by looking for toys or a crib. It will also look for things like swimming pools. It will then start pairing you with the breeds of dogs or cats that do well in that kind of living space.
Every shelter that is part of the ASPCA, Petfinder and many other services are included in the search, as well as rescues around the country. Currently Shelter Pal supports looking for cats and dogs in the United States, but eventually would like to add other types of animals.
Shelter Pal has partnered with the ASPCA and for each text, Twilio will donate $1, up to $10,000, to support their life-saving work across the country. So go ahead and meet your new fur baby!




Get Your Pet To the Vet Safely with No Escapees - Dr. Debbie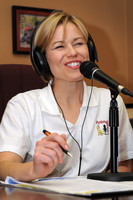 A frightening situation occurred the other day at my veterinary hospital. Working inside my office, I could hear a woman's shrieks coming from the parking lot. I ran outside to find a woman with one dog on a leash, and the other dog skittering about the parking lot - the result of a slipped collar. The owner would approach the panicked dog and he'd retreat, darting under nearby cars. Those familiar with our hospital location understand its proximity to a busy intersection. Should the dog run in the wrong direction, he'd meet up with 45 mph traffic.
My staff was outside in moments to assist the owner in retrieving her dog and safely escorted everyone into the building. Thankfully my client's few minutes of terror ended uneventfully. But that's not always the case. I've seen dogs run straight into the road, cat's leap from a family member's arms, and owners dive into oncoming traffic trying to catch an escaping pet.
The lesson is simple. Don't underestimate your pets' fears. Fear of car travel, new places or the veterinary office can cause a pet to behave in unpredictable ways. If you know your pet to be nervous with new people or new situations, be especially vigilant when transporting your pet in a vehicle.
Identify Your Pet
Use two methods of identification for best insurance your pet is returned to you if lost. Permanent identification with a microchip is a must, and should be complimented with a collar and ID tags.
Restrain Pet in Vehicle
Keep your pet secure during travel and when the car door opens by using a doggie seatbelt. Small dogs and cats should be housed in a pet carrier which is secured with seatbelt to avoid undue carrier movement during travel. Do not allow cats and small pets to roam freely in the car. Cats have been known to take cover under car seats which may require sedation or seat removal to extract kitty from her hiding place.
Check for Proper Fit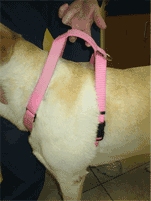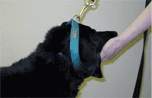 A proper fitting collar allows 2 finger widths between the collar and pet's neck. Allow more than, and should your pet put on the brakes, he'll easily slip out of the collar. Poor fitting harnesses are just as dangerous and allow gap room which allows a back-peddling pet to wiggle out. Not sure if the collar is too loose? Snug the collar up one fitting in anticipation of your trip to the vet.
Try Other Collar Styles
Even if you don't normally use a choker or pinch collar, consider using one when going to the vet's office. For thick necked dogs with smaller head size, try the Martingale collar, a fabric and metal combo collar that snugs down should your dog try to back out. Boisterous dogs that jump and leap when on leash may benefit wearing a head collar that fits over the muzzle. Ensure your collar choice is properly fitted, since any of these styles can fail if improperly fitted or used incorrectly.
Call Ahead
If you anticipate difficulties getting your pet to the vet's office, call ahead. Veterinary staff members are on the ready to help ensure your pet's visit is a safe one.
So, take a few minutes to consider your pet's travel safety before heading out on that next car trip, whether it is to the park, groomer, or veterinary office. Your four legged friend will thank you, but may pout on the way there.
Featured veterinarian known as "Dr. Debbie" on national pet radio program, Animal Radio. Ebook author of "Yorkshire Terriers: How to Be Your Dog's Best Friend"; "Pugs: How to Be Your Dog's Best Friend"; "Mini Schnauzers: How to Be Your Dog's Best Friend"; and "Shih Tzu: How to Be Your Dog's Best Friend."




Animal Radio News - Lori Brooks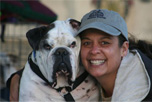 Top Selling Dog Food Brands Fall Short
You want the best for your dog, especially when it comes to his food. You read labels and try to choose the brand and formula that is healthiest for them, but brace yourself, some of the top selling brands like Beneful, Pedigree, Purina and more may not contain the wholesome, healthy ingredients you want for your dog. Look at a bag of Beneful. According to a new report in the Whole Dog Journal, the pictures make the food seem better than it is. The authors say the reality is Beneful is awful for your dog. It's full of sugar, artificial colors and three unnamed animal sources and it has very little when it comes to healthy vegetables. Or look at Kibbles 'n Bits Bistro Meals Grilled Chicken Flavor. If only it contained the grilled chicken they show on the bag that would be great, but read the entire label, as there's many low-quality ingredients and "animal digest," which is the real source of the chicken flavor. Another food the Journal is not impressed with is Pedigree Complete Nutrition for Adult Dogs, saying it's made with an inferior, cheap source of protein. And some wet foods fare no better than dry. The label on Alpo Prime Cuts in Gravy Homestyle with Beef makes it look like big pieces of beef covered in gravy. But if this is your dog's dinner, they're getting some of the lowest-quality sources of protein, held together by wheat gluten! Even Iams ProActive Health Chunks is full of by-products that are often linked to all sorts of health problems. When you see "animal fat" on a label, you probably think chicken skins or beef trimmings. But, pet food regulations allow manufacturers to use all sorts of low-quality fats, even used restaurant grease, as generic fat sources. To make sure your dog gets healthier fats, look for labels that use a named species of animal as a source of fat, like chicken fat or duck fat. What's more, you could be paying for healthy ingredients that aren't even in the bag. For example, because omega-3 fatty acids are so healthy, dog food manufacturers started adding DHA and EPA (highly beneficial fatty acid supplements) to many dry foods. However, they are notoriously fragile and short-lived because exposure to oxygen makes them turn rancid very quickly.
Dogs Help Children With Stress and Disabilities
Two studies have reinforced evidence suggesting dogs have positive benefits in the lives of children. In the first, researchers from the University of Florida established pet dogs provided "buffering effects" for children who actively engaged with their animals when they were stressed. The study in the Journal Social Development says the children, with their pet dogs, underwent stressful public speaking and mental arithmetic tasks, with their levels of stress hormone cortisol being monitored. Children who actively solicited their dogs to be petted demonstrated lower cortisol levels compared to children who interacted less with their dogs. In the second study, researchers at Oregon State University showed how a family dog could serve as a partner and ally in efforts to help children with disabilities incorporate more physical activity into their daily lives improving many things, but especially motor skills.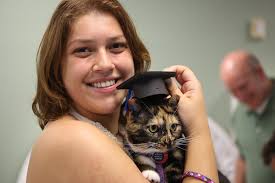 Pets Honored At College Graduation
Twenty-seven pets were honored at the Fifth Annual Eckerd College Pet Graduation in Florida this month. Why? Eckerd is the first school in the nation to accept on-campus pets. Every year the College holds a ceremony for the pets of graduating seniors. Species represented in the Pet Class of 2017 include 10 dogs, nine cats, three rats, a snake, a guinea pig, a desert tortoise, a parakeet and a hedgehog. Each pet grad received a certificate; an Eckerd College ID tag and a cap-and-gown photo shoot with their owner and the college president. Eckerd College students can live in campus housing with one animal (dogs under 40 pounds, cats, rabbits, ferrets, ducks and chinchillas) or two small pets (fish, hamsters, gerbils, amphibians, nonvenomous reptiles under four feet long and small birds).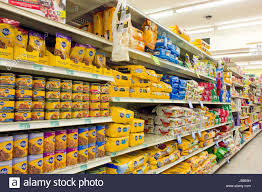 Know What's In Your Pet's Food
The pet food industry alone is now worth more than $26 billion and growing. This has led some experts to question the regulations that safeguard our pets and the ingredients being used. A veterinarian specializing in nutrition at Cornell University, says it's as if, "No one's really minding the store right now… It's left up to the consumer to know that it's safe." In the past two months, two brands of canned dog food, Evanger's Dog and Cat Food and Cocolicious, made by Party Animal, were found to contain a drug called pentobarbital that's used to euthanize animals. Susan Thixton, a consumer advocate says, "Pet food isn't food. Pet food is feed." The Food and Drug Administration (FDA) regulates pet food as animal feed, the same regulations for animals produced for meat and eggs. While the FDA has oversight of pet food, they let the Association of American Feed Control Officials (AAFCO), a private group, set the standards for ingredients and labeling and if you wanted to see those standards, the AAFCO charges $100. Thixton has been fighting to change many of the pet food industry's practices. Twenty-five years ago her dog was diagnosed with bone cancer, which her veterinarian linked to a chemical preservative in her dog food. So she called the company and they told her that because of that preservative, her dog's food would stay fresh for 25 years. That preservative, ethoxyquin, is still allowed by the FDA in pet food, though it is not allowed in human food. Ethoxyquin has been banned in all food sources in Australia, South Africa, Chile, Portugal, Canada, Spain and the European Union. Although the Center for Veterinary Medicine has asked manufacturers to keep the level of ethoxyquin in pet food below 75 parts per million, as of 2012 the FDA requires no more than 150 parts per million. Another transparency issue Thixton would like to see changed is private labels. Some grocery stores now sell their own branded pet food but keep the actual manufacturer private. For example, Whole Foods does not disclose the manufacturer of any of its private label products. Costco and Trader Joe's also sell private label pet food. Costco declined to comment and Trader Joe's did not respond to inquiries when asked by CNBC for a special report. So, many people have started making their own pet food at home. However, experts say you really need to work with your veterinarian to be sure you are giving complete nutrition, especially with pets that are still growing. Another option is buying pet food labeled human grade. When it states human grade on the label that pet food is actually a food and not a feed and it abides by all human food laws.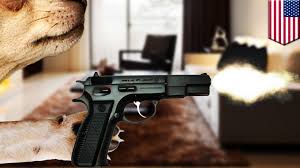 Dog Shoots Pizza Delivery Man
It sounds like a joke or an urban legend, but it really happened. A pizza delivery driver in Toledo, Ohio was dropping off an order when a dog shot him. While he was standing at the door accepting payment from the homeowner, a bullet hit him in the leg. Apparently the homeowner's dog had knocked a gun off the table and it discharged as it hit the ground. It also took place on a street called Rambo Lane. Dogs have shot ten Americans in the past decade. Some have been on hunting trips, some have been in cars and many have been in the state of Florida. And these are only the incidents that are actually reported.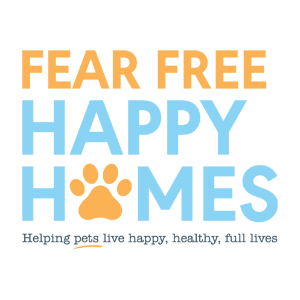 NEWS UPDATE brought to you by Fear Free. "Take the 'pet' out of 'petrified'" and get pets back for veterinary visits by promoting considerate approach and gentle control techniques used in calming environments.

Listen to the entire Podcast of this show (#912)