Product Lets You Lick Your Cat - Without the Furballs!
Tara O'Mara, LICKI Brush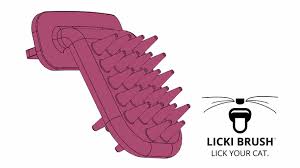 We all know grooming has incredible bonding effects. Tara O'Mara and her hubby Jason invented an over-sized tongue-shaped brush that humans may put in their mouth allowing them to groom their kitties, just like their mom. They've almost raised the $36,000 in a Lickstarter.... we mean Kickstarter campaign.
They have created the LICKI Brush, which is "A high-quality, soft silicone brush, designed to feel pleasurable to your cat's sensitive skin." That you stick in your mouth, and use like a giant faux cat tongue so you can literally lick your cat happy.
Not surprisingly, Tara has been asked previously if there was alcohol involved when coming up with this invention. She says definitely not - her and her husband, Jason, are just that crazy about their cats!
Tara and Jason are constantly thinking of the next big way that they can improve their cats' lives. They especially try to improve the lives of indoor cats, as they are sometimes socially isolated and grooming is such a big part of their day. She also states she watches her cats groom each other and it just seemed obvious to them to come up with this invention as a way to lick them back.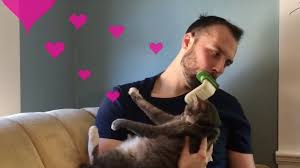 The LICKI Brush brings you and your cat closer. By using LICKI Brush on your cat on a regular basis, you'll develop a more intimate and bonded relationship, much like a mama cat bonds with her young.
Tara states that her cats love it! That's when they knew they had a hit.
They have started a Kickstarter page and you can help support the project by going to LickiBrush.com. The LICKI Brush is in pre-production and the final version will be pink, so you don't fool your cat and they really think it is your tongue.

Places To Go With Your Pets
Heather Eisenstadt, Pets Welcome Here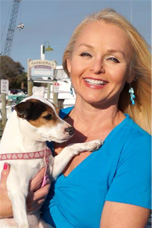 Heather Eisenstadt is the Creator and Executive Producer of Pets Welcome Here. Pets Welcome Here is a new TV show about all the exciting experiences you can share with your pets in incredible destinations throughout the United States.
Over the years, Heather became kind of a "Petxpert" and many people frequently asked her where they could go with their dog or what they could do with their cat. She never realized that there were so many people across the country who wanted to have fun adventures with their pets, but didn't know where to go or what to do.
Heather then decided that she should make a TV show so everyone would know exactly what they can do, where they can go and all of the fun they can have at great vacation destinations with their pets.
Everyone knows that Florida is one of the top vacation destinations, but most people don't realize how pet friendly it can be. So it was easy to decide that the first episode of Pets Welcome Here would be shot in sunny Florida.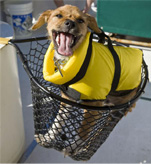 One place they filmed was Key West, which is very pet friendly. Pets are as welcome as human visitors - and maybe more so! You can take your dog to dog beach, which is a special beach just for dogs, or you can take your dog kayaking. They also went to the Emerald Coast, Winter Park and St. Augustine, all pet friendly destinations in Florida.
According to Heather, it couldn't have happened without their incredible sponsors. Toyota provided them with a 2016 Rav4 and Prius that they drove throughout the show. Their canine stars loved the dog friendly features. Rokstraps, the no jolt leash, is their pet safety sponsor. Their leashes are specially made so if your dog pulls, you don't get that jolt in your arm or shoulder like with ordinary leashes. And Top Dog Pet Travel sponsors the Pet Travel Tips. Top Dog Pet Travel is the only online travel agency where you can book pet friendly travel AND has a travel agent, to create custom pet friendly packages so you don't have to do it yourself.
The show is being syndicated on local affiliate stations all over the county from now until the end of July. To find your station, day and time, go to their website at petswelcomehere.tv and click on the TV Schedule. If you don't see your local station, contact them and tell them you want to see Pets Welcome Here!
Zoonotic Diseases You Can Get From Dogs
Doc Halligan, Lucy Pet Foundation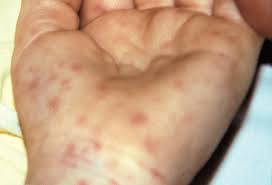 Last week Doc Halligan had some creepy news about Zoonotic disease that humans can get from their cats, dogs and even turtles. We focused on cats and while the good doctor doesn't want you to be scared of your cat, she says it's good to be aware of the risks. This week we want to focus on dogs.
This biggest zoonotic diseases for dogs are tick-borne Rocky Mountain Spotted Fever, Lyme Disease and Rabies.
A tick that has the bacteria protozoa inside of it causes Rocky Mountain Spotted Fever, which is very deadly to humans. Lyme Disease can be very debilitating humans and can sometimes be hard to get rid of. The key to zoonotic diseases is prevention.
So how do you prevent Rocky Mountain Spotted Fever or Lyme Disease? Keep the ticks away! There are so many products on the market to keep ticks off your pet. Don't wait until you see a tick. Use tick preventative medication on your pet all-year-round.
Surprisingly, every year thousands of people die from rabies in the world, with India having the highest incidents of rabies.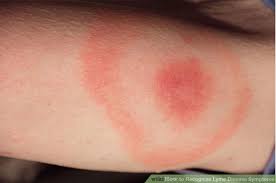 It is wise to vaccinate your dog to prevent rabies, and if you are traveling to other countries, you should also vaccinate yourself against this disease. Again, rabies is 100-percent preventable.
You should also de-worm your pets at least once every year. Visceral Larva Migrans is a disease common in children. What happens is that when your pet gets worms, they shed the eggs. You probably won't see the eggs, and if you happen to ingest one, humans are not the right host. The egg then goes everywhere in your body, including your brain and eyes. This is extremely dangerous. This disease is most common in children, because they are the ones playing in the backyard with your pet. This is very preventable with a high-quality de-wormer. It won't hurt a pet that doesn't have worms to de-worm them, just to be on the safe side. De-worming is especially important if you have kids or sleep with your pets. Pregnant woman and anyone over 65-years-of age are also going to be more susceptible.
Be sure you get the right de-wormer. You want a broad-spectrum de-wormer that you administer orally to your cat or dog. While you can buy de-wormers at feed stores, these only kill roundworms that puppies and kittens are born with. You need to purchase the broad-spectrum one from your veterinarian.
While all of these diseases are very common, they are also very easily prevented.
The Mission of The Lucy Pet Foundation is to reduce pet overpopulation by having mobile spay/neuter clinics across the country and to support causes that benefit animal welfare. The Lucy Pet Foundation currently has two buses that travel around Southern California focusing on spaying and neutering. These buses are state of the art surgery units. Their next focus is in generating more funds to expand the work of these buses and have more across the country.

The Lucy Pet Foundation not only offers free and reduced spays and neuters, they also do microchipping, vaccines and de-wormings. Spaying and neutering is not only great for pet population control, but it has been proven that an animal will live on an average of 40-percent longer after having this surgery.
Upcoming Clinics
Free Spay & Neuter for Los Angeles City Residents! Here is a list of upcoming free or reduced fee mobile spay and neuter clinics in California:
Call for more information, questions and to reserve space to get on the list: (855) 499-5829
June 12: Superior Store, 133 West Avenue 45, Los Angeles, CA Spay/Neuter APPOINTMENT ONLY; Vaccine Clinic 10:00am-2:00pm
June 14, 29: Superior Store, 9801 Laurel Canyon Blvd., Pacoima, CA Spay/Neuter APPOINTMENT ONLY; Vaccine Clinic 10:00am-2:00pm
June 15: Superior Store, 3480 S. La Brea, Los Angeles, CA Spay/Neuter APPOINTMENT ONLY; Vaccine Clinic 10:00am-2:00pm
June 17, 26: Food 4 Less, 1748 West Jefferson Blvd., Los Angeles, CA Spay/Neuter APPOINTMENT ONLY; Vaccine Clinic 10:00am-2:00pm
June 20: East Valley Shelter, 14409 Vanowen St., Van Nuys, CA Spay/Neuter APPOINTMENT ONLY; Vaccine Clinic 10:00am-2:00pm
June 21: Food 4 Less, 5100 N. Figueroa St., Los Angeles, CA Spay/Neuter APPOINTMENT ONLY; Vaccine Clinic 10:00am-2:00pm
June 23: West Valley Shelter, 20655 Plummer Street, Chatsworth, CA Spay/Neuter APPOINTMENT ONLY; Vaccine Clinic 10:00am-2:00pm
June 25: Vallarta Supermarket, 13820 Foothill Blvd., Sylmar, CA Spay/Neuter APPOINTMENT ONLY; Vaccine Clinic 10:00am-2:00pm
June 28: Hansom Dam Recreation Center, 11480 Foothill Blvd., Los Angeles, CA Spay/Neuter APPOINTMENT ONLY; Vaccine Clinic - 10:00am-2:00pm
County and City Vouchers accepted. But remember, you must get on a list to have your pet seen at these locations. Please call The Lucy Pet Foundation toll free at 1-855-499-5829 or Email: Info@lucypetfoundation.org to schedule an appointment, or register at the events.
See the current list of clinics at http://www.lucypetfoundation.org.
http://www.lucypetproducts.com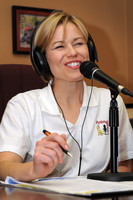 Black Widow Spiders Poisonous to Pets - Dr. Debbie
Pet Threats Come in All Sizes
Our doggie family ambled along on our typical morning walk along the community trail. With a family of two Labradors and a Yorkie mix, my crew is always up for fun and they investigate anything and everything.
Sometimes it's a crunchy cockroach snack or the fortunate edible remnant in a discarded candy wrapper. My dogs enjoy the "date game" where they snatch up shriveled fruit fallen from date palms, crunching away before the mom and dad notice. And sometimes it's a half-hearted game of chase with an unsuspecting rabbit. A more gut wrenching episode once involved my Labrador ingesting a rat with tail slipping down his gullet like a piece of spaghetti. My furry kids are professional trouble finders so I try to keep a watchful eye for things that make them go "Oooh," and make me go "Ugh!"
Female Black Widow Spider
While walking along the pedestrian pathway we came upon today's discovery - spiders and lots of them living in the recesses of a block wall. The hairs on my arm stood up as my Yorkie mix approached their lair. I recognize what these spiders are and what could happen to a 16-pound pup.

The long legged spiders were over 1 1/2" in length, black in color with a distinctive orange hourglass mark on its underbelly. Meet the black widow spider, a common arachnid found in every state in the U.S. except Alaska.
The Black Widow Bite
Black widow spiders contain a potent neurotoxin that causes pain, swelling and can lead paralysis. Female black widows are the dangerous ones, while the males rarely ever bite. While some black widow bites go unnoticed, others cause immediate pain at the site or result in pain at the nearest lymph node. Pain intensity reaches its maximum within 1 to 3 hours after the bite, but can last up to 48 hours.
Symptoms of a black widow bite appear within 8 hours after bite an include muscle twitching, restlessness, rigid abdomen and difficulty breathing. Symptoms may result in high blood pressure, a racing heart rate, seizures and collapse. Dogs are more resistant to a black widow bite, but still can suffer serious illness. Cats are very sensitive to the toxins and can suffer fatalities.
Symptoms of black widow bite include: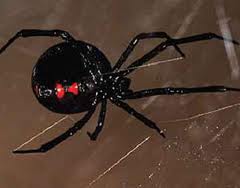 - Pain and numbness around bite site
- Anxiety
- Racing heart rate
- Muscle pain and stiffness, especially abdominal muscles
- Difficulty breathing
- Paralysis
- Seizures
Treatment for Black Widow Spider Bite
Call your veterinarian if you suspect your pet was bitten by a black widow. Initial home emergency care of a black widow bite may include ice packing bite area and oral antihistamines like Benadryl. Your veterinarian will need to see your pet to evaluate and treat the more serious symptoms. Treatment may include medications to control muscle spasms and seizures. Blood pressure and blood sugar are monitored and intravenous fluids may be administered. An antivenin is available for more serious confirmed cases of black widow bite.
Prevention
Avoidance of spider habitats is the best prevention. These eight-legged critters favor dark recesses both indoors and outdoors. Look for cobwebs with a distinctive funnel-shaped opening at the top. And keep a close eye on your dog when out exploring. Inquire about spider control methods with your pest control company.
With pet noses so close to web level, the risk of black widow bites is just natural to being a dog. Our morning spider encounter ended without any drama, thankfully. After one firm "No," my doggies retreated to unearth some other lucky find. Here's to hoping it doesn't involve any rats or bugs next time.
Featured veterinarian known as "Dr. Debbie" on national pet radio program, Animal Radio. Ebook author of "Yorkshire Terriers: How to Be Your Dog's Best Friend"; "Pugs: How to Be Your Dog's Best Friend"; "Mini Schnauzers: How to Be Your Dog's Best Friend"; and "Shih Tzu: How to Be Your Dog's Best Friend."


Top Daily Pet Cancer Awareness Tips
Robert Semrow, Animal Radio Listomania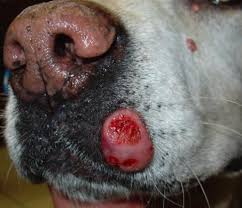 Pet Cancer Awareness is more than a month-long event for me. In fact, it's been a part of my life for several years now as both of my dogs developed cancer.
Zoey had successful surgery to extend her life, but still has cancer. As some of you know, my best friend and inspiration, Sugar, passed away just 10 days after being diagnosed with cancer.
So for me, cancer is more than something that millions of dogs and cats get, it's something that changed my life and my pets' lives forever. I want to keep awareness going for the people and pets we care about, you, our animal radio listeners:

The numbers are staggering and the impact is numbing. To begin there are more than 100 types of cancers in pets. Cancer can be found in our pet's skin, bones, breast, head, neck, lymph system, abdomen and testicles to name some of the more common areas. That's a lot of places where it can occur and present itself. Thus the importance of weekly Snout-to-Tail checks.

If you get that unfortunate cancer diagnosis, it is not a death sentence. Work with your vet to find the treatment program that fits best for you and your pet. There are many ways to treat and address cancer in a pet. Many of them are terms you have heard for human patients including surgery, chemotherapy, radiation, cryotherapy and hyperthermia and more.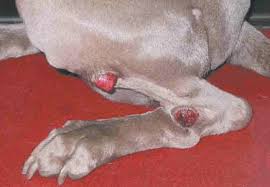 I know that when Zoey was diagnosed it was at an early stage and her vet noted that I was a vigilant pet parent to notice it. That would not have been the case without speaking to so many wonderful, devoted experts in this field and listening to them about what to look for. So to pay it forward, I'm sharing a few common signs that should raise concern and spark a discussion with a qualified veterinarian and/or specialist.

Abnormal swelling that persists or grows, loss of appetite, weight loss, loss of energy or stamina, difficulty in breathing or going to the bathroom or bleeding or discharge from any body opening. All of these should naturally raise a red flag that something is out of the norm and you need to discuss it with your veterinarian. Again, don't panic or get wildly emotional as your pet, your vet and your family need you to have the strength and clarity to be the pet parent your pet trusts you are.

Sadly, this is something that many of will experience due to a variety of factors and there is no simple answer to the question we will all inevitably ask - Why and how did this happen?

Thankfully, there are many ways to address it and many who are working on even more solutions. The word cancer is scary and devastating, but I leave you with this gem from Alfred Lord Tennyson - "Tis better to have loved and lost than never to have loved at all."

It's a good idea to be aware of the signs and seek out solutions for your individual pet. And never forget how lucky we are to have them in our lives for as long as they are with us. Share your pet cancer tips and more on our Animal Radio Facebook Page.
http://petworldinsider.com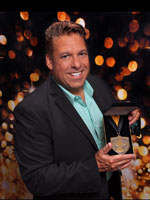 The Dogfather's Grooming Tip with Joey Villani
Summer Swimming
Our dogs love the water! Summertime usually means lots of chances to go swimming in the ocean, lakes and swimming pools. But each one has inherent risks, especially lakes. Dogfather Joey Villani will tell you what you need to know before your furry-companion takes the dive.
Now that it's getting warmer, you probably won't think twice about taking your dog swimming in a pool, a lake or even the ocean, then piling them up in the car for the ride home. While in most cases this shouldn't be a problem, there are times when you should be concerned for your pet.
Let's start with saltwater. Saltwater is probably the easiest on your dog's coat and skin, because it is similar to their bodies. However, you still want to rinse it out of their coat, because excess salt in their coat can build up and may cause matting and /or irritation when it stays on their coat. People think that just by rinsing the coat they remove this problem. Not so. You really need to shampoo and condition their coat. If your dog swims every day, this might not be an easy task, so you should clean them as frequently as possible.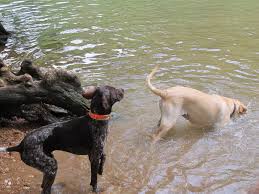 If your dog swims in a pool, you will have the same problem and should shampoo your dog after swimming. The chlorine will build up on their coat. In addition to the matting, on dark colored dogs, you will notice that the coat will start to lighten and you may even see a reddish tint.
Many dogs swim in lakes without any problems, but then you have a dog that ends up at the vet's office with things like bacteria infections if they have sensitive skin. Again, you should use a gentle shampoo and it doesn't have to be an anti-bacterial shampoo,
Just make sure you thoroughly clean your dog's coat after all types of swimming.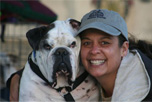 Animal Radio News - Lori Brooks
Bill Passes Making It A Felony To Harm or Neglect Animals
Ohio lawmakers just passed a law that would make it a 5th-degree felony to knowingly harm a pet by inflicting pain or depriving it of food, water, or shelter, for a first offense. The bill passed through the state Senate unanimously and the State House approved it by a 92-1 vote. House bill 60 is nicknamed Goddard's Law after Dick Goddard, a Cleveland weatherman who has advocated for strengthening the penalties against animal abusers for years. Once it's law, it will be illegal for anyone to "knowingly torture, torment, needlessly mutilate or maim, cruelly beat, poison, needlessly kill, or commit an act of cruelty against a companion animal." Under Ohio law, a fifth-degree felony is punishable by six to twelve months in jail and a $2,500 fine. Goddard's Law is indicative of a larger shift within national law enforcement toward protecting animals from abuse. In January, the FBI started tracking animal cruelty as a separate offense in its National Incident-Based Reporting System. Goddard's Law makes knowingly causing serious physical harm to an animal a felony offense the very first time. Ohio was one of only a few states that did not have a felony provision for first offenses, no matter how deplorable it was. In one instance, someone was only charged with a misdemeanor after throwing a puppy off a cliff twice. With Goddard's Law, Ohio legislators also strengthened the penalties for assaulting a police dog or horse, an addition that was inspired by the killing of Jethro the police dog in January.

"Whale Vomit" Beer
An Australian brewing company has incorporated rare and expensive "whale vomit" into a special new beer. It's excreted by sperm whales and most commonly used in perfumes to make the scent last longer. In this new beer, the brewery says the whale vomit, "Adds a pungent, animalistic aroma… full body, caramel malt and fruity flavors and very balanced bitterness." The idea for the beer was inspired by the discovery of a lump of whale vomit on a beach which is fetching the finders about $70,000, because it's that rare.
What Do You Do To Make Your Cat Happy?
I build cat condos out of a tablecloth over a nightstand, build things out of cardboard boxes and I let them play in paper bags when they used to be around. You probably groom your cat. My Parker loves being groomed and head buts me while I'm brushing him. And my other cat, Jackie, who is nicknamed Yackie because she talks a lot, loves me to rub my chin on her head like I've done since she was a kitten. But now there's something that takes Jackie's delight to a completely new level. It's called LICKI Brush and it hasn't even been released yet, but you can see a video on KickStarter. It's a tongue-shaped cat brush! You actually hold the handle in your mouth and use the tongue shaped brush to "lick" and groom your cat.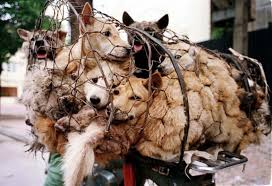 Dogs Rescued From Dog Meat Festival
Animal activists in China recently rescued 200 dogs that would have been killed for the annual Yulin Dog Meat Festival, which starts June 21st. Despite worldwide outrage, global social media coverage and 100,000 Chinese citizens protesting the event inside the country, the event will be held again this year. But, because of the sustained pressure, the number of dogs killed for the dog eating event has dropped about 80-percent according to Animals Asia, a group working to end the festival and the entire dog and cat meat trade in Asia. The people of Yulin have celebrated the Summer Solstice with the so-called Dog Meat Festival since the 1990's.
Benefits to Delaying Spaying or Neutering
A new study published in the journal Veterinary Medicine and Science finds that neutering or spaying German Shepherds before 1 year of age triples the risk of one or more joint disorders, particularly for cranial cruciate ligament, or CCL, tears. The study was done at UC Davis School of Veterinary Medicine. The lead researcher said they found simply delaying the spay/neuter until the dog is a year old can greatly reduce the chance of a joint disorder. Another study two years ago revealed a four times greater increase for joint disease is also true for Golden Retrievers spayed or neutered before one year old and a 2 times increase for Labs. That's because neutering removes male and female hormones that play key roles in important body processes like closure of bone growth plates, which doesn't happen until a dog matures. There are of course trade offs, the study found mammary cancer was diagnosed in 4-percent of intact females compared with less than 1-percent in females neutered before 1 year of age. Also, urinary incontinence, common in older dogs, was NOT diagnosed in intact females, but 7-percent of females neutered before age 1 year had it. Dog owners in the United States typically choose to spay or neuter their dogs prior to 6 months of age, in large part to prevent pet overpopulation or hoping to avoid unwanted behaviors.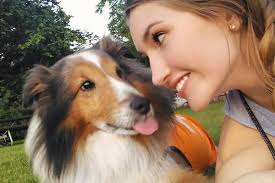 Visiting Vet Student Saves Dog From Wrongful Euthanasia
A visiting medical student at an Oregon animal hospital found a tick hidden behind a dog's ear right before she and a veterinarian were scheduled to put the dog to sleep over his ailing health and paralysis. The owners of 10-year-old Ollie the Sheltie noticed he was lethargic and not getting around well following a hiking trip in Oregon. They took him to their regular vet for tests, but they could not figure out what was wrong. A vet student said she thought it was odd that Ollie still had a little sparkle in his eyes though he couldn't really move. His expressions were lively and responsive even though he was completely paralyzed and unable to eat or even go to the bathroom. So, they were getting ready to euthanize Ollie and the student was comforting him. While she was petting him, she felt a strange lump behind his ear that turned out to be a tick that was very bloated and had obviously been there for a while. The vet said it was then that he figured out Ollie's sickness was a very rare condition called tick paralysis. The saliva secreted by the tick got into Ollie's system over a prolonged period of time, affecting his neurological system and causing paralysis. Hospital staff removed the tick and shaved most of Ollie's fur to make sure there were no other ticks hiding in his fur. About 10 hours later Ollie was back home roaming around the house and even went over to the door to be let outside.

Listen to the entire Podcast of this show (#862)