Off The Track - Animal Lover
Cory Joyce, NASCAR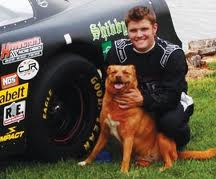 Cory Joyce is a 20-year-old UARA-Stars Series driver originally from Gilford, New Hampshire. Joyce began his racing career at eight years old with a go-kart he received as a Christmas gift from his parents. Following his success in go karts in New Hampshire, Joyce and his family began to build the Cory Joyce Racing program and relocated to North Carolina.
Besides racing, Cory is also a big animal lover. Cory serves as a spokesperson for the North Carolina Shelter Pet Project, helping spread the word that pets in shelters are wonderful and lovable animals. Joyce makes regular visits to local shelters to draw in media attention and help deserving animals find new homes.
Cory currently has two dogs. One of his dogs, a Pit Bull-Lab mix named Macy, was adopted from a homeless woman when the animal was 3 months old. He keeps her photo on his cell phone, ready to show anyone who asks. Cory sometimes takes Macy to the racetrack, where you might find her under the car with Cory, but instead of handing him tools, she licks him in the face. His other dog is a new Shetland Sheepdog puppy, who will hopefully some day learn the ropes from Macy.
If you've seen Cory's car on the racetrack, you have no doubt also seen the permanent spot for the Humane Society logo on the hood of his car. Off the track, Joyce is an avid supporter of the Humane Society of the United States and works closely with the organization on animal awareness and welfare projects to remind people that there are still animals out there that desperately need homes.
Cory is currently supporting the HB 930 Bill, which is a bill that will provide some standards for dogs in breeding facilities across North Carolina. The bill was passed in the House, and now they're working to do the same in the Senate. It calls for veterinary care, safe housing, parasite treatment and sanitary conditions, all things that any responsible breeder shouldn't have an issue providing.
Cory Joyce is currently looking for new sponsors. Are there any animal companies out there who might be interested?
77-Pound Dachshund
Nora Vanatta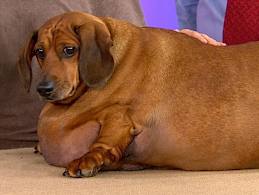 Obie, the Dachshund, once weighed 77 pounds. His previous elderly owners, who clearly overfed him, were not in a position to care for him properly. Fortunately, a relative stepped in and convinced the couple to give Obie up for adoption.

Obie was then surrendered by his original owners to Oregon Dachshund Rescue, who put out an online plea for help. Nora Vanatta offered to foster the dog, and an Oregon Dachshund Rescue volunteer picked up Obie from his former owners' home and delivered him to Nora.

Nora immediately put Obie on a prescription veterinary weight loss diet. She believed he only needed about 500 calories a day. She fed him a half-cup of food four times a day, and he started gradually losing weight.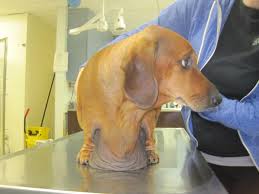 Obie wasn't able to exercise, as he wasn't able to move much when Nora first obtained him. Nora has two other dogs, and as Obie lost the weight and was able to move, he got into a routine of exercising with her other dogs
Nora has collected thousands of dollars in donations for Obie from supporters, and says the money is being used for his care. He still needs dental work and recently had surgery to remove the excess skin that remained after he lost 40 pounds in 8 months. The excess skin needed to be removed, as it was dragging on the ground and impeding his movements.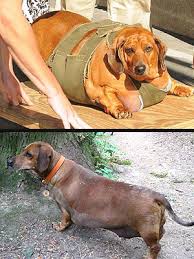 Before the surgery, Obie was down to 37 pounds and four ounces. "We haven't weighed him since the surgery, but he lost 2 1/2 pounds of skin" Nora said. "So he should be around 35 pounds now. I figure his healthy weight is between 28 and 30 pounds."
After detailing Obie's progress on a Facebook page and getting some major media attention and gaining fame in the process, the Oregon Dachshund Rescue organization's owner filed a lawsuit seeking custody of the dog. However, the lawsuit has been settled and Obie is staying with Nora.
Obie's fight with obesity can be followed on the Facebook page Nora created on his behalf.



The Dogfather's Grooming Tip with Joey Villani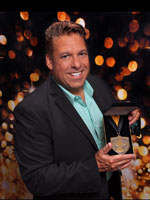 Bad Coat? Could Be Lack Of Protein
We are always talking about products such as shampoos, conditioners, etc., when it comes to your dog's coat. However, if your pet is not nutritionally sound, you are never going to have a good coat.
You need to work with your dog internally to get that great looking coat. Nevertheless, if you have your pet on a good food, are using good products, are brushing and combing daily and you still can't get a good coat, perhaps your pet is lacking enough protein in their diet.
There is an easy way to change this. You need to add protein to our pet's diet. However, you don't want to add too much too quickly because you will have a mess "coming out" of your dog.
The easiest thing to do is to give your dog one raw egg a day. You can give up to two eggs a day if your dog is over 75 pounds. You just mix the egg into their food. It doesn't matter if they eat dry kibble or wet food. You just mix it in. If there are any leftovers after a meal, you need to throw it away immediately, so the egg doesn't spoil.
You need not worry about e-coli when giving your dog raw eggs, because dogs don't normally get e-coli, as it passes through their system. However, your dog can still pass it on to you. So, if this is a worry, you can try adding cod liver oil instead.
For a small dog, add half a teaspoon to their food. If your dog is over 75 pounds or more, you can add up to two teaspoons. Like with any changes if your dog's diet, you need to start slowly.
If your dog suddenly develops a fishy odor that means you are adding to much protein and you need to back off with the oil.
If your dog all of a sudden won't eat their normal food with these additives, don't force the issue. Dogs have a sense of what their bodies need. If they don't want it, perhaps they don't need it.
You should notice a difference in a two to three week period, with a shiny coat. You may also see an increase in shedding. This is a good sign. This means that the dog is shedding away old coat for the new healthy coat to come in. Once the initial shedding is done, it should slow down. You can speed up the shedding of the old coat by brushing and combing it out.




Animal Radio® News with Stacey Cohen

Police Dog Wears Camera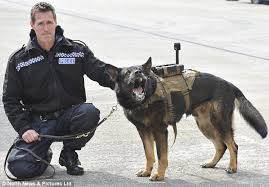 A technology used by the military is now available to civilian police departments. Because of the cost, a Massachusetts' Plymouth County Sheriff's Department is the only agency in New England using a camera mounted on a dog wearing a bullet-proof vest. The dogs are in the line of fire and Ken Ballinger of the sheriff's department says while no one wants the dogs harmed, the risk is outweighed by the benefit. The goal is to get cameras positioned regionally so the technology will be available to more police departments.

Salmon & Beef Flavored Yogurt - For Dogs!
Frozen yogurt makers in Germany are hoping their salmon and beef-flavored concoctions will be a hit. But the task shouldn't be as difficult as it sounds, since the frozen treat is marketed for dogs. Twin brothers Roman and Raoul Krohn say they first got the idea for what became Cold & Dog Frozen Yogurt when they were kids. Their grandma told them that feeding dogs regular ice cream could be deadly, so they eventually came up with a lactose-free formula that is perfect for pooches. Roman and Raoul say they've tried all the different flavors themselves, but also shared it with their dog Charlie to make sure it was canine-approved.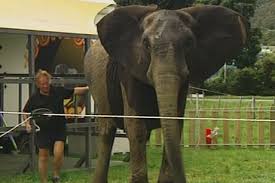 Insurance Claim – Elephants Did It!
People in Sweden don't usually have to worry about elephant damage to their property. Yet the Enoksson family in Varnamo ran into that exact problem when a group of escaped circus Indian elephants were caught wandering around their yard. One of the giant pachyderms even started crashing into the side of their house before they all made their way to a nearby field. The Enokssons called police, who in turn called the circus to see what was being done about the elephant problem. The circus reportedly gained control of the animals, although its unclear exactly how they got away for their stroll.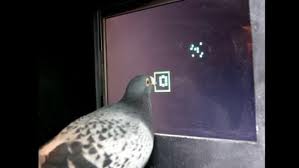 How Intelligent Are Pigeons?
Scientists are using digital age tests to determine how intelligent pigeons are. According to Phys.org, the psychologists at the University of Iowa proved that the birds are able to use problem-solving skills to make intelligent choices. Using touch screen computers, the scientists had the pigeons peck at buttons on the screens to move a virtual bowl of food toward them. After a number of correct pecks, the pigeons were rewarded with real food. Apparently, the pigeons were able to make correct choices between 74-percent and 90-percent of the times. While the tests show that pigeons are smarter than once thought. Edward Wasserman, who led the study, says they also prove the power of their digital tests.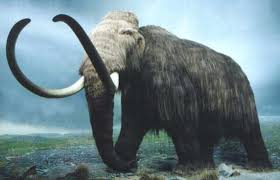 Blood Collected From Wooly Mammoth
A team of Russian scientists claim they discovered blood in the frozen carcass of a woolly mammoth. The carcass of the extinct beast was found by a group of researchers on one of the Lyakhovsky Islands in Northern Russia. In a statement on the website for North-Eastern Federal University, expedition leader Semyon Grigoriev says that when the group broke a number of ice cavities below the mammoth's belly, "blood came running out." Grigoriev describes the blood as "very dark." The researchers were able to collect vials of the animal's blood for further research. Judging from the mammal's teeth, the scientists estimated the mammoth to be about 50 to 60 years old when it died.
400-Pound Feline Has 4-Pound Hairball
Veterinarians are optimistic that a 17-year-old tiger will fully recover after having surgery to remove a gigantic hairball. The tiger named Ty hadn't eaten for two weeks and that's when owner Vernon Yates got concerned. Vets examined the 400-pound feline and realized it had a hairball the size of a basketball in its body. The hairball weighed four pounds. Vets think Ty will be back to normal within a few weeks.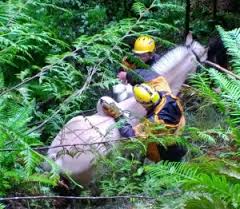 Animal Communicator Locates Trapped Horse
Officials in Washington State were able to rescue a trapped horse with a little help from a telepathic animal communicator. According to The Seattle Times, Barbara Linstedt's four-year-old horse Gemma escaped from her stall in Redmond. Caretakers spent hours searching for the animal before they called in horse communicator Joan Ranquet. Ranquet says Gemma telepathically told her that she was in a tight space near shrubbery that was close to a road and water. Linstedt guessed that meant a nearby ravine, which is exactly where rescuers found Gemma, who had slipped 70 feet before coming to a stop on a ledge. Gemma was pulled out and is reportedly doing well after what her owner calls a miraculous rescue.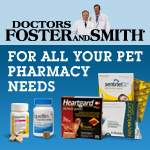 NEWS UPDATE brought to you by Drs. Foster & Smith, affordable pet supplies. Low prices every day, so you save on every order.

Listen to the entire Podcast of this show (#706)