Wacky Willard Returns
Fred Willard - Actors & Others For Animals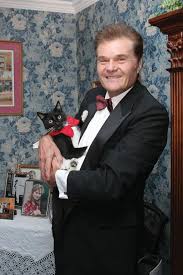 Actor Fred Willard is back to share his love for the furry-four-legged and his pet project, Actors and Others for Animals. If you saw him on Modern Family (ABC) recently, you might say he looks the same as he did in the movie Best in Show, almost 18 years ago. He'll tell us his secret to youth. Yes, it might have something to do with animals.
Fred Willard is a big animal lover and is very involved with Actors & Others for Animals, a Los Angeles based non-profit focused on reducing the homeless animal population through spay and neuter education. On July 23rd, weatherman Fritz Coleman will be doing a one-man comedy show and donating the proceeds to Actors & Others. Fred Willard and his wife, who is also involved with the organization, will be in attendance.
Fred tells us he currently doesn't own any animals, but he did have a cat that went to heaven. He says it wasn't really a rescue cat but that it kind of found him. Fred thinks the cat was abandoned in his neighborhood because he just showed up. Fred's wife started feeding him and the next thing he knew, she said, "Fred, we have a cat!" Fred said they had the cat for about seven years and he was a very sweet and loving cat.
Euthanizing animals in shelters because there aren't enough homes for them is not acceptable, explains Fred. He knows this is slowly changing, as more people are adopting shelter homes. They just aren't going to the shelters and saying what a sad situation, they are actually taking animals home with them, and that they make wonderful pets.
Fred loves all animals, but says he leans towards dogs and tells us that while he also loves cats, he is allergic to them. Fred tells us his dream would be to have a farm full of dogs that were abandoned.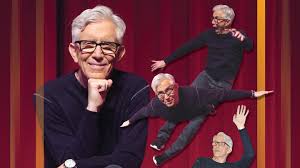 Check out the fundraiser on July 23rd at the historic El Portal Theater in North Hollywood. The show by Fritz Coleman will be on growing up and growing older called "Defying Gravity." It will be great for those who will one day find themselves on the other side of 50!
There will also be both a silent auction and live auction. A couple of the items that will be auctioned off is a trip to Cabo San Lucas as well as the last script that Cheers filmed all signed by the cast!
Fred has appeared in numerous television series and feature films, including every "mockumentary" film ever directed by Christopher Guest: A Mighty Wind, Waiting For Guffman, This is Spinal Tap, For Your Consideration and Best in Show in which he portrayed "Buck Laughlin," a dog show announcer who offered up an unending stream of bad jokes and off-color comments. You can currently catch Fred on the TV show Modern Family, where he plays Frank Dunphy, father of Phil (Ty Burrell).




Hugging Turkey?
Brant Pinvidic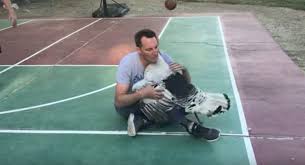 Albert the Hugging Turkey is a viral sensation. His guardian, Hollywood producer Brant Pinvidic is our guest and he'll share the story of how Albert was "pardoned" on Thanksgiving and what his plans are to help adoptable dogs using Albert's fame.
It was Thanksgiving 2016, and Brant Pinvidic tells us that one of his contractors asked him if he wanted to go to a farm and select a turkey for his Thanksgiving meal. Brant thought that it was a crazy idea. But then he thought it would be more fun to rescue a turkey on Thanksgiving with a ceremony for his kids to participate in. He felt they already had chickens and the space at home, so why not add a turkey to his flock.
Brant went to the farm and picked out two turkeys, a female and a male, and brought them back to his house. He named them Albert and Princess. Brant explains that his chickens are free range and wander around during the day. But when you first get a bird, you have to lock them in the coop for a couple of weeks until they know where their home is.
Thanksgiving Day was going to be the first day that Albert and Princess were let out of the coop. All of the other birds ran around in the yard away from humans, including Princess, but Albert followed Brant to the house. He came in the house and paced around. Brant sat down and Albert came up to him. Brant didn't know what to think and was worried if Albert was going to peck at his face. Albert didn't do anything, he just wanted to hang out and cuddle. Now Albert comes in the house everyday for breakfast.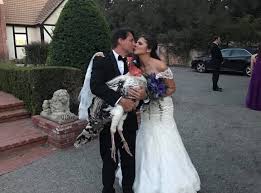 The more time Brant spent with Albert, the more he got used to them and now just wants to be around people. The more he gets to know someone, the more he wants to interact with them. They have a lot of parties at their house and Albert is the happiest he can be when people are around. They even had a wedding with about 200 people and Albert was in heaven!
You might have seen the video where Brant is sitting on a basketball court and Albert comes up to him, opening his wings for a hug. Brant said he started doing this all on his own, as he wouldn't know how to teach a turkey to do anything!
The rest of Brant's rescue animals, including his dogs, don't bother with Albert. He states Albert doesn't act like a prey animal. This, at first, freaked out the dogs. Normally the chickens run away from the dogs, meaning a chase was on, but not Albert. Albert just stood his ground and the dogs eventually gave up. Now everyone gets along, everyone meaning two more turkeys.
Albert and Princess became parents of two baby turkeys that Brant said they hatched, named Scout and Elizabeth. They are just over a month old and are extremely friendly.
Brant didn't stop there. He also rescued a baby mallard from one of Albert's Facebook friends. Brant didn't know that rescuing a wild baby animal comes with a lot more work and vet bills than rescuing one from the pound. He also rescued a little rabbit from one of his son friend's at school.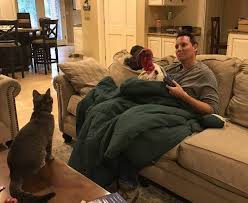 So what does Brant's wife think about all of this? Brant explains that she is used to his antics, as he is a pretty intense guy. When he gets something on his brain, things magically happen. Strange things happen a lot around his house. But good thing his wife is a big animal fan as well. However, she doesn't care for the messes they leave. Brant states that he lets Albert walk around the house and he poops everywhere!
So what is next? Brant wants some pigs and maybe a donkey. He states that pigs always need rescuing because people buy the mini pigs and don't realize that they can grow to 300 pounds.
Brant explains that his daughter is a complete vegetarian and everyone else in the house no longer eats turkey and is moving in that direction.
Brian has recently started "Albert's Foundation and "Albert's House" and is going to try to place dogs that need fostering and forever homes. Brant states that they are not animal rescuers at all. He says, "We've just evolved."




Healing Benefits of Animals
Carlyn Montes De Oca, Dog As My Doctor, Cat As My Nurse
If you love animals then you know the extraordinary bond that exists when an animal companion becomes part of your family. But are you aware of the amazing health benefits this connection offers you? Dog as My Doctor, Cat as My Nurse reveals how our timeless relationships with our beloved animal friends hold the keys to our optimal health. In Carlyn Montes De Oca's new book, you will find prescriptive advice, personal stories about Carlyn's lively "six-pack" of rescue dogs and cats and testimonials from other dog and cat lovers, including best-selling author Jack Canfield.
Acupuncturist, plant-based nutritional consultant and animal advocate Carlyn Montes De Oca explains that animals can help us with things like anxiety and depression. She's had people share stories of all types of chronic ailments that animals have helped with. Everyone has also heard over and over that they lower our blood pressure, balance our moods and even help with our cholesterol.
Carolyn tells us one story regarding her own anxiety. She went through a very painful divorce; one of those gut wrenching life altering divorces. She was experiencing a lot of anxiety at the time, including insomnia. She had two cats at the time and said that they were amazing. They not only helped sooth her stress, but since she wasn't sleeping at night, one of her cats that she took to work always let her know when it was time to take a catnap. They would lock the door and lay on the couch together and she would finally get to sleep. It was so healing to her. Carlyn also has had dogs that helped her with loneliness when she was a kid.
Unfortunately, according to Carlyn, one in four people will succumb to some kind of heart disease. She hopes that beforehand people will start taking their health into their own hands and utilize all the ways animals can help us like lowering our blood pressure before we go on the blood pressure medication or help us get out and exercise before we need to take diabetes medication.
Carlyn has spoken with many people who had emotional things going on in their lives but they no longer need to take any anti-anxiety medication because their animals have helped sooth their healing.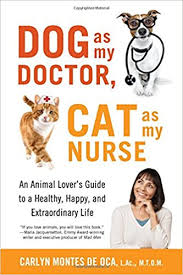 We can learn so much from our animals who live in the moment. Just think of all of the stress that's going on in your life. Suddenly there are so many more cars on the road and everyone is stressed about their finances and about politics, as well as this, that and the other! We forget that in the moment we can let so much of that go. Think about it, when you take your dog for a walk they don't go just to get to the other side or to hurry up and finish because you only have 20 minutes and you're done. They go for the experience of that walk. They open up all of their senses to the experience and to be in that moment. This is a huge lesson for all of us in terms of being present.
It's also been proven that having animals in the first year of life seems to strengthen a child's immunity and helps with allergies and with asthma. This doesn't only occur in children, it also occurs in people as they age.
In an age when most people will suffer from a preventable chronic disease, Dog as My Doctor, Cat as My Nurse opens readers eyes' to the fact that our beloved companion animals can be some of the most powerful allies we will ever have on the journey towards a healthier, happier, and more extraordinary life.
Carlyn enjoys hiking with her dogs, relaxing with her cats, living a vegan lifestyle, and watching super-hero movies. She lives in Marin County with her husband Ken, an award-winning sound effects editor at Lucasfilm, and her beloved rescue animals.




How to NOT Train a Dog - Dr. Debbie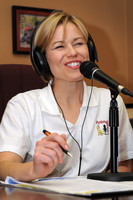 The other day I was walking my dog in a community area and encountered a lady with two Shih Tzu's. As we approached, her dogs rallied with barking and tugging on their leashes. I asked if her dogs were friendly, so as to decide if we could approach. The lady scowled, embraced her still barking dogs and grumbled, "Do they look like they're friendly?"
Realizing this dog owner was more unsociable than her dogs, I decided to vamoose, but not before I envisioned this blog topic - how pet owners mold unsocial dog behavior.
Unwanted doggie behavior such as lunging and barking on the leash become established when the dog owner hasn't made it clear what the appropriate behavior is, fails to correct and redirect to a more suitable behavior, or simply reinforces the undesirable behavior through actions or words. Face it - there aren't bad dogs, just poorly trained ones.
Avoid making these top 5 training mistakes:
1. Secluding Your dog in The Backyard
Keeping your dog in lock down almost guarantees problem behaviors will develop such as biting, inter-dog aggression and phobias to anything from noises to car travel. Isolated dogs lack the experience and confidence when faced with novel situations while socialized dogs adapt easily.
I see it all the time - the dog owner prides herself in keeping her dog safe. "I didn't want Fido to catch any diseases as a pup, so I didn't let him out of our backyard till he was a year old." The overwhelming fear of infectious diseases like parvovirus causes some well-meaning owners to confine their new dog or puppy to the limits of house and yard. Even more extreme is never allowing a puppy to step foot outside until after their last puppy vaccinations! Puppies are most adaptable to new experiences between 6 and 16 weeks - this is the time to expose them to unfamiliar places, people and animals.
That doesn't mean you should take your eight week old puppy to dog parks, but rather to use good sense selecting low dog traffic areas and visiting with family and friends outside of the home that have properly vaccinated pets.
2. Skipping Obedience Training
Going to school is a must for any new dog to a home, whether a puppy or adult. No two dogs are the same, and each learns differently. Formal obedience training is a useful tool to gently reaffirm who's in charge and sets the rules in the house. Statistics show that dogs that go through formal obedience training are less apt to develop behavior problems and be relinquished to shelters.

3. Reinforcing Fear At the Veterinary Office
In the exam room I cringe when I see a dog owner comforting a nervous, fearful or aggressive pet. That "good boy" and pat on the head reinforces your dog's behavior, making it more likely that on the next hospital visits he'll behave the same, or worse. Some problem behaviors escalate making it difficult for the veterinary staff to examine or treat the animal. This may mean additional costs for sedation or anesthesia for routine medical needs.
It's natural for a pet owner to want to reassure a pet when he is frightened and it can be difficult to hold back the urge to soothe him. However, the best strategy is to ignore those fearful behaviors in the vet office. Don't be tempted to kiss, snuggle or hold Fido on your lap when he is misbehaving. Rather, place the dog on the floor, refocus your dog's attention to you, and cue him to "sit" or "lie down".
4. Not Using Food As a Reward
Food shouldn't just be for the taking. Don't leave food out for your dog to graze whenever he wants and don't give treats just for the sake of giving a treat. Present food and treats as a reward for good behavior such as sitting quietly, going to a pillow, or performing a trick or obedience work. This places you at the top of the household hierarchy. You become the provider of great edibles in the house, and your dog will be motivated to listen to your requests in other situations.
We all love to spoil our dogs and give treats at times. But be sure to give treats for a reason, or you will have a spoiled doggie brat on your hands.
5. Not Exercising Your Pet Enough
Inadequate exercise can result in obesity and boredom, and may lead to problem behaviors like separation anxiety, destructive chewing and excessive barking. Dogs should get 30 to 60 minutes of sustained physical activity each day for optimum mental and physical benefit. And no- letting Buffy run around the backyard during the day is not adequate exercise.
Not all breeds are cut out for all exercise - a Labrador may enjoy retrieving games or swimming, a Jack Russell terrier may thrive with jogging or Frisbee, while a Basset hound will be satisfied with a leash walk.
Your dog can't be a well-adjusted, socialized canine citizen without you, as the pet owner, taking an active role in training. Put the time in, and you'll be thanked many times over with an outgoing, friendly canine pal that can accompany you on life's adventures.
Featured veterinarian known as "Dr. Debbie" on national pet radio program, Animal Radio. Ebook author of "Yorkshire Terriers: How to Be Your Dog's Best Friend"; "Pugs: How to Be Your Dog's Best Friend"; "Mini Schnauzers: How to Be Your Dog's Best Friend"; and "Shih Tzu: How to Be Your Dog's Best Friend."




Animal Radio News - Lori Brooks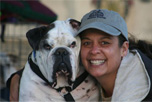 Frequent Flyer Rewards For Pets
Korean Air has introduced an innovative program for pets that are frequent fliers. The frequent flier reward system is called SKYPETS. The program allows pets to rack up points for every trip they take and redeem them for future free travel. For every flight a pet takes in Korea, it will earn one stamp. International trips will add two stamps to their SKYPETS profile. Passengers can register a maximum of five pets (dogs, cats or birds) for the service. JetBlue has a similar system for pets flying in the United States. With their program, JetPaws, passengers can earn 300 TrueBlue points for every flight they take with a pet. And Virgin Atlantic has Flying Paws, which also rewards travelers for trips with pets.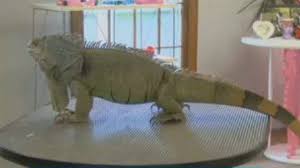 Iguana Guards Store
Traditional businesses have security alarms for protection, but an unusual pet proved to be just as effective when fending off a burglar. The Sheriff in Warrick County, Indiana, says someone broke into a store and attempted to steal a pet iguana, which refused to be a victim. According to the sheriff, "The Iguana took offense to leaving his home and inflicted what was probably a pretty nasty bite," When the store owner showed up the next morning, there was blood in the iguana's cage and on the floor. While the owner is upset that someone broke in, she says she is concerned for the burglar. Why, because if the person didn't go to the doctor or the hospital, even if they didn't need stitches, at the very least she says they need antibiotics, because iguana bites are really bad and can become severely infected quickly.
Deadly Dog Flu Appears in Florida
At least seven dogs in Florida have been diagnosed with potentially deadly dog flu, a highly contagious virus that popped up in 10 states in 2015. The state Department of Agriculture and Consumer Services confirmed the animals had the H3N2 canine influenza virus, which cannot infect humans. The canines are being treated at the University of Florida (UF) College of Veterinary Medicine and health officials suspect they are dealing with at least another six additional cases. All of the dogs are in stable condition, but several had to be hospitalized. Despite not being transmittable to humans, the dog flu can infect cats. Most cases are not fatal to cats, but, if left untreated, the virus can progress to pneumonia. Symptoms (in dogs) include loss of appetite, fever and lethargy. When sick dogs cough or sneeze, their germs may spread up to 20 feet.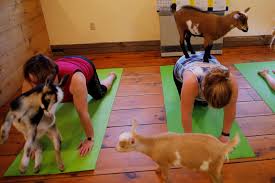 Goat Yoga Classes
Tucked away in a wooded corner of southern New Hampshire, Jenness Farm is the latest small U.S. agricultural operation to cash in on the social media-driven trend, in which yoga enthusiasts practice moves like the cat pose and bridge pose while goats climb around and sometimes on them. Peter Corriveau, who owns a 5-acre farm in Nottingham north of Boston, said he had toyed with the idea for several months before launching his first Goat Yoga class. After conducting a class, he posted some pictures. Now the phone is ringing continuously for people wanting to sign up for the classes, which are $22 a session.
Social Media Helps With Dog & Cat Adoptions
Social media has been a boon for homeless dogs and cats. Animal shelters and rescue groups can now quickly get photos of adoptable animals in front of thousands of eyes — and if their pitches are clever enough, they just might go viral. Taking it just a step beyond, there's Cat People of Melbourne, an Australian rescue group that recently decided to turn the adorable photos and videos approach on its head. Instead of emphasizing the cuddly or intelligent nature of one sleek black cat in its custody, the director wrote an adoption profile that made the cat sound downright nasty. She wrote his bio saying "Mr. Biggles (also known as Lord Bigglesworth) is a bastard of a cat, then went on to call him a dictator and say, "Mr. Biggles likes his cuddles on his terms and will sit in your lap when he decides it's time. If the stroking is not up to his standards, he will nip you." But, she says, she was simply using her many years of advertising and marketing experience when she wrote the profile, but she insists she did not exaggerate. The ad, it turns out, was evidently a masterful piece of reverse psychology. The rescue has been so inundated with adoption applications for Mr. Biggles that they hasn't had time to go through them all.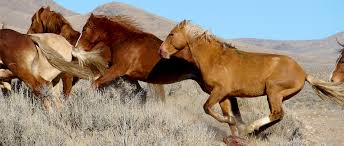 What To Do With Wild Horses and Burros
The BLM, or Bureau of Land Management, which is part of the Federal Government, spends about $50 million a year to house and feed more than 46,000 wild horses and burros in corrals. It's estimated that another 73,000 wild horses and burros roam freely across the western US. Now President Trump's proposed budget for fiscal 2018 suggests a solution: using "humane euthanasia and unrestricted sale of certain excess animals." Although the last U.S. horse slaughterhouse closed in 2007, meat-processing plants in Mexico and Canada slaughter tens of thousands of American horses each year for export to Europe and Asia. And despite the US ban, in November 2015, federal investigators found that a Colorado rancher to whom the government had sold 1,794 wild American mustangs turned around and sold them to slaughterhouses in Mexico.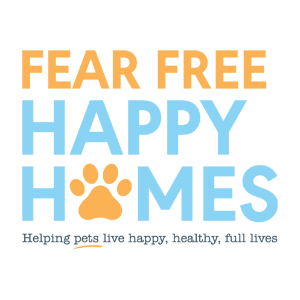 NEWS UPDATE brought to you by Fear Free. "Take the 'pet' out of 'petrified'" and get pets back for veterinary visits by promoting considerate approach and gentle control techniques used in calming environments.

Listen to the entire Podcast of this show (#915)