There's No Such Thing As A Micro-Pig!
Steve Jenkins, Esther The Wonder Pig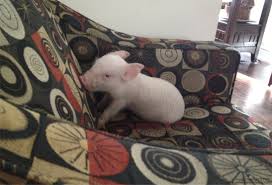 What happens when you adopt a 'micro-pig' without telling your spouse? And what happens when that pig turns out to weigh 600 pounds? Well, you raise $450,000 on Indiegogo to buy a ranch, of course. That's Steve Jenkins story. He tells all this week on the BIG show.
In the summer of 2012, Steve Jenkins was contacted by an old friend about adopting a micro piglet. Though he knew his partner, Derek Walter, wouldn't be enthusiastic, he agreed to take the adorable little pig anyway. Little did he know that decision would change his and Derek's lives forever.
Steve didn't have much time to decide, as the friend said someone else was interested in the pig and if Steve wanted her, he would have to act quickly. So, Steve agreed to take the pig and then surprise Derek with it later.
Needless to say, Derek was not happy. Steve was determined that Derek would come around to seeing the benefits of having her, and that, "It was one of those things where it seemed easier to beg forgiveness than ask permission." It wasn't the first time that Steve had arrived home with a new family member without consulting Derek.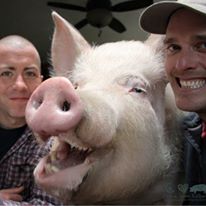 It turned out there was nothing micro about Esther, and Steve and Derek had actually signed on to raise a full-sized commercial pig that was destined to wind up on someone's dinner plate. Esther currently weighs about 650 pounds. It is no surprise that they are unable to get in contact with the friend who originally gave them the pig.
While Esther is a good pig, she has her moments. Steve tells us about one day when he thought she could be left alone for a few hours. Plus, Steve felt that this would show Derek how Esther would fit in and be a perfect, well-mannered, part of the family. Derek was working so Steve left Esther and went to the store. He cleaned the house and went out to get groceries, all to surprise Derek when he got home. He was only gone about 40 minutes and came home to a mess like he had never seen before.
Esther had gotten into one of those big jugs, about 2 and 1/2 gallons, of vegetable oil. Steve said Esther had chewed into the container and spilled the oil all over the kitchen floor. He assumes she then rolled in it and then had to rub it off herself. So she rubbed against all of the walls and furniture from one end of the house to the other. This left her exhausted, so she decided to crash on Steve's bed.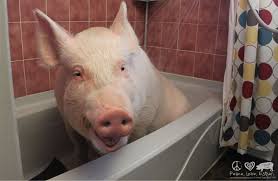 When Steve got home expecting the house to be nice and clean the way he left it and expecting to surprise Derek with dinner, who would be home soon, he walked into a nightmare. He then needed to get Esther up so he could wash the bedding and then he had to clean the entire house. Needles to say, he didn't have time to make that surprise dinner for Derek.
Unlike with most dogs, the house needed to "pig-proofed." Pigs are extremely intelligent and Esther learned how to do many things like open doorknobs. On the other hand, she can let herself in and out to use the bathroom. She even learned how to open the freezer, which was a prime source of free food for her. She would open the freezer so much, as often 30 times repeatedly, to where she broke off the hinge. The freezer is now empty and taped shut. Currently they use a chest freezer and put it into a room that she doesn't go in.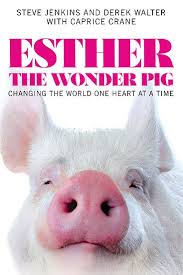 Esther was taught how to use a litter box, but as she grew, they thought in order to have a liter box; it would need to be 12 foot by 12 foot, which just wasn't possible in the house. So after months of training her to use a litter box, which she was doing well at, they then had to train her to go outside.
It soon became clear that Esther needed much more space. That's when they thought about getting a farm. When they found their dream property in Campbellville (Canada), they got the gracious owners to agree to take it off the market for 60 days so Steve and Derek could raise the funds for the $905,000 mortgage. They launched an Indiegogo campaign on May 1, 2014, and by the time it wrapped up on June 30, they had successfully raised $446,000—more than 100% of their $400,000 goal. (They'll take care of the rest of the mortgage by selling their current home.)
After buying the farm, they opened Happily Ever Esther Farm Sanctuary in 2014, where they could care for Esther and rescue other animals in need. They have given up their careers, Steve was a real estate agent and Derek was a professional magician, to run the farm.
You can learn more about Esther in the book, "Esther The Wonder Pig."
https://www.facebook.com/estherthewonderpig




To Vaccinate or Not To Vaccinate – That is the Question!
Doc Halligan, Lucy Pet Foundation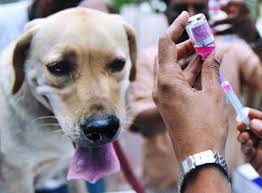 A common question were hear at Animal Radio is, "Should I vaccinate my pet?" People are worried abut over-vaccinating their pets and if these vaccines can actually cause cancer.
This is currently a hot topic with people wondering about vaccinating their children, which has now crossed over to their pets.
Doc Halligan says bottom line, "Vaccines save animals' lives." They can also protect humans from disease. What people need to understand is that all dogs at the age of three months or older, must be vaccinated against rabies. Even cats in some cities must have a rabies vaccination and that you should check with your local animal control.
The first time a pet receives the rabies vaccine it is only good for a year. When they get their second rabies vaccination, it will then be good for three years. That is because when they get a second vaccination it mounts an even stronger vaccine antibody reaction so you would have more antibodies against rabies. It is also very important to hold on to the documentation as to when your pet received the rabies vaccine. If you have no proof that your pet has received a rabies vaccine, a new vaccine would be only counted as a one-year vaccine.
There is also a titer test, which is a blood test that actually measures the antibodies that your pet has in their system. For example, if you travel to another country with your pet, they require that your pet has received the rabies vaccine and they also require a titer test to make sure that you pet has adequate antibodies sufficient to protect them from rabies.
You can also have a titer done at your vet before your pet receives any more vaccinations to make sure they actually need them. If your pet has a high level of antibodies, then you would not need to do a rabies vaccination after three years. After receiving several rabies vaccinations over the years, some pets can go a lifetime without having to receive any more because of their high-level of antibodies.
If your pet has a medical condition, you can also opt out of giving your pet a rabies vaccination if a doctor is willing to sign off on this.
While the rabies is the only legally required vaccine, you should also vaccinate your dog against the deadly diseases of distemper and parvo.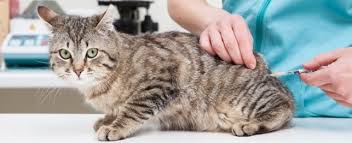 Some cats are prone to developing a deadly tumor at the rabies' injection site. This is a reaction to the adjuvant, which makes the vaccine stable, and not actually the rabies virus itself. Fortunately, there are some vaccine manufacturers that have changed the adjuvant, which they believe is the cause of these tumors. There is now a feline specific rabies vaccine that is safe for cats.
The rabies vaccine used to be given between the shoulder blades of a pet. Now, they are given in the right rear leg. So, if a pet does get a tumor, you can actually amputate the limb.
What if your pet never goes outside, should you vaccine them? Doc Halligan says yes! There are many instances where they can still be exposed, such as if a rabid wild animal makes its way into your house, like a bat making its way down the chimney.
When you vaccinate your pet, you are giving your animal either a killed virus or a modified-live virus, which has been modified so it cannot survive in an animal. The rabies vaccine is always is a killed virus.
The animal's immune system then thinks it has come in contact with the virus. The body then reacts by making anti-bodies. So if your animal actually comes in contact with the virus in the future, their bodies are automatically able to fight it off.
The bottom line is to make sure your pet is adequately vaccinated, which can save their lives against these deadly diseases.
The Mission of The Lucy Pet Foundation is to reduce pet overpopulation by having mobile spay/neuter clinics across the country and to support causes that benefit animal welfare. The Lucy Pet Foundation currently has two buses that travel around Southern California focusing on spaying and neutering. These buses are state of the art surgery units. Their next focus is in generating more funds to expand the work of these buses and have more across the country.

The Lucy Pet Foundation not only offers free and reduced spays and neuters, they also do microchipping, vaccines and de-wormings. Spaying and neutering is not only great for pet population control, but it has been proven that an animal will live on an average of 40-percent longer after having this surgery.
Upcoming Clinics
Free Spay & Neuter for Los Angeles City Residents! Here is a list of upcoming free or reduced fee mobile spay and neuter clinics in California:
Call for more information, questions and to reserve space to get on the list: (855) 499-5829
June 25: Vallarta Supermarket, 13820 Foothill Blvd., Sylmar, CA Spay/Neuter APPOINTMENT ONLY; Vaccine Clinic 10:00am-2:00pm
June 26: Food 4 Less, 1748 West Jefferson Blvd., Los Angeles, CA Spay/Neuter APPOINTMENT ONLY; Vaccine Clinic 10:00am-2:00pm
June 28: Hansom Dam Recreation Center, 11480 Foothill Blvd., Los Angeles, CA Spay/Neuter APPOINTMENT ONLY; Vaccine Clinic - 10:00am-2:00pm
June 29: Superior Store, 9801 Laurel Canyon Blvd., Pacoima, CA Spay/Neuter APPOINTMENT ONLY; Vaccine Clinic 10:00am-2:00pm
County and City Vouchers accepted. But remember, you must get on a list to have your pet seen at these locations. Please call The Lucy Pet Foundation toll free at 1-855-499-5829 or Email: Info@lucypetfoundation.org to schedule an appointment, or register at the events.
See the current list of clinics at http://www.lucypetfoundation.org.
http://www.lucypetproducts.com





Robots That Clean Up After Your Pet
Melissa O'Dea, iRobot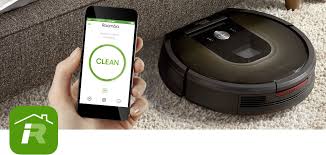 The makers of the Roomba robot vacuum are at it again and have come up with a robot mop. It makes cleaning up after your messy pets easy as pressing a button. Melissa O'Dea from iRobot is here to explain. She's even going to give away a Braava Jet! Do you need one?
iRobot Corporation is an American advanced technology company founded in 1990 by three MIT graduates. The company builds the autonomous home vacuum cleaner (Roomba), and the Braava jet Mopping Robot that scrubs and cleans hard floors.
While the Roomba has been available for about 15 years, iRobot has just created the Roomba 980, which is iRobot's most capable - and first cloud-connected - robotic vacuum to date. With the iRobot HOME App, users can start their Roomba from anywhere at any time, schedule cleaning jobs on the go and customize cleaning preferences directly from a smartphone. This is also the first Roomba 980 that can clean an entire level of a home, recharging and resuming as needed until the job is done. This is possible in thanks to iRobot's new navigation system that enables the Roomba to map its environment as it cleans, keeping track of its location in the home as it goes.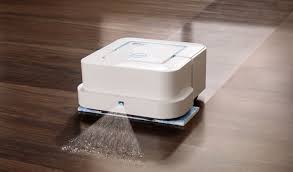 Another new creation is the Braava Jet Mopping Robot, which is designed to mop hard floor surfaces with high amounts of traffic, such as in the kitchen and bathroom. It uses cleaning pads - there are three different types Wet Mopping, Damp Sweeping and Dry Sweeping (kind of like a Swiffer), and it can automatically determine its cleaning action based on the pad chosen. It comes with extra pads, but if you run out you can purchase them at retailers like Bed, Bath & Beyond, Target, Best Buy, Amazon and iRobot.
So how does it clean? It actually has a jet spray when it is in the damp or wet mode. The cleaning head where you attach the pad also vibrates while it is moving along the floor for extra scrubbing. It is great at cleaning stains around your pet's food bowls and even picking up pet hair.
These products are great for the pet owner, but even if you don't have pets, you will love these!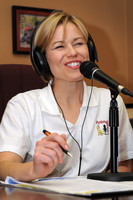 Second Hand Smoke Sickens Pets - Dr. Debbie
Looking to save money on veterinary care or wondering how to keep your pet in peak health? If you are a smoker and have pets, there are some very compelling reasons to quit - second hand smoking's link to causing cancer and illness in pets. If threats from your spouse haven't gotten you to stop smoking yet, maybe looking at that furry friend on the couch next to you will. The life you save may be his.
It's long been known that smoking causes serious health repercussions in people, even to non-smokers in the same environment. According to the Center For Disease Control (CDC), secondhand smoke contains 7,000 different toxins, hundreds which are toxic and 70 which cancer-causing.
In people, secondhand smoke is linked to cardiovascular disease, lung cancer and childhood asthma, ear infections and Sudden Infant Death Syndrome (SIDS). Similar research in pets has found that animals from smoking homes are at greater risk of chronic lung disease like asthma and bronchitis, respiratory cancers and other cancers.
Pets are exposed to smoke and chemicals not only through inhaling air, but also by ingesting the toxins directly. Smoke particulates settle on pet's fur or are transferred from the owner's hands through petting. Pets then ingest cigarette's toxins through licking humans, self-grooming and grooming other household pets. Cat's especially fastidious nature permits increased intake of smoke residues through kitty grooming behaviors.
What Are Secondhand Smoke Effects In Pets?
Research from Tufts University discovered that cats exposed to smoking had a higher risk of developing the malignant cancer, lymphoma. In fact, cats living in smoking homes had double the risk of developing lymphoma as cats from non-smoking homes. When two people in the home smoked, the risk of lymphoma in cats increased to four times.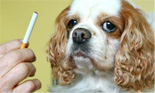 Other veterinary research identified increased rates of oral, nasal and lung cancer in pets from smoking households. Cats from a smoker's home are four times as likely to develop the disfiguring cancer, squamous cell carcinoma. And in yet another study, long snouted dog breeds from smoking homes were at greater risk of developing nasal cancer, likely due to greater absorption area in long nasal passages.
How Can You Safeguard Your Pet's Health?
If you are a smoker, consider stopping - for your sake and your pets. Short of giving up the habit, take steps to minimize second hand smoke on your pets. Only smoke outdoors, away from pets. Wash your hands after smoking, before handling your pets. If you enjoy lighting up in the car when driving, leave your pet at home. Even with car windows down, cigarette smoke inside a car creates a toxic environment for pets.
Have your dog and cat examined by your veterinarian every six months. Alert your veterinarian to any lethargy, trouble breathing, and coughing or unexplained weight loss. Early detection and treatment permits the most effective treatment of chronic respiratory conditions and cancers. Your pet's veterinarian can detect illness through regular exams and preventative screenings.
While smoking isn't the only factor causing cancer in pets, it is increasingly scrutinized as a significant health risk, one that we humans can control. The health decisions we make not only influence our children's health, but also affect those devoted pets that warm our hearts and beds.
Featured veterinarian known as "Dr. Debbie" on national pet radio program, Animal Radio. Ebook author of "Yorkshire Terriers: How to Be Your Dog's Best Friend"; "Pugs: How to Be Your Dog's Best Friend"; "Mini Schnauzers: How to Be Your Dog's Best Friend"; and "Shih Tzu: How to Be Your Dog's Best Friend."


5 Things Pet Parents Must Do Before They Leave Their Pets Behind On Vacation
Robert Semrow, Animal Radio Listomania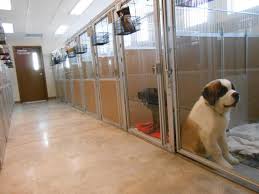 School is out and for many that means time to travel for family vacations and other get-aways. These days, while you can find more places that will welcome your pets, for many it is still not practical and they must make the decision to leave their pets safely behind at home. Before you do that, here are 5 critical reminders of things you must do before you leave your beloved pets with a caretaker:

To begin with, are you going to have your pet boarded at a day care facility, house sat by someone who will stay at the house with them, rely on a family member or use a pet sitter or caretaker that will visit them throughout the day? This can be an agonizing decision. In the end, you know your pet, so it is important that you figure out where the best environment for them will be. They are already going to be anxious since you have disappeared from their world for this extended period of time. Some pets need constant companionship and the presence of an on-demand caretaker. For others, they are fine as long as someone comes and gives them water, food and a belly rub or two.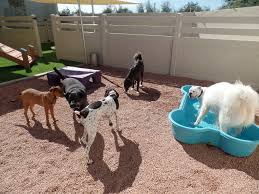 Next, what kinds of credentials and services does the caretaker or facility offer? To begin with, do they know pet first aid? Do they have pet first aid kits with them or at their facility? AND what will my pet be doing all day? Many options offer a variety of activities and services from swimming to hiking outings to massages and much more. I'm certain my dog, Zoey wouldn't mind my family taking more trips as the caretaker we use gives her play time, belly rubs, a walk and then a massage and stretching. Plus food, water, treats and more. Zoey is well taken care of.

Once you have decided the where and who, you must give them as much information about your pet as possible. Here are several things you MUST share with them - Health Status, favorite toys, medications they are taking, habits, issues or concerns that can affect your pet and the caregiver.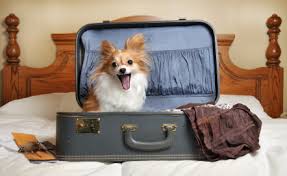 Next answer the what-ifs with your pet caregiver so they can react and provide comfort ahead of time without worrying what you'll say or want. Give them the contact information for your veterinarian, the nearest Pet hospital and if you have pet insurance make sure they have a copy of the card. Next call the veterinarian and let them know you are going on a trip and the caregiver is authorized to get care for your pet. If you don't have pet insurance, is there an amount that you want them to consult with you on first? If so, establish that ahead of time. A qualified and experienced pet care facility or pet sitter will usually ask the what ifs, but don't hold back…you are your pets voice and guardian.

Finally, keep in mind that many places welcome pets as traveling guests these days. There may be special perks or activities they offer for their pet guests as well. Usually there is an additional cost, but that is often minor compared to the piece of mind of having your pet friends with you on your adventures.

Summer is a great time to travel with the family and in some cases with your pets. Take the time to plan for the care of your pets in the same way you planned your trip and your pet will benefit. Share your pet sitter and caretaking tips on our Animal Radio Facebook Page.
http://petworldinsider.com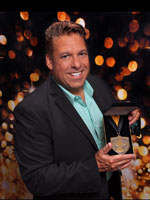 The Dogfather's Grooming Tip with Joey Villani
Should You Trim Your Cat's Whiskers?
What happens if you cut, trim or groom your cat's whiskers? Please don't. Dogfather....er, we mean Catman, Joey Villani, has more information than you probably need to know about whiskers. But you should listen anyway.
Believe it or not, Joey was asked the question as to whether or not their cat's whiskers needed to be trimmed. He explains that a cat's whiskers are actually one of their senses. Can you imagine if someone took away our sense of touch? While you might be able to live without the sense of touch, it would make things very difficult.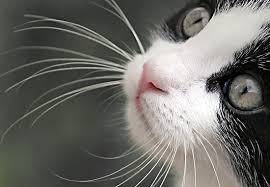 Cats use their whiskers not only to measure spaces (if their whiskers can fit into a crevice - then their body will be able to follow with no problem), but they are also used for vibrations. A cat's whiskers can pick up vibrations of prey running about. This allows them to hunt at night in the dark.
Whiskers are set deep into a cat's muscular structure, much more deeper than their hair is. This allows them to pick up vibrations and even change in the atmosphere.
So, the answer is - leave your cat's whiskers alone!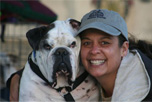 Animal Radio News - Lori Brooks
Pet "Bees"
Everyone has a different idea of what the perfect companion animal is. There are dogs and cats, fish, birds, reptiles, spiders and bees. Yep. There's a guy in Henderson, Nevada, outside Las Vegas who is being sued by his next-door neighbor who wants him to get rid of his "pet bees." To be specific, 5 hives of what he says are his pet bees. The neighbors, who have filed a complaint to have the bees removed, have three children and say they can't even enjoy their pool because of the pet bees next door. The state has done an inspection and says the bees are not aggressive or killer bees, but they've stung the couple's children. The man, who owns the bees, says, "They are friendly and they've never stung anyone before … No one can prove that those were my bees." He describes his bees as gentle and says raising them is a hobby he enjoys and that, "They are not looking to hurt anyone."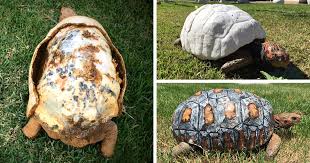 Burned Tortoise Gets Prosthetic Shell
A tortoise whose shell was badly burned in a forest fire in Brazil has been fitted with the first ever-prosthetic shell. After she was found with 85-percent of her shell damaged, an animal rescue group called Animal Avengers decided to see if they could print her a new shell. Using 40 photos of healthy tortoises for reference, they created a 3D model and entered the specs into a computer, which allowed them to print four separate 3D pieces that fit around the burned tortoise. An artist provided the final touch, which was a very realistic-looking paint job. You wouldn't know the shell is not the one the tortoise was born with!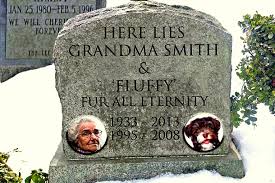 NY May Allow People To Spend Eternity With Pets
New York State may soon allow pet owners to spend eternity with their pets. The state Legislature has passed a bill allowing cemeteries to offer people the option of being buried with the cremated remains of a dog, cat or other tame domesticated animal, but cemeteries wouldn't be required to allow pet remains. Last year, New York lawmakers passed a law allowing dogs on restaurant patios and are now considering a statewide ban on declawing cats.
Ebola Virus Carried By More Animals Then Previously Suspected
Ebola virus hotspots are more widespread across Africa and are carried by a greater number of animal species than previously suspected, according to a recent study. Scientists led the research from the Center for International Forestry Research and international universities. The report challenges the notion that the Ebola virus is mainly carried by three species of fruit bats. It found numerous potential animal carriers including rodents, primates and even hoofed mammals. In all, more than 60 species of animals could be carriers. Science has proved the Ebola virus does require the body of an animal to survive. Without the animal host, the virus cannot reproduce and infect other animals.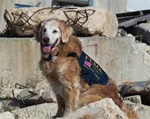 Last Surviving 9-11 Search Dog Passes
Recently two-dozen firefighters and search-and-rescue volunteers in Cypress, Texas, stood in rows outside the entrance to the Fairfield Animal Hospital as Bretagne was walked into the hospital for her last day of life. They were there to pay tribute to the final walk of the 16-year-old Golden Retriever believed to be the last surviving search dog that took part in the 9-11 recovery effort in 2001 at the World Trade Center. It was her very first deployment. After that, Bretagne went on to work in many other disasters, including Hurricanes Katrina, Rita and Ivan. When she retired at age 9, she became a service dog in a local elementary school, giving first graders and special needs students a furry face to read out loud to. Her owner said she knew it was time to let her go when Bretagne didn't eat for three days. The firefighters not only were there to bid Bretagne a hero's farewell, but also accompanied her flag-draped remains to Texas A&M, where she will undergo an autopsy as part of a study on 9-11 search-and-rescue dogs.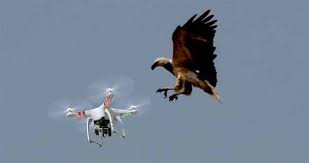 Eagles Trained to Take Down Drones
For hundreds of years people in Asia have used eagles to hunt for them with deadly results. And now with the large raptors in high demand again for their keen eyesight, powerful talons and lethal hunting instincts, they are being used to take down drones. The company Guard From Above describes itself as "The world's first company specializing in training birds of prey to intercept hostile drones." Their newest clients are police in Holland who are in the testing phase. The founder of the company says by using these birds' animal instinct, they can offer an effective solution to a new threat. They released a video recently that shows an eagle swooping in at high-speed to pluck a drone out of the air using its talons. The drone is immediately disabled as the eagle caries it away. A Bald Eagle's grip is believed to be about 10 times stronger than the grip of an adult human hand and can exert upwards of 400 psi or pounds per square inch.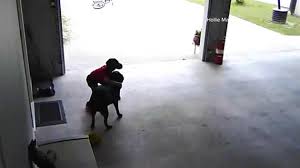 Boy Caught On Camera Stealing Hugs from Dog
Did you hear about the little Louisiana boy went to great lengths to give some love to his neighbor's dog? It's the sweetest story. Every day when he left for school he would ride over to his neighbor's house and put his bike down in the driveway. He would then run into the open garage to play with and give hugs to the dog that lives there. Funny that the dog's owner had a video camera in the garage and saw this going on. She wasn't upset at all and posted the video on her Facebook page asking if anyone knew the boy, saying she would like to let him know he's welcome to stay and play because the dog loved the attention. The boy's mom recognized her son Josh immediately and told the dog's owner that he talks about her dog all the time. They just didn't know he was sneaking into their garage to see her. But that's understandable. Little Josh's own dog had died from old age. So now Josh is a welcome visitor for play dates with his favorite dog Dutchess, and he goes over almost every day now to see her.
Fish Can Distinguish People by Their Faces
Most of us can tell one face from the next. The capacity is built into our brains; primates can do this, we know our dogs can do it and research has shown that birds can as well. But fish? According to a new study from researchers at the University of Oxford and the University of Queensland, for the first time a species of tropical fish has been shown to be able to tell the difference between human faces. They tested archerfish and found they were able to learn and recognize faces with a surprising level of accuracy. And, they could distinguish one face from 44 new ones! There will be some very happy humans to learn that their kids really do recognize them!

Listen to the entire Podcast of this show (#864)