Former Baywatch Star and Rover.com Sued After Pet's Death
Robert Tauler, Attorney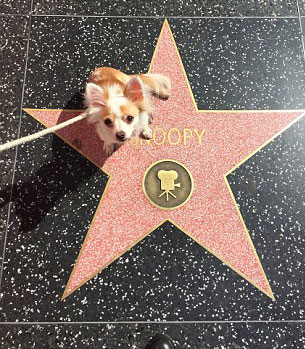 Rover.com and the WAG app have come under a lot of criticism lately for their lack of transparency about several pet deaths. We speak to attorney Robert Tauler who sued former Baywatch actress Angelica Bridges and Rover.com for negligence. Apparently the actress was the pet sitter during an incident with the plaintiff's dog named Snoopy who died in her care.
His client, in this particular case, did a lot of research before deciding to use Rover.com, which is a 970 million dollar company. This particular lawsuit was against Rover.com, who makes specific representations about the vetting process they do for their sitters and dog walkers. Not only do they make more general statements like, "They have high standards for their sitters... Their sitters are approved by a team of specialists," but they also make really specific representations like, "Rover accepts less than 20-percent of potential sitters." All of this creates the impression among consumers that there is this vetting procedure in place, and in other words, that this corporation can be entrusted to do a lot of that groundwork for you. And in fact, the truth is much different. There was really no system in place to vet sitters. They're just putting random people together. The system that they have in place is really just people submitting forms.
The plaintiff in this case was former Baywatch actress in Angelica Bridges. Robert explains that his client didn't know who would be caring for her dog. For many people, this is relevant information to know that the person they are entrusting with the care of their pet was a celebrity of sorts. This is not because she acted on the show, but if his client knew who the person was, his client might have been able to research that person. And if it happens to be that you find out this is someone that you wouldn't want to entrust your pet to, then this is information that consumers should have, states Robert.
Robert doesn't know how much in royalties Angelica Bridges was receiving, and it's really none of his business. However, the bottom line is what he found out in this case, is that there were multiple pets just kind of tossed in a backyard.
After he filed the case, there was a media generated from that. Robert explains that he has had a lot of people call his office with horror stories of what happened to them in similar situations. These included dogs being mistreated, ignored, not fed, or fed the wrong thing and even died. Any number of things can go wrong when you trust your pet to a family member. But when you entrust them to a business, dog boarder, you think there are people watching them all the time because it's their job. But if it's just a random person that you don't know, you have to rely on the company's representations that they've done that trust process for you.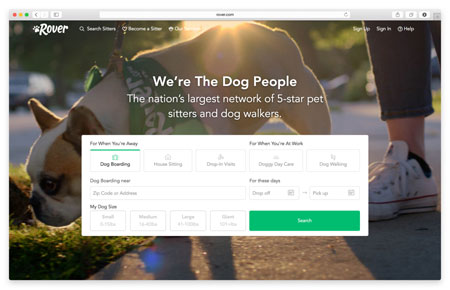 The world is changing and many people are using apps, whether it's for someone to walk their or for a car ride for themselves. For example with Uber, these people are being traced and followed and there's some built in ways to measure safety and decrease the likelihood of something going wrong. Things obviously go wrong whenever two people interact with each other and certainly we've heard horror stories about Uber. However, in this case, there is no way to track what happens. There is no way to determine what's going on when you leave the dog with someone. You have to rely on Rover.com's representations that they've vetted these people and that you can trust them.
This is exactly what they say, until there is an incident. Then they say it's your fault. Then they say that they are not paying you a dime. To Robert, that is an abuse of trust that has led to many people suffering. It's a fact that Rover.com has not acknowledged and the Rover.com CEO has recently downplayed.
Technology can be both good and bad. We know as a society what's good and bad and we know that lying is bad. We know that lying in order to consummate a transaction, when what you're telling the person is not true about it, is wrong. So while this case involved an application and technology, it boils down to what's right and wrong. And here, it's wrong to tell people you vet people and only 20-percent meet this rigorous process when it's wrong, when it's false.




Photographer Captures Last Moment Of Pet's Life
Ross Taylor, Last Moments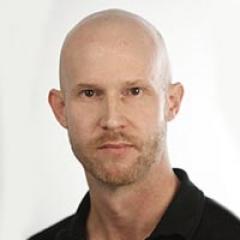 Photojournalist Ross Taylor's latest project captures the last moments between humans and their pets prior to euthanasia. Admittedly a difficult subject, he explains his mission as a guide to assist those going through this process.
Ross Taylor is an Assistant Professor at the University of Colorado Boulder and he's also a photographer and filmmaker. Before moving into academia, he was a photographer for 20 years and the type of work that he does tends to specialize in intimate documentary work.
"Last Moments," is Ross' project where takes pictures of the very last moments between owners and their animals. He initially became aware of the idea of at home pet euthanasia through a friend of his who was going through the process. Ross don't have pets himself, but he was watching this friend go through the very painful last day together with their pet and coming to terms with that intersection. His friend decided to have it done at home, which he had never heard of being an option.
This process, at least for many and Ross can't speak for everybody and he certainly want to be respectful of veterinarians who do it in the clinic, but for the many who choose to do this at home, it can be a much more peaceful process.
One of the things that Ross does whenever he starts documentary work or a project, is try to add to the conversation and do work that is not often done to bring new insight into an experience.
Ross did some research and found very little media on this subject. This is when he decided to explore it.
It wasn't until Ross the project did he become aware of how beautiful, how intense, how raw and how special this transitioning was. It was only once he started it did he become aware of the importance of it, if he's being transparent.
This project was overwhelmingly positive. Ross had no idea of the impact that it would have when he started. Within a week of being on BuzzFeed, his project had around 1.5 million views. It has also been published all over the world. Ross says there's no way that he could have predicted it would have this response.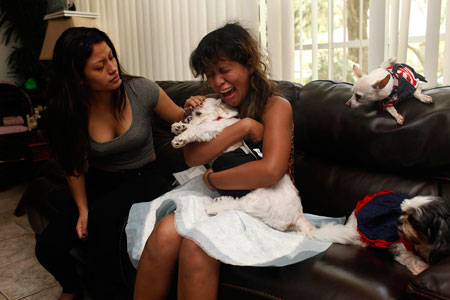 These images are difficult to look at, according to Ross, but he says that his inbox was overwhelmed with people reaching out to him with stories of their own pet, just letting him know that they felt like at least they weren't alone in that process and that their grief and the level of their grief was justified.
Ross says he not received negative feedback. However, if you were to look at comments on publications, there is negative feedback. He explains this by saying if you were to write an article about the sky being blue, and he's trying to be respectful and not flippant, there would be a negative comment. So while it's not that he doesn't care what people say on comments, he just understands that that form sometimes can yield people who are not as articulate or not as thoughtful with their reasons why they may respond to something.
To capture these moments, Ross worked primarily with an organization called Lap of Love based out of Tampa, Florida. He's also worked with an organization in Denver where he's based, and it's only through them that this happened. Ross met extensively with both organizations and explained his purpose and his reasoning for doing this project. Once they understood the reasoning and the motivation for the project, then they explained it to the vets and to their organization and to their support staff. So when someone would call to have this service done, they would tell them about Ross' project on the human animal bond and the last moments that they share together. They would then ask the person is they were interested in and being a part of this. It's only those who would want to be a part of it that they photographed. Ross said he would never show up at somebody's house and just introduce himself, as that that would not be respectful of the moment. He said it's very important to be very delicate and very compassionate and careful at a time like this.
These types of photographs are becoming very common. In Dr. Debbie's practice, she sees pet owners taking selfies or videotaping themselves with their pets at the last moment. She explains that sometimes, unfortunately, the last moment does have to be in a veterinary office if they're in the immediate care or there's an emergency. She sees that that does help people cope with those moments and have a reminder, not just of what they're going through at that moment, but it's also a celebration, a way to look back. It shows the intensity of that bond that people have with their pets. She thinks that's why they to capture that, not because they want to get a morbid last photo. It's more like they are trying to capture that bond in some form, whether it be a photo or video or whatever.
Ross agrees with this. He thinks there's something universal to that desire of documentation.




Unique Ways To Memorialize Your Pet
Michelle Gaylord, Eternal Paw Prints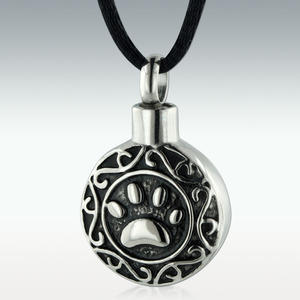 Michelle Gaylord tells us how she organically grew her business into a celebration of the lives of pets. From the simple pendant that contains cremains to wine glasses made with your pet's ashes, she'll talk about some of the more unique ways people have chosen to memorialize their pets.
Michelle started her business out as a gift basket business for dogs and their owners. However, everybody wanted to know if she carried sympathy gifts for a pet that's passed. So the started carrying these items, when people then started asking about urns, caskets and headstones. So that's when she changed her business to Eternal Paw Prints with everything needed to memorialize a beloved pet.
Eternal Paw Prints has been in business for many years. They have searched all around the world and found products for every price range and every taste. Their pet memorial jewelry is a big hit. They have jewelry urns, as a lot of people like to put a small amount of cremains or maybe a lock of hair from their pet in a memorial jewelry urn that they can wear close to their hearts.
Being in the business of dealing with pet loss, is not an easy thing to do. However, Michelle tells us that they receive compliments almost on a daily basis. People thank them for having these items available and for being able to understand their loss. She says the gratitude from people and the stories they tell her, is so touching. She understands this, as her only kids are all four legged and they are her family.
Not only does eternal Paw Prints carry memorial jewelry and urns, they can also make diamonds out of cremains. Michelle tells us that you can pretty much now get anything made and the she herself is going to be cremated into a wine glass so that she can passed down through her family.
Along with diamonds and wine glasses, cremains can also be put into beads and glass pendants. Michelle tells us that cremains make beautiful colors.
Being in this business for many years, Michelle tells us she has had some strange requests that she didn't fulfill. One request was from a person who wanted to know if they could keep their cat in her freezer. Of course , she says she turned that down.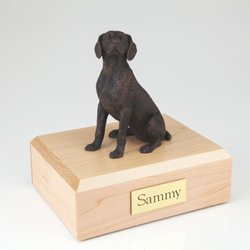 Another time there was a man that wanted to put his dog in a casket and he wanted her to build, or have made, a pipe that would come up through the ground that was capped off. Then when he actually passed away, he wanted to be cremated and poured down that tube in the casket with his dog. Unfortunately Michelle was not able to find anybody to help him, but she did give him some hints.
Surprisingly, a lot of people want a sealed-proof casket so they can have their pet in it above ground. This way, when they move, they can take the pet and the casket with them. Michelle says this is possible, but you have to have the pet placed in Formaldehyde. You can't leave their body liquids inside their body because it builds up gas.
No one has ever asked her to have their pet taxidermied, but she does have a niece that wants to do with her dog. Currently, the dog is still living, so Michelle said she will have to wait and see if that comes about. But she thought about it with her own dogs!
Michelle had never heard about the man who turned his deceased cat into a drone, and doesn't think she would ever do that!
Eternal Paw Prints has everything you need to help you memorialize and remember your friend and companion at this time of loss.




Pet Flipping - Seven Tips to Safeguard Your Pet - Dr. Debbie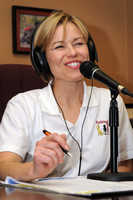 Pet lovers beware of the disturbing criminal trend called "pet flipping." This is when a person steals a pet or takes ownership of a lost pet, and then sells the animal. Pets are typically sold on the Internet to make a quick profit. The American Kennel Club (AKC) reports a rise in pet thefts.
Pet flippers most commonly target purebred dogs because they can fetch a high price, but even mixed breed dogs are at risk. Dogs are swiped from porches, fenced in back yards, dog parks, and cars. Some pet scams involve a person advertising as a pet sitter or trainer, who then disappears with your pet. Other scams involve someone who steals a pet and then responds to the lost pet ad, making money on rewards.
Top 7 Tips to Prevent Pet Flipping:
1. Don't Leave Your Pet Unattended
Avoid leaving your pet unattended, even in your own backyard. Don't leave your pet outside of stores or coffee shops. Tying your dog's leash up while you run that quick errand can give a thief the few minutes he needs to snatch your pet while you step away. Keep a watchful eye on your dog when visiting dog parks.
2. Get Your Pet Microchipped
A microchip is one of the best tools to reunite lost pets and serves as legal proof of ownership. Be sure to keep your contact information up to date with the microchip company.
3. Use GPS Collars
A GPS collar allows you to track your dog's movement minute by minute. These units can help you find your pet quickly if lost, but are of little use if a pet flipper removes the collar. I use the Tagg Pet Tracker for my dog and like that I can locate him to a precise location with my smart phone.
4. Get Your Pet Spayed or Neutered
Dogs that aren't spayed or neutered are especially prized targets to thieves since they are perceived as a money-making opportunity. Spaying and neutering also decreases the desire to stray and is good for your pet's health.

5. Research Pet Services Carefully
Before signing on for pet sitting or dog trainer services, research the business person's reputation with the Better Business Bureau. Ask your veterinarian for a referral to a reputable pet professional. Request references before using a new pet service.
6. Buyer Beware
Be cautious when buying a pet online and only use reputable breeders. Check out a breeders standing with the AKC and breed clubs. Be wary of individuals that lack documentation of breeding or veterinary health care records.
7. Sign Up For Doggie Facial Recognition Apps
High-tech facial recognition technology is now available to identify and track down lost pets with services like Finding Rover. Use your iPhone to download the app at http://findingrover.com. Upload your pet's photo in their database, and promptly notify Finding Rover if your pet is ever lost.
Pet flipping is so heinous because it exploits the cherished relationship between family and a beloved pet. Share this information with fellow pet lovers to spread awareness and halt this criminal trend.
Featured veterinarian known as "Dr. Debbie" on national pet radio program, Animal Radio. Ebook author of "Yorkshire Terriers: How to Be Your Dog's Best Friend"; "Pugs: How to Be Your Dog's Best Friend"; "Mini Schnauzers: How to Be Your Dog's Best Friend"; and "Shih Tzu: How to Be Your Dog's Best Friend." Dr. Debbie's books.




Animal Radio News - Lori Brooks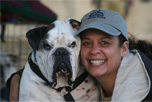 Dogs and Owners Share Personality Traits
We've all seen pictures of dogs and their owners who look alike. However, there's also a study that has found that dogs resemble their owners in an entirely different way, meaning their personalities actually tend to be similar. The lead author of this research studied how human relationships change over time. His study had the owners of 1,681 dogs evaluate their own personalities, as well as their dogs' personalities, on standardized questionnaires. He found that dogs and their owners share personality traits. A highly agreeable person is twice as likely to have a dog who is highly active and excitable and less aggressive than someone who is less agreeable. The study also found that conscientious owners rated their dogs as more responsive to training and neurotic owners rated their dogs as more fearful. By contrast, "If someone is chill, their dog is chill." The hypothesis is that part of it is the dog you pick and the other part of it is the dog it ultimately becomes because of you. When adopting a dog, people tend to gravitate towards one that will naturally fit into their daily rhythms.
Subways Delayed By Animals
Over the years, there have been animal-related incidents in the New York City subway system. Many of them occurred in Brooklyn where long stretches of tracks run outside or near parks and other wildlife areas. But occasionally, especially in the winter, animals make their way inside the subway stations in search of food and warmth. Depending on the case, transit officials often have to turn off electricity on the tracks so that police officers and first responders can remove the animals safely. This has included animals from goats and geese to all kinds of dogs from Poodles to Pit Bulls as well as the occasional cat.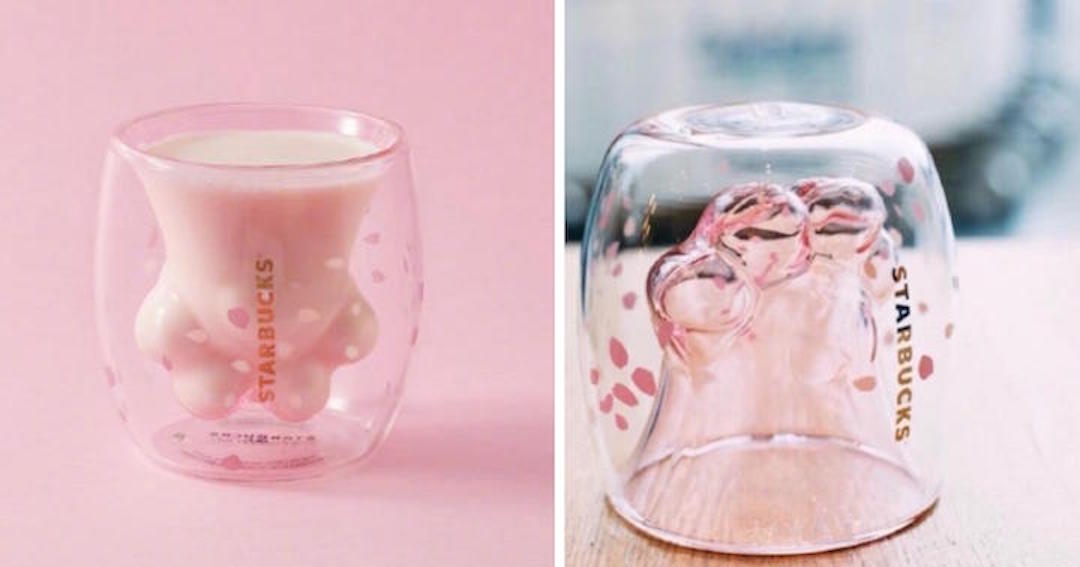 Starbuck's Limited Edition "Cat Paw" Cup
Cats are incredibly popular in China, so Starbucks capitalized on that and released a limited edition "Cat Paw Cup." It is a double-walled tumbler cup and the inside of it is shaped like a cat's paw. When a drink is poured into the cup, the paw shape becomes visible. Customers went crazy for them, even at $30 each. There was such a demand for the cups, that Chinese Internet users and state media accused the company of trying to artificially drive up demand. As a result, Starbucks announced that it would sell 1,000 of them online. They sold out in less than a tenth of a second.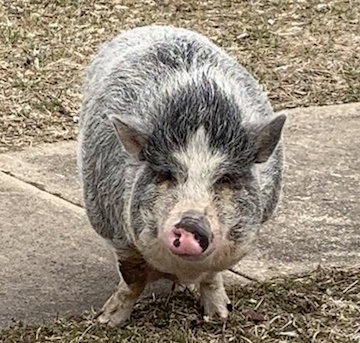 Pig On The Loose Lured With Oreos
Police officers in Ohio had to think outside the box, in this case, a box of cookies, to capture a pot-bellied pig that had been reported missing. The owner told officers that the pig's favorite treat was Oreos. Sure enough, it worked. Charlotte the pig was lured in and leashed when offered her favorite cookies.
Pets Owners Must Microchip Pets before Receiving Opioids
In Minnesota, under a bill introduced in the State House, pet parents will be required to microchip their pets in order to get opioid painkillers for their pet. The politician who wrote the bill says it was an attempt to stop addicts from fraudulently obtaining narcotics for their pet to feed their own addiction. The state tested a system using microchips in pets that, when scanned, would tell them if another vet just prescribed opioids at another clinic. Under the bill, owners would have to get their pets microchipped if they want an opioid prescription that is longer than a week. The measure in Minnesota is not just for dogs, it would apply to other pets as well, including large animals like horses. Laws applying to veterinarians and pets are changing all over the country. According to the American Veterinary Medical Association, fifteen states and the District of Columbia currently have regulations requiring vets to report when they dispense opioids and other controlled substances to patients. Those states are Alaska, Arkansas, California, Connecticut, Illinois, Indiana, Michigan, New Hampshire, New York, North Dakota, Oklahoma, South Carolina, Vermont, Washington State and West Virginia. Not only are states changing reporting requirements, some are also setting limits on the number of pills that can be prescribed at one time and some are even limiting the duration of a patient's treatment with opioids. States such as Colorado and Maine require vets to look at a pet owner's past medication history before dispensing opioids or writing an opioid prescription.

Listen to the entire Podcast of this show (#1125)