Kenny Lee Lewis, STEVE MILLER BAND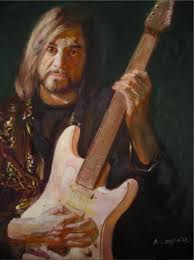 Kenny Lee Lewis, Guitarist and Bassist for the Steve Miller Band, joins us just before they kick off their 3-month tour.
Besides touring with the Steve Miller Band, Kenny is also the lead singer of several other bands including The Hang Dynasty, a "who's who" of famous rock star sidemen, who do corporate events nationwide. Kenny has always been into music and was twelve when he first picked up an acoustic guitar, which was his brother's Sears $40 Silvertone Guitar, which he still has to this day.
Along with music, Kenny also loves animals and has a Papillon Phalene named Sophie. Kenny promised his daughter that if she got her grade point average up, she could have a dog. She selected Sophie, who has now become a member of the family. Kenny tells us that with the breed, the Papillon loves people and is not that much interested in other dogs. He also explains what make a Papillon a "Phalene." This is a variant, which has the drop-ears, instead of the perky butterfly-like ears.
While Kenny's family likes to spoil Sophie, she actually sleeps in a dog bed at the foot of his bed. They live on an acre of land where Sophie can roam free, but this means that she also comes back in the house with all sorts of things on her fur. So to keep things a little more sanitary, the dog bed was put in place. However, she does sleep with Kenny's daughter who doesn't care!
Sophie, of course, also gets plenty of treats. Kenny's wife, Diane Steinberg, is a singer writer and artist. She is also a great piano player. One day, Sophie was trying get attention, so she went over and played the piano. She was originally given treats for her piano playing, but now they just applaud. But if Sophie plays something really hot, she will get a treat.
Kenny has taken plenty of videos of Sophie playing the piano, but keeps them to himself. He thought about posting some on Facebook, but he doesn't want to be "One of those!"
Checkout out SteveMillerBand.com to see where the band will be next. And who knows, maybe some day Sophie will accompany Kenny on stage!



Handicapped Pig Gets Wheelchair
Dr. Len Lucero, Chris P. Bacon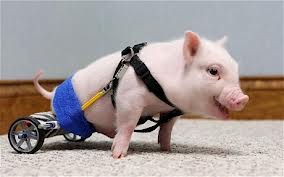 Dr. Len Lucero is a veterinarian who practices in Florida. One day, a young lady brought in a day-old-pig whose two back legs were deformed, and whom she wanted to save. Unfortunately, she was a college student without the funds and time necessary to devote to learning everything necessary to help this young pig thrive. She decided it wasn't fair to the animal or to herself, and felt that euthanasia was the most humane thing to do.
When this little pug was placed on the examination table, he was full of life. As a result, there was no way that Dr. Lucero could bring himself to euthanize this little guy. While he was born with congenital defects, Dr. Lucero didn't feel that was any reason to euthanize him. This little piglet was a pot-bellied pig and Dr. Lucero felt that he would always remain at a manageable weight.
Dr. Lucero decided to take the little pig home to his farm, give him a fighting chance, and named him Chris P. Bacon.
Dr. Lucero was deciding how to help Chris P. Bacon get around, when he came up with the bright idea to use K'nex Toys. These toys were a fun little building block set that he and his son used to mess around with when he was young. They made cars and really cool roller coasters, which consisted of wheels and other pieces that snap together.
While wheelchairs for dogs and other animals have been around for quite a while, Chris weighed less than a pound so Dr. Lucero had to get creative. Fortunately, Chris wanted to be on the move, so he took to this contraption very well.
Now that Chris P. Bacon is older, Dr. Lucero has teamed up with HandicappedPets.com, who created a specialized wheelchair just for Chris. Not only that, they also created a Twitter account and Facebook page for Chris P. Bacon.
Chris has been an inspiration for many people and now both Chris and Dr. Lucero appear at fundraisers for disabled children.

3 Important Things To Get Pet Ready For Summer
Pat Kopischkie, Pet Product Specialist for Wahl Clipper Corporation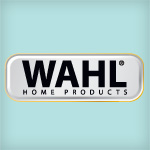 There are three important things to remember to get your pet ready for summer: keep your pet clear (of ticks); keep your pet clean; and keep your pet cool.
This summer, the tick population is greater than usual across the nation. Topical ointments can deter ticks for several weeks, but they include harsh chemicals. Wahl's Natural Pet Shampoo, made from 100-percent-natural plant-derived ingredients, includes a flea and tick control formula that naturally repels fleas and ticks for up to one week.
After taking your dog for a walk or playing outside, run a brush through their hair before allowing them to come back inside. For best results, consider using a large bristled brush that can effectively remove loose debris and creepy crawlies.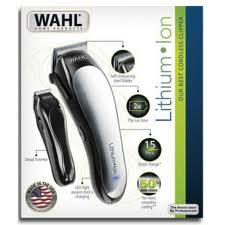 The longer the dog's hair, the easier it is for fleas and ticks to latch on. Keeping your dog's hair short makes it more difficult for parasites to climb on and hide. We know that frequent trips to the groomer can get pricey, so to save on grooming costs, invest in pet clippers and do this at home.
It is also important to keep your dog clean during the summer months. Wahl also offers a complete line of shampoos formulated from 100-percent-natural plant-derived ingredients deemed safe for pets and pet owners to use when your dog gets dirty. The shampoos line features several different options including: flea and ticks, puppy shampoo, odor control, shed control and four-in-one.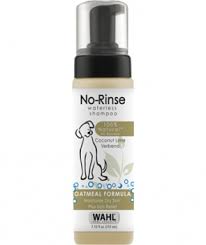 New this year Wahl is also introducing a No-rinse Waterless Shampoo, which uses a foaming agent that goes straight to the source to remove top-level dirt and odors. Users simply distribute the foam through their pet's fur and then towel or brush them off. Not only is this convenient when traveling but constant baths are not always good for some dog's coats. This provides a great alternative. It's important to keep your dog's coat short to prevent access debris and dirt, but also to trim the hair between the dog's paws. Keeping this hair short will prevent your dog from tracking in mud and debris from outside.
Lastly, it's important to keep your dog cool! Making sure your dog doesn't get overheated during the summer is essential. Keeping your pet's hair short not only prevents ticks and keeps them from tracking in mud and debris; it also helps prevent overheating.
Swimming in another great way to keep your dog cool. It's important to bath your dog after swimming in a lake filled with bacteria or even a pool that is filled with harsh chemicals. Wahl's shampoos are a great way to keep your dog clean.
Wahl has everything you need to groom your dog's coat, but for those who still go to a professional groomer, these products are an easy way to clean up or maintain your pet's coat between appointments. Visit their website wahlpets.com which has "how to tips," a grooming scheduler and advice on how to care for specific breeds with regard to bathing, clipping and brushing. You will also find articles pertaining to pet grooming, as well as all of their new products. Follow Wahl Home on Facebook and Twitter.
Preventing Cancer In Pets
Dr. Gerald Post, Veterinary Cancer Center
Dr. Gerald Post, founder of the Veterinary Cancer Center, is back on the air to discuss how you can decrease the chances of your pet getting cancer.
In the summer, or at any time people fertilize their lawns and use insecticide and herbicides, keep your pets off the grass. If chemicals have been recently applied, your pet should be kept off the lawn for 24 to 48 hours. Of course the longer you can keep them off the better.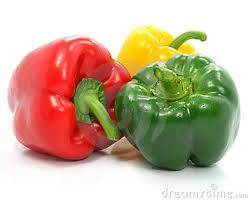 Feeding your pets vegetables three times a week can also decrease the risk of certain types of cancer, such as bladder cancer. These include red, yellow and green vegetables. However, it is not known if raw or cooked vegetables are better. A study was done on animals that ate vegetables, but that information was not included.
Dogs and cats are very similar to people when it comes to what keeps cancer at bay. What keeps our tissue healthy and what keeps our cells healthy is exercise. So a good amount of exercise for our pets absolutely helps.
Just like with people, a good diet is beneficial to warding off cancer. Good nutrition should include balanced carbohydrates and fat. There is currently work going on right now as to the ideal amount of fat, carbohydrates and protein to feed animals.
The interesting thing about nutrition in pets and preventing cancer is that we have a chance of getting an answer. With board certified nutritionists and oncologists working together, we can feed a group of 100 dogs four different things, and then follow them over their life to see which diet helped to prevent cancer the most. This is something that cannot be done in people.
You should always make sure your pet has regular checkups so that your vet can note any changes. And as your pet ages, this is even more important. We know that cancer is a disease of middle-aged to older animals. So as your animal gets older, just as in humans, more frequent visits to the vet, as well as more diagnostic testing, should be done.
You shouldn't be afraid to have your pet checked out by the vet and possibly getting unpleasant news, because as we get better and better at diagnosing things, we are now able to diagnose cancers often with the smallest of biopsies. Early detection is incredibly helpful, and we are much more able to cure your pet.
Detox Your Pet
A.D. Dolphin, Dherbs
Dherbs is a health company trying to start a new health revolution. Their main goal and function is to enlighten and properly educate people to the importance of health and nutrition.
Dherbs loves pets, and has put together a great website where you can find information about pets and how to treat and care for them, as well as making sure they're eating properly.
For the humans, Dherbs has created a full-body cleanse which cleans out the gallbladder, heart, liver, colon, spleen, lung and kidneys by flushing out all of the impurities in these organs.
Now, they have a detox specifically for cats and dogs, which also gets rid of toxins. Nowadays, our pets are eating processed food, which is leaving them with illnesses similar to humans. These illnesses include but are not limited to diabetes and arthritis.
So how do you know when and how often to detox your pet? Look at the quality of their food. A good idea is to detox them about twice a year.
Dherbs detox for pets is 100-percent completely natural consisting of herbs. You just mix it in with their food on a daily basis. You can also find recipes so you can give them healthy snacks throughout the day.
Don't worry, I'm sure when you think of cleansing you automatically imagine many trips to the bathroom! The Dherbs animal detox is gentle on your pet and will improve their food and cleanse their organs without the big "flush."
When you cleanse the body, you open the door to healing and rejuvenation; in other words, you're turning back the hands of time on aging or degenerating. At Dherbs, you will find over 400 products for both you and your pet.



The Dogfather's Grooming Tip with Joey Villani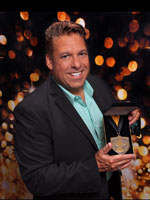 Top 3 Essential Products You Should Always Have
There are three top essential products you should always have on hand, which are all powder-based.
The first thing you should have is medicated powder, like Gold Bond. Gold Bond is good for any type of skin allergy, skin rash or if your dog seems itchy. It is also good for a razor burn after being groomed. You can sprinkle a little directly on your dog and you should see immediate relief as it helps them heal.
The next item is cornstarch. Cornstarch is a great, quick-cleaning tool, which absorbs dirt, oil and grease. Unlike Gold Bond, you can sprinkle cornstarch on your cat as well. Just sprinkle it on their coat, work it through and then brush it out. You should place your dog or cat on a towel when doing this so you don't make a mess. You will be surprised at how much cleaner your pet will look after this.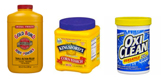 The last item is Oxi-Clean. Just mix a scoop of Oxi-Clean to a gallon of warm water. This is great for upholstery, carpets, or any place where your pet soils or leaves an odor. This mixture will pull the stain and odor right out.
Oxi-Clean is also one of the best skunk odors removers. When using it on skunk odors, just add one drop of dish detergent to the mix and shake it up. The soap will help the mixture stay on your pet longer. While it dries, the smell will probably get stronger, but when it dries, you will be surprised at how much better your dog will smell. The trick to this is to NOT wet your pet first, as this will build a bond with the skunk spray and water. So, apply this mixture directly on your pet when they have been sprayed by a skunk and DON'T rinse it off. Just let it dry. This is non-toxic, safe and can be used on puppies and kitten, but still be careful to keep it out of their eyes.
So if you don't have these items on hand, go out and get them!
Animal Radio® News with Stacey Cohen



Massive Pet Food Recall by Natura Pet
Yet another massive pet food recall has been issued by Natura Pet in cooperation with the FDA because of possible salmonella contamination. The pet food recall is for all Natura pet food products, including pet food for dogs, cats and ferrets, that was produced more than a couple of weeks ago, before additional product testing procedures were put in place. The pet food recall includes all In nova, California Natural, EVO, Healthwise, Mother Nature and Karma branded dry pet food and biscuit products, bars and treats with expiration dates prior to June 10, 2014, check out NaturaPet.com for more details.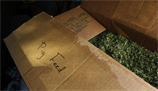 New Meaning To The Phrase Pigging Out
A pig farmer in Washington State says the secret to better bacon may be marijuana. Seattle's BB Ranch founder William von Scheneidau tells NBCNews.com he's started using the leftover stems, stalks, and leaves from the state's now-legal dispensaries to feed his animals. Von Scheneidau, who says he doesn't smoke any pot himself, explains that the pigs that eat the weed usually just lie around, ultimately gaining weight 20-percent faster than those that don't. Those extra pounds lead to pork with a marbled, fattier texture, and many people taking part in so-called "blind bacon tests" say the weed-infused meat is "more savory." Von Scheneidau says his special pork is constantly selling out, but it's not necessarily because the customers have the munchies. He says no one has reported getting high while eating or cooking the meat.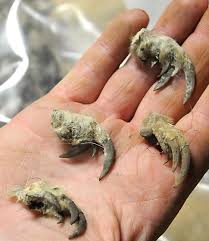 Mother And Son Steel Furry Feet
A mother and her son are facing the long arm of the law after allegedly stealing some furry feet. According to the Minnesota newspaper the Post-Bulletin, Tina Marie Garrison and her son 18-year-old son, Junior Lee Dillon, are accused of stealing bags of gopher feet. A local gopher trapper contacted the Fillmore County Sheriff's Department last December, claiming that several bags of gopher feet had been stolen from his freezer between November 23rd and December 5th. Police were able to track down Dillon and Garrison after contacting local townships that give cash rewards for gophers in order to control their populations. They found that Garrison turned in nearly $4,000 worth of gopher feet, while Dillon collected an additional $1,000. When Dillon was interviewed in December, he denied stealing the feet, saying someone likely used his name when they turned in the feet. The pair has been charged with both felony and misdemeanor counts of receiving stolen property and theft. Garrison pleaded not guilty to the charges, while Dillon is awaiting a trial next month.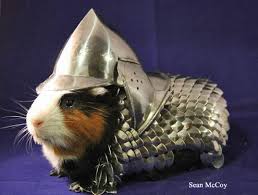 Guinea Pig Helmet Helps Others
A helpful eBay seller is going to great lengths to make sure someone's pet guinea pig is as safe as possible. Sean McCoy, or MightySox as he's known online, is auctioning off a chain-mail-and-helmet combination designed specifically for one of the tiny rodents. McCoy says he made the armor himself for his own guinea pig, Lucky, who unfortunately passed away over the weekend. So in honor of Lucky, he plans to donate all the money raised from the armor sale to the Metropolitan Guinea Pig Rescue in Round Hill, Virginia. The auction is scheduled to end this Friday, but bids have already surpassed the $1,400 mark.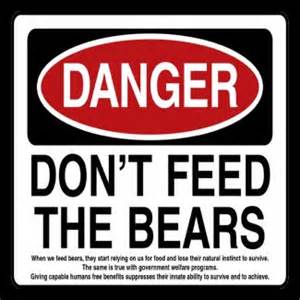 Man Offers Bear Barbecue Meat And Gets Mauled
An Alaska man could face criminal charges after he goaded a bear with barbecue and ended up getting mauled. State troopers tell the Anchorage Daily News the man was attending a picnic at a campground when he decided to take his barbecue on a bike ride. When he ran across a black bear, he tossed some meat at it. The bear ate the meat, but attacked the man when he offered it more. The man who suffered puncture and scratch wounds was treated at a nearby hospital. Officers believe he had a bit too much to drink during the picnic.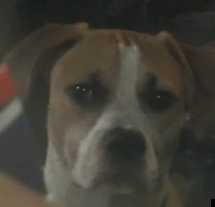 Puppy Chews Off Man's Toes
An Indiana man is recovering after his puppy gnawed off two of his toes. According to Indiana's WTHI TV, Roger Brown of Brazil, Indiana was hospitalized when he woke up with a blood soaked left foot, which had been chewed on by his six-month old pit bull, named Bo. The pooch was able to chew off Brown's pinky toe and big toe as well as taking a significant chunk out of his actual foot. Roger blames himself for the incident. Apparently, Brown, who's disabled and diabetic, had a wound on his foot, which was caused by his diabetes. Brown had been treating the wound and wrapping it tightly before going to bed. However, he says on the night of this strange incident he hadn't been as careful as he should have been. Even though the dog has left him permanently disfigured, Brown has decided not to euthanize the dog. Instead, he plans to continue raising and caring for the puppy.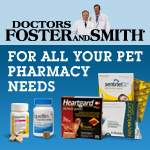 NEWS UPDATE brought to you by Drs. Foster & Smith, affordable pet supplies. Low prices every day, so you save on every order.

Listen to the entire Podcast of this show (#709)