Modern Family's Jesse Tyler Ferguson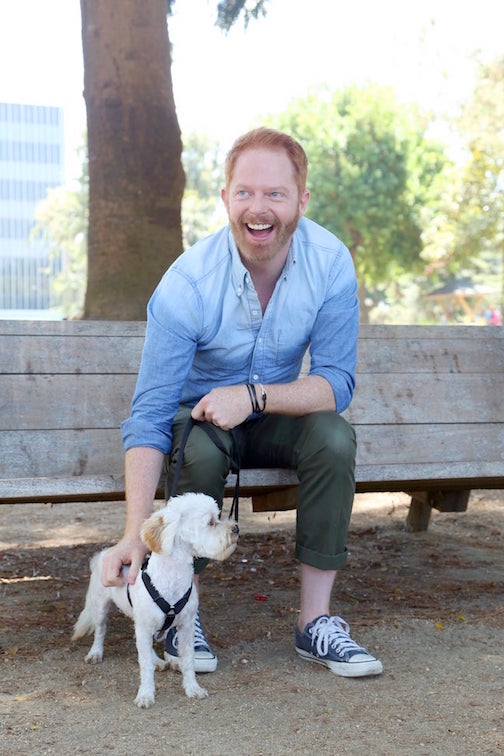 He may play an uptight lawyer on the hit ABC sitcom, Modern Family, but in real life he's an avid pet lover and parent of two dogs, "Leaf" and "Fennel." Jesse Tyler Ferguson will share personal stories of how he and his partner spoil their pups.
Besides his husband Justin, Jesse lives with his two dogs Leaf and newly adopted dog, Fennel. When asked where the name of Fennel came from, Jesse said that Justin was throwing out names that were all food based. He originally suggested ramekin, cilantro, parse snip, paprika, all of which Jesse wasn't crazy about. Jesse then offered up Fennel and that is the name that stuck.
When asked if Jesse shares his bed with his pets, he states that they all have their own beds. However, there are special occasions when they all pile in bed together - how could they not! Plus, his dogs are small, which makes it a lot easier! But he does vehemently states that his dogs do not eat from the table. Jesse does bring Leaf to the set with him, but has yet to bring Fennel, because he is still too young.
Jessie is also the founder of Tie The Knot. The goal of Tie The Knot is clear: to advocate for LGBTQ civil rights throughout the United States & beyond, and to look damn good while doing it. Jesse started Tie The Knot in 2012 as a fun way to engage every American in the fight for marriage equality. Ever since marriage was won in 2015, Tie The Knot has shifted its focus to LGBTQ rights within the United States and marriage efforts across the globe.
Millions of people throughout the world are denied human rights just because of their identity. So come on, suit up, and Tie The Knot so that someday, we can ALL say "I do!"




A Melanie Travis Mystery Book
Laurien Berenson, Bite Club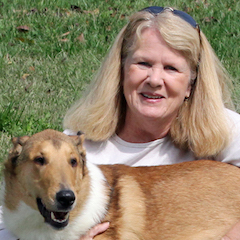 There's nothing like curling up with a good book. And if it's a mystery book, which includes animals, that's even better. Laurien Berenson combines both in her playful, long-running cozy mystery series featuring suburban sleuth and Poodle owner Melanie Travis, with her 23rd installment, Bite Club.
Laurien admits that her own dogs are muses for her and she loves living with dogs. Since dogs really permeate her series, a lot of what she writes about is based on her own dogs' personalities, behaviors and the ways that they respond to her, which has really become a part of her series.
At the moment, Laurien has two Smooth Collies. However, her books series really feature Poodles, because she bred and showed poodles for 20 year. After 20 years, she just really needed a break from grooming and now has two Smooth Collies. She says they are absolutely wonderful and totally different from Poodles. They are just terrific dogs to live with. They're so smart and so much fun to be around, as well as entertaining.
When Laurien wrote the first book in her series, which was actually 20 years ago, she was then breeding and showing poodles and had always wanted to write a cozy mystery. Her first book in the series, A Pedigree To Die For, was set in the dog show background. She just thought that dog show people really want to win. She thought it would be sort of a fun and entertaining backdrop and a neat place because many people aren't that aware of what really goes on. Maybe they watch Westminster on TV or another one of the big dog shows, but they don't really know about what goes on behind the scenes. This was something that Laurien was personally doing and was very familiar with it, so she thought it'd be a lot of fun to use it as a background.
So what does go on behind these dog shows? Laurien tells us that there have been instances of things happening to dogs by people who didn't want to get beaten. As a result, sometimes maybe a dog loses some hair that it needed to go in the ring. Things come up. On the whole, most of the dog shows are very benign and a whole lot of fun. But Laurien likes to take sort of the worst elements and capitalize on them in her books.
This is not just at dog shows. Everyone remembers the Olympics and Tonya Harding, as well as steroids use when there's any kind of competition. So it's no surprise that it happens at dog shows as well, because people care and want to win.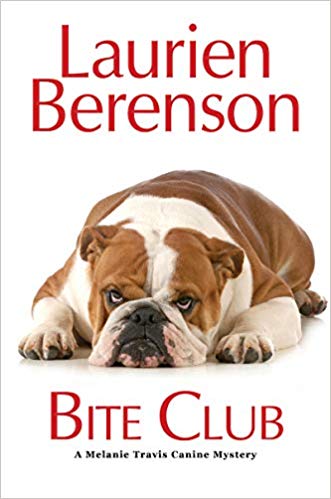 Laurien explains that it's hard work to breed a good dog. You need to look at the pedigree, look at the physical dog and also look at the entire history of the family and what it's produced. You also need a really good temperament, which a lot of people don't think about when they look at dog shows. They may say, "Oh it's just foo foo dogs and all they do is trot around the ring looking pretty." But the dog has to have a good temperament to want to do that, to show well and to be calm enough to sit on the table and be groomed for a long time. Generally speaking, the dogs do enjoy it because it's a lot of attention coming their way. But once you've put in all that time and all that effort, you're at the dog show for a purpose. You're hoping to pick up points towards your championship.
While Laurien's books are fiction, she says interestingly enough, there's one character in the series whose name is Aunt Peg. The main character is Melanie Travis, but Aunt Peg is the woman who breeds and shows Standard Poodles and actually gets Melanie involved in the dog show world initially in the first book. Aunt Peg is a little bit of an overbearing character. People who actually show dogs often ask her if anyone in the series is based on a real person. She assures them that they're not. They're composites or they're characters that she's made up. However, Laurien does admit that Aunt Peg was actually based on a real person who is a very good friend of hers named Helen. Years ago, Laurien said to her, "You do know you're Aunt Peg, right?" Helen was kind of horrified at first and then she laughed and she said, "Oh no, I'm not!" and walked away. Laurien says she's a wonderful muse for that character and some of her phrases pop out of Aunt Peg's big mouth quite regularly
In Bite Club, the main character, Melanie Travis, is a special needs tutor in a private school so she has summers off. This book takes place during the summer when she decides to form a book club and get some friends together. They actually end up naming their club Bite Club. This is because they want to mostly read mysteries and books with "bite" and they think that's kind of a cute title. All of this seems wonderful until Aunt Peg gets involved. When Aunt Peg gets involved, suddenly the size of the group grows exponentially. There are a lot of people in there that Melanie doesn't really know and she doesn't know why they're in her house with their books. Then after the second book club meeting, one of the members is murdered. That sort of sets her down the path of having to try and figure out how this person, who had shown up in her book club, had a past that had come back to "bite" him.




Pet Flipping - Seven Tips to Safeguard Your Pet - Dr. Debbie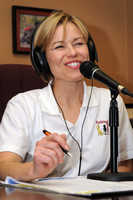 Pet lovers beware of the disturbing criminal trend called "pet flipping." This is when a person steals a pet or takes ownership of a lost pet, and then sells the animal. Pets are typically sold on the Internet to make a quick profit. The American Kennel Club (AKC) reports a rise in pet thefts.
Pet flippers most commonly target purebred dogs because they can fetch a high price, but even mixed breed dogs are at risk. Dogs are swiped from porches, fenced in back yards, dog parks, and cars. Some pet scams involve a person advertising as a pet sitter or trainer, who then disappears with your pet. Other scams involve someone who steals a pet and then responds to the lost pet ad, making money on rewards.
Top 7 Tips to Prevent Pet Flipping:
1. Don't Leave Your Pet Unattended
Avoid leaving your pet unattended, even in your own backyard. Don't leave your pet outside of stores or coffee shops. Tying your dog's leash up while you run that quick errand can give a thief the few minutes he needs to snatch your pet while you step away. Keep a watchful eye on your dog when visiting dog parks.
2. Get Your Pet Microchipped
A microchip is one of the best tools to reunite lost pets and serves as legal proof of ownership. Be sure to keep your contact information up to date with the microchip company.
3. Use GPS Collars
A GPS collar allows you to track your dog's movement minute by minute. These units can help you find your pet quickly if lost, but are of little use if a pet flipper removes the collar. I use the Tagg Pet Tracker for my dog and like that I can locate him to a precise location with my smart phone.
4. Get Your Pet Spayed or Neutered
Dogs that aren't spayed or neutered are especially prized targets to thieves since they are perceived as a money-making opportunity. Spaying and neutering also decreases the desire to stray and is good for your pet's health.

5. Research Pet Services Carefully
Before signing on for pet sitting or dog trainer services, research the business person's reputation with the Better Business Bureau. Ask your veterinarian for a referral to a reputable pet professional. Request references before using a new pet service.
6. Buyer Beware
Be cautious when buying a pet online and only use reputable breeders. Check out a breeders standing with the AKC and breed clubs. Be wary of individuals that lack documentation of breeding or veterinary health care records.
7. Sign Up For Doggie Facial Recognition Apps
High-tech facial recognition technology is now available to identify and track down lost pets with services like Finding Rover. Use your iPhone to download the app at http://findingrover.com. Upload your pet's photo in their database, and promptly notify Finding Rover if your pet is ever lost.
Pet flipping is so heinous because it exploits the cherished relationship between family and a beloved pet. Share this information with fellow pet lovers to spread awareness and halt this criminal trend.
Featured veterinarian known as "Dr. Debbie" on national pet radio program, Animal Radio. Ebook author of "Yorkshire Terriers: How to Be Your Dog's Best Friend"; "Pugs: How to Be Your Dog's Best Friend"; "Mini Schnauzers: How to Be Your Dog's Best Friend"; and "Shih Tzu: How to Be Your Dog's Best Friend." Dr. Debbie's books.




Animal Radio News - Lori Brooks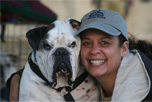 Diabetic Alert Dogs (DADs)
Many dog people would say their dog is their best friend, but for a growing number of people with various but specific physical, neurological or mental health needs, a service dog is also an invaluable partner in day-to-day life. There are dogs that are highly trained to see, hear and retrieve objects for people, but also quite common now are dogs that are called DADs, or diabetic alert dogs, that can provide independence and security by alerting someone to chemical changes in their handler's blood sugar. For people who have seizures there are dogs who can tell when a seizure is about to happen, that would be a seizure alert dog, not to be confused with a seizure response dog, which is a dog trained to provide help to a person experiencing an epileptic seizure, not to predict the seizure. These dogs can be trained to bark for help or to press an alarm system during a person's seizure. They can also get a person out of an unsafe place during a seizure and help the handler to come around when the seizure ends. These dogs may also bring medicine or a phone to a person who is coming out of a seizure.
HSUS's Horrible Hundred
The Humane Society's (HSUS) 2015 List and Report on Puppy Mills includes100 puppy mills in 16 states. The HSUS recommends not purchasing a puppy from a pet store or over the Internet, because they are commonly sourced from puppy mills. They want to remind everyone that the only way for a potential buyer to know if they are purchasing from a humane and responsible breeder is to visit the breeder of the dog they want in person and see how and where their puppy was raised. In alphabetical order, the 16 worst states on the list are: Arkansas, Georgia, Illinois, Indiana, Iowa, Kansas, Minnesota, Missouri, Nebraska, New York, Ohio, Oklahoma, Pennsylvania, Tennessee, Texas and Wisconsin.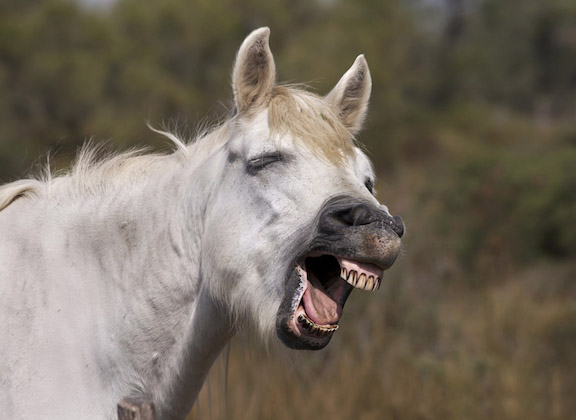 Horse Whinnies Have Two Frequencies
Swiss researchers in Zurich have analyzed the structure of 20 different horses whinnies. Throughout the testing period, the researchers recorded vocalizations the study horses made and then analyzed the acoustical properties of each. The data revealed that equine vocalizations, unlike those of most mammals, have two frequencies. Another surprise came when the researchers compared the vocalizations the horses made during positive and negative situations. Shorter and lower frequency whinnies are positive, while negative whinnies start much higher in frequency and are longer. Much more remains to be learned from analysis of equine vocalizations. The next step for us is to find out if other horses can extract the emotional information and differentiate between negative and positive whinnies.
New Pet-Safe Anti-Freeze
Every year, some 90,000 pets and wild animals along with 5,000 humans are poisoned by antifreeze because Ethylene glycol, the main ingredient in antifreeze and deicers, is chemically broken down in the body into toxic compounds. But there's been a new discovery that's great in many ways, a new antifreeze ingredient that works better than the old stuff, and it's non-toxic! The new ingredient is Propylene glycol, a food additive, which is "generally recognized as safe" by the USDA, and it cools car engines 60-percent better than the old stuff!

Listen to the entire Podcast of this show (#1022)