A Special Boy and His Special Dog
Will Howkins, Haatchi and Little B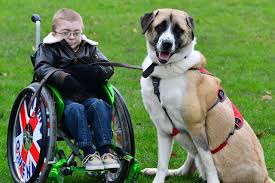 Owen and his dog Haatchi have gone viral on YouTube. It's the story of a little boy that overcomes his disease with the help of a dog. Owen's father, Will Howkins tells the intriguing story behind the boy and his dog.
Will Howkins tells us about his son, Owen (Little "B" which stands for Little Buddy) who has a rare disorder called Schwartz-Jampel syndrome, a genetic disorder thought to afflict only 25 people globally. The muscle-stiffening condition, which puts his muscles into continual contraction, left him struggling to breathe as he withdrew into a private world. Because of his condition, Will says it looks like Owen has a body builder's body.
The disease also affects his facial muscles, so he has quite a pronounced and unique facial expression.
Before Haatchi came along, Owen was in his wheelchair for the last four years. Owen started to realize that people were staring at him all of the time, so he didn't want to go out. He didn't mind being on the shoulders of his dad or just being carried, which he felt made him look like a normal child, but he didn't want to be seen in his wheelchair.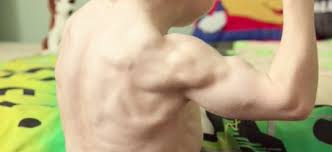 About 2 and ½ years ago, Will and his Wife Colleen saw an appeal on a friend's Facebook page who was fostering Haatchi after he had been clubbed over the head and tied to a railroad track. Haatchi was hit by a train and as a result lost one of his back legs.
Colleen, who was a dog trainer, first fell in love online with the enormous disabled dog. When they decided to adopt Haatchi, they were originally looking for another dog to keep their current dog Pixel company when they weren't home.
They were looking for a medium sized dog and didn't want anything too big. However, Haatchi stole Colleen's heart and they decided to give him a try.
When Haatchi was first brought home, Owen was asleep. Haatchi was full of energy and bouncing around the house, playing with Pixel. However, as soon as he went into Owen's room, his demeanor completely changed. Haatchi was so gentle, he even avoided all of the medical equipment, sniffed around the room, and left.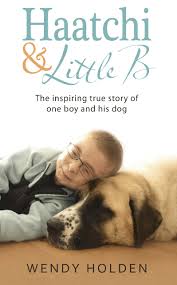 The following morning, when Owen and Haatchi were introduced, he did the same thing. He went from being a boisterous dog to a gentle giant. It was like two lost souls meeting again!
Will says he is sorry that he didn't videotape it, as it was that wonderful. Haatchi obviously sensed something was different with Owen, and Own could obviously see that Haatchi was different.
From that moment, the two of them have never left each other's side, except for when Owen goes to school.
Surprisingly, three weeks after the arrival of Haatchi, Owen started to realize that people were still staring, but now they were looking at Haatchi instead of him. Haatchi was able to take the attention away from Owen. Owen loved this and now wanted to go out with Haatchi as much as he could. Owen loved telling people the story of what happened to Haatchi.
Six months later, Will explains that Owen was a lot more talkative and his confidence and his self-esteem had blown up massively, to the point now where, "You can't shut him up!"
https://www.facebook.com/Haatchi



"HERO PERSON OF THE WEEK" - Clarissa Black, Pets For Vets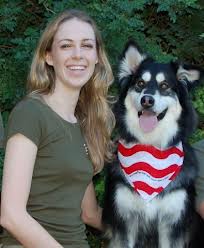 Clarissa Black is this week's Hero Person. She created a service that matches returning soldiers with adoptable dogs. Some of our servicemen suffering from Post-Traumatic Stress Disorder (PTSD) find the dogs to be extremely comforting and an important part of their recovery and rehabilitation.
Clarissa graduated from Cornell University with a Bachelor of Science degree in Animal Science. She discovered her passion for training working with elephants and dolphins but gradually realized she wanted to develop relationships with the animals for which she cared. Through her career as a dolphin trainer, Clarissa learned advanced animal training principles and applied them to husbandry, veterinary, research and program training.
Pets for Vets began when Clarissa was doing volunteer work with her own dog, who is such a ham and loves attention. She was visiting veterans in a hospital and their faces just lit up when her dog would shake their hand or lie on the bed with them. Some of the veterans started asking her if they could keep her dog and take him home. She then thought, instead of just visiting with a dog once a week, wouldn't it be great if they could have their own dog 24/7.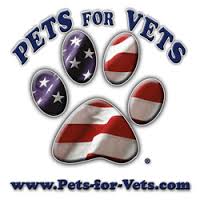 One of the main reasons dogs end up in shelters is that people don't pick the right dog to begin with. They don't pick the correct dog for their lifestyle of family. Therefore, the dog causes stress and doesn't fit in properly or has behavioral issues. These dogs are then placed in shelters.
Clarissa takes shelter dogs, evaluates them and matches them with returning veterans. They match the temperament of the dog to the personality and lifestyle of the veterans, to help them overcome things like PTSD's, traumatic brain injury, anxiety and depression. She says it is like a match making service for the veterans. Each dog is matched specifically for each veteran, where the veteran also goes through training with one of their professional trainers to learn different behaviors, which can help with their problems.
So how does a dog help with PTSD's? Carissa tells us that there are many ways. Just having a pet can actually lower stress levels, but there are many things that just having pets can actually do, that have been researched, like getting veterans out of the house to walk their dogs. Dogs also create icebreakers. So instead of being closed off and isolated, there is now this dog that will draw people over to talk about and then create that connection with the veteran.
Pets For Vets has also trained dogs for nightmare behaviors, where they will actually wake a veteran up in the middle of a nightmare.
Pets For Vets also provides training, because when most people get a dog, the dogs don't know how to be in a home, what they can't chew on or where to go to the bathroom.

Each dog that is placed with a veteran is healthy, up-to-date on vaccinations, spayed or neutered and microchipped. They also come with a huge welcome package that includes leashes, bowls, crates and toys, as well as training for the dog and any follow up training that might be necessary. All of this is done at no charge for the veteran.
All of the dogs trained by Pets For Vets are from shelters or rescue groups. These dogs were all looking for a second chance as well. Clarissa tells us that a veteran once said about these dogs is that, "If they can heal, then we can heal."

Animal Radio's HERO PEOPLE is brought to you by Zeuterin a safe, permanent and virtually painless alternative to surgical castration.





Dogs That Have Gone That Extra Mile
Ace Collins, Mans Best Hero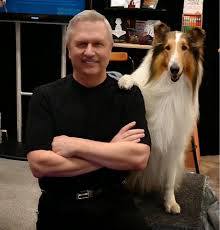 Prolific author Ace Collins entertains with warm and fuzzy conversation about his latest book that celebrates exceptional dogs. And as Lassie's biographer, he has stories. Not only is Lassie alive, but SHE is now ten generations old.
From Lassie to Old Yeller to Rin Tin Tin to Marley, dogs have stolen our attention and our hearts. In real life, our own pets are more than just canine companions; they are members of our family. And for some, they are heroes and brave servants.
Man's Best Hero is a collection of short, dramatic stories about dogs that have gone the extra mile. Though not trained to perform heroic acts, circumstances and the remarkable bond between the dog and its owner led these animals to perform amazing feats that defy logic. Whether it is saving a drowning man, jumping in front of a truck to push a toddler to the curb, or tearing the burning clothes off a child's back, the actions presented in these stories display courage, loyalty, intelligence, and other admirable qualities of life and faith.
Ace said that there were so many stories available for his book, that finding stories were not an issue. The issue was finding stories that fit 13 different traits that he thinks human being should have, that dogs do a good job teaching us.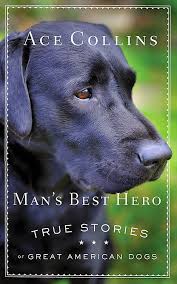 Those traits are opportunity and second chances, tenacity, determination, potential, duty, fortitude, loyalty, love, courage, gratitude, purpose, character and faithfulness.
Some of the stories include the drama in real life, real incredible dogs overcoming the odds to save a human being. However, there are chapters of dogs that are heroes that do nothing more than to go into cancer wards where parents and kids have given up and bring hope, life and a reason to live again.
Thanks to a bit of help from humans, the dogs in this book found a life of service. And that is the challenge for each of us as pet owners. We should not just furnish them a home but also provide our companions with a reason to live.
Ace Collins is the official biographer of Lassie, who is now on her 10th generation. Lassie is always the sons of the previous generation. When you look at the current Lassie, named Junior, it is like looking into the eyes 10 generations ago of Pal, who played Lassie in the 1943 movie, Lassie Come Home, or Junior and Baby who we remember from the television series. Ace can actually look at each of these dogs and tell you exactly what generation they are and what their real names were. Ace even has a dog that is sister to the current Lassie.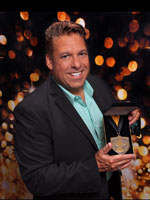 The Dogfather's Grooming Tip with Joey Villani
Take Care Of Your Dog's Coat After Swimming
It' that time of year when it is hot outside, you're taking your pets on vacation, and your dog is probably swimming.
If you have a shorthaired dog, there is not much to worry about, except rinsing him off especially if they swim in fresh water.
In fresh water, you have a lot of bacteria that builds up. This can affect your dog's skin and coat. This can manifest itself in allergic skin reactions and even hot spots. But if you rinse your shorthaired dogs off really well after they swim in fresh water, you shouldn't have nay problems. If they swim in salt water, you still want to rinse them off completely with water or shampoo them.
If you have a longhaired dog, this could be a problem for their coat. When a longhaired dog gets wet and its coat dry without brushing, it matts unnaturally. A normal matt will matt away from the skin and twist down towards the skin. But when a longhaired dog gets wet, the matt actually starts close to the skin. This makes it hard to see until it is too late.
Brushing these matts out is very difficult and can even be painful to your dog. When it gets this bad, it is best to get it shaved off by your groomer.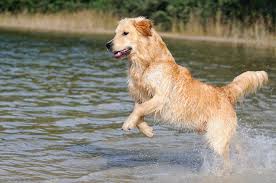 Pool water can also wreak havoc on your pet's coat. The chlorine can matt your dog and dry out their skin. If they swim in a pool just rinsing off is not enough, as it won't remove the chlorine. You need to strip it out of the coat. Believe it or not, the best thing is to use is Dawn Dish Detergent, which is a de-greaser. Don't just use any dish detergent, you need one that is a de-greaser. Just mix a ¼ cup of Dawn to a quart of water. This will pull out all of the chlorine and then you just rinse it and it wont dry out your dog's skin. This is also the best flea shampoo you can use and is safe! After doing this, you will then run a comb and brush through your dog.
If your longhaired dog has been swimming in a lake, a general pet shampoo works real well. But, you might want to use a medicated shampoo that has an anti-fungal in it, so you have no bacteria that is going to grow.
For dogs that have folds like Bulldogs and Shar-peis, you want to dry and powder those folds when you are done. If the folds stay moist and don't dry properly, it is a haven for bacteria.
Just before your pet completely dries, one more comb and brush and you will have a happy swimming dog!



Animal Radio® News with Tammy Trujillo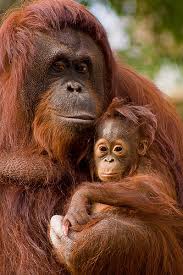 Artificial Insemination in Orangutans
Orangutans are a seriously endangered species. But their survival as a species has just gotten a huge boost. This story is just coming out now, but it involves a baby orangutan born in May at the Leo Zoological Conservation Center in Greenwich, Connecticut. He is the first baby born who was conceived using assisted reproduction. It's a common procedure in humans, but had never been tried with a primate before. Now researchers say it could help save the orangutans as well as other endangered species.
Does Phone Warranty Cover Pet Damage?
Recently, there was a study done to see how many pet owners have had their dog or cat damage or destroy one of their electronic gadgets. Turns out about 1 in 10 had. The favorite part of the device, the power cord. The study found that male dogs are 86 times more likely than a female dog to wreck a gadget. So the question, does an extended warranty cover pet damage? Turns out in many cases, they do. The study was done by SquareTrade, a company that sells extended warranties for electronics. The company commissioned the survey because it was seeing an increase in claims for repairs and replacements for pet-related damage. Cell phones account for almost a third of damaged devices, the survey found. The damage happens from a pet knocking the device off a table to making it, shall we say less, appealing to use (vomiting or urinating on it)!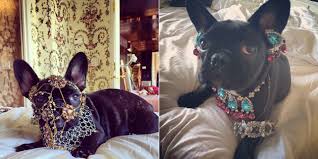 Lady Gaga Under Fire From PETA
Do you dress up your dog? Lots of people do. Seems like an ok things to do, that is if the dog is into it. What about accessorizing your dog with a little jewelry? Pop star Lady Gaga has come under fire from PETA for putting some bling on her dog. She recently showed some pictures on her Instagram page of her French Bulldog Asia, draped in sparkly necklaces, bracelets and clip on earrings. Animal lovers have chimed in too saying that it's not fair because Asia doesn't have a choice in the matter and that dogs are beautiful enough without any decorations. PETA says the best accessory for any dog is a comfortable, secure and well-fitting harness.
Trip To Vet Might Save Your Life; If You're A Woman
A trip to the vet might not just help your pet, but it might save your life, that is if you're a woman. It's only happening right now in Illinois, but the Ovarian Cancer Symptom Awareness Organization hopes to take it nationwide. The program provides veterinarians with a chance to raise awareness about the subtle symptoms of ovarian cancer. More than 80-percent of the veterinarians graduating these days are women and they often end up seeing female pet guardians more often each year than these women see their own human medical doctors. The organization says the idea sprang up after they realized that many people start talking about their own health problems when they go in to see their vet. The vets aren't trying to replace 'people' doctors, but want to use the chance to talk about the symptoms and advise a woman who might present them to get to her doctor right away. Ovarian cancer is highly curable if caught early.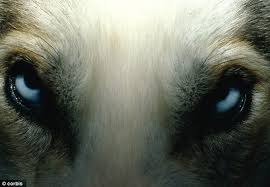 Dogs, Wolves and Humans Communicate With Their Eyes
Here's something that dogs, wolves and humans all have in common, we all communicate with our eyes. They've been researching this at the Tokyo Institute of Technology and Kyoto University and found that the color of the face around the eye, the shape of the eye and the color and shape of both the iris and the pupil are all part of an elaborate, eye-based communication system. They identified three basic patterns and dogs, wolves and humans all fit into the A-type creatures in which the eye outline and the eye position in the face are clear. Such individuals invite you to look into their eyes. The researchers even suspect that the white of the eye evolved, in part, to set off the darker hues of the iris and pupil.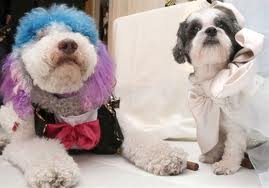 Guinness Book of World Record For Most Expensive Pet Wedding
It's now official. A wedding that took place last year has earned itself a spot in the Guinness Book of World Records as the most expensive pet wedding ever. The nuptials between Baby Hope Diamond, who is a Coton de Tulear and the poodle, Chilly Pasternack set the proud pet parents back over $250,000. The ceremony took place at the Jumeriah Essex House Hotel in New York's Central Park. So what ran the bill up so high? It was $30,000 in flowers, a $6,000 wedding gown, $5,000 in sushi for the reception and a $15,000 wedding band for the bride. The ceremony was officiated by Triumph, the insult dog and attendees included Betty White and Barbara Walters. Insane, yes, but it was organized by animal rescue advocate Wendy Diamond who founded Animal Fair Magazine. All of the out of this world goods and services were donated and all the proceeds from tickets to the event went to the Humane Society of New York.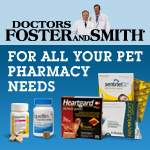 NEWS UPDATE brought to you by Drs. Foster & Smith, affordable pet supplies. Low prices every day, so you save on every order.

Listen to the entire Podcast of this show (#762)