Should You Have Pet Insurance?
Doc Halligan, The Lucy Foundation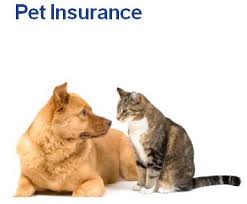 If you don't have it, you've probably asked yourself whether you should have pet insurance for when the unexpected happens. Since pets are living longer and our veterinary medicine has advanced, options for emergency treatment can be costly unless you have insurance. But that doesn't necessarily mean, 'go out and get it.' Doc Halligan has important tips for deciding if you should get it and choosing the right policy.
Whether or not to acquire pet insurance is a tough decision, but Doc Halligan always starts of with asking the question to pet owners of, "Would you do anything that you could to save your pet's life?" If you answered yes, then you need to get insurance.
At Marina Vet where Doc Halligan practices, they have a grade questionnaire for pet owners in case of an emergency. Those questions range from "Do Not Resuscitate; I Will Spend Up To $100 To Resuscitate; and I Will Spend Any Amount of Money to Resuscitate" my pet, and a pet owner needs to circle the one that applies to them.
Doc Halligan states that if your pet is like family, and you would do anything your could to keep them alive with a good quality of life, then you need to look into pet insurance, because financial euthanasia is not an option for you.
It sounds awful, but for some people euthanasia is their only option. They may love their pet as much as you love yours, but they don't have the financial means to do whatever is necessary.
But which insurance do you choose? Is it better to get your pet covered while they're young? There are so many questions and so many policies available that can range from $10 to up to $100 a month, depending upon what type of coverage you want. You can get a policy that covers everything, including annual examinations and vaccinations, or a policy just for emergencies.
Doc Halligan usually suggests that a pet owner add up the expenses for each pet for the last five years. This will give you an idea if you have one of those pets that is always getting into trouble or a pet that never has any problems.
Not all insurance companies are the same, so you must get individual quotes from several. Like in any profession, you will find that some insurance companies are much better than others.
So how do you select one? You want to make sure that an insurance company has been in business for a few years. You want to make sure that they are also licensed in your state, as all insurance companies are not licensed in all states. You can also ask you veterinarian and other pet owners what insurance company they use and what they like or don't like about them.
Like with any insurance policy, read the fine print so there are no surprises. Some policies won't cover hereditary or congenital defects and others will.
The best thing to do when you get a new puppy or kitten is to just get the insurance, which is probably the cheapest time to get it. When they are young, they usually don't have any pre-existing conditions, but when they get older, it becomes pricier.
An alternative to insurance is to start a savings account for you pet. This is harder than it sounds, because most people will spend it on other items. Plus, the cost of veterinary care has gone up a significant amount in the last few years. So it might be best to just get the insurance, but again, read the fine print!
The Mission of The Lucy Pet Foundation is to reduce pet overpopulation by having mobile spay/neuter clinics across the country and to support causes that benefit animal welfare. The Lucy Pet Foundation currently has two buses that travel around Southern California focusing on spaying and neutering. These buses are state of the art surgery units. Their next focus is in generating more funds to expand the work of these buses and have more across the country.
The Lucy Pet Foundation not only offers free and reduced spays and neuters, they also do microchipping, vaccines and de-wormings. Spaying and neutering is not only great for pet population control, but it has been proven that an animal will live on an average of 40-percent longer after having this surgery.

Here is a list of upcoming free or reduced fee mobile spay and neuter clinics in California:
July 20
SPAY/NEUTER CLINIC
Location: Venice Mark Twain Elementary Parking Lot
Check in 7:30am
ACCEPT COUNTY AND CITY VOUCHERS
Kids will be allowed to tour bus and learn about spaying & Neutering & Vaccinations
Please call 1-855-499-5829 or Email: Info@lucypetfoundation.org to schedule an appointment.
July 22
SPAY/NEUTER CLINIC
Location: Inland Valley
Check in 8:00am
Prices Vary
ACCEPT COUNTY AND CITY VOUCHERS
Please call 1-855-499-5829 or Email: Info@lucypetfoundation.org to schedule an appointment.
July 27
SPAY/NEUTER CLINIC
Location: Morgan Park, City of Baldwin Hills, 4100 Baldwin Park Blvd, Baldwin Park CA
Check in 7:30am
ACCEPT COUNTY AND CITY VOUCHERS
Please call 1-855-499-5829 or Email: Info@lucypetfoundation.org to schedule an appointment.
July 29
SPAY/NEUTER CLINIC
Location: Inland Valley
Check in 8:00am
Prices Vary
ACCEPT COUNTY AND CITY VOUCHERS
Please call 1-855-499-5829 or Email: Info@lucypetfoundation.org to schedule an appointment.
Remember, you must get on a list to have your pet seen at these locations. Please call The Lucy Pet Foundation toll free at 1-855-499-5829 or Email: Info@lucypetfoundation.org to schedule an appointment, or register at the events.
See the current list of clinics at http://www.lucypetfoundation.org.
Finding Jobs for the Un-Adoptable
Pete Coppolillo, Working Dogs For Conservation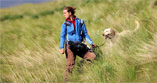 Pete Coppolillo is scouring shelter for dogs that display traits undesirable for adoption. He's especially looking at prey drive, as these dogs make excellent "working conservation dogs." And Pete is happy to give these dogs a job and a home.
Pete Coppolillo is the executive director at Working Dogs for Conservation, the world's leading conservation detection dog organization.
Years ago, dogs were mainly used to detect scat (poop) from other animals including grizzly bears, wolves and links. These days, conservation detection dogs do all kinds of work assisting in conservation efforts by detecting otherwise hard to find wildlife and plants, identifying invasive species for eradication, finding direct threats to wildlife like illegal snares and poison, sniffing out illegal ivory and bushmeat and helping scientists gather wildlife population data.
All dogs are physiologically capable of doing this type of work, with the exception of the brachycephalic breeds, like the pugs and bulldogs. Dogs have a fabulous olfactory system. Their noses are thousands and even millions more times sensitive than ours. The most important characteristic is their drive and desire to work.
In the wake of 911 and the recent wars, there is a global shortage on detection dogs, as they are being used for security. Dogs for this type of work used to be sourced from breeders, but now some breeders are breeding dogs that shouldn't be bred just for the money. So with the shortage, the decision was made to look for dogs in shelters.
There are really great, talented dogs in shelters that are being put down. In order to maximize adoption rates for these dogs, the International Fund for Animal Welfare (IFAW) has teamed up with Working Dogs for Conservation (WDC) to form a new program Rescues 2the Rescue.
Rescues 2the Rescue aims to place high-energy dogs in careers and homes that complement their vitality. The program provides a platform for shelters and conservation detection dog organizations and trainers to connect and communicate, as well as standardized evaluation tools for assessing a canine's potential to be a working dog.
http://www.wd4c.org





The Dog Wedding Trend Goes Hollywood
Jason Hurwitz, "The Dog Wedding" Movie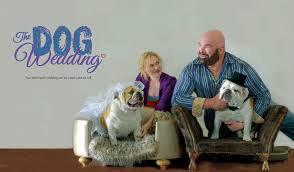 Dog Weddings. As silly as it might sound, it's the next big thing. Look for the fall release of The Dog Wedding in theaters. There is already a rush on dog wedding gowns, and with good reason. Executive Producer Jason Hurwitz will tell you why.
Pet Parents Can Enter to See Their Dog in the New Movie "The Dog Wedding" and Win $10,000 in Prizes from Stella & Chewy's, BarkBox, DogTV and More.
"The Dog Wedding" Movie is a romantic comedy about humans and their dogs. It focuses on a miss-matched couple, consisting of a businesswoman and pro-wrestler. They meet at the dog park, which is probably the only place that this couple would ever meet, through their English Bulldogs.
The pro-wrestler is in the family business of officiating at dog weddings. His mother is the inventor of the dog wedding and it pulls this woman into his world, away from her serious life working under the thumb of her CEO father.
To get your dog in the opening credits of the film, you need to enter the photo contest. They're looking for real people and real dog wedding photos. They will be looking for a total of 50 winners. As filmmakers, they are looking to establish that dog weddings are something that is real.
Have you had a dog wedding? Was your dog your best man, bridesmaid or ring bearer? You have until July 31st to enter the contest, so if you haven't had a dog wedding, or a wedding where your dog participated, you still have time to do one. Go to www.thedogwedding.com to see some of the samples, as there have already been around 250 submissions.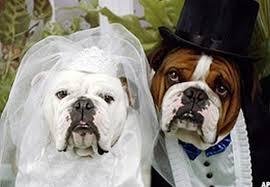 In addition to the 50 slots in the opening credits, they have 150 prizes for 150 winners. The prizes total $10,000 and include prizes from Stella & Chewys, BarkBox and DogTV. Fantastic doggie care, toy and vacation prizes will be awarded by Petcube, Sniffany & Co. by Dog Diggin Designs, The Saguaro Scottsdale, Dog Is Good, Muttropolis, Grounds & Hounds, The Loving Bowl, Hot Dogs All Dressed, Puppy Kisses online boutique, Bling Bone and The Pet Boutique.
Charitable donations will be made on behalf of each entry to Canine Companions for Independence, the largest non-profit provider of assistance dogs and the Chicago English Bulldog Rescue Inc., the most experienced and longest standing bulldog rescue in the Midwest).
"The Dog Wedding," is coming to theaters this Fall! You can view trailers of the movie at www.thedogwedding.com and enter the contest at www.thedogwedding.com/contest.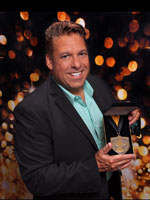 The Dogfather's Grooming Tip with Joey Villani
How To Safely Remove Ticks From Your Pet
Most people are afraid to deal with ticks on their pet and are not sure what to do. The good thing is that ticks don't move very fast and will come off your pet fairly easy, but it's not for the squeamish.
If you're going to remove ticks from your dog, make sure you have the proper tool. The best took for the job is the "Tick Remover." It almost looks like a plastic spoon with a "V" cut out on the spoon end. You just take the "V" and put it down underneath, at the lowest part of the tick near your dog's skin, and use it as leverage to pop out the tick.
Some people say you can pull them out with tweezers by twisting the tick. Or, you can use a hot match or cigarette. Don't try any of these! You need to get as close as you can to the skin, because the last thing you want to happen is for the tick to break off, leaving part of the tick still under the skin, which can lead to an infection. Or, if you don't remove the tick, they can actually "vomit" injecting all types of diseases into your pets.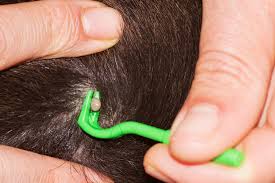 So get a tick remover and grab the tick as close as you can to their head, where it is buried down into the skin. You will then pull straight out and the tick should come out easy. You should then dispose of the tick in a container of rubbing alcohol. You can either throw the rubbing alcohol in the trash or keep it and take it to your vet to see if it is carrying any disease. If you do see any sort of redness or irritation after removing the tick, take your dog to your veterinarian.
If you are uncomfortable removing ticks, you can either take your pet to your local groomer or to your veterinarian and have them remove it.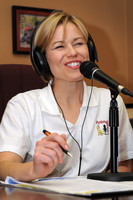 Ticks Hitchhike on City Dogs Too - Dr. Debbie
Ticks are common parasites known to infect people, pets and spread disease. Over 850 tick species exist worldwide, although fewer than a dozen species are of risk to pets in the U.S. But here in Las Vegas, pet owners often dismiss the existence of ticks with the likes of Bigfoot or the Loch Ness Monster. Think ticks are only a problem for pets that travel or visit the mountains? Think again.
The Tick Tale
Ticks are parasites known to infect mammals, reptiles and birds and feed on their host's blood. Although of tiny size, ticks ingest 200 to 600 times their weight in a blood meal.
Ticks are attracted to a host's movement, body warmth or exhaled carbon dioxide and then latch on. Through this feeding behavior they can transmit diseases to pets such as Lyme disease, Rocky Mountain spotted fever, Ehrlichia, Babesia and Tularemia. Disease transmission takes some time and may occur after 36 to 48 hours of feeding behavior.
Some ticks can live months or up to a year off its host without a feeding, so year-round prevention is important for pets at risk for continued exposure.
Battling Ticks
There are many topical tick control products available for pets. Speak with your veterinarian for an product that is effective and safe with your pet's individual health in mind. Cats are sensitive to some ingredients, may develop toxicity, and should never be treated with a product labeled only for dogs. Additionally, pet owners using multiple products on their pet should first consult with their veterinarian to ensure safe use of combined products.
In addition to topical tick control, environmental treatment with foggers, sprays or pest control service should be considered for heavy infestations. Limit tick habitat zones by maintaining landscaping, avoiding overgrown grass and keeping shrubs and plants trimmed.
Pet Screening
Perform daily tick checks during tick season. Examine your pet for ticks in areas that the parasites hang out - around the head, behind ears, armpits and between toes. If you do find a tick, please see Joey's tip above on how to safely remove it.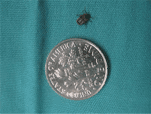 Here's a photo of a typical tick, born and bred in Las Vegas and recently extracted from one of my Shih Tzu patients named Kane. Kane never leaves the state, doesn't hike in the mountains, and enjoys the comforts of a house-dog lifestyle. A tick was discovered on Kane after a day of supervising his owner's yard work and shrub trimming.
Maybe Kane's story will be an eye-opener for city dwelling pet owners. Pet parasites like fleas, ticks and mosquitoes still lurk in that urban jungle.
Visit the Dogs & Ticks website for more information ticks, diseases and prevention.
Featured veterinarian known as "Dr. Debbie" on national pet radio program, Animal Radio. Ebook author of "Yorkshire Terriers: How to Be Your Dog's Best Friend"; "Pugs: How to Be Your Dog's Best Friend"; "Mini Schnauzers: How to Be Your Dog's Best Friend"; and "Shih Tzu: How to Be Your Dog's Best Friend."

It's a Wacky Wednesday Here at the Animal Radio® Studios
WackyWed Contest IS ON - LIKE your FAVORITE pic and the three pics with the most LIKES & SHARES are this week's winner will receive a package of dog and cat food from Solid Gold Pet.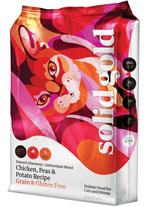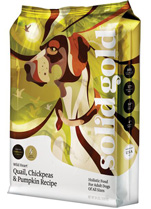 TO ENTER Send us your FUNNY pet pic to WackyWed@AnimalRadio.com - (Please put WACKYWED in the subject line & give us your pet's name, your name & where you hail from) If YOUR pic is chosen then spread the word to your friends & family on Wednesday - the pics w/the most LIKES and SHARES will be the winner!
This week we are giving away a 4-pound bag of dog food and a 4-pound bag of cat food from Solid Gold Pet. Solid Gold pet has more than 40 years of experience in developing premium dog and cat food formulas. Solid Gold holistic pet food is created from the highest quality of natural, wholesome ingredients and is available for pets of all sizes, life stages and diets.
All of the Solid Gold Pet dry recipes are produced in the United States, with no meat by-product meal, corn, wheat, soy, sugar, artificial preservatives or flavors added.




Join Animal Radio® on Facebook for Wacky Wednesday! Win great prizes every week for your wacky pet pictures. Last month we gave out goodies from nVision, Calm My Pet, SV Distribution, Petmate and more. Visit us on Facebook now.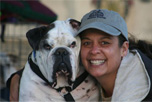 Animal Radio® News - Lori Brooks
Lake Algae Can Be Harmful To Your Dog
If your dog likes to swim, it's probably best to make sure he only swims in the pool this summer. The Minnesota Pollution Control Agency is asking swimmers and pet owners to be aware of algae-ridden lakes and foul-smelling water this holiday weekend after toxins from the blue-green blooms killed some dogs last month. Although not all algae are harmful, poisonous blooms typically look like pea soup, green paint or floating mats of scum and the clusters often have a strong stench like cow manure. Animals are at far greater risk than humans to be harmed by the algae blooms because they tend to wade in the shoreline areas where algae usually accumulates and animals aren't usually deterred by the bad smell.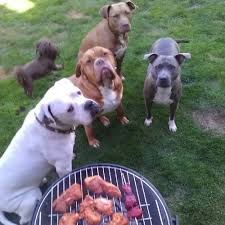 Don't Invite Your Dog To A Barbecue
One of the fun things about outdoor cookouts and barbecues is there's almost always pets on the guest list! But a lot of what's on the menu at a cookout can be bad for dogs and cats. The worst items on the menu are corn-on-the-cob, ribs, chicken wings and other bones, which create a choking hazard and possible obstruction. Also on the list are hot dogs. They're not the healthiest for you or your pet and can cause digestive upset. Onions are also on the list, along with avocados, chocolate, alcoholic beverages and chips and pretzels because of the high sodium content and grapes!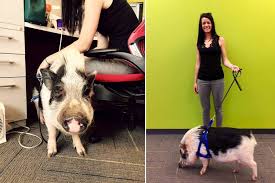 Take-Your-Dog-To-Work-Day Now Includes Snakes, Pigs & Parakeets
As take-your-dog-to-work-day becomes the everyday norm in many offices, owners of less common pets have begun to demand equality. If dogs are welcome at work, then others feathered, furry, winged and scaly companions should be allowed at the office too although some co-workers don't agree. Around the country, there's just about every kind of workplace with nearly every kind of pet and we've heard all the benefits about having pets in the workplace, whether it's a pig, a parakeet, butterfly, or snake! Yes even snakes are allowed at the Seattle headquarters of Amazon. About 8-percent of U.S. companies allow pets at work and the practice seems to be especially prevalent among tech firms.
Fish Can Help Kids With Type 1 Diabetes
For children with Type 1 Diabetes who want a pet it's all come together. A new study shows pet ownership can have a beneficial effect on kids who are Type 1 Diabetes, showing improved glycemic control after several months spent caring for a pet fish! The research was recently published in The Diabetes Educator. Researchers say "Teenagers are one of the most difficult patient populations to treat, mainly because of all the psycho-social factors associated with growing up." Turns out that associating diabetes self-care tasks with routine, daily activities (like taking care of a pet fish) helps the kids remember to do their own self care and ultimately improves their glycemic control.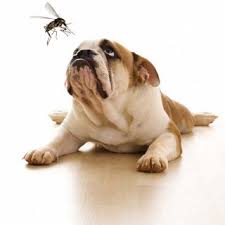 Protect Your Pets From Mosquitoes This Summer
In many parts of the country this summer's heavy rains have brought an increase in the number of mosquitoes. Of course you know to protect yourself, but don't forget about your pets. Protecting your dogs and cats from mosquitoes protects them from Heart Worm Disease. Horses can get West Nile virus from mosquitoes, but there is a vaccine for horses. So now it's doubly important to make routine rounds of your yard looking for things that hold rainwater where mosquitoes breed. Remember, mosquitoes can breed in less than a thimbleful of water.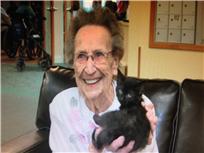 Pet Therapy Program Includes Kittens!
North Woods Place, a senior living community in Michigan, is home to 10 kittens and a mother cat who are all part of their new Pet Therapy Program, made possible with help from their local animal shelter. It's a great combination working together to make happier days for seniors who don't get out very much, if at all. The center's director says having kittens is especially wonderful. She says they're little stress reducers, explaining the kittens help with any kind of depression or distracting patients from pain and holding kittens helps with hand dexterity, so there are many physical and emotional benefits to the program. But the program isn't just beneficial to the residents, it also helps the local shelter socialize the kittens in ways they wouldn't have the time or resources to do at the shelter.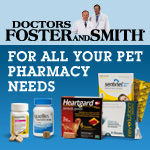 NEWS UPDATE brought to you by Drs. Foster & Smith, affordable pet supplies. Low prices every day, so you save on every order.

Listen to the entire Podcast of this show (#815)