The Vet Life
Dr. Diarra Blue, Animal Planet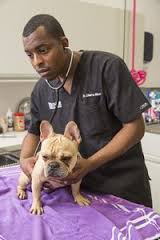 Dr. Diarra Blue from Animal Planet's hit show, The Vet Life, is our special guest. He's an over-the-top charismatic professional that has some great stories about his unusual practice in Houston.
The show, The Vet Life, follows veterinarians Dr. Diarra Blue, Dr. Aubrey Ross and Dr. Michael Lavigne, who recently moved to Houston to open a full-service veterinarian hospital and animal shelter together.
The series captures the doctors' lives as they juggle running a new business while managing their family life filled with spouses, parents, in-laws, children, pets and friends, as well as their intense moments saving the lives of animals at their clinic.
As a practicing veterinarian, Dr. Blue began working in Las Vegas, Nevada, on small animals. Since moving to Texas and opening his own practice one year ago, while Dr. Blue still mainly practices on cats and dogs, he now is able to work on large animals as well as goats and the occasional owl. In fact, some day he wants to own his own goat farm.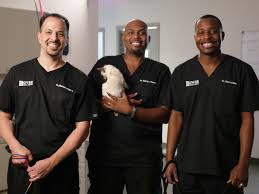 Drs. Blue, Ross and Lavigne became friends in vet school. Drs. Ross and Lavigne were classmates while Dr. Blue was an undergrad at the school. While they met in vet school, they worked in different hospitals in Las Vegas 10 years later. Dr. Blue, in fact, interned under both Drs. Ross and Lavigne.
Although very dedicated to their profession, The Vet Life doctors also enjoy spending as much time as possible with their families. Fishing, golfing, camping, and hiking are just a few of the activities they enjoy. They also like to bring their families and friends together whenever possible, which leads to a lot of joking, good-natured ribbing, fun, and laughter.
Catch the last episode of the season of The Vet Life tonight, July 23rd, on Animal Planet.
Saving Animals One Heart At a Time
Emmy Perry, Emmy's Hope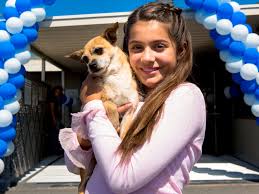 This young lady is a breath of fresh air in our crazy world. Meet 11-year-old Emmy Perry, who was recently featured in a national Kleenex campaign for her work saving animals. She has saved 250 animals to date. She also received an award from the City Of Orange for her work with animals.
Emmy Perry is only 11-years-old but has already made a big difference for the animals. She has created Emmy's Hope, "Saving Animals One Heart at a Time," which provides much needed supplies to local shelters, as well as fostering and adoption services
Emmy takes pictures of shelter dogs, and along with their information, post it on her website Emmy's Hope. She then encourages everyone, even young kids, to make a difference by adopting an animal instead of purchasing one. But that's not all, she fosters dogs herself to find them homes and even owns a "foster failure" named Felicity.
It all started when Emmy's mother took her to the shelter at a very young age. She saw many dogs that were in need of a home, which impacted Emmy in a big way. She knew then that she wanted to make a difference not only for these dogs, but also for all homeless dogs.
Emmy has also recruited the help of her friends. While some of her friends find it hard to visit the shelter, she gets them to help by taking pictures of available animals and asking them to post them on their own social media sites.
For years now Emmy and her family have been visiting local animal shelters and providing them with their wish list of supplies to help the local animals, purchased with her own savings.
While Emmy is forever hopeful, there are times when even she is overwhelmed and saddened by all of the dogs in need. However, she said it would make her even sadder for her not to do anything about it.
Emmy was recently featured in a national Kleenex campaign for her work saving animals. The video has gone viral with over 2.5 million views! It was filmed at a local shelter, and Emmy was surprised on the last day of filming when she saw a large crowd of people. There was a huge "free" adoption event going on, and 72 dogs were adopted that day.
At home, Emmy lives with four dogs and a rat. She likes to spoil her pets, providing her rat with clothes. Her dad even made the rat it's own playpen, which takes over the living room.
While Emmy would love to be an actress when she grows up, she said she would always continue her work with the animals.




5 Secret Activities My Pets Do While I'm Gone
Robert Semrow, Animal Radio Listomania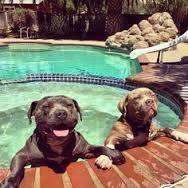 I, like so many others, eagerly went out with my family and saw the movie, the Secret Life of Pets. Don't worry, this isn't a movie review, but instead an acknowledgement that my pets have a secret life.
Having acknowledged that, here are 5 things I think my pets have done secretly while I'm gone.
We used to have a pool and a spa where I lived with them, but unfortunately, Sugar and Zoey never liked to swim with me. However, on a few occasions, I'd come home and catch them sitting in the spa. On most occasions they'd slip out of the spa and lay on the side of the spa as if to say, you didn't actually see us in there. But one time they stayed in long enough for me to walk out and ask them if they needed towels or refreshments. They had a huge smile on their faces that I'll never forget. So hot tubbing is one secret activity I know my pets did while I was gone.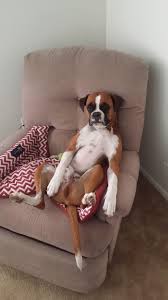 Neither of them shed much, but Sugar had a unique ability to leave just enough hair behind on my reclining chair to let me, and my wife, know that she'd been sitting there watching TV while I was gone all day. One time, my wife caught her in the chair and she let her body go limp and in essence, slid out of the chair to her familiar resting spot right next to it. My wife was so smitten with her effort to Jedi Mind trick her, she laughed instead of getting mad. So, getting up on furniture is another not-so-secret activity I know my pets were doing.
Next, like all siblings they must be fighting about what to watch. Many times I would find the remote control for the TV in Sugar's bed or very near her. The self-important side of her said that she knew I'd want to turn on the TV so she kept near so I could have it quickly. What a considerate best friend she was. However, I now must admit that she was secretly hogging the remote control while we were gone.
Next up is the acknowledgement that Sugar and Zoey enjoy sleeping in our beds. Not surprising, except it's how they do it. Each morning my kids and I make our beds. However, inexplicably many times the beds would be unmade when we'd go to bed. Now, my previous guess was Goldilocks or the Tooth Fairy, but I now must accept that it was another secret endeavor from my pets.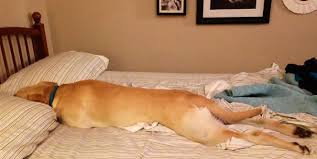 Finally, there's rarely any leftovers at our house. Yet, we love to cook and we often make more than we can finish. I used to think it was strange we didn't have more leftovers. Now I know it wasn't super hungry people or that I was eating more than I remembered, instead, it was my pets bringing leftovers to the neighborhood pet block party that must be going on while were gone.
Let this be a lesson for all of us, it's not garden gnomes digging up our lawns or Goldilocks sleeping in our beds, it's just the beauty that is our pets and the manifestations of the secret lives our pets live and enjoy while were gone.
Share your pet's secret life on our Animal Radio Facebook Page.
http://petworldinsider.com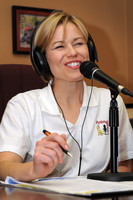 What's Your Vet-iquette - How to Be a Good Veterinary Client -Dr. Debbie
Sure you think your vet visits go off without a hitch, but do you know how to be a good veterinary client, the kind veterinarians rave about? Follow these suggestions to participate as a vital part of your pet's medical care, to ensure your pet gets the most efficient care, and to always be greeted with beaming smiles.

Be Prepared
Before you arrive at the office with a sick pet, know your pet's ins and outs. Without a pertinent history from you, your veterinarian may need more diagnostic tests to sleuth out the answer to the problem. That takes time and can cost you more in veterinary bills.
Expect the questions your vet is likely to ask you. Has your pet been eating? What types and brand of food do you feed him? Is there diarrhea or constipation?
Bring Evidence
Nothing is more useful to your veterinarian as seeing something with her own eyes. Bring evidence like stool samples, vomited material, and medications your pet is receiving. Has your pet chewed on some unusual plant in the backyard? By all means bring a sprig of that plant.
Document video on your smart phone. This can be immensely helpful to your veterinarian to witness behaviors that may be intermittent. I've been thankful when owners bring smart phone video of seizures, separation anxiety behaviors, and respiratory ailments.
Video eliminates misinterpretation by pet owners, and can permit a quick veterinary diagnosis. Vomiting and regurgitating may look similar, but are caused by different disorders. Pets strain to defecate with both diarrhea and constipation. Inspiratory wheezing, coughing, congestion and reverse sneezing are often described similarly by owners.
Trust Valid Resources
By all means do your research in advance of your veterinary visit. Know what questions to ask. But remember that the internet is abounding with both good and blazingly incorrect information, some based on opinions and conjecture without any sound medical basis. Pet owners who value Dr. Google's opinion over their veterinarian, who has examined their pet, could put their pet's health care in jeopardy.
Confine Your Pet
Make sure your pet is secure before entering the veterinary hospital. Don't underestimate the unpredictable things pets do in a noisy, crowded waiting room. Birds fly off shoulders landing in snack zone of nearby dogs. Dogs instigate fights, and cats flee the waiting veterinary staff's arms. Pay attention to where your pet is and don't allow your pet to approach other animals without the owner's consent. Some animals are there because they are sick, and could bite in unfamiliar surroundings.
Dogs should be on a secure leash. Flexi leashes are dangerous in the veterinary hospital allowing dogs to bolt quickly toward another dog, or to entangle limbs of humans or other animals in the waiting room. Cats and exotic pets should be secured in an appropriate pet carrier.
If you have a pet that has been or could be aggressive to veterinary staff…absolutely share that information before the visit starts. Veterinarians look out for the safety of people in their employment and appreciate a heads-up in advance to avoid potential staff injury.

Optimize Your Face Time
So now you are in the exam room with the doc, so make the most of it. Put the cell phone away, and by all means…don't waste time taking a phone call if medical staff is standing in front of you.
Avoid distractions that will limit your ability to communicate with your veterinarian. This might include a roomful of boisterous children or other pets. If possible, arrange child care or pet sitting so your sick pet gets prime attention and you don't miss any details of the visit.
Emergencies Happen
At the vet office, we recognize how valuable pet owner's time is and try to minimize the wait. But recognize that emergencies are unforeseen and create delays for other pet owners. Most folks understand that emergencies happen and are accommodating during situations as this.
But making a scene or outburst about your wait time, while the veterinary staff tends to a critical pet is just inconsiderate. Recognize that one day your pet could be in that same place and you would be appreciative that your pet's medical emergency was triaged ahead of the waiting routine appointments.
Don't Attack the Messenger
Emotions can run high when you have a sick or injured pet, but it isn't an excuse to be abusive to hospital staff. Obscene language and overly aggressive behavior doesn't help your pet get the care she needs, nor does it endear yourself to those people working hard for your pet's health.
Own Your Own Reality
Pet owners have the daunting responsibility for the health and well-being of pets in their care. That means accepting the level of veterinary care you can pursue, and recognizing choices if finances are limited. Pet insurance can help defer the cost of veterinary care, but there isn't government sponsored Obamacare for pets.
Don't blame your veterinarian for your pet's health maladies, or expect her to cover the costs of treatment. People in the veterinary field do what they do because they love animals, but they shouldn't be expected to take financial responsibility for everyone's pets. I once heard a veterinary colleague respond to an client's question, "Doc, why can't you just do my Sasha's surgery for free?" His response was, "Because my staff needs to get paid and my kids need shoes." Recognize that veterinary offices aren't lending institutions, but rather are small businesses with pressing bills, just as anyone.
Share Your Feedback
Share feedback with the hospital management about service excellence or shortcomings. Every hospital appreciates the opportunity to improve, or the chance to pat staff on the back.
Featured veterinarian known as "Dr. Debbie" on national pet radio program, Animal Radio. Ebook author of "Yorkshire Terriers: How to Be Your Dog's Best Friend"; "Pugs: How to Be Your Dog's Best Friend"; "Mini Schnauzers: How to Be Your Dog's Best Friend"; and "Shih Tzu: How to Be Your Dog's Best Friend."
http://www.drdebbie.net





Lucy Pet Foundation
The Mission of The Lucy Pet Foundation is to reduce pet overpopulation by having mobile spay/neuter clinics across the country and to support causes that benefit animal welfare. The Lucy Pet Foundation currently has two buses that travel around Southern California focusing on spaying and neutering. These buses are state of the art surgery units. Their next focus is in generating more funds to expand the work of these buses and have more across the country.

The Lucy Pet Foundation not only offers free and reduced spays and neuters, they also do microchipping, vaccines and de-wormings. Spaying and neutering is not only great for pet population control, but it has been proven that an animal will live on an average of 40-percent longer after having this surgery.
Upcoming Clinics
Free Spay & Neuter for Los Angeles City Residents! Here is a list of upcoming free or reduced fee mobile spay and neuter clinics in California:
Call for more information, questions and to reserve space to get on the list: (855) 499-5829
July 23: East Valley Shelter, 14409 Vanowen St., Van Nuys, CA CLEAR THE SHELTER ADOPTION EVENT
July 25: West Valley Shelter, 20655 Plummer Street, Chatsworth, CA Spay/Neuter APPOINTMENT ONLY; Vaccine Clinic 10:00am-2:00pm
July 26: Superior Store, 133 West Avenue 45, Los Angeles, CA Spay/Neuter APPOINTMENT ONLY; Vaccine Clinic 10:00am-2:00pm
July 28: Superior Store, 3480 S. La Brea, Los Angeles, CA Spay/Neuter APPOINTMENT ONLY; Vaccine Clinic 10:00am-2:00pm
July 29: Superior Store, 10211 Avalon Blvd., Los Angeles, CA Spay/Neuter APPOINTMENT ONLY; Vaccine Clinic 10:00am-2:00pm
County and City Vouchers accepted. But remember, you must get on a list to have your pet seen at these locations. Please call The Lucy Pet Foundation toll free at 1-855-499-5829 or Email: Info@lucypetfoundation.org to schedule an appointment, or register at the events.
See the current list of clinics at http://www.lucypetfoundation.org.
http://www.lucypetproducts.com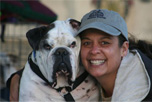 Animal Radio News - Lori Brooks
Recycle Dog Food Bags
You probably never stopped to think about it, but we dog lovers throw away a lot of those pet food bags, which contribute to clogging landfills. Now, there is a company called TerraCycle that helps dog parents act responsibility by providing a service to recycle and up-cycle dog food bags and it's free! Just stash your empty dog food bags until you have a few to send in. Next download a free shipping label from TerraCycle.com and mail the bags back to them. The more you send, the more points you collect and the more you can give to your favorite charity. Once TerraCycle receives your empty dog food bags, they shred the packaging and melt it into hard plastic, which is remolded into new upcycled products like collars, tote bags and aprons. Currently, dog-food companies Wellness, Earthborn Holistic and Open Farm are part of the program.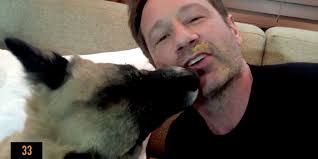 You Can Be Part of David Duchovny's "Lick My Face" Challenge
Have you seen David Duchovny's video, which launched the "Lick My Face" campaign to support the nonprofit organization Target Zero of which he is the co-founder? The X-Files star posted a video online featuring his own rescue dog, Brick, licking (you know kissing) the actor all over his face and for every lick Duchovny donated at least one dollar per lick to Target Zero which helps shelters get to No Kill status within 3 years or less. You can be a part of the challenge too, like Duchovny who challenged all of his social media followers, as well as fellow celebrities, ex-wife Tea Leoni and X-Files co-star, Gillian Anderson, to make their own Lick My Face video to get the donations rolling in. It's a great idea and fun for an admirable cause. So here's how it works: just put some all natural peanut butter on your face, the more the better to get more licks, let your pet loose and let the licking begin. There are more details on the LickMyFace.org website.
Smoking Kills Pets
Back in February, the national youth tobacco prevention campaign Truth warned of a world without cat videos, or #CATmageddon, shedding light on the fact that cats and dogs are twice as likely to get cancer if their owners smoke. Now, their new campaign #PEEtition continues where #Catmageddon left off, asking teens to snap a photo of a pet peeing and share the image online with the hashtag #PEEtition. The goal? To get Big Tobacco to admit that smoking kills pets, because while the teen smoking rate is down to 7-percent, tobacco remains the number one cause of preventable death in the United States. The Truth initiative says they've released their latest ad to encourage teens and their pets to raise their paws, and legs, as a continued commitment to ending smoking for good. #PEEtition is the latest extension of Truth's Finish It Campaign, which launched in August 2014 and aims to empower everyone to make the young generation the one that ends tobacco use for good.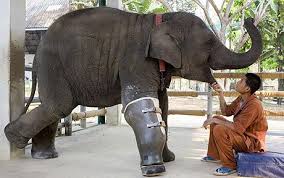 Elephant Gets 9th Prosthetic Leg
An Elephant named Mosha was 7-years-old when she stepped on a land mine in Thailand. She has now received her 9th prosthetic leg since the accident, thanks to the Friends of the Asian Elephant Foundation in Thailand. Even though Mosha was the first elephant to be fitted with a prosthetic limb, more than one dozen elephants have been injured by land mines due to the fighting of rebels against the Myanmar government.
Pet Flipping Is Big Problem
Animal rights groups say pet flipping is becoming a growing problem because of a rise in social media use. Pet flipping is when a person sees a pet on social media websites like Facebook or Craigslist. They buy or obtain the pet with phony information then sell the animal to make money off of it. The really bad news is that pet flipping is legal because pets are considered personal property, so people can sell them like anything else. Experts say you should always let people know who are giving a pet away for free on social media that they could fall prey to flippers. An administrator of a free, or for sale pet group online, says, "There were several instances that (they) found on Facebook where the dogs were given away free and then found on the side of the road in a ditch dead." In Iowa, pet flipping is a main reason the Cedar Valley Humane Society requires people to sign a contract when they are adopting a pet. People are subject to fines if they try to re-sell the pet or re-home it. Their staff is constantly checking certain websites to make sure former shelter pets are not ending up for sale again. Animal advocates recommend never giving away a pet for free because even a small fee can deter a pet flipper as the flipper will go for a free animal first.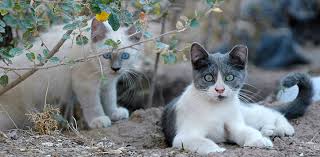 National Feral Cat Day
Alley Cat Allies, the only national advocacy organization dedicated to the humane treatment of feral cats, has announced that, "All Cats All Communities," will be the theme for this year's National Feral Cat Day on Sunday, October 16th. Alley Cat Allies encourages cat advocates around the world to educate their communities about humane policies, like Trap-Neuter-Return, that help save cats' lives and work to protect all cats in all communities." This year's goal is to inspire 1,000 different National Feral Cat Day events across all 50 states. Typical National Feral Cat Day activities include volunteer-led spay/neuter clinics, educational workshops and fundraising to support local Trap-Neuter-Return and Shelter-Neuter-Return programs. An updated list of National Feral Cat Day events and activities, as well as ideas that you can use to stage your own event in your community, is available on the interactive National Feral Cat Day website at NationalFeralCatDay.org. Community cats, also known as feral cats, are the same species as pet cats, but they live outdoors, do not have an owner and are not socialized to people. By the way, if you didn't know, feral cats that have already been spayed or neutered are "ear-tipped" (a small portion of the tip of their ear is removed while they are under anesthesia).
Organization Helps Pit Bull Owners Find Pet Friendly Properties
If you are not familiar with the acronym BSL, it stands for Breed Specific Legislation, where certain breeds of dogs, usually Pit Bull types and their owners, are discriminated against because the breed of your pet has been banned in a community. Pet owners know how difficult it is to find housing, but for pit bull owners, it can be nearly impossible to find a place where you can have your pet. So let us introduce you to the group My Pit Bull is Family, which provides resources for dog owners across the country with an always-expanding database, which lists all pit bull-friendly properties. The website is MyPitBullisFamily.org. They use an interactive map where pet parents can click on their state, and a list of contact information for potential rental leads will pop up. Keep in mind, the term "Pit Bull" does not actually refer to one specific breed of dog, but is often used as a blanket term, covering an array of bully "types." The most common to fall under this blanket are the American Staffordshire Terrier, Staffordshire Bull Terrier and the American Pit Bull Terrier. However, other breeds with similar physical characteristics such as the Boxer, Cane Corso, Bullmastiff and English Bulldog are often considered to be pit Bull "type" dogs, depending on who is assessing. Statistics show that nearly 30-percent of people give up their dogs because their landlord does not allow dogs; making it the number one reason people give up a pet. My Pit Bull is Family also offers users a list of insurance companies that do not participate in breed-specific discrimination against pit bull-types, Rottweiler's, German Shepherds and Chow Chows.

Listen to the entire Podcast of this show (#868)