Jenna Fischer, The Office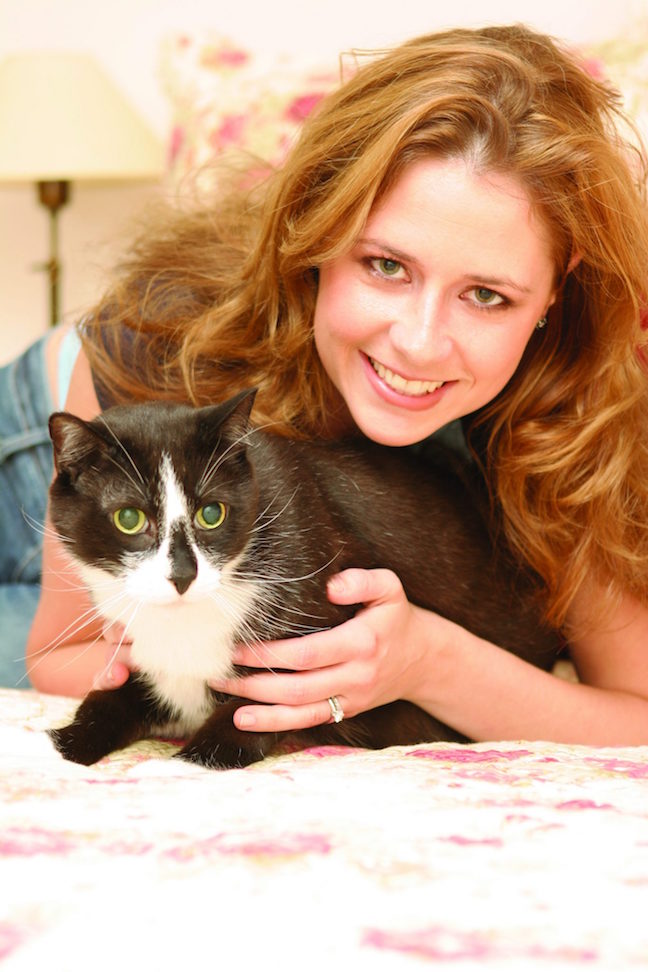 Don't miss this "must hear" interview with Jenna Fischer (Pam from The Office)! She shares her most intimate secrets about her cat and how she spoils the furball. She says "I'm guilty of allowing my cat on the dinner table. When guests are over and he hops on the table, I pretend like that's the first time it's ever happened."
Jenna Fischer talks about her cat Andy, who is getting up there in years. He was diagnosed with the beginnings of kidney disease, but is now doing well. Jenna worked for many years doing animal rescue and received a crash course on animal care. As a result, she was not overwhelmed with the new responsibility of taking care of Andy's special needs.
Andy has been with Jenna since she was in college. When she first moved to Los Angeles from St. Louis, she took Andy with her across country. It took 3 days and Andy rode in a cat carrier in the backseat of her Mazda Hatchback. She talks about how she would sneak him into motels along the way.
Jenna spoils her cat and admits that she lets him bully her around with food. She also lets Andy walk on the table during dinner. When she has guests over, she pretends that Andy isn't allowed on the table and tells everyone that she is surprised to see him up there!
Jenna also had a dog Wesley who went with her husband after their divorce. But, she has visitation rights and cares for Wesley when her ex is out of town.




Man's Best Friend Unleashed
Justin Silver, Dogs In The City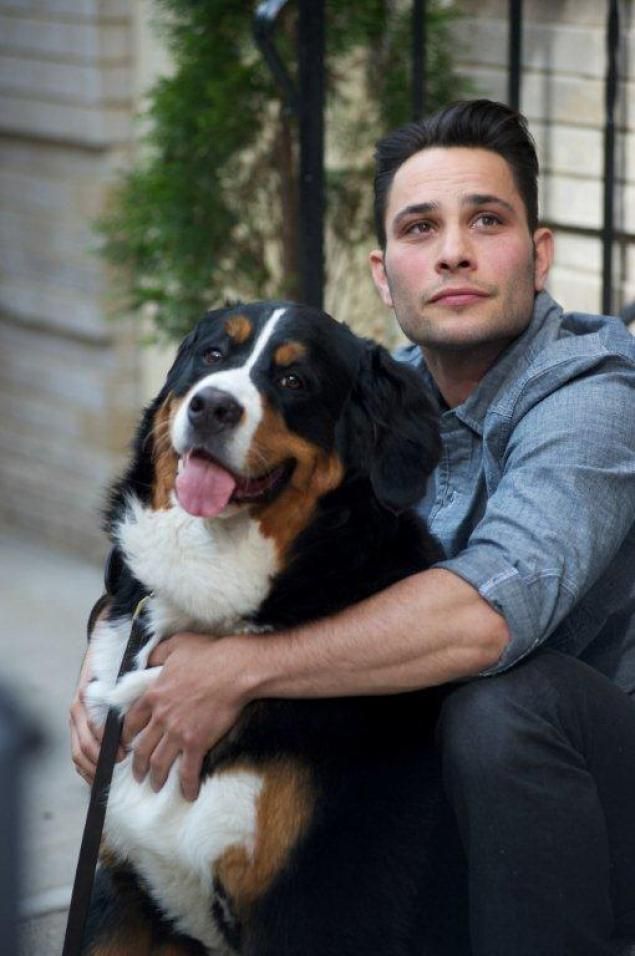 Justin Silver from the new hit TV reality series "Dogs in the City" (CBS) says that most dog behavior problems actually stem from the owner. His new show is all about developing the relationship between dog and human.
In Manhattan, Justin Silver is known as the "go-to-guy" for all things dog-related. He has a creative and instinctive ability to connect with his canine customers while solving dilemmas for their two-legged masters. In each episode of the new show, Dogs In The City, he meets with clients who present a range of relationship problems, lifestyle changes or domestic issues - from a couple looking to move in together, but she's terrified of his golden retriever; to a recently divorced couple whose dog is having a rough time adjusting to joint custody. Justin gets as imaginative as necessary to reach a satisfying resolution, often finding that the owners can be a special breed themselves.
New York is not short on people with neurosis and you see the symptoms of that behavior in their dogs. Justin not only works on the canine aspect of these behaviors, but he also works on the human aspect as well. One of Justin's biggest battles is the people themselves. When he talks to them, he states that they are also talking the entire time when he tries to explain how to fix the issue. They seem to have a million ideas themselves on solving the problem, so he ends up battling the client's personality more than the dogs. Justin states that, "When people take on their animals, you really see how the animals are extensions of their own feelings about themselves." He tries to get his clients to see this.
Justin Silver has been taking care of dogs and their owners for more than a decade. A dog trainer, behaviorist and owner of a pet care company; Silver is also a comedian and founder of Funny for Fido, a nonprofit that raises money for homeless animals by producing a yearly stand-up comedy event. Silver firmly believes that every dog can be trained to be a wonderful companion by working on issues calmly and confidently with both his four- and two-legged clients.




Who Doesn't Like Dogs? - Dr. Debbie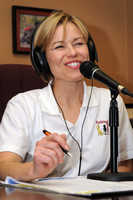 I love dogs, and always have. But what happens when you discover a close friend doesn't merely not like dogs, but actually hates them?
I've been operating under the assumption that those who don't like dogs must have some evil lurking in their spirit and were destined to a life of incarceration. Just look at the statistics of criminals that abuse animals early on and who later progress to physical abuse of people, murder, or other sociopathic behaviors.
I'll admit not liking dogs is a far cry from turning one's hand to injure an animal or person, but some uncomfortable association is still there. As a full-fledged dog lover, or enthusiast of any animal for that matter, I cannot understand the psyche of an individual that is satisfied going about their life without animal companionship.
Any pet lover can spout off a list of benefits their furry one brings to their life…the steady comfort of companionship, a non-judging ear to hear out the day's tribulations, a workout or hiking buddy and a source of unconditional love at the end of a long day.
So, imagine my shock when I realized that a couple I know doesn't like dogs. Not just that they don't have dogs or misunderstand them - they actually dislike dogs.
Hint of this fact should have been apparent a long ago when they were over for dinner and they politely stood stiff as Calvary front line, when greeted by my yapping terrier mix. Or that they failed to stroke my Labrador's chin after receiving the gentle nudge of the typical canine greeting upon entering the home. The polite perfunctory smiles went un-noticed by me. "Sure, they don't have dogs," I reasoned as to why they weren't charmed by my little dog's amusing tail wagging display or by the steadfast devotion of my Labrador's greeting.
All of these sign posts I missed. I clearly misjudged all along. The couple, who I just assumed were just not yet fortunate to understand the benefits of pet companionship, were actually formidable dog dislikers.
Realization struck me during a recent conversation with this couple. I was laughingly describing the vast differences in dog breed behavior comparing my former Labradors, to that of my current Bouvier. My comments must have been mistaken as some underhanded means to convince them the right breed was out there for them. At that moment, my guest raised hands and said, "I know what I like and don't like, and I don't want dogs." Clearly they didn't like dogs - and they misunderstood my comment as some means to turn them over to the canine side against their will. Astounded, I marveled how this response was not unlike a person who is recommended a mushroom containing side dish or gourmet meal from a fine restaurant, and who declares "I can't stand mushrooms and don't want anything to do with mushrooms!"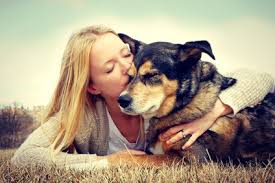 So why didn't I catch on to these dog haters sooner? For those of us that have pets, of any type, we recognize the many joys our pets bring to our lives. There are folks that don't want to bring that companionship into their life. The cogs of their lives have clicked along just fine without a pet in their life. Somehow lots of well-educated, social and seemingly normal people can raise a family and be successful and still dislike dogs.
Maybe we should feel sorry for them. Or maybe they feel sorry for us, for all the money, heart and time we put into a pet companion who's lifespan doesn't come near to that of a humans. They probably laugh at our reckless expenditures on a being who lives just a fraction of human life. I chose not to spend time wondering how they have made it without animals in their life…rather that I have succeeded because I have been fortunate to have animals in my life.
I ask that these non-pet people save their pity for me and my pets, because I know that any one of my dogs could say they lived live fuller than most people - full with adventure, splendor at new experiences and embracing the moment. And so have I at their side. So should the question come up at the time of my next life, I'll take both a side of mushrooms…and pets on the side.
Featured veterinarian known as "Dr. Debbie" on national pet radio program, Animal Radio. Ebook author of "Yorkshire Terriers: How to Be Your Dog's Best Friend"; "Pugs: How to Be Your Dog's Best Friend"; "Mini Schnauzers: How to Be Your Dog's Best Friend"; and "Shih Tzu: How to Be Your Dog's Best Friend." Dr. Debbie's books.




Animal Radio News - Stacey Cohen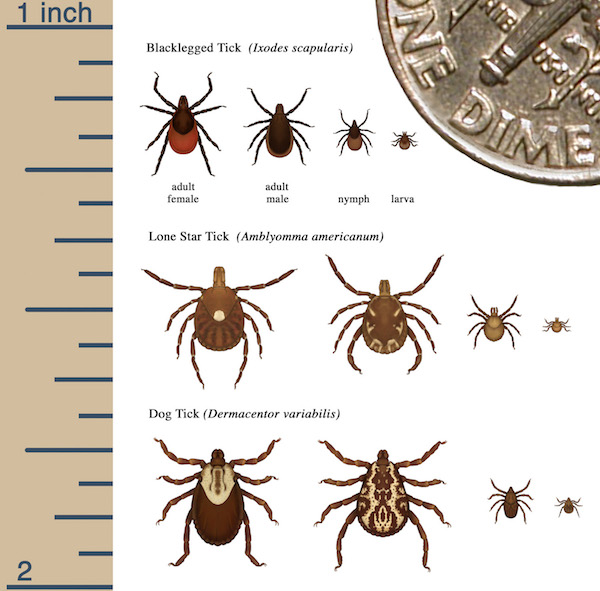 Now's The Time To Start Worrying About Ticks
Washington's Health Department says it's time to worry about ticks now that summer is here. Veterinarian Dr. Ruth McPete says few people realize that modern rural housing developments are often making America's tick problem worse. She says those fragments are fertile breeding grounds for ticks. The new Web site DogsAndTicks.com explains how to properly remove ticks from both people and animals. Ticks can carry health problems such as Lyme disease.
Nearly Half Of All Pet Owners Will Travel This Summer
PetRelocation.com, an international pet travel and pet transportation service provider, has announced the results of its third annual Summer Pet Travel Survey. For 2012, travel trends have fluctuated, but overall the popularity of pet travel is holding steady and consumer demands are more specific than ever. Nearly half of pet owners will travel this summer. Forty-seven percent of respondents said they planned to travel with their pets within the next three months and another 40-percent plan to travel within the next year. About a quarter of the people said they travel with their cats, but a commanding 85-percent will bring their dogs along when they hit the road in 2012. Safety tops the list for the third year in a row. Safety was cited as the number one priority for pet travelers, with 60-percent of respondents saying it is their top concern when making travel plans. Convenience came in second place at 25-percent and pricing was stated as the number one concern for 15-percent of people.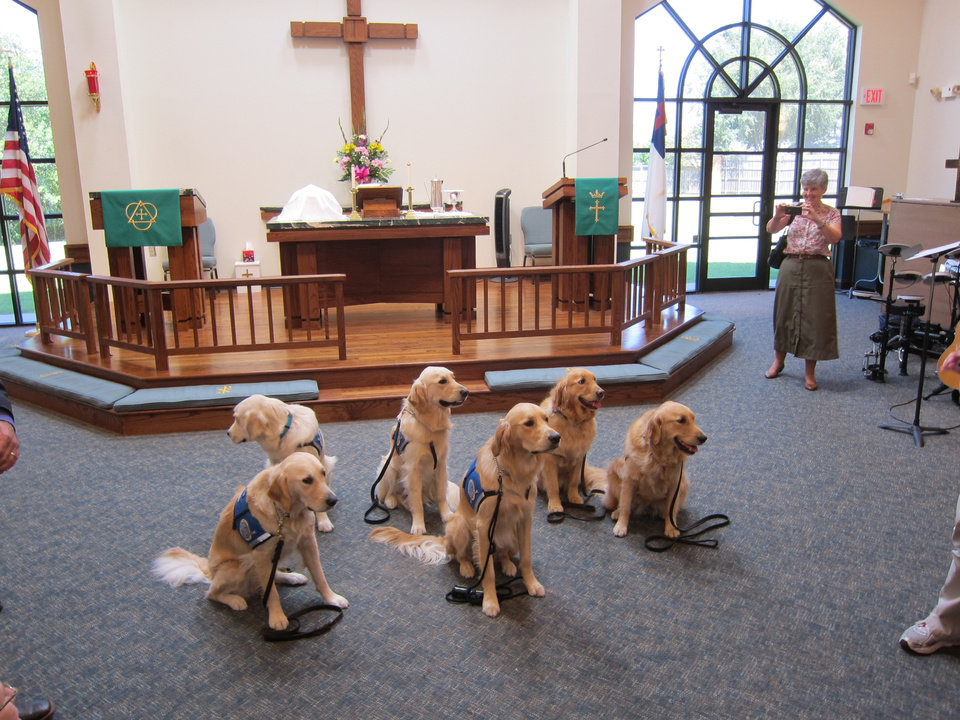 Would You Take Your Dog To Church With You?
A Florida pastor says he decided not to turn away any four-legged parishioners who wanted to join their two-legged companions at church. Pastor David Hughes tells the Sun Sentinel almost 500 dogs filled the pews for the first of two Dog Day Weekend services at the Church of the Glades in Coral Springs. Some of the animals reportedly in attendance ranged from Teacup Poodles to Irish Wolfhounds, as well as several Beagles and a 600-pound lion. Hughes says he thinks man's best friend fits nicely with the values of loyalty, love and protectiveness, noting that many theologians call Jesus the "Hound of Heaven.
Lucky's In A Rush To Get Married
If you missed Lucky the dog's posh wedding shower, you can still make it to her July 12th wedding at New York's exclusive Essex House Hotel. Lucky, who holds the Guinness World Record as the animal most photographed with celebrities, has posed with the likes of Betty White, Snoop Dogg and Hugh Grant. Her new mission: searching for a husband. The marital-minded Maltese is taking applications on her Facebook page for the right "Guy," which owner and animal advocate Wendy Diamond says needs to be "Friendly and not camera shy" but not necessarily canine. What's the rush? Poor Lucky's been diagnosed with terminal cancer and given three to 12 months to live.


Listen to the entire Podcast of this show (#1026)