Jamie Farr, M*A*S*H Corporal Klinger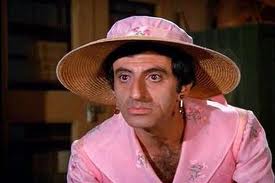 The craziest sane man to ever enlist in the 4077 (M*A*S*H) is Jamie Farr, better known as Corporal Maxwell Q. Klinger.
In the beginning of Jamie's career when he was studying theater, roles were infrequent for the young actor, and he took jobs as a delivery person, a post office clerk, an army surplus store clerk and an airlines reservations agent.
Jamie also states, "I had to take a job in a Chinchilla Ranch where I had to clean out the dropping pans." He says, "I was really raking it in then!" But, he wasn't the only one in acting class doing these odd jobs. He mentioned that, "Clint Eastwood was cleaning out swimming pools."
When Jamie was originally hired for M*A*S*H, it was for one episode. He wasn't part of the original cast, but states, "I was a tack on. I was a one-day day player. I came on and I think I got $250 for the day. I had four lines one the show." The next thing he knew, they kept calling him back. He did about 6 shows the first year, 12 shows the second year, and then in the third year they signed him to a contract.
Jamie's character on the show was Corporal Maxwell Q. Klinger a cross-dresser who wore his infamous Fuzzy Pink Slippers, in the hopes of getting out of the Army.
Hal Abrams stated, "I always thought you were the most sane person on that show!" To which Jamie replied, "You have a warped way of looking at the world I'm afraid Hal!"
Jamie and his wife, Joy, are owned by 3 cats. Jamie stated that his wife is the "Pied Piper." If there is an animal out there, they will go to her. She is the kindest, sweetest, thing that you have ever imagined in your life. He mentions that they have always had pets and he couldn't think of one time when they didn't have animals in the house.
Together they wrote a children's book, Hababy's Christmas Eve, the story of a camel family that Jamie first introduced on M*A*S*H.




What Are The Chances Your Pet Will Be Lost or Found?
Dr. Emily Weiss, ASPCA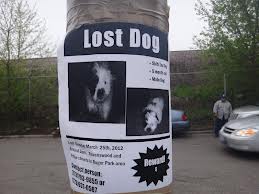 The American Society for the Prevention of Cruelty to Animals (ASPCA) conducted a telephone survey of more than 1,000 pet-owning households across the country and uncovered data regarding how many pets have been lost, how many ultimately made it home, and how their guardians found them. The study involved a random digit dial survey of pet guardians to find out if they lost a dog or cat in the past five years - and if they did, did they find that pet - and where did they look? There were 1,015 households that had cared for a dog or cat within the past five years, and of those pet guardians surveyed:
• 15 percent had lost a dog or a cat in the past five years - a lower number than had been anecdotally reported
• 85 percent of those lost dogs and cats were recovered
• The percentage of lost dogs compared to lost cats was quite similar - 14 percent for dogs and 15 percent for cats
• Cat guardians were less likely to find their cat - only 74 percent of lost cats were recovered, while 93 percent of lost dogs were recovered
Lost dogs were found because of the differences in the way people treat dogs and cats. As an example, cats are less likely to be wearing a collar and tag than dogs are.
Surprisingly, most animals are not microchipped. While microchipping is very important, it is also crucial to have a visual ID tag.
Most folks lose pets when things are a little different at home. You could be moving, having something delivered to your home, or even just having company. No matter how careful you are, things can happen which can cause a pet to become lost.
Of the pets that were lost, most of them were found in their own neighborhood. This means if your pet becomes lost, you should look quickly and often for your pet in your immediate surroundings.




Vegas Bats Positive for Rabies - What's the Risk? - Dr. Debbie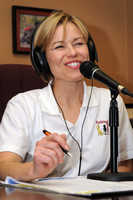 Think your pet doesn't need a rabies vaccine because it lives indoors? Think again. Bats have been known to fly through open windows or chimneys. Dogs and cats that go outdoors are at risk for rabies exposure through wildlife. Felines that hunt and bring "presents" have added rabies risk.
Common questions about rabies:
What is Rabies?
Rabies is a viral disease causing encephalitis (brain inflammation) that affects all mammals including humans. The disease is almost always fatal. Over 59,000 people worldwide die of rabies every year, but fortunately U.S. human deaths are rare with 1 to 2 reported per year. Pet and farm animal rabies cases do occur in the U.S. though, usually after tangling with wildlife.
How is Rabies Passed?
Rabies is passed in saliva through the bite of a rabid animal. Less common exposures to rabies include aerosol transmission, mucous membrane contact or rare cases of organ transplant in humans.
What Are Symptoms of Rabies?
Excessive drooling, aggression, staggering and seizures are symptoms of rabies in animals. Wild carnivores, like coyotes, that avoid people are suspect if lacking fear and approaching humans. Nocturnal species like bats that are found out during daylight are also suspect for rabies.
What Kind of Animals Carry Rabies?
Although pet and human rabies cases in the U.S. are rare, the infection still abounds in wildlife reservoirs. In the Las Vegas area, bats are most commonly carriers, but other wildlife carriers include raccoons, skunks and foxes.
What Do You Do If You See a Sick or Dying Bat?
Avoid contact with sick or dying bats. Do not take sick bats to the veterinarian. Call Animal Control if any human or pet exposure to sick bat.
Despite the rabies concern, bats do have an important role in our ecosystem by consuming insects and pollinating plants. Not every bat has rabies, and there are other reasons bats die.
What Do I Do If a Person or Pet is Scratched or Bitten By a Bat or Other Wildlife?
If your pet gets into a fight with a skunk or raccoon, or plays with a dying or dead bat, there is potential for rabies exposure and a report should be made. Call animal control to have the bat or other wildlife picked up.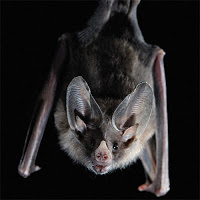 Possible rabies exposure is evaluated on a case-by-case basis. Because rabies is fatal, any humans with suspect rabies exposure should make a report to the local health department. Fortunately post exposure treatment for people is very effective in preventing disease, and doesn't involve painful stomach injections reported of long ago.
What Happens to Pets After Exposure to Suspected or Known Rabies?
Ultimately local rabies ordinances dictate how each case is handled. Pets with current or late rabies vaccinations may be quarantined for 10 days.
A pet that never has had a rabies vaccine may be promptly euthanized and tested for rabies. In other cases of unvaccinated pets, extended quarantine periods up to 6 months may arise.
What Can I Do to Protect My Pets and Family From Rabies?
- Vaccinate animals for rabies - this includes dogs, cats, ferrets and select farm animals.
- Teach children never to handle bats.
- Do not keep wild animals as pets.
- Spay and neuter your pets to decrease the desire to roam.
- Maintain control of your pets when outdoors or hiking to avoid accidental exposure to wildlife.
- Bat-proof your home and garage to avoid nesting sites and close encounters with bats.
- Report human bites from pets or wildlife to public health and animal control authorities.
Vaccination is key to protecting pets from rabies and offers peace of mind to pet owners and the Rabies vaccine is typically inexpensive.
Rabies vaccination…Just do it!
Featured veterinarian known as "Dr. Debbie" on national pet radio program, Animal Radio. Ebook author of "Yorkshire Terriers: How to Be Your Dog's Best Friend"; "Pugs: How to Be Your Dog's Best Friend"; "Mini Schnauzers: How to Be Your Dog's Best Friend"; and "Shih Tzu: How to Be Your Dog's Best Friend." Dr. Debbie's books.




Animal Radio News with Stacey Cohen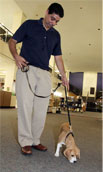 Library Used Dog For Bedbug Infestation
Officials at an Oklahoma library turned to a four-legged friend to deal with a past bedbug infestation. The Tulsa World reported the state's only bedbug sniffing dog, Miss Liberty Belle, was called in to see just how bad the Tulsa Central Library's problem was. The facility was evacuated after a patron reported being bitten. However, a spokesman said it appeared to be an isolated incident believed to be contained within a small portion of the library.
You Want To Put More Playtime Into Your Life, Get A Dog!
A Beneful poll showed that adults who have a dog are 30-percent more likely to carve out opportunities several times a week to play. And for 61-percent, the play companion they enjoy the most is their dog. By comparison 48-percent would rather play with their spouse or significant other, and 37-percent would prefer to have a good time with their friends. In addition, the majority believes Americans should spend more time playing. More than 80-percent say Americans don't put enough playtime into their lives. In addition, 47-percent of dog owners believe their pets would benefit from playing more often.
Bear Decided To Do A Little Shopping
A Pennsylvania bear's attempt to do a little shopping led to the evacuation of a Pittsburgh mall. According to the Pittsburgh Post-Gazette, officials said the female black bear walked into the Sears at the Pittsburgh Mills Mall. A Wildlife Conservation Officer said they were eventually able to lure the animal between the automatic double doors, tranquilize her, and then wheel her outside. Witnesses said the bear was also spotted roaming around other nearby stores earlier in the day, although no injuries were reported.
Man Broke No Laws Dressing As A Goat
The Utah photographer who spotted a person dressed like a mountain goat on an Ogden hillside described his encounter. The photographer said the photos showed a costumed human mingling with real wild goats on Ben Lomond Peak. State officials said mountain goats can become aggressive and inflict serious harm. They also worried that the individual who was dressed as a goat could have been mistaken for wild game by hunters. State wildlife officers said they heard back from a man who claimed to be the person in the homemade goat suit seen on the side of a mountain recently. The hunter told the Division of Wildlife Resources that he was testing out his suit in preparation for a goat hunt in Canada. Officers were never concerned about any law that was being broken. Instead, they were worried about the safety of anyone who would put on a homemade goat suit and go running after a herd of real mountain goats, which have real horns and are known to be territorial.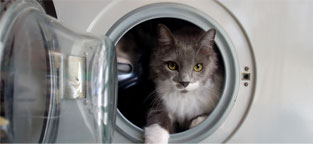 Don't Toss The Cat In With The Laundry
A Scottish woman will most likely sort her laundry a little more carefully after she accidentally tossed her cat in the washing machine. The woman told "The Scotsman" Tinker, her family's tortoiseshell was apparently sleeping in the laundry basket with a pile of dirty clothes and wound up going through the hot-water wash cycle before she was discovered. Lothian says she first noticed something was wrong when Tinker wasn't running around her legs as she did her usual chores and eventually heard a noise coming from the washing machine. Lothian saw Tinker stuck on top of the clothes and pried open the door to get her out. She immediately wrapped the cat in a towel and brought her to the vet, who said it didn't look like Tinker would make it. The vet said he had never seen a case like this and put the cat in a heated oxygen chamber where she eventually made a full recovery.
Firefighters Rescued Pig
Pembroke Pines Fire Rescue and the Southwest Ranches Volunteer Fire Department were called to save Strawberry, a 900-pound pig, after she fell into a pond on her way to her new home. The team says they used a ladder and a large tarp to get the animal out of the five-foot-deep water. And their efforts were successful. Strawberry was eventually returned to her trailer for the 450-mile ride across Florida.

Listen to the entire Podcast of this show (#1184)