Black Dog Syndrome
Fred Levy, Black Dogs Project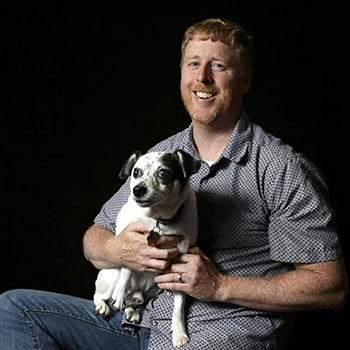 While there is no hard evidence to back Black Dog Syndrome, it is largely felt that black animals take a back seat when it comes to adoption. Pet Photographer Fred Levy believes it's because they are hard to photograph and don't look desirable in online photos. He gives us tips for photographing your black dog or cat.
It was a summer day at the dog park when Fred Levy, a professional pet photographer, overheard a conversation that he couldn't shake off. A woman was talking about "Black Dog Syndrome" - a theory that black dogs are less likely to be adopted than those with lighter coats, perhaps because of superstition or a notion that black dogs are aggressive. Experts debate whether it's a myth or reality, but it struck Fred.
Fred isn't sure why this might be true, and if it is, there are probably a lot of different reasons, one being photography. Most shelters are non-profits with limited resources and lots of volunteers, but most people aren't good at taking pictures under those circumstances. When someone takes a picture of a black dog in a cage under fluorescent lights, the dog doesn't look very appealing, if you can even see the dog at all. The dog usually ends up looking like a black blob with eyes.
This could be a part of the reason, as most people go online to search for a dog and if they see a bad photo, they will probably pass that dog by.
So just how does Fred take great pictures of black dogs? He shoots them in his studio with lots of lighting and believe it or not, a black backdrop. He said you just focus the light where you want it to be and not where you don't want it to be. For the most part, he wants the backdrop to fade away, so he focuses the light in a very small area where the dog is sitting, which is in front of the backdrop. He uses a seamless backdrop, which is basically a piece of fabric that comes down and goes to the floor, without the crease of the edge of a room.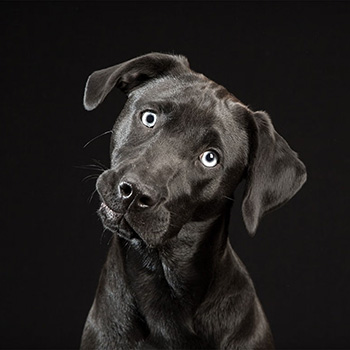 But if you're working with a shelter and trying to get good pictures of black dogs while there, you need to think about where the light is and how it is hitting the dog. Next, you need to figure out how to get a good backdrop that doesn't conflict with the dog and never shoot through a fence or cage.

Fred even put on a workshop at a shelter, invited other shelters, and taught them how to take good pictures of the animals.

In his book, Black Dogs Project, Levy included stories about each dog to counter myths about them. Among those he featured was Denver, a black Labrador that was also a therapy dog. Denver worked at an elementary school and spent time in a Boston firehouse after the marathon bombing.

Early on, the black dogs that Levy photographed came from owners he recruited through his Facebook page. He also started working with abandoned dogs referred to him by shelters. After training his camera on them, he shared their photos online in search of a permanent home. Fred Levy is married with two amazing children that keep him on his toes and a dog named Toby, who is a constant source of inspiration. If you ever want to get him talking, just mention the latest photo gear, a nerdy current event, or of course, your pet.

Visit Website





Using Pets To Teach Anti-Bullying
Allison Basinger, Wayside Waifs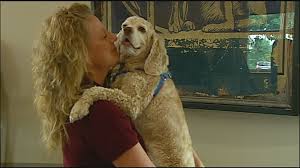 Allison Basinger from the Kansas City based "Wayside Waifs" animal welfare organization was on the cutting edge of the anti-bullying education movement. She used her dogs to help 3rd through 5th graders learn a more compassionate lifestyle.
Allison Basinger used her dogs, Justice and Paxton, to teach elementary school students to be kind to all living beings, because bullying, violence and animal abuse are all connected. It's a cycle. People who harm animals often go on to harm people and people who are harming animals have often been abused, themselves.
Bullying is a very serious problem. Allison states that its very important to talk about, "Bullying as the action, rather than bullies as naming or labeling a person with that action." The reason it's important to separate is because a lot of time kids who are bullying other kids or animals are often doing so because they have hurt in their own lives. They also do it because that is what they the see adults around them doing.
This course was for children, but Allison said there are times when she would really love to teach this course to adults! She stated that adults need to remember that they are the example to children and we need to check ourselves and hold ourselves to high standards.
Allison taught third, fourth and fifth grade students. She taught core values, compassion, responsibilities self-control and integrity. Every day they looked at one of these core values and how to put those into practice with both people and animals.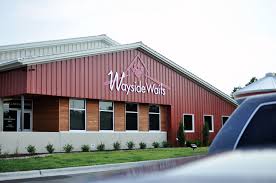 Justice was an older Cocker Spaniel who had a lot of prestige about him, so he wore a necktie in the classrooms. During one lesson on compassion, Allison told us that a little boy raised his hand. He was concerned that maybe Justice's necktie was a little too tight. He felt for Justice and he wanted to do something about it. A few minutes later, that same little boy hit another child next to him. Allison used this as a teaching tool. She asked the little boy if he remembered all that compassion he had for Justice and would he ever take his arm and hit Justice like that? He got tears in his eyes and said, "I would never hit Justice that way." Allison taught them that we couldn't do that with our people friends, either.

Most kids don't sit still for lessons, but when Allison brought animals into the classroom and into the conversation of bullying, not only did it create those poignant moments, where you could just call it straight out like that, it also gave students the opportunity to practice those core values with a animals, because some of them didn't have them at home. The children paid attention and heard things in a completely different way.

Allison stated that it is important for us to help people who are hurting, not to hurt anymore, so that our animal friends and people friends can all be safe.

Wayside is the largest no kill pet adoption campus in Kansas City, placing approximately 5,400 animals each year. Wayside does not euthanize adoptable animals and there are no time limits for animals in their care. Only animals suffering from significant medical issues or those that pose a danger are humanely euthanized. Wayside Waifs is proud to be a part of Kansas City's no kill community.

Visit Website





15th Annual Get Your Licks On Route 66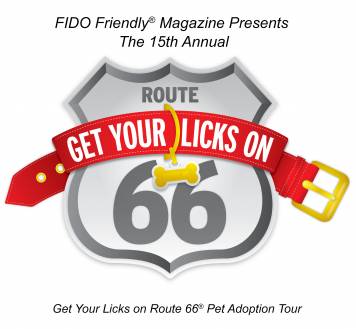 It's that time of year again where FIDO Friendly travels down the Mother Road, stopping at shelters along the way to support adoption events from August through September. Helping to save lives, one shelter at a time! In the first 14 years, they helped to place over 18,000 pets into new forever homes! In 2022, alone, they helped to place over 1,200 pets into new forever homes. As always, they are hoping to break that record this year. Join them this year as they continue to travel down America's Favorite Highway, helping to save lives, one shelter at a time. They even bring their giant spinning wheel filled with prizes provided by their sponsors where a donation gives attendees a chance to win fabulous prizes and all proceeds go to the shelter at the end of the day
The Get Your Licks On route 66 tour will include 10 cities to visit this year and they would like everyone to come out. Even if you are not looking to add a forever family member you can still join the fun by visiting one of their partner shelters and making a donation to spin their custom spinning wheel, filled with prizes you can win, with proceeds going to the shelter at the end of the day! Spinning wheel prizes will be provided by Buddy Belts, WizSmart, CatIt, Charlee Bear, Suitical, Redbarn, Bike Tow Leash and Wee Away.
Thanks to the sponsors who have signed up to help them save lives, one shelter at a time! Please visit their websites to see the great products they have to offer.
Here are the upcoming dates and locations of the 15th Annual Get Your Licks on Route 66 tour: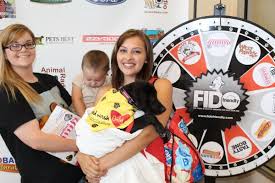 (PLEASE CHECK BACK FOR TIMES AND ADDRESS AS SCHEDULE SUBJECT TO CHANGE. Hope to see you on the road!)

August 19
Los Angeles, CA
11am-3pm
East Valley Animal Shelter
14409 Van Owen St.
Van Nuys, CA

August 23
Sedona, AZ
11am-3pm
PetSmart
2356 W. State Route 89A
Sedona, AZ

August 26
Albuquerque, NM
11am-3pm
PetSmart
10428 Coors Bypass Rd.
Albuquerque, NM

August 27
Santa Fe, NM
Noon-4pm
PetSmart
3561 Zafarano Drive
Santa Fe, NM

August 31
Moore, OK
11am-3pm
Moore Animal Shelter
3900 S. I-35 Service Rd.
Moore, OK

September 3
Tulsa, OK
Noon-4pm
Woodland Hills Mall
7021 S. Memorial Drive
Tulsa, OK

September 9
Kansas City, KS
Bar-K TBD/

September 14
St. Louis MO
11am-3pm
Bar-K TBD/

September 21
Springfield, IL
11am-3pm
PetSmart
3183 S. Veterans Pkwy.
Springfield, IL

September 24
Omaha, NE
11am-3pm
Nebraska Humane Society
8929 Fort St.
Omaha, NE

FIDO Friendly is an American dog travel and lifestyle magazine published bimonthly including hotel and destination reviews along with health and wellness topics, dog training advice, celebrity interviews and the latest fashion trends.

Visit Website





What's Your Vet-iquette - How to Be a Good Veterinary Client - Dr. Debbie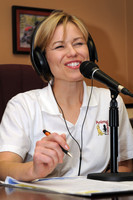 Sure you think your vet visits go off without a hitch, but do you know how to be a good veterinary client, the kind veterinarians rave about? Follow these suggestions to participate as a vital part of your pet's medical care, to ensure your pet gets the most efficient care and to always be greeted with beaming smiles.

Be Prepared
Before you arrive at the office with a sick pet, know your pet's ins and outs. Without a pertinent history from you, your veterinarian may need more diagnostic tests to sleuth out the answer to the problem. That takes time and can cost you more in veterinary bills. Expect the questions your vet is likely to ask you. Has your pet been eating? What types and brand of food do you feed him? Is there diarrhea or constipation?

Bring Evidence
Nothing is more useful to your veterinarian as seeing something with her own eyes. Bring evidence like stool samples, vomited material and medications your pet is receiving. Has your pet chewed on some unusual plant in the backyard? By all means bring a sprig of that plant. Document video on your smart phone. This can be immensely helpful to your veterinarian to witness behaviors that may be intermittent. I've been thankful when owners bring smart phone video of seizures, separation anxiety behaviors and respiratory ailments. Video eliminates misinterpretation by pet owners and can permit a quick veterinary diagnosis. Vomiting and regurgitating may look similar, but are caused by different disorders. Pets strain to defecate with both diarrhea and constipation. Inspiratory wheezing, coughing, congestion and reverse sneezing are often described similarly by owners.

Trust Valid Resources
By all means do your research in advance of your veterinary visit. Know what questions to ask. But remember that the internet is abounding with both good and blazingly incorrect information, some based on opinions and conjecture without any sound medical basis. Pet owners who value Dr. Google's opinion over their veterinarian, who has examined their pet, could put their pet's health care in jeopardy.

Confine Your Pet
Make sure your pet is secure before entering the veterinary hospital. Don't underestimate the unpredictable things pets do in a noisy, crowded waiting room. Birds fly off shoulders landing in snack zone of nearby dogs. Dogs instigate fights and cats flee the waiting veterinary staff's arms. Pay attention to where your pet is and don't allow your pet to approach other animals without the owner's consent. Some animals are there because they are sick and could bite in unfamiliar surroundings.Dogs should be on a secure leash. Flexi leashes are dangerous in the veterinary hospital allowing dogs to bolt quickly toward another dog, or to entangle limbs of humans or other animals in the waiting room. Cats and exotic pets should be secured in an appropriate pet carrier. If you have a pet that has been or could be aggressive to veterinary staff, absolutely share that information before the visit starts. Veterinarians look out for the safety of people in their employment and appreciate a heads-up in advance to avoid potential staff injury.



Optimize Your Face Time
So now you are in the exam room with the doc, so make the most of it. Put the cell phone away and, by all means, don't waste time taking a phone call if medical staff is standing in front of you. Avoid distractions that will limit your ability to communicate with your veterinarian. This might include a roomful of boisterous children or other pets. If possible, arrange child care or pet sitting so your sick pet gets prime attention and you don't miss any details of the visit.

Emergencies Happen
At the vet office, we recognize how valuable pet owner's time is and try to minimize the wait. But recognize that emergencies are unforeseen and create delays for other pet owners. Most folks understand that emergencies happen and are accommodating during situations as this. But making a scene or outburst about your wait time, while the veterinary staff tends to a critical pet, is just inconsiderate. Recognize that one day your pet could be in that same place and you would be appreciative that your pet's medical emergency was triaged ahead of the waiting routine appointments.

Don't Attack the Messenger
Emotions can run high when you have a sick or injured pet, but it isn't an excuse to be abusive to hospital staff. Obscene language and overly aggressive behavior doesn't help your pet get the care she needs, nor does it endear yourself to those people working hard for your pet's health.

Own Your Own Reality
Pet owners have the daunting responsibility for the health and well-being of pets in their care. That means accepting the level of veterinary care you can pursue and recognizing choices if finances are limited. Pet insurance can help defer the cost of veterinary care, but there isn't government sponsored Obamacare for pets. Don't blame your veterinarian for your pet's health maladies, or expect her to cover the costs of treatment. People in the veterinary field do what they do because they love animals, but they shouldn't be expected to take financial responsibility for everyone's pets. I once heard a veterinary colleague respond to a client's question, "Doc, why can't you just do my Sasha's surgery for free?" His response was, "Because my staff needs to get paid and my kids need shoes." Recognize that veterinary offices aren't lending institutions, but rather are small businesses with pressing bills, just as anyone.

Share Your Feedback
Share feedback with the hospital management about service excellence or shortcomings. Every hospital appreciates the opportunity to improve, or the chance to pat staff on the back.


Featured veterinarian known as "Dr. Debbie" on national pet radio program, Animal Radio. Ebook author of "Yorkshire Terriers: How to Be Your Dog's Best Friend"; "Pugs: How to Be Your Dog's Best Friend"; "Mini Schnauzers: How to Be Your Dog's Best Friend"; and "Shih Tzu: How to Be Your Dog's Best Friend." Dr. Debbie's books. Visit Website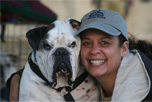 Animal Radio News - Lori Brooks

Selecting A Car With Your Dog In Mind
So who influences you when you need to buy a car? According to Autotrader, more than half of America's 54 million dog owners consider buying a vehicle based on its ability to accommodate their best friend, which is their dog. The list includes cars with features pet owners need, like fold-flat rear seats, rear lift gate, under-floor storage and rear climate control. There are 9 cars on the list of being pet friendly and they are: Audi's all-wheel Drive Wagon, the Ford Edge Crossover, the tiny Honda Fit, Jeep Renegade, Kia Sedona, Subaru Cross Trek and the Mercedes GLA class.

Pamela Anderson Said Company Was Not Cruelty Free
Actress and animal rights actress Pamela Anderson once wrote a letter to MAC Cosmetics owner and friend, John Demsey, expressing disappointment in the brand for testing on animals. Anderson used to be a spokesperson for the brand, but learned that the supposedly cruelty free brand admittedly tested on animals where it was "required by law," like in China. MAC's parent company, Estee Lauder, then released a statement acknowledging the accusations and said, we "Are committed to providing our products and services to our consumers where they live, and we must comply with all legal requirements in the countries where we do business." But the cosmetic giant showed no signs of wanting to pull their products out of China.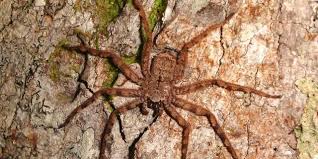 Skydiving Spiders
Scientists already knew spiders could forsake their many legs and fly through the air. However, it's been discovered there are skydiving spiders in the forests of South America that can manipulate their flight. This nocturnal hunting spider is a tree dweller and occasionally it's forced to abandon its home or is blown off by a swift breeze. When that happens, the spider can literally manipulate its two-inch-wide body to guide its trajectory to the safety of another branch or tree trunk. Scientists said this lead them to believe that many animals living in the trees are good at aerial gliding, from snakes and lizards to ants and now spiders.

Flying Caravan of Former Circus Animals
Happier days happened for some former circus animals who were part of a flying caravan. Mexican Navy planes flew them to a Colorado wildlife sanctuary. It was the first time Mexico's Navy had ever participated in an animal relocation effort. Eight lions, two lynxes, a puma and a coyote were given a much better life after being found abused or abandoned. Mexico then enacted a ban on exotic animal performances in circuses and many of the former circus owners say they couldn't afford to maintain animals that didn't make money for them, so they started abandoning them.


Listen to the entire Podcast of this show (#1237)