Unsavory Facts of Animal Life
Brooke Barker, Sad Animal Facts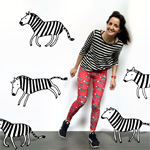 Brooke Barker's book, Sad Animal Facts, contains Animal Kingdom's more unfortunate truths, with over 150 of her own hand-drawn illustrations. Brooke states that if you have to deliver sad news about animals, the best way to do it is with a cartoon that's not too sad but a little bit cute.
However, while some of the facts in her book are sad, there are others that are just plain funny! Brooke has always thought that animals are amazing and they can do things that humans can't do, and its fun to think about these things with a slight twist.
Some of Brook's favorites facts are that zebras can't sleep alone. They like to sleep in groups so one can always be on the lookout for danger. So all of the times that Brooke has been sad to sleep alone herself, it is comforting to know that a zebra feels the same way!
Another amazing fact is that giraffes also need only about 2 hours of sleep each night. Therefore, any time that one of Brooke's friends says that they are tired, she tells them if they slept more than two hours, then they have slept more than a giraffe.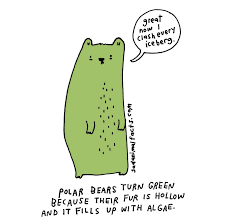 What about green polar bears? Turns out that polar bears' hair is like small tubes and if they get algae in there, they turn green. There is no way that they can clean this off, because it is on the inside. So don't be surprised if you ever see a green polar bear.
This next fact is really strange. Did you know that turtles breath out of their butts? Brooke states that this is a good skill! She thinks it must be useful for being underwater. It is a way to move air from their lungs back and forth from their butt as well as from their mouths. She asks if Dr. Debbie has a more scientific word for it - to which Dr. Debbie replied, "Sounds a lot like passing gas!"
Speaking off passing gas, did you know that herring also pass gas as a way to communicate? They pass it in different bursts and different lengths as a way to communicate with each other under water.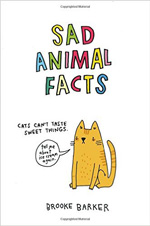 One true sad fact is that if a female ferret goes into heat and doesn't mate, she will die. This is because they can develop a fatal anemia from continually being in heat. However, you can solve this problem by just spaying them.
Can you imagine not being able to taste anything sweet? Well, that is the fate of the cat. They don't have the sweet receptors on the tongues to taste sweet. So - stop sharing your ice cream with them!
You will find these and many more fascinating facts about animals in Brook's book, Sad Animal Facts.
Brooke Barker is a writer, illustrator and animal enthusiast living in Portland, Oregon. She has a dog that can never eat chocolate and three guppies that can't take naps because they don't have eyelids.
A Place To Retire With Your Pets
Watermark Retirement Communities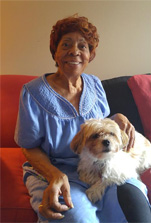 Founded by pet lovers, Watermark Retirement Communities welcomes pets in 38 communities coast to coast. In fact, pets are encouraged. While many residents live with their own four legged friends, visiting pets also make regular appearances, sometimes accompanying associates on their workday. Interactions between these loving animals and the humans that love them back are a perennial source of comfort and healing.
We speak with two residents of Watermark Retirement Communities, Betty Sanders and Joseph Leigh. Betty doesn't have her own pet, her pet actually belongs to the resident care director. However, the dog stays with Ms. Sander all day long, so it feels like her own pet. Joseph is fortunate enough to have his own dog, which rides around his scooter with him throughout the community.
Betty Sanders calls her dog, "Dr. Mocha," because she is like a doctor to her. Dr. Mocha comes to her door daily and cries and barks for someone to open the door and lets her in. While Mocha belongs to the supervisor, she fell in love with Betty and Betty loves her. Dr. Mocha seems to seek out the sick people. When Betty first arrived, she was depressed. Betty states that she didn't meet Dr. Mocha, Dr. Mocha met her! Dr. Mocha made sure that she visited Betty often. Now she hangs out with Betty every day.
Dr. Mocha jumps in bed with her and stares her in the eyes, making sure she's okay and cheers Betty up. Sometimes they walk around the facility together, with Dr. Mocha ignoring everyone else but Betty. They even ride the elevator together.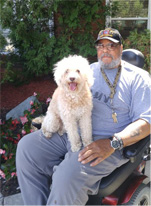 They have a great relationship, but sometimes Dr. Mocha wants Betty to share her food. Betty just tells her that, "That's rude! I don't beg you for your food, don't you beg me for mine!" and then tells her to go to her chair. When Dr. Mocha gets in the chair, Betty tells her to put her head down so she can't watch her while she's eating. Dr. Mocha always complies.
Betty is not sure what kind of dog she is, as she is a mix. However, she is so little she still looks like a puppy, even though she is seven years old. Betty states she always had a dog until she got sick. Dr. Mocha has made things so much better for her now and is better trained than some children Betty knows!
Joseph Leigh lives in a community where five residents there have small dogs, all under 15 pounds. Joseph's dog, "Miss Marty," is 15-years-old. Joseph decided to live in this community because they allowed him to keep his dog. Miss Marty is a blonde poodle and they ride around all day together on his scooter. There are four other dogs living there and everyone knows the dogs!
Watermark Retirement Communities is a company committed to creating extraordinary communities where people thrive.

http://www.watermarkcommunities.com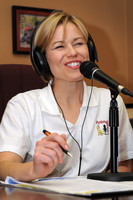 Dizzy Old Dogs - Diagnosing Idiopathic Vestibular Disease -Dr. Debbie
I came running when I heard the crashing paw steps of my 12 year old Labrador, Magnum as he flopped and tumbled in a nervous frenzy. With head crooked to the right, Magnum's dizzy, wobbly movements resembled a carnival lover's exit from the tilt-a-whirl ride. His eyes darted back in forth in an uncontrollable movement. Many might assume Magnum suffered a stroke, and figured it was time to put the old guy to sleep. But fortunately there was hope - Magnum developed a typical case of Idiopathic Vestibular Disease.
What is Idiopathic Vestibular Disease?
Idiopathic Vestibular Disease, also known as Old Dog Vestibular Disease, is a condition commonly diagnosed in senior dogs, but also seen in cats. The term idiopathic basically means the cause is unknown. This condition affects the vestibular system and the pet's sense of balance, typically with a rapid onset of symptoms. In Magnum's case he literally was fine at the start of a television program, and was wobbly just one hour later.
Symptoms of Old Dog Vestibular Syndrome include a wobbly gait, head tilt, anxiety, panting, and an abnormal eye movement called nystagmus, a condition in which the eyes dart rapidly back-and-forth or up-and-down. In addition to mobility problems, the topsy-turvy sensation leads to nausea, vomiting, and an inability to eat or drink. Thankfully my sturdy stomached Labrador barely missed a meal during his bout.
The cause of idiopathic vestibular vestibular syndrome isn't completely known, but fortunately most dogs recovery from symptoms within 2 to 4 weeks. In some cases dogs may suffer from future bouts months to years later. Some dogs may retain a slight head tilt or unsteadiness at times.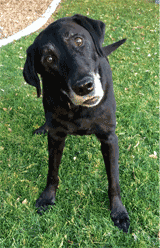 What Can Be Done?
A veterinary examination is important to identify suspected cases of vestibular disease. Other possible causes of these symptoms could include an infectious or inflammatory condition, inner ear infection, cancer, or a brain vascular episode - a stroke-like episode. In order to rule out these potential causes, more detailed testing is needed and may include tests like a CT, MRI, and CSF tap.
There isn't a cure for a vestibular episode, and some pets recover without any treatment. But other animals require supportive care including anti-nausea medications, intravenous fluid therapy, hand feeding, and physical assistance to walk and protect from household hazards.
Caring for a frightened, disoriented, wobbly, nauseated dog can be difficult. My 80 pound Labrador needed physical support to get up, walk outside and required hand feeding at times. He couldn't be left home alone without risk of injury. And because of all the hoisting, blocking collisions with furniture, and guiding away from the depths of the pool, I injured my back during his rehab time. The reality is that home care of a small or toy breed with vestibular disease is much easier than the physical demands of a assisting a large or giant breed dog.
Lessons Learned
I have seen many a patient come to my veterinary office for euthanasia after developing similar vestibular symptoms. Some pet owners assume that the severe symptoms and rapid onset mean that there is no hope and euthanasia is the only choice. I'll admit that vestibular symptoms are scary and affected pets are tough to care for at home, but if given the tincture of time, many senior dogs will eventually improve. Perhaps Magnum's story will help other pet owner's opt to pursue treatment or testing, and give time a chance to heal.
Four weeks later and Magnum is back to playing with toys and energetically bounding on walks. He still retains a slight head tilt to the right, his badge of courage as I see it. I'm thankful for his recovery and adore his charming, lovable tilted perspective of the world.
Featured veterinarian known as "Dr. Debbie" on national pet radio program, Animal Radio. Ebook author of "Yorkshire Terriers: How to Be Your Dog's Best Friend"; "Pugs: How to Be Your Dog's Best Friend"; "Mini Schnauzers: How to Be Your Dog's Best Friend"; and "Shih Tzu: How to Be Your Dog's Best Friend."
http://www.drdebbie.net





If There Were Olympics for Animals
Robert Semrow, Animal Radio Listomania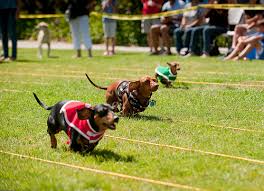 I, like so many other people, really enjoy watching the Olympics. Tremendous athletes from around the world come together and take part in a series of sporting events. That got me thinking, what if we did that for the Pet World.

First, I would love to see a few animal Track and Field events. I'm going to start with the 100 Meter Dash. I want to see the fastest dog breeds tee off and race for supremacy. My top five would be Greyhounds, Salukis, Vizslas, Dalmatians and German Shepherds. The speed on that track would certainly thrill all. In the Cat Division I would enjoy watching the following breeds race Bengals, Savannahs, Manx, Siamese and Ocicats. Then, in a bragging rights face off, I'd love to see the Dog Winner face the Cat Winner.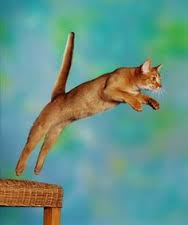 I love see people fly high through the air. It is incredible to see them reach those heights. However, I am more impressed when I go and watch an extreme vertical or a big air event at a dock dog's competition. These dogs go vertical on average 7 to 8 feet and oh yeah; grab a toy while doing so. They can fly 28 plus feet chasing their favorite toy in the Big Air events. I want to see a pole-vaulter or long jumper make their leap and grab a power bar while doing it. My favorites for the Vert event would be the Belgian Malinois, Whippet, Labrador Retriever, Border Collie and my most favorite, the mixed breed. Any of them could post an extreme vert leap of 8 plus feet. In the cat, non-water landing event, I will go with the Savannah, Bengal, Turkish Van and Siberian. That would keep me glued to my TV set or like many cat lovers, the Internet.

Cat Lovers, I haven't forgot about your Shining event. If you know cats, you know that climbing and leaping and gymnastics is a breeze for them. So, instead of the humans, bring out the cats. Let's revamp the gymnastics apparatuses and watch these breeds put on a show. My choice would be Abyssinian, Siamese, Bengal, Burmese and Siberian.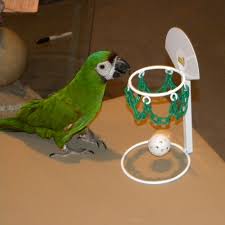 Bird Lovers, I know you want in on the action, and that you would prefer a flying event. I understand that, but as I am the president of the Rob Semrow Pet Olympic Committee I have decided that we will have birds compete in Birdie Basketball and also in the Staircase 100. That's right, bird breeds like parrots playing basketball is often more entertaining than what the human games give us. Also, different bird breeds using their feet and wings to come down the stairs in a safe yet highly entertaining manner is just what sporting world needs.

I could go on for weeks, like the human version, but I'll end this by saying one of the best outcomes of this would be people spending time with their pets being active and cheering on these incredible animals.
Share the Pet Olympic events you'd like to see on our Animal Radio Facebook Page.
Lucy Pet Foundation
The Mission of The Lucy Pet Foundation is to reduce pet overpopulation and the euthanasia of over 80,000 cats and dogs per week in the United States by having mobile spay/neuter clinics across the country and to support causes that benefit animal welfare. The Lucy Pet Foundation currently has two buses that travel around Southern California focusing on spaying and neutering. These buses are state of the art surgery units. Their next focus is in generating more funds to expand the work of these buses and have more across the country.

The Lucy Pet Foundation not only offers free and reduced spays and neuters, they also do microchipping, vaccines and de-wormings. Spaying and neutering is not only great for pet population control, but it has been proven that an animal will live on an average of 40-percent longer after having this surgery.
Upcoming Clinics
Free Spay & Neuter for Los Angeles City Residents! Here is a list of upcoming free or reduced fee mobile spay and neuter clinics in California:
Call for more information, questions and to reserve space to get on the list: (855) 499-5829
August 20, 25: Superior Store, 3480 S. La Brea, Los Angeles, CA Spay/Neuter APPOINTMENT ONLY; Vaccine Clinic 10:00am-2:00pm
August 21: Superior Store, 133 West Avenue 45, Los Angeles, CA Spay/Neuter APPOINTMENT ONLY; Vaccine Clinic 10:00am-2:00pm
August 24: Food 4 Less, 5100 N. Figueroa St., Los Angeles, CA Spay/Neuter APPOINTMENT ONLY; Vaccine Clinic 10:00am-2:00pm
August 27: Superior Store, 10211 Avalon Blvd., Los Angeles, CA Spay/Neuter APPOINTMENT ONLY; Vaccine Clinic 10:00am-2:00pm
August 28: ANGEL HANZ FOR THE HOMELESS, North Hollywood Park, 11455 Magnolia Blvd., Spay/Neuter APPOINTMENT ONLY
August 31: Food 4 Less, 1748 West Jefferson Blvd., Los Angeles, CA Spay/Neuter APPOINTMENT ONLY; Vaccine Clinic 10:00am-2:00pm
County and City Vouchers accepted. But remember, you must get on a list to have your pet seen at these locations. Please call The Lucy Pet Foundation toll free at 1-855-499-5829 or Email: Info@lucypetfoundation.org to schedule an appointment, or register at the events.
See the current list of clinics at http://www.lucypetfoundation.org.
Lucy Pet Products, Inc. is a family owned and operated company based in Thousand Oaks, California. Lucy Pet Products are "Products With a Cause." Part of the proceeds from the sales of Lucy Pet Products are used to help fund The Lucy Pet Foundation. Their products can be found in pet specialty stores across the USA and are exported worldwide, or you can visit them at http://www.lucypetproducts.com.
http://www.LucyPetFoundation.org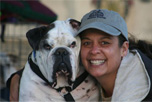 Animal Radio News - Lori Brooks
Decline of Large Animals is Lack of Prey - Not Poaching or Habitat Loss
A new study has identified the driving force behind the dismal outlook for some of the biggest and most beautiful animals on the planet. There were the usual causes most people think of like hunting, poaching and growing cities that lead to habitat loss. However, an ecologist at Oregon State and his research partners say the driving factor behind the bleak outlook for these large animals is the global depletion of prey - what they eat and not enough of it to keep them all alive. They looked at the preferred prey species of the 17 largest land predators and found most face a dramatic decline in their choice of food sources. It confirms that these huge animals are more vulnerable to prey declines than smaller land animals.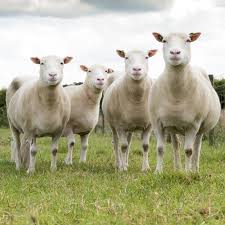 Proof That Cloned Animals Live Long & Normal Lives
The heirs of Dolly the sheep are in their old age and putting a lot of fears to rest. Basically they've proven that cloned animals can live long and normal lives. If you don't remember, Dolly the sheep was the first animal cloned using a technique that did not use sperm back in 1996 in Scotland. Dolly died young, in 2003, when she was only six, after she develop osteoarthritis and a lung infection. That set off many fears that cloned animals may age more quickly than normal offspring. Now, we find out that 13 cloned sheep, including four clones of Dolly, are still in good health since reaching between seven to nine years of age, which is about 60 to 70 in human years. The four sheep cloned using the same genetic material as for Dolly - called Daisy, Debbie, Denise, and Dianna - have just had their 9th birthdays. However, unlike Dolly, who was house indoors for security reasons, these clones mostly live outside.
Wackiest Pet Names
The pet insurance division of Nationwide has compiled a list of the 10 "wackiest" dog and cat names from their database of insured pets. After selecting the 10 finalists in their annual Wacky Pet Names competition, the company has turned to the Internet, asking people to vote for the dog or cat with the wackiest name. The top entries for this year include Kanye Westie, Butch Catsidy, Optimus Prime Rib, Lt. Colonel Be Back Soon, Agent Jack Meower and Angus Von Wigglebottom. Last year's winning dog name was Baron von Furrypants and Leonardo DiCatprio was the wackiest cat name.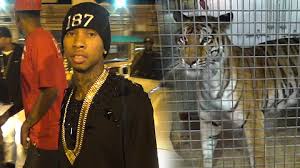 Sanctuary Wants Rapper Tyga To Pay For Support for Tiger
Rapper Tyga had a pet tiger a few years ago, but it was taken from him when authorities found out that he had no legal permits for it. The tiger was then given to an animal sanctuary. According to TMZ the sanctuary, named Lions, Tigers & Bears, which takes care of Tyga's former tiger, says the rapper has not made any effort to help out with funds to care for the animal. It costs over $10k a year to feed the tiger, not including vet costs and other expenses.
A Horse Wants You To Chose the Right Bra Before Riding Him
Women and girls who ride horses, but do not wear a sports bra, could be causing undue stress to the horse, according to a study by Porstmouth University. Apparently a lot of women give no regard to what kind of bra they wear while riding. They did a survey of females who ride horses in various disciplines and found that less than one in five regularly wore a sports bra for riding, even though it can lead to poor posture and musculoskeletal problems, which are sensed by the horse. A previous study has shown that a horse's heart rate increases as a direct response to tension in the handler or rider. The study also found that 40-percent of the more than 1,300 riders surveyed said they had experienced chest pain while riding and the likelihood of pain increased with cup size and body mass. It's not at all surprising that this research reveals that breast pain was experienced most frequently during the sitting trot. Only 14-percent of small-breasted riders and 19-percent of large-breasted riders opted to exclusively wear a sports bra when they rode a horse. This compares to 82-percent of marathon runners who say they always wear a sports bra when taking part in moderate physical activity.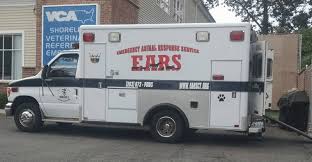 Free Ambulance Service for Pets
Jon Nowinksi is the owner and driver of the only known pet ambulance in the state of Connecticut. He ran the service out of an SUV for a while, until he took over a retired human ambulance. He converted it to a treatment and transport vehicle just for animals. Jon gets about a dozen calls each month for EARS, the Emergency Animal Response, which travels all over the state. The really unbelievable part of it is they do NOT bill anyone for the service, because volunteers do everything! Nowinksi says, "Our main thing is to be there for the animals." He added, "We understand that not everybody can afford an extra thousand dollar bill for transport."
Mousse For Kitties
There's a new kind of wet cat food on the market that you may find interesting. It's made by Tiki, which makes really high quality cat food. It is not cheap, but cats love it. It's called Tiki Cat Velvet, which they describe as a super silky smooth indulgence for cats that has the texture of mousse, like the whipped mousse chocolate dessert humans eat. However this is chicken and seafood flavors. You will only find it in pet specialty stores. Yum!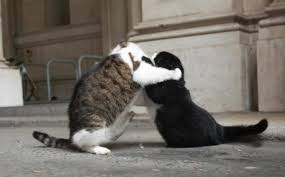 Chief Mousers Get in Scuffle
The job market for rescue cats is expanding, at least in Great Britain. The British Treasury has joined Downing Street and the Foreign Office in naming a rescue cat to the office of Chief Mouser. The latest cat to join their workforce is 18-month-old Gladstone. He will join longtime government employee Larry and fellow new addition Palmerston, in defending Britain's government offices from mice. There's already been a little drama going on with the mousers due to the strained relationship between Palmerston and Larry, who was sent to the vet in what may have been the result of a scuffle between the two incumbent mousers.


Listen to the entire Podcast of this show (#872)