Bob Barker Talks About "Pigs, Rabbits and Dogs, Oh My!"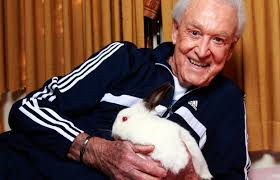 The legendary TV host and Animal Advocate Bob Barker is proud that he's the most frequent guest on Animal Radio and vows to protect that record. He's visiting this time to debunk the myth that the end of movie credit "No Animals Were Harmed" is true. He says Hollywood is in the American Humane Association's pocket, and that money is to blame for most animal cruelty.
Bob Barker, the 19-time Emmy Award-winning host of The Price is Right, has been taking care of the animals since he was a kid. In recent years, he has had more time for it and is now taking care of animals all over the world.
Bob teamed up with Mercy For Animals following an undercover investigation by the national animal protection organization that revealed shocking cruelty to pigs at Christensen Farms, a factory farm supplying pork to WalMart stores in the Los Angeles area. Christensen Farms is one of the five largest pork producers in the country. View the undercover video.
These pigs are suffering terribly in gestation crates, which are a barred crate that is just barely bigger than the pigs themselves. This doesn't allow them to turn around or lie down comfortably. They are kept in these crates their entire lives. Bob is working with the efforts to get these crates barred altogether.
Through the work of Mercy For Animals, they have exposed this situation resulting in companies that are refusing to buy pork from farms where they still use these gestation crates.
Costco is one such company that after reviewing the undercover video, said, "We won't buy any more from companies that use the gestation crates." K-Mart also agreed to stop buying this pork. However, WalMart stated they would need about 4 weeks to consider it.
"Gestation crates are unremitting hell on earth," world-renowned animal behaviorist Dr. Jonathan Balcombe said after viewing the footage. "These intelligent animals endure awful physical and psychological suffering. No animal ever deserved to be treated like this."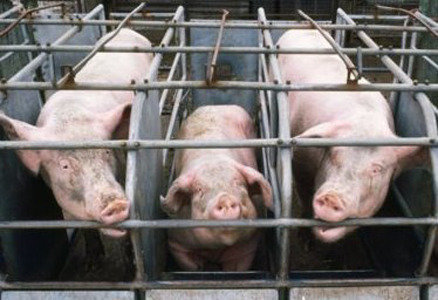 The horrifying undercover footage shows:
- Thousands of mother pigs confined to filthy, metal gestation crates so small they are unable to even turn around or lie down comfortably for nearly their entire lives
- Pigs suffering from large, open wounds and pressure sores from rubbing against the bars of their tiny cages or lying on the hard concrete flooring
- Workers slamming piglets into the ground and leaving them to slowly suffer and die
- Workers ripping out the testicles and slicing off the tails of fully conscious piglets without the use of any painkillers
- Sick and injured pigs with severe, bleeding wounds or infections left to suffer without veterinary care
Bob states that the reason for this treatment "Is all a matter of greed. They don't have to have as much room for the pigs then and they don't have to have as large as staff to take care of pigs on these huge farms." Bob goes on to state, "That that's the basis of almost all animal cruelty, animal exploitation, animal mistreatment."
When asked if there were people and organizations that treat animals well and make money at the same time (such as commercials), Bob stated, "Unfortunately, I haven't met a lot of them!"
Bob said people would lead you to believe they treat animals well, such as the American Humane Association (AHA) who has been putting its stamp of approval on everything. The AHA has supposedly been protecting animals in movies over 50 years. In his humble opinion, Bob states, "They have completely failed to fulfill their responsibility." Bob also goes on to mention that the "AHA office in Hollywood is supported financially by the movie industry. In all the years that they have been supposedly protecting animals in movies, I don't know, and I will accept a correction, but I don't know of a single time that they have filed charges against any animal trainer for cruelty!" When Bob sees the AHA stamp "No Animals Were Harmed" at the end of a movie's credits, he is very skeptical.




11th Annual Get Your Licks On Route 66 Pet Adoption Tour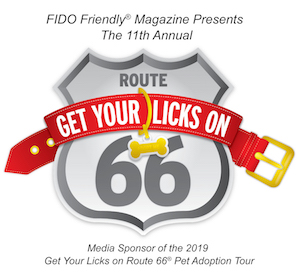 FIDO Friendly Magazine Presents the 11th Annual Cross-country Pet Adoption Tour: Get Your Licks on Route 66® 2019.
It's that time of year again where FIDO Friendly travels down the Mother Road, stopping at shelters along the way to support adoption events from September through October.
Set your DVR for September 5th to see them on Hallmark Channel's Home & Family. Hosts Cameron Mathison and Debbie Matenopoulos with Publisher Susan Sims, Pet Adoption Expert Larissa Wohl and FIDO Friendly President, Greg Sims.
The cross-country pet adoption tour kicks off September 7th in Los Angeles at the LA Animal Services.
Come out to meet their tour Spokesperson - Emmy Award Winning TV Host of the weekly CBS series Lucky Dog, Brandon McMillan, who will be filming his show and signing autographs from 11:00 a.m. to 1 p.m. There will also be a lot of great pets available for adoption.




Vegas Bats Positive for Rabies - What's the Risk? - Dr. Debbie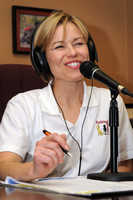 Think your pet doesn't need a rabies vaccine because it lives indoors? Think again. Bats have been known to fly through open windows or chimneys. Dogs and cats that go outdoors are at risk for rabies exposure through wildlife. Felines that hunt and bring "presents" have added rabies risk.
Common questions about rabies:
What is Rabies?
Rabies is a viral disease causing encephalitis (brain inflammation) that affects all mammals including humans. The disease is almost always fatal. Over 55,000 people worldwide die of rabies every year, but fortunately U.S. human deaths are rare with 1 to 2 reported per year. Pet and farm animal rabies cases do occur in the U.S. though, usually after tangling with wildlife.
How is Rabies Passed?
Rabies is passed in saliva through the bite of a rabid animal. Less common exposures to rabies include aerosol transmission, mucous membrane contact or rare cases of organ transplant in humans.
What Are Symptoms of Rabies?
Excessive drooling, aggression, staggering and seizures are symptoms of rabies in animals. Wild carnivores, like coyotes, that avoid people are suspect if lacking fear and approaching humans. Nocturnal species like bats that are found out during daylight are also suspect for rabies.
What Kind of Animals Carry Rabies?
Although pet and human rabies cases in the U.S. are rare, the infection still abounds in wildlife reservoirs. In the Las Vegas area, bats are most commonly carriers, but other wildlife carriers include raccoons, skunks and foxes.
What Do You Do If You See a Sick or Dying Bat?
Avoid contact with sick or dying bats. Do not take sick bats to the veterinarian. Call Animal Control if any human or pet exposure to sick bat.
Despite the rabies concern, bats do have an important role in our ecosystem by consuming insects and pollinating plants. Not every bat has rabies, and there are other reasons bats die.
What Do I Do If a Person or Pet is Scratched or Bitten By a Bat or Other Wildlife?
If your pet gets into a fight with a skunk or raccoon, or plays with a dying or dead bat, there is potential for rabies exposure and a report should be made. Call animal control to have the bat or other wildlife picked up.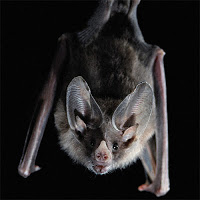 Possible rabies exposure is evaluated on a case-by-case basis. Because rabies is fatal, any humans with suspect rabies exposure should make a report to the local health department. Fortunately post exposure treatment for people is very effective in preventing disease, and doesn't involve painful stomach injections reported of long ago.
What Happens to Pets After Exposure to Suspected or Known Rabies?
Ultimately local rabies ordinances dictate how each case is handled. Pets with current or late rabies vaccinations may be quarantined for 10 days.
A pet that never has had a rabies vaccine may be promptly euthanized and tested for rabies. In other cases of unvaccinated pets, extended quarantine periods up to 6 months may arise.
What Can I Do to Protect My Pets and Family From Rabies?
- Vaccinate animals for rabies - this includes dogs, cats, ferrets and select farm animals.
- Teach children never to handle bats.
- Do not keep wild animals as pets.
- Spay and neuter your pets to decrease the desire to roam.
- Maintain control of your pets when outdoors or hiking to avoid accidental exposure to wildlife.
- Bat-proof your home and garage to avoid nesting sites and close encounters with bats.
- Report human bites from pets or wildlife to public health and animal control authorities.
Vaccination is key to protecting pets from rabies and offers peace of mind to pet owners and the Rabies vaccine is typically inexpensive.
Rabies vaccination - Just do it!
Featured veterinarian known as "Dr. Debbie" on national pet radio program, Animal Radio. Ebook author of "Yorkshire Terriers: How to Be Your Dog's Best Friend"; "Pugs: How to Be Your Dog's Best Friend"; "Mini Schnauzers: How to Be Your Dog's Best Friend"; and "Shih Tzu: How to Be Your Dog's Best Friend." Dr. Debbie's books.




Animal Radio News - Stacey Cohen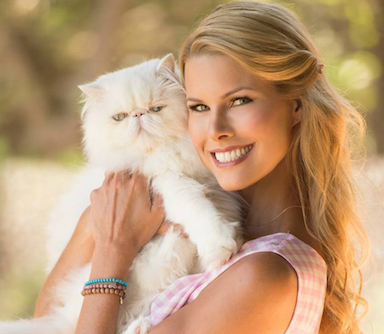 Over The Top Pet Owners
There should be no shortage of potential profile subjects for this show: Nat Geo has just ordered a new series called Spoiled Rotten Pets. As the nicely self-explanatory title suggests, the series is about pet owners who go over the top when taking care of their animals. Examples from the series include terriers getting their own lavish "Bark Mitzvahs," kittens taken to plush and extravagant cat spas and fawned-over ferrets dressed up for a ferret fashion show. The series is hosted by actress Beth Stern who is renowned for her love of cats and is a passionate animal rights activist. Stern is also better known as the wife of legendary American radio personality, Howard Stern. They have been married for over a decade and are one of Hollywood's golden couples. Beth career consists of All My Children (1970), Flirting with Disaster (1996) and Whipped (2000). Beth is also the host of the HGTV series Mom Caves. Besides acting, Beth is also an author and model. The six-episode series starts production in September.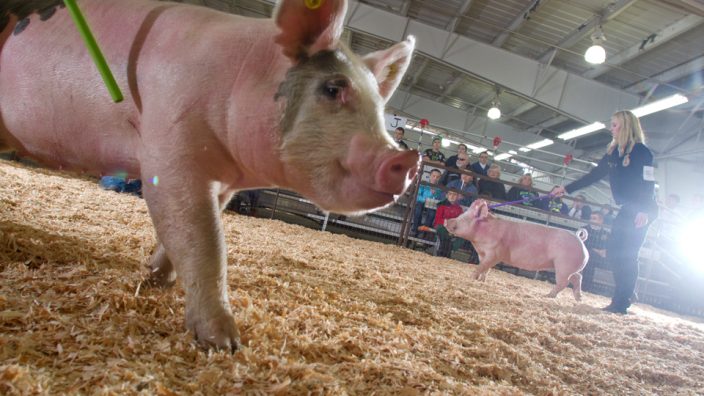 If You Go To County Fairs - Watch Out For The Pigs
It's the season for state and county fairs, and health officials are reminding fairgoers to be careful around pigs because of a new flu spreading from the animals to people. Officials say 29 human cases of the new strain of swine flu have been confirmed in the last year, including 12 recently. The new flu has a gene from the 2009 pandemic strain that might make it more contagious. But so far, the strain hasn't spread easily among people, and recent cases have been mild. Fairgoers should wash their hands and avoid taking food and drinks into barns. Pregnant women, young children, the elderly and people with weak immune systems should be extra careful.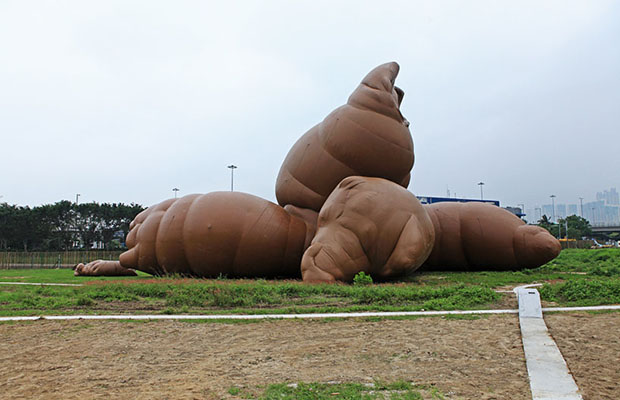 Where Does The Poop Go?
From the backyard grill to the picnic basket, Americans seem to have a love affair with meat and poultry. To supply that demand, livestock production has turned to Concentrated Animal Feeding Operations (CAFOs) as the new business model, growing high volumes of cows, pigs and birds within short time spans and in the smallest spaces possible. These 'factory farms' are designed to be efficient at producing meat, but they also generate enormous amounts of manure. Livestock animals create 13 to 25 times more of it than humans, on a per-weight basis, resulting in quantities from a single large CAFO that can surpass the sanitary waste production of a city as large as Philadelphia. Treatment is not required for animal manure as it is for human sewage. So where does all of that waste go? A growing body of evidence indicates that CAFO-generated contaminants are ending up in the waters that we depend on for commerce, recreation and perhaps most importantly drinking. Spills that occur during manure transport or when storage facilities fail, can lead to easily discernible, significant impacts on water quality. Spreading livestock manure in quantities greater than the plants can use or the soil can absorb can cause severe water quality problems and thereby harm human health. Unfortunately, that does not fully capture the likely impacts of discharges from CAFOs because only 27.5 percent of rivers and streams and 45.5 percent of lakes nationally have been assessed.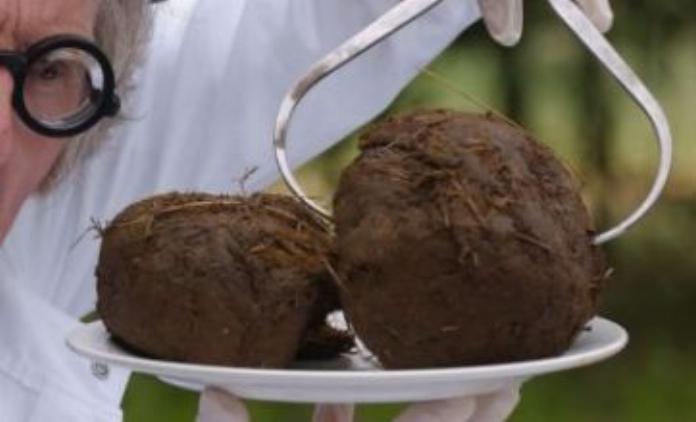 Valentines Made From Poop
A greeting card maker in India is getting a little help from local elephants for his next batch of Valentine's Day cards. According to Orange News, Vijender Shekhawat and his company Haathi Chaap (which means Elephant Stamp) will use 30-tons of the animal's feces every month to make a special paper from the grass and leaf fibers in the droppings. Shekhawat explains that 40-percent of everything that goes through an elephant's gastrointestinal tract comes out untouched. But it is softened and pre-pulped, which he says makes fantastic paper when pressed and processed. And, he assures any potential customers that their products smell as sweet as any other Valentine's Day cards on the market.

Listen to the entire Podcast of this show (#1029)