The Chicken Chick
Kathy Shea Mormino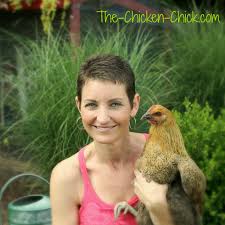 Chickens are more popular than ever in urban settings and as pets. By popular demand, we're having the Chicken Chick on the show to share her vast chicken knowledge. Even if you aren't considering a fowl friend, Kathy Mormino will amuse and educate.
As an attorney by trade, accidental photographer and backyard chicken-keeper, Kathy Shea Mormino is the founder and one-woman creative force behind her blog, "The Chicken Chick," and her wildly popular Facebook page and social media network.
Kathy wants people to know that chickens do have personalities and they are characters. They come in a wide variety of colors and sizes and attitudes! They are also smart little creatures and creatures of habit. For example, if you gave them a delicious treat one day (like corn on the cob) every time they see you they will expect that of you!
Backyard chickens are becoming more popular across the country. From urban to suburban settings, people are raising chickens. Chickens are no longer just the livestock that our grandparents tended to, but have now become pets, along with our cats and dogs.
Most people who get backyard chickens don't initially intend to get them as pets, but they become pets very quickly. It's very easy to bond with a 2-ounce chick!
Besides chickens, Kathy also has four adult roosters and several cockerels, which are growing quickly and will start crowing any minute now. When asked why she has roosters, as she doesn't need them for the chickens to lay eggs, Kathy responds, "Funny you should ask that. Nobody ever asks what do you need a dog for? Dogs don't create food, do they?"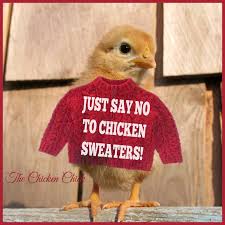 Kathy also wanted to address the new fad of people putting sweaters on their chickens. Dressing pet chickens in sweaters has become something of a fad in backyards across America of late, a trend not entirely different from the Pet Rock of the 1970's - silly, cute and unnecessary. Photos of hens wearing sweaters are being shared on social media channels like the common cold in kindergarten class, photos that no doubt fuel the practice where it ought not to be encouraged. The average chicken does NOT NEED a sweater. Kathy states, "I am the first in line to encourage the proper care and keeping of pet chickens and can anthropomorphize my pets with the best of 'em, but the truth is, sweaters do not help backyard chicken and if I believed they did, I would use them, and encourage their use. While it's fine to engage in a little silliness with our chickens from time-to-time, sweaters are not only unnecessary, they can be dangerous."
Before getting any chickens, check with your city to see if they are legal to own. Regulating backyard chickens is a major issue around our country today. Who would have thought 50 years ago that you would have to request permission from your city to feed your family? Very few municipalities regulated chickens years ago, because that is how you fed your family.
Kathy balances blogging, writing, crafting and cooking with parenting her two little girls with her husband of 12 years and her own flock of over 60 feathered pets, and a dog with a "cattitude."
http://www.the-chicken-chick.com





Faithful Friends Then & Now
Amanda Jones, Dog Years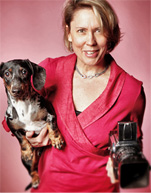 Amanda Jones is one of the top best pet photographers in the nation. Her latest collaboration is a coffee-table book with 30 dogs photographed during their youth and again in their senior years. It's a compelling contrast between puppy-hood and a dog's golden years. Amanda will also have tips for photographing your pet.
In her new book, Dog Years - Faithful Friends, Then & Now, Amanda documents the lives and stories of 30 dogs, in black and white photos. By presenting portraits of each dog as a puppy and again as an older dog, Amanda Jones reveals the unique spark of personality that lasts a lifetime.
Lilly, who was Amanda's longhaired Dachshund who past away two years ago, was the inspiration for her book. When Lilly passed away, Amanda started working on a memorial card. She pulled photos from the different stages of Lilly's life. When she put them together on the card and sent it to her friends, she received such a strong reaction. She decided she wanted to share it with more people and tried to figure out how she could turn it into a project. That's when she started looking up people whose dogs she photographed years ago.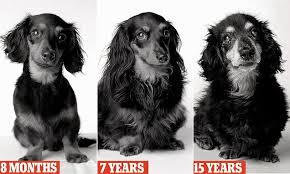 Amanda was able to go back and photograph dogs that she had photographed when they were young; ten, twelve and sometimes sixteen years later. She then put them side-by-side. These beautiful images of breeds ranging from Golden Retrievers and Great Danes to Pugs and French Bulldogs are accompanied by reflections from loved ones on the lives they share with their furry companions. The result is a celebration of each dog and a tribute to the relationship between man and his best friends.
Amanda also gives us tips on photographing our pets, especially the black ones. The best thing you can do is find good light. Not direct sunlight, as direct sunlight is not always good light because it causes dogs to squint and can cause harsh shadows. Reflected light, like of the side of a building in the shade is beautiful. Soft window light through a sheer curtain is wonderful. Basically, something that cuts the harshness of the direct sun exposure is good.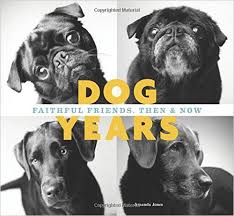 You also want to get down low to their level. This can be tricky, as they will want to come to you when you get down on the floor. You need to be sneaky and tell them to stay, if they know that command. Amanda likes to get good expressions and focuses on their eyes. You can really see the heart and soul of a dog through their eyes. Close ups, like headshots; make great shots where you can really focus on their eyes. You need to get them to look at you, and can do this by snapping your fingers, using a whistle or even a squeaky toy or treat, but beware as these can also make your dog want to come to you.
She states that patience is the number one thing that lets her have successful photo shoots. You can't always get the great shot in one try. Amanda takes anywhere from 150 to 200 shots and ends up with a few really goods shots. It just takes time.
Amanda and her husband, Chris, work together from her studio in the northern part of Berkshire County, Massachusetts. She is devoted to her two dogs, Benny & Ladybug, and her cat, Ethel Mertz. And of course, her twelve year old daughter, Sophie.
http://www.chroniclebooks.com/titles/dog-years.html






Social Media & Our Pets
Kat Smith, Lucy Pet Foundation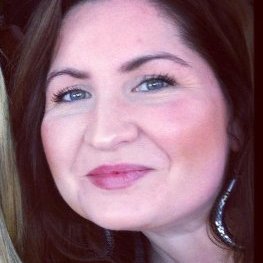 Kat Smith is the former Director of Social Media at Petco who is now working with the Lucy Pet Foundation, heading up Community Engagement for Lucy Pet Products.
Kat is working on creating celebrity with Surfin' Jack, the spokesdog for the Lucy Pet foundation. Jack's story is a "Wags to Riches" story. Jack was a shelter dog that no one claimed until Joey Herrick, Founder of the Lucy Pet Foundation, came along. Originally, her name was Nicole and was changed to Jack, which is short for Jackie. Jack's story in the shelter could have had an unhappy ending, but she is now about to become a very famous dog.
So how do pets fit into the new social media, besides the videos that proliferate every inch of the Internet? Pets and social media is one of the largest growing segments of what we see becoming insta-famous. For example there is Grumpy Cat, who has more than eight million followers. Grumpy Cat is a really great example of monetizing the fame of the pet. It goes to show how much people love animals and even though some people don't have their own Facebook pages, their pets do!
This has become a big business and there is a lot of money to be had if you can make your pet insta-famous.
On the other side, lost and found pets have also gained much traction. One of the great things about social media is how much it has been able to improve cause marketing. Whether is it a community coming together to let people know that their pet has escaped or to identify a lost or found pet.
Social media is also great way to raise money for projects like the Lucy Pet Foundation. It allows people to do something through their social network to support a worthy cause.
Besides the Lucy Pet Foundation and Lucy Per Products, Surfin' Jack has a greater purpose of spreading the awareness of spaying and neutering and pet overpopulation issues. Jack, probably more than anyone, is familiar with knowledge that 80,000 shelter pets are euthanized weekly. Jack has a lot of fun thing she can do with social media, but she also has some really powerful things in delivering that message.
Lucy Pet Products are also rewarding people who upload photos of their dog at bath time on Twitter with #dogbath. They want to see lots of cute pictures of furry critters at bath time because it's just fun to see pets in baths, as they tend to have expressions that show they are not happy with what's going on, while some enjoy it.
Check out the Lucy Pet Product shampoos and leave-in conditioners. There are six different varieties, with Surfin Jack's own shampoo and leave-in conditioner. They will make your pet look wonderful and smell great. You can also use the leave-in conditioner as a little pick-me-up refresher between baths. All of the proceeds from the Lucy Pet Products goes to the Lucy Pet Foundation, a 501(c)(3) charity, that does spaying and neutering, as well as education.
Look for Surfin' Jacks Facebook page, as well as instagram and twitter accounts which will be up shortly.
The Mission of The Lucy Pet Foundation is to reduce pet overpopulation by having mobile spay/neuter clinics across the country and to support causes that benefit animal welfare. The Lucy Pet Foundation currently has two buses that travel around Southern California focusing on spaying and neutering. These buses are state of the art surgery units. Their next focus is in generating more funds to expand the work of these buses and have more across the country.
The Lucy Pet Foundation not only offers free and reduced spays and neuters, they also do microchipping, vaccines and de-wormings. Spaying and neutering is not only great for pet population control, but it has been proven that an animal will live on an average of 40-percent longer after having this surgery.

Here is a list of upcoming free or reduced fee mobile spay and neuter clinics in California (Please call and reserve space):
August 29 & 31
SPAY/NEUTER CLINIC
Location: Morgan Park, City of Baldwin Hills, 4100 Baldwin Park Blvd, Baldwin Park CA
Check in 7:30am
ACCEPT COUNTY AND CITY VOUCHERS
Please call 1-855-499-5829 or Email: Info@lucypetfoundation.org to schedule an appointment.
September 2
CATS ONLY SPAY/NEUTER CLINIC
Location: Peter Zippi Cats, 1701 North Gaffey Street, San Pedro, CA
Drop Off 7:30am
$10 Co-Pay
ACCEPT COUNTY AND CITY VOUCHERS
Please call 1-855-499-5829 or Email: Info@lucypetfoundation.org to schedule an appointment.
September 9, 30
SPAY/NEUTER CLINIC
Location: Inland Valley, Washington Park
Check in 8:00am
Prices Vary
ACCEPT COUNTY AND CITY VOUCHERS
Please call 1-855-499-5829 or Email: Info@lucypetfoundation.org to schedule an appointment.
September 13, 20, 27
VACCINE CLINIC
Location: Tustin Toyota, 36 Auto Center Dr., Tustin, CA
11:00am - 2:00pm
Please call 1-855-499-5829 or Email: Info@lucypetfoundation.org to schedule an appointment.
September 14, 21, 28
SPAY/NEUTER CLINIC
Location: Baldwin Park, 4100 Baldwin Park Blvd., Baldwin Hills
Check in 7:30am
ACCEPT COUNTY AND CITY VOUCHERS
Please call 1-855-499-5829 or Email: Info@lucypetfoundation.org to schedule an appointment.
September 16
SPAY/NEUTER CLINIC
Location: Inland Valley, De Anza Park
Check in 8:00am
Prices Vary
ACCEPT COUNTY AND CITY VOUCHERS
Please call 1-855-499-5829 or Email: Info@lucypetfoundation.org to schedule an appointment.
September 23
SPAY/NEUTER CLINIC
Location: Inland Valley, Our Lady of Lourdes Church
Check in 8:00am
Prices Vary
ACCEPT COUNTY AND CITY VOUCHERS
Please call 1-855-499-5829 or Email: Info@lucypetfoundation.org to schedule an appointment.
September 25
ACCEPT COUNTY AND CITY VOUCHERS
Check in 7:30am
Location: Centinela Feed & Pet Supplies, 18563 Devonshire St., Northridge, CA
Please call 1-855-499-5829 or Email: Info@lucypetfoundation.org to schedule an appointment.
Remember, you must get on a list to have your pet seen at these locations. Please call The Lucy Pet Foundation toll free at 1-855-499-5829 or Email: Info@lucypetfoundation.org to schedule an appointment, or register at the events.
See the current list of clinics at http://www.lucypetfoundation.org.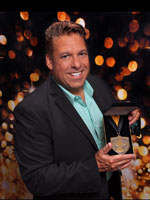 The Dogfather's Grooming Tip with Joey Villani
Choosing The right Brush For Your Pet
Brushes are a must have for the pet owner. They can keep your pet tangle-free and cut down on the shedding. They won't stop the shedding completely but they will make it a little more bearable.
There are many different types of brushes on the market, including brushes with shedding blades and the Furminator. Be careful when using these brushes, as they work really well and if you use too much pressure, you can actually injure your pet or take off too much hair and leave bald spots.

Joey states that the easiest, most foolproof brush for anyone to use is a rubber curry brush. It contains rubber bristles anywhere from one-half inch long to two inches long. Both sizes work exactly the same. This brush is best for dogs with a coat hair length up to half an inch long.
If the hair on your dog's coat is longer than half an inch, the best brush for them is a slicker brush. A slicker brush is what a groomer uses most often. The slicker brush has metal, bent pins. This brush is best for de-shedding dogs with a little longer coat.
Lastly, there is the pin brush. A pin brush has straight pins. This is great for daily brushing for dogs with medium to long coats.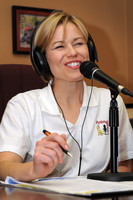 Doggie Back-To-School Blues - Dr. Debbie
You've scurried around gathering last minute school supplies and whisked the kids off to start another school session. But when you return home, the family dog greets you at the door, nervously slinking about. A glance behind his wagging form tells it all - the carpet is decorated with feces and the broken remains from this morning's breakfast dishes are scattered on the floor, licked clean of every crumb. Welcome to new school year and the doggie back-to-school blues.
The return of the school year is always a hectic time for families. With sudden changes in schedules and the absence of family members, your doggie ends up in a tailspin. After a summer of frolicking with the children and lavishing in extra snuggle time, your pet may just look around and wonder, "Where did everyone go?" This change in routines can leave a pet frustrated and anxious, triggering behavioral problems such as separation anxiety, chewing, digging, house soiling and excess barking.
Keep those doggie blues away with the following school time tips. Cats and other household pets may struggle with changing schedules as well and may need reassurance during transition times.
Reserve Individual Pet Time
Remember to schedule one-on-one time with your pet by grooming, cuddling or playing with your pet. Even a few minutes of petting your dog soothes the pet, and imparts positive health benefits for people too. Schedule 5 to 10 minutes several times a day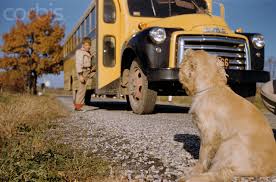 Schedule Physical Activity
Daily exercise prevents boredom and the tendency for destructive behaviors. All that summer fun of running, playing and swimming may be gone, but your dog still needs an energy outlet. Schedule a daily walk, visit to a dog park or play fetch with your canine.
Make Him Work For His Food
Don't just leave food out for the taking; use interactive toys that make a dog work for his food, provide mental stimulation and decrease boredom. Kibble or treats are placed inside these interactive toys and drop pieces as the pet nibbles, chews or shakes it. Check out products by Busy Buddy or Kong.
Avoid Banishing To The Backyard
It may seem that leaving the dog outside may be more fun than being confined indoors, but many dogs will bark or dig to excess when left unattended in the yard. Also, be wary of heat stroke and avoid leaving dogs outside when temperatures are over 85 degrees.
Seek Help If Problems Arise
Problem behaviors don't just go away on their own. They usually gets worse. Call your veterinarian to discuss behavior modification steps, to seek a behaviorist/trainer referral, or to inquire about behavioral medications.
Don't forget the furry members of the family during this busy time of the year. With a little extra TLC your family pet will adapt to changing household routines.
Featured veterinarian known as "Dr. Debbie" on national pet radio program, Animal Radio. Ebook author of "Yorkshire Terriers: How to Be Your Dog's Best Friend"; "Pugs: How to Be Your Dog's Best Friend"; "Mini Schnauzers: How to Be Your Dog's Best Friend"; and "Shih Tzu: How to Be Your Dog's Best Friend."

It's a Wacky Wednesday Here at the Animal Radio® Studios
WackyWed Contest IS ON - LIKE your FAVORITE pic and the three pics with the most LIKES & SHARES are this week's winner will receive a Pet Door from Endura Flap Pet Doors.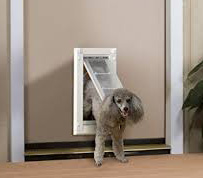 TO ENTER Send us your FUNNY pet pic to WackyWed@AnimalRadio.com - (Please put WACKYWED in the subject line & give us your pet's name, your name & where you hail from) If YOUR pic is chosen then spread the word to your friends & family on Wednesday - the pics w/the most LIKES and SHARES will be the winner!
This week we are giving away a Pet Door from Endura Flap Pet Doors. The Endura Flap Pet Doors are flexible and safe, energy efficient to seal tightly against weather, can withstand winds up to 50 mph are UV resistant and will not yellow in the sun.


Join Animal Radio® on Facebook for Wacky Wednesday! Win great prizes every week for your wacky pet pictures. Last month we gave out goodies from The Green Pet Shop, PL360, Bark Box, Solid Gold Pet, Energizer and more. Visit us on Facebook now.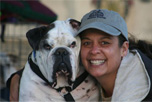 Animal Radio® News - Lori Brooks
Your Pet's Pupils Can Tell You A Lot
Researchers at the University of California, Berkeley have discovered a great deal about what animals' pupils can tell us. For example, when a grazing animal is eating with its head down, a horizontal pupil allows it to keep an eye on its surroundings by rotating up to 50 degrees. This allows them to detect approaching predators coming from the ground. The researchers studied the eyes of 214 different animals, including cats, dogs, and snakes, even rhinos. They also noticed that smaller ambush predators, like cats that wait in hiding and ambush their prey, had vertically shaped pupils. That allows them to exclude unnecessary sunlight from their field of vision and catch the best view of their prey.
All Dogs Sold In Pet Stores Must Come From Shelters
For the longest time, rescue groups, shelter volunteers and animal lovers everywhere have hoped the day would come when pet stores would sell shelter pups exclusively, as a way to cut the profit from "puppy mills." Well, here's a dream come true story for man. Earlier this month a federal judge in Phoenix, Arizona upheld a city law requiring that all dogs sold in pet stores must come from shelters, which will also help to relieve shelter overcrowding. Phoenix is one of about 60 cities in the U.S. that have similar laws designed to put an end to puppy mills by driving potential pet buyers toward homeless animals.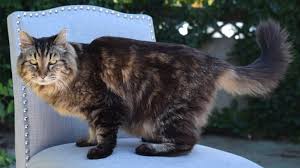 Oldest Living Cat
A 26-year-old cat named Corduroy has been named the oldest living cat by Guinness World Records! Corduroy is owned by a family in central Oregon. His owner has had him since he was a kitten and she was only 7. She says that Corduroy is still active and in good health, except for some kidney problems. He still hunts on the family's ranch. Though Corduroy is now the oldest living cat on record, he is not the oldest domestic cat to have ever lived, that designation belongs to Creme Puff, who lived to the awe-inspiring age of 38 years and 3 days.
Stronger Sentencing For Animal Fighting
The U.S. Sentencing Commission (USSC) has been asked by animal lovers all over the world to get tough on dog fighting by committing to stronger sentencing guidelines for convicted animal fighters, and apparently the agency listened. Earlier this month, the USSC voted unanimously to put the sentencing guidelines for animal fighting on its agenda for next year. The independent federal agency constructs sentencing guidelines as a reference for federal judges. Its guidelines currently classify animal fighting as a gambling crime. Anyone who has seen footage of a fight or an animal-fighting raid knows that the real harm of these crimes has nothing to do with placing bets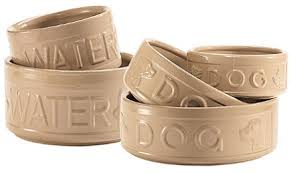 Classic Pet Bowls Available in the U.S.
Mason Cash, the highly valued and respected British pottery company, is bringing its classic pet bowls to the U.S. market. They're designed bowls for cats, dogs, rabbits and other small critters, which are made of heavy stoneware. This makes them difficult to tip over. One new and genius design element is a non-tip bowl with angled sides that prevent long-eared dogs from getting food on their ears. Prices range from $6 to $80.
War on Wildlife and Fields Where Food Is Grown is Over
For the past nine years, some of America's biggest producers of fresh salad greens and vegetables have been waging a quiet war on wildlife surrounding their fields, all in an effort to keep your veggies free of contamination from disease-causing bacteria that can make humans sick. Now, a new look at a big pile of safety data suggests that farmers clearing away wildlife habitat does not make field grown food any safer. Ever since the battle started with the great spinach scare of 2006, which was blamed on wild pigs, farmers have been getting rid of any places near their farms where wildlife might hide. They've torn out trees, cleared stream banks and created wide strips of bare earth all around their fields. And now with this new information, they won't have to do that.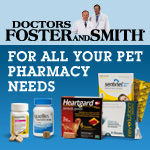 NEWS UPDATE brought to you by Drs. Foster & Smith, affordable pet supplies. Low prices every day, so you save on every order.

Listen to the entire Podcast of this show (#821)