Dogs On The Witness Stand
Ellen O'Neill-Stephens, Courthouse Dogs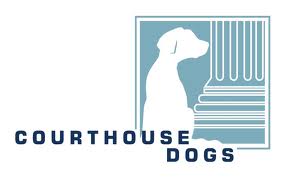 Ellen O'Neill-Stephens was a former prosecutor in Seattle for 26 years. During this time, she witnessed a great deal of pain and suffering experienced by many people. These included not only victims and witnesses to crime, but also people who were affected by the stress of the investigation and prosecution of crimes.
Ellen has a son with cerebral palsy and he obtained a fabulous service dog from Canine Companions For Independence. However, there was one day a week when his dog, Jeter, couldn't be with him. Ellen just happened to be working in juvenile drug court at the time and thought that maybe Jeter could help these kids in their recovery on his day off. Ellen decided to bring Jeter to drug court, which was a little unusual, but he was a huge success.
Word then got out, and Ellen received many calls. One call was from a prosecutor who asked if Jeter could help twin girls who were sexually assaulted by their father. It was 2004, and Jeter went into the courtroom with these girls who were 7 years old. Jeter was with them when they testified against their father, who was sitting just a few feet from them in the same room. It made a huge difference, and that's how Courthouse Dogs was started.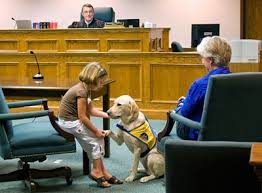 It is the philosophy of Courthouse Dogs that the dogs should be available to anyone affected by stress during the course of criminal justice proceedings. However, they also help defendants in veteran's court, mental health court and DUI court (Driving Under the Influence).
Nevertheless, not everyone feels that dogs should be allowed in courtroom. Courthouse Dogs has come across objections from defense attorneys. If dogs are assisting someone in the courtroom, they may raise the objection and say, "Oh look, Judge, everybody likes dogs, especially dogs that are very appealing like these dogs are. If they're associated with the State's witness in the witness box while he or she is testifying in court, the jury is going to like the State's witness more than my client, and that's prejudicial to my client."
However, what most defense attorney and judges don't realize, and what Courthouse Dogs tries to educate them about, is that these dogs are so well trained, they can lay perfectly still for an hour or two and are often completed hidden in the witness box. They are then able to provide that support without being a distraction whatsoever.
Courthouse Dogs have provided comfort to sexually abused children while they undergo forensic interviews and testify in court. These dogs also assist treatment court participants in their recovery, visit juveniles in detention facilities, greet jurors and lift the spirits of courthouse staff who often conduct their business in an adversarial setting. The use of Courthouse Dogs can help bring about a major change in how we meet the emotional needs of all involved in the criminal justice system. Their calming presence promotes justice with compassion.
Courthouse Dogs is putting on their first international conference in Seattle in November. To find out more, please visit http://www.courthousedogs.com.




Anti-Bullying Dog Therapy
Rachel McPherson, The Good Dog Foundation

Rachel McPherson is the Founder and Executive Director of The Good Dog Foundation (Good Dog) founded in 1998 to promote the use of animal-assisted therapy. Good Dog provides therapy dog services to people in health care, social service, educational and community facilities in New York, New Jersey, Connecticut and Massachusetts, and at disaster sites around the country, with over 1,100 trained dogs.
The Good Dog also has an anti-bullying program, which focuses on a therapy dog team entering the classroom and beginning a dialogue on kindness, responsibility and communication. The outcome of this program is that students will have increased empathy towards animals and towards each other.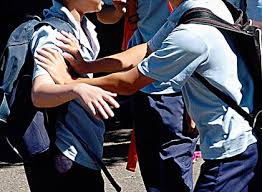 Most of us have experienced some sort of bullying in our lives. Perhaps it was the kid who threatened to come after you after class or the kid that actually physically confronted you. Unfortunately, this kind of torment continues to this day, especially with the availability of social media, which takes it to a whole new level.
The children in the classrooms will open up about bullying to the dogs. It starts when the dogs are brought into the classrooms, where discussions are held about how to treat a dog really well. The children are told to treat dogs with kindness and to make sure that they take good care of their pets. The children are then told that if they take good care of their pets, they should also take good care of their friends. Next, they are asked if they have friends that didn't take care of them or treat them very nicely. By focusing on the dogs, an amazing thing happens. That is when the bullying comes out. They start out by focusing on the children that have been bullied and sometimes other children will admit that they have actually done bullying themselves. A complete discussion is then held about being nice to animals and their friends.
Good Dog's ultimate goal is to increase the awareness and prevalence of fully certified therapy teams in a wide variety of facilities across the country. This is achieved through three core activities: training and certification, visit coordination and research and awareness.
http://www.thegooddogfoundation.org
Animal Radio® News with Stacey Cohen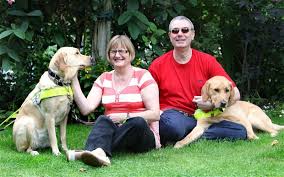 Seeing-Eye Dogs Bring Blind Couple Together
A pair of seeing-eye dogs are getting credit for leading their owners to love. According to NBC's Today Show, Claire Johnson and Mark Gaffey first met at a course for their guide dogs, Rodd and Venice, last year in Shrewsbury, England. Apparently, the guide dogs were inseparable and seemed to be falling in love. Their visually impaired owners soon followed suit. Just months later, Claire and Mark began their own romantic relationship and are now planning to get married. During the ceremony, the couple plans to honor their dogs for helping them find love with a wedding cake decorated with bones and paw prints. Gaffey says Rodd and Venice are "central to the whole thing" because the dogs brought them together.

Contagious Yawns May Not Be Unique To Humans
A Japanese study published in the journal PLoS One shows that dogs tend to yawn after a person yawns. Researchers also found that dogs are more likely to yawn after a human, if that person is their owner. The study's author, Teresa Romero, say that their research shows "contagious yawning in dogs is emotionally connected in a way similar to humans." While they weren't able to determine the exact reason that dogs mimic yawns, they were able to rule out that it was a type of distress response to seeing a strained human face. While many of the dogs repeatedly followed their owners in yawning, 14 dogs did not yawn at all.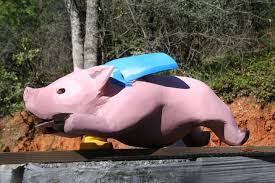 Pig-Napping
The owners of Auburn's Flying Pig BBQ are hoping for the return of Super Porky their company mascot. The 50-pound carved wooden pig recently disappeared. George Miller, who owns the restaurant, says the pig was made for him by a relative and they are asking for whoever "pig-napped" him to bring him home, no questions asked.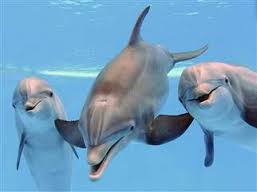 Dolphins Show Long-Term Memory
A new study indicates dolphins are capable of recognizing a tank mate's whistle, even after being separated for as many as 20 years. It's the longest social memory ever recorded for a non-human. University of Chicago scientist Jason Bruck studied 56 bottlenosed dolphins that were moved between six different institutions. Such long-term memory puts dolphins in the same category as some monkeys and elephants, which also show a similar capability. The study is published online in the journal Proceedings of the Royal Society of London B.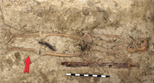 Badger Credited With Major Archaeological Find In Germany
A badger is helping Germany uncover its past. Spiegel Online says two sculptors planning to display their work on their farm found the badger's home last fall while surveying the property. The animal had dug up the land, and in the process unearthed some human bones. Archaeologists were called in and announced this week that the badger had discovered a 12th century burial site, which included the graves of two Slavic lords and several warriors. The lords were buried with bronze bowls at their feet, while one of the warriors had a sword at his side. Archaeologist Thomas Kersting says it was clear from the marks on one warrior's skull that he was "a tough guy." He adds that it's the first grave to be found in Brandenburg, so "it's an important discovery." The artifacts will be displayed at a local museum.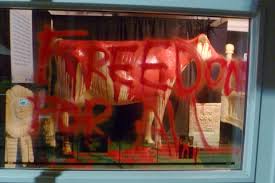 Paint Splattered On Iowa Butter Cow
Iowa's iconic butter cow sculpture is back on display after being trashed by animal rights activists. Authorities say the culprits doused the large sculpture with red paint and scrawled "Freedom For All" on the glass refrigerated case. A group called Iowans for Animal Liberation took credit for the act in an email, saying the paint represents the blood of eleven billion animals "murdered each year." The Iowa State Fair says the 600-pound cow sculpture uses enough butter to smother more than 19,000 slices of toast.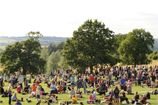 Largest Assembly of Dogs Fails
Some dogs apparently don't care all that much about breaking a world's record. The UK's Daily Telegraph says The Kennel Club was attempting to set a new record for the largest assembly of dogs staying in one place at the same time. To accomplish the goal, the animals had to either sit or stay in their designated spot for at least two minutes. But a Kennel Club spokesman says some of the dogs just got too distracted and were "a little too busy wandering around or sniffing the other animals" to qualify. The Kennel Club had brought together 635 dogs in the failed record attempt. But event organizers haven't given up and say they'll get the dogs back together next year to try again. The RSPCA at Windsor Great Park currently holds the record, which they set with 627 dogs back in 2005.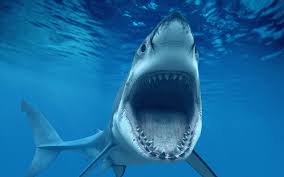 Scientists Urge Media To Stop Saying Shark "Attack"
A group of scientists is asking the media to stop talking about shark "attacks." The American Elasmobranch Society, which studies sharks, rays and various other creatures, believes the term reinforces negative stereotypes and undermines shark conservation efforts. Instead, they encourage reporters to be more accurate and differentiate between shark sightings, shark encounters, shark bites and fatal shark bites.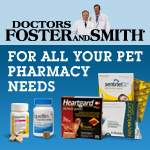 NEWS UPDATE brought to you by Drs. Foster & Smith, affordable pet supplies. Low prices every day, so you save on every order.

Listen to the entire Podcast of this show (#717)