Shelter Dogs Help Woman Recover from Eating Disorder
Shannon Kopp, Pound for Pound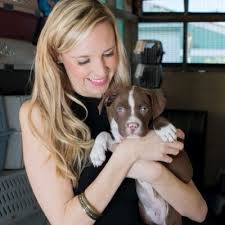 Shannon Kopp spent the good part of a decade with an eating disorder. She would eat large amounts of food and then vomit 20 times a day. No therapist, doctor, or even rehab could cure her. She didn't find relief until she met a dog.
Shannon Kopp suffered from bulimia. She started struggling this with eating disorder at around age 16. She tells us that eating and addiction disorders run in her family, with her father being an alcoholic.
When her father's drinking took a toll for the worse, Shannon began controlling her food and weight as a way to manage her anxiety and sadness. However, it progressed over the years to where she was throwing up at least 20 times per night.
What is bulimia? Shannon explains that it involves taking in a lot of food and then using some kind of compensatory behavior, like over-exercising or vomiting or even using laxatives to get rid of the calories.
Shannon had tried everything she knew to stop this behavior. She tried therapy, medication and even went to a rehab center in the middle of the desert. She read many books on the subject, and while she knew in her mind what to do, she could have even written her own book on how to recover from this eating disorder, she still couldn't do it.
Nothing changed for Shannon until she got a job working at the San Diego Humane Society. She found very quickly that the one thing she could do when she felt overwhelmed and needed to eat a box of cupcakes, was to go into a dog kennel and sit. She would usually sit with a big dog like a Shepherd, Pit Bull or Lab. They would be so excited to see her they would sit on her lap. They would hold her down and center her, and she in turn would hold on to them physically until she felt the urge to eat passing. Because of their love and non-judgment, Shannon could say things to them that she could never even say to herself alone in a room or even to a therapist. But with the animals somehow she felt so much freer than she had ever been.
All of the animals gave her unconditional love but she remembers one in particular, named Sunny (who is on her book cover) who was a 10-month-old Pit Bull she found in the back corner of a Los Angeles County shelter. Sunny was completely emaciated and it looked like someone had taken a hammer to her tail, which was broken in four places. Every day Sunny would put her nose through the bars and stand there, no matter how hot it was.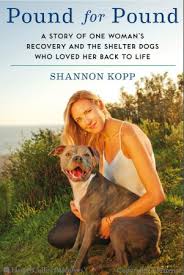 When Shannon met Sunny, she thought that Sunny acted so different from herself when she was in pain and suffering. Shannon said she hid when she was in pain. That hiding included eating more food. But here is this dog just saying, "Please help me," and being so vulnerable. Unfortunately the Los Angeles shelters are very run down. Dogs only had water bowls. There are no toys or bedding. It was obvious that Sunny had been traumatized and abused early in life. Shannon says most dogs behave in that situation the way she would have, and that would have been shutting down and deteriorating. But in this devastating space, Sunny actually began to heal. Sunny had stopped eating but took food from Shannon's hand. Another thing was that Sunny was afraid of her own reflection in the water bowl, so she wasn't drinking. She must have thought that a big scary dog was in her way. Sunny would hover over the water bowl and look down and see her reflection, which made her back away. One day, when it was around 100 degrees, Shannon watched Sunny approach the water bowl, look down and just make a decision to dive right in and give her body the nourishment she needed.
Shannon observed this and saw Sunny facing her fears and doing the hard thing for her. Shannon actually saw herself in Sunny and states that when Sunny started drinking, she actually started eating herself for the first time and kept it down. Shannon decided then that she could also do the hard thing, do the thing that made her the most uncomfortable and the thing that scared her.
This is what recovering from an eating disorder is all about, explains Shannon. She knows it sounds very crazy. Now, looking back, Shannon doesn't know how she could have done that to herself. It is a mental disorder and eating disorders are actually the most fatal of disorders. 20 million woman and 10 million men, of all ages, suffer from eating disorders in this country.
While the animals helped Shannon with her eating disorder, she receives emails from many people who suffer from PTSD or even grief, who all say the same thing, and that animals are healing.
You can read about Shannon's story in her book, Pound for Pound.




Cat Adoption Truck
Aimee Gilbreath, Found Animals Executive Director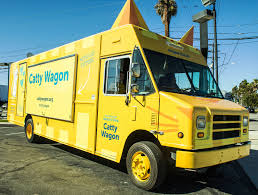 Aimee Gilbreath comes up with some pretty unique ideas to raise money for her animal welfare organization. On the heels of the successful '6 Packs & 9 Lives' calendar featuring buff men with cats, she's now unleashed the Catty Wagon, adopting felines from a converted food truck that looks like an orange kitty.
Found Animals is all about getting cats adopted. In many parts of the country, less cats are being adopted from animal shelters than dogs. As a result they are always looking for new ways to take cat and kitten adoption to the people.
Right now it is kitten season and they have a foster program, with a bumper crop of kittens that need to be adopted. They know that food trucks are hot right now and kittens are amazing, so why not combine the two and create a food-truck-style mobile adoption to take cats and kittens out in the community. That is how the Catty Wagon was born.
This is a great idea; but does it create an impulse buy for people who weren't looking for a cat or kitten? Aimee explains that kittens sell themselves, whether they are at a shelter or in a mobile unit. However, regardless of where a cat or kitten is adopted, Found Animals does a full adoption counseling process. They ask a lot of questions and make sure that the person is ready for a cat.
And if you're not planning on adopting a cat, you can still purchase supplies from the Catty Wagon. The Catty Wagon's purpose is tied to Found Animals' mission of "Saving Pets, Enriching Lives" and is an extension of its brick & mortar store Adopt & Shop, an adoption and retail facility where every dollar spent goes back to saving more pets.
The Catty Wagon is the only mobile adoption vehicle in the country that is devoted to cats and is shaped like a cat. The wagon has two flaps that swing open, so it has a flap on the side and one on the back, sort of like where you would place your order if it were a food truck, for the kennels. There is also a meet and greet area inside so you can sit and play with a cat you are thinking about adopting.
For real-time information on the Catty Wagon location, follow Adopt & Shop on Twitter and join the conversation on social using #CattyWagon. And, for a list of upcoming events or to book the Catty Wagon at your next event, please visit www.cattywagon.org.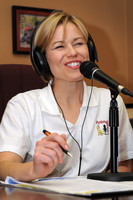 When Pet Food is Medicine - Dr. Debbie
Proper pet nutrition is more than just diet choices for the healthy pet. It's even more important to properly feed the sick pet or those with chronic diseases. What you put in your pet's food bowl can help, or harm, his ability to cope with illness.
Peek into your average veterinary office and you'll likely find one or more brands of therapeutic diet foods created to manage pet specific pet health conditions. Veterinarians prescribe therapeutic diets to help pets with kidney disease, diabetes, pancreatitis, weight loss or heart disease. Special digestive diets may focus on hypoallergenic ingredients, fiber content or fat levels. Some diets prevent or dissolve mineralized stones in the urinary bladder. There are even diets to keep the spring in your arthritic dog's step and diets to aid in treating pets with cancer.
The grandfather of veterinary nutrition was Dr. Morris who in 1940 designed a diet to improve longevity of his dog, Buddy, who was a seeing-eye dog battling kidney disease. His efforts led to the introduction to Hill's K/D diet, a favorite diet used today for dogs and cats with kidney dysfunction. Today many more diets and conditions are addressed by companies such as Science Diet, Royal Canin, Purina and Iams.
As a veterinarian I recognize the value that therapeutic diets lend to managing my patients' health. But my strongest testament to their value is as a doggie momma who feeds a therapeutic diet to my own dog, Magnum.
My Labrador Magnum suffers from food allergies with frequent facial skin infections, bad skin odor, scratching and unpleasant gastrointestinal signs with diarrhea and flatulence. After several diet trials with various hypoallergenic diet approaches, he now thrives on a rabbit based therapeutic diet by Royal Canin. His doggie kisses are sweeter smelling now, he's content and he isn't a walking gaseous explosion anymore.
But be prepared to dig deeper in your wallet for therapeutic diets. The research behind these foods will cost the consumer more than average pet foods. Just look at the example of Magnum's food. This diet runs $86 for a 25-pound bag of dry food. This sure isn't cheap. But the investment can pay off in lower medical costs and fewer veterinary visits, justifying the additional cost. In Magnum's case, we are able to avoid continued treatment of skin infections, thereby avoiding medication use and he is spared incessant itching.
Some pet owners turn to home cooked diets in order to avoid the costs of therapeutic diets. Without guidance and veterinary nutrition analysis, pet owners may risk shortchanging their pet's nutrition. One research study identified that over 90-percent of home prepared diets for sick pets failed to be nutritionally adequate. Quality ingredients aren't cheap and a well-produced home cooked diet often ends up costing far more to prepare than commercially produced therapeutic diets.
If your veterinarian recommends nutritional management with a therapeutic diet, discuss all the options with your doctor. Inquire about different brands and sizes of food packages available, as many options are available. Get your money's worth on these diets by following your veterinarian's recommendations. Avoid mixing therapeutic diets with regular foods. This only hinders your pet's results and give you a false sense of saving money by making the food last longer.
As for Magnum, I choose to feed him his therapeutic diet and avoid popping pills into him. That's my gauge of a therapeutic diet success - food that serves like medicine in the doggie bowl, but without the hassles.
Featured veterinarian known as "Dr. Debbie" on national pet radio program, Animal Radio. Ebook author of "Yorkshire Terriers: How to Be Your Dog's Best Friend"; "Pugs: How to Be Your Dog's Best Friend"; "Mini Schnauzers: How to Be Your Dog's Best Friend"; and "Shih Tzu: How to Be Your Dog's Best Friend."




Lucy Pet Foundation
The Mission of The Lucy Pet Foundation is to reduce pet overpopulation and the euthanasia of over 80,000 cats and dogs per week in the United States by having mobile spay/neuter clinics across the country and to support causes that benefit animal welfare. The Lucy Pet Foundation currently has two buses that travel around Southern California focusing on spaying and neutering. These buses are state of the art surgery units. Their next focus is in generating more funds to expand the work of these buses and have more across the country.

The Lucy Pet Foundation not only offers free and reduced spays and neuters, they also do microchipping, vaccines and de-wormings. Spaying and neutering is not only great for pet population control, but it has been proven that an animal will live on an average of 40-percent longer after having this surgery.
Upcoming Clinics
Free Spay & Neuter for Los Angeles City Residents! Here is a list of upcoming free or reduced fee mobile spay and neuter clinics in California:
Call for more information, questions and to reserve space to get on the list: (855) 499-5829
September 3: Vallarta Supermarket, 10175 N. San Fernando Rd., Pacoima, CA Spay/Neuter APPOINTMENT ONLY; Vaccine Clinic 10:00am-2:00pm
September 6, 20: East Valley Shelter, 14409 Vanowen St., Van Nuys, CA Spay/Neuter APPOINTMENT ONLY; Vaccine Clinic 10:00am-2:00pm
September 7: West Valley Shelter, 20655 Plummer Street, Chatsworth, CA Spay/Neuter APPOINTMENT ONLY; Vaccine Clinic 10:00am-2:00pm
September 9: Vallarta Supermarket, 13820 Foothill Blvd., Sylmar, CA Spay/Neuter APPOINTMENT ONLY; Vaccine Clinic 10:00am-2:00pm
September 10: Superior Store, 133 West Avenue 45, Los Angeles, CA Spay/Neuter APPOINTMENT ONLY; Vaccine Clinic 10:00am-2:00pm
September 13, 27: North Central Shelter, 3201 Lacy St., Los Angeles, CA Spay/Neuter APPOINTMENT ONLY; Vaccine Clinic 10:00am-2:00pm
September 14: Superior Store, 3480 S. La Brea, Los Angeles, CA Spay/Neuter APPOINTMENT ONLY; Vaccine Clinic 10:00am-2:00pm
September 16, 28: Food 4 Less, 1748 West Jefferson Blvd., Los Angeles, CA Spay/Neuter APPOINTMENT ONLY; Vaccine Clinic 10:00am-2:00pm
September 17: Superior Store, 9801 Laurel Canyon Blvd., Pacoima, CA Spay/Neuter APPOINTMENT ONLY; Vaccine Clinic 10:00am-2:00pm
September 21: Food 4 Less, 5100 N. Figueroa St., Los Angeles, CA Spay/Neuter APPOINTMENT ONLY; Vaccine Clinic 10:00am-2:00pm
September 23: Superior Store, 6140 Lankershim Blvd., North Hollywood, CA Spay/Neuter APPOINTMENT ONLY; Vaccine Clinic 10:00am-2:00pm
September 24: Superior Store, 10211 Avalon Blvd., Los Angeles, CA Spay/Neuter APPOINTMENT ONLY; Vaccine Clinic 10:00am-2:00pm
September 30: Vallarta Supermarket, 19725 Vanowen St., Winnetka, CA Spay/Neuter APPOINTMENT ONLY; Vaccine Clinic 10:00am-2:00pm
County and City Vouchers accepted. But remember, you must get on a list to have your pet seen at these locations. Please call The Lucy Pet Foundation toll free at 1-855-499-5829 or Email: Info@lucypetfoundation.org to schedule an appointment, or register at the events.
See the current list of clinics at http://www.lucypetfoundation.org.
Lucy Pet Products, Inc. is a family owned and operated company based in Thousand Oaks, California. Lucy Pet Products are "Products With a Cause." Part of the proceeds from the sales of Lucy Pet Products are used to help fund The Lucy Pet Foundation. Their products can be found in pet specialty stores across the USA and are exported worldwide, or you can visit them at http://www.lucypetproducts.com.
http://www.LucyPetFoundation.org





Pet Adoption Tour
Susan Sims, 8th Annual Fido Friendly Get Your Licks On Route 66
It's time again for the 8th Annual "Get Your Licks on Route 66 Adoption Tour." Fido Friendly publisher Susan Sims is getting ready to start the nationwide journey in Los Angeles with their spokesperson, CBS's Emmy winner Brandon McMillian.
The cross-country pet adoption tour officially starts September 9 in Riverside, California at the Riverside Animal Services and kicks off September 10th in Los Angeles at the LA Animal Services.
In the first seven years, they have helped place over 5,000 pets in to new forever homes! They bring their giant spinning wheel filled with prizes provided by their sponsors where a donation gives you a chance to win fabulous prizes and all proceeds go to the shelter at the end of the day.
Sprinter Rentals is once again providing them with a Sprinter to travel down America's Favorite Highway and Animal Radio is their media sponsor for the eighth year!
Thanks to their sponsors who have signed up thus far to help us save lives, one shelter at a time! Please visit their websites to see the great products they have to offer: Sprinter Rentals, TurfMutt, Evercare, John Paul Pet, WellPet, Zeus Dog Toys, Petcurean, Tito's Handmade Vodka, Vet's Best and Petmate.
Their tour schedule is as follows:
September 9: Riverside Animal Shelter, Riverside, CA 11-3
September 10: L.A. Animal Shelter, Van Nuys, CA 10-4
September 14: Arizona Humane Society, Phoenix, AZ, Time 1-5
September 17: PetSmart, Albuquerque, NM, 10-3
September 18: PetSmart, Santa Fe, NM Noon-4
September 21: Lawton Animal Welfare, Lawton, OK Noon-4
September 24: The City of Oklahoma City, Division of Animal Welfare, Oklahoma City, OK Noon-4
September 25: ARF Animal Rescue Foundation, Tulsa, OK Noon-4
September 27: Golden Paw Animal Rescue and Sanctuary, Joplin, MO, Noon-4
September 29: Humane Society of Southwest Missouri, Springfield, MO Noon-4
October 2: Animal Protection Association of Missouri, St. Louis, MO 11-3
October 8: PAWS Chicago, Chicago, IL 11-4
October 9: Animal Protection League, Springfield, IL Noon-4
October 15: Wayside Waifs, Kansas City, MO 2-6
October 16: Great Plains SPCA, Merriam, KS Noon-4
Even in you are not planning on adopting an animal, come out for the fun and spin the wheel for prizes!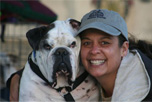 Animal Radio News - Lori Brooks
Pet Insurance Company Fined $150,000
The Washington State's Insurance Commissioner has fined a pet insurance company, American Pet Insurance, which goes under the name Trupanion, $150,000 for violating state laws. Most of the violations were related to charging rates that the Insurance Commissioner did not approve, as required by law. The violations include a failure to cancel policies in a timely manner in cases such as a pet's death, after a customer no longer owned a pet and when the pet owner canceled a policy.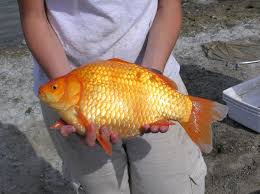 Renegade Goldfish Invade Ponds
Renegade goldfish have been a problem all over the world and countries all around the globe are asking you to please not dump your pet goldfish into a lake. It can offset the eco balance of waterways when a new fish is dumped into a lake. This is because it has no natural predators and they begin eating plants that the other natural fish need to survive. Left to thrive in waterways, researchers say goldfish are growing to weigh as much as four pounds. It's likely they were kids' pets and maybe the family was moving and their parents, not wanting to take the aquarium, dumped the former pets. This is a big problem in the local wetlands of Australia, a country that has seen a lot of the renegade goldfish and the harm they've done. But, this isn't a new problem or one unique to just Australia. In 2015, the Canadian Government put out a plea for pet owners to stop dumping goldfish into local waterways. So remember, goldfish are really a species of carp that can reach monstrous sizes in the wild, AND, like all carp, the domestic goldfish will grow to be as large as its resources allow. In the wild, goldfish are carnivorous. They are bottom feeders, which disrupt sediment and make it harder for other fish to eat. Plus a goldfish in the wild will feed on the eggs of native species. They may also be bringing in new diseases to the wild fish population. Believe it or not, goldfish are also incredibly tenacious. One of the fish tracked in this new Australian study traveled 142 miles in the year researchers followed it. So no matter where you live and no matter how sentimental you are over your unwanted pet, do not set it free when it's time to say goodbye. It's cruel and not fair to the pet, any pet. And, if you can't find a new home for it, the veterinarian researchers who did this study say to see if the pet shop will take them back. But if you're going to euthanize them, putting them in the freezer is the most human way.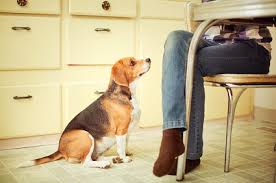 Do Dogs Love Us or Do They Just Want Our Food?
In an experiment further investigating the relationship between humans and dogs, researchers wanted to find out if it is a true bond or a love of food. They found most dogs anticipate the praise of their owner as much or more than a food reward. In the early 1900s, psychologist Ivan Pavlov trained dogs, but now research published in the Journal Social Cognitive and Affective Neuroscience suggests dogs aren't so single-minded as Pavlov thought. The scientists began their experiment by training dogs to associate three objects with three different rewards: a pink toy truck with food; a blue toy knight with verbal praise; and a hairbrush with the nothing or no reward. Over the course of 32 trials, 13 dogs were presented with the three objects. ALL dogs preferred a reward to none at all. Four dogs showed a particularly strong response to the blue toy, which got them praise, while nine dogs responded equally to the two types of reward. Only two dogs were consistently more excited about the pink toy truck and the food reward. In a second experiment, researchers allowed dogs to follow one of two simple mazes, one leading to their owner, the other to a bowl of food. Owners sat with their backs turned and praised their dog when he or she arrived. The findings in the second experiment pretty much mimicked the first. Most of the dogs alternated between food and owner, but the dogs with the strongest brain response to praise chose to go to their owners 80 to 90-percent of the time, which shows the importance of social reward and praise to dogs.
Sago Palm Kills Pup
A Florida man is warning pet owners about a poisonous plant after his puppy died from eating seeds from it. The puppy, a 9-month-old pit bull-boxer mix named Zeta, ate a seed from a Sago Palm. Many plants and seeds from them can be poisonous to dogs and the seeds from the Sago Palm have long been on the list of the worst offenders. The owner described Zeta as salivating, bloated and said her eyes turned yellow. He immediately took her to the vet but she passed two days later. More than 14,000 dogs have been poisoned by Sago Palms and 34 dogs died from it during the last 10 years, according to the American Society for the Prevention of Cruelty to Animals (ASPCA). Of course, these poisonous palms are found in yards and stores, but the U.S. Consumer Product Safety Commission does not require warning labels on houseplants. Sago palms aren't the only plants pet parents should worry about. Here are some other very poisonous plants if your dog ingests them: Foxglove, Tulips, Azaleas, Oleanders, Daffodils and the houseplants Dieffenbachia, Cyclamen and Amaryllis.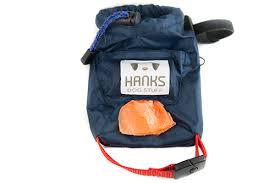 A New Way To Transport Poop
There are always new pet products on the market and for one reason or another some of them really catch our eye. One we would like to share with you is the Poop Transporter from Hanks Dog Stuff. The transporter springs open with the touch of a toggle, allowing you to drop in poop bags. After your walk when you've collected at least one, maybe a couple of piles, all you do is push the toggle and the Transporter opens, dumping the waste in a trashcan. The cool thing is that the Transporter is made of odor-resistant rip-stop nylon and available in 10 colors, so if the color of your poop picker-upper is important to you, then it's covered. It's also washable, attaches to any leash handle and has a pocket that holds standard-size rolls of poop pickup bags.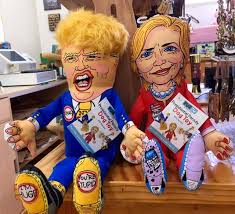 Presidential Pet Toys
Now that the Olympics are over and you're back to watching whatever is on TV, chances are you've had your fill of the upcoming presidential election and candidates. Maybe you can't get enough of your own candidate but cannot stand the other. For whatever reason, The Presidential Parody Pet Toys by Fuzzu, might be fun for you and your pet. The Donald toy sports a golden tan and quaffed plush hair. The Hillary toy sports a red pantsuit.
No Kid Grows Up Wanting To Be a Pet Sitter
Apparently kids don't say when they grow up that they want to be a pet sitter. How do we know that? Well, Pet Sitters International, or PSI for short, has conducted a survey of its professional pet sitters, which found that only 3-percent of its members pursued pet sitting as a first career immediately following high school or college. Nearly 40-percent of its members decided to start a professional pet-sitting business after they retired or after being laid off. But most of the group's members, 58-percent of them, actually chose to leave another career in order to open their own professional pet-sitting business.

Listen to the entire Podcast of this show (#874)