Modern Family's Jesse Tyler Ferguson Guests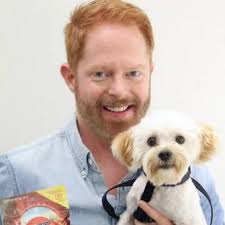 He may play an uptight lawyer on the hit ABC sitcom, Modern Family, but in real life he's an avid pet lover and parent of two dogs, "Leaf" and "Fennel." Jesse will share personal stories of how he and his partner spoil their pups.
Besides his husband Justin, Jesse lives with his two dogs Leaf and newly adopted dog, Fennel. When asked where the name of Fennel came from, Jesse said that Justin was throwing out names that were all food based. He originally suggested ramekin, cilantro, parse snip, paprika, all of which Jesse wasn't crazy about. Jesse then offered up Fennel and that is the name that stuck.
When asked if Jesse shares his bed with his pets, he states that they all have their own beds. However, there are special occasions when they all pile in bed together - how could they not! Plus, his dogs are small, which makes it a lot easier! But he does vehemently states that his dogs do not eat from the table! Jesse does bring Leaf to the set with him, but has yet to bring Fennel, because he is still too young.
Jesse has recently teamed up with a campaign that will donate to the Petfinder Foundation with help from Purina. He tells us that Purina One and Petfinder are celebrating Purina's ONE Difference campaign, which celebrates the people and shelters that make a positive difference in the lives of dogs. In fact, it was through these organizations that Jesse acquired Fennel.
Jesse also tells us about the Purina ONE 28 Day Challenge, and how a change in your dog's nutrition can give pets bright eyes, a shiny coat, increased energy and healthy teeth and gums. For each person who signs up for the challenge, Purina ONE will donate $10 to the Petfinder Foundation, which helps more shelter dogs find forever homes.
Besides the TV show, Jesse and Justin founded Tie The Knot, to combine all of their favorite things: humor, style, individuality, fashion, art, and equality. The goal of Tie The Knot is clear: to advocate for the civil rights of gay and lesbian Americans throughout the United States & beyond, and to look damn good while doing it. To view their bow ties, please visit TieTheKnot.org.
Check Jesse out on ABC's Modern Family Wednesdays Nights starting September 23rd.





7th Annual Get Your Licks On Route 66
Brandon McMillan, CBS Lucky Dog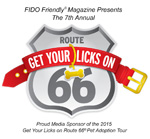 The host of CBS's Lucky Dog, Brandon McMillan is back and he's getting ready to kick off the 7th Annual "Get Your Licks on Route 66" Adoption Tour. Along with Fido Friendly, Animal Radio is proud to be a part of this life-saving tour across America.
It's that time of year again where FIDO Friendly travels down the Mother Road, stopping at shelters along the way to support adoption events. The cross-country pet adoption tour officially starts September 11 in Riverside, California at the Riverside Animal Shelter and kicks off September 12th in Los Angeles.
Brandon advises us that in the previous 6 years of the tour, they placed over 3,000 pets in their new forever homes, stating, "Obviously, they're doing something right!"
Brandon gets involved because just in America alone, nearly 2 million dogs are euthanized each year because they can't find homes. This is not happening in some far off place we've never heard off, it's happening right here. That's just dogs, not all the animals that are euthanized. It is also doesn't include the rest of the world. It's very important that people understand these statistics and know the numbers. Brandon sates that, "When people hear the numbers and they hear the statistics, it changes their mind, because a lot of people come from the old school and they're like, Oh, I'm just going to go to a breeder; I'll go to a pet shop." But when you say those facts, when you say those statistics, people start listening. Then it becomes an epidemic. People don't realize that we have a pet epidemic in this country, they think it happens in other countries and not in their own backyards. Our shelters are bursting at the seams!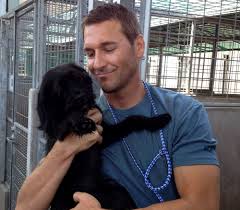 Some people tend to think that shelter dogs are damaged goods. This isn't true! You can find many purebreds in shelters or you can go to a breed specific rescue to find the perfect dog for you. Brandon advises us not to chose a dog by just their looks and states you can't count out personality. Find the right personality first and then go for the looks. You also need to find a dog to fit your lifestyle. For example, if you're active, get a young active dog. But if you're a couch potato, look for a dog with less energy. But if you're working 10-12 hours a day, maybe you're not meant to have a dog at this time in your life.
The Get Your Licks On route 66 tour will include 15 cities to visit this year and they would like everyone to come out. Even if you are not looking to add a forever family member you can still join the fun by visiting one of their partner shelters and donating $2.00 to spin their custom spinning wheel filled with prizes you can win, with proceeds going to the shelter at the end of the day!
Spinning pinning wheel prizes will be provided by John Paul Pet, Synlawn, Petmate, Sleepypod, Fresh Scents, Pets Best, Buddy Belts, Kurgo, Earth Rated, Charlee Bear, Kids n Pets, Pet Botanics and Simply Fido. Thanks to the sponsors who have signed up to help us save lives, one shelter at a time! Please visit their websites to see the great products they have to offer.
If you can't attend and would like to donate to the tour, they will send you a complimentary one-year digital subscription to FIDO Friendly magazine with a minimum donation of $10! With a $30 or more donation you will also receive a Get Your Licks on Route 66 t-shirt. Your name will also be listed as a grass-root supporter.
Here are the dates and locations of the 7th Annual Get Your Licks on Route 66® tour:
September 11
Riverside, CA
11am-3pm
Riverside Animal Shelter
6851 Van Buren Blvd.
Riverside, CA 92509
September 12
Van Nuys, CA
10am-4pm
L.A. Animal Shelter
14409 Van Owen St.
Van Nuys, CA 91405
September 16
Phoenix, AZ
3pm-7pm
Benefits Halo Animal Rescue
Event Held:
Metro Center Mall
Halo Pet Adoption Center
9617 N. Metro Parkway West
Phoenix, AZ 85051
September 19
Albuquerque, NM
10am-3pm
Benefits Watermelon Ranch
Event Held:
PetSmart, Albq., NM
10428 Coors Bypass Rd.
Albuquerque, NM 87114
September 20
Santa Fe, NM
Noon-4pm
Benefits Santa Fe Animal Shelter
Event Held:
PetSmart
3561 Zafarano Drive
Santa Fe, NM 87507
September 23
Amarillo, TX
1pm-5pm
Benefits Amarillo SPCA
Event Held:
Tripp's Harley Davidson
6040 I-40 West
Amarillo, TX 79106
September 26
Oklahoma City
Noon-4pm
The City of Oklahoma City
Division of Animal Welfare
2811 S.E. 29th Street
Oklahoma City, OK 73129
September 27
Tulsa, OK
Noon-4pm
Benefits ARF Animal Rescue Foundation
Event Held:
Woodland Hills Mall
7021 S. Memorial Drive Ste. 225B
Tulsa, OK 74133
September 29
Springfield, MO
Noon-4pm
Humane Society of Southwest Missouri
3161 W. Norton Rd.
Springfield, MO 65803
October 1
Joplin, MO
Noon-4pm
Batman will make an appearance!
Golden Paw Animal Rescue and Sanctuary
2300 N. Main
Joplin, MO 94801
October 4
St. Louis, MO
11am-3pm
Benefits Animal Protection Association of Missouri
Event Held:
Canine Carnival
Tilles Park in Ladue
9551 Litzsinger Rd.
St. Louis, MO 63124
October 10
Chicago, IL
11am-4pm
PAWS Chicago
1997 N. Clybourn Ave.
Chicago, IL 60614
October 11
Springfield, IL
Noon-4pm
Benefits Animal Protection League
Event Held:
Scheel's
3801 S. MacArthur Blvd.
Springfield, IL 62711
October 17
Kansas City, MO
2pm-6pm
Wayside Waifs
3901 Martha Truman Rd.
Kansas City, MO 64137
October 18
Merriam, Kansas
Noon-4
Great Plains SPCA
5428 Antioch Drive
Merriam, Kansas 66202
Brandon McMillan is the TV host of the weekly CBS series Lucky Dog. Brandon is an animal trainer and behaviorist who has spent his entire life learning about and working with all types of animals - from household pets to the wildest of untamed beasts.
FIDO Friendly is an American dog travel and lifestyle magazine published bimonthly including hotel and destination reviews along with health and wellness topics, dog training advice, celebrity interviews, and the latest fashion trends.
http://www.fidofriendly.com/blog
Breed Specific Legislation (BSL)
Doc Halligan, Lucy Pet Foundation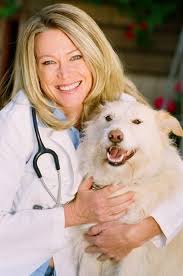 Do you know that in certain cities in the United States such as Denver, Colorado, it is illegal to own a Pit Bull?
Doc Halligan explains that a Pit Bull is not a breed, like a German Shepherd or Rotttweiler, it is a type. Most dogs that are called Pit Bulls aren't even American Staffordshires. A lot of people just don't get the breed right.
Think of it as if it were people. Can you imagine telling someone that they can't live in a city because they look a certain way? Perhaps they have dreadlocks or a shaved head. So what is happening is that people are saying that because a dog looks a certain way they can't live in that city.
All dogs of the same breed are not alike. For example, all Golden Retrieves love water. Not true! Would you believe there are some that hate it? This goes against the breed, so you need to look at each dog individually. It is also not the breed, but they way they were raised – nature vs. nurture. A dog doesn't bite because of its breed, it is because of the way they were raised. It is also their environment and situation.
The AVMA (American Veterinary Medical Association) does not support this ban. They did a study back in the year 2000 where they studied 20 years of fatal dog bites. The fatal attacks on humans, while some were done by Pit Bulls, were done by a majority of other breeds.
Because of the difficulties inherent in determining a dog's breed with certainty, enforcement of this breed specific ordinances raises constitutional and practical issues.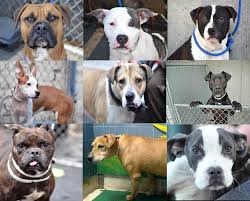 So how did this law pass? Because the legislators are clearly not educated and are ignorant on the issues. It was more of a panic mentality to try and stop dog bites. Unfortunately there weren't any veterinarians or animal people involved.
Another problem is the media. It is not that Pit Bulls are biting more than other dogs, it is that they are being reported more. The media likes to find extravagant stories. Their motto is, "If it bleeds, it leads," meaning that anything that involves blood will make headlines. They have painted the Pit Bull in a bad light, just like it did with the German Shepherd, Rottweiler and Dobermans twenty years ago.
In fact, the Dachshund is listed as one of the most frequent biters out of all of the dog breeds. But what happens is that when a Pit Bull bites someone, they unfortunately do more damage. It is also their size, when comparing a Pit bull and a baby to a Dachshund and a baby.
Another problems is that 80-percent of dogs that have bitten someone are not altered. These dogs are frustrated. Since we have domesticated dogs, we need to get them spayed or neutered so that they fit into our society, otherwise they are prone to bad behavior. And that's not all, there are many health benefits to spaying and neutering (less cancers) and they also live longer.
So how can we change these types of laws? Doc Halligan says, "We have to somehow educate these people that are in power." There needs to be a group of people who can target the lawmakers and get them to change it.
The Mission of The Lucy Pet Foundation is to reduce pet overpopulation by having mobile spay/neuter clinics across the country and to support causes that benefit animal welfare. The Lucy Pet Foundation currently has two buses that travel around Southern California focusing on spaying and neutering. These buses are state of the art surgery units. Their next focus is in generating more funds to expand the work of these buses and have more across the country.
The Lucy Pet Foundation not only offers free and reduced spays and neuters, they also do microchipping, vaccines and de-wormings. Spaying and neutering is not only great for pet population control, but it has been proven that an animal will live on an average of 40-percent longer after having this surgery.

Here is a list of upcoming free or reduced fee mobile spay and neuter clinics in California (Please call and reserve space):
September 9, 30
SPAY/NEUTER CLINIC
Location: Inland Valley, Washington Park
Check in 8:00am
Prices Vary
ACCEPT COUNTY AND CITY VOUCHERS
Please call 1-855-499-5829 or Email: Info@lucypetfoundation.org to schedule an appointment.
September 13, 20, 27
VACCINE CLINIC
Location: Tustin Toyota, 36 Auto Center Dr., Tustin, CA
11:00am - 2:00pm
Please call 1-855-499-5829 or Email: Info@lucypetfoundation.org to schedule an appointment.
September 14, 21, 28
SPAY/NEUTER CLINIC
Location: Baldwin Park, 4100 Baldwin Park Blvd., Baldwin Hills
Check in 7:30am
ACCEPT COUNTY AND CITY VOUCHERS
Please call 1-855-499-5829 or Email: Info@lucypetfoundation.org to schedule an appointment.
September 16
SPAY/NEUTER CLINIC
Location: Inland Valley, De Anza Park
Check in 8:00am
Prices Vary
ACCEPT COUNTY AND CITY VOUCHERS
Please call 1-855-499-5829 or Email: Info@lucypetfoundation.org to schedule an appointment.
September 23
SPAY/NEUTER CLINIC
Location: Inland Valley, Our Lady of Lourdes Church
Check in 8:00am
Prices Vary
ACCEPT COUNTY AND CITY VOUCHERS
Please call 1-855-499-5829 or Email: Info@lucypetfoundation.org to schedule an appointment.
September 25
ACCEPT COUNTY AND CITY VOUCHERS
Check in 7:30am
Location: Centinela Feed & Pet Supplies, 18563 Devonshire St., Northridge, CA
Please call 1-855-499-5829 or Email: Info@lucypetfoundation.org to schedule an appointment.
Remember, you must get on a list to have your pet seen at these locations. Please call The Lucy Pet Foundation toll free at 1-855-499-5829 or Email: Info@lucypetfoundation.org to schedule an appointment, or register at the events.
See the current list of clinics at http://www.lucypetfoundation.org.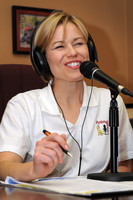 How to Build the Perfect Litter Box - Dr. Debbie
One sniff upon entering your home and you recognize the unmistakable odor of cat urine and feces. Simba has used your entry hall as his litter box again. But before you lose your temper - stop. By scrutinizing the environment through your cat's eyes, you will likely discover the cause of his toileting mishaps.
Elimination issues are a main reason for veterinary visits and a primary reason for relinquishment of cats at shelters. House soiling problems can be multi-factorial, with an overlap of behavioral, environmental and medical causes. Feline house soiling can be managed however with sleuth work and patience. The challenge is to think like a cat.
First and foremost, say this and repeat it…"My cat does not eliminate out of the litter box to get even with me." Cats do use urine and fecal scent marks to communicate territory, but this isn't done with spite or in effort to "get even" with you. Inappropriate elimination is a cat's way stating that something isn't right in their world. Understanding this is key before tackling feline house soiling. Focus on what's wrong in Simba's toilet area, not on how the house soiling makes you feel.
Start With a Vet Check
Cat owners often struggle with house soiling mishaps for months or years before enlisting help from their veterinarian. But seeing the veterinarian should be the first step, since health disorders may be at the root of some house soiling issues. Your efforts in restoring litter box usage will be doomed if an underlying medical cause is not addressed at the same time.
Size Does Matter
Make sure your cat's litter box is of adequate size to allow maneuvering. Litter box size should be 1 and 1/2 times the length of cat's body length. Height of the edge also matters. For older kitties, try lower profile litter boxes or plastic under bed storage boxes. An arthritic older cat won't complain or cry in pain with arthritis, she'll just chose to eliminate elsewhere.
Consider the View
Cats don't want to be startled while in the loo. Don't place the litter box in a high traffic area where people and pets are always a-coming and going. Cats prefer a low traffic area where they can have an eye out on things.
Don't place the litter box near appliances which give off noise, vibration and heat, all which disturb your cat while eliminating. Once a negative aversion is created, your cat may not return to use that box in the future.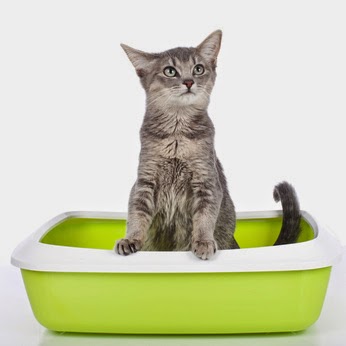 Ditch the Litter Box Cover
While some nervous kitties prefer the privacy of litter box covers, the majority of cats dislike the tight quarters and limited ventilation litter box covers provide. Consider how you feel in a public porta-potty... do you like to touch the walls when inside? Sure, people like the way the lid contains odors, but does it really matter how little odor comes from the litter box when your cat is pooping on your oriental rug?
Provide More Than One Box
A common error is assuming that one litter box is all your cat needs. What cat owner loves the litter box, and relishes seeing more of them in the home? But the more the better when it comes to faithful litter box usage, especially with multiple cats. The general rule is to provide one more box than the number of cats. Some cats share litter boxes, others will not. Unless you provide alternate sites you may have elimination issues in multiple cat homes.
Another special consideration is differences in cat's personalities - timid cats may avoid crossing paths with other more assertive pets in home. Be sure to provide litter box sites that won't be blocked by other animal's movements.
If you live in a multilevel home - you must provide litter box sites on each level. This is especially important in multi-cat homes, those with senior cats or those with health conditions.
The Pick of Litters
Litter texture preferences vary and there are many choices from scoopable, clay, crystals, or natural litters. However in one research study of cat's litter box habits, it demonstrated that the majority of cats prefer fine grained scoopable clay based litters that have carbon as their odor absorbing ingredient. Every cat is different though, so try other litter varieties until you find your cat's preference.
Skip the Scents
The verdict is still out on what odors cats prefer, but avoid heavily scented litters or deodorizers if your cat is missing the box. Interestingly enough, one study showed cats preferred cedar and fish odors, while avoiding citrus and floral scents, while another study concluded cats preferred fish or bleach smells to other scents.
Kitty Litter Depth
Ideal litter depth is 2 inches - more isn't always better. Some cats thrive on scratching the bottom of the pan, which is obscured by excessive amounts of litter.
Keep It Clean
Cats are fastidious by nature and will avoid using a soiled or smelly box. The overall cleaning frequency depends on the number of cats in the home. General advice is to scoop twice a day and deep clean the litter pan weekly. Change out clumping litter every 2-3 weeks.
Build It and Kitty Will Use It
By building your cat's dream litter box, your cat will find litter box nirvana. And you'll come to enjoy a better relationship with your kitty family members without those unwanted "presents" in the foyer.
Featured veterinarian known as "Dr. Debbie" on national pet radio program, Animal Radio. Ebook author of "Yorkshire Terriers: How to Be Your Dog's Best Friend"; "Pugs: How to Be Your Dog's Best Friend"; "Mini Schnauzers: How to Be Your Dog's Best Friend"; and "Shih Tzu: How to Be Your Dog's Best Friend."

It's a Wacky Wednesday Here at the Animal Radio® Studios
WackyWed Contest IS ON - LIKE your FAVORITE pic and the three pics with the most LIKES & SHARES are this week's winner will receive 100-percent Liver Treats from Bare Bites.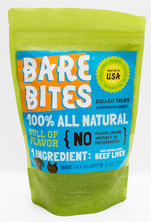 TO ENTER Send us your FUNNY pet pic to WackyWed@AnimalRadio.com - (Please put WACKYWED in the subject line & give us your pet's name, your name & where you hail from) If YOUR pic is chosen then spread the word to your friends & family on Wednesday - the pics w/the most LIKES and SHARES will be the winner!
This week we are giving away 100-percent Liver Treats for Cats & Dogs & Horses from Bare Bites. The Bare Bites only have one ingredient: Beef Liver, and are all natural with no fillers, no additives and no preservatives.


Join Animal Radio® on Facebook for Wacky Wednesday! Win great prizes every week for your wacky pet pictures. Last month we gave out goodies from The Green Pet Shop, PL360, Bark Box, Solid Gold Pet, Energizer and more. Visit us on Facebook now.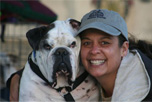 Animal Radio® News - Lori Brooks
Diabetic Alert Dogs (DADs)
Many dog people would say their dog is their best friend, but for a growing number of people with various but specific physical, neurological or mental health needs, a service dog is also an invaluable partner in day-to-day life. There are dogs that are highly trained to see, hear and retrieve objects for people, but also quite common now are dogs that are called DADs, or diabetic alert dogs, that can provide independence and security by alerting someone to chemical changes in their handler's blood sugar. For people who have seizures there are dogs who can tell when a seizure is about to happen, that would be a seizure alert dog, not to be confused with a seizure response dog, which is a dog trained to provide help to a person experiencing an epileptic seizure, not to predict the seizure. These dogs can be trained to bark for help or to press an alarm system during a person's seizure. They can also get a person out of an unsafe place during a seizure and help the handler to come around when the seizure ends. These dogs may also bring medicine or a phone to a person who is coming out of a seizure.
HSUS's Horrible Hundred
The Humane Society's (HSUS) 2015 List and Report on Puppy Mills includes100 puppy mills in 16 states. The HSUS recommends not purchasing a puppy from a pet store or over the Internet, because they are commonly sourced from puppy mills. They want to remind everyone that the only way for a potential buyer to know if they are purchasing from a humane and responsible breeder is to visit the breeder of the dog they want in person and see how and where their puppy was raised. In alphabetical order, the 16 worst states on the list are: Arkansas, Georgia, Illinois, Indiana, Iowa, Kansas, Minnesota, Missouri, Nebraska, New York, Ohio, Oklahoma, Pennsylvania, Tennessee, Texas and Wisconsin.
Do Animals Improve Student's Reading Skills?
Human Animal Bond Research Initiative is giving $13,000 to answer the question: Does reading aloud to a classroom pet, such as a rabbit, help to improve students' reading skills? They're betting the answer is yes. Experts say "The human-animal bond can lessen the stress young children sometimes feel in the classroom, and believe it will show classroom interactions with rabbits and guinea pigs will improve students' oral fluency and reading comprehension.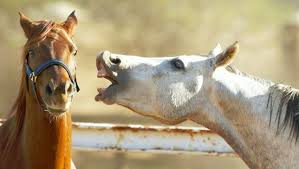 Horse Whinnies Have Two Frequencies
Swiss researchers in Zurich have analyzed the structure of 20 different horses whinnies. Throughout the testing period, the researchers recorded vocalizations the study horses made and then analyzed the acoustical properties of each. The data revealed that equine vocalizations, unlike those of most mammals, have two frequencies. Another surprise came when the researchers compared the vocalizations the horses made during positive and negative situations. Shorter and lower frequency whinnies are positive, while negative whinnies start much higher in frequency and are longer. Much more remains to be learned from analysis of equine vocalizations. The next step for us is to find out if other horses can extract the emotional information and differentiate between negative and positive whinnies. Below are two audio recordings of different whinnies analyzed in this study, along with the researchers' classification of each.
The audio files are composed of four whinnies produced by two different horses. The first two whinnies correspond to the first horse (negative and positive, respectively). The next two whinnies correspond to the second horse (negative and positive also).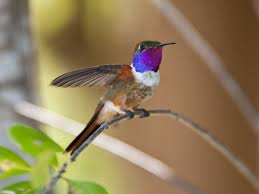 New Species of Hummingbird
Ornithologists have identified a new species of hummingbird, the Inaguan Woodstar. It is found in the Bahamas and is a member of the bee hummingbird group. It was formerly lumped with the similar-looking Bahama Woodstar, but much research and a long investigation has shown it's a totally different bird.
New Pet-Safe Anti-Freeze
Every year, some 90,000 pets and wild animals along with 5,000 humans are poisoned by antifreeze because Ethylene glycol, the main ingredient in antifreeze and deicers, is chemically broken down in the body into toxic compounds. But there's been a new discovery that's great in many ways, a new antifreeze ingredient that works better than the old stuff, and it's non-toxic! The new ingredient is Propylene glycol, a food additive, which is "generally recognized as safe" by the USDA, and it cools car engines 60-percent better than the old stuff!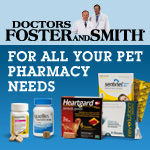 NEWS UPDATE brought to you by Drs. Foster & Smith, affordable pet supplies. Low prices every day, so you save on every order.

Listen to the entire Podcast of this show (#822)