GET YOUR LICKS ON ROUTE 66
Danica McKellar
Do you remember "Winnie" from The Wonder Years? Danica McKellar is our special guest this week. She's the spokesperson for this year's Route 66 Adoption Tour. Together with Fido Friendly Magazine, we're going to find more forever homes for pets from LA to the Windy City.
FIDO Friendly's 6th annual month long pet adoption tour: Get Your Licks on Route 66® cross-country pet adoption tour officially kicks off September 13th in Los Angeles.
Actress, author and dog lover, Danica McKellar, is our official spokesperson this year and she will lend her celebrity status to help shed light on the plight of homeless pets. Danica is best known for playing Winnie Cooper on The Wonder Years and most recently competed on Dancing With The Stars, before being voted off in week 8. Danica will make a special appearance at the kick off in Los Angeles on September 13 from 10:00 a.m. - 4:00 p.m.
After graduating from UCLA, Danica returned to acting, starring as Elsie Snuffin in the fourth season of The West Wing, and soon found a unique way to combine Hollywood with mathematics. Tackling math education and simultaneously breaking the stereotype of the "math nerd," Danica began writing entertaining math books - with a glamorous flair - to teach and encourage middle school and high school girls in math. Published by Penguin books, Math Doesn't Suck (2007), Kiss My Math (2008) and Hot X: Algebra Exposed (2010) are all New York Times bestsellers. She also wrote Girls Get Curves: Geometry Takes Shape (2012). The immediate success of this series prompted ABC World News to name Danica their "Person of the Week." Her message to girls? Smart is sexy!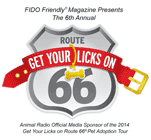 Danica has been busy, and because she didn't have the time to devote to a new dog, she was waiting for the perfect moment before adding one to her family. Now that Dancing With the Stars is over, she felt the time was right and tells us about her new family member, stating, "That he's the cutest little thing ever!" He is a 2-year-old rescue dog, who was a stray, so she is not sure of what type of dog he is. But says he looks like a mix of Corgi and Pomeranian. The shelter named him Sparticus, and Danica didn't want to change it, because she felt it was a great name.
Danica encourages everyone to come out along the tour and bring home a forever family member.
http://www.petpr.com/news/fido-friendly-magazine
"HERO PEOPLE OF THE WEEK" - Donna Koch, Inventor of Bailey's Chair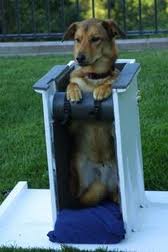 This week's Hero Person invented a chair for dogs that suffer from Megaesophagus, a disease that keeps dogs, cats and ferrets from digesting their food properly. Donna Koch created a seat that kept her dog, Bailey, in an upright position to allow for digestion. The dog's short-life prognosis lasted 13 years when Bailey died of an unrelated cancer. The dog's legacy lives on in the "Bailey Chair."
When Donna originally adopted her dog Bailey from a rescue, he appeared to be healthy. Unfortunately, a couple of weeks later he was diagnosed with Megaesophagus.
The veterinarian told Donna that Bailey probably wouldn't live long enough to see his first birthday. Most people would have euthanized the dog or just taken them back to the rescue after having them for only two weeks, but not Donna! Donna responded to the prognosis by saying, "I will make this dog an old dog someday one way or the other!" She set about doing that and Bailey lived to be almost 13 years of age before he passed away from cancer, completely unrelated to his Megaesophagus.
Just what is Megaesophagus? For a number of different reasons, it means that the esophagus is enlarged and doesn't function. Normally after someone swallows food, the esophagus contracts and voluntarily moves food from the throat to the stomach.
Sometimes in humans, Dogs, and occasionally cats and ferrets, the esophagus becomes enlarged and doesn't function properly. You can be born with this problem or acquire it as a primary or even secondary disease to another problem.
This is especially a problem in an animal that walks on all fours, as the esophagus is horizontal to the ground. They are then prone to developing aspiration pneumonia.
In the past, for dogs with Megaesophagus, it was recommended that you do elevated feedings, like feed them on a high table or chairs and then hold them up for about 5 minutes. Donna said neither of these positions was the best way to do it.
Donna would feed Bailey this way and then hold him up for 15 to 30 minutes, as five minutes was not long enough. This was not physically easy to do, so Donna felt that she could achieve the best results if she had a device that would automatically hold him up. That is how the Bailey chair was created in 2003.
The Bailey chair is a 3-sided box, with pads on the side so the dog can take a nap after eating. There is also a bar that comes down to keep them in.
A dog with Megaesophagus needs to eat smaller meals, more frequently throughout the day. Bailey was fed 5 times a day, every 3 hours.
Dog breeds more prone to Megaesophagus include German Shepherds, Golden Retrievers, Great Danes, Irish Setters, Greyhounds, Labrador Retrievers, Newfoundlands, Miniature Schnauzers, Chinese Shar-Peis and Wire Fox Terriers.
Animals that have Megaesophagus will regurgitate, so instead of hearing the gut wrenching sounds of dry heaving with true vomiting, the pet will usually just open their mouth and the food and liquid comes back up.
This is extremely dangerous, because as the food comes up, it can be sucked into the lungs, causing very severe life-threatening pneumonia.
Because of Donna and Bailey, they now teach the Bailey Chair in veterinary schools across the county. Donna has even created an online video to teach you how to make your own Bailey Chair.
http://baileychair.blogspot.com

Animal Radio's HERO PEOPLE is brought to you by Zeuterin a safe, permanent and virtually painless alternative to surgical castration.





Confessional Poems of Being a Kitten
Francesco Marciuliano, I Knead My Mommy FrancescoMarciuliano.756.jpg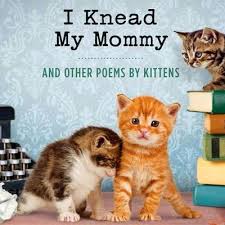 Funny-man Francesco Marciuliano is back. The creator of the Sally Forth comic strip has his latest follow-up to "I Could Pee On This," another kitty book called "I Knead My Mommy." The one sure thing is he is always a "laugh-riot" and a fun guest.
Just when we all thought things couldn't get any cuter, out comes I Knead My Mommy, a book of confessional poems about the triumphs, trials, and daily discoveries of being a kitten.
It seems that after cats got a book, and then the dogs, the kittens had enough! They demanded equal time, and the result was a collected ode to themselves. Francesco writes the poems from the kitten's point of view, stating he has been around many cats and actually admits that he understands them!
"I Could Pee on This and Other Poems by Cats," was Marciuliano's first attempt at humorous pet poetry, which is a collection of poetry supposedly written by cats.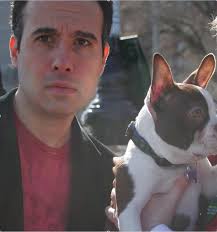 Marciuliano's second book in the series, "I Could Chew on This and Other Poems by Dogs," featuring poetry in the voice of dogs was published in August 2013, which also appeared on several national bestseller lists.
Francesco Marciuliano is also the author of the Sally Forth comic strip that runs in over 700 newspapers and holds a Bachelor of Arts in English and Art from Duke University. His interests and hobbies include photography, hiking, running, art/comics/film history, creating short films, a love affair with all pop culture, a fascination with almost every animal and an undying hope that one day jetpacks will finally be cheap and plentiful.




6th Annual Get Your Licks on Route 66
Susan Sims, Fido Friendly Magazine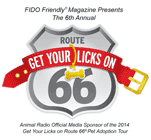 Every year, Susan Sims from Fido Friendly Magazine gets on the road to help spread the word about adoption and help out shelters along the way. They start in Los Angeles and travel along Route 66 to Chicago.
Powered by Ford with Animal Radio as a media sponsor, the tour travels down America's Favorite Highway stopping at shelters along the way to support adoption events. In the first five years, the tour helped place over 2,000 pets in to new forever homes.
This year's Official Spokesperson is actress, best-selling author and animal lover Danica McKellar. Danica, best known for her role as "Winnie Cooper" on The Wonder Years, was recently seen competing on Dancing With The Stars. Danica will make a special appearance at the Los Angeles Shelter on Saturday, September 13. Join her at 14409 Van Owen Street, Van Nuys, California from 10am to 4pm.
Also in attendance on September 13 will be Brandon McMillan, Host of the popular CBS show Lucky Dog. Brandon and his crew will be filming a segment that day at the shelter for an upcoming episode.
And last, but not least, Lassie will make an appearance at the shelter on September 14 from 12:30 to 2:00pm.
Here is a list of where they will be this year. Check back often to see if they've added more shelter stops.
9/12/14 - Riverside, CA (Special $20 adoption rate)
Riverside Animal Shelter
6851 Van Buren Blvd.
Riverside, CA
Hours: 11am - 3pm
9/13/14 - Van Nuys, CA
LA Animal Services
14409 Van Owen Street
Van Nuys, CA
Hours: 10am - 4pm
9/14/14 – Mission Hills, CA
Best Friends Pet Adoption & Spay/Neuter Center
15321 Brand Blvd.
Mission Hills, CA
Hours: Noon - 4pm
9/16/14 - Phoenix, AZ
Halo Animal Rescue
2500 S. 27th Ave.
Phoenix, AZ
Hours: 11am - 3pm
9/20/14 - Albuquerque, NM
Watermelon Ranch Shelter Event
PetSmart
10428 Coors Bypass Rd.
Albuquerque, NM
Hours: 10am - 3pm
9/21/14 - Santa Fe, NM
Santa Fe Animal ShelterEvent
PetSmart
3561 Zafarano Drive
Santa Fe, NM
Hours: Noon - 4pm
9/24/14 - Amarillo, TX
Amarillo SPCA Texas Panhandler Pet Service Event
Cowboy Gelato Restaurant
2806 SW 6th Ave.
Amarillo, TX
Hours: 3pm - 7pm
9/27/14 - OKC, Oklahoma
Best Friends of Pets
Petco
324 S. Bryant Ave.
Edmond, OK
Hours:Noon - 4pm
9/28/14 - Tulsa, OK (Special adoption rate $66)
ARF Animal Rescue Foundation
Woodland Hills Mall
7021 S. Memorial Drive Ste. 225-B
Tulsa, OK
Hours: Noon - 4pm
9/30/14 - Joplin, MO
Joplin Humane
140 E. Emperor Lane
Joplin, MO
Hours: 1pm - 4pm
10/2/14 - Springfield, MO
Humane Society of SW Missouri
3161 West Norton Rd.
Springfield, MO
Hours: Noon - 4pm
10/4/14 - Springfield, MO
Humane Society of Missouri
1201 Macklind Ave.
Springfield, MO
Hours: Noon - 4pm
10/5/14 - St. Louis, MO
Animal Protective Association of Missouri
24th Annual Canine Carnival!
Tilles Park in Ladue
9551 Litzsinger Road
St. Louis, MO
Hours: 11am - 3pm
10/11/14 - Chicago, IL
PAWS Chicago
1997 N. Clybourn Ave.
Chicago, IL
Hours: 11am - 4pm
10/12/14 - Springfield, IL
Animal Protection League
PetSmart
3183 S. Veterans Pkwy.
Springfield, IL 62702
Hours: 1pm - 5pm
10/18/14 - Kansas City, MO
Wayside Waifs
3901 Martha Truman Rd.
Kansas City, MO
Hours: 2pm - 6pm
10/19/14 - Kansas City, KS
Great Plains SPCA
5428 Antioch Drive
Merriam, KS
Hours: Noon - 4pm
Also look for them on the road in their 2015 FORD expedition. They will be traveling down the Mother Road with their two rescue hounds, Junior and Jake, helping to save lives, one shelter at a time!
To learn more about this life saving tour and the cities where they will be holding events, visit their website www.fidofriendly.com or www.getyourlicksonroute66.com.
See more at: http://www.petpr.com/news/fido-friendly-magazine
http://www.fidofriendly.com/blog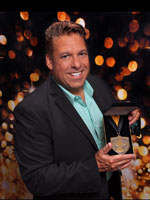 The Dogfather's Grooming Tip with Joey Villani
How Safe Is Flea Powder?
Flea Powder is still one of the methods available to rid your pet from the critters. But it can be horribly toxic. Joey Villani explains the different methods to lose fleas without harming your furry-friend.
Recently, Joey was contacted by a woman who applied flea powder to her cat. It turns out her cat had a serious reaction and she wanted to know how safe it is and if Joey recommends using it on our pets.
Joey does recommend flea powder, but only as a carpet flea preventive. In other words, he doesn't put it on his pets, but says you can sprinkle it down in your carpet and furniture, let it set there and then vacuum it up. Joey is not a big fan of putting it directly on your pets.
According to Joey, these products are usually tested to be safe around people, but not tested on animals. Some of these products can still be highly toxic to pets and sometimes even toxic to people.
Joey relates an experience he had in a rooming saloon where flea powder was used back in the 80's. Someone in the shop had a serious reaction and had to hospitalized in serious condition for a few days. Another experience was when he was at a show and a woman handed him her dog so she could take a picture of the two of them. As soon as Joey picked up the dog, he could smell the flea powder and started choking. He could only then imagine what it as doing to the poor dog.
Joey's recommendation is that, "If it bothers you, it's going to bother your pet." If you put some on your skin, smell it and feel it, and you have some sort of reaction from it, then stay away from putting it on your pet. Try using flea shampoos or even those topical applications that you apply directly to your pet's neck, as some of these have been proven to be on the safer side. Also, don't buy these topicals at the store; it is best to buy them directly from your veterinarian, where you can discuss what is right for your pet.



Animal Radio® News with Tammy Trujillo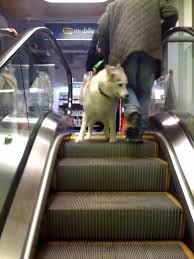 Pets & Escalators Don't Mix
This might seem like a total no-brainer, but the San Francisco SPCA is urging dog guardians to keep their pets off escalators. The warning is prompted by some real events. The SPCA says in the past year, it's seen an increase in the number of escalator-related injuries a month. The group says sometimes the injuries are minor, but in more than half the cases, surgery is required and comes with a bill of, on average, of $4,000.
Bring Your Pooch to Dinner
Your best friend can now go with you to certain bars and restaurants, if you live in California. Governor Brown has signed Assembly Bill 1965 into law. It allows dogs to join their guardians at outdoor sections of food establishments, as long as the dogs are under control and not barred by a city ordinance or the restaurant owner. Technically, the laws on the books bars pooches on patios and comes from public health protections trying to keep animals out of places where food is prepared. But the bill's author, Assemblywoman Mariko Yamada of Davis says some counties were ignoring it while others were cracking down on pet guardians. The new law lifts the ban, but gives the final say to the business and still allows cities to pass local regulations to keep outdoor patios dog free.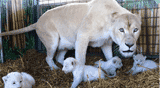 Four Rare White Lions
A circus in Germany is celebrating the birth of four rare white lion cubs. A spokeswoman for Circus Krone says the three males and their sister were born in the eastern city of Magdeburg and are doing well. Their father is King Tonga and he now has 16 children from two mothers. The circus is considering names, with 'Otto' among the most popular. White Lions were extinct in the wild for 12 years, but were reintroduced in South Africa in 2004 and here in the U-S, two endangered snow leopard cubs just made their debut at the Wildlife Conservation Society's Bronx Zoo. Snow Leopards are among the most endangered big cats in the world, with less than 7,500 left in the wild.
Sea World Can't Put Trainers In With Whales
Sea World has decided not to fight a court decision that keeps them from putting trainers into the water with killer whales. The Occupational Safety and Health Administration issued the citations in 2010 after trainer Dawn Brancheau died during a killer whale show at Sea World in Orlando. Sea World challenged the initial rulings but they were held up in April and now Sea World says it won't be taking the case to the Supreme Court. Brancheau's death was the focus of last year's documentary "Blackfish" which questioned whether orcas should be kept in captivity and led to a lot of criticism of parks like Sea World. Sea World has labeled the documentary as propaganda.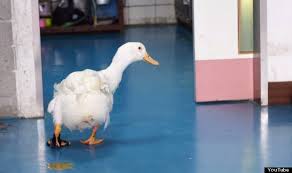 More High Tech Help For Animals
A duck in Taiwan named Quack Quack is back on two feet thanks to a custom-made 3D brace. Quack Quack had been severely injured when attacked by a dog a few months ago. Veterinarians at the National Taiwan University Animal Hospital worked with a design and technology group to create a 3D model of the duck's foot and then used it to print out the brace and a shoe for him. Once he got it on, he was walking with it in just 15 minutes. The work took about two months and cost over $3,000, but animal welfare groups say now that it's been done once, the price should start coming down so more animals can benefit from the technology.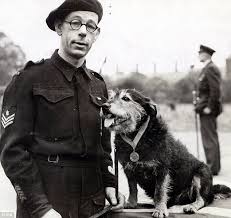 Hall of Heroes
The British family history website, Find My Past, wants people to share stories of their own family heroes to help create the "Hall of Heroes." It launched recently and among one of the first stories is that of Rip, a World War II rescue dog credited with saving more than 100 lives. Rip searched for people buried in the rubble after bombing raids during the Bliltz. He was awarded the Dickin Medal for bravery in 1945. The site is donating 10-pounds to the British Red Cross for every real-life story that is published.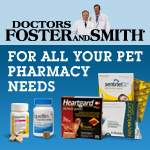 NEWS UPDATE brought to you by Drs. Foster & Smith, affordable pet supplies. Low prices every day, so you save on every order.

Listen to the entire Podcast of this show (#770)