Dances With Raccoons
Mark "Coonrippy" Brown
Mark "Coonrippy" Brown's YouTube videos have gone viral. He became famous for a video that showed him and his pet raccoon Gunshow dancing to Aretha Franklin. But the increased scrutiny on his lifestyle caused the Tennessee Wildlife Resources Agency (TWRA) to step in and confiscate his newest pet 'coon, Rebekah. (Gunshow has since moved on to raccoon heaven.)
Brown, who is a former animal control officer, has marshaled the forces of social media to his aid, calling on Facebook and YouTube fans to appeal to Tennessee Gov. Bill Haslam to return Rebekah. One stranger in California even started a Change.org petition that has more than 5,000 signatures.
Brown has posted dozens of YouTube videos featuring wild raccoons he treats as pets and has applied for a permit to keep Rebekah. In one edition, Gunshow the raccoon sips Pepsi from the bottle. In another, which was featured by national media outlets and "The Tonight Show," Brown uses Hannah Montana body spray to keep Gunshow from nibbling at his side. Brown posted a memorial video when Gunshow died in January. Together, the collection of videos has racked up millions of views.
But earlier this summer, TWRA officers seized the young Rebekah after a tipster pointed them toward a July video of Brown shampooing his long white beard with the soggy raccoon perched on his shoulder. An official said Brown was breaking state law by keeping Rebekah as a pet. Because he voluntarily turned her over, he wasn't cited.
Brown, who at one time was a Licensed Nuisance Wildlife Remover by the TWRA, had Gunshow for 4 years. He originally captured Gunshow's mother in an attic of a house and relocated her not knowing that there was a baby inside the walls. Brown found Gunshow when he was about 2-3 weeks old. He called the TWRA to come and get him. Unfortunately 3 days and 3 phone calls later, no one from TWRA ever responded. Those 3 days turned into a week, the week turned into a year and the year turned into 4 years. As a result, Brown ended up raising Gunshow.
With Rebekah, Brown felt it wouldn't do any good to call the TWRA, as they never responded when he contacted them for Gunshow.
While our own Dr. Debbie sympathizes with the problem, she doesn't advocate wild animals as pets. She states that as far as raccoons go, you can tame them, but they never become domesticated. But even worse, raccoons are the number one carrier of rabies in the United States and there is currently no valid rabies vaccine for raccoons. They also carry a type of roundworm called baylisascaris, which has the unpleasant side affect of migrating in other animals and people, which can cause neurological problems and death.
While Brown is an exception and knows what he is doing, it is still discouraged for anyone else to feel they can take on one of these animals.
Brown lives in a large wooded area with 13 acres of it being his private property and has no neighbors. He is known for his good deeds. He feels the focus of wildlife officials should be on those committing real crimes against wildlife.
Write Governor Bill Haslam at bill.haslam@tn.gov and let him know how you feel.
Sign the petition: http://www.thepetitionsite.com



Cross-Country Trip With 25 Dogs
David Rosenfelt, Dogtripping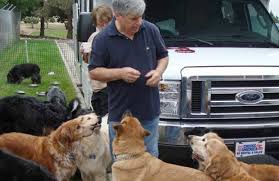 When mystery writer David Rosenfelt and his family moved from Southern California to Maine, he thought he had prepared for everything.
They had mapped the route, brought three GPSs for backup, as well as refrigerators full of food, and stoves and microwaves on which to cook them.
But traveling with twenty-five dogs turned out to be a bigger ordeal than he anticipated, despite the 3 RVs, the extra kibble, volunteers (including a few readers), and camping equipment.
David and his wife originally had a rescue foundation in California, through which they saved about 4,000 dogs. If they rescued a dog that was too old, blind or even epileptic and nobody else wanted them, the dogs came home as their pet. This means that they always had between 20 and 40 dogs at one time.
At the time David's wife retired and they were ready to move to their house in Maine, they had 25 large dogs and had to figure out how to get there with everyone.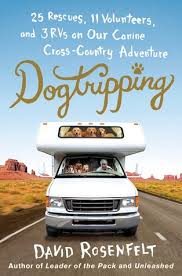 They explored many modes of transportation, but flying unfortunately wasn't a practical way to go for their old, arthritic dogs. It seemed the only way to go was by vehicle and RV's seemed the most practical, which would take about a week.
But this lead to other problems. How are they going to stop and walk the dogs and let them out for potty breaks? It wasn't easy, but they ended up getting 250 feet of plastic fencing, which they had to unroll each time and set up their own dog parks.
They also had 9 volunteers with them, which were mainly readers of David's mystery books and people they didn't even know. David didn't originally invite these people along. Since David didn't know how to move his dogs across the country, he sent out emails and put posts on FaceBook asking people how to make the move. In the process, people stated that they wanted to be part of it. David even mentioned to one volunteer they he wouldn't know if they were a serial killer, but the thought of traveling with a serial killer as opposed to doing it by himself, was fine by him!
While David says he was completely miserable the entire trip, the volunteers thought it was the greatest adventure of their lives!
David said that there has been some interest in making a movie about his great adventure, but for now, there's the book, Dogtripping!



Quality Aquatic Life Directly To Your Door
Gordon Magee, Drs. Foster and Smith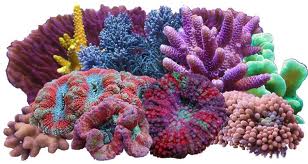 LiveAquaria is the probably the premier site on the Internet for buying saltwater fish and coral online. They actually grow coral in the frozen tundra of northern Wisconsin. They have what is likely the largest aquaculture facility in the country for raising saltwater coral that is sold direct to consumers.
You need to remember when trying to grow coral is that it is not a plant but actually an animal. This means that they have to be fed accordingly. But what does coral eat? Sometimes they eat each other, so you have to be carful what types of coral you put next to each other, because they will fight for space. They normally eat algae, but Drs. Foster and Smith has made it easy, by providing "Coral Smoothies," the first of its kind for natural and convenient marine aquarium feeding designed to provide the variety of food items found on tropical coral reefs.
They hope that one day all coral in reef tanks in homes/businesses will be aquacultured rather than coming from the oceans. That will help protect reefs. They are a long way from accomplishing that goal, but they are on the way.
Besides coral, saltwater and freshwater fish, live rocks and plants, you will find hundreds of articles to help you with your aquarium at LiveAquaria.
You can be sure that all of their items are safely shipped all over the United States overnight in oxygenated bags and come with a 14-day live arrive guarantee.



The Dogfather's Grooming Tip with Joey Villani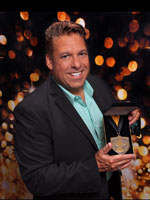 Fleas & Ticks Thrive At This Time Of Year
While ticks love the colder weather, fleas start looking for a nice, warm host at this time of year.
During the warmer months, fleas go from one animal to another, without staying in one spot. But as the weather gets colder, they are looking for a warm host to stay on. At this time of year, most groomers see more fleas and ticks than at any other time of year. So you need to take care of the problem immediately.
Start by taking your pet to the groomers' for a flea bath. Flea baths don't contain harsh chemicals, are safe for your pet and clean well. This will get rid of anything that is living on your pet.
Next, purchase a topical product like Advantix. It is best to talk to your groomer or vet to see what they use on their own pets and what they recommend for your area. However, don't apply this immediately after your pet has been groomed. This may cause a reaction after being bathed. It is best to wait about 2 days before applying a topical product.
If you don't like using topical products, you can try flea powder or even diatomaceous earth. Diatomaceous earth is a non-toxic; safe substance made up from fossils of freshwater organisms and crushed to a fine powder. Some people even eat diatomaceous earth and it is actually good for you! The diatomaceous earth will dry the fleas out and puncture their shells. While it is not the most affective, it still works well. Just sprinkle it on your pet and brush them out. It may leave a little residue on their coat, but it won't harm them. You can apply this weekly.
You can also find herbal flea remedies as well. While these won't kill fleas and ticks, they will repel them. You can spray them with these products up to twice a day, or just before they go outside.
It may take time, but with patience and persistence you can stay on top of the flea and tick problem.




Animal Radio® News with Stacey Cohen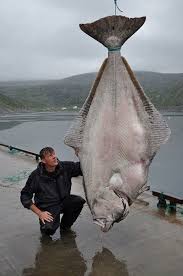 No Ordinary Fish Tale
A German angler is credited with catching a massive 513-pound halibut off the coast of Norway. The monster fish could claim the record for the largest halibut ever reeled in with a fishing rod. The angler tells the MailOnline the nine-foot sea dweller put up a 90-minute fight.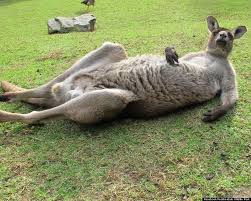 Kangaroo Censorship PG
A recent act of Kangaroo censorship has left some people hopping mad. The Mirror says Tourism Australia posted a photo of a Kangaroo named Big Baz on their FaceBook page. But since Big Baz was sprawled out on his back in the pic, they chose to keep it PG by pixelating the animal's private parts. The folks at Tourism Australia explained that they were only having a bit of fun, but not everyone thought it was very funny. More than 1,600 people commented on the photo, with many calling the censorship stupid, crazy and everything in between. One user even accused Tourism Australia of trying to turn Big Baz into a centerfold model. The agency has since replaced the photo with another that's slightly more modest, joking that Big Baz has since "taken to being a little camera shy."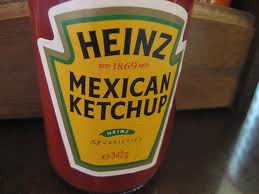 Mexican Made Rat-Ketchup
When the Heinz Tomato Ketchup slogan was "Good things come to those who wait," they probably didn't mean a tangled mess of rat fur. Health officials in Brazil have banned a Mexican-made batch of everyone's favorite condiment after they detected "traces of rodent fur" in the bottles, which were imported into the country last year. The tainted bottles have reportedly already been pulled from store shelves, and the Brazilian government has banned any "sales, distribution and marketing" of units from that batch. Mexico's own authorities have stepped in, launching an inspection of the factory where the ketchup was made.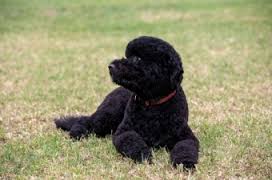 First Family Has New Pet
President Obama and the First Family have a new pet. They recently welcomed "Sunny," another Portuguese Water Dog. Sunny was photographed on the South Lawn of the White House, showing off her thick, dark coat. The Obamas picked that name because they say it fits her cheerful personality. Sunny was born in Michigan in June of last year. Sunny grabbed the attention of all the "newshounds" on duty at the White House.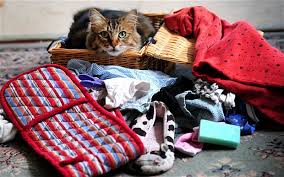 Cat Burglar Is A Cat!
The owners of an actual cat burglar are trying to bring an end to their feline companion's "life of petty crime." Richard Windsor and his wife Sophie tell The Mirror their two-year-old tabby Norris has been building quite the collection of stolen goods from their neighbors' homes. Norris supposedly started small by nabbing the occasional dishcloth, but now he's begun swiping bras, pants and t-shirts. Richard says they thought it was funny at first, but they soon realized they had to find a way return the goodies Norris brings home. They started writing letters to their neighbors explaining the situation and Richard says all of them have been good-natured. He adds that he and his wife have started ignoring Norris when he shows off his goods in hopes that he'll stop his thievery.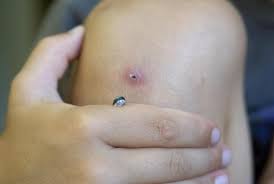 Sea Snail Hatches In Boy's Knee
A four-year-old boy from California is unfazed after a snail emerged from a cut on his knee. According to ABC News, this snail of a tale began when Paul Franklin tripped and fell during a camping trip near the beach last month. Paul's fall left him with what his parents believed was nothing more than a scraped knee. However, when the wound was still swollen three weeks later they began to worry. Paul's mother, Rachael, noticed what Ken Franklin calls a "big puss ball" on Paul's knee that had a black hue. Rachael decided to pop the pustule and Ken says, "A snail popped out." Rachael says at first she thought it was a rock, but on closer inspection she noticed it was snail shell. The family believes that when Paul cut his leg a sea snail egg managed to get into the wound. Paul ended up naming the snail Turbo, after the latest DreamWorks animated film, which is based on a story about a snail. The snail survived for one day, but then unfortunately died.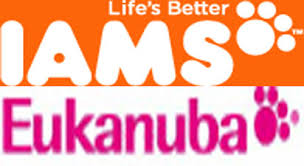 Problems With Iams And Eukanuba
After the announcement by the United States Food and Drug Administration (FDA), one of the leading producers of pet food, Procter & Gamble, voluntarily recalled various types of pet foods, which the company believes could have been contaminated with Salmonella. The pet food products being recalled are limited to products made during a ten-day period at a single Procter and Gamble location. After routine tests on these products it was found that some of the IAMS and Eukanuba pet food products could be vulnerable to contamination. Consumers are urged to visit iams.com or eukanuba.com to see a list of recalled products, and if they are using any of the products listed, are encouraged to discard them immediately and contact Procter & Gamble via the websites or just dial the toll-free number 800-208-0172.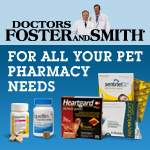 NEWS UPDATE brought to you by Drs. Foster & Smith, affordable pet supplies. Low prices every day, so you save on every order.

Listen to the entire Podcast of this show (#718)