Neurotic Dogs, Compulsive Cats and Anxious Birds
Dr. Nicholas Dodman, Pets on the Couch
Dr. Nicholas Dodman is back. He is the world's foremost expert on animal psychiatry. He'll tell us about a horse with Tourette's and dogs with Attention Deficit Disorder.
The point of Dr. Dodman's book, Pets on the Couch, is to show that animals have some of the same types of problems that we do, which can also be treated with the same medications.
For over 35 years, Dr. Dodman has been an animal behaviorist at Tufts University. He started out not knowing the similarity between pets' behavioral issues and human psychiatric and psychological problems. He then found himself studying a condition in animals, which was later renamed Obsessive Compulsive Disorder (OCD). This can include obsessive licking, which was originally diagnosed by Dr. Judith Rappaport. She was the first to notice that dogs that licked their paws repeatedly are parallel to the human who washes their hands repeatedly. There are also dogs that chase their tails constantly. Dogs with this action tend to be male. While they were looking at that, they also stumbled across a canine version of autism, which is just like autism in children. They then discovered that the human drugs for this disorder would also work for animals.
They also found animals with Post-Traumatic Stress Disorder (PTSD), which was a mirror image of the human disorder. In fact, Dr. Dodman had been widely attacked for asserting this about veteran war dogs in the past.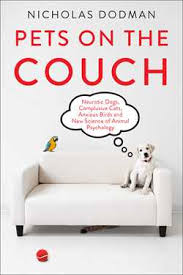 Surprisingly, they also found Tourette's Syndrome in a horse. If you know anything about Tourette's in people, it usually starts at around the age of seven-year-old. It also starts at the equivalent age for a horse, which is about 18 months. Some horses will start to make a strange noise, but not all of them, just like not all humans with Tourette's will utter strange noises and profanities. Horses also have a head/neck motor tick just like humans and they also strike out with one limb, which human Tourette's sufferers do as well. Just like Tourette's occurs mostly in human males, it also occurs mostly in male horses. Again, human treatments also work for these horses.
Can animals also have Attention Deficit Disorder (ADD)? Dr. Dodman states, yes. He says that some colleagues claim they have never seen it, while others state that they have seen a few cases. Dr. Dodman says he has seen it himself. For instance, one client stated that their dog was hyperactive. Dr. Dodman explains the difference between being over-active and hyperactive. If a dog is just over-active, he is full of energy and always wants to go for a walk. These dogs just need the right amount of exercise and a proper diet. But if they have ADD, it's impossible, even with exercise, to get it under control. Again, the common drug Ritalin, which is used for children, also works for dogs.
So if animals are so much like us, can they be depressed and commit suicide? Dr. Dodman states that they can be depressed, but usually it's in a state of bereavement. Perhaps another animal in the family passed away or worse, their guardian. This can change a normally happy, joyful and springy dog into one that just mopes around the house and is no longer interested in toys or going for walks. They may start eating and sleeping more. Basically they have the same signs depressed humans would show. Dr. Dodman explains that this is a "state of depression" and what animals don't get is a "trait of depression." So in terms of suicide, they wouldn't know how to do it nor do they even have that thought. They might think that life is pointless, but there is no way they can think their way out.
Dr. Dodman hopes his book will let other veterinarians realize that animals have thought processes that are similar to our own and therefore suffer from the same things we do and can benefit from the same treatments.




"Step-Up to Stand-Up" Comedy for a Cause
Christine O'Leary, Team Green Light Comedy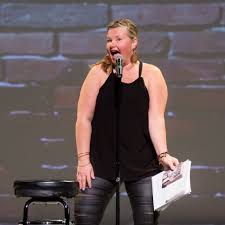 Comedian Christine O'Leary not only teaches comedians how to be funny, she uses her powers for the greater good. Her shows raise money to rescue dogs from Aruba. She'll tell us why comedy is like watching Mutual of Omaha's Wild Kingdom.
Comedian Christine O'Leary and her Team of Comedy Comrades did a comedy event to raise money to support 'New Life for Paws' Animal Rescue. For every ticket sold, a donation was made to 'New Life for Paws' to help rescue neglected animals from Aruba and place them here with forever families. Through education and the continuation of spay and neuter programs, the program hopes to reduce the number of litters so the pain and suffering of these animals will end.
Aruba, as a country, is not doing a good job at all with its stray dogs. Instead of capturing them and spaying or neutering them, they are actually euthanizing them, explains Christine.
Christine first became aware of the problem when friends of hers went to Aruba for vacation and discovered this firsthand. One was actually a pilot, so they started working to rescue these street dogs and find them homes in the United States. This endeared them to Christine, because they made their vacation into good by way of these dogs. So far they have placed over 1,000 dogs.
Now, Christine is helping to fund these animals into foster or permanent homes here. Christina explains that it is great to take stand-up comedy and make it do good. The money she raises from her shows will help pay vet bills, spay, and neuter dogs and buy dog food. Learn more and donate to the 'New Life for Paws' Foundation.
Christine also teaches stand up comedy and has a team of handpicked comedy comrades from her stand-up comedy troop called the Team Green Light Comedy. She states it's easy to get them onboard for this cause, because comics always want stage time.
When asked if Christine ever has a student that just isn't funny, she explains that comedy is a way to tell the truth and also a way to solve a problem and everybody really has both. So if people follow the group process that takes about 8 weeks at a cost of $300 (she states that some people claim, "It's cheaper than therapy!") they shouldn't have any problems. Her class consists of people from all walks of life including doctors, lawyers, newly married or divorced people and people going through chemo. Christine claims that comedy can up the quality of your life, because you will own your first five minutes in a way you've never owned your life before.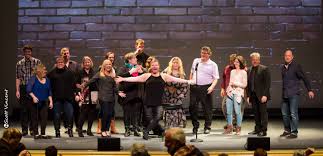 She states that most people don't think about a traditional stand-up comedy room or club. Did you ever notice that the backdrop is a brick wall, that the stage is tiny and the seating is ice cold, dark and packed tight with people? That brick wall, by design, is for a reason. This is because doing stand-up comedy is to simulate an assignation! Because only one of two things is going to happen - the comic's going to kill, or the comic's going to die!
Do you remember that show years ago, Mutual of Omaha's Wild Kingdom? Picture a gazelle running from a jaguar. Now picture the gazelle as the comedian on the stage. Everyone in the audience wants the gazelle/comedian to make it while they watch. But if that gazelle/comedian falls and trips, the audience is like where's the jaguar? Take her down - also while they watch!
At home, Christine has a dog name Tilly, who is a King Charles Spaniel. About a year ago, Tilly had a stroke but has since recovered. Christine admits that she and her partner (the Crazy Dog Ladies) treat her special.




Pet Adoption Tour
Susan Sims, 13th Annual Fido Friendly Get Your Licks On Route 66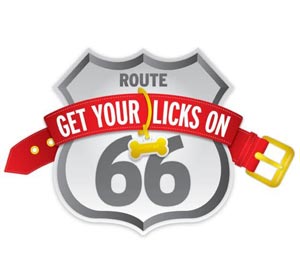 It's time again for the 13th Annual "Get Your Licks on Route 66 Adoption Tour." Fido Friendly publisher Susan Sims just started the nationwide journey in Sedona, Arizona and will continue across Route 66 through October stopping at shelters along the way to support adoption events through October. The annual tour has successfully worked with local animal shelters across the country to find forever homes for over 14,000 pets in the last 12 years.
"We are so excited about this year's tour," Founder Susan Sims, Publisher of FIDO Friendly Magazine, said. "After all that we have been through during COVID-19, this tour is going to be special. We can't wait to help participating animal shelters find forever homes for their homeless pets and through our prize wheel, raise money for the individual shelters."
Stop by their events to spin their giant spinning wheel filled with prizes provided by their sponsors, where a donation gives you a chance to win fabulous prizes and all proceeds go to the shelter at the end of the day.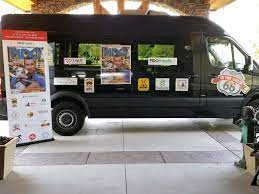 Thanks to their sponsors who have signed up thus far to help us save lives, one shelter at a time! Please visit their websites to see the great products they have to offer: Zymox, Catit, MyPlaceHotels, Sure Petcare, HomeAgain, Embrace Pet Insurance,Tito's Vodka, Brutus Bone Broth, Dog TV, Buddy Belts, HandsOn Gloves and KOA Campgrounds.
Thanks also to the Spinning Wheel Sponsors: Shed Defender, 5Strands Affordable Testing, Bark Potty, CBD Living, John Paul Pet, Licks Pill Free, Suitical, Suzies CBD Treats, Charlee Bear, Pet's Best Life, Petcurean and Bike Tow Leash.
Their tour schedule is as follows:
Sept. 11: Watermelon Ranch Rescue, Albuquerque, New Mexico, Event held 11-3, PetSmart, 10428 Coors Bypass Rd., Albuquerque, NM
Sept. 12: Santa Fe Humane Society, Santa Fe, New Mexico, Event held noon-4, PetSmart, 3561 Zafarano Drive, Santa Fe, New Mexico
Sept. 15: Amarillo ASPCA, Amarillo, TX, Event 1-5, Pet Supplies Plus, 5807 SW 45th Ave., Ste., 220, Amarillo, TX
Sept. 18: Moore Animal Shelter, Moore, OK, Event Held 9-noon. Moore Animal Shelter, 3900 S. I-35 Service Rd., Moore, OK
Sept. 19: Animal Rescue Foundation, Tulsa, OK, Event held noon-4, Woodland Hills Mall, 7021 S. Memorial Drive, Tulsa, OK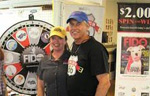 Sept. 25: Kansas City Pet Project, Kansas City, MO, Event held noon-4, Kansas City Pet Project, 7077 Elmwood Ave., Kansas City, MO
Sept. 30: Springfield, Illinois, Animal Protection League, Event held 11-3, PetSmart, 3183 S. Veterans Pkwy., Springfield, IL
Oct. 2: Chicago Animal Care and Control, Event held noon-4, Chicago Animal Care and Control, 2741 S Western Ave, Chicago, IL
LAST EVENT! Thanks to all of our sponsors who made this trip possible.
Oct. 9: Nebraska Humane Society, Omaha, Nebraska, Event held 11-3, Nebraska Humane Society, 8929 Fort St., Omaha, NE
Please check back often for updates and even in you are not planning on adopting an animal, come out for the fun and spin the wheel for prizes!




How To Build The Perfect Litter Box - Dr. Debbie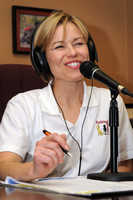 One sniff upon entering your home and you recognize the unmistakable odor of cat urine and feces. Simba has used your entry hall as his litter box again. But before you lose your temper - stop. By scrutinizing the environment through your cat's eyes, you will likely discover the cause of his toileting mishaps.
Elimination issues are a main reason for veterinary visits and a primary reason for relinquishment of cats at shelters. House soiling problems can be multi-factorial, with an overlap of behavioral, environmental and medical causes. Feline house soiling can be managed however with sleuth work and patience. The challenge is to think like a cat.
First and foremost, say this and repeat it..."My cat does not eliminate out of the litter box to get even with me." Cats do use urine and fecal scent marks to communicate territory, but this isn't done with spite or in effort to "get even" with you. Inappropriate elimination is a cat's way stating that something isn't right in their world. Understanding this is key before tackling feline house soiling. Focus on what's wrong in Simba's toilet area, not on how the house soiling makes you feel.
Start With a Vet Check
Cat owners often struggle with house soiling mishaps for months or years before enlisting help from their veterinarian. But seeing the veterinarian should be the first step, since health disorders may be at the root of some house soiling issues. Your efforts in restoring litter box usage will be doomed if an underlying medical cause is not addressed at the same time.
Size Does Matter
Make sure your cat's litter box is of adequate size to allow maneuvering. Litter box size should be 1 ½ times the length of cat's body length. Height of the edge also matters. For older kitties, try lower profile litter boxes or plastic under bed storage boxes. An arthritic older cat won't complain or cry in pain with arthritis, she'll just chose to eliminate elsewhere.
Consider the View
Cats don't want to be startled while in the loo. Don't place the litter box in a high traffic area where people and pets are always a-coming and going. Cats prefer a low traffic area where they can have an eye out on things.
Don't place the litter box near appliances which give off noise, vibration and heat, all which disturb your cat while eliminating. Once a negative aversion is created, your cat may not return to use that box in the future.
Ditch the Litter Box Cover
While some nervous kitties prefer the privacy of litter box covers, the majority of cats dislike the tight quarters and limited ventilation litter box covers provide. Consider how you feel in a public porta-potty. Do you like to touch the walls when inside? Sure, people like the way the lid contains odors, but does it really matter how little odor comes from the litter box when your cat is pooping on your oriental rug?
Provide More Than One Box
A common error is assuming that one litter box is all your cat needs. What cat owner loves the litter box, and relishes seeing more of them in the home? But the more the better when it comes to faithful litter box usage, especially with multiple cats. The general rule is to provide one more box than the number of cats. Some cats share litter boxes, others will not. Unless you provide alternate sites you may have elimination issues in multiple cat homes.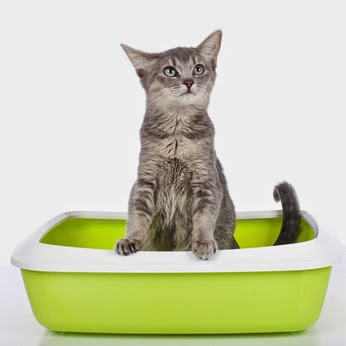 Another special consideration is differences in cat's personalities - timid cats may avoid crossing paths with other more assertive pets in home. Be sure to provide litter box sites that won't be blocked by other animal's movements.
If you live in a multilevel home - you must provide litter box sites on each level. This is especially important in multi-cat homes, those with senior cats or those with health conditions.
The Pick of Litters
Litter texture preferences vary and there are many choices from scoopable, clay, crystals, or natural litters. However in one research study of cat's litter box habits, it demonstrated that the majority of cats prefer fine grained scoopable clay based litters that have carbon as their odor absorbing ingredient. Every cat is different though, so try other litter varieties until you find your cat's preference.
Skip the Scents
The verdict is still out on what odors cats prefer, but avoid heavily scented litters or deodorizers if your cat is missing the box. Interestingly enough, one study showed cats preferred cedar and fish odors, while avoiding citrus and floral scents, while another study concluded cats preferred fish or bleach smells to other scents.
Kitty Litter Depth
Ideal litter depth is 2 inches - more isn't always better. Some cats thrive on scratching the bottom of the pan, which is obscured by excessive amounts of litter.
Keep It Clean
Cats are fastidious by nature and will avoid using a soiled or smelly box. The overall cleaning frequency depends on the number of cats in the home. General advice is to scoop twice a day and deep clean the litter pan weekly. Change out clumping litter every 2-3 weeks.
Build It and Kitty Will Use It
By building your cat's dream litter box, your cat will find litter box nirvana. And you'll come to enjoy a better relationship with your kitty family members without those unwanted "presents" in the foyer.
Featured veterinarian known as "Dr. Debbie" on national pet radio program, Animal Radio. Ebook author of "Yorkshire Terriers: How to Be Your Dog's Best Friend"; "Pugs: How to Be Your Dog's Best Friend"; "Mini Schnauzers: How to Be Your Dog's Best Friend"; and "Shih Tzu: How to Be Your Dog's Best Friend." Dr. Debbie's books.




5 Must Do Things For Dog Owners To Achieve Harmony in the Home
Robert Semrow, Animal Radio Listomania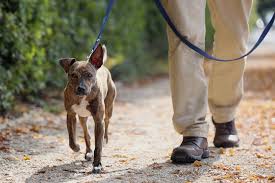 There are certain things that every dog owner should do to achieve harmony in the home. While there are some obvious things like patience and knowledge, how those are used and applied are quite different. Additionally, patience and love only get you so far.

To begin with, you must have a regular schedule. In other words, what are you going to do with your dog on a regular daily basis? It doesn't have to be complex or wild, but it should be consistent. Having a plan is the key to harmony, regularity and of course a peaceful environment for all.

This brings us to what activities will be a part of the regular pattern. Much like your two legged children, your four legged children also need a regular schedule and pattern. Will there be daily walks, swims, or just a good amount of time devoted to belly rubs on the couch watching TV? Again, consistency is the important common factor in that. Additionally, it has a huge impact on their physical, as well as their mental health. So a daily walk is almost a must for many breeds. Some breeds excel at outdoor activities like Frisbee catching, agility courses, dock diving, skateboarding or even surfing. There are more options available for your dog than ever before. They will love it and you will as well. I've found that those who are involved to be a great community of friends as well.

Additionally, you can't exercise your way out of a bad nutritional diet. So, depending on your two previous answers you will now need to figure out your nutritional approach. There are so many important things to understand about nutrition that you need to commit some time and effort to understanding your pooch, their needs and how nutrition impacts them. Again, nutrition is the foundation of everything that we are able to get out of our pets.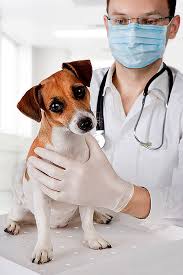 One of the more common things I hear about these days is a pet allergy. Does your pet have any food allergies? Would you even know if they did have them? Did you know there are tests that can help determine food allergies? Again, work with a qualified vet or pet nutritionist to find out what is best for your dog. It will save you time, money and your pet can avoid a lot of messy upset stomachs.

Health Planning is important as well. Remember, just because your pet isn't showing symptoms of being sick doesn't mean you should skip visiting the vet. It's important to work with a veterinarian that you trust to make sure that your dog maintains their health.

Finally, every dog owner must have a team. That's right, you need to have your own dog team. That team should include a veterinarian, a groomer, a caregiver when you are not available and more. Each of these folks can help keep you and your dog on track for a happy and healthy lifestyle for many years to come.

In the end, your pet will find peace and harmony when you find peace and harmony. Set your list and goals for what is critical for you and your pet and work to achieve and maintain them.
Share your Dog Parent Home Harmony solutions on our Animal Radio Facebook Page.




Animal Radio News - Lori Brooks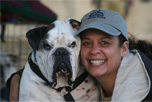 What Country Has The Most Pets?
If I were to ask you, "Which residents of which country have the most pets?" What would you say? The United States? No, I'm sorry that is not correct, but we are in the top five, number five to be exact. According to an online survey of more than 27,000 people across 22 countries, pet ownership is highest in Latin America, with 80-percent of people in both Argentina and Mexico having a pet. Brazil is third on the list with 75-percent of its residents having a pet. Next is Russia and then the USA is fifth with 70-percent of residents being pet owners. And most of those pets in every country in the top five, except Russia, are dogs. In Russia, cats are way more popular than dogs with 57-percent of Russians having a pet cat, compared to only 27-percent who have a dog. France and the United States are just behind Russia in the percentage of cat owners. Asian countries have the smallest number of people who own pets and the country with the least amount is South Korea. Now, when it comes to the sexes, the survey found that women are slightly more likely to have a pet dog or cat living with them; however, men are more likely than women to have pet fish! Any guesses on which country takes the title of having the most pet fish? Keeping fish as pets is most popular in China, while bird owners are most common in Turkey.
Best Performing Stocks are Pet Related
Americans' attachment to their pets has fostered a $99 billion industry that is producing best-in-show stock performance. Shares of several companies that sell pet food, develop diagnostic medical tests for animals and offer veterinary care, have far outrun the many other types of stocks, with an average total return of nearly 35-percent versus around 8.3-percent for the S & P 500. Shares of animal health testing company Idexx Laboratories for example, have skyrocketed more than 50-percent. Vet clinic operator VCA is up 31-percent, pet food maker Blue Buffalo Pet Products is up 40-percent and FreshPet stocks are up 25-percent. Business experts say this is all due to the humanization of pets and consumers' willingness to spend on their pets very heavily, because pets are increasingly considered part of the family.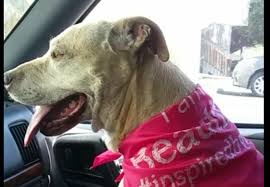 Dog is Treated to Fun-Packed Final Day
A pet owner took 26 photos to capture the moments a pet owner treated her dying dog to a fun-packed last day before taking the dog to the veterinarian and saying a final goodbye. An Imgur user shared the pictures of a dog named Hannah enjoying some of her favorite things alongside her owner. The first photo shows the dog sitting in the front seat of a car holding her head down low and the caption reads, "I don't know if she knows or not." The next picture shows Hannah's sad, puppy dog eyes looking at the camera, with the caption, "She trusts me to make a choice. No matter how hard it might be." And it only becomes more tear jerking from there. Another picture of the dog says "But I know she's tired. The stairs are hard. The hills are mountains. The pills don't work." Then the next photo caption is, "But if I have to make that choice. Then let's make the last day the best one yet." In making the dog's last day the best, the owner first treats her to some pampering and captured a few images of her getting a hot bath for her aching bones. Then she had a heart-shaped 'beauty mark,' a temporary tattoo put onto her shoulder, followed by a cheeseburger at McDonalds. Then come the photos of Hannah's human siblings saying their goodbyes to the dog they've known all their lives. Next there's a few happy photos of Hannah wearing a pink bandana feeling pretty spending a little time on her last day playing with an old friend - another dog - and both dogs are smiling. The second to last photo in the series shows Hannah in the car with her owner, as they ride to the vet clinic. And the last photo is heart shattering. The owner lying on the floor next to Hannah on a blanket tightly hugging tightly hugging her baby as her life slips away.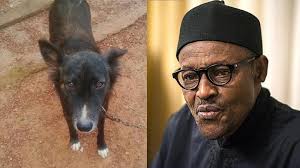 Man Charged for Naming Dog After President
A Nigerian man was charged with provoking people and "breach of peace" because he named his dog after President Muhammadu Buhari. The man, who lives in southern Nigeria bought the dog, named it Buhari, then wrote Buhari on both sides of the dog and paraded it in front of people from northern Nigeria, which is where the Nigerian president is from. The dog owner was arrested by police who say his, "Action was provocative and capable of breaching the peace." Here's why: Nigeria was in the middle of its worst economic crisis in decades and tensions sometimes erupt between northerners, who are Muslims and people from the predominantly Christian southern part of the county. The man from the south painting the name of the president who is from the north was too provocative in times of civil strife.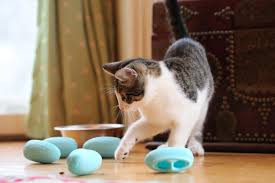 No Bowl Feeding System for Cats
Following a successful Kickstarter campaign, Feline Environmental Enrichment Design Co. launched the very cool NoBowl Feeding System, the world's first indoor hunting system for cats! It's based on the science of feline behavior and environmental enrichment, designed to satisfy a cat's natural hunting instinct, manage weight, alleviate anxiety and prevent digestive issues, according to the manufacturer. During its brief Kickstarter campaign, it became fully funded in just 4 days raising more than $170,000. It consists of five NoBowls, portion filler and a training toy to teach cats how to use it. The actual NoBowl is designed to mimic the body of prey with an oval shape that rolls in a way that cats associate with the hunt and two dispensing holes for any size kibble. That's actually the Naked NoBowl because it comes with different Skins that simulate the tactile feel of prey, allowing cats to grab, claw and use their teeth just as they would in the wild.

Listen to the entire Podcast of this show (#1136)