Black Dog Syndrome
Fred Levy, Black Dogs Project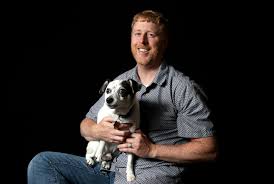 While there is no hard evidence to back Black Dog Syndrome, it is largely felt that black animals take a back seat when it comes to adoption. Pet Photographer Fred Levy believes it's because they are hard to photograph and don't look desirable in online photos. He'll have tips for photographing your black dog or cat.
It was a summer day at the dog park when Fred Levy, a professional pet photographer, overheard a conversation that he couldn't shake off. A woman was talking about "Black Dog Syndrome" - a theory that black dogs are less likely to be adopted than those with lighter coats, perhaps because of superstition or a notion that black dogs are aggressive. Experts debate whether it's a myth or reality, but it struck Fred.
Fred isn't sure why this might be true, and if it is, there are probably a lot of different reasons, one being photography. Most shelters are non-profits with limited resources and lots of volunteers, but most people aren't good at taking pictures under those circumstances. When someone takes a picture of a black dog in a cage under fluorescent lights, the dog doesn't look very appealing, if you can even see the dog at all. The dog usually ends up looking like a black blob with eyes.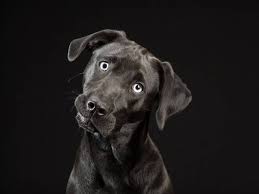 This could be a part of the reason, as most people go online to search for a dog and if they see a bad photo, they will probably pass that dog by.
So just how does Fred take great pictures of black dogs? He shoots them in his studio with lots of lighting and believe it or not, a black backdrop. He said you just focus the light where you want it to be and not where you don't want it to be. For the most part, he wants the backdrop to fade away, so he focuses the light in a very small area where the dog is sitting, which is in front of the backdrop. He uses a seamless backdrop, which is basically a piece of fabric that comes down and goes to the floor, without the crease of the edge of a room.
But if you're working with a shelter and trying to get good pictures of black dogs while there, you need to think about where the light is and how it is hitting the dog. Next, you need to figure out how to get a good backdrop that doesn't conflict with the dog and never shoot through a fence or cage.
Fred is putting on a workshop at a shelter, which is inviting other shelters, to teach them how to take good pictures of the animals. He is going to try and videotape it so that other shelters can view it as well.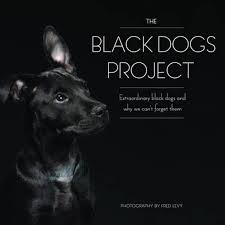 In his book, Black Dogs Project, Levy includes stories about each dog to counter myths about them. Among those he highlights is Denver, a 2-year-old black Labrador that's also a therapy dog. Denver works at an elementary school and spent time in a Boston firehouse after the marathon bombing.
Early on, the black dogs that Levy photographed came from owners he recruited through his Facebook page. Recently he also started working with abandoned dogs referred to him by shelters. After training his camera on them, he shares their photos online in search of a permanent home.
Fred Levy is married with two amazing children that keep him on his toes and a dog named Toby, who is a constant source of inspiration. If you ever want to get him talking, just mention the latest photo gear, a nerdy current event, or of course, your pet.
http://www.fredlevyart.com





Using Pets To Teach Anti-Bullying
Allison Basinger, Wayside Waifs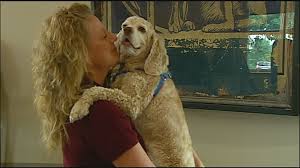 Allison Basinger from the Kansas City based "Wayside Waifs" animal welfare organization is on the cutting edge of the anti-bullying education movement. She's using her dogs to help 3rd through 5th graders learn a more compassionate lifestyle.
Allison Basinger uses her dogs, Justice and Paxton, to teach elementary school students to be kind to all living beings, because bullying, violence and animal abuse are all connected. It's a cycle. People who harm animals often go on to harm people, and people who are harming animals have often been abused, themselves.
Bullying is a very serious problem. Allison states that its very important to talk about, "Bullying as the action, rather than bullies as naming or labeling a person with that action." The reason it's important to separate is because a lot of time kids who are bullying other kids or animals are often doing so because they have hurt in their own lives. They also do it because that is what they the see adults around them doing.
This course is for children, but Allison said there are times when she would really love to teach this course to adults! She states that adults need to remember that they are the example to children and we need to check ourselves and hold ourselves to high standards.
Allison teaches third, fourth and fifth grade students. She teaches core values, compassion, responsibilities self-control and integrity. Every day they look at one of these core values and how to put those into practice with both people and animals.
Justice and Paxton, who are Allison's own dogs, come with her into the classrooms. They will walk around and interact with the students while she is speaking to them about the core values.
Justice is an older Cocker Spaniel who has a lot of prestige about him, so he wears a necktie in the classrooms. During one lesson on compassion, Allison tells us that a little boy raised his hand. He was concerned that maybe Justice's necktie was a little too tight. He felt for Justice and he wanted to do something about it. A few minutes later, that same little boy hit another child next to him. Allison used this as a teaching tool. She asked the little boy if he remembered all that compassion he had for Justice and would he ever take his arm and hit Justice like that? He got tears in his eyes and said, "I would never hit Justice that way." Allison teaches them that we can't do that with our people friends, either.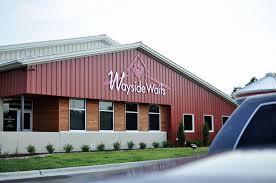 Most kids don't sit still for lessons, but when Allison brings the animals into the classroom and into the conversation of bullying, not only does it create those poignant moments, where you can just call it straight out like that, it also gives students the opportunity to practice those core values with a animals, because some of them don't have them it at home. The children pay attention and hear things in a completely different way.
Allison states that it is important for us to help people who are hurting, not to hurt anymore, so that are animal friends and people friends can all be safe. Get a copy of the No More Bullying Curriculum.
Wayside is the largest no kill pet adoption campus in Kansas City, placing approximately 5,400 animals each year. Wayside does not euthanize adoptable animals, and there are no time limits for animals in our care. Only animals suffering from significant medical issues or those that pose a danger are humanely euthanized. Wayside Waifs is proud to be a part of Kansas City's no kill community.





7th Annual Get Your Licks On Route 66
Brandon McMillan, CBS Lucky Dog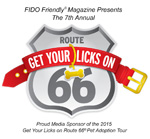 The host of CBS's Lucky Dog, Brandon McMillan, the cast of The Young and The Restless and Susan Sims are in Los Angeles to kick-off the 7th Annual "Get Your Licks On Route 66" Adoption Tour. There's no better time than now to find your forever friend.
FIDO Friendly is once again traveling down the Mother Road, stopping at shelters along the way to support adoption events. The cross-country pet adoption tour started September 11 in Riverside, California at the Riverside Animal Shelter. It is officially kicking off today (September 12th) at the Los Angeles Animal Shelter in Van Nuys with celebrity Brandon McMillan and the cast of the Young and Restless, who will be there until 1:00pm.
Every year Susan Sims of Fido Friendly Magazine travels from Los Angeles to Chicago, helping to place puppies and kittens into new forever homes. In the previous 6 years of the tour, they placed over 3,000 pets in their new forever homes and he states.
The Get Your Licks On route 66 tour will include 15 cities to visit this year and they would like everyone to come out. Even if you are not looking to add a forever family member you can still join the fun by visiting one of their partner shelters and donating $2.00 to spin their custom spinning wheel filled with prizes you can win, with proceeds going to the shelter at the end of the day!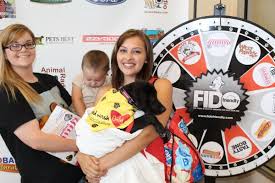 Spinning wheel prizes will be provided by John Paul Pet, Synlawn, Petmate, Sleepypod, Fresh Scents, Pets Best, Buddy Belts, Kurgo, Earth Rated, Charlee Bear, Kids n Pets, Pet Botanics and Simply Fido. Thanks to the sponsors who have signed up to help us save lives, one shelter at a time! Please visit their websites to see the great products they have to offer.
If you can't attend and would like to donate to the tour, they will send you a complimentary one-year digital subscription to FIDO Friendly magazine with a minimum donation of $10! With a $30 or more donation you will also receive a Get Your Licks on Route 66 t-shirt. Your name will also be listed as a grass-root supporter.
Here are the upcoming dates and locations of the 7th Annual Get Your Licks on Route 66® tour:
September 12
Van Nuys, CA
10am-4pm
L.A. Animal Shelter
14409 Van Owen St.
Van Nuys, CA 91405
September 16
Phoenix, AZ
3pm-7pm
Benefits Halo Animal Rescue
Event Held:
Metro Center Mall
Halo Pet Adoption Center
9617 N. Metro Parkway West
Phoenix, AZ 85051
September 19
Albuquerque, NM
10am-3pm
Benefits Watermelon Ranch
Event Held:
PetSmart, Albq., NM
10428 Coors Bypass Rd.
Albuquerque, NM 87114
September 20
Santa Fe, NM
Noon-4pm
Benefits Santa Fe Animal Shelter
Event Held:
PetSmart
3561 Zafarano Drive
Santa Fe, NM 87507
September 23
Amarillo, TX
1pm-5pm
Benefits Amarillo SPCA
Event Held:
Tripp's Harley Davidson
6040 I-40 West
Amarillo, TX 79106
September 26
Oklahoma City
Noon-4pm
The City of Oklahoma City
Division of Animal Welfare
2811 S.E. 29th Street
Oklahoma City, OK 73129
September 27
Tulsa, OK
Noon-4pm
Benefits ARF Animal Rescue Foundation
Event Held:
Woodland Hills Mall
7021 S. Memorial Drive Ste. 225B
Tulsa, OK 74133
September 29
Springfield, MO
Noon-4pm
Humane Society of Southwest Missouri
3161 W. Norton Rd.
Springfield, MO 65803
October 1
Joplin, MO
Noon-4pm
Batman will make an appearance!
Golden Paw Animal Rescue and Sanctuary
2300 N. Main
Joplin, MO 94801
October 4
St. Louis, MO
11am-3pm
Benefits Animal Protection Association of Missouri
Event Held:
Canine Carnival
Tilles Park in Ladue
9551 Litzsinger Rd.
St. Louis, MO 63124
October 10
Chicago, IL
11am-4pm
PAWS Chicago
1997 N. Clybourn Ave.
Chicago, IL 60614
October 11
Springfield, IL
Noon-4pm
Benefits Animal Protection League
Event Held:
Scheel's
3801 S. MacArthur Blvd.
Springfield, IL 62711
October 17
Kansas City, MO
2pm-6pm
Wayside Waifs
3901 Martha Truman Rd.
Kansas City, MO 64137
October 18
Merriam, Kansas
Noon-4
Great Plains SPCA
5428 Antioch Drive
Merriam, Kansas 66202
FIDO Friendly is an American dog travel and lifestyle magazine published bimonthly including hotel and destination reviews along with health and wellness topics, dog training advice, celebrity interviews, and the latest fashion trends.
http://www.fidofriendly.com/blog
Puppy Mills
Doc Halligan, Lucy Pet Foundation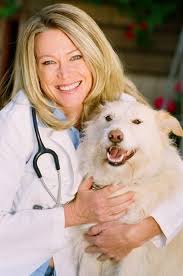 If you go into most pet stores, and there are exceptions, but most of them sell puppies that come from puppy mills. This may not sound so bad, until you've seen one of these mills. Usually the mothers give birth over and over again. They are kept in cages and some never see sunlight or ever stand on grass.
This is such a shame, as there are so many animals that are homeless and sitting at shelters waiting to be adopted.
Doc Halligan graduated from UC Davis in 1989, and they actually had the students go out to a puppy mill so they could experience one firsthand.
When Doc Halligan was the Director of Vet Services for the SPCLA, she also went out on numerous raids of puppy mills and confiscated many animals. She has a hard time even describing these horrific mills, and tells us of a dog with a broken leg that was pregnant. She said it is barbaric.
Why aren't there laws to change this? Doc Halligan would like to start something that brings awareness to the public that it shouldn't be legal for people to have an animal, as long as it has food and shelter, live its entire life in a cage. There can't be very many people who would say this kind of life for a dog is okay.
In fact, there is a Judge in Phoenix, Arizona who has made it a law that all cats and dogs sold in pet stores must come from shelters or rescues. Hopefully the rest of the country will follow suit.
Just think, millions of dollars of your taxes go to pay animal control officers to pick up animals, house them for a short period of time and then euthanize them.
If we can get that law passed unanimously in the United States, that all pet store puppies carry rescues, we wouldn't have to spend so much money on these animals, because they would have opportunities to be adopted.
Doc Halligan doesn't feel breeders should be shut down, but it is important that a breeder be reputable if you want a specific breed. She's only talking about puppy mill dogs.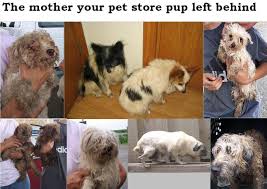 Dogs from Puppy Mills are also highly inbred. Pet stores buy these puppies from these mills and then charge an exorbitant amount for them. People then end up buying puppies that are not well bred and have many health issues that can cost a significant amount of money in the future.
If you are looking for an animal, go to a shelter or to a pet store that has rescues available for adoption, go to a breed specific rescue group, or go to a reputable breeder. Don't patronize pet stores, as they are the one who are getting these cheap puppies and passing them off as healthy.
If you feel you are doing the right thing by getting these puppies out of the store and giving them a home, think about that puppy's mother. Basically, what you are doing is, "Save the Puppy and Slave the Mother." These mothers spend their entire lives in cages turning out litter after litter. And if you buy one of these puppies, odds are that they will just get another one to replace it. However, if people stopped buying them, the demand would stop and puppy mills might be forced to close.
People need to be educated about what goes on at these puppy mills. You've probably heard or even seen one of these undercover movies on horrific puppy mills - unfortunately this is the truth.

The Mission of The Lucy Pet Foundation is to reduce pet overpopulation by having mobile spay/neuter clinics across the country and to support causes that benefit animal welfare. The Lucy Pet Foundation currently has two buses that travel around Southern California focusing on spaying and neutering. These buses are state of the art surgery units. Their next focus is in generating more funds to expand the work of these buses and have more across the country.
The Lucy Pet Foundation not only offers free and reduced spays and neuters, they also do microchipping, vaccines and de-wormings. Spaying and neutering is not only great for pet population control, but it has been proven that an animal will live on an average of 40-percent longer after having this surgery.

Here is a list of upcoming free or reduced fee mobile spay and neuter clinics in California (Please call and reserve space):
September 13, 20, 27
VACCINE CLINIC
Location: Tustin Toyota, 36 Auto Center Dr., Tustin, CA
11:00am - 2:00pm
Please call 1-855-499-5829 or Email: Info@lucypetfoundation.org to schedule an appointment.
September 14, 18, 28
SPAY/NEUTER CLINIC
Location: Baldwin Park, 4100 Baldwin Park Blvd., Baldwin Hills
Check in 7:30am
ACCEPT COUNTY AND CITY VOUCHERS
Please call 1-855-499-5829 or Email: Info@lucypetfoundation.org to schedule an appointment.
September 16
SPAY/NEUTER CLINIC
Location: Inland Valley, De Anza Park, Ontario
Check in 8:00am
Prices Vary
ACCEPT COUNTY AND CITY VOUCHERS
Please call 1-855-499-5829 or Email: Info@lucypetfoundation.org to schedule an appointment.
September 23
SPAY/NEUTER CLINIC
Location: Inland Valley, Our Lady of Lourdes Church, Montclair
Check in 8:00am
Prices Vary
ACCEPT COUNTY AND CITY VOUCHERS
Please call 1-855-499-5829 or Email: Info@lucypetfoundation.org to schedule an appointment.
September 25
ACCEPT COUNTY AND CITY VOUCHERS
Check in 7:30am
Location: Centinela Feed & Pet Supplies, 18563 Devonshire St., Northridge, CA
Please call 1-855-499-5829 or Email: Info@lucypetfoundation.org to schedule an appointment.
September 30
SPAY/NEUTER CLINIC
Location: Inland Valley, Washington Park, Pomona
Check in 8:00am
Prices Vary
ACCEPT COUNTY AND CITY VOUCHERS
Please call 1-855-499-5829 or Email: Info@lucypetfoundation.org to schedule an appointment.
Remember, you must get on a list to have your pet seen at these locations. Please call The Lucy Pet Foundation toll free at 1-855-499-5829 or Email: Info@lucypetfoundation.org to schedule an appointment, or register at the events.
See the current list of clinics at http://www.lucypetfoundation.org.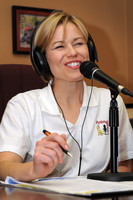 How to NOT Train a Dog - Dr. Debbie
The other day I was walking my dog in a community area and encountered a lady with two Shih Tzu's. As we approached, her dogs rallied with barking and tugging on their leashes. I asked if her dogs were friendly, so as to decide if we could approach. The lady scowled, embraced her still barking dogs and grumbled, "Do they look like they're friendly?"
Realizing this dog owner was more unsociable than her dogs, I decided to vamoose, but not before I envisioned this blog topic - how pet owners mold unsocial dog behavior.
Unwanted doggie behavior such as lunging and barking on the leash become established when the dog owner hasn't made it clear what the appropriate behavior is, fails to correct and redirect to a more suitable behavior, or simply reinforces the undesirable behavior through actions or words. Face it - there aren't bad dogs, just poorly trained ones.
Avoid making these top 5 training mistakes:
1. Secluding Your Dog in the Back Yard
Keeping your dog in lock down almost guarantees problem behaviors will develop such as biting, inter-dog aggression and phobias to anything from noises to car travel. Isolated dogs lack the experience and confidence when faced with novel situations while socialized dogs adapt easily.
I see it all the time - the dog owner prides herself in keeping her dog safe. "I didn't want Fido to catch any diseases as a pup, so I didn't let him out of our backyard till he was a year old." The overwhelming fear of infectious diseases like parvovirus causes some well-meaning owners to confine their new dog or puppy to the limits of house and yard. Even more extreme is never allowing a puppy to step foot outside until after their last puppy vaccinations! Puppies are most adaptable to new experiences between 6 and 16 weeks - this is the time to expose them to unfamiliar places, people and animals.
That doesn't mean you should take your eight week old puppy to dog parks, but rather to use good sense selecting low dog traffic areas and visiting with family and friends outside of the home that have properly vaccinated pets.
2. Skipping Obedience Training
Going to school is a must for any new dog to a home, whether a puppy or adult. No two dogs are the same, and each learns differently. Formal obedience training is a useful tool to gently reaffirm who's in charge and sets the rules in the house. Statistics show that dogs that go through formal obedience training are less apt to develop behavior problems and be relinquished to shelters.

3. Reinforcing Fear at the Veterinary Office
In the exam room I cringe when I see a dog owner comforting a nervous, fearful or aggressive pet. That "good boy" and pat on the head reinforces your dog's behavior, making it more likely that on the next hospital visits he'll behave the same, or worse. Some problem behaviors escalate making it difficult for the veterinary staff to examine or treat the animal. This may mean additional costs for sedation or anesthesia for routine medical needs.
It's natural for a pet owner to want to reassure a pet when he is frightened and it can be difficult to hold back the urge to soothe him. However, the best strategy is to ignore those fearful behaviors in the vet office. Don't be tempted to kiss, snuggle or hold Fido on your lap when he is misbehaving. Rather, place the dog on the floor, refocus your dog's attention to you, and cue him to "sit" or "lie down."
4. Not Using Food as a Reward
Food shouldn't just be for the taking. Don't leave food out for your dog to graze whenever he wants and don't give treats just for the sake of giving a treat. Present food and treats as a reward for good behavior such as sitting quietly, going to a pillow, or performing a trick or obedience work. This places you at the top of the household hierarchy. You become the provider of great edibles in the house, and your dog will be motivated to listen to your requests in other situations.
We all love to spoil our dogs and give treats at times. But be sure to give treats for a reason, or you will have a spoiled doggie brat on your hands.
5. Not Exercising Your Pet Enough
Inadequate exercise can result in obesity and boredom, and may lead to problem behaviors like separation anxiety, destructive chewing and excessive barking. Dogs should get 30 to 60 minutes of sustained physical activity each day for optimum mental and physical benefit. And no letting Buffy run around the backyard during the day is not adequate exercise.
Not all breeds are cut out for all exercise - a Labrador may enjoy retrieving games or swimming, a Jack Russell terrier may thrive with jogging or Frisbee, while a Basset hound will be satisfied with a leash walk.
Your dog can't be a well-adjusted, socialized canine citizen without you, as the pet owner, taking an active role in training. Put the time in, and you'll be thanked many times over with an outgoing, friendly canine pal that can accompany you on life's adventures.
Featured veterinarian known as "Dr. Debbie" on national pet radio program, Animal Radio. Ebook author of "Yorkshire Terriers: How to Be Your Dog's Best Friend", "Pugs: How to Be Your Dog's Best Friend", "Mini Schnauzers: How to Be Your Dog's Best Friend", and "Shih Tzu: How to Be Your Dog's Best Friend"

It's a Wacky Wednesday Here at the Animal Radio® Studios
WackyWed Contest IS ON - LIKE your FAVORITE pic and the three pics with the most LIKES & SHARES are this week's winner will receive a great prize package from Synergy Labs.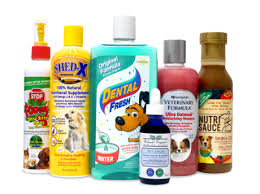 TO ENTER Send us your FUNNY pet pic to WackyWed@AnimalRadio.com - (Please put WACKYWED in the subject line & give us your pet's name, your name & where you hail from) If YOUR pic is chosen then spread the word to your friends & family on Wednesday - the pics w/the most LIKES and SHARES will be the winner!
This week we are giving away a great prize package from Synergy Labs, which includes: Shed-X Shed Control Shampoo for Dogs, Shed-X Nutritional Supplement for Dogs, Dental Fresh Advanced Whitening, Groomer's Salon Select Oatmeal Itch Relief Shampoo and Fooey Spray. Synergy Labs, "Because they're more than just pets."


Join Animal Radio® on Facebook for Wacky Wednesday! Win great prizes every week for your wacky pet pictures. Last month we gave out goodies from The Green Pet Shop, PL360, Bark Box, Solid Gold Pet, Energizer and more. Visit us on Facebook now.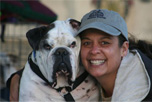 Animal Radio® News - Lori Brooks
Selecting A Car With Your Dog In Mind
So who influences you when you need to buy a car? According to Autotrader, more than half of America's 54 million dog owners consider buying a vehicle based on its ability to accommodate their best friend, which is their dog. The list includes cars with features pet owners need, like fold-flat rear seats, rear lift gate, under-floor storage and rear climate control. There are 9 cars on the list and they are: Audi's all-wheel Drive Wagon, the Ford Edge Crossover, the tiny Honda Fit, Jeep Renegade, Kia Sedona, Subaru Cross Trek and the Mercedes GLA class.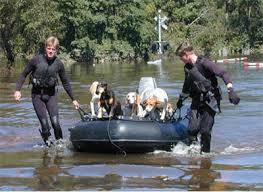 What We Learned From Katrina - 10 Years Later
Recently we observed the 10-year-anniversary of Hurricane Katrina, the largest natural disaster in U.S. history. There were many lessons learned the hard way, like you need to have a plan! Experts say be sure you have a crate in which to transport your pet and make sure your pet is crate trained. Why? Most pet-friendly shelters require you to bring your cat in a carrier or your dog in a crate and they will stay in that crate except for potty breaks. And in most cases, you will not be staying with your pet, so be sure have everything labeled to help staff keep your pet safe. Just think, if you were taking care of 900 dogs and 600 cats, what would make it easier for you to make sure everyone gets everything they need? For a real in-the-moment flashback on what it's like for the animals in a disaster, checkout this great Video FROM DOGS TO KATRINA SHELTER VOLUNTEERS & THEIR RESCUERS as a thank you - Grab a tissue!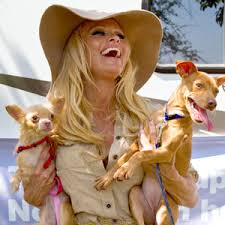 Pamela Anderson Says Company is Not Cruelty-Free
Actress and animal rights actress Pamela Anderson has written a letter to MAC Cosmetics owner and friend, John Demsey, expressing disappointment in the brand for testing on animals. Anderson used to be a spokesperson for the brand, but recently learned that the supposedly cruelty-free brand admittedly tests on animals where it is "required by law," like in China. MAC's parent company, Estee Lauder released a statement acknowledging the accusations, saying quote, we "Are committed to providing our products and services to our consumers where they live, and we must comply with all legal requirements in the countries where we do business." But the cosmetic giant shows no signs of wanting to pull their products out of China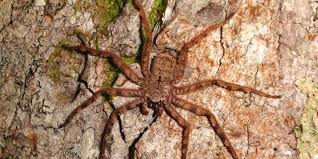 Skydiving Spiders
Scientists already knew spiders could forsake their many legs and fly through the air. Now, it's been discovered there are skydiving spiders in the forests of South America that can manipulate their flight. This nocturnal hunting spider is a tree dweller and occasionally it's forced to abandon its home or is blown off by a swift breeze. When that happens, the spider can literally manipulate its two-inch-wide body to guide its trajectory to the safety of another branch or tree trunk. Scientists say this leads them to believe that many animals living in the trees are good at aerial gliding, from snakes and lizards to ants and now spiders.
Flying Caravan of Former Circus Animals
Happier days are ahead for some former circus animals who were part of a flying caravan. Mexican Navy planes flew them to a Colorado wildlife sanctuary. It was the first time Mexico's Navy had ever participated in an animal relocation effort. Eight lions, two lynxes, a puma and a coyote are now living a much better life after being found abused or abandoned. Mexico recently enacted a ban on exotic animal performances in circuses. Many of the former circus owners say they can't afford to maintain animals that don't make money for them and are abandoning them.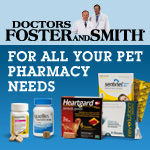 NEWS UPDATE brought to you by Drs. Foster & Smith, affordable pet supplies. Low prices every day, so you save on every order.

Listen to the entire Podcast of this show (#823)