Skunk Explosion
Christopher Kemp, OutsideOnline.com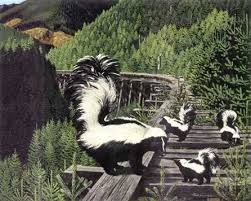 Skunk researcher Christopher Kemp joins us. He's from England, and they don't have skunks in Europe. Ironically, Pepe' le pew is from the Americas. But the most important thing you'll learn, Tomato Juice doesn't remove the smell. Christopher will unlock the true secret to remove the stink, as well as some other interesting facts about the mostly misunderstood critter.
By training, Christopher Kemp is a molecular biologist and works for a research group that studies Parkinson's Disease. Being a biologist makes Christopher a naturally curious person.
Christopher tells us that in England where he grew up, there are no skunks. They do have some large mammal species like fox, badgers and some members of the weasel family, which are closely related to skunks. Skunks appear to be members of North, South and Central America. He also tells us of a strange species of mammal that live in Asia, which are closely related and are also considered skunks.
In Michigan, where Christopher currently lives, there seems to be an explosion of skunks this year. While this explosion is going on across the country, it seems to be worse in the Midwest, in such places as Michigan, Illinois and Ohio.
Looking out his window at night, which overlooks the driveway, Christopher sees many skunks just wandering about for food. But, he wondered, does he really know anything bout them? For Christopher, Skunks were such a new thing. This made Christopher set out on a journey to learn everything he could about them.
One of the first things he did was to buy a striped skunk skull online, which turned out much smaller than he expected. He tells us that it fits comfortably on the screen of his smartphone. He has inspected its ridged surfaces, and traced his finger along the delicate zygomatic arches, counting its white teeth.
He also bought a small glass screw-top jar of skunk scent from a hunting-supply company. When he received it, he removed the bottle and shook it, watching the viscous liquid swirl around. Then he opened the bottle. The moment he broke the wax seal, the pungently aggressive odor of rotten eggs filled the room. With his nose over the bottle, he gagged. For the next hour, his stomach lurched and rumbled and he felt nauseated. It's the same familiar smell that wafts into his room late at night after a dog has tangled with a skunk in a nearby backyard.
The smell can cause temporary blindness. It's also disorienting and it totally disables your sense of smell. A predator can no longer function as a predator for a period of time if it gets a good hit.
Skunks can spray a good distance, up to 20 feet, and they can aim their spray. They actually have two of these spray glands on either side of their body, so their spray comes out like twin streams.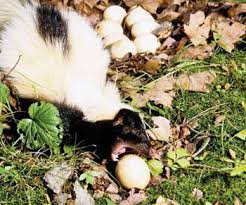 So what about the old wives tail of using tomato juice to get rid of the smell? Christopher tells us that like most old wives tail, this one is not correct. To get rid of the smell, you have to approach it in a chemical way, and use substances that chemically break down the smell. This is something that tomato juice doesn't do, which is why it doesn't work. You need to make a mixture of bleach, baking soda, dish soap and water. Together, those things will break down the odor compounds and will neutralize them. This mixture is for smells on clothing, your house, car, or things of that nature.
If you are washing a family pet, use hydrogen peroxide (1 cup), instead of bleach, along with baking soda (1/4 cup), dish soap (1 tablespoon) and water (10 cups). Tomato juice just camouflages the smell, so you end up with a dog that smells like skunk and tomatoes, which is probably worse.
So how do you keep Skunks away? Unfortunately skunks do remarkably well cohabitating with humans. Skunks usually like to occupy places underneath sheds, under a deck or in crawl spaces. You need to block these places off and make them inaccessible to them. Next, try to cut off their food source. This means no composting, no birdseed and no trash that they can access. Unfortunately, they can still find food sources from bird eggs, etc., so you just want to make sure they don't make a den in your yard.
Skunks actually do a lot of good for the environment and there is a misconception that they are big carriers of rabies. They are a carrier, but no more so than raccoons, squirrels or any other mammals.
After all of his research, Christopher says he found out he really likes skunks. Now, when he looks out over his driveway, he actually hopes to see one.
Listeners can find out more info on the skunks epidemic in the Outside magazine article and at OutsideOnline.com.

Pet Event Roundup
Janice Brown, Tails Pet Magazine

Janice Brown-Gork compiles all the great pet-related events across the country for TailsInc.com. This week she debuts a new monthly segment spotlighting the places you and your furry-companion can go together.
Passionate about rescue and adoption, Tails Pet Media Group, Inc. was founded in 2000 by Janice Brown. What started as a magazine, is now a mission!
Tailsinc.com is an interactive website and online community committed to connecting the animal welfare community with the general pet-loving population. Tails Inc. features expert knowledge, advice, pet product reviews, local resource guides, community event news and monthly contests, in order to promote and encourage people to live responsibly with their pets.
Here are some of September events currently going on around the country:
Saturday, September 13, 8am – 12pm
DOG FEST PDX
University of Portland 5000 N Willamette Blvd, Portland, OR,
cci.org
Thursday, September 18, 5pm – 8pm
Yappy Hour at the Ritz Laguna Niguel
1 Ritz Carlton Drive, Dana Point, CA
Saturday, September 20, 10am – 4pm
Metrowest Humane Society's Annual Craft Fair
Framingham Center Common, Edgell Road, Framingham, MA
Sunday, September 21, 11:30am – 2:00pm
Blessing of the Animals and Farm Olympics
5487 Tuttle Rd., Free Soil, MI
Saturday, September 27, 9am – 1pm
Bark for Life of Mercer County
2206 Kuser Rd, Hamilton Township, NJ
Sunday, September 28, 8am – 1pm
Wiggle Waggle Walk
480 North Arroyo Blvd., Pasadena, CA

Saturday, October 4th, 2014 Noon-5pm
Fall 2014 Pug Party
Parktown Tavern, Chicago
Tailsinc.com lists events for pet-lovers, for any non-profit, for free!





"HERO PEOPLE OF THE WEEK" - Small Town Hero Barry Kives, Southern Polyurethanes, Inc.
This week's Hero Person is making a big difference in a small town. Businessman Barry Kives of Southern Polyurethanes, Inc., is paying the adoption fees on 60 pets in his local shelter.
Barry is also on the Board of Directors at the Mountain Shelter Humane Society. They are almost a no kill shelter and only animals that are severely ill are put down.
In the past, Barry has donated thousands of dollars to the shelter. However in the last two years, he got wrapped up in expanding his company, and his donations dried up.
When Barry decided to stop in at the shelter recently, he noticed a lady who wanted to get a dog for her ill mother who had just lost her dog. Unfortunately, she couldn't come up with the $125 adoption fee. Barry immediately opened his wallet and paid the adoption fee. He said this made him feel real good!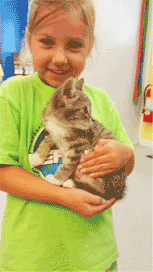 Because of that, he came up with the idea of funding many more adoptions for people who couldn't afford it. On the first day, there were 14 adoptions, with two of those being two little girls who each got a kitten. Barry tells us there are 46 more adoptions to go.
Barry lets us know it's not all about the money. If you have some free time, you can go to your local shelter and help clean out the cages or even walk the dogs and pet the cats.
Barry's company, Southern Polyurethanes, Inc. specializes in the manufacturing and global distribution of ultra-premium yet reasonably priced polyurethane based transportation coatings such as primers, basecoats, clearcoats, solvents, additives and spray-in truck bedliner and sold to a wide variety users including auto body shops, auto restoration shops, custom motorcycle builders, sign manufacturers, casino slot machine refinishers, fiberglass manufacturers, concrete manufacturers, airplane refinishers, boat builders and boat refinishers.
Thinking Globally. Acting Locally. Do you know someone that should be nominated for our Hero Person of the Week? Send us an email to: YourVoice@AnimalRadio.com.

Animal Radio's HERO PEOPLE is brought to you by Zeuterin a safe, permanent and virtually painless alternative to surgical castration.




6th Annual Get Your Licks on Route 66
Susan Sims, Fido Friendly Magazine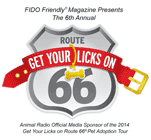 Every year, Susan Sims from Fido Friendly Magazine gets on the road to help spread the word about adoption and help out shelters along the way. They start in Los Angeles and travel along Route 66 to Chicago.
Powered by Ford with Animal Radio as a media sponsor, the tour travels down America's Favorite Highway stopping at shelters along the way to support adoption events. In the first five years, the tour helped place over 2,000 pets in to new forever homes.
This year's Official Spokesperson is actress, best-selling author and animal lover Danica McKellar. Danica, best known for her role as "Winnie Cooper" on The Wonder Years, was recently seen competing on Dancing With The Stars. Danica will make a special appearance at the Los Angeles Shelter on Saturday, September 13. Join her at 14409 Van Owen Street, Van Nuys, California from 10am to 4pm.
Also in attendance on September 13 will be Brandon McMillan, Host of the popular CBS show Lucky Dog. Brandon and his crew will be filming a segment that day at the shelter for an upcoming episode.
And last, but not least, Lassie will make an appearance at the shelter on September 14 from 12:30 to 2:00pm.
Here is a list of where they will be this year. Check back often to see if they've added more shelter stops.
9/13/14 - Van Nuys, CA
LA Animal Services
14409 Van Owen Street
Van Nuys, CA
Hours: 10am - 4pm
9/14/14 – Mission Hills, CA
Best Friends Pet Adoption & Spay/Neuter Center
15321 Brand Blvd.
Mission Hills, CA
Hours: Noon - 4pm
9/16/14 - Phoenix, AZ
Halo Animal Rescue
2500 S. 27th Ave.
Phoenix, AZ
Hours: 11am - 3pm
9/20/14 - Albuquerque, NM
Watermelon Ranch Shelter Event
PetSmart
10428 Coors Bypass Rd.
Albuquerque, NM
Hours: 10am - 3pm
9/21/14 - Santa Fe, NM
Santa Fe Animal ShelterEvent
PetSmart
3561 Zafarano Drive
Santa Fe, NM
Hours: Noon - 4pm
9/24/14 - Amarillo, TX
Amarillo SPCA Texas Panhandler Pet Service Event
Cowboy Gelato Restaurant
2806 SW 6th Ave.
Amarillo, TX
Hours: 3pm - 7pm
9/27/14 - OKC, Oklahoma
Best Friends of Pets
Petco
324 S. Bryant Ave.
Edmond, OK
Hours:Noon - 4pm
9/28/14 - Tulsa, OK (Special adoption rate $66)
ARF Animal Rescue Foundation
Woodland Hills Mall
7021 S. Memorial Drive Ste. 225-B
Tulsa, OK
Hours: Noon - 4pm
9/30/14 - Joplin, MO
Joplin Humane
140 E. Emperor Lane
Joplin, MO
Hours: 1pm - 4pm
10/2/14 - Springfield, MO
Humane Society of SW Missouri
3161 West Norton Rd.
Springfield, MO
Hours: Noon - 4pm
10/4/14 - Springfield, MO
Humane Society of Missouri
1201 Macklind Ave.
Springfield, MO
Hours: Noon - 4pm
10/5/14 - St. Louis, MO
Animal Protective Association of Missouri
24th Annual Canine Carnival!
Tilles Park in Ladue
9551 Litzsinger Road
St. Louis, MO
Hours: 11am - 3pm
10/11/14 - Chicago, IL
PAWS Chicago
1997 N. Clybourn Ave.
Chicago, IL
Hours: 11am - 4pm
10/12/14 - Springfield, IL
Animal Protection League
PetSmart
3183 S. Veterans Pkwy.
Springfield, IL 62702
Hours: 1pm - 5pm
10/18/14 - Kansas City, MO
Wayside Waifs
3901 Martha Truman Rd.
Kansas City, MO
Hours: 2pm - 6pm
10/19/14 - Kansas City, KS
Great Plains SPCA
5428 Antioch Drive
Merriam, KS
Hours: Noon - 4pm
Also look for them on the road in their 2015 FORD expedition. They will be traveling down the Mother Road with their two rescue hounds, Junior and Jake, helping to save lives, one shelter at a time!
To learn more about this life saving tour and the cities where they will be holding events, visit their website www.fidofriendly.com or www.getyourlicksonroute66.com.
See more at: http://www.petpr.com/news/fido-friendly-magazine
http://www.fidofriendly.com/blog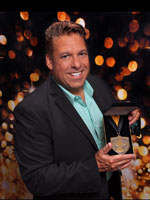 The Dogfather's Grooming Tip with Joey Villani
How To Jazz Up Your Pet
Flea Powder is still one of the methods available to rid your pet from the critters. But it can be horribly toxic. Joey Villani explains the Are you one of those people who like to jazz their dog up a little bit beyond a grooming? Maybe you are having a party or taking your dog to an event and you want to make your dog look special. If you are, there are a lot of things that are really easy to do to your pet.
The most common one is color. If you go into any big box pet store, you will find dog and cat color all over the shelves. They cover really well and look really good. They are also safe for your pet. You can also find stencils to make special designs. When you've finished applying the color, just add a touch of hairspray to keep the color on and to keep it from getting on your furniture.
Joey actually buys many of these products from the store and uses them in his salon. Two such items that he uses are a gold and a platinum spray. They are like a real shiny glitter, and when you spray it on a pet and they go out in the sun, it looks fantastic!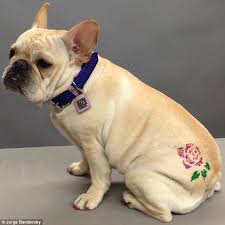 You can also go to the dollar store and buy material to make bandanas for your dog. Dogs like them and people like the way they look on the dogs.
Just little easy things like this can really jazz your pet up and make them stand out amongst the rest!




Animal Radio® News with Tammy Trujillo
Tear Stain Products Get Warning
We all want our pets to look their best, and if you have the type of dog, or cat, that gets those 'tear stains' you've probably tried ways to clean them up. Now the FD is out with a warning to companies making unapproved drugs to deal with them, specifically Angels' Eyes, Angels' Glow, Pets' Spark and the exported products Glow Groom and Health Glow. These products use an antibiotic, tylosin tartrate, which is not approved for use in dogs or cats. Tear staining is mostly caused by a condition called epiphora. The FDA has serious concerns about unapproved animal drugs because they have not met standards for safety and effectiveness.
Pet Food Can No Longer Slam Competitors
There could soon be a change in the commercials for Blue Buffalo. A panel of the National Advertising Review Board has recommended the company modify it's spots so it doesn't imply that competing companies are fooling consumers about the ingredients in their food and the quality. It also wants Blue Buffalo to modify the "True Blue Test" chart is has on it's website. Hills, the maker of Science Diet, challenged Blue Buffalo's claims about its Blue brand pet food products. Blue Buffalo says it disagrees with the findings, but will make the modifications and changes that were recommended.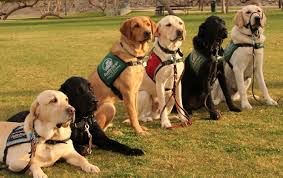 National Guide Dog Month
September is National Guide Dog Month, celebrating the amazing work of guide dogs and raising awareness, appreciation and support of guide dog schools across the United States. National Guide Dog Month was first inspired by Dick Van Patten after he visited Guide Dogs of the Desert in Palm Springs in 2008 and learned how important they are and that it costs as much as $40,000 to raise and train a guide dog. Most guide dogs are bred by and born at an accredited Guide Dog school, then raised by volunteer puppy raisers for their first year and a half. They then go back to the school for special training. About half of them graduate to actually become working guides. The blind person they ultimately end up partnering with does not have to pay for the dog, the cost is taken care of by the school.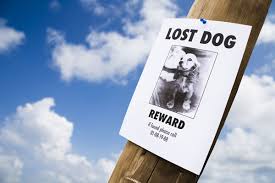 Lost Pets Bring Out Scam Artists
If it's not enough to lose a pet and anguish over it's safety and whereabouts, now warnings are coming out about scam artists taking advantage of the tragedy. These crooks generally use the description from the ad or poster to convince a person they have the lost pet and wants a reward, or claim to be a driver who has found your injured pet and claims to have taken it to the vet and wants your credit card information to pay the bill. So what should you do when all you want is your baby back? Authorities suggest asking details about your pet that you didn't include in the ad or flyer, or asking for the name, address and phone number of the vet where the callers says he or she took your pet and then deal directly with the vet's office.
Aquarium No Longer Offers Animal Performers
The Florida Aquarium featured in the 2011 movie "Dolphin Tale" won't feature animal performances when it reopens after renovations. The movie told the real-life story of Winter the dolphin who was fitted with a prosthetic tail. There's a new sequel that tells the tale of another dolphin, a calf named hope. When the Clearwater Marine Aquarium reopens, the new $68-million center will focus on rehabilitation and marine rescues and not entertainment. The aquarium CEO David Yates says the goal is to release these animals back into the wild and not show them to guests. Both Winter and Hope live at the aquarium and will be getting a new tank three times the size of their current one. Guests at the center will be able to watch staff working with the dolphins and rescued sea turtles from platforms and walkways above the tank.
See What Politicians Are Kissing Now!
Many actors say that if you're doing a TV show or a movie with an animal, get ready to work with a scene-stealer. But many politicians appear to think differently. There is a dog in nearly half of American homes and a number of politicians in South Carolina are featuring their own best friends in television ads, on their websites and on their Facebook pages. Some of the dogs have also become celebrities in their own right, like Boots, the bulldog who's in all the TV ads for Republican Henry McMaster. Political Science Professor Gibbs Knotts at the College of Charleston says dogs are part of American culture more than ever before and a dog in an ad can humanize a candidate. Guess we will find out how that works out on Election Day!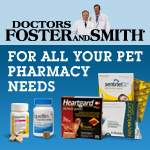 NEWS UPDATE brought to you by Drs. Foster & Smith, affordable pet supplies. Low prices every day, so you save on every order.

Listen to the entire Podcast of this show (#771)