Answers to Questions Every Grieving Pet Owner Has
Sonya Fitzpatrick, There Are No Sad Dogs In Heaven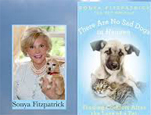 World-renowned communicator Sonya Fitzpatrick is our guest. She'll be answering the questions pet owners have after their pets have passed on. Alan is skeptical, but that may change before the end of the show!
When people ask Sonya Fitzpatrick to communicate with a living animal companion it's usually because they wish their pet could talk. But the vast majority of calls that Sonya receives are from people whose pet has died.
When we lose our beloved animals, its like losing one of our children. It's the hardest thing any of us with animals have to face. We wonder where they are and desperately want to know if they know how much we loved and will miss them. As much as we wanted to talk to them when they were alive, we wish even more that we could talk to them after they've passed.
In her book, There Are No Sad Dogs In Heaven, Sonya Fitzpatrick addresses the questions that pet owners have after their pets have passed on. Sonya hears frequently the phrase, "I haven't said goodbye to my animal." Sonya explains that there aren't any goodbyes, because animals have an energy body just as we do, and they are around us and with us all of the time. Some people even hear their animal running down the hallway or physically feel their cat jumping on the bed. Then there are those fortunate enough to see their animals that have passed. There really is no separation; it's just that we miss that physical body so much when we are still in our physical form.
Sonya has talked to many animals, and we get her to talk to Alan's dog Rudy. Tune in to find out what Alan's dog says about him and to see if Alan becomes a believer.
Growing up on a farm in England, Sonya Fitzpatrick realized at an early age that she had a very special connection with animals. Her extensive work helping animals handle adversity has distinguished her as an expert in the field of animal communication. Sonya's passion for animals and her understanding of the critical role they play in our lives provides a unique perspective on the way we need to interact with all of the animals in our world. Sonya lives in Texas with her nine cats, four dogs, one horse and three frogs.
http://www.sonyafitzpatrick.com
"Where's the iPad Honey?"
Anna Jane Grossman, School For The Dogs

Anna Jane Grossman, who runs School For The Dogs with dog training partner Kate Senisi, trained her own dog, Amos, on her iPad, and has since segued into teaching budding canine techies how to use the popular Apple device.
A few years ago, Anna read an article on a girl who was teaching her dog to use an iPad. While the article was a spoof and wasn't true, Anna thought that she could teach her dog, which she did successfully.
For the past year, she's also given private lessons to about 25 dog owners and their pets through the Manhattan-based training center.
Anna states that at her School For The Dogs, one of the first things they show to all dog owners is how to teach their dogs to touch their hand. A simple hand touch is a targeting exercise. This is both good for people to figure out how to teach their dogs something new, as well as focusing a dog's attention.
Once you have a good hand touch, Anna moves the teaching on to objects, like getting their dog to touch the end of a stick. And lately, they have been getting the dogs to touch their nose to an object that a lot of people have in their back pockets, which is their iPhone or iPad. It's a little bit more exciting than getting a dog to touch, say, the end of a fly swatter! And when they touch their nose to the screen, something can actually happen.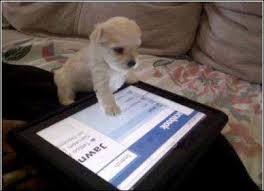 One app that Anna uses has a big YES and a big NO button, or you can switch them out to be a black or white button, even right of left buttons. This is a fun app, because you can pretend they are actually answering your questions. It also teaches the dogs to differentiate between say, black or white or left or right.
Are these apps practical and useful? Well, you could sync up with household items like a lamp. You could then teach your dog to touch the buttons, which would turn the lamp on or off. However, most apps aren't currently made to be used with dog noses.
When asked what is the purpose of all of this, Anna replies what is the purpose of teaching our dogs to shake or play dead? A lot of the stuff we teach our dogs isn't necessarily purposeful but it is fun for the humans and fun for the dogs. The more things that you teach your animal, whether or not they're silly, the better they are going to be at learning and figuring out what it is that you want them to do, which can be useful if you want them to stop barking at the mailman or walk by your side on a hike.
Before you start working with your dog and your iPad, make sure that it is in a protective case or has a screen protector cover on it. Or, give your old version to your dog when you update to a new device. Some dogs like to chew on electronic devices, and this may help them because you are giving your dog an appropriate way to interact with electronic devices and not to destroy them.
Will these devises now cause our dogs to become couch potatoes? Anna thinks just the opposite. These are not apps that your dog can do on his own, but a way for you to play and interact with your dog together.
Anna lives in Manhattan and says when you live in New York City, you probably live in a small space and you can't go out necessarily and play fetch with your dog for hours on end. You probably also don't have a lot of time. However, you can teach your dog to use an iPad in a very small space while sitting on your couch in front of the TV with a glass of wine.
The one-hour class costs $50 and Anna also offers private lessons.
http://www.schoolforthedogs.com



5th Annual Life Saving Pet Adoption Tour
Susan Sims, Fido Friendly, Get Your Licks On Route 66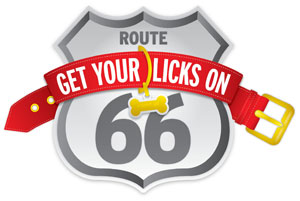 The 5th Annual Adoption Tour is underway in Los Angeles. Susan Sims will check in from the first stop in Los Angeles, and other stops as they travel across the country. Be sure to join us and find your forever friend along America's favorite highway.
The Get Your Licks On Route 66 Tour is sponsored by Ford and Animal Radio. Special thanks to car wrap sponsor Stella & Chewy's and pet safety sponsor Tagg the GPS Pet Tracker. Tour hotel accommodations are provided by Kimpton Hotels.
The tour drives down America's Favorite Highway from Los Angeles to Chicago, stopping at shelters along the way to support adoption events.
Stop by the Los Angeles kick off party where cast from the popular daytime TV soap The Young and the Restless will be appearing along with their official spokesperson, nominated actress and animal activist, Ashley Bell. They will be at the Los Angeles Animal Services (213-305-4112), located at 14409 Van Owen Street, in Van Nuys on Saturday, September 14th until 2:00pm.
If you are not looking to add a forever family member, you can still join the fun by visiting one of their partner shelters and donate $2.00 to spin and win with proceeds going to the shelter at the end of the day!
Can't stop by one of our tour locations, but would love to support this life saving tour? Go online to FIDOFriendly.com and donate to the life saving pet adoption tour, Get Your Licks on Route 66®.
View a list of tour shelter dates where you can get involved.
Chatty Cat Challenge
Dr. Cristiano Von Simson, Bayer HealthCare Animal Health

Dr. Cristiano Von Simson, Director, Veterinary Services, Bayer HealthCare Animal Health North America, speaks to Animal Radio about the Chatty Cat Challenge.
The Chatty Cat Challenge is an online opportunity for America's cat owners to tell the world what their cats would say are the secrets to their health and happiness. The Chatty Cat Challenge actually came out of an effort by Advantage® II for cats to encourage cat owners to take a moment to think about what they do to manage their pets' well being.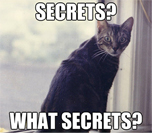 Two keys to feline well being are regular veterinary care and monthly, year-round flea prevention. Many cat owners don't realize, one, that fleas are not just a problem in the spring and summer but, also, year-round; and, two, that flea bites can cause cats more than just a little itching. So killing fleas is important. For example, just one flea can bite up to 400 times a day. That can't feel good!
So what Bayer HealthCare is doing, through the Chatty Cat Challenge, is asking cat owners to tell them what makes their cat happy and what keeps them healthy. And since cat owners love their cats and love showing them off, they wanted to make it fun by inviting owners to share photos, memes and videos of their cats, plus 100 words or less on what keeps their cat healthy and happy, but in their cat's voice.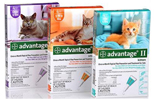 They're taking video, photo and meme submissions, accompanied by a 100-word-maximum narrative, from the cat's perspective, through September 30, 2013 at ChattyCatChallenge.com. After that, they will open the entries to an online, public vote to pick the top ten. Then, a panel of judges will pick the grand prize winner.
Nine finalists will each receive a one-year supply of Advantage® II for cats and a premium cat carrier and the grand prize winner will receive a three-year supply of Advantage® II for cats, a premium cat carrier and an iPad® mini. Complete contest rules can be found at ChattyCatChallenge.com. That's also where you can view the entries for fun and inspiration to enter your own cat. Tell your friends to enter, too. Everyone us going to have a lot of fun.



The Dogfather's Grooming Tip with Joey Villani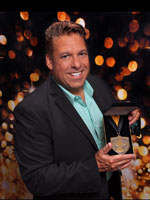 Eliminate Ear Problems
Ear problems, as complex as they may seem at times, may be relatively easy to deal with. The most important thing is that you have to pay attention to them.
In most cases, people aren't even aware that their pet has an ear infection until their pet starts scratching at their ears or shaking their heads, or they smell a foul odor. At that point, it will probably need veterinary attention.
You should check your dog's ears on a regular basis. Good signs of a healthy ear are smell; if there is no odor, there is probably no infection.
Look at the ear also. If there is an over abundance of hair, it might have to be removed. There has been some controversy as to whether or not you should remove the hair or leave it in. For years, groomers were told to pull the hair out. Now, the veterinary community feels that if there is not an over abundance of hair, just leave it in there. Because by pulling the hair out, you might irritate the canal, which in turn might start an infection. So, if there isn't much hair, leave it alone. If there is a lot, go to your groomer to have the hair removed and the ear cleaned, as a groomer is less expensive than a veterinarian.
When you look at your dog's ears, they should be pink, not red or swollen. If your dog's ears look good, it is still a good idea to clean them weekly. Make a mixture of equal amounts of white vinegar and distilled water. Dip a cotton ball into the mixture; squeeze out the excess solution, and gently swab the insides of your dog's ears. Don't go deep, just go as far as you can see and swab out any debris.
Joey has been using a product on his dogs for over 40 years, called Rich Health Ear Cleaner. You can find this in most pet stores. You use this just as you would the mixture of white vinegar and distilled water. However, this product leaves behind a residue in the ear, which will dry into a medicated powder. This will absorb bacteria that might be growing.
If you clean your dog's ear once a week, you shouldn't have too many ear problems. However, some dogs have genetic ear problems. In that case, cleaning them will help, but it probably wont stop the infections. You will need to go to your vet's for some type of antibiotic cream or drops.
In any case, just stay on top of the ears before they get too bad, as an ear infection can be extremely painful for your dog.





Animal Radio® News with Stacey Cohen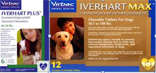 Heartworm Medication Recall
There have been plenty of recalls related to pets in recent months, and as always, we keep you informed about each one. However, this one is not related to pet food or treats. Virbac Animal Health has expanded a voluntary recall on one of their products, a heartworm preventative, and it might affect your dog. The company, based in Fort Worth, Texas, added to the recall first issued in April, on production lots of Iverhart Chewable Tablets, that has included Iverhart Max and Iverhart Plus. Questions or concerns about this recall should be directed to Virbac Technical Services or call 1-800-338-3659 ext. 3052.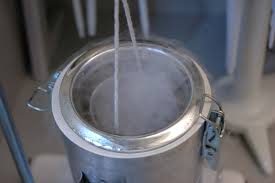 Sperm Bank For Endangered Animals
Japanese scientists have launched a sperm bank for endangered animals that uses freeze-drying technology they hope could one day help humans recreate animal populations on other planets. The team at Kyoto University's Institute of Laboratory Animals Graduate School of Medicine preserved sperm taken from two endangered primates and a type of giraffe. They mixed the sperm with special preservation liquid and freeze-dried it in a way that allows them to store it at just 4 degrees Celsius. The temperature is much higher, and less energy intensive, than conventional ways of storing sperm. Researchers have previously freeze-dried sperm from rats and mice without the use of bulky liquid nitrogen equipment and were able to prove the viability of the spermatozoa up to five years later. In this way, scientists will be able to obtain genetic information more easily, which means we could help to preserve endangered animal species.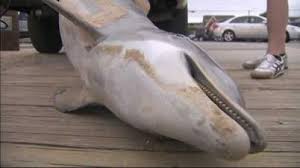 Dolphins Might Have Measles
Researchers say the likely cause of Atlantic bottlenose dolphin deaths along the East Coast is something called morbillivirus. It's the equivalent of measles in people. Maggie Mooney-Seus, with the National Oceanic and Atmospheric Administration, says finding the probable cause is the first step. Now experts have to determine why the dolphins are susceptible to the disease in the first place. Since July 1st, there have been more than 330 dolphin deaths from Virginia to New York. If you find a stranded dolphin, dead or alive, leave it alone and call wildlife officials.
Man Wakes Up To A Real "Fox"
A British man says a recent foxy surprise in his bed was definitely unwelcome. According to The Mirror, Leon Smith rolled over in bed the other morning and expected to see his girlfriend. But instead, he found himself face to face with a fox. Leon says he was shocked, but the animal was surprisingly calm. It stayed long enough for Smith to grab his phone and take a picture, but eventually jumped off the bed and ran out of the room. However, Smith says it took another ten minutes to get the fox out of the house. The couple guessed their visitor must have come in through the cat door, which they're now considering removing to prevent any return trips.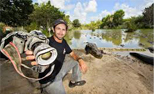 Guilty Alligator
It turns out even alligators feel guilt every now and then. According to Miami's WFOR-TV, Mario Aldecoa's camera was stolen by one of the reptiles while he was feeding and photographing them at the Everglades Alligator Farm in Holmstead. Mario says he wrote the camera off, adding that he just felt lucky the gator didn't get a hold of one of his limbs. But eight months later, an employee spotted an alligator climbing out of the pond with a camera strap wrapped around its leg and the camera dragging behind. Mario says the camera was badly damaged with a number of bite marks. But with the help of a pair of pliers, he was able to yank out the memory card, which contained only one usable picture. Mario says that photo and the camera are now on display at the alligator farm.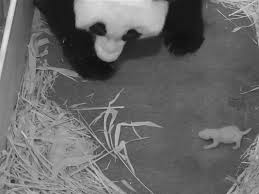 Panda Cam Allows You To See New Addition
The National Zoo is welcoming a new addition. Giant panda Mei Xiang gave birth to a cub and zoo visitors are thrilled. There's still no word on whether the cub is male or female, but zoo officials say they are very pleased with the care Mei Xiang is giving it. The cub's first exam will happen within the next day or so. You can check in on mother and cub via the National Zoo's panda cam.
Escaped Bull Is Back
An escaped 12,000-pound bull is back in its pen after several days on the loose. According to Boise's KBOI TV, the bull escaped and had eluded capture by staying in the thick brush along the Boise River in Eagle, Idaho. The Ada County Sheriff's Office announced that they had finally wrangled the bull. Apparently, Eagle Police Officer Jeff Winegar was able to shoot the bull with a tranquilizer dart. Eagle Police Chief Steve Bartlett says, "Winegar is a great shot," adding "he's also a cowboy." Even after being hit with the dart, the bull was able to run several hundred yards before collapsing. Bartlett says the bull's speed was "amazing," adding that when it ran away it "looked like a cheetah."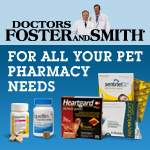 NEWS UPDATE brought to you by Drs. Foster & Smith, affordable pet supplies. Low prices every day, so you save on every order.

Listen to the entire Podcast of this show (#719)