Being A Vet Saved Her Life
Dr. Sarah Boston, Lucky Dog
When Veterinarian Dr. Sarah Boston noticed a lump on her neck, she insisted that it was cancerous, even though other doctors said no. She did an ultrasound at her office and it validated her worst fear. The lump was removed and she is now cancer-free.
Dr. Sarah Boston is a veterinary surgical oncologist (cancer surgery doctor) and her husband is a large animal vet. Dr. Boston takes care of dogs and cat with cancer, with her specialty being surgery.
One day she found herself in a situation where she found a mass in her own neck. Because of what she does for a living, she knew that the mass was new and that it was a thyroid mass. She was concerned that it was a thyroid carcinoma, because that is what she sees in many of her own dog patients.
Because of her knowledge, it helped her to push for a diagnosis and push for surgery. Unfortunately she was in Canada's slow community health care medical system, and found it frustrating. She felt that her animal patients received faster and better care than what she was getting, which stimulated her to write her book, "Lucky Dog, How Being A Veterinarian Saved My Life."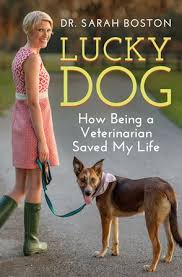 While thyroid cancer is not that common in humans, it is on the rise. Because of this, Sarah had four doctors tell her that it was most likely benign and that she shouldn't worry about it. But Sarah knew better.
Being a veterinarian, Sarah was able to do an ultrasound on herself, using her husband's equipment. Unfortunately what she saw was very consistent with what she sees in her own canine patients with thyroid cancer.
Ultimately Sarah had two surgeries to remove her thyroid gland and then had radioactive iodine. She tells us she is doing great now and is in remission. Thyroid cancer, if it is caught early, does have a very high cure rate.
The surgery that Sarah had is also the same surgery that would be done on a pet with thyroid cancer, but without as much radioactive iodine used on dogs.
In writing her book, Sarah stresses the importance of your own advocacy. If you think something's wrong with you or your pet, you really need to be an advocate in whatever healthcare system you happen to be in.
Bit 100,000 Times
Brian Barczyk, AnimalBytesTV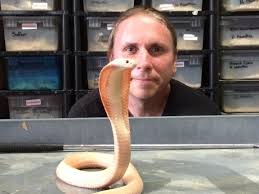 This week is the triumphant return of Brian Barczyk to Animal Radio® airwaves. Yes, he has 30,000 snakes at home. Yes, he's been bit 100,000 times. And yes, the chicks dig it!
Brian tells us that he has been married for 25 years and that his wife has been working with him and the snakes fulltime. He says that she thinks snakes are cool, but she is not a snake person and doesn't get the obsession, but she puts up with it!
While Brian has the biggest affinity towards snakes, he is also an animal guy all around, and even has gators and lizards. Being an animal guy takes Brian all around the world. Recently, he was with snow leopards, cheetahs and even Penguins.
Brian launched SnakeBytesTV online around 7 years ago, and grew it into almost 250,000 subscribers on YouTube. He then decided that an animal network was much needed. As a result, Brian launched the first online independent animal network called AnimalBytesTV produced, "By Animal Lovers For Animal Lovers."
AnimalBytesTV is a network of entertaining and educational shows produced by people that live and breathe wildlife each and everyday of their lives. Each show is filmed, produced and edited by animal lovers, so there's no pressure from network executives to have overly sensational shows just for ratings.
Their mission is to bring you along on their journey to the wild side. Whether it's wrangling reptiles or playing with big cats, they'll welcome you into their lives so you can see what it's like to get up and close to a wide array of amazing creatures.
Conservation is a large part of the goal at AnimalBytesTV and they'll make sure to highlight the topics that effect animals around the globe. They have 7 weekly shows with 10 more weekly shows being produced by people all around the globe! Check back each weekday for new videos.
Being around so many snakes, Brian tells us that he has been bit around 100,000 times, including bites to his face. He blames his mom for his 30,000 snakes, because as a kid he would collect garter snakes and try to bring them into the house. It wasn't until he was 15 when he got his first pet snake that he could keep at home. He feels if he could have gotten it out of his system when he was a kid, he might not be surrounded by thousands of snakes today.
Brian wants to tell all parents, "Let your kids get a snake as a kid and get it out of their system or they're going to end up with 30,000 snakes!"
http://www.animalbytes.tv
http://www.bhbreptiles.com
"HERO PEOPLE OF THE WEEK" - What Would You Do For Your Dog? Scott Clare & Buck-O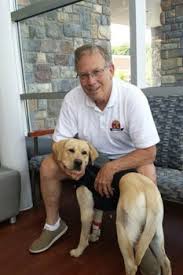 When this week's Hero Person found out his pup had Ventricular Tachycardia, a rare condition where a dog has a rapidly fast and sometimes-irregular heartbeat, he drove almost 5,000 miles and spent over $10,000 to treat him.
After Scott Clare's wife died, the high school teacher taught himself to love again. This time, it was a four-legged companion; he named Buck-O, after baseball player Buck O'Neil, a reflection of his love of baseball.
Buck-O is a yellow lab who is about 15 months old. When Buck-O was about 4 months old, Scott took him to be neutered. Upon a routine examination before being neutered, it was discovered that Buck-O had an irregular heartbeat.
Buck-O was diagnosed with ventricular tachycardia. It's a rare condition where a dog has a rapidly fast and sometimes irregular heartbeat, leaving Scott to make a very tough decision. Scott was told that because of this, Buck-O could faint, he could suddenly fall over dead, but if he did live for any amount of time, he could suddenly develop an oversized heart that would eventually kill him.
So Scott's choices were to spend a lot of money or hang on to him until he had a horrible death and he wasn't going do that.
Whatever the vet asked Scott to do or told him he could do, he did! Scott lived in Central California and was told to take Buck-O to a cardiologist in Los Angeles, where he got a second opinion that confirmed the first. Scott was then told that there was only one place in the country that could perform the ventricular ablation surgery that Buck-O needed to save his life, and that was in Cincinnati.
With over 100,000 veterinarians in the United States, there is only one who could perform this type of surgery, Dr. Kathy Wright, because it is not taught in veterinary school.
Dr. Wright actually learned how to perform the surgery on animals at a pediatric hospital.
Now, Scott needed to get Buck-O to Cincinnati. While flying was the fastest, it was not an option because Buck-O would have to have additional tests, which he might not have passed, to fly. But if he were approved, he would have to ride in cargo, and that wasn't going to happen.
Scott then loaded the car and he and Buck-O traveled 2,300 miles to Cincinnati, an adventure that made Buck-O many friends along the way.
After 5 days on the road, they made it. Scott checked Buck-O into the hospital, where he was held for 24 hours before surgery. But, before surgery could be done, the hospital lost all power. Buck-O was then scheduled for the following day, but again, it didn't happen. It turns out the power outage "fried" all of the hospital's equipment. New equipment was ordered, but it took another week before the surgery could take place.
Buck-O was the first dog to actually undergo this type of surgery, and made it just fine through the 8-hour surgery. When he was well enough, the two of them headed back to California, nearly a month after first hitting the road.
Buck-O is doing well now, but on October 3rd he will go back to Los Angeles for a final evaluation of his heart.
This whole experience was not cheap, at around $10,000. Scott said he paid $1,000 for a puppy that had heart and hip certifications, but they didn't catch the irregular heartbeat. Scott also did not have any insurance coverage on Buck-O.
Scott is our hero who went above and beyond, both in time and money, to save his dog. But, Scott tells us that Dr. Kathy wright and Buck-O are the real heroes!
Thinking Globally. Acting Locally. Do you know someone that should be nominated for our Hero Person of the Week? Send us an email to: YourVoice@AnimalRadio.com.

Animal Radio's HERO PEOPLE is brought to you by Zeuterin a safe, permanent and virtually painless alternative to surgical castration.
La Feline Film Festival
Erik DeLeo, Organikat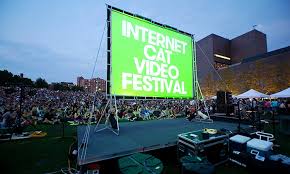 Calling all cat lovers! Organikat of Los Angeles is teaming up with the Walker Art Center to host the LA Feline Film Festival, featuring the Cat Internet Video Festival, where thousands of cat owners, worshipers and fans come together for a great time enjoying all things feline. Does it get more purrrfect?
So what makes cat videos so appealing? Erik DeLeo, founder of Organikat, tells us that people love their cat videos and that cats have taken over the Internet. The festival is also a social setting. Most people are sitting in front of their computers, whether they are at home or at work, watching these videos. But if you put it into a festival format, people love it!
Most people think of cats and the crazy cat ladies, but Erik tells us this is more like a "Cool Cat Lady Festival" and not a "Crazy Cat Lady Festival." While there are more women who attend the cat film festivals, there are also many men who attend.
Individuals are encouraged to dress in cat-themed attire, and may participate in the Cat Crazy Costume Contest, where attendees can strut their stuff on the catwalk. People can even bring their cats, although they must be kept on a leash or in a carrier.
The event will include live cat and kitten adoptions from local shelters like the Stray Cat Alliance, Kitty Bungalow and NKLA, where you can rescue and take home a furry friend of your own. A part of the proceeds from the LA Feline Film Festival will be donated to participating local animal shelters and adoption centers in L.A. County.
The La Feline Film Festival is Sunday, September 21st from 1:00pm to 10:00pm at Christmas Tree Lane, Exposition Park in Los Angeles. From 1:00-7:00 there will be vendors, food trucks, bands and celebrity cats like Lil Bub and Dusty the Klepto Kitty.
The conclusion of the LA Feline Film Festival will entail showing the Walker Art Center 2013 and 2014 reels of the Cat Internet Video Festival on a huge, 80-foot outdoor screen. That's almost 2 hours of cat Internet videos!
http://www.organikat.com
http://lafelinefilmfestival.com


6th Annual Get Your Licks on Route 66
Susan Sims, Fido Friendly Magazine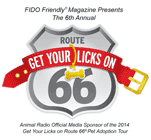 Every year, Susan Sims from Fido Friendly Magazine gets on the road to help spread the word about adoption and help out shelters along the way. They start in Los Angeles and travel along Route 66 to Chicago.
Powered by Ford with Animal Radio as a media sponsor, the tour travels down America's Favorite Highway stopping at shelters along the way to support adoption events. In the first five years, the tour helped place over 2,000 pets in to new forever homes.
This year's Official Spokesperson is actress, best-selling author and animal lover Danica McKellar. Danica, best known for her role as "Winnie Cooper" on The Wonder Years, was recently seen competing on Dancing With The Stars.
Here is a list of where they will be. Check back often to see if they've added more shelter stops.
9/20/14 - Albuquerque, NM
Watermelon Ranch Shelter Event
PetSmart
10428 Coors Bypass Rd.
Albuquerque, NM
Hours: 10am - 3pm
9/21/14 - Santa Fe, NM
Santa Fe Animal ShelterEvent
PetSmart
3561 Zafarano Drive
Santa Fe, NM
Hours: Noon - 4pm
9/24/14 - Amarillo, TX
Amarillo SPCA Texas Panhandler Pet Service Event
Cowboy Gelato Restaurant
2806 SW 6th Ave.
Amarillo, TX
Hours: 3pm - 7pm
9/27/14 - OKC, Oklahoma
Best Friends of Pets
Petco
324 S. Bryant Ave.
Edmond, OK
Hours:Noon - 4pm
9/28/14 - Tulsa, OK (Special adoption rate $66)
ARF Animal Rescue Foundation
Woodland Hills Mall
7021 S. Memorial Drive Ste. 225-B
Tulsa, OK
Hours: Noon - 4pm
9/30/14 - Joplin, MO
Joplin Humane
140 E. Emperor Lane
Joplin, MO
Hours: 1pm - 4pm
10/2/14 - Springfield, MO
Humane Society of SW Missouri
3161 West Norton Rd.
Springfield, MO
Hours: Noon - 4pm
10/4/14 - Springfield, MO
Humane Society of Missouri
1201 Macklind Ave.
Springfield, MO
Hours: Noon - 4pm
10/5/14 - St. Louis, MO
Animal Protective Association of Missouri
24th Annual Canine Carnival!
Tilles Park in Ladue
9551 Litzsinger Road
St. Louis, MO
Hours: 11am - 3pm
10/11/14 - Chicago, IL
PAWS Chicago
1997 N. Clybourn Ave.
Chicago, IL
Hours: 11am - 4pm
10/12/14 - Springfield, IL
Animal Protection League
PetSmart
3183 S. Veterans Pkwy.
Springfield, IL 62702
Hours: 1pm - 5pm
10/18/14 - Kansas City, MO
Wayside Waifs
3901 Martha Truman Rd.
Kansas City, MO
Hours: 2pm - 6pm
10/19/14 - Kansas City, KS
Great Plains SPCA
5428 Antioch Drive
Merriam, KS
Hours: Noon - 4pm
Also look for them on the road in their 2015 FORD expedition. They will be traveling down the Mother Road with their two rescue hounds, Junior and Jake, helping to save lives, one shelter at a time!
To learn more about this life saving tour and the cities where they will be holding events, visit their website www.fidofriendly.com or www.getyourlicksonroute66.com.
See more at: http://www.petpr.com/news/fido-friendly-magazine
http://www.fidofriendly.com/blog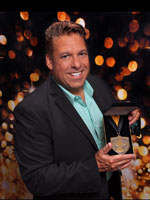 The Dogfather's Grooming Tip with Joey Villani
Removing Sap
Animal Radio® Dogfather Joey Villani has several foolproof ways to get tree sap out of your dog's hair and that hard-to-get-to spot between their pads. No need to cut out the hair if you use the right stuff.
Most people have dealt with removing sap on themselves, but when it comes to their pets, that's a different story. It's bad enough when they get it on their fur, but if they walk in it and get it on their feet, that is another story. The sap cannot only harden, but since it is sticky, it starts picking up things like burs, rocks and even twigs. The hair on the feet will then start knotting up around these things, which may lead to infection.
Groomers will usually shave this hair from the pads of the feet from most dogs, but not all. But if you don't have the time or money to go to a groomer, you can take care of it at home.
What breaks down most types of gums, saps and oil is oils themselves. You can use any type of degreaser and scrub all day long, like Dawn Dish Detergent, but it won't break it down.
You need to use something with high oil content, like baby oil or mineral oil, which are non-toxic to your pet. Just apply a small amount on a cotton ball or cloth and work it in really well to the spot. Next, let it sit on your pet for 5 to 10 minutes. In most cases, you will then be able to comb it out very easily without causing any discomfort to your pet. After you're done removing the sap, just spot clean the spot with a little pet shampoo. Waterless shampoo works well in this case.
Don't use products like Goo Gone, which are not made to be applied to your pets skin.




Animal Radio® News with Tammy Trujillo
Pet-Flipping
This is really awful. It's become so prevalent, that it now has a name, "Pet-flipping." It involves a criminal getting his hands on a cat or dog by stealing it or claiming to be the owner of a missing pet, then quickly selling them. Pet flippers snatch pets from front porches and back yards or pick them up if they're wandering the streets. The new buyer generally has no idea that the pet actually belongs to someone else who is desperately looking for the animal.
Is Your Dog Depressed?
A resent survey of pet parents suggested that as many as 80-percent of our dogs might be depressed and suffering from anxiety. It may be hard to tell because some of the telltale behaviors seem pretty common; things like excessive barking at visitors, cars or even the vacuum. If you think your pet is behaving strangely, take him to the vet for a check-up. If everything is fine, tell your vet about your pets' behavior. They may have a suggestion or prescribe an anti-depressant or anxiety medication like Prozac or Zoloft.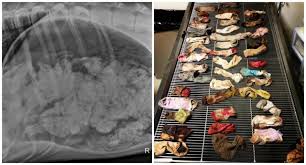 Ever Wonder Where All Your Missing Socks Are?
One family in Oregon found out, the hard way! Their three-year old Great Dane was miserable and coughing when they rushed him to an emergency clinic in Portland. X-rays showed he had 43 socks in his stomach. It took 2 and ½ hours of surgery to get them out. The Great Dane went home one day after the surgery, feeling just fine. This story happened in February, but it's just coming out now because it won an annual contest of weirdest x-rays of what pets eat held by the magazine Veterinary Practice News. Among the other entries, a kitten that ate a toy alien figure, a bearded dragon that ate a miniature banana from a Barbie Dream House and a frog named Kermit that ate more than 30 small ornamental rocks. Luckily, they all survived.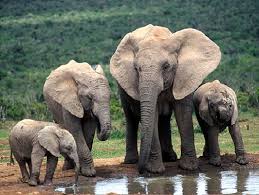 Great Elephant Aerial Census
A yearlong project that started in February is the first pan-Africa aerial survey of savanna elephants since the 1970s. It's being funded by Microsoft cofounder Paul Allen and includes 18 countries. The Great Elephant Census doesn't include forest elephants because they can't be spotted from the air. Ecologist Mike Chase is the lead researcher on the project and says if they know more, they have a better chance of saving the elephants. He shared an amazing and horrifying fact that in 2013, 96 elephants a day were being lost in Africa to poaching and other threats.
You Can Face Charges If Your Pet's In Pain
This is pretty interesting. It's from the Isle of Guernsey, off the coast of England. It's creating a series of animal welfare law updates, with the first now in effect. It calls for a person to face charges if they don't make sure their pets are free of pain. Basically, if an animal is hurt, you have to get it to the vet. It's based on the so-called five freedoms: freedom from thirst, hunger and malnutrition; freedom from discomfort; freedom from pain, injury or disease; freedom from fear and distress; and freedom to express normal behavior patterns. It sounds like a great plan, except that veterinarian appointments on Guernsey cost only a little less than a regular human doctor's appointment. But the government there says if you can't afford to keep a pet happy and healthy, then you shouldn't have one.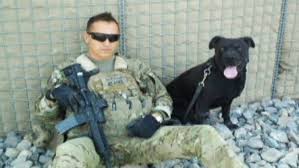 Retired Military Dog Gets Lifesaving Surgery
A retired military dog who's credited with saving thousands of lives will get the lifesaving surgery he needs. Kay is an 8-year-old Pit Bull and Labrador Retriever mix who was rescued from a shelter in Texas and trained to sniff out IEDs in Afghanistan. He now lives with his former handler, Army Specialist Brandon Donahue, and his family in Colorado. They recently found out that Kay has a tumor in his heart that's causing it to beat improperly. The vet said Kay would only live a few months if the tumor wasn't removed, but if they got it out, he would be happy and healthy for another five or six years. So they started a GOFundMe account and raised even more than the $6,000 needed for the surgery. They plan to use the extra money to pay for Kay's check-ups and medications and support him through his well-deserved retirement.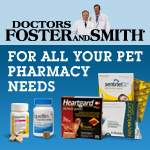 NEWS UPDATE brought to you by Drs. Foster & Smith, affordable pet supplies. Low prices every day, so you save on every order.

Listen to the entire Podcast of this show (#772)