Is Yawning Contagious To Our Dogs?
Richard Christian, All Pet News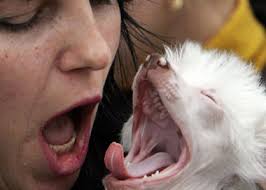 Richard Christian, All Pet News, reports on a study that says you can get your dog to yawn by yawning. But Fido knows when you're faking it. He won't fall for the faux yawn. What does it all mean? What is our dog thinking when they yawn?
Yawning is contagious. We all know that. At least, yawns are contagious among humans. Dogs are a different story. But a recent study organized by the University of Tokyo suggests that yawns do play a role in a dog's life, just not the one we might have assumed. It seems that when your dog yawns, that might be his way of saying he cares about you.
According to the study, dogs are more likely to yawn in response to their owner's yawning, than to a stranger's. This may not sound like much on paper, but the scientists involved in the study suggest this demonstrates a dog's emotional connectedness to his owner (and humans in general).
The study included 25 dogs that watched their owners and strangers yawn, and even pretend to yawn. One assumption prior to the study, was that dogs yawned as a form of stress, since yawning can be caused by anxiety. This assumption was quickly ruled out when there seemed to be no change in the yawning dogs' heartbeats.
What the study showed however was that dogs were more likely to yawn after their owners yawned and were less likely to yawn if a human offered a fake yawn. This is quite similar to a study released last year that showed that humans are more apt to succumb to contagious yawning in response to the yawns of people they care about the most.
Richard himself did a lot of online research, which wasn't much fun. So, he did some hands-on research with his own dog and cat.
Richard's research showed that he has the laziest dog in the world who is already yawning on his own. He doesn't know if he capitalized on what his dog already does or if his dog really cares about him.
By the end of the week, Richard had a complex and started thinking that perhaps his dog doesn't care for him at all!
Unfortunately, all of this yawning started transferring over to Richard's fiancée. When she yawned, Richard didn't respond with his own yawn right away, which lead him to question whether or not he cared for her! Complex number two!
However, we are sometimes duped by fake yawns, which caused our yawning reaction. However, our dogs don't succumb to a fake yawn, so does that mean they are smarter than us? All of this creates yet another complex in Richard!
Bottom line is that the study showed that when our dog yawns with us, they feel that we are stressed or tired and they want to let us know that they care about us.



Cat Friendly Practices (CFP)
Dr. Marty Becker, America's Veterinarian
Dr. Marty Becker is America's Veterinarian and featured veterinary correspondent for Animal Radio. Today, Dr. Becker discusses cat friendly practices.
Cats need veterinary check-ups to prevent and treat health concerns. Preventive care examinations for all cats should occur a minimum of once yearly and more frequently for senior cats and those with chronic conditions. Cats age more rapidly than we do so preventive care examinations are a crucial part of a healthy lifestyle. During the physical examination, veterinarians can often detect conditions that may affect your cat's health long before they become significant so they can be managed or cured before they become painful or more costly.
But it's not easy to get your cat into a vet's office. What every pet owner should know is that dogs are predators while cats are both prey and predators. Whenever a cat goes to the vet's, they are not predators they are only prey.
There are three things a cat will do. One, they will take flight when you try to put them in the carrier. Two, they will freeze (this was thought to be much easier because it just sits there while it is being examined because it is so stressed). Thirdly, they will fight.
Fortunately, we now know so much more about these cats and there are several things we can do to make the vet visit less frightening for them.
You can use cat pheromones at home so they are less stressed before they go to the vet's. Also, leave the cat carrier out year round and put toys and treats so they won't only see it when it is time to visit the vet's. Dr. Becker has helped design a new carrier to make it easier for your cat or small dog. It is called the Navigator Kennel. The front door swings both ways and it opens on the top for easier loading. It is also easier to take apart to remove an animal. And, a vet can take just the top off and exam your cat right in the carrier.
Some vets are even spraying themselves with cat pheromones. These practices also place a cover over the carrier to mask the stimuli that the cat sees. They may also give the cat a prescription "chill" pill called Anxitane, which is a green tea extract and puts them in a very relaxed state. Most cats love this pill and will take it willingly.
These new practices also take you immediately into a waiting room, so you don't have to sit in the reception area with other cats and dogs. The carrier is then placed on the floor with the door facing the wall. The cat will then sit there with his owner for about 10 minutes while special music is being played.
Next, the vet enters wearing pheromones. While they do some exams on the table, most of the exams are done in the owner's lap or sitting in a chair side-by-side. They then proceed by starting the exam at the tail and work towards their face. In the past, the exams were started at the face, which increased the cat's anxiety.
So how do you find one of these Cat Friendly Practices (CFP)? They're about 3,000 members of the American Association of Feline Practitioners (AAFP). A vet has to apply to become a Cat Friendly Practice and has to meet certain criteria. Visit CatVets.com to find one in your area.
In the coming years, you will be seeing a totally different way of veterinary practice. You will even see hospitals where cats can enter through a separate door right into the exam rooms. And for dogs, in the past there was an outside area where they could eliminate. Unfortunately, there is a lot of cortisol that is released in their urine, which is a stress hormone. When a dog goes there, it is almost like them reading a sign that says, "All hell's going to brake loose in here." But in the future, you will see a special place for dogs to eliminate that will give them a spray of pheromone and possibly dispense a treat when it senses a dog is there.
You can see Dr. Marty Becker on Good Morning America & GMA Health on ABC News Now. Dr. Becker has been practicing veterinary medicine for more than 30 years and is a best-selling author, syndicated columnist and a frequent guest on national shows. You can also find Dr. Becker on Vetstreet.com, a new animal health and lifestyle website dedicated to giving pet owners the most accurate information possible to keep their pets healthy and happy. Follow Dr. Becker on Facebook and Twitter.
Fall Tune-Up For Your Pet
Dr. Joel Ehrenzweig, ProLabs, FLEX Rx
ProLabs understands that our listeners consider their pets family members. They also know that you want to play an active role in their health care by giving them high-quality products.

For more than twenty years, ProLabs has provided safe, cost-effective over-the-counter canine and feline products, matching or exceeding quality standards of those used by veterinarians. From joint care to skin health and vaccines, pet owners can trust the clinically proven science and safety behind all ProLabs products.
Today, with summer behind us and fall leaf colors starting to change, its time to get your pet tuned up for Fall.

1. Make sure there are no internal or external parasites. ProLabs Tape Worm Tabs will take care of fleas; ProLabs Worm Protector 2X – will take care of round and hookworms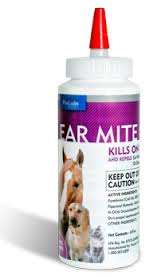 2. Often overlooked problem for dogs, cats, horses: ear mites. ProLabs Ear Mite Killer with Aloe will take care of a laundry list of what it also repels: ear mites, fleas, gnats, mosquitos, flies, ticks (usually in/around ears) and mange mites on exposed skin surfaces for 3-5 days!


3. Always concerned about arthritis and joint health at any time of year. ProLabs FLEX Rx is clinically proven better and faster than Cosequin DS or get your money back guarantee and $10 off coupon.
ProLabs is the source for professional pet health care products.

http://www.prolabspets.com

The Dogfather's Grooming Tip with Joey Villani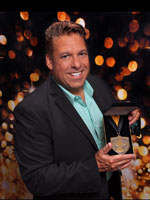 Grooming On A Budget
If you're on a budget, how long can you wait before you take your dog to a groomer? Are there things you can do at home between visits? If you are trying to stretch out the time between grooming visits, there are things you can do at home to help.
If you have a longhaired dog, combing and brushing is essential. You will need to both brush and comb them that at least two to three times a week, depending upon the length of their hair.
For a short haired dog, or a dog that basically sheds but doesn't knot up, as well as long-haired dogs; if you're doing some work on them at home, you can get by with taking them to the groomers with the change of each season, or about 4 times a year. Once your dog's coat feels the change in the atmosphere of the new season, their coat will change. This is when you normally see more shedding and more matting, where you might need a little more help from a professional.
When it comes to their nails, you should take them to the groomer's every four to six weeks and have them checked. If you have an active dog, they will grind them down by themselves with running around. But if your dog isn't active, go to the groomers and let them do it. They will usually charge about $15 to trim the nails.
With a little due diligence, you can stretch your grooming visits out while still maintaining your pet's health.





Animal Radio® News with Stacey Cohen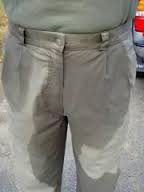 Leaking Man Tries To Smuggle Fish In Pants
An embarrassing leak foiled one man's recent smuggling attempt in New Zealand. According to Orange News, the Vietnamese national tried to go from Australia to Auckland with live tropical fish hidden in plastic bags and stuffed in his pockets. But airport officials grew suspicious when they noticed there was water seeping from his pants. The suspect initially tried to convince customs that he was just carrying extra water because he was thirsty. They weren't convinced, however, and decided to search the passenger, which led to the discovery of seven live fish. He's now facing charges under New Zealand's Biosecurity Act, which carries maximum penalties of five years behind bars or a fine of more than $77,000.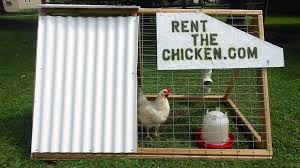 Rent-The-Chicken
A couple in Freeport, Pennsylvania is giving aspiring chicken farmers a chance to take a test run with the animals. According to the Indiana Gazette, Phil Thompkins and his wife Jenn have recently started a business called "Rent The Chicken," which allows people to care for chickens. For $350, a renter gets two hens, a wheeled coop, feed and a water dish. They sold their first chicken starter-kit in July, and they plan on holding a larger scale grand opening next spring. The couple decided to start the business after seeing friends struggle with raising chickens. Phil also says he's noticed raising chickens is "something a lot of people are into," but most "don't know where to start."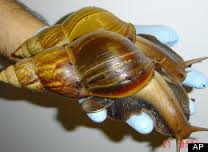 Labs Sniff Out Rat-Sized Snails
Officials in Florida are turning to Labrador retrievers to help get rid of an invasive species of snails. In the past two years, the Giant African Land Snail has taken over the Miami area. The snail, which can grow to the size of a rat, can carry a parasitic rat lungworm that can be harmful to humans. State agriculture officials began an aggressive extermination campaign that will include specially trained Labrador retrievers that can pick up the snail's scent. Richard Gaskalla of the Florida Agriculture Department says the dogs are "very good at detecting the Giant African Land Snail." The Labs will join the campaign as soon as they finish a three-month training session.

Record-Setting Gator Caught In Mississippi
Dustin Bockman talked to ABC's Good Morning America after the opening weekend of Mississippi's alligator hunting season. His gator measured over 13 feet long and weighed 727 pounds. Another record was also set, with Brandon Maskew catching a 10 foot long, 295 pound female alligator, the longest and heaviest ever captured.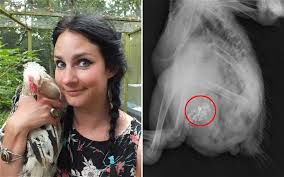 Missing Diamonds Found But Can't Be Retrieved For 8 Years
A British woman recently located her missing diamond earring, but she'll have to wait almost a decade before she can wear it again. Claire Lennon tells The Telegraph her pet chicken Sarah snatched the $450 piece of jewelry while she was perched on her shoulder. Veterinarians determined the earring was trapped in the chicken's stomach. And while they said they could remove it with a risky surgery, Lennon quickly ruled that out because she says her six-year-old daughter would be devastated if Sarah died. So instead, they intend to wait until Sarah grows old and passes away from natural causes, which Lennon estimates could happen in about eight years.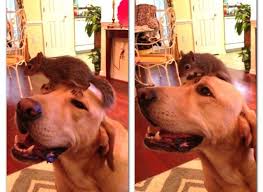 Lab Adopts Baby Squirrel
For humans, the adoption process is complex, lengthy and often difficult. For animals, it pretty much consists of picking up an orphaned baby with your mouth (provided it fits in your mouth), bringing it home and hoping your human parents let you keep it. That's the way it worked out for Hoss, a yellow Lab, who found a wee squirrel separated from its mommy, scooped it up and took it back to the house. Now Hoss and the squirrel, christened Jack, are fast friends, and to prove it they posed for a sweet portrait. As you can see, Jack seems to enjoy riding on Hoss' head.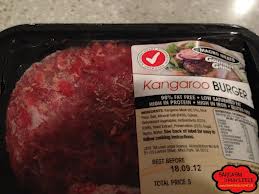 "Roo" Burgers Available in So Cal
A Southern California hamburger chain has a new item on its menu. Slater's 50/50 is serving up the Roo, a burger made with a 50/50 mix of ground kangaroo meat and ground bacon. It comes topped with melted Brie cheese, bacon, huckleberry ketchup, baby greens and radish slices.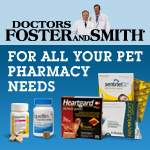 NEWS UPDATE brought to you by Drs. Foster & Smith, affordable pet supplies. Low prices every day, so you save on every order.

Listen to the entire Podcast of this show (#720)