Eastwood Is Back
Alison Eastwood - Chimp Haven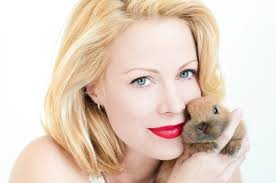 The daughter of Clint Eastwood, Alison Eastwood is back for more fun! She's crowd-funding to raise money for Chimp Haven, the new home for 110 research chimps purposely infected with HIV and Hep C. Alison says that the government stopped funding chimp research and left these chimps homeless.
Actress and director Alison Eastwood is lending her star power to help 110 chimpanzees from a biomedical research laboratory get a new start. She felt it was a great cause to get behind and help these chimps.
Keithville, LA-based Chimp Haven is the biggest chimp sanctuary in the United States that takes in chimps from all walks of life, whether they are medical lab chimps or from private owners, they take them all. The chimpanzees have a new home there, following their retirement from the New Iberia Research Center.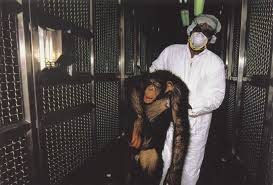 But while the CHIMP Act approved by congress in 2000 - and amended in 2013 - earmarks partial funding for their care, approximately $600,000 per year in additional public support is needed to support the Sanctuary's 110 newest arrivals. So Chimp Haven contacted Alison Eastwood for help.
Alison knew that the crowd-funding platform would be a good way to raise money and get the message out. She then partnered LoveAnimals.org and created a campaign to enlist the public to raise funds needed to provide lifetime care. They started the campaign on September 10th, which will go through October 25th. She urges everyone to give $5 or even $1, with a goal of $50,000.
The biggest expenses are the enclosures that will have to be built for these chimps. Chimp Haven doesn't believe in placing these animals in tiny cages. They don't want to take them from labs and have them go back into small, horrible unnatural environments. They build beautiful habitats so they can spend the rest of their lives in a somewhat natural environment with trees, toys, or things they might have in the wild. Daily care also adds up for this many chimps, which can live for many years.
While the Federal government has stopped their funding for experimenting on chimps, private labs still continue to do so.
Click here to view a video by Eastwood about the campaign.
"HERO PEOPLE OF THE WEEK" - Financial Help For Pet Procedures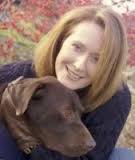 Our Hero Person this week created the Brown Dog Foundation to help pet owners afford life-saving surgeries and procedures for their pets. Carol Smock's dog, "Chocolate Chip," needed surgery shortly after she adopted him. Carol says, "Chip was most certainly a muse and inspiration for the foundation."
Brown Dog Foundation was founded on October 16, 2006 in memory of Chocolate Chip, a chocolate Labrador Retriever that touched many hearts in his short, ten-year life.
Carol adopted Chocolate Chip in October of 2000 from a lab rescue group. He had been surrendered to the local pound with a tumor, which they believed the originating family was probably unable to afford treatment. The original family thought that he would find a good home or be let go peacefully, believing that they were doing the right thing in surrendering him.
Chocolate Chip then made his way to a lab rescue group and finally into her house. But before Carol got Chocolate Chip, the rescue group was able to collaborate with the University of Tennessee and have the tumor removed. By the time Carol got him, he was post-operative and a few years later was deemed cancer-free.
Sadly, in 2006 he represented with Stage IV Lymphosarcoma, at just over 10 years of age. Most likely Chip had brain cancer as well. An initial Chemotherapy treatment was administered and Carol took Chocolate Chip home to observe him for the weekend and consider the options.
Chemotherapy treatment is very expensive for a dog and Carol worried that being unemployed at the time may prohibit her from being able to seek treatment. It would be a very difficult decision to make because Chocolate Chip was always a very healthy dog, yet she couldn't deny that money was an issue. On Sunday, May 14, 2006, however, Chip's liver began to fail and the decision to let him go was the only right decision to make.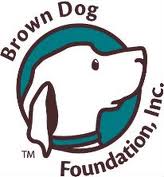 As a result of this experience, Carol along with five friends and her sister, created Brown Dog Foundation as a 501c3 public charity that provides funding to families who find themselves in similar situations - a sick pet that would likely respond to treatment, but due to an unforeseen circumstance, there is not enough money immediately available to make it happen.
Unfortunately they get far more requests than they can possibly finance. They prioritize those cases where the pet can truly be restored to a good quality of life, with the pet parent provided good quality of care.
In the 7 and ½ years that they have been in operation, they have helped over 525 animals, with about 139 this year. They have 3 programs. The first one is where they assist by providing referral and guidance to lower costs alternatives for the people who have the money can afford it on their own. Next, they assist in the removal of tumors, abscessed teeth, stitching up wounds that aren't healing on their own, and many other diseases where there is a one-time treatment.
Her hope is that knowing this foundation exists; dog-owners will have their dogs tested for cancer more frequently.
The Brown Dog Foundation raises money any way they can. To learn more and to help, please visit BrownDogFoundation.org.
Thinking Globally. Acting Locally. Do you know someone that should be nominated for our Hero Person of the Week? Send us an email to: YourVoice@AnimalRadio.com.

Animal Radio's HERO PEOPLE is brought to you by Zeuterin a safe, permanent and virtually painless alternative to surgical castration.
Bringing Pets Into The Classroom
Bob Vetere, APPA

The 501c3 APPA (American Pet Products Association) is riding-high on their viral Pets Add Life campaign. It's time once again for their annual Pet Poetry Contest directed at school age children. Teaching compassion for animals in the classroom creates adults that respect and love pets and people. APPA President Bob Vetere is back to tell you all about the contest and this year's $1000 scholarship.
Pets Add Life (PAL), will be accepting submissions for the 7th Annual Pets Add Life Children's Poetry Contest beginning September 1, 2014 through January 31, 2015. Students in grades 3rd-8th are encouraged to write unique poems about the joys and benefits of owning pets of all types for a chance at top prizes.
Bob tells us that they have entries coming in from almost all 50 states, plus some from even outside the country. They are asking children from grades of 3 to 8, to write some kind of poem about the joy and benefit from owning any kind of a pet and what their pet means to them.
The poems they receive cover everything from a goldfish's smile to someone who went through a troubled time and their dog was an important part of their life.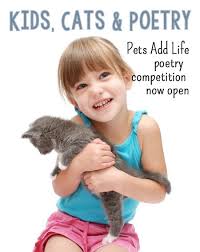 It is great to instill this concept in young children's minds that animals are sentient beings and if they are allowed to develop a relationship with at a young age, it will extend throughout their lives.
One student from each grade level (6 total) nationwide will win a $250 gift certificate for pet products, and a "by-line" in a nationally circulated publication or online outlet. Additionally, the six winning students' classrooms will each win a $1,000 scholarship to spend on pet-related education or to support a classroom pet.
Participants can submit poems via PAL's Facebook page, online at www.PetsAddLife.org or mail final poems and submission forms to:
Pets Add Life
661 Sierra Rose Dr.
Reno, NV 89511
In addition, teachers within the contest grade levels are welcome to incorporate this national contest into their lesson plans and submit poems in one entry on behalf of their classroom.


6th Annual Get Your Licks on Route 66
Susan Sims, Fido Friendly Magazine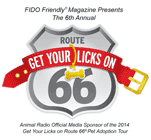 Every year, Susan Sims from Fido Friendly Magazine gets on the road to help spread the word about adoption and help out shelters along the way. They start in Los Angeles and travel along Route 66 to Chicago.
Powered by Ford with Animal Radio as a media sponsor, the tour travels down America's Favorite Highway stopping at shelters along the way to support adoption events. In the first five years, the tour helped place over 2,000 pets in to new forever homes.
This year's Official Spokesperson is actress, best-selling author and animal lover Danica McKellar. Danica, best known for her role as "Winnie Cooper" on The Wonder Years, was recently seen competing on Dancing With The Stars.
They are now almost halfway through the tour, with 9 more events to go.
If you can't take home a new family member, they also have a spinning wheel with lots of prizes set up at different shelters along the way, with the money raised going to that shelter.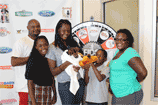 Here is a list of their upcoming schedule. Check back often to see if they've added more shelter stops.
9/27/14 - OKC, Oklahoma
Best Friends of Pets
Petco
324 S. Bryant Ave.
Edmond, OK
Hours:Noon - 4pm
9/28/14 - Tulsa, OK (Special adoption rate $66)
ARF Animal Rescue Foundation
Woodland Hills Mall
7021 S. Memorial Drive Ste. 225-B
Tulsa, OK
Hours: Noon - 4pm
9/30/14 - Joplin, MO
Joplin Humane
140 E. Emperor Lane
Joplin, MO
Hours: 1pm - 4pm
10/2/14 - Springfield, MO
Humane Society of SW Missouri
3161 West Norton Rd.
Springfield, MO
Hours: Noon - 4pm
10/4/14 - Springfield, MO
Humane Society of Missouri
1201 Macklind Ave.
Springfield, MO
Hours: Noon - 4pm
10/5/14 - St. Louis, MO
Animal Protective Association of Missouri
24th Annual Canine Carnival!
Tilles Park in Ladue
9551 Litzsinger Road
St. Louis, MO
Hours: 11am - 3pm
10/11/14 - Chicago, IL
PAWS Chicago
1997 N. Clybourn Ave.
Chicago, IL
Hours: 11am - 4pm
10/12/14 - Springfield, IL
Animal Protection League
PetSmart
3183 S. Veterans Pkwy.
Springfield, IL 62702
Hours: 1pm - 5pm
10/18/14 - Kansas City, MO
Wayside Waifs
3901 Martha Truman Rd.
Kansas City, MO
Hours: 2pm - 6pm
10/19/14 - Kansas City, KS
Great Plains SPCA
5428 Antioch Drive
Merriam, KS
Hours: Noon - 4pm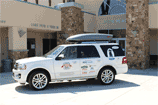 Also look for them on the road in their 2015 FORD expedition. They will be traveling down the Mother Road with their two rescue hounds, Junior and Jake, helping to save lives, one shelter at a time!
To learn more about this life saving tour and the cities where they will be holding events, visit their website www.fidofriendly.com or www.getyourlicksonroute66.com.
See more at: http://www.petpr.com/news/fido-friendly-magazine
http://www.fidofriendly.com/blog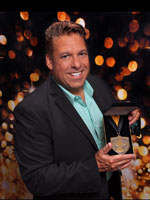 The Dogfather's Grooming Tip with Joey Villani
Ear Care
If your dog has healthy ears, it is easy for you to keep up their cleaning at home. You can use cotton balls and ear cleaning products you can purchase at a pet store, or Oti-Clens, which you can purchase from your veterinarian. You can even use witch hazel.
Some dogs are naturally predisposed to ear issues. These can be dogs that like to go into the water and dogs with heavy ears that fold over the ear canal and keep it moist, like Cocker Spaniels and Setters.
To clean their ears, you will just go in with the cotton ball just as far as you can see, don't push it in any further. Then all you have to do is wipe out whatever is in there.
But if your dog has an ear infection, the things you might use can make it worse. Even your groomer can make it worse.
The age-old theory about plucking the hair out of a pet's ears is now being reviewed and veterinarians are now saying that this is probably not the best thing to do. Most groomers are also trained to remove this hair. So, everyone is starting to have to rethink their methods.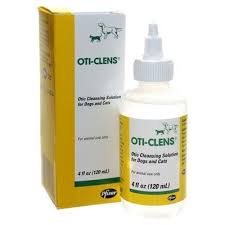 If your dog has healthy ears, keep them this way by checking them on a weekly basis. Healthy ears, when you smell them, shouldn't really smell like anything.
If you detect any type of odor, or an unpleasant smell, or anything that just doesn't smell right, take your pet to the vet's for treatment and ask them for a good ear treatment that you can do at home to prevent it from happening again.
By just staying on top of it, by looking into and smelling their ears, your dog shouldn't have any problems.




Animal Radio News with Tammy Trujillo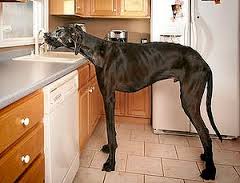 The World's Tallest Dog Has Died
Zeus the Great Dane, who lived in Otsego, Michigan was just five years old, but because of his size, he died of natural causes due to old age. Zeus reached 44 inches from the floor to his shoulder, but his guardians say he was a lapdog at heart. One thing they will miss most is the way he liked to "sit on their laps" while they were grilling out on the porch. Zeus was also a therapy dog and spent time making people smile at area schools and hospitals. He was truly one amazing and beautiful animal!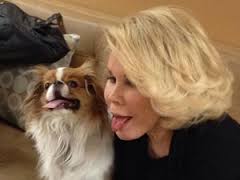 Joan Rivers Leaves Money To Her Pooches
The value of Joan Rivers estate is roughly 150-million dollars. She left most of it in her will to her daughter Melissa and her grandson Cooper, but she also made sure that her dogs Samantha and Teegan, who lived with Rivers in New York, as well as a Jack Russell Terrier and a Border Collie in California, are provided for. She left money, not sure how much, and clear provisions on how the dogs should be looked after. Rivers' assistant Jocelyn will likely take over the job of caring for the dogs.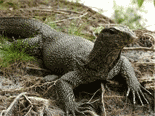 Lizard's Popularity Might Cause Its Extinction
A strange monitor lizard from Borneo has suddenly become quite popular and that could threaten the survival of the species. The rare earless monitor lizard has been pretty obscure since the 1960s, but for some reason, they've become a hot item. The wildlife trade-monitoring network, TRAFFIC, says the lizards are being caught in the wild and smuggled out of the country. Many are showing up for sale online in Europe. It's calling the lizard to be protected. Right now, it's the only type of monitor lizard that isn't.
Hawaii's Pet Quarantine Investigated
The care given to pets held in quarantine in Hawaii has come under question. Since Hawaii is the only state that is rabies-free, and aims to keep it that way, dogs and cats coming into the state are quarantined for five to 120-days. Now Hawaii's Animal Quarantine Station being investigated for alleged abuse and neglect. It started when the Boggus family moved there a few months ago from California with their Old English Bulldog, Lola. They warned the staff that Lola was sensitive to heat and told them how to make sure she was cooled off. But every time they went to see her there were problems. Early last month when they went, Lola was covered in sores, unresponsive and had a temperature at 107 degrees. Lola is recovering at a private animal hospital. Her family started an online petition to have the Animal Quarantine Station investigated and now many more people have come forward with their own horror stories of what happened to their pets. Hawaii's governor says the Department of Agriculture is handling the investigation.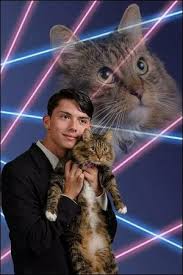 Updating The Old High School Yearbook Photo
You know how we all cringe years later about our high school yearbook photos? Well, here's something I wish I had thought of doing. Schenectady High School Senior Draven Rodriguez wants his cat to be a part of his yearbook photo. He had a professional photographer take a picture of him with his cat and then add blue and pink lasers in the background. It's really a cool picture. The school hasn't come right out and said it won't allow the picture, but Rodriguez has started an online petition in support of the photo, just in case.
Would You Use A Shock Collar On Your Dog?
That question is getting lots of interest lately. Researchers at London's University of Lincoln say the collars can be not only physically damaging to a dog, but also emotionally damaging. Makers of the collar say there is no evidence of long-term harm to a dog's welfare. The collars have been banned in parts of the U.K and Canada, but there is no sign of that happening here in the U.S. at this point.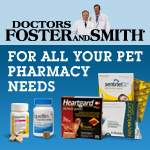 NEWS UPDATE brought to you by Drs. Foster & Smith, affordable pet supplies. Low prices every day, so you save on every order.

Listen to the entire Podcast of this show (#773)