Dare To Look!
Eric Meyer, Ripley's Believe It Or Not
For over 30 years Edward Meyer has traveled around the world collecting unusual stories and unbelievable artifacts to fill Believe It or Not! books and museums. He is a walking encyclopedia of information, some strange, some gross - but all true! He has acquired over 20,000 different museum artifacts, everything from a pin valued at $1 million dollars, to a two-trunked elephant, to Marilyn Monroe's lingerie, to Lee Harvey Oswald's mortuary toe tag, to a meteorite from Mars. The list is endless. Meyer has appeared on radio and television programs around the world as the Ripley historian and raconteur, the man with the world's best job!
Just like the last Ripley's book, Dare To Look has been updated to include a little bit of technology. Just download the free 3D interactive book app. Once you have the app, there are 18 pages in the book that you can take a picture of with your Smart Phone. Just look for the red and green logo throughout the book, which states "OddScan." Once you do this, you will be exposed to more information, more photos, maybe an interview or a video.
We talk with Edward about some of the astonishing animal stories in this latest edition of Ripley's, which contains 256 pages with about 2,500 stories including over 500 photographs. One of the sections in the book includes a whole chapter on animals, of about 52 pages.
Some strange things you will see are a skateboarding cat; a rubber chicken launched into space; mummified pets; see-through frog; split personality cat - face color divided into two; cyclops goat; pig with two snouts & mouth; porcupine attack on Bulldog with 500 quills to the face; and a snowboarding Opossum.
When asked if Ripley's has even been "duped," Edward replies that he can't say that they've never been duped, but he certainly doesn't think it has happened very often. He thinks most people want to be in Ripley's for their 15 minutes of fame and are excited about what they have. And if they don't have the real deal, Ripley's lets them know.
If you think you have a story for them, let them know. If you have pictures or video, that is even better!
Positive Reinforcement
Mikkel Becker, VetStreet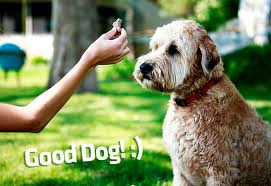 Mikkel Becker may be the daughter of Dr. Marty Becker but she stands on her own. Especially when it comes to Positive Reinforcement. Mikkel utilizes this technique to train dogs AND cats. She'll share ways we can use Positive Reinforcement with our pets and husbands!
Mikkel helps us out with some dilemmas we have here with Ladybug, the Animal Radio Stunt Dog. For example, when the doorbell rings, she goes nuts! Surprisingly, Mikkel likes it when her own dogs bark and alert her to someone at the door. But what's more important is that when she asks them to be quiet, they stop barking. She has trained her dogs to do a "down-stay" at the door. As soon as the doorbell rings, the barking ensues, but then they go into a down-stay at the door and are quiet.
To get your dog to do this, first train them into a down-stay. You can have them stay on a mat or in a dog bed, just be sure that they have a place to go to. You need to practice this over and over again, without anyone coming to the door. You should also use treats and lots of praise for encouragement. Next, start opening the door without anyone being there. And then you can even try a family member outside of the door, without knocking or ringing the bell.
Gradually, your dog will automatically go into their own down-stay when someone does come to the door. You need to be consistent with the training, and only open the door when your dog is in the down-stay position. Be sure to give them lots of attention and praise when they do well.
What if you have a dog that likes to "mouth?' This is not biting, but the dog actually placing their mouth over your hand or arm, perhaps in a greeting. Your natural reaction is to pull away, but this can sometimes excite them even more, causing them to mouth more and becoming a fun game for them. When you first approach the dog, make sure they are in a sit-stay position and then praise them. If they do approach you and start to mouth, place your arms and hands in a cross position low against your body then stop and freeze like a statue, completely ignoring them. Look away and wait for them to calm down and then gives them lots of praise. If you have a dog that is very mouthy, like a Poodle, you can even have toys at the door when people come over, so you can redirect them and let them have something to carry in their mouth. Sometimes when they get nervous and worked up, they just like to carry something.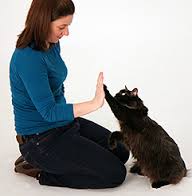 What about cats? Can you train cats? Mikkel states it is easier than you think. You probably already have a "come when called" trained cat. All you have to do is open the can of cat food and they come. You already have the beginnings of a trained cat. Cats can be trained to sit, come when called and to "target." Cat sit a lot, so if you hold a treat over their head and they sit, give them praise or use a clicker, and then follow it up by giving them the treat. If you have those three basics, you are going to eliminate a lot of behavior problems.
With a little persistence, patience and praise, you can have a well-trained dog or cat.
5th Annual Life Saving Pet Adoption Tour
Susan Sims, Fido Friendly, Get Your Licks On Route 66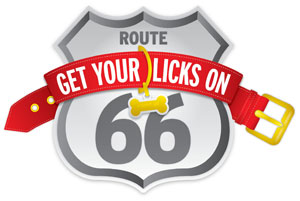 The 5th annual adoption tour is currently underway after starting in Los Angeles. Susan Sims checks in from stops along the way. Be sure to join us and find your forever friend along America's favorite highway.
The Get Your Licks On Route 66 Tour is sponsored by Ford and Animal Radio. Special thanks to car wrap sponsor Stella & Chewy's and pet safety sponsor Tagg the GPS Pet Tracker. Tour hotel accommodations are provided by Kimpton Hotels.
The tour drives down America's Favorite Highway from Los Angeles to Chicago, stopping at shelters along the way to support adoption events.
Currently, Susan is in Oklahoma City, at the Petco located at 7001 A NW Expressway from noon until 4:00pm, with Actress Ashley Bell. Ashley Bell lives with 3 rescued mutts. They consist of a Poodle mix and two Havanese/Dachshund mixes that she recently rescued. She also admits that she lets her dogs sleep with her at night!
Next week they will be in Joplin Humane Society, located at 140 E. Emperor Lane in Joplin, Missouri.
Even if you are not looking to add a forever family member you can still join the fun by visiting one of their partner shelters and donate $2 to spin and win, with proceeds going to the shelter at the end of the day!
Can't stop by one of our tour locations, but would love to support this life saving tour? Go online to FIDOFriendly.com and donate to the life saving pet adoption tour, Get Your Licks on Route 66®.
View a list of tour shelter dates where you can get involved.
Animal Radio® News with Stacey Cohen


For $349 Your Dog Can Learn To Fly
Security checks and bumpy air are all in a day's training at a Hollywood film studio to prepare your dog for a safe and calm flight. The Air Hollywood class is billed as the first in a real fuselage on a sound stage with a simulator that mimics takeoff, turbulence and landing. Hollywood extras create crowds and chaos that come with terminals, luggage carts and the blare announcing arrivals, delays and departures. The idea was the brainchild of Talaat Captan, president and CEO of Air Hollywood, the world's largest aviation-themed film studio, who noticed a dog owner having a rough go getting a pooch through airport security. "The owner was stressed out and the dog was freaking out," Captan said. I figured, "Why don't I train those people?" Last year, Air Hollywood conducted a test class with 60 puppies from Guide Dogs for the Blind. "Some of the handlers were more nervous than the dogs because they don't like to fly," said Rick Wilcox, who oversees puppy training in Southern California. "It was amazing how realistic it was." The dogs came through with flying colors.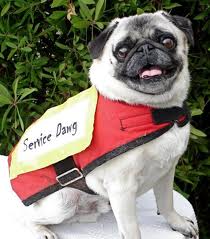 Bogus Service Certificates & Vests
A service dog is highly trained to perform a specific task for its disabled owner. It's different from a therapy dog, which comforts the sick and elderly, or an emotional support animal, which soothes anxiety. For people wanting to take their pets wherever they go, a brisk business has developed in the sale of bogus service animal certificates and vests. Tim Livingood runs one of many websites that sell certification paraphernalia. For $65, customers can procure papers, patches and vests to make their dogs look official. They can even buy a prescription letter from a psychiatrist after taking an online quiz. The laws are broad enough to allow that, Livingood says. While his business, the National Service Animal Registry, sounds official, he says government-sanctioned registration agencies do not exist. Federal law does not actually require registration or identification patches. Property managers or airlines cannot mandate that service animals come with patches, and they can't ask owners to produce ID cards.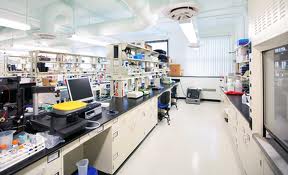 New Technology Reduces Animal Testing
A new laboratory device that creates three dimensional cancer tumors can reduce animal testing by almost a third, scientists say. The technology is part of a growing movement away from using animals to screen drugs. Most drugs are initially tested on cells in 'flat' two dimensional culture plates before being evaluated in animals. It can be used to study drugs that block the invasiveness of cancer as well as its growth.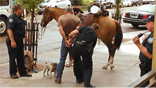 Drunk Driving On A Horse!
A Colorado man is in a heap of trouble for drunk driving while riding a horse. University of Colorado police say 45-year-old Patrick Schumacher was taken into custody in Boulder after police officers found him on top of a horse visibly intoxicated. Schumacher was apparently riding his steed 600 miles to his brother's wedding in Utah, and told authorities he had decided to travel by horse after he lost his driver's license. A search of Schumacher's saddlebag turned up several beer cans and a small pistol. After spending the night in jail, he was released from custody and reunited with his horse to continue his trek. He's facing drunk driving, animal cruelty and other charges.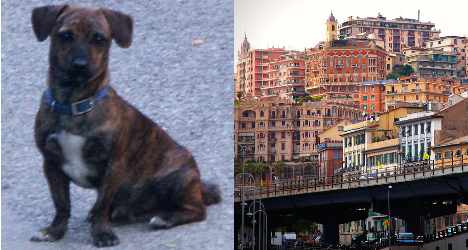 Dog Rides Bus Around City - By Himself!
A woman in Italy says her dog has learned how to navigate the city bus routes in Genoa all by himself. The owner tells The Local that 12-year-old Camillo has been riding the bus since he was a puppy. Now, he spends his days riding around town and getting off at the stops where he knows he'll find a treat. Camillo's owner says the pooch always takes the bus to a local poultry shop, where he gets a few handouts, and then returns home by the end of the day. Animal behavior expert Luigi Boitani explains that Camillo isn't really plotting out his bus routes, but instead using familiar smells and sights to figure out when to get on and off the bus. Camillo's owner says she's ordered a camera for his collar so she can see exactly what the four-legged traveler does on his adventures.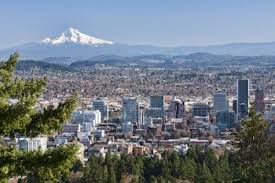 Dog Friendly Cities
The list is out for one of the most dog friendly cities. To make the list these things were taken into consideration: Vet costs, number of dog parks and walkability. Here are the top 4: #1 Portland, Oregon; #2 Miami, Florida; #3 Seattle, Washington; and #4 Minneapolis, Minnesota.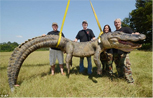 Alligator Breaks Record
Mississippi's alligator record has been broken for the third time in just over a week. According to the Clarion-Ledger, a hunter named Dalco Turner of Gluckstadt bagged the longest male alligator in Mississippi's record books. The monster gator reportedly measured 13 feet and 6.5 inches. It also tipped the scales at 741.5 pounds, breaking the record by over 13 pounds. Turner says when he and a team of hunters first spotted the gator, they "didn't think he was big enough to go after." They later decided to go after it, getting three hooks and lines on the gator. Turner says the gator broke the lines three separate times before they were able to capture it. The record was broken two other times with a 723 pound gator and a 727 pound gator.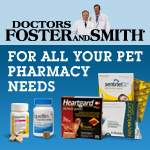 NEWS UPDATE brought to you by Drs. Foster & Smith, affordable pet supplies. Low prices every day, so you save on every order.

Listen to the entire Podcast of this show (#721)