Victoria Jackson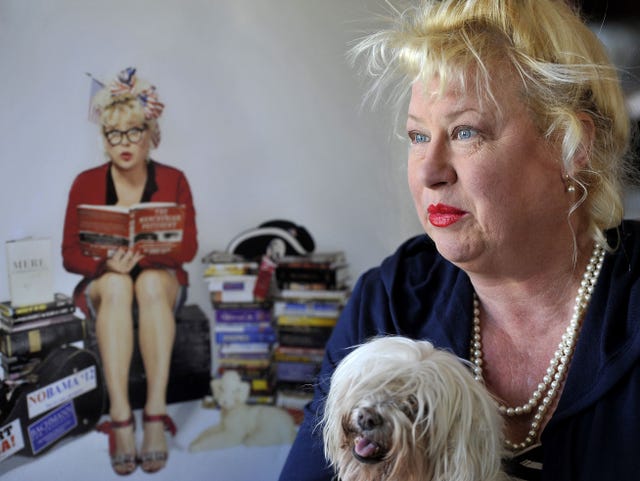 Animal Radio's Season of Stars continues with comedian Victoria Jackson (Saturday Night Live). There's no stopping her when it comes to yapping about her pets. She talks about how her dog got her kicked off a TV sitcom.
Victoria started out supporting herself as a cigarette girl and a typist at the American Cancer Society while performing stand up comedy. Her big break came when Johnny Carson put her act (which consisted of her doing a handstand while reciting poetry) on national TV. Following her 22 appearances with Johnny, she starred in many movies and TV shows, most notably Saturday Night Live.
Victoria states that every time she wanted to get pregnant, she got a puppy instead. She currently has three dogs and has been trying to convince them, although so far she has been unsuccessful, that she is the Alpha Dog!
One of her dogs is named Buddy, who is a Yorkie. Victoria claims Buddy is gorgeous and is the perfect dog. Oh yeah, he was a 'wandering eye' but Victoria says it is endearing! She wanted to name him Buster, but her daughter received the dog as a birthday present when she was 7, so she got to name him, which she did after "Air Bud." Victoria wanted him to be Buster after Lilly Tomlin's Edith Ann monologue. Buddy is also famous for his role on a Nickelodeon show called Romeo, where he worked with Victoria.
Victoria currently lives in Florida with her husband and two daughters, as well as her three dogs, Buddy, Daisy and Peanut.




When Pets Come Between Partners
Dr. Joyce Brothers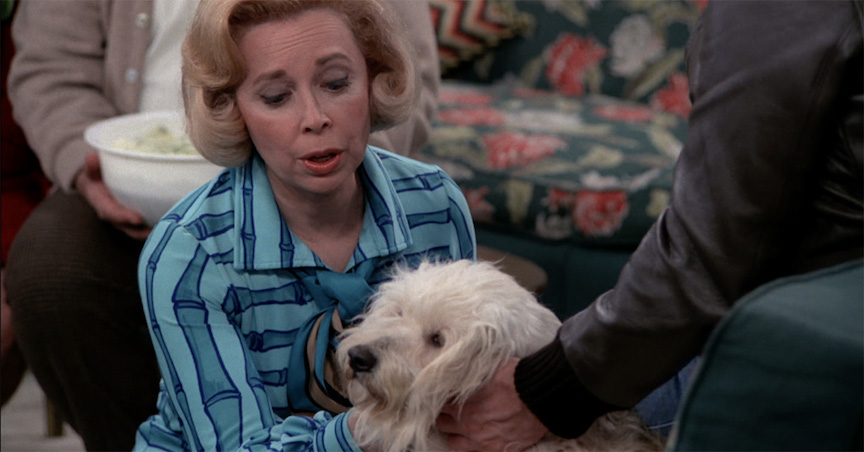 World renown Psychiatrist Dr. Joyce Brothers discusses the relationship between humans and pets, especially when they come between partners.
Dr. Joyce Brothers is a noted psychologist, columnist, author and one of America's 10 most influential women. Her legendary books have been translated into 26 languages, with her daily column appearing in more than 175 newspapers.
Dr. Brothers talked about a family member who had a Chow dog who was very territorial and wouldn't let her husband into the bed. This caused the husband to move to another bedroom, and eventually they got divorced. In this case, the woman preferred the dog to her husband.
In cases like this, you need to see if the dog is a one-person dog, which can cause a problem between the two individuals. When we choose our dog, we do so because of our personality. The kind of dog you like reveals your personality. When we pick our mate, we want the opposite in personality. For example, a very intellectual person would see someone who is very comfortable in a social situation and envy that person. They feel that if they were with that person, than they would also be accepted into these social situations.
Dr. Brothers mentions that people who choose sporting breed dogs, such as Pointers and Retrievers, are chosen by hard working, conservative, ambitious, loyal virtuous people. People who choose Airedales and Miniature Schnauzers are optimistic, friendly, fun loving and like to party.
The whole question of pets and how they relate to couples is a difficult one. In fact, some of the issues have become so complex that when a couple splits, there are lawyers who specialize in pet custody cases.




Black Widow Spiders Poisonous to Pets - Dr. Debbie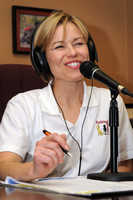 Pet Threats Come in All Sizes
Our doggie family ambled along on our typical morning walk along the community trail. With a family of two Labradors and a Yorkie mix, my crew is always up for fun and they investigate anything and everything.
Sometimes it's a crunchy cockroach snack or the fortunate edible remnant in a discarded candy wrapper. My dogs enjoy the "date game" where they snatch up shriveled fruit fallen from date palms, crunching away before the mom and dad notice. And sometimes it's a half-hearted game of chase with an unsuspecting rabbit. A more gut wrenching episode once involved my Labrador ingesting a rat with tail slipping down his gullet like a piece of spaghetti. My furry kids are professional trouble finders so I try to keep a watchful eye for things that make them go "Oooh," and make me go "Ugh!"
Female Black Widow Spider
While walking along the pedestrian pathway we came upon today's discovery - spiders and lots of them living in the recesses of a block wall. The hairs on my arm stood up as my Yorkie mix approached their lair. I recognize what these spiders are and what could happen to a 16-pound pup.

The long legged spiders were over 1 1/2" in length, black in color with a distinctive orange hourglass mark on its underbelly. Meet the black widow spider, a common arachnid found in every state in the U.S. except Alaska.
The Black Widow Bite
Black widow spiders contain a potent neurotoxin that causes pain, swelling and can lead paralysis. Female black widows are the dangerous ones, while the males rarely ever bite. While some black widow bites go unnoticed, others cause immediate pain at the site or result in pain at the nearest lymph node. Pain intensity reaches its maximum within 1 to 3 hours after the bite, but can last up to 48 hours.
Symptoms of a black widow bite appear within 8 hours after bite an include muscle twitching, restlessness, rigid abdomen and difficulty breathing. Symptoms may result in high blood pressure, a racing heart rate, seizures and collapse. Dogs are more resistant to a black widow bite, but still can suffer serious illness. Cats are very sensitive to the toxins and can suffer fatalities.
Symptoms of black widow bite include: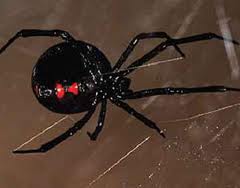 - Pain and numbness around bite site
- Anxiety
- Racing heart rate
- Muscle pain and stiffness, especially abdominal muscles
- Difficulty breathing
- Paralysis
- Seizures
Treatment for Black Widow Spider Bite
Call your veterinarian if you suspect your pet was bitten by a black widow. Initial home emergency care of a black widow bite may include ice packing bite area and oral antihistamines like Benadryl. Your veterinarian will need to see your pet to evaluate and treat the more serious symptoms. Treatment may include medications to control muscle spasms and seizures. Blood pressure and blood sugar are monitored and intravenous fluids may be administered. An antivenin is available for more serious confirmed cases of black widow bite.
Prevention
Avoidance of spider habitats is the best prevention. These eight-legged critters favor dark recesses both indoors and outdoors. Look for cobwebs with a distinctive funnel-shaped opening at the top. And keep a close eye on your dog when out exploring. Inquire about spider control methods with your pest control company.
With pet noses so close to web level, the risk of black widow bites is just natural to being a dog. Our morning spider encounter ended without any drama, thankfully. After one firm "No!" my doggies retreated to unearth some other lucky find. Here's to hoping it doesn't involve any rats or bugs next time.
Featured veterinarian known as "Dr. Debbie" on national pet radio program, Animal Radio. Ebook author of "Yorkshire Terriers: How to Be Your Dog's Best Friend"; "Pugs: How to Be Your Dog's Best Friend"; "Mini Schnauzers: How to Be Your Dog's Best Friend"; and "Shih Tzu: How to Be Your Dog's Best Friend." Dr. Debbie's books.




Animal Radio News - Stacey Cohen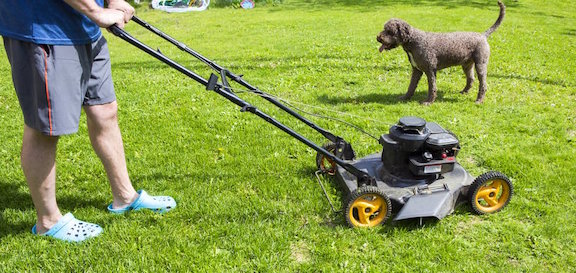 Lush Lawn Can Cause Cancer In Dogs
A lush lawn creates a sense of pride for many American homeowners, but a new study finds that utilizing a chemical lawn service to achieve those results is likely causing malignant cancer in many pet dogs. In the study, researchers identified 263 dogs with biopsy-confirmed canine malignant lymphoma (CML), 240 dogs with benign tumors and 230 dogs undergoing surgeries unrelated to cancer. Then, they asked the pet owners to complete a 10-page questionnaire. Scientists found that dogs with malignant lymphoma were 70-percent more likely to live in a home where professionally applied lawn pesticides had been used. Dogs with the serious malignancy were also 170-percent more likely to come from homes where owners used chemical insecticides to combat pests inside of the home.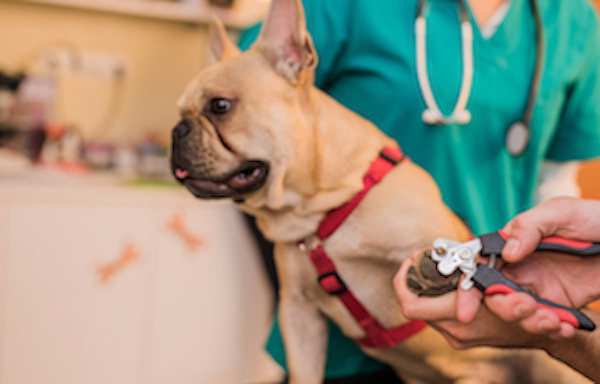 Do You Give Your Pup A Pedicure?
Many vets say they hate to trim toenails! And, no, it's not because they have better things to do and can't be bothered with it. It has more to do with the stress of the event. By and large, canine patients hate having their claws clipped more than any other routine procedure. In fact, injections, blood draws and even the dreaded fecal rod are far more readily accepted by the average dog than a nail trim. The majority of these patients shake and cower as their nails get trimmed. A sizable percentage must be forcefully restrained. Any pet who gets a nail trim only when it's time to see the vet is receiving a dubiously beneficial service that often only serves to make him more afraid of the vet's office. After all, claws grow out within a month, and less in many cases. Still want his nails trimmed? Go to the groomer. Go to your local pet superstore. Go anywhere except the place where stress should be minimized at all costs, so a good attitude can be preserved for when injury and illness happen.
Man's Best Friend Can Be Crappy For The Environment
The 78 million dogs in America collectively produce 10 million tons of poop each year, enough to fill a line of fully-loaded tractor trailers stretching from Seattle to Boston, according to DoodyCalls, a Virginia-based pet waste pick-up service. Dog waste contains nutrients, bacteria and parasites that can contaminate water bodies and make people sick. Left on the ground, droppings from about 100 canines over the course of two or three days can generate enough bacteria to close bays and other bodies of water in a 20-mile radius. "If you think picking up what your dog leaves behind is disgusting, try drinking it," Jacob D'Aniello, DoodyCalls co-founder and CEO, told the Daily News. "The longer dog waste stays on the ground, the more it washes into the water and the environment." "People should pick up after their dog or hire someone to do it for them," he added.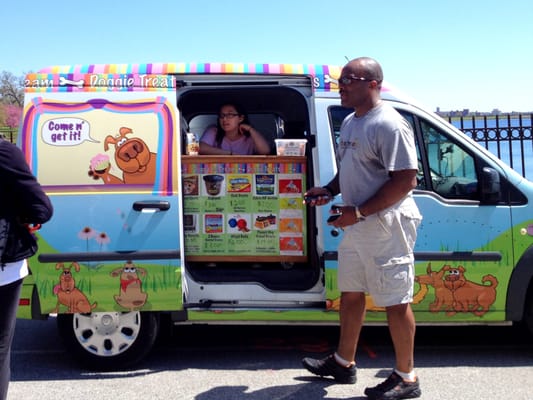 Doggie Ice Cream Trucks and Vending Machines
We know dog owners do plenty of pampering. But now you might have a few new specialty treat options near you. A handful of new businesses are going after the pampered pet set with gourmet snacks, frozen desserts and even vending machines for dogs. Humans have a near-Pavlovian response to the sound of an ice cream truck's music. Now your dog can learn what it means too. Tiki's Doggie Ice Cream Truck, run by the owner of dog day care Tiki's Playhouse, is hitting the streets in Maryland, just in time for warm weather. Priced at $1 for a small cup, "ice cream" flavors such as peanut butter, blueberry and molasses are available for your pup. The "ice cream" has no dairy. For dogs with a refined palette, a number of areas have also seen canine food trucks hit the streets. Dogs in Chicago might see Fido to Go pull up to parks and beaches that are popular canine hangouts in the warmer months. Launched last spring, the truck plans to roll out again, serving up fresh-baked gluten-free cookies in flavors like beef, venison and pumpkin, cheese wedges and "puppizza." Meanwhile, canine foodies in central Florida can dine on snacks like "Poochi Sushi" from the Sit 'n Stay Pet Café food truck, according to a story in The Orlando Sentinel. (Don't tell your dog, but it's not really sushi — it just looks like it.) With organic snacks on board, the Sit 'n Stay opened for business late last year, offering "Mutt-balls" (or meatballs) and muffins, along with many more treats. If you don't have a dog food truck in your neck of the woods, perhaps you can find a vending machine to satisfy your dog's hunger. Last May, a Michigan woman got the go-ahead from her local city council to put coin-operated machines that dispense peanut butter-flavored dog treats in and around three parks in the city of Alpena, Michigan. And a Canadian company called Hey Buddy supplies vending machines stocked with everything from food and treats to Frisbees to pick-up bags, because you never know what you'll need when you're out with your pup.

Listen to the entire Podcast of this show (#1034)