Why Drink Alone?
Brandon Zavala, Apollo Peak Cat Wines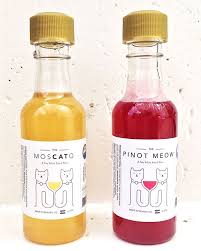 Brandon Zavala was enjoying a glass of cat-themed wine when he came up with the idea to create a wine for cats. Now he produces a MosCATo and a Pinot Meow made from beet juice and infused with catnip. He did this so you could enjoy a glass of Vino with your Gato. You're welcome.
Apollo Peak is not a winery, but a pet beverage company, a sort of brewery for pets, where they make wine for cats. They are also working on making vitamin drinks for both cats and dogs.
Both of their wines, the Pinot Meow and MosCATo are essentially made with catnip. They are non-alcoholic, and while they don't contain grapes, they are made with beets.
So why beets? In his research, he found that beet were safe for cats and he also wanted something that was going to give his cat wine a red tint like real wine, without using food coloring.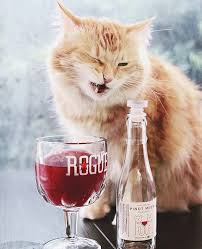 Brandon wasn't originally trying to get in the cat wine making business. However, he did slap a cat themed label on an actual bottle of wine for humans. When his friends asked if it was for the cats or for them, Brandon stopped and thought it would be a really cool idea to actually make a wine for cats. That's how it all started.
Brandon says people tell him about different kinds of reactions from their cats. Some cats just play with the glass, while others start drinking it and acting a little funny. What do you think you cat would do?




The Wolf Gang
Steve Grieg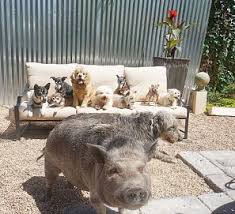 Colorado animal lover becomes an Internet sensation for Instagram page featuring his adopted pig, dogs, ducks, cats and rabbit.
Steve Grieg has 9 dogs, a pig, 2 cats as well as chickens, ducks and a rabbit and is, not surprisingly, a single man! All of Steve's animals are rescues except for one dog he owned before he started rescuing senior animals, and that is his Irish Wolfhound.
All of Steve's rescues are also special needs animals. These are dogs that weren't getting adopted either because they were too old or they had some health issues like blindness, skin issues or lameness.
So why special needs animals? Steve decided to adopt disadvantaged animals after the loss of his pet dog, which affected him immensely. After his dog's death, he realized he would feel better by doing something good that would not have occurred had his pet lived. He then adopted a Chihuahua suffering a heart murmur and 'four bad knees' and his hobby of adopting special needs animals was born.
The Internet sensation states when you have 9 dogs in the house, you are bound to end up with some pretty good pictures of them. He then started posting them on Instagram, where they started getting some attention.
His big bump with Instagram followers occurred after adopting a blind dog, who had also lost all of her hair and had sores on her face. It turns out the dog was from Susie's Senior Dogs, run by the girlfriend of Brandon Stanton. Brandon Stanton is the founder of Humans of New York, a popular photojournalistic work that has over 17.8 million likes on Facebook and around 5.7 million followers on Instagram.
After the adoption, Brandon called Steve and thanked him for adopting this special needs dog. Brandon then made a post about Steve on his own Facebook page.
You can follow Steve Greig on Instagram.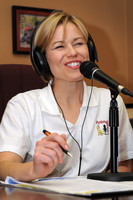 Are Wildlife Preying on Your Pets? - Dr. Debbie
As a veterinarian I used to think a dog fight was one of the worst things that could happen to a pet while out walking. But wildlife attacks on pets are a real and present danger. Remember the scene from the Sandra Bullock movie, The Proposal, in which Kevin, the American Eskimo puppy, is carried off by an eagle? Recently Boss, my 16-pound mixed breed dog, became a target of a flying predator not in remote Alaska, but smack dab in the heart of Las Vegas' suburbia.
During a walk at our community park before sunrise, I heard a loud beating of wings as a Great Horned Owl swooped down over Boss, my 16-pound terrier mix. My other dog Nikki, a Bouvier des Flanders, ran up to Boss and the owl flew off and retreated to a light pole and sat studying Boss' movements. Fearing the owl appeared ready for a second try, I snatched Boss in my arms and hightailed it out of there.
Boss was lucky to have the deterrent of an eighty pound doggie sister nearby. But not all pets get off so lucky when wildlife predators are concerned. Outdoor cats and dogs may disappear during the night falling victim to a suspected coyote attack. Small pets under 20-pounds can be whisked off by birds of prey. Stories of wildlife attacks such as these occur all the time and the internet reads of horrific stories by owners who lose their small pets to wildlife.
What Animals To Watch For?
Coyotes are found not only in rural areas, but also thrive in metropolitan areas. Mountain lion and bobcats are other predators that are a concern for homeowners in more remote areas or along the outskirts of towns. Birds of prey such as owls, hawks, and eagles are very capable hunters, are protective of nesting sites and can easily carry off small animals two to three times their body weight.

What Can You Do?
Be especially watchful near parks, golf courses or near natural paths that wildlife use as travel corridors, such as flood channels or washes. Remember that an abundance of prey animals like wild bunnies in your community means prime hunting grounds for urban predators.
Don't leave your pets out at night unattended and preferably escort them using a leash. Wildlife rarely will approach a small pet if it is near a human or other larger animals.
Install motion activated lights on property.
Ensure all dog runs have a roof or fencing above to prevent predators from jumping over enclosure walls.
Building high fences and walls may seem like a solution, but predators can easily jump over these. Consider coyote fencing - a style of fencing that may help deter a predator from entering your backyard. Visit the Website of the Coyote Roller - an ingenious and humane method to prevent a coyotes and other dogs from being able to get over the top of fence with rolling metal bars installed along fence line.

Avoid Attracting Prey Animals
Take steps to make your yard less attractive to nuisance animals like possums and raccoons as well as potential prey animals. Remove wildlife feeding stations like bird feeders. Secure garbage cans. Keep brush trimmed and landscape maintained to avoid hiding sites for animals. Avoid fruit producing trees that serve as food sources. Feed pets indoors to avoid leaving a food source outside for mice, rats or other critters.
Any Other Tools to Protect Pets?
Check out the Raptor Shield, a lightweight protective cape made of polycarbonate plastic - the same compound used in bulletproof shields. This dog vest product was developed to stop a bird of prey's sharp talons from penetrating into small pets.

What To Do If Your Pet Is Targeted By Wildlife?
Make noise, wave arms and throw rocks to drive away animals. Carry a whistle, air horn or pepper spray for defense. Remember that some species of raptors are protected species and harassing or injuring them can result in fines.
Preventative efforts are far more useful than any steps you can take to spook away a predator after an attack occurs. Speak to your neighbors and share information if you spot coyotes or birds of prey in your neighborhood.
Don't get me wrong - I wish no ill will on nature's most efficient predators. I still find those soaring raptors breathtaking and I am awed by the coyote's adaptability, but from now on I'll prefer to watch nature's animal wonders with my little terrier guy safely seated on my lap.
Featured veterinarian known as "Dr. Debbie" on national pet radio program, Animal Radio. Ebook author of "Yorkshire Terriers: How to Be Your Dog's Best Friend"; "Pugs: How to Be Your Dog's Best Friend"; "Mini Schnauzers: How to Be Your Dog's Best Friend"; and "Shih Tzu: How to Be Your Dog's Best Friend."




Lucy Pet Foundation
The Mission of The Lucy Pet Foundation is to reduce pet overpopulation and the euthanasia of over 80,000 cats and dogs per week in the United States by having mobile spay/neuter clinics across the country and to support causes that benefit animal welfare. The Lucy Pet Foundation currently has two buses that travel around Southern California focusing on spaying and neutering. These buses are state of the art surgery units. Their next focus is in generating more funds to expand the work of these buses and have more across the country.

The Lucy Pet Foundation not only offers free and reduced spays and neuters, they also do microchipping, vaccines and de-wormings. Spaying and neutering is not only great for pet population control, but it has been proven that an animal will live on an average of 40-percent longer after having this surgery.
Upcoming Clinics
Free Spay & Neuter for Los Angeles City Residents! Here is a list of upcoming free or reduced fee mobile spay and neuter clinics in California:
Call for more information, questions and to reserve space to get on the list: (855) 499-5829
October 1, 19: Superior Store, 3480 S. La Brea, Los Angeles, CA Spay/Neuter APPOINTMENT ONLY; Vaccine Clinic 10:00am-2:00pm
October 4, 24: East Valley Shelter, 14409 Vanowen St., Van Nuys, CA Spay/Neuter APPOINTMENT ONLY; Vaccine Clinic 10:00am-2:00pm
October 5, 22: Superior Store, 10211 Avalon Blvd., Los Angeles, CA Spay/Neuter APPOINTMENT ONLY; Vaccine Clinic 10:00am-2:00pm
October 7: Vallarta Supermarket, 13820 Foothill Blvd., Sylmar, CA Spay/Neuter APPOINTMENT ONLY; Vaccine Clinic 10:00am-2:00pm
October 8: Vallarta Supermarket, 10175 N. San Fernando Rd., Pacoima, CA Spay/Neuter APPOINTMENT ONLY; Vaccine Clinic 10:00am-2:00pm
October 11, 25: West Valley Shelter, 20655 Plummer Street, Chatsworth, CA Spay/Neuter APPOINTMENT ONLY; Vaccine Clinic 10:00am-2:00pm
October 12: Food 4 Less, 1748 West Jefferson Blvd., Los Angeles, CA Spay/Neuter APPOINTMENT ONLY; Vaccine Clinic 10:00am-2:00pm
October 14: Superior Store, 6140 Lankershim Blvd., North Hollywood, CA Spay/Neuter APPOINTMENT ONLY; Vaccine Clinic 10:00am-2:00pm
October 15: Superior Store, 133 West Avenue 45, Los Angeles, CA Spay/Neuter APPOINTMENT ONLY; Vaccine Clinic 10:00am-2:00pm
October 17: Superior Store, 9801 Laurel Canyon Blvd., Pacoima, CA Spay/Neuter APPOINTMENT ONLY; Vaccine Clinic 10:00am-2:00p
October 20: Veterans Stand Down, Welcome Center Bldg. 257, West LA Medical Ctr., 11301 Wilshire Blvd., Los Angeles, CA Spay/Neuter APPOINTMENT ONLY
October 27: Food 4 Less, 5100 N. Figueroa St., Los Angeles, CA Spay/Neuter APPOINTMENT ONLY; Vaccine Clinic 10:00am-2:00pm
October 28: Vallarta Supermarket, 19725 Vanowen St., Winnetka, CA Spay/Neuter APPOINTMENT ONLY; Vaccine Clinic 10:00am-2:00pm
County and City Vouchers accepted. But remember, you must get on a list to have your pet seen at these locations. Please call The Lucy Pet Foundation toll free at 1-855-499-5829 or Visit Website to schedule an appointment, or register at the events.
Lucy Pet Products, Inc. is a family owned and operated company based in Thousand Oaks, California. Lucy Pet Products are "Products With a Cause." Part of the proceeds from the sales of Lucy Pet Products are used to help fund The Lucy Pet Foundation. Their products can be found in pet specialty stores across the USA and are exported worldwide, or Visit Website.




5 Pet Holidays Happening in October
Robert Semrow, Animal Radio Listomania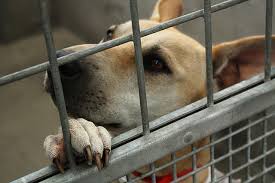 I know I've shared with you all before that I like to have some fun with Pet Holidays. Not because they aren't worthy or valid, but in most part because they are often created by organizations or individuals. Don't get me wrong, I love to party and celebrate with my animal kingdom friends and will use any excuse to do it. Still, the creation of pet holidays is something that makes Hallmark and other greeting card companies smile and say, "Genius, why didn't we think of that!"

That being said, here are a couple of October Pet Holidays that we will be talking about and reading about.

The American Humane Association and ASPCA have their own spins on October being "Adopt A Shelter Dog Month or Adopt a Dog month." Ok, I'm all for adopting a dog, but I don't find that one month is any better than the rest. But, if you needed just one more reason to adopt a dog in October, here you go.

October is also National Animal Safety and Protection Month. Once again, this is an everyday priority for me and for many of the animal world folks I know. However, I do love that it increases the general media's discussion of important topics like Animal Safety for both Domestic and wild animals, Pet First Aid, environmental awareness and having a proactive plan for animal safety and protection. Additionally, animal protection extends well beyond our homes and immediate environments.

National Pet Wellness Month is another important effort to raise awareness about the importance of pet wellness. Let's be honest, as pet parents our lives are extremely busy. If you haven't done so recently, stop and take a minute and do a head to tail check of your pet. Note what you observe so that you can go back to it the next time you review your pet's wellness yourself or with a professional.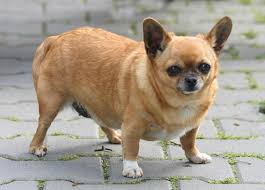 October also brings us National Pet Obesity Awareness day. This is certainly an important issue as more than 50-percent of our dogs and cats are said to be overweight and the number continues to grow. There are a number of simple, easy to do things that can have an impact on your pet's weight from better food to appropriate sized feeding bowls to less treats and more exercise. Bottom line, if you needed an excuse to work on your pooch's belly, you'll have that in October.

There are several other important holidays celebrated throughout October including Animal Welfare eek, National Feral Cat Day, National Cat day and much more...

After looking at all of these, I'm inspired to suggest one more. October should also be "Dress your pet up in an funny, crazy, ridiculous or super cute outfit and share it on social media month." Or as I like to call it, "Why pets get revenge on their people" month....

All kidding aside, October has a number of great ways to celebrate the animals in your life. Celebrate them by sharing your favorite holiday or holiday suggestion on our Animal Radio Facebook Page.




Pet Adoption Tour
Susan Sims, 8th Annual Fido Friendly Get Your Licks On Route 66
It's time again for the 8th Annual Fido Friendly "Get Your Licks on Route 66 Adoption Tour."
In the first seven years, they have helped place over 5,000 pets in to new forever homes! They bring their giant spinning wheel filled with prizes provided by their sponsors where a donation gives you a chance to win fabulous prizes and all proceeds go to the shelter at the end of the day.
Susan Sims is currently in St. Louis, preparing for Get Your Licks on Route 66's biggest event of the year, the Canine Carnival, which will take place tomorrow, October 2nd at Tilly's Park, 9551 Litzsinger Road in Ladue, Missouri.
Canine Carnival celebrates the bond between people and their pets! Be part of the Carnival where the dogs play the games and win great prizes. Bring your pooches and join the Animal Protective Association (APA) Adoption Center for the festivities:
- Dog-related "carnival" games
- Live music
- Canine Contests & the Canine Court
- Educational children's activities & games
- Exhibitor booths
- Food trucks
- FIDO Friendly Spinning Wheel - More prizes than you can shake a stick at
- TONS of dogs to see!
Sprinter Rentals is once again providing them with a Sprinter to travel down America's Favorite Highway and Animal Radio is their media sponsor for the eighth year!
Thanks to their many sponsors who have signed up to help them save lives, one shelter at a time! Please visit their websites to see the great products they have to offer: Sprinter Rentals, TurfMutt, Evercare, John Paul Pet, WellPet, Zeus Dog Toys, Petcurean, Tito's Handmade Vodka, Vet's Best and Petmate.
Tour Schedule:
October 2: Animal Protection Association of Missouri, St. Louis, MO 11-3
October 8: PAWS Chicago, Chicago, IL 11-4
October 9: Animal Protection League, Springfield, IL Noon-4
October 15: Wayside Waifs, Kansas City, MO 2-6
October 16: Great Plains SPCA, Merriam, KS Noon-4
Even if you are not planning on adopting an animal, come out for the fun and support the shelters by spinning the wheel for prizes!
Visit Website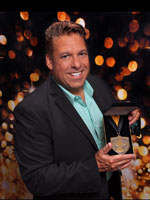 The Dogfather's Grooming Tip with Joey Villani
"Skunked"
The Animal Radio "Dogfather," Joey Villani has tips on dealing with dogs (or cats) that have been sprayed by a skunk. He says the biggest myth is that tomato juice fixes that problem. He also says, "Stay away from water, as that could make the problem worse." Dawn Dish Detergent seems to be the solution, again!
Now that the weather is getting a little bit cooler, we are starting to see a little more skunk activity. So what do you use on your dog should they get skunked? The first thing people think of is tomato juice. Wrong! This is a horrible thing to use on your pet (or even yourself for that matter!). Supposedly it is the acidity in the tomatoes, which removes the smell from your pet. Joey thinks whoever invented this remedy didn't like the person they were giving the information to!
Just think about it. Can you imagine the amount of mess that it makes compared to the amount of smell that it actually removes! Joey knows people who actually used this and they ended up at the groomers complaining not only of a house that smells of skunk, they also had a red house stained with tomato juice from the dog because they were running all over.
If your dog does get skunked, the first thing you need to do is get them outside so you can clean them. If it is too cold outside, you will have to do it in the bathtub. You then want to use a degreaser, like Dawn Dish Detergent. This is something you should already have in your house, because these events usually don't occur during normal hours where you can run to the store.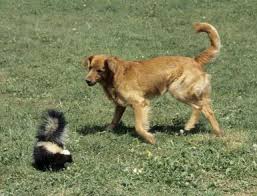 The worst thing you can do is to wet your pet first, as this actually "sets" the smell in your pet's coat and is going to then be extremely hard to remove.
You want to mix a ¼ cup of Dawn to a gallon of water. You then want to apply the mixture on your pet. Be careful not to get it into their eyes, as it will burn. This is going to be very drying to your pet's coat, but you can always follow up with a conditioner.
Shampoo the mixture in really well and then rinse it off. Then repeat and shampoo them all over again for a second time and rinse it off. You can then follow up with a conditioner to get some moisture back in the coat.
If your dog gets sprayed in their face, which is hard to bathe, try using Listerine. This will help break down the oils on the face, without the worry of getting soap in their eyes. Just wet a cotton ball with Listerine and wipe their face. But again, be careful not to get Listerine in their eyes. And just like before, don't wet their face down first before applying Listerine.
While you won't be able to remove all of the smell, which can take several months, you are going to at least reduce the smell to where it is bearable.





Tails Inc. Pet National Events for October 2016
Janice Gork, Tails Pet Media Group, Inc.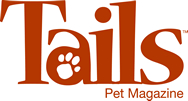 Passionate about rescue and adoption, Tails Pet Media Group, Inc. was founded in 2000 by Janice Brown. What started as a magazine, is now a mission! Tailsinc.com is an interactive website and online community committed to connecting the animal welfare community with the general pet-loving population. Tails Inc. features expert knowledge, advice, pet product reviews, local resource guides, community event news and monthly contests, in order to promote and encourage people to live responsibly with their pets.
Here is a list of upcoming October Events around the Country:
WHAT: The Amazing Acro-Cats
WHO: fundraiser for Friends of Animal Care & Control
When: Thursday Oct 6 - Sun, Oct 9, 3pm & 7pm
Where: Vittum Theater, 1012 Noble St, Chicago
Cost: $21-$33
Visit Website
WHAT: 6th annual "So Mush Fun" Fundraiser - timed bike, scooter, sulky and cart races around the 2 mile lagoon - all breeds welcome. Beginner musher class, raffles, and silent auction items
WHO: Northern California Sled Dog Rescue (NorSled) - rescues, fosters and rehomes unwanted, abandoned and abused Northern breed dogs: Siberian Huskies, Alaskan Malamutes, Samoyeds, mixes
WHEN: October 8, 7am-11:30am
WHERE: Lagoon Valley Park, 4681 Pena Adobe Road, Vacaville, CA
COST: Free to watch. $35-$40/event
Visit Website or Send Email or call 800 471.5822
WHAT: Pull for Puppies: charity tug of war tournament—the largest, organized tug of war tournament in Texas, more than 30 teams and nearly 400 participants from all over Dallas/Fort Worth
WHO: Operation Kindness - North Texas' largest no-kill animal shelter
WHEN: October 8, 9am-1pm
WHERE: The Beach at Craig Ranch, 6145 Alma Road, Mckinney, TX
COST: $20
Send Email or call 512-587-7678
WHAT: 13th annual Red Dog RACERS Charity Auction & Cruise-in Fund Raiser - wide variety of cars and races. Bring your own wheels, too! Silent auction, live auction,
WHO: (SICSA) Society for the Improvement of Conditions for Stray Animals - Spay Neuter Programs
WHEN: October 15, 10am -3:30pm
WHERE: Cold Beer & Cheeseburgers - Breitenstrader Shopping Center, 1060 Patterson Rd, Dayton, OH
COST: Free
Send Email
WHAT: Dog Film Festival - Following an 11-city tour, it returns to New York City during Adopt a Shelter Dog Month - Each screening includes documentary, animated and live-action shorts submitted by dog-loving filmmakers from around the world.
WHO: fundraiser for Mayor's Alliance for NYC's Animals
WHEN: October 15, 11am-10pm
WHERE: Symphony Space, 2537 Broadway, New York City
COST: $15.00 for adults and $10.00 for children per screening
Visit Website
Want to list your event for free? Click here. Please note that non-profit events (fundraisers, adoption events, etc.) will be listed for free and for-profit events will incur a fee. Please email the advertising team if you wish to advertise your for-profit event in their directory.
Tails has local focus, but national reach - with magazines in 10 different cities across the United States, and 150,000 issues printed per month, 12 times a year, and an ever-increasing audience of over 1 million people. Pet lovers can pick up their free magazine at pet-related businesses and vet offices, grocery stores, health clubs, bookstores, coffee shops, restaurants, libraries, park districts, and other "mainstream" locations. Currently they are in over 10,000 individual locations.
To find out where you can get a copy of your own, send an email to locations.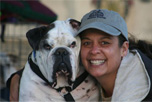 Animal Radio News - Lori Brooks
Lazy Owners to Blame For Dog & Cat Dementia
Dog and cat dementia is on the rise with pet mental decline being blamed on lazy owners who don't give their companions enough exercise along with poor diets, according to animal experts in the UK. Some findings of a recent study show: A third of dogs at age 8 suffer from mental decline, rising to 2/3 when they reach 15. Half of all cats aged 15, and a third of those between ages 11-14, suffer from dementia. The vets warn cheap pet food, pampered lifestyles and lack of exercise are all blamed for a sudden rise in the number of pets developing dementia. The average dog now lives to the age of 12 and a cat to 14 thanks to the care they receive from their owners, but the areas of sufficient exercise and diet could both use some major improvements. Pets are also living longer, which is also a part of the reason we are seeing more pet dementia now.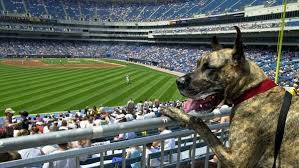 Guinness World Record For The Most Dogs Ever At A Sporting Event!
The outfield seats at U.S. Cellular Field in Chicago where the White Sox hosted 1,122 dogs and their owners last week during a game against the Cleveland Indians, has set a Guinness World Record for the most dogs ever at a sporting event! The Sox set out to achieve the record for their annual "Bark at the Park" event and a Guinness World Record official was on hand to verify the record and award the team the honor that night. The Sox needed a minimum of 1,000 dogs in attendance for the record and the dogs had to remain in their outfield seats for a period of 10 minutes, starting at the top of the third inning, in order for the record to count. A clock in the outfield counted down the 10 minutes during the third inning and the Sox announced the record was achieved in the middle of the sixth inning. The dogs, many dressed in Sox fan gear, did a lap around the field before the game and the evening ended with an 8 - 1 win for the Sox, so it was a very good night!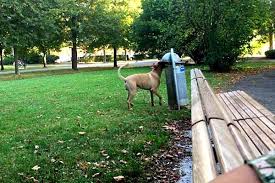 Dog Cleans Up After Himself
Usually when you take your dog to a park, you need to clean up after him, but some dogs apparently consider it their duty to return the favor. In Germany, a woman recently captured on video a civic-minded dog doing his fair share of clean up by putting trash into a garage container. It shows the conservation-promoting canine walking with garbage in its mouth toward a trashcan in a park. The dog then puts its nose under the trash can lid to lift it and then carefully drops his mouthful of trash into the can. That's a smart dog and a great idea for a new trick!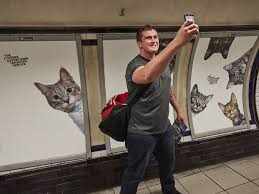 Forget Buying Stuff - How About Adopting A Cat?
The group Citizens Advertising Takeover Service (C.A.T.S. - get it?) has managed to replace all the advertisements in one London Underground station with pictures of cats. For two weeks, big pictures of adorable kittens instead of ads selling vitamin water or the 15th Jason Bourne movie will greet commuters at the Clapham Common tube station. C.A.T.S. is the brainchild of Glimpse, a creative collective aimed at positive social change. According to the group's founder, the idea came from a suggestion to, "Imagine a world where friends and experiences were more valuable than the stuff you buy." So, the group began a crowd-funding campaign on Kickstarter earlier this year and raised over $30,000 to buy the advertising space, which will feature several photos of actual stray cats in need of homes. The response has been fantastic! You see some smiles from the people at first, then they turn the corner and see more cat photos replacing ads and the smiles get bigger then they start taking selfies with the ads. It is hoped that the campaign will inspire advertisers to rethink their public impact and use their powers for good.
Pets Are Living Longer
It's not just people who are living increasingly long lives in Japan; their pets do too, according to a new report from the Tokyo University of Agriculture and Technology. They found the longevity of pet cats and dogs in the country has soared to record heights, with the average cat living to 11.9 years and dogs 13.2 years. The latest figures reflect how the longevity of pets have steadily increased in recent years, with the average lifespan growing nearly 2 and 1/2 times for cats and 1 and 1/2 times for dogs in the past 25 years. The researchers believe it's because of the growing number of pets being kept indoors, better quality pet foods and medical treatment. Meanwhile, researchers also found that mixed breed dogs lived longer than purebreds and female cats live longer than male cats. But Japan is not the only place where pet lives are getting longer. Here in the United States, the average pet lifespan has soared to almost 13 years for cats and close to 12 years for dogs. Japan is famously home to one of the world's most sophisticated pet industries, with countless innovations and services devoted to all things pet-related, with the more innovative ranging from cat aromatherapy and dog dance classes to pet fashion shows.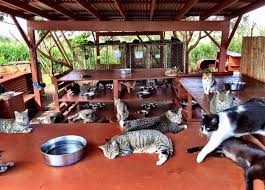 Feline Heaven in Hawaii
Most people visit Hawaii looking to spend long, lazy hours on white sandy beaches drinking bottomless Mai Tais, but true cat people, on the other hand, might have a more warmer and fuzzier option in mind. On the small island of Lanai, there is a little-known slice of feline heaven, the Lanai Cat Sanctuary, which is home to 495 cats. People fly from all over the world just to hang out with them. Though there's a boundary surrounding the property, there are no cages within the main area of the sanctuary. The cats, or "Hawaiian Lions," as the sanctuary calls them, have large huts and trees to climb on, patches of grass on which to sun themselves and all the human attention they could ever want. Die-hard cat lovers call it the 'Furr Seasons,' which is open to the public for a few hours every day. Visitors can adopt or foster if they fall in love with a cat and the sanctuary helps to facilitate adoptions for locals and out-of-state visitors. But, if a cat is never adopted, it can live out its entire life in the sanctuary. The sanctuary is the perfect place for cats in need of a home, but it also serves a second purpose on the island: protecting endangered indigenous bird populations.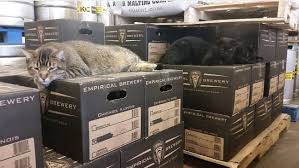 Ghostbuster Kitty Enforcers - Cats At Work
A Chicago brewery has called up its version of feline Ghostbusters to handle their troublesome rodent infestation and apparently the team is doing a fantastic job! Venkman, Raymond, Egon and Gozer are the "Ghostbusters" named kitty enforcers that have taken up residence in Chicago's Empirical Brewery. The cats came from Tree House Humane Society's Cats at Work Project, a program that removes feral cats from dangerous situations and puts them in new homes where they can control Chicago's rampant rodent problem. The brewery staff struggled with rats before their feline friends swooped in to save the day. They even named one particularly massive rat "Jesus" after repeatedly coming face to face with him. But since the four cats have been working at the brewery, the staff hasn't seen a single rodent. Having the Ghostbuster cats has also proven much more cost-effective than monthly extermination treatments that didn't work. The cats spend a lot of time lazing around the brewery, but just their scent is enough to keep rats at bay. In fact, the success of the Cats at Work Program at the Brewery has led to a 30-day wait list for other businesses, even homes waiting for their own rat cat. And if you are a cat lover, you can follow the Empirical Brewery cats' adventures on Twitter.

Listen to the entire Podcast of this show (#878)