Tips for Selling Your Pet-Friendly Home
Jason Feldman, Chicago Realtor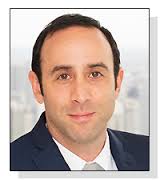 Chicago Realtor Jason Feldman specializes in selling homes to and for pet owners. If you're trying to sell your home after many years of "pet-life," he'll have tips for making it more appealing to the buyer. He says sometimes pet owners become immune to the smell, so it's advisable to bring in a third party to assess the situation.
Jason states that when it comes to selling a house where pets have lived, it all depends upon the homeowner how hard or easy it will be. In other words, if they were a responsible pet parent, it will be a lot easier.
When selling a pet home, Jason said it's like having a newborn and baby-proofing your home. Get down on your hands and knees and crawl around and you will see a lot more down at your pet's level than you would standing up. This includes nose-prints on glass; slobber buildup and scratches on surfaces.
When staging your house for buyers, you should pick up all food bowls and any pee pads. Clean all litters and move them out of the way. Clean up any items that may have any kind of odors, like pet beds. People will know there are animals living there, but the sights and smells don't need to hit them as soon as they walk in the door.
If possible, you should remove all animals from your home when it is being shown. If you can't remove them, they should at least be crated.
Jason believes it's not unusual for you to become used to the smells in your home and not notice pet smells anymore. As a result, it is a good idea to have someone else (perhaps a friend or neighbor) that doesn't spend a lot of time in your home, to come in and see if they notice anything.
If you follow these tips, you shouldn't have any problems selling your home, and who knows, someone else with pets might want to move right in.
http://www.chicagopetfriendlyrealestate.com



Healthy Dogs Begin With Good Nutrition
Harrison Forbes, Solid Gold Pet Food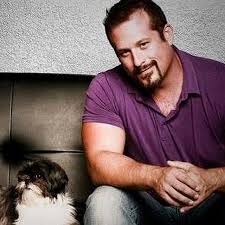 Harrison Forbes' 25-year career consists of being a dog trainer and animal behaviorist. He's been involved in the training and importing of over 700 police service dogs and has also been called upon to train dogs for films in Hollywood, including Francis Ford Coppola's film "The Rainmaker."
When he looks back over the years, Harrison sees how much has changed with our companion animals. One such thing is training. Years ago people didn't think you would begin training until the dog was six months to a year old. Harrison states that he does a lot of work with a dog from five weeks to 20 weeks, during the "imprinting" stage. It isn't really training, but includes socialization, getting them used to different surfaces and loud noises, going out in public and getting in and out of a car.
Some key tips that Harrison provides are doing research on the breed of dog you want. Find out what makes them tick and what things they are pre-disposed to, and use that to your advantage. For example, with a herding dog, start using training games and things that will allow herding instincts. Just use all of the information you have to your advantage and try to work your training accordingly.
Lastly, you want good, solid quality nutrition and good vet care to keep them in working condition. Think about it, an athlete couldn't eat a Happy Meal every day and stay in good health, so your dog needs to have good nutrition as well to stay in top health.
Harrison Forbes is currently working with Solid Gold Pet Nutrition. He tells us that Sissy McGill founded Solid Gold out of necessity. She was a breeder and shower of Great Danes. She became frustrated when she learned that the same bloodlines of Great Danes in Europe were living to be 15 to 16 years old and she couldn't figure out what the difference was. She then went over to Europe and spent a lot of time and found out that she was raising them the same, they were receiving the same type of vet care, but the big difference was nutrition. Sissy then started using the formulas that they were using. As a result, one of Sissy's males ended up living until the age of 16 on this new diet.
Solid Fold Pet food was started out of true love by Sissy, and what it could do to make her own animals live longer and healthier, and not just "I want to start a pet food company."
Harrison has two senior dogs. His 130-pound Beauceron eats Solid Gold Fit & Fabulous. Because his dog sleeps about 22 hours a day, he eats the same amount of food as his 12-pound Shih Tzu mix, because his metabolism has slowed considerably. Harrison also has a young working dog, a Dutch Shepherd that eats Solid Gold Barking at the Moon, which is a high protein dog food for active dogs.
Look for Solid Gold's premium dog and cat food formulas at Petco and your local independent pet specialty retailers.
Solid Gold holistic pet nutrition - food for free spirits!
http://www.solidgoldpetfood.com

How Much Would You Spend To Save Your Pet?
Doc Halligan, Lucy Pet Foundation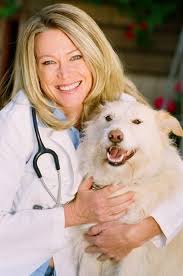 Nowadays our animals are like our children. There are also many new breakthroughs in veterinary medicine that can be very costly. So, how much would you spend on a procedure to save the life of your pet?
Doc Halligan tells us that at the clinic where she works, if an animal is coming in for a routine procedure, they have the owner sign a paper stating that if something were to go wrong, how much would they spend to save their life. This amount ranges anywhere from "Don't do anything" to "I would spend as much money as possible to save my pet."
New veterinary procedures and machines have driven the cost of veterinary medicine up, which unfortunately ends up on the client's shoulders. Years ago many animals were euthanized because treatment was not available. Now that more treatments are available, these animals can be saved, but someone has to pay the bill.
New treatments consist of ultrasounds, cancer treatment, pace makers and bone marrow transplants, which alone can cost around $30,000. Another new treatment available is kidney dialysis, which costs $10,000 and then $4,000 a year for maintenance. This is a lot of money.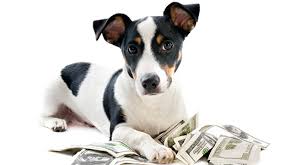 Where do you draw the line - when it is too much? You need to also look at the quality of life your pet will have after any procedure and don't feel bad if you can't afford it. Pet Insurance is also great, but may not cover all of these new procedures, so you need to read the policies very carefully.
The Mission of The Lucy Pet Foundation is to reduce pet overpopulation by having mobile spay/neuter clinics across the country and to support causes that benefit animal welfare. The Lucy Pet Foundation currently has two buses that travel around Southern California focusing on spaying and neutering. These buses are state of the art surgery units. Their next focus is in generating more funds to expand the work of these buses and have more across the country.
The Lucy Pet Foundation not only offers free and reduced spays and neuters, they also do microchipping, vaccines and de-wormings. Spaying and neutering is not only great for pet population control, but it has been proven that an animal will live on an average of 40-percent longer after having this surgery.

Here is a list of upcoming free or reduced fee mobile spay and neuter clinics in California (Please call and reserve space):
October 5, 12, 19, 23, 28, 30
SPAY/NEUTER CLINIC
Location: Baldwin Park, 4100 Baldwin Park Blvd., Baldwin Hills
Check in 7:30am
ACCEPT COUNTY AND CITY VOUCHERS
Please call 1-855-499-5829 or Email: Info@lucypetfoundation.org to schedule an appointment.
October 7
CATS ONLY - SPAY/NEUTER
Location: La Harbor College, 1111 Figueroa Place, Wilmington, CA
Check in 7:30am
ACCEPT COUNTY AND CITY VOUCHERS
Please call 1-855-499-5829 or Email: Info@lucypetfoundation.org to schedule an appointment.
October 9
CATS ONLY
Location: YMCA, 2900 Sepulveda Boulevard, Torrance, CA
Check in 7:30am
ACCEPT COUNTY AND CITY VOUCHERS
Please call 1-855-499-5829 or Email: Info@lucypetfoundation.org to schedule an appointment.
October 10
RED BARN OPENING
Location: 2720 Cochran Street, Simi Valley, CA
8:00am
October 14, 16, 21
SPAY/NEUTER CLINIC
Location: Inland Valley
Check in 8:00am
Prices Vary
ACCEPT COUNTY AND CITY VOUCHERS
Please call 1-855-499-5829 or Email: Info@lucypetfoundation.org to schedule an appointment.
October 17
VACCINE CLINIC
Location: 350 S. McPherrin Avenue, Monterey Park, CA
8:00am - 11:00am
Please call 1-855-499-5829 or Email: Info@lucypetfoundation.org to schedule an appointment.
October 29
PRESENTATION BY DOC HALLIGAN
Location: Rolling Hills Country Club, 27000 Palos Verdes Dr E, Rolling Hills Estates, CA
12:00NOON
Remember, you must get on a list to have your pet seen at these locations. Please call The Lucy Pet Foundation toll free at 1-855-499-5829 or Email: Info@lucypetfoundation.org to schedule an appointment, or register at the events.
See the current list of clinics at http://www.lucypetfoundation.org.





7th Annual Get Your Licks On Route 66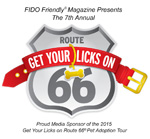 FIDO Friendly is once again traveling down the Mother Road, stopping at shelters along the way to support adoption events. The cross-country pet adoption tour started September 11 in Riverside, California at the Riverside Animal Shelter. Every year Susan Sims of Fido Friendly Magazine travels from Los Angeles to Chicago, helping to place puppies and kittens into new forever homes. In the previous 6 years of the tour, they placed over 3,000 pets in their new forever homes and he states.
The Get Your Licks On route 66 tour will include 15 cities to visit this year and they would like everyone to come out. Even if you are not looking to add a forever family member you can still join the fun by visiting one of their partner shelters and donating $2.00 to spin their custom spinning wheel filled with prizes you can win, with proceeds going to the shelter at the end of the day!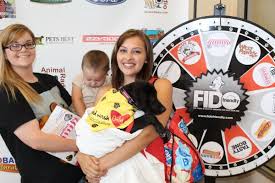 Spinning wheel prizes will be provided by John Paul Pet, Synlawn, Petmate, Sleepypod, Fresh Scents, Pets Best, Buddy Belts, Kurgo, Earth Rated, Charlee Bear, Kids n Pets, Pet Botanics and Simply Fido. Thanks to the sponsors who have signed up to help us save lives, one shelter at a time! Please visit their websites to see the great products they have to offer.
If you can't attend and would like to donate to the tour, they will send you a complimentary one-year digital subscription to FIDO Friendly magazine with a minimum donation of $10! With a $30 or more donation you will also receive a Get Your Licks on Route 66 t-shirt. Your name will also be listed as a grass-root supporter.
Here are the upcoming dates and locations of the 7th Annual Get Your Licks on Route 66® tour:
October 4
St. Louis, MO
11am-3pm
Benefits Animal Protection Association of Missouri
Event Held:
Canine Carnival
Tilles Park in Ladue
9551 Litzsinger Rd.
St. Louis, MO 63124
October 10
Chicago, IL
11am-4pm
PAWS Chicago
1997 N. Clybourn Ave.
Chicago, IL 60614
October 11
Springfield, IL
Noon-4pm
Benefits Animal Protection League
Event Held:
Scheel's
3801 S. MacArthur Blvd.
Springfield, IL 62711
October 17
Kansas City, MO
2pm-6pm
Wayside Waifs
3901 Martha Truman Rd.
Kansas City, MO 64137
October 18
Merriam, Kansas
Noon-4
Great Plains SPCA
5428 Antioch Drive
Merriam, Kansas 66202
FIDO Friendly is an American dog travel and lifestyle magazine published bimonthly including hotel and destination reviews along with health and wellness topics, dog training advice, celebrity interviews, and the latest fashion trends.
http://www.getyourlicksonroute66.com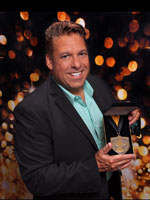 The Dogfather's Grooming Tip with Joey Villani
Accessorizing Your Pet
Joey Villani reviews the latest grooming trade shows and the strange accessories including fake eyelashes for your dog, fingernail polish and wigs. Some might think this is for the hardened pet lover who may be just a little nutty for their pet. And they're probably right.
Clothing is now old hat in the pet fashion industry. There are many new things to make the fashion market for dogs.
One new item is the fake eyelash. They are not applied right on the eyelid like they are on humans, but are placed just above the eyes, using the same type of glue. This looks really cool on some dogs, while others look ridiculous.
Another new item is hair extensions and wigs.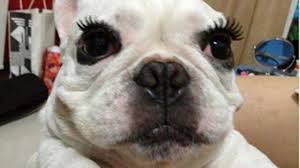 Some people think that this is cruel to do to pets, but if you watch them, you will see that some dogs really love the idea and know that something special is going on and they love the extra attention.
Your may have to ask your groomer about these items, as they might not be aware that they exist. Tell your groomer to order some, as they are available in most grooming catalogs.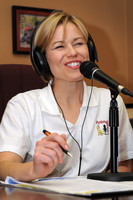 Pheromones In Puppy Training -Dr. Debbie
So you just got a new puppy and you have all your training tools at the ready, the collar, leash and dog crate. But beyond that, do you have the one thing that can make your training tasks easier all around? Tap into your puppy's own sense of smell using canine pheromones, and ease your new pup's training and transition into the home.
Pheromones are scent signals emitted by all animal species, including humans. Various pheromones work under the radar to influence the perceptions and behaviors of others within a species.
Shortly after whelping, a pheromone is emitted from the bitch's sebaceous (oil) glands located between the mammary glands. The pheromone, dubbed the canine appeasing pheromone, reassures the puppies, calms them and facilitates nursing. The bitch stops emitting this pheromone as the pups mature, but all dogs retain the ability to "read" this pheromone. Not only do older dogs recognize this pheromone, but it continues to have a natural calming effect on canines of all ages.
In veterinary behavior cases, the dog appeasing pheromone is used for dogs with noise phobias, car travel anxiety, separation anxiety, and other fearful situations. Various forms are available including pheromone collars, plug in diffusers and sprays. The canine appeasing pheromone doesn't sedate the dog; rather it decreases fear and excitability.
The dog appeasing pheromone is also helpful for newly adopted puppies. Those first few days to weeks in a new home are full of changes for the pup faced with novel environments far from the comfort of mother and siblings. The dog appeasing pheromone has been shown to ease the transition of the pup into new home and improve sociability and training during a pup's critical socialization period.
Pheromone Research
For skeptics that need to see the proof in the studies, veterinary behavior studies have examined the positive influence of the dog appeasing pheromone. When comparing treatment responses for dogs with separation anxiety, the use of the dog appeasing pheromone equaled the benefit of the anti-anxiety medication, amitriptyline.
One study looked at 66 puppies as they settled into new homes after adoption. Approximately half of the puppies wore a pheromone collar and half wore a placebo. The study found that puppies wearing a pheromone collar displayed significantly fewer nuisance behaviors like vocalizations or scratching within 3 days of adoption. Pups wearing the pheromone collar woke their owner's less during the night and displayed fewer signs of distress and vocalizations throughout the course of the study.
The researchers concluded that pheromone collars helped both the pup and family. Pups were less stressed and adapted easier. By decreasing the pup's stress and fearful behaviors, the pet owners found a more enjoyable bonding experience with the new pup and faced less frustration through the training process.
In another study, puppies 8 to 15 weeks were enrolled in an eight-week long puppy socialization and training class. Half wore a pheromone collar and the other half wore a placebo collar. The pups wearing the collar were calmer in the face of novel experiences and displayed less fear, anxiety, and aggression. In the end, the pups with pheromone collar not only were less nervous, but had fewer behavioral problems and learned better. And a long-term effect on sociability was recognized in dogs up to one year after the class and study was completed.
Pheromones and My Pup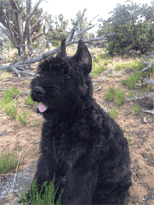 As the new owner of a nine-week old Bouvier puppy named Nikki, I used both the pheromone collar and diffuser upon welcoming my new pup home. One day before bringing Nikki home, I placed a pheromone diffuser close to the puppy crate, where it would have maximum benefit during her first nights in the kennel away from mother and siblings. Immediately upon leaving the breeder's home, Nikki was fitted with a pheromone collar to serve as a source of reassuring pheromones that went everywhere she did. The pheromone collar has become a tool in Nikki's socialization. It's on her when she meets new people or animals, when she explores new environments, and during puppy kindergarten class.
Did pheromones help in my pup's transition and training? The four hour drive home from the breeders was a dream, no crying or whining the entire trip. Now three weeks later from acquiring my pup, and Nikki never soiled in her kennel during the day or night. I'll admit I had my share of interrupted sleep in the first two weeks, but most of Nikki's night time wakes were for genuine elimination needs. Overall her transition into the home was smooth and lacked the wailing, inconsolable cries of a stressed pup.
The canine appeasing pheromone isn't a magic bullet though. Nothing matches a quality pup obtained from a reputable breeder who focuses on health, genetics, and early socialization. Likewise pheromones do not replace the hard work and consistent training efforts that any new pet owner must provide. However, by adding the the canine appeasing pheromone to your new puppy training, you can help your pup become the best he or she possibly can.
For more information on the DAP products, visit CEVA.
Featured veterinarian known as "Dr. Debbie" on national pet radio program, Animal Radio. Ebook author of "Yorkshire Terriers: How to Be Your Dog's Best Friend"; "Pugs: How to Be Your Dog's Best Friend"; "Mini Schnauzers: How to Be Your Dog's Best Friend"; and "Shih Tzu: How to Be Your Dog's Best Friend."

It's a Wacky Wednesday Here at the Animal Radio® Studios
WackyWed Contest IS ON - LIKE your FAVORITE pic and the three pics with the most LIKES & SHARES are this week's winner will receive a dog car restraint from GoFer.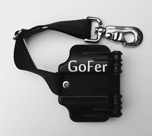 TO ENTER Send us your FUNNY pet pic to WackyWed@AnimalRadio.com - (Please put WACKYWED in the subject line & give us your pet's name, your name & where you hail from) If YOUR pic is chosen then spread the word to your friends & family on Wednesday - the pics w/the most LIKES and SHARES will be the winner!
This week we are giving away a product to make car rides safer from GoFer. The GoFer works with most body harnesses and the safety-belt shoulder restraint found in every modern passenger vehicle. By using the shoulder restraint's ability to extend and retract, GoFer allows dogs to move more freely while still maintaining the 'soft-boundaries' that reduce excessive and unsafe behaviors. When the seatbelts lock, your dog's movements are immediately restricted until the momentum of the vehicle allows the belts to release. The GoFer is the only restraint device patented to work this way.


Join Animal Radio® on Facebook for Wacky Wednesday! Win great prizes every week for your wacky pet pictures. Last month we gave out goodies from POD Pet Tracker, Twigo Tags, Omega Paw, Zero Odor and more. Visit us on Facebook now.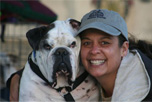 Animal Radio® News - Lori Brooks
Study Shows What Goes On Inside Minds of Dogs
Five hundred ordinary people/wannabe scientists from all over the world have contributed data to a study of what goes on inside the minds of their dogs. They did this by playing games with their dogs at home and submitting their information and results to help researchers find out more about canine cognitive skills and problem solving. What did they learn? From one game-like test they found that dogs rely more on their memory than their sense of smell to find a hidden treat. Most of us think dogs use their sense of smell for everything, but actually dogs use a whole range of senses when solving problems The data were collected through a website called Dognition.com which was started by the same doctor who founded the Canine Cognition Center at Duke University.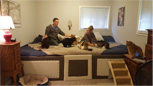 Couple Makes Extra Large Bed For Them and Their Pets
Have you ever known an animal that didn't want to sleep in the bed with you? Me neither. So how lucky are this couples five cats and two dogs? They made a gigantic 11-foot wide bed that takes up most of their bedroom, but is big enough to share with all of their pets!
County Bans Pet Stores From Selling Puppy Mill Dogs
A board of supervisors in Camden County, New Jersey (just outside Philadelphia) has voted unanimously to prohibit pet stores from selling animals from puppy mills. The representatives say they are standing up for animals of their county and want to ensure no one is profiting off the inhumane treatment of puppy mills, and add that several other counties and towns have inquired about the legislation and enacting it in other areas.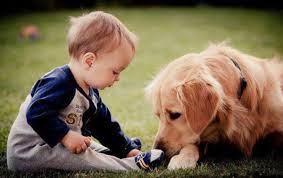 Study Shows Infants Who Have Pets Have Less Allergies
There's some good news on the animals and kids allergy front. A new study has found that infants who share a home with furry pets were found to share some of the animals' gut bacteria, which might possibly explain why exposing children to animals early in life may protect kids against some allergies. In this research, the infants' mothers had a history of allergies, so the babies were actually at an increased risk of having allergies too. It used to be thought that exposure to pets early in childhood was a risk factor for developing allergies. One of the researchers was so encouraged she said, "If a family with a pregnant mother or an infant wants to have a pet, the family can be encouraged to have one, because the development of allergic disease cannot be prevented by avoiding pets."
New Law Prohibits Animal Abusers From Adopting Or Purchasing Animals
New laws and ordinances to protect animals are popping up all over these days, like the new laws that prohibit pet stores from selling animals from puppy mills in cities and counties around the country. Now in New York, the Niagara County Legislature will consider a local law to create a county registry of people who are convicted of abusing animals that would prevent any pet adoption agency or store from selling animals to them. A public hearing on the proposal will take place October 20th. Under this proposal animal abusers would have to pay a $125 fee to register much like state sex offender registries. The animal abusers' photos, names and current addresses will remain on the website for 15 years.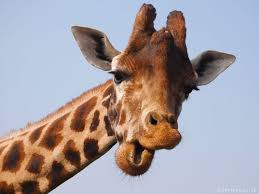 Have You Ever Heard a Giraffe?
Elephants trumpet, horses whinny, owls screech and dogs bark. But, do you know what the giraffe does? Experts have found out that giraffes might not say anything, but recordings show that they sure do a lot of humming. What experts have learned is that as evening progresses and sunlight dims, giraffes begin to hum at a super low frequency that is so low, it cannot be heard by humans.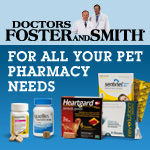 NEWS UPDATE brought to you by Drs. Foster & Smith, affordable pet supplies. Low prices every day, so you save on every order.

Listen to the entire Podcast of this show (#826)