Microchip Of The Future
Karen Zaxton, Escape Alert

Karen Zaxton's mom has no technical skills, but she came up with a great idea to combine the microchip with a GPS locator. Not until now has the battery technology been available for powering a rice-sized chip. Karen says it is taking the best of both worlds of implantable microchips and GPS collars and puts them into one device.
Karen was originally looking for something like this for her pet, but it didn't exist because of the battery technology. Once you put something inside a pet, it is not like you can go plug them in to recharge the battery. So until very recently, the battery technology just wasn't there to power these types of devices.
Now, researchers have been able to self-power cardiac pacemakers, allowing Karen and her mother to finally develop this chip.
It all started out one day when Karen and her other were worried that their dogs might get out while they were on vacation. Every time they went on vacation, they always worried about the dogs and hoped they weren't digging their way out to go look for them. Karen's mother than said, "Why don't you just get one of those chips that tracks your dog?"
Karen then thought that her dogs already had chips in them and could be tracked if they did get out. But, she was under the wrong impression that current day microchips could be tracked.
Karen then just wanted to buy one, and when she found they weren't available, she did some research and discovered that the technology was finally there to power the batteries.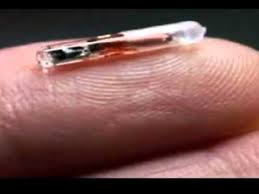 The chip will be self-powered by revolutionary technology called a piezo-electrical nanogenerator, which basically creates power from mechanical movement such as walking or moving your arms. She has since filed patents and is moving forward to manufacture these devices.
But just how safe are these products containing batteries that we put in our pets? These chips are implanted in similar kinds of biocompatible materials that existing microchips are implanted in. The way they work is the chip will be powered off. This will save battery power. The only thing it will be doing is giving off tiny little bits of energy that are less than we experience, for example, walking around an airport.
Once the chip is implanted, it is off. But then there is a geo-fence, which is a virtual boundary set up by the pet owner. It is then the invisible barrier that will send out alerts and try to detect the chip. If the boundary system does not detect the chip, then it sends off alarms and you get an alert to your phone, iPad or computer, by text or email, or both. Then all you have to do is to click on the link that comes in the notification and it immediately turns on the chip so the chip can notify you of its location so you can immediately track your pet.
Mechanical movements will power the battery. Simply by the animal moving, it's creating enough power in the battery.
Karen tells us that they are predicting that in the next 5 years or so, we are going to be able to set our cellphones down on the seat of a car, and just the vibration of the car moving, will power the phone and recharge it. By then, batteries should be a thing of the past.
The chip is currently not available, but you can pre-order your Escape Alert GPS implantable microchip on Kickstarter through November 21st. If for some reason the chip can't be built, which they don't foresee, you will instead be given a GPS collar.
They are asking for $50,000 on the Kickstarter campaign and are even offering naming rights to the chip. Perhaps a large corporation, or a pet corporation, could buy the joint naming rights to the chip, would guarantee its development.
Co-Founders, Jan Mooneyham and Wayne B. Norris founded LLC Escape Alert of Los Angeles in 2010. The company's mission is to put an end to lost pets once and for all. Escape Alert has filed international patents for the world's first implantable microchip for pets with GPS tracking. The company is in the development phase and plans to release the first GPS chip in 2015. For more information, please visit EscapeAlert.com or connect with Escape Alert on Facebook at Facebook.com/escapealert.
"HERO PEOPLE OF THE WEEK" - Mike Arms, Helen Woodward Center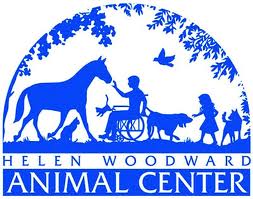 Our Hero Person this week has been serving animals for decades since a close-to-death experience changed the way he viewed our furry-friends. Mike Arms is the Top Dog at the Helen Woodward Center in San Diego and he's no stranger to Animal Radio® airwaves. He explains his latest viral campaign for animal awareness.
Animal-lovers and animal welfare organizations across the globe will unite on Thursday, September 25, 2014 (the fourth Thursday of September, annually) with a Remember Me Thursday pet candle-lighting ceremony. The candles, lit on the exact same day across the world, will honor the millions of pets who lost their lives without the benefit of a loving home and shine a light on the millions of healthy pets who are still awaiting adoption. The Remember Me Thursday global awareness campaign encourages individuals to light a candle this day (literally or virtually) and to opt to adopt, reducing the millions of orphan pets euthanized each year.
The first Remember Me Thursday took place on September 26, 2013. Little did Mike Arms (Remember Me Thursday creator) know how much this campaign would mean to pet lovers, but also to those working on the front lines of animal welfare.
139 countries united to support the movement, with over 100,000 individuals around the globe holding candle-lighting ceremonies of their own, spreading the message through social media, visiting the Remember Me Thursday website and lighting a virtual candle.
If you are a pet adoption organization, or an animal rescue, and you would like to join Remember Me Thursday, you can begin to plan your candle-lighting event today! Visit our Planning Page to download free documents and planning guides. And remember to register so we can add you to our participants list!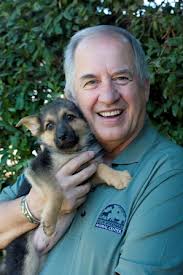 Mike's Story:
Michael Arms was an enthusiastic young man who set out to change the world, one puppy at a time. After completing his education and serving a tour of duty as a United States Marine in Vietnam, Mike returned to his home in New York and accepted a position with the Humane Society.
While he took great pride in saving the lives of orphaned pets by finding loving, permanent homes for them, the stress of all the pets he could not save was beginning to take its toll. He was losing weight. He tossed and turned through one sleepless night after another. Convinced that there was nothing he could do, he tendered his resignation and accepted a position outside of the animal welfare industry.
During his final week, just as he was ready to leave the office one evening, a call came in informing the Humane Society about a dog that had been stuck by a car in the Bronx. When Mike's secretary asked what she should do he told her to send a truck out to pick up the dog. "There's nobody available. They've all gone home for the day." So Mike removed his suit jacket, put on a technician's coat, and drove to the site to pick up the dying puppy.
When he arrived, it was immediately obvious that the pup's back was broken. Bending over to pick it up, he was interrupted by two men standing in a doorway. "What do you think you're doing?" they asked. Mike explained that the puppy was hurt and that he was going to take it to the Humane Society.
"No you're not."
"Why, is it your dog?" asked Arms.
"No, but we have a bet on how long it's going to take before it dies."
"You guys are really sick," he said, stooping once again to pick up the little body.
"That was when these two heroes attacked me from behind. They stabbed me; they beat me, and left me there in the street to die with the puppy."
Just as Mike Arms was slipping into unconsciousness, the pup crawled over to him and began licking his face. "There was no way that the little guy should have been able to reach me with his broken back. But somehow he pulled himself over to me with his front paws and brought me back to life."
"There in the gutter I prayed and promised God that if he would allow me to live, I would never turn my back on an orphaned pet."
The puppy didn't survive, but Mike Arms did. And since that time Mike has dedicated his life to saving orphaned pets. He is credited with finding loving, lifelong homes for more dogs and cats than anyone else in history.
"I'm often asked why I've dedicated my life to saving animals. I'll never forget that brave puppy with a broken back, crawling through a gutter in the Bronx, to bring me back to life. And I'll never forget the promise that I made to God that day. How could I possibly think of doing anything else?"
Thinking Globally. Acting Locally. Do you know someone that should be nominated for our Hero Person of the Week? Send us an email to: YourVoice@AnimalRadio.com.

Animal Radio's HERO PEOPLE is brought to you by Zeuterin a safe, permanent and virtually painless alternative to surgical castration.




6th Annual Get Your Licks on Route 66
Susan Sims, Fido Friendly Magazine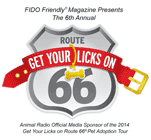 Every year, Susan Sims from Fido Friendly Magazine gets on the road to help spread the word about adoption and help out shelters along the way. They start in Los Angeles and travel along Route 66 to Chicago.
Powered by Ford with Animal Radio as a media sponsor, the tour travels down America's Favorite Highway stopping at shelters along the way to support adoption events. In the first five years, the tour helped place over 2,000 pets in to new forever homes.
This year's Official Spokesperson is actress, best-selling author and animal lover Danica McKellar. Danica, best known for her role as "Winnie Cooper" on The Wonder Years, was recently seen competing on Dancing With The Stars.
They are about hallway through the tour, and have adopted out over 200 animals.
If you can't take home a new family member, they also have a spinning wheel with lots of prizes set up at different shelters along the way, with the money raised going to that shelter.
Here is a list of their remaining stops. Check back often to see if they've added more shelter stops.
10/4/14 - Springfield, MO
Humane Society of Missouri
1201 Macklind Ave.
Springfield, MO
Hours: Noon - 4pm
10/5/14 - St. Louis, MO
Animal Protective Association of Missouri
24th Annual Canine Carnival!
Tilles Park in Ladue
9551 Litzsinger Road
St. Louis, MO
Hours: 11am - 3pm
10/11/14 - Chicago, IL
PAWS Chicago
1997 N. Clybourn Ave.
Chicago, IL
Hours: 11am - 4pm
10/12/14 - Springfield, IL
Animal Protection League
PetSmart
3183 S. Veterans Pkwy.
Springfield, IL 62702
Hours: 1pm - 5pm
10/18/14 - Kansas City, MO
Wayside Waifs
3901 Martha Truman Rd.
Kansas City, MO
Hours: 2pm - 6pm
10/19/14 - Kansas City, KS
Great Plains SPCA
5428 Antioch Drive
Merriam, KS
Hours: Noon - 4pm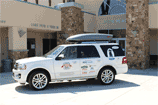 Also look for them on the road in their 2015 FORD expedition. They will be traveling down the Mother Road with their two rescue hounds, Junior and Jake, helping to save lives, one shelter at a time!
To learn more about this life saving tour and the cities where they will be holding events, visit their website www.fidofriendly.com or www.getyourlicksonroute66.com.
See more at: http://www.petpr.com/news/fido-friendly-magazine
http://www.fidofriendly.com/blog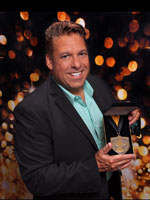 The Dogfather's Grooming Tip with Joey Villani
Dealing With An Oily Coat
A dog with a oily coat is a common problem. If your dog's coat is oily, you should have them checked out by the vet first to try and determine the cause so you can clear it up.
If it is something you can take care of at home, most shampoos you can buy are going to have strong enough degreasers to get rid of the oil.
A great tip when using shampoos to rid the coat of oil is NOT to wet the pet first. Apply the shampoo directly to the dry pet and lather it in. If you need to, you can add a little bit of water to help spread it over your dog's coat. After you have rubbed it in, rinse it off. This will break down the oils and strip it away.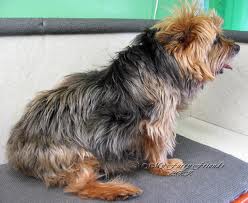 Another thing you can use is Dawn Dish Detergent. Make sure you use Dawn, and not just any dish detergent, because some of them will react differently with your pet's skin. Unlike dog shampoos, you can wet your pet first, before applying the Dawn. Just be careful not to get it into your pet's eyes. While Dawn has been proven to be somewhat safe for dogs, don't use it too frequently on your pet.
If you don't remove the oil from your pet, it is a big attractant for fleas, which will make the skin condition worse, as fleas like a dirty environment.





Pet Event Roundup
Janice Brown-Gork, Tails

Janice Brown-Gork is back for her monthly countdown of pet-related events across the country. There's no better time to get out of the house with your four-legged friend. The TailsInc Events Calendar has the information you need to find fun stuff to do with your pets in your hometown.
Passionate about rescue and adoption, Tails Pet Media Group, Inc. was founded in 2000 by Janice Brown. What started as a magazine, is now a mission!
Tailsinc.com is an interactive website and online community committed to connecting the animal welfare community with the general pet-loving population. Tails Inc. features expert knowledge, advice, pet product reviews, local resource guides, community event news and monthly contests, in order to promote and encourage people to live responsibly with their pets.

Here are some October events currently going on around the country:
What: 15th Annual Paws for the Cause
When: Sun, October 5, 9am – 12pm
Where: Fox Chase Cancer Center , 333 Cottman Avenue., Philadelphia, PA
Cost: $15 pre-registered, $20 at door
Info: FoxChase.org/Events/Paws
Notes: one-mile dog walk and fair on the campus of Fox Chase Cancer Center in Northeast Philadelphia. Hundreds of dogs and their owners participate each year to raise money for cancer research. Annual event at Fox Chase since 1999 and has raised over $ 250,000 for cancer research. We typically get anywhere from 300-400 people and about 150-200 dogs. Paws for the Cause is a family-friendly event with live music, contests and games, vendors, rescues and all hosted by Dawn Timmeney of Fox 29 News.
What: It's A Pittie vs. Dogs Are Deserving Rescue Softball Fundraiser
When: Sat, October 11, 10am – 5pm; First pitch at 2pm
Where: 14011 Kenton Ave., Crestwood, IL
Cost: Adults/$10.00, kids/free
Info: Facebook.com/DogsAreDeserving
Notes: Live entertainment by Rock, Paper Scissors, Silent auctions, Cash raffle prizes, Local and unique vendors, Bake Sale, Variety of children's games, Face painting, Vendors. Open at 10am local vendors showcasing unique merchandise and a variety of baked goods for sale will kick off the day's festivities. Tailgating and stadium open at 12:00pm
Who: Central Park Paws, a program of Central Park Conservancy
What: My Dog Loves Central Park Fair
When: Sat, October 11, 11am-3pm
Where: Naumburg Bandshell, (mid-Park at 72nd Street), New York
Info: CentralParkNYC.org
Notes: Games: Tic-Tac-Dog, Tricks for Treats, Dancing with your Dog
Trainer Tips (Parvene Farhoody of Behavior Matters Inc.)
Paws Promenade: World's Largest Dog Selfie (#centralparkpaws)
Try out your dog's agility capability on the obstacle course
Who: Charles River Alleycats & the Gifford Cat Shelter
What: Meow Mile 5K Road Rally
When: Sun, October 12, 9am – 12:30pm (after purrr-ty celebration at Johnny D's in Somerville starting at 10:30 am)
Where: Willow Ave. in Somerville between Highland Ave. and Summer St.
Cost: $27
Info: GiffordCatShelter.org
Notes: run, walk, and pounce your way to the finish line at the Meow Mile 5K Road Rally that benefits the work of Charles River Alleycats and the Gifford Cat Shelter! We have partnered together to fight the uphill battle of feline overpopulation in the Greater Boston Area. While Charles River Alleycats works with feral cats, humanely trapping them, getting them altered and vaccinated and returning them to their colonies, Gifford Cat Shelter is a no-kill shelter providing care for adoptable cats and kittens while they await their fur-ever homes and serves as a safe haven for cats with special needs.
Who: Chicago Botanic Garden
What: Spooky Pooch Parade (the ONLY day of the year dogs are welcome at the garden!)
When: Sat, Oct 18, 11am-1pm
Where: 1000 Lake Cook Rd, Glencoe
Cost: Before Oct. 17: $14/member, $19/nonmember, Day of: $20/member, $25/nonmember
Info: ChicagoBotanic.org/Dog
Notes: I have been a judge at this event for about 10 years, and it is one of my favorite events of the year! It is the ONLY day the Botanic Garden allows dogs in, and people really go all out with homemade costumes.
Who: Helen Woodward Animal Center
What: 6TH ANNUAL BOW WOW BRUNCH CRUISE
When: Sunday, October 19, Noon
Where: Leaves from San Diego Grape St. Pier 1800 N. Harbor Dr., San Diego
Cost: $80.00 per person *Tax, service charge and landing fee additional
Info: hornblower.com
Notes: enjoy a delicious and bountiful buffet with unlimited champagne and desserts. Fido gets a pet buffet to choose from along with a dog relief area set up on the sun deck of the yacht! Portion of the proceeds go directly to helping Helen Woodward Animal Center. Special guests, Magic 92.5's Jagger & Kristi (with Bodie) and Chopper the Biker Dog, will be making an appearance for photo opportunities! 2 Hour Cruise on San Diego Bay, All you can eat Gourmet Brunch Buffet for humans and Dog Buffet, Doggie buffet "to go" sponsored by Petco, Meet "Darris Cooper" Petco Pawsitive Dog Training expert, Dessert buffet, Your own reserved private table for you and your dog, 3rd Annual Doggie Costume Contest with 3 big prizes
Who: First Coast No More Homeless Pets
What: DOGTOBERFEST
When: Sat, October 25, 11am-3pm
Where: 1410 Gator Bowl Blvd., Jacksonville
Cost: $25/person
Info: fcnmhp.org
Notes: Get your VIP access and enjoy a trick-or-treat walk with your dog, vendors, food trucks, music, a costume contest and more! ALL proceeds benefit our life-saving programs.
Tailsinc.com lists events for pet-lovers, for any non-profit, for free!




Animal Radio® News with Tammy Trujillo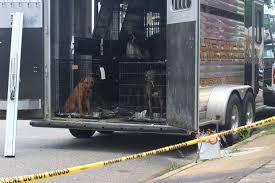 FBI Gets Involved With Animal Cruelty
Cruelty to animals is getting it's own category in the FBI's federal crime reports for the first time. Local agencies will also track them to report to the FBI. Up until now, cases were included in the 'other offense' category because the victims weren't people. Now, there is real incentive for law enforcement agencies to pay closer attention to such incidents. And with animal cruelty and neglect included in report, agencies will be able to allocate officers and funds to handle these cases, track trends and deploy accordingly, in so many ways.
Is Your Pup And Optimist Or A Pessimist?
Research at Sydney University's school of Veterinary Science says that dogs, just like people, have those traits. This actually is very valuable information. It could dictate whether certain dogs are cut out for certain jobs. A pessimistic dog that avoids risks would be better as a guide dog while an optimistic, persistent dog would be more suited to detecting drugs or explosives. Optimistic dogs are more likely to be unfazed by failing at tasks and more likely to pick themselves up and try again. Even for dogs who are just pets, it could help determine what kind of enrichment activities might help their well-being.
So What Are They Naming Their Pets In The UK?
Turns out a lot of pet guardians there are so into their favorite TV shows that they are taking names for their pets from them. Poppy from Game of Thrones was the most popular name for both dogs and cats for the fourth straight year. Sherlock from that show also was a frontrunner.

University-Wide Pet Therapy Program
Oklahoma State University is considered America's Healthiest Campus. Now it's launched the nation's most comprehensive, full-time, university-wide pet therapy program. Thirteen dogs are in the pet therapy pack called Pete's Pet Posse. It's named after OSU's iconic school mascot Pistol Pete. The program will help students, faculty and staff deal with emotional and stressful situations, like finals. Many studies have shown how animals can reduce stress and lower blood pressure, triglycerides and cholesterol.
Pet Food Victory Goes Overboard
Hill's Pet Nutrition recently won on it's challenge in how Blue Buffalo markets its products and puts down it's competitors, but it looks like Hill's got a bit carried away with the victory. The National Advertising Division says Hill's went too far when it started promoting the win. It seems that Hill's PR Department sent out so-called 'article starter kits' to certain bloggers about Hill's products and included links to a press-releases and articles written about the Hill's/Blue Buffalo dispute.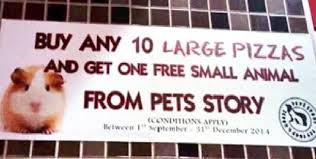 Free Animal With Purchase of Pizza
A Pizza Hut in Australia has apologized for offering a 'free small animal" with the purchase of 10 large pizzas. The deal was offered connection with a local pet store. The corporate office at Pizza Hut says it had not approved the promotion and no animals were given away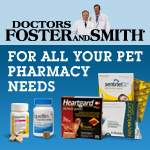 NEWS UPDATE brought to you by Drs. Foster & Smith, affordable pet supplies. Low prices every day, so you save on every order.

Listen to the entire Podcast of this show (#774)