10 Pets That Inspired Great Songs
Laura Moss, Mother Nature Network
From the Rolling Stones to Queen to Norah Jones, they all wrote or sang songs about the important animals in their lives. MNN.com's Laura Moss has the stories behind the music.
Laura decided to look into animals that inspired songs after she read an article about how 'Martha My Dear' by the Beatles was in spired by Paul McCartney's dog. Most people assumed that it was about a long time love interest of Paul's, but he put those rumors to rest and told everyone that it was actually about his dog and he assured them that the relationship was purely platonic! After that, Laura decided to look in to seeing what other songs she had heard that were inspired by pets.
She was surprised as to what she found. She never knew that Freddie Mercury was such a cat guy and had actually dedicated his first solo album to cat lovers everywhere. He also has a song dedicated to his cat Delilah. When he was on tour, he would call home to speak with his cats and even had portraits commissioned of them.
Cats, dogs and even goldfish have been muses for animal-loving musicians. Ninety-one percent of pet owners consider their animals to be family, and more than half think of their furry family members as their children. With numbers like these, it should come as no surprise that musically inclined pet owners have penned songs in their pets' honor.

Laura has rounded up 10 such songs and the stories of the pets that inspired them. Some celebrate lifelong companionship with man's best friend, while others are melancholy melodies about the loss of a feline companion. There's even a song about a goldfish.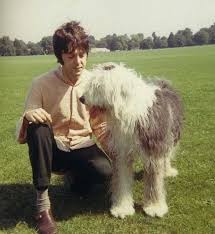 The Beatles 'Martha My Dear'
Paul McCartney wrote "Martha My Dear" as a piano exercise, but it was later released on the White Album. The song was inspired by McCartney's love for his Old English Sheepdog, which he adopted in 1965. Although there was speculation that the song was about longtime love interest Jane Asher, in 1977 he revealed that his dog Martha was the song's true inspiration. "Whereas it would appear to anybody else to be a song to a girl called Martha, it's actually a dog, and our relationship was platonic, believe me," he said.
Norah Jones 'Man of the Hour'
Norah Jones' fourth studio album, "The Fall," was released in 2009 and featured a ballad she penned for the four-legged man in her life. However, the Saint Bernard on the album cover isn't Jones' "man of the hour," that title belongs to her poodle, Ralph, who she says would have caused chaos had he been allowed on set.

Freddie Mercury 'Delilah'
Dogs may be man's best friend, but Queen front man Freddie Mercury was a cat person through and through. He kept several cats, which he reportedly called home to talk to when he was on tour. His first solo album, "Mr. Bad Guy" was even dedicated to those who shared his appreciation for felines. The dedication read, "To my cat Jerry - also Tom, Oscar and Tiffany, and all the cat lovers across the universe - screw everybody else." Mercury even made his love for cats known on the Queen album "Innuendo," which features a song about one of his favorite feline friends, a tortoise shell cat named Delilah.
Elvis 'Old Shep'
Country singer Red Foley wrote this song in 1933 about his childhood German shepherd, Hoover, who was poisoned by a neighbor. He recorded the song several times, but other musicians also recorded the classic country song, including the King of Rock 'n' Roll himself.

Suicide Machines 'Sometimes I Don't Mind'
Punk band Suicide Machines wrote this song about a Boston terrier and contains such memorable lines as "There's something with the way you act/Makes me laugh when you chase the cats/You chase 'em around/And when it's close to feeding time, you stare at me and whine."
Queen 'All Dead, All Dead'
It seems Freddie Mercury wasn't Queen's only cat lover. Guitarist Brian May wrote and sang this song about coming to terms with the death of his childhood cat.



Pinback 'Penelope'
"Penelope" is a song by indie rock band Pinback about the death of bass guitarist Zach Smith's pet goldfish. In 2002, singer Rob Crow posted this explanation on Yahoo: "Penelope is a real fish that Zach has that constantly hovers around the top of the goldfish bowl and could never make all the way to the bottom without a major struggle. Zach has always had a problem keeping fish alive, so I called the pet store and they said that either she had swallowed to much air and would expel it within day and be fine, or she had dropsy which is a disease that fish get where their lungs swell up and she would die in a couple weeks. But, even though she STILL hovers up there and constantly floats back up to the top, she's doing fine. You go girl." Unfortunately, Penelope died in December 2002.

Henry Gross 'Shannon'
Singer-songwriter Henry Gross' hit song "Shannon" was written about the death of Beach Boy Carl Wilson's beloved dog of the same name. Wilson was battling depression when he was introduced to the lively Irish setter, and the dog helped him find happiness. Sadly, one day Shannon was carried out to sea, which crushed Wilson.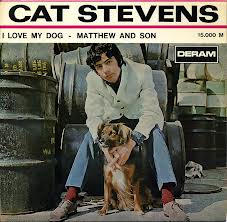 Cat Stevens 'I Love My Dog'
This song was the British singer's first single and was released in 1966. It contains the memorable line, "I love my dog as much as I love you/But you may fade, my dog will always come through."

The Dillards 'Old Blue'
This folk song about a beloved hunting dog is believed to have originated in Mississippi during the 19th century. A variety of artists have recorded the song, including Joan Baez, Pete Seeger and The Dillards.
Fatal Canine Disease Spreads From Ohio
Dr. Marty Becker, America's Veterinarian
Dr. Marty Becker is America's Veterinarian and featured veterinary correspondent for Animal Radio. Today, Dr. Becker reports on the latest findings of a new disease called circovirus and how to prevent exposure.

Veterinarians across the country are stumped about this new disease, similar to Parvo, which seems to have originated from a service dog in Ohio. So far, 10 deaths have been reported.
Canine circovirus infections have been documented in dogs with vomiting and diarrhea. The distribution of the virus in the U.S. is not yet known, but dogs infected with circovirus have been reported in California and circovirus may be associated with recent illness and death of dogs in Ohio.
Circoviruses are small viruses that have been known to infect pigs and birds. They are also known to be surviving well in the environment once shed from affected animals. Porcine circoviruses are very common throughout the world. Porcine circovirus 2 can cause post weaning multisystemic wasting syndrome in 2-4 month old piglets, resulting in weight loss, poor growth and high death rates. Although porcine circoviruses were first identified more than 30 years ago, there is still much unknown about the viruses. Circovirus can also infect birds, causing beak and feather disease in psittacine birds such as parrots, parakeets, budgies and cockatiels, infectious anemia in chickens, and deadly infections in pigeons, canaries and finches.

The circovirus identified in dogs shares more similarity to porcine circovirus than to the avian circovirus, but it is not the same as porcine circovirus. This canine circovirus was first reported in June 2012 as part of a genetic screening of canine samples for new viruses (Kapoor et al 2012). Circovirus was detected in 2.9 percent of canine sera collected for routine serological testing. In April 2013, a similar virus was detected in a California dog that presented to the UC Davis School of Veterinary Medicine for worsening vomiting (containing blood) and diarrhea. PCR tests on dogs with and without clinical disease indicate a prevalence rate of between 2.9-11.3 percent. The data suggest that this new virus, either alone or as a co-infection with other pathogens (disease-causing organisms, such as bacteria and viruses), might contribute to dog illness and deaths. However, the authors also reported that circovirus was identified in the stool of 14 out of 204 healthy dogs, suggesting that infection with circovirus does not always result in illness.
The route of infection is still unknown, but the basic principles of viral spreading suggest that direct contact with an infected dog or its vomit or diarrhea would present a higher risk of infection. However, many viruses can be spread from animal to animal through the use of shared bedding and equipment or through human contact with an infected animal prior to handling of an uninfected animal. In pigs, circovirus is spread through the manure and through contact with respiratory secretions.
Although some of the dogs showing clinical disease were recently boarded or at doggie daycare facilities, this should not be taken as an indication that this virus is only spread at boarding kennels or that boarding your dog or taking it to day care will result in infection. Any parent who has taken their child to daycare knows that a high concentration of children in an area can increase the spread of colds and other illnesses; the same thing can happen when dogs are gathered in an area.
There are many potential causes of vomiting and diarrhea, so the presence of these signs does not mean your dog is infected with circovirus. For example, vomiting and diarrhea can also result from infection with canine parvovirus, canine enteric coronavirus, Salmonella bacteria, canine distemper virus, Campylobacter bacteria, Clostridium perfringens enterotoxin A gene bacteria, and Cryptosporidium and Giardia species (both of which are single-celled parasites). Even a simple "dietary indiscretion," such as getting into the garbage or overeating rich foods or treats, can result in vomiting and diarrhea. Not all of these problems are life threatening, and many cases of diarrhea and vomiting resolve with simple treatment.
If your dog is vomiting or has diarrhea, contact your veterinarian. Dogs with diarrhea and vomiting could have a range of diseases, some of which can be life threatening unless diagnosed and treated early. Prompt treatment of vomiting and diarrhea, regardless of the cause, gives your dog a better chance of a quick recovery and can also cost you less in the long run. Delaying veterinary care can mean that your veterinarian has to treat a dog that's much more sick than they would have been if seen earlier, and that costs more. In the small number of cases so far, prompt veterinary treatment was critical to a good outcome for that dog.
Although we still have a lot to learn about this circovirus, there's no cause for panic. We know that dogs infected with circovirus don't always become ill, but we don't know how much of the virus they may shed in their stool or how much risk these dogs present as sources of infection for other dogs. Theoretically, it's possible, and that's one of many reasons why it's so important that you pick up after your own dog and avoid contact with stool from other dogs when possible.
Simple, common sense measures are in order, including the avoidance of contact with ill animals (and if your dog is ill, avoid contact with other dogs until your dog has fully recovered) and cleaning up after your pet passes stool. A healthy pet is more likely to have a fully functional immune system to fight infections, so keeping your pet healthy with good preventive care is also important.
Currently there is not a vaccine for circovirus. This is a very recent development, and it takes years to develop vaccines and get approval for use in pets.
There is still much to learn about this newly identified virus, including its role in disease. However, you can help prevent this disease, as well as many others, by taking a few precautions and keep your pets away from high-risk places. Dr. Becker states that even though his pets are fully protected against many diseases, he never stops with them at rest stops along the road. This is a hot zone for disease. You have all the animals that are passing through from all over the country who can be carrying who knows what!
You can see Dr. Marty Becker on Good Morning America & GMA Health on ABC News Now. Dr. Becker has been practicing veterinary medicine for more than 30 years and is a best-selling author, syndicated columnist and a frequent guest on national shows. You can also find Dr. Becker on Vetstreet.com, a new animal health and lifestyle website dedicated to giving pet owners the most accurate information possible to keep their pets healthy and happy. Follow Dr. Becker on Facebook and Twitter.
Hygiene Care
Gina Dial, John Paul Pet
Hygiene Care is important for the health of our pets especially our older pets, and John Paul Pet has developed a complete home care system of easy and convenient to use wipes that will help keep our Pets healthy, clean and fresh.
They have three wipes: Full Body and Paw Wipes, Ear and Eye Wipes and Teeth and Gum Wipes. They have made it convenient with boxed sets available at Petco. These are great and convenient traveling and for at-home hygiene care.
Full Body & Paw Wipes are designed to help keep your dog clean, fresh smelling and moisturized in between his or her baths. These wipes are enriched with lanolin to replenish your dog's coat. Full Body & Paw Wipes are ideal for dealing with sensitive skin, and they are pre-moistened which allows them to be soft and gentle while cleaning delicate areas such as between the toes and around the tail.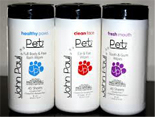 Ear & Eye Wipes are designed to keep your dog's ears and eyes clean and free from odor and build up. They are natural and formulated specially to deal with tear stains, dirt and other types of matter that have accumulated around the eyes and ears of your pet. Your pet's eyes and the ears are sensitive places, meaning that you need to be prepared to take care when cleaning them without causing discomfort or irritation. John Paul Pet uses sodium chloride (sea water) as a gentle, natural astringent and biodegradable boric acid as a mild antiseptic, while aloe vera gel provides soothing hydration. They will also absorb any odors and are anti-bacterial. It is important to remember to always use a separate wipe for each eye to avoid any possible cross contamination.
Tooth & Gum Wipes are formulated especially to help promote tooth and gum hygiene in your dog. 80 percent of dogs over the age of three suffer from periodontal disease. John Paul Pet Tooth & Gum Wipes use safe and effective Sodium Bicarbonate (baking soda) to clean and natural, fresh mint to reduce odor. You can take their good dental care a step further by cleaning their teeth and gums often when you are not taking them to the veterinarian or groomer to have it done professionally. Cleaning your dog's teeth and gums is easy when you have the right pet tooth and gum wipes. Plus, they leave your dog with minty fresh breath.
John Paul Pet has made it so easy and convenient to care for your pet. There are benefits of using wipes daily as way of keeping our pets clean and fresh after activities or feeding, such as saving on veterinarian bills. They are also convenient and easy to travel with.
5th Annual Life Saving Pet Adoption Tour
Susan Sims, Fido Friendly Magazine, Get Your Licks On Route 66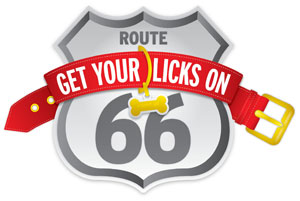 The 5th annual adoption tour is currently underway after starting in Los Angeles. Susan Sims checks in from stops along the way. Be sure to join us and find your forever friend along America's favorite highway.
The Get Your Licks On Route 66 Tour is sponsored by Ford and Animal Radio. Special thanks to car wrap sponsor Stella & Chewy's and pet safety sponsor Tagg the GPS Pet Tracker. Tour hotel accommodations are provided by Kimpton Hotels.
The tour drives down America's Favorite Highway from Los Angeles to Chicago, stopping at shelters along the way to support adoption events. They have adopted out well over 100 animals so far and are on the way to beat out last year's adoptees.
Currently, Susan is at the Humane Society of Missouri, located at 1201 Macklind Avenue, St. Louis, Missouri from Noon – 4:00pm.
Next week they will be at the PAWS Chicago, located at 1997 N. Clybourn Avenue, in Chicago, Illinois from 11:00am – 4:00pm. Most people know about PAWS Chicago, because a couple of years ago, Oprah Winfrey adopted a couple of her Cocker Spaniels there, and they even named a wing in her honor.
Even if you are not looking to add a forever family member, you can still join the fun by visiting one of their partner shelters and donate $2 to spin and win, with proceeds going to the shelter at the end of the day!
Can't stop by one of our tour locations, but would love to support this life saving tour? Go online to FIDOFriendly.com and donate to the life saving pet adoption tour, Get Your Licks on Route 66®.
View a list of tour shelter dates where you can get involved.



The Dogfather's Grooming Tip with Joey Villani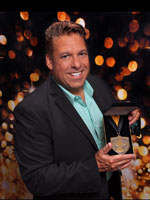 How To Determine The Right Shampoo For Your Dog
The good news is that we have so many shampoo products to solve almost any thing. The bad news is that we have so many; it's hard to know which one to buy! Don't worry; there is an easy way to determine which shampoo you need or your pet.
To start with, look at your dog's skin and coat. If you don't see any dandruff, there is no dullness and you don't see anything that looks like black pepper in their coat, then your dog is the perfect candidate for just regular shampoo.
Don't use anything with heavy fragrances, especially if you haven't used the product before, because pet's skin is a lot more sensitive than ours. We are showering all of the time and our skin is used to being exposed to all types of chemicals. Use something fragrance free or with a light fragrance. Be sure to follow the directions.
If you see any dullness or flaking, use a good medicated shampoo or oatmeal shampoo. These will sooth the skin, and moisturize and nourish it as well.
If you don't see actual fleas on your dog, look for something that looks like black pepper. The easiest way to check this is to place your dog on a white towel or white piece of paper and shake their coat. If something falls off that looks like black pepper, there may have been fleas on the dog. If so, you will want to use a flea shampoo. Those that contain pyrethrum or tea tree oil are not harsh and don't contain pesticides.
There are many types to choose from, but these are the main three and should solve any problem you have with your dog's coat.
All of the different types of shampoos can be confusing, but if you know your dog, you will have no problem choosing the right one.
Animal Radio® News with Stacey Cohen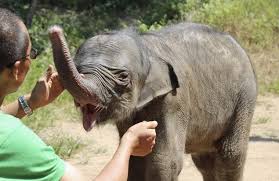 Baby Elephant Cries Inconsolably For Mother
The newborn calf reportedly cried for five hours, inconsolably, after being separated for a second time from his mother, who tried to kill him, twice. Keepers at a wildlife park in eastern China removed the calf from his mother after she rejected him, stomping on him. Hopeful that the injury had been accidental, they treated the calf and returned him to his mother's side. She turned on him again, so they again removed him. The calf wept under a blanket for five straight hours before keepers were able to console him. "He couldn't bear to be parted from his mother and it was his mother who was trying to kill him," a keeper said, according to reports. All was not lost for the little calf, however. Named Zhuangzhuang, he has been adopted by the keeper who rescued him and they have formed a strong bond.
Blind Man Washed Into Culvert, Dog Jumps In After Him
A blind man was walking his dog along a Denver street, when epic floodwaters surged and knocked him over. Ronnie Webb was washed into a deep culvert, as his guide dog frantically paced the edge. A Denver police officer on patrol saw the dog, and upon coming closer, he also spotted Webb in the water. As Webb called for help, his dog jumped in after him, and suddenly they were both were sucked into the tunnel under the street. "He and the dog were in the tunnel for 17 minutes," said Officer Del Creason. Creason called paramedics to the other end of the tunnel, where Webb and his dog emerged unharmed, to everyone's relief. Creason hails Webb's dog as the hero, and both Webb and his dog are doing well.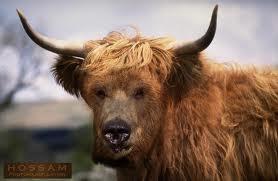 Hunters Cower After Mistaking Cows For Bears
A small group of runaway cows left a team of Swedish hunters cowering in fear after they mistook the bovines' shadows for bears. According to The Local, the hunters radioed for help shortly after they were dropped off by a helicopter in the woods in northern Sweden. They told the pilot their tiny shelter was surrounded by some of the brown bears that are known to live in the area and they needed to be flown out. But the pilot said he wouldn't be able to rescue them until the morning, so the hunters spent the night awaiting the bear attack they were sure would come at any minute. However, when they finally poked their heads out of the shelter in the morning, they discovered they were surrounded by a few lost cows who had wandered away from a nearby farm.
Giant Panda Baby Has Clean Bill Of Health
The giant panda born recently at the Smithsonian National Zoo has a clean bill of health. She just had her first full vet exam. The little rascal weighs a little over two pounds, more than double what she weighed two days after her birth. The cub has the signature black markings of a giant panda and her eyes have not yet opened.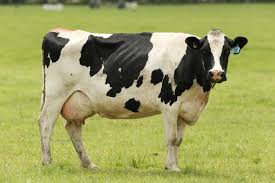 Missing Cow Has Twitter Account
A cow that had been missing for six months has finally been captured. According to the Atlanta Journal Constitution, the fugitive cow had been wandering the woods around major highways near Georgia's Henry and Clayton counties. In that time, the cow had even found its way onto the road, causing temporary traffic jams. Georgia's Department of Transportation says they were able to corral the beast, and then tranquilize it. Department spokeswoman Jill Goldberg says the cow is "on its way to somewhere better." While it was missing, the wayward cow even had its own Twitter handle with the name "Kevin The Cow."
Dogs Shoots Owner
Dogs are supposed to be man's best friend, but one pooch in Fort Worth, Texas is being blamed for shooting its owner. According to the Fort Worth Star Telegram, the accident occurred when a 78-year old woman was watching television. Apparently, her dog walked by a shotgun that was at her side, knocking it over. When it hit the floor, the gun discharged and struck the woman in her left foot. Police spokeswoman Officer Sharron Neal says the woman didn't seek medical attention until the next morning, when her foot was swollen and in worse condition. Neal says the woman chalked the whole incident up to an accident and that the "dog was not to blame." Officer Neal wouldn't release the dog's name or breed, joking, "He has the right to remain silent."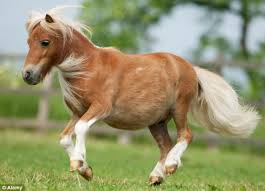 World's Smallest Pony Nabbed By Criminals
The world's smallest pony may be in the hands of the mafia. Metro says the tiny pony, who goes by Charlie and measures just over two feet tall, was taken from his stall at Italy's National Horse Show last week. Police suspect Italian criminals nabbed Charlie, and they say they're not ruling out the involvement of a larger criminal organization. The president of the National Horse Show sent his sympathies to Charlie's owner, adding that he's ashamed by what he calls a crime that "offends and humiliates the equine world."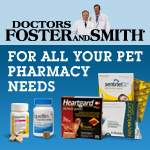 NEWS UPDATE brought to you by Drs. Foster & Smith, affordable pet supplies. Low prices every day, so you save on every order.

Listen to the entire Podcast of this show (#722)