A Different Kind of Pee Pad
Bill Klein, Pop-Up Pee Pads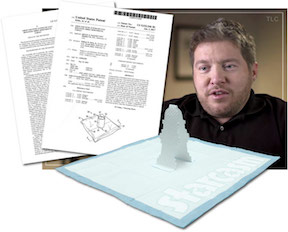 Bill Klein (TLC's The Little Couple) invented a pee pad with a pop-up fire hydrant. He says it cured his dog's inappropriate urination and it can help your dog too.
Bill Klein is a reality personality best known for starring alongside his wife Dr. Jen Arnold on the TLC reality series The Little Couple. He is a medical supplies and telemarketing businessman. So it comes as no surprise, he is also an inventor!
It's pretty straightforward that male dogs, specifically small male dogs, have a proclivity for going to the bathroom on furniture, corners of couches and other fun stuff like that. Now, they no longer need to pee on the furniture. The Pop-Up Pee Pad has a target right in the middle of the pad. So when your dog aims, there's no more cleaning up afterwards.
The target is in the middle of the pad and is a little fire hydrant that's pre attached to a training pad. There is also an attractant on the pad as well as super absorbent material inside the pad. It behaves like a regular pad, but as you unfold it, a fire hydrant pops up in the middle. When your dog's done doing their business, it folds down and you can toss it.
Necessity is the mother of all creations. Bill came up with the idea because of an issue with one of his dogs.
Rocky is a Chihuahua and was the first dog owned by Bill and his wife. When they moved to Texas, they moved into an apartment. At that time, Bill was using a landline to conduct business calls. Oftentimes Rocky didn't want to wait for him to get off of the conference calls. So when Bill was making a call he couldn't get off of, Rocky would make eye contact with him and then pee on the corner of the furniture. Bill couldn't express any sort of dismay, because of course that would upset whomever he was on the phone with. So he had to tolerate it, which almost condones the behavior. From there, it kind of became a vicious cycle of a repetitive behavior.
At the end of the day, Bill just gave up and put a pad underneath the chair leg, that Rocky deemed to be worthy of him. That was kind of the dawn of the Pop-Up Pee Pad.
After that, it was just a matter of figuring out how to come up with something that didn't need to be cleaned in addition to the pee pad.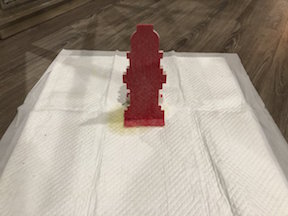 When Bill started inventing the Pop-Up Pee Pad, he was thinking of cards and books that you received when you were a kid with the little tab that kind of made it pop up and go down. He shared the idea with his brother one day when he stuck in traffic on his way from Orlando Airport. His brother told him to give him a night to mess with it. Bill's brother and his brother's wife then broke out some scissors and they helped Bill come up with the idea of just attaching two parts of the pad to make it pop up instead of using some sort of action to make it pop up. This wound up working out great.
Bill then filed the patent back in 2017 and was issued a utility patent. He tells us the pee pad works really well and the hydrant is kind of novelty, but everybody gets it. He said when he brought it to his first patent attorney to take a peek at it, he was kind of like, "Oh, what do you got for me today?" And when Bill unfolded the pad, the attorney started laughing and immediately got it.
While this is Bill's first invention, his brother had been to the same patent attorney before with a number of different of the wall kind of oddball ideas. Bill said he's sure patent attorneys deal with crazy goofball ideas all the time that make no sense or things that been done a billion times This pee pad was unique and was also simple and the attorney got it right away.
Bill tells us that he has been working with people to release the product. He's hoping that by the end of the year or early next year, he'll be releasing it in a whole bunch of stores. There are a few that he's working with now and they're growing steadily, which is kind of exciting.
Rocky is now a testament to the product. At first, Bill made about a thousand prototypes, which he thinks at that point is considered production! He couldn't sell them. However, they were made by hand and he handed them out to people at the Global Pet Trade Show. He wanted to test the water to see what the performance was. It was really well received so he went right into production. However, he had no need for the probably 800 leftover samples. So, Rocky's been using them ever since. Bill explains that his son now knows how to change the pads out, dispose of the used one and then puts out the new one. Luckily, Rocky doesn't pee too much, just a small volume, but frequently. So one pad is good for two or three "shots" a day and then put up a new one. According to Bill, he "Is not only the hair club president, he's also a member."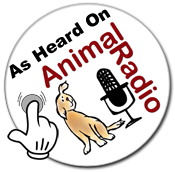 The Pop-Up Pee Pads are available on Amazon as well as Bill's store in Houston. They are also available on Bill's website and at a number of different independence stores. He's hoping they will soon get into those bigger box stores so that everybody can find them.




More Than Just a Pet Costume
Allison Albert, Pet Krewe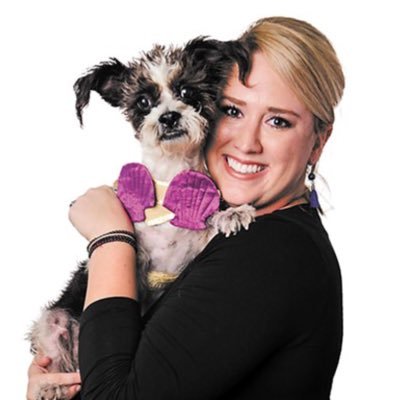 A mere 16-percent of us dress our pets for Halloween. This year there are more choices than ever for unique costumes. Costume maker Allison Albert shares her latest and greatest designs.
Allison Albert is the founder of Pet Krewe. Pet Krewe offers high quality and very unique pet costumes. However, Pet Krewe creates costumes all year round, as they believe every day is a reason to celebrate and dress up your pet, not just for Halloween, but everyday so you can unleash your own parade.
It is estimated that sixteen-percent of American families actually dress up their animals for Halloween. On top of that, according to Allison, about four-percent of those pre-plan their pet's costume to match their own costume at least six months prior to Halloween.
One of the favorite pets costumes at Pet Krewe is the mermaid costume. The tail has color changing sequins that allow you to change it from sea foam blue to emerald green. Allison explains that they are gender neutral at Pet Krewe, so if you want to remove the seashells on the costume, you can create a "Merman" or leave it as a "Mermaid," whatever your dog is feeling for that day.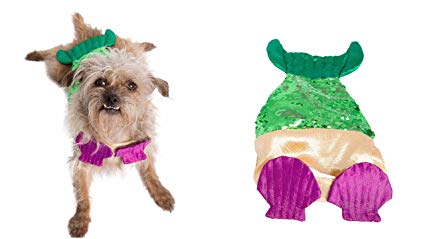 Some of Allison's favorite costumes are their unicorn hats for cats and dogs. They come with a little rainbow mane and a sparkly unicorn horn. She tells us that they are so much fun! They hand dye the fabric on the mane, so each one's a little different and a little unique.
There are several dogs in the office that are Guinea pigs for these costumes, which they call interns. Allison says the interns enjoy dressing up, because they always know that a treat is right behind the costume.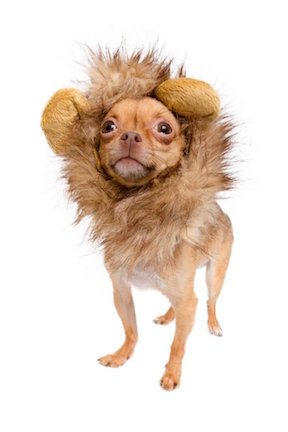 For the day-to-day Instagram snaps, they use their interns. However, the pictures that they use on the website and advertising are actually shelter dogs. Just down the street from them is the Jackson County SPCA and they use adoptable dogs to photograph their costumes. These also serve as their "Gotcha" adoption pictures as well as an amazing stock photo. They work and play with these dogs to get the used too human touch. They never force it if they don't want to wear a costume.
Pet Krewe has added another dimension to their pet costumes that makes them different, called Pet Krewe GO. Allison knows that their customers want more than just a pet costume; they want an experience. So they came up with the idea of using augmented reality that creates crazy worlds that compliment your pet costume purchase from Pet Krewe.
For example, let's say you purchased the mermaid outfit. You put the costume on your dog. Next you go to Apple, iTunes or Google Play and download Pet Krewe GO and open it up. If you have the mermaid costume and you want to go Under The Sea World, you select it. Then as your dog is sitting there in the costume looking fabulous as a mermaid, you can start to place mermaids around your dog. You can also add fish. This makes it look like real fish are swimming around your dog that is dressed as a mermaid. You can also plant coral reefs right beside your dog. Then you can take a picture of your pup. Then, with the amazing digital video, you can video your dog walking through a coral reef with mermaids sitting on the banks flapping their tails and fish swimming around your dog. You are able to create this fun video and it's all free!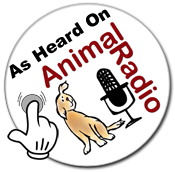 So not only can you get a great costume for your pet, you can create a fun experience for your pet!On top of that, 10-percent of your purchase goes right back to animal shelters!




10th Annual Cross-country Pet Adoption Tour: Get Your Licks on Route 66
Susan Sims, Fido Friendly Magazine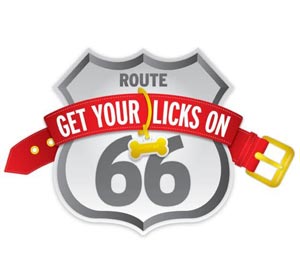 The Tenth Annual Get Your Licks on Route 66 Adoption Tour recently kicked off in Los Angeles. The Get Your Licks on Route 66 Adoption Tour is an annual cross-country pet adoption tour. They start in Los Angeles and go all the way to Chicago and work their way back. The tour is to help raise money for the shelters along the way and to raise awareness for the plight of these shelter animals. Their first 9 Get Your Licks on Route 66 Tours helped place over 10,000 pets into new forever homes.
Today the tour takes them to Springfield, Illinois. Susan brings her giant spinning filled with prizes donated by their sponsors. Sponsors include Nissan, Tito's Vodka, DogLeggs, PawPack, Petcurean, Buddy Belts, Hands On Gloves, Rolf C. Hagen, Embrace Pet Insurance Cosequin Joint Health Supplements, Petmate, Dexa, Canidae, Handicapped Pets, Shed Defender, Outward Hound, Charlee Bear, The Company of Animals, The Honest Kitchen, John Paul Pet, Blue Dog Bakery, Old Mother Hubbard, Affordable Allergy Testing, Royal Animals, PureLuxe Pet Food, Brilliant Pad, Bike Tow Leash, The Emergency Tag Help 4 Pets and Kurgo.
Here are the upcoming dates for the tour: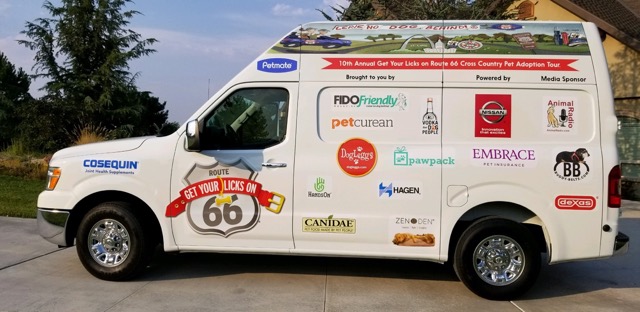 October 6
Chicago, Illinois 11:00am-3:00pm
Paws Chicago, 1997 N. Clybourn Ave., Chicago, IL

October 7
Springfield, Illinois Noon-4:00pm
Scheels Sporting Goods, 3801 S. MacArthur Blvd., Springfield, IL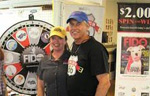 October 13
Kansas City, Missouri 2:00pm-6:00pm
Wayside Waifs, 3901 Martha Truman Rd., Kansas City, MO
Even if you are not planning on adopting a new family member, come on out and have some fun and see the animals. You can also win prizes on the spinning wheel, with donations going to your local shelter. It's a great way to support your local shelter and have fun at the same time.




Ticks Hitchhike on City Dogs Too - Dr. Debbie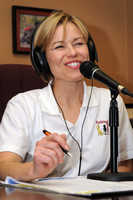 Ticks are common parasites known to infect people, pets and spread disease. Over 850 tick species exist worldwide, although fewer than a dozen species are of risk to pets in the U.S. But here in Las Vegas, pet owners often dismiss the existence of ticks with the likes of Bigfoot or the Loch Ness Monster. Think ticks are only a problem for pets that travel or visit the mountains? Think again.
The Tick Tale
Ticks are parasites known to infect mammals, reptiles and birds and feed on their host's blood. Although of tiny size, ticks ingest 200 to 600 times their weight in a blood meal.
Ticks are attracted to a host's movement, body warmth or exhaled carbon dioxide and then latch on. Through this feeding behavior they can transmit diseases to pets such as Lyme disease, Rocky Mountain spotted fever, Ehrlichia, Babesia and Tularemia. Disease transmission takes some time and may occur after 36 to 48 hours of feeding behavior.
Some ticks can live months or up to a year off its host without a feeding, so year-round prevention is important for pets at risk for continued exposure.
Battling Ticks
There are many topical tick control products available for pets. Speak with your veterinarian for an product that is effective and safe with your pet's individual health in mind. Cats are sensitive to some ingredients, may develop toxicity, and should never be treated with a product labeled only for dogs. Additionally, pet owners using multiple products on their pet should first consult with their veterinarian to ensure safe use of combined products.
In addition to topical tick control, environmental treatment with foggers, sprays or pest control service should be considered for heavy infestations. Limit tick habitat zones by maintaining landscaping, avoiding overgrown grass and keeping shrubs and plants trimmed.
Pet Screening
Perform daily tick checks during tick season. Examine your pet for ticks in areas that the parasites hang out - around the head, behind ears, armpits and between toes.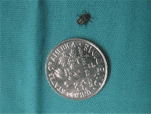 When removing a tick, avoid handling it directly. Wear gloves or handle with Kleenex since ticks can pass infections to people as well. Grasp the tick with tweezers close to the skin. Extract the tick by pulling straight out of skin. Don't squeeze, twist or leave any legs behind. Disinfect the area and dispose of ticks in rubbing alcohol.
Here's a photo of a typical tick, born and bred in Las Vegas and recently extracted from one of my Shih Tzu patients named Kane. Kane never leaves the state, doesn't hike in the mountains, and enjoys the comforts of a house-dog lifestyle. A tick was discovered on Kane after a day of supervising his owner's yard work and shrub trimming.
Maybe Kane's story will be an eye-opener for city dwelling pet owners. Pet parasites like fleas, ticks and mosquitoes still lurk in that urban jungle.
Visit the Dogs & Ticks website for more information ticks, diseases and prevention.
Featured veterinarian known as "Dr. Debbie" on national pet radio program, Animal Radio. Ebook author of "Yorkshire Terriers: How to Be Your Dog's Best Friend"; "Pugs: How to Be Your Dog's Best Friend"; "Mini Schnauzers: How to Be Your Dog's Best Friend"; and "Shih Tzu: How to Be Your Dog's Best Friend." Dr. Debbie's books.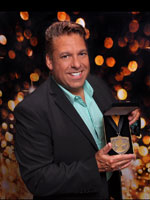 The Dogfather's Grooming Tip with Joey Villani
Accessorizing Your Pet
If you want to make your pet look different and stand out, Joey explains that there are a lot of little things that you can do to your pet than just switching up their haircuts.
If you look on line, they make all kinds of bows, barrettes, bandanas and color even hair extensions for dogs. These are things that are really easy to apply.
Hair extensions are nothing new, according to Joey, and breeders have already been doing this for a while. They call them whips. Breeders would actually put them in a Poodle's topknot. If you're not familiar with that, a topknot is the hairpiece on top of the Poodle's head, which gives it a much fuller appearance. These have been used for a while, but are now just being brought to the general public where they can have a little bit of fun with it.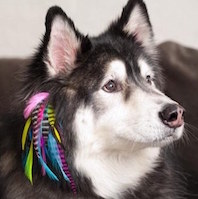 Have you ever seen women with hair extensions? Joey explains there are ones that you can buy at places like Claire's, to add a little bit of hair. Dog extensions are basically just like that. They clip right in and they look great. Some even have feathers as well as different colors.
So what do the dogs think of these? While some dogs might wonder what is going on, there are surprisingly a lot of dogs that like the attention that they get when wearing them. Some people say that it's unfair for the pet because they don't have a choice, but Joey tells us that he has seen many pets actually love all of the attention. This is because it is an attention grabber when you see a dog that has pink and purple splashes of color in hair extensions or just something that looks different like feathers, barrettes, bows and bandanas.
Joey says he has seen so many different types of accessories and that he can go on and on and on. So if you want to jazz your pet up, it's real easy to do. Just look at what's available.




Animal Radio News - Lori Brooks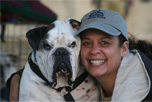 Flea Meds May Cause Seizures
The U.S. Food and Drug Administration (FDA) has issued a warning that flea medications in the isoxazoline class such as Bravecto, Credelio, Nexgard and Simparica may do more than just combat flea or tick infestations. It turns out they all have the potential of causing seizures, muscle tremors or other neurological problems in pets. The FDA states the drugs are safe to use for most animals, but it recommends pet owners talk to their veterinarian and review their pet's medical history. Although most dogs and cats haven't had any neurologic adverse reactions, seizures may occur in animals without a prior history. This means if they've used an isoxazoline flea and tick treatment before and haven't had a reaction, they could still have a reaction in the future. If you have questions, email or call 240-402-7002
Leasing Pets Is A Deceptive Practice
The ASPCA (American Society for the Prevention of Cruelty to Animals) has filed a lawsuit in New Jersey on behalf of two sisters who unknowingly entered into a pet leasing agreement so they could purchase an eight-week-old Golden Retriever puppy from a pet store. Both the lender and the pet store are targeted in the lawsuit. Leasing of pets can be very deceptive practice. Pet stores and online puppy sellers offer pet leasing schemes to make high priced puppies appear more affordable. Consumers may think they are opting for a standard payment plan, but many of these arrangements are actually leases where the consumers are required to make inflated monthly payments while the leasing company retains ownership of the dog. At the end of the lease, the consumer is required to make an additional payment if they want to keep the dog. For the sisters in this case, they will have paid a total of $5,300 at the end of the 24-month period to fully own their dog, now named Cooper, whose original purchase price was $3,500. The ASPCA believes pet leasing agreements raise significant animal welfare issues because they support the commercial breeding and retail pet store industries by making it easier to sell high-priced puppy mill dogs.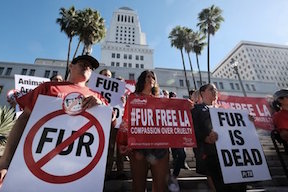 Los Angeles Bans Sale of Fur
Los Angeles will become the largest city in the U.S. to ban the sale of fur. The city council has voted unanimously to move forward with the ban, which will take effect twenty-four months after final language is passed. The ban will prohibit the sale of coats, handbags, shoes, hats, jewelry, accessories and other products made in whole or in part of fur.
Crematorium Cat Gets Fitting Farewell
Ashley the cat had lived at Worthing Crematorium for 16 years, comforting those who needed it and bringing a smile to the faces of staff there. He had been cared for by the former manager who died shortly before Ashley passed. So friends of Ashley and his caretaker had a service at the crematorium to remember both of them with everyone singing hymns and songs from the musical Aristocats.
Making a Pet's End of Life Easier for Everyone
Veterinarians are getting the message and beginning to make changes to make end-of-life experiences more comfortable for both clients and pets. Many vet offices now provide a comfort room with couches, soft carpeting, candles, music and serenity gardens with water fountains among the special touches. Those vet offices making these changes often make arrangements for cremation and take payment over the phone in advance so that grieving owners don't have to deal with paperwork or questions at the clinic. Many vets also offer memorial art featuring a paw print for a dog or cat, an ear print for a rabbit or a tail print for a rat giving owners something to take home right away. One animal hospital in Oregon even holds a monthly workshop for people who want to place a pet's ashes in art or jewelry.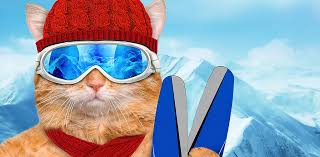 Snowcats Cat Convention
Now that fall has arrived, winter is not far off. To celebrate felines, Denver will host the Snowcats Cat Convention for a weekend of cats, art and music. The event, which will take place on December 8 and 9, will showcase adoptable cats with an onsite cat cafe and lounge, speakers, musical guests, meet and greets, a film festival and our favorite, the "cat-chelor auction," in which the finest cat men will be auctioned off to raise money for cat charities.

Listen to the entire Podcast of this show (#983)