Barking At The Moon
Jo Good & Anna Webb, Barking Blondes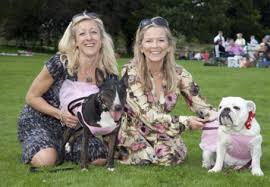 Anna Webb and Jo Good are perhaps the two funniest ladies you've ever heard. They have an affinity for our "fur-kids," and they'll tell you how two bitches taught two bitches to survive without men.
Jo Good is a British radio presenter, television presenter and actress who currently presents the weekday late night show and the Saturday breakfast show on BBC London 94.9. As an actress, she is best known for her role as Carol Sands in the ITV soap Crossroads from 1982 to 1984 and was an extra in the Sex and the City film.
Anna Webb has loved dogs more than people for as long as she can remember and believes that it is the love of dogs that makes us human. Her late father was secretary of RSPCA Shropshire so she learned from an early age the extent of man's cruelty to animals.
Anna's career finally went to the dogs when she met Jo Good in Regent's Park over an Honest Sausage. Jo was asked by the BBC to film a documentary interviewing other owners of "fur kids." Anna was Jo's first interviewee. Jo travelled to Anna's flat, which was decorated in Bull Terriers, including everything from the door-knocker to plates and pillows and even many paintings of Molly. When Jo saw Anna feeding Molly meatballs from her bra, she knew that here was a woman after her own heart. What she couldn't know was that this was the start of a friendship that would take them both on an incredible and bizarre journey. There was an instant affinity between Anna, Jo and their dogs, which led to them all working together on a show called "The Barking Hour" on BBC London.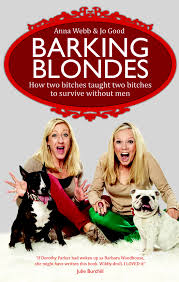 Over time, Jo got used to Anna feeding Molly meatballs from her bra, except when it came to doing television. As everyone knows, while meatballs are tasty, they can be a little greasy. There would be times when a greasy spot would show up on Anna's amazing designer t-shirt and only Anna would know exactly what was going on.
Besides meatballs, Jo tells us that Anna only feeds Molly the best. This includes Royal Jelly, which she can't even afford to feed herself, as well as raw processed colostrum, which is hard to come by. Anna mentions that she can spend a Saturday evening searching for this product, as neither of them have a boyfriend. They both figure they can have much more fun with their dogs!
The Barking Hour show is mainly about dogs. Jo & Anna would have very famous dog owners in the studio with their dogs, and would even bring their own dogs into the studio. But when they moved to prime time radio, switching from a night show to a daytime show, the BBC banned all dogs from their studio. This is because someone complained of being allergic to dog hair that was in the studio. Both girls feel this has taken a lot of the fun out of doing their show, because Molly would open the shows by "speaking," and Matilda, who has a concentration span of a gnat, would snore loudly throughout the show.
Check out their book, Barking Bitches. It will have you howling!
http://www.barkingblondes.net




Rent-A-Chicken
Phil & Jenn Thompkins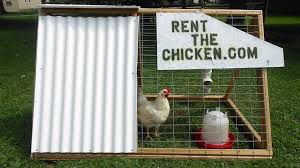 Phil Thompkins and his wife Jenn are quite the entrepreneurs. They've successfully launched a chicken rental business just in time for a renewed interest in the feathered fowl. "Chickens are the new dogs" and many simply like having the egg supply.
The chickens are rented out for the summer. For $350, a renter gets two hens, a wheeled coop, feed and a water dish. The items are dropped off directly at your house, and you are given an introduction of the chickens so you know what to do and what to expect. After six months, you can then decide if you want to keep the chickens or return them, and can even reserve them for next summer.
Just having the chickens for the summer can give a person an idea if chickens are for them, without going through all of the trouble and costs. If a renter wants to "Chicken Out," they can send the chickens back.
There are many types of chickens, but the Thompkins try to choose the more egg producing chickens like the White Rocks, the Rhode Island Whites or Rhode Island Reds.
Chickens bought at a farm supply store don't start laying eggs until they are between four to five months old. However, within two days of their arrival, Rent-The-Chickens will lay eggs ready to use! These eggs have 1/3 less cholesterol, 1/4 less saturated fat and 2 times more omega 3 fatty acids than store bought eggs. Chickens produce the most eggs from May until November and your Rent-The-Chickens should lay 8-14 eggs per week
The couple decided to start the business after seeing friends struggle with raising chickens. Phil also says he's noticed raising chickens is "Something a lot of people are into," but most "don't know where to start."
They are currently running a special of $50 off now through November. This will be applied to next year's rental.
The couple rent their chickens in the Freeport, Pennsylvania area.
5th Annual Life Saving Pet Adoption Tour
Susan Sims, Fido Friendly Magazine, Get Your Licks On Route 66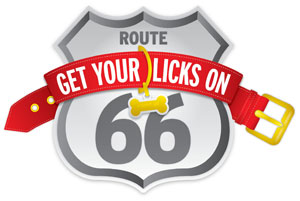 The 5th annual adoption tour is starting to wind down after starting in Los Angeles. Susan Sims checks in from some of the last stops along the way
The Get Your Licks On Route 66 Tour is sponsored by Ford and Animal Radio. Special thanks to car wrap sponsor Stella & Chewy's and pet safety sponsor Tagg the GPS Pet Tracker. Tour hotel accommodations are provided by Kimpton Hotels.
The tour has been driving down America's Favorite Highway from Los Angeles to Chicago, stopping at shelters along the way to support adoption events. They have adopted out well over 100 animals so far and are on the way to beat out last year's adoptees.
Currently, they are at PAWS, located at 1997 N. Clybourn Avenue, in Chicago, Illinois, from 11:00am – 4:00pm. On Wednesday, October 16th, they will be at Wayside Waifs, 3901 Martha Trumman Road, in Kansas City, Missouri from 2:00pm – 6:00pm.
Even if you are not looking to add a forever family member you can still join the fun by visiting one of their partner shelters and donate $2.00 to spin and win with proceeds going to the shelter at the end of the day!
Can't stop by one of their tour locations, but would love to support this life saving tour? Go online to FidoFriendly.com and donate to the life saving pet adoption tour, Get Your Licks on Route 66®.
View a list of tour shelter dates where you can get involved.
Chatty Cat Challenge
Dr. Cristiano Von Simson, Bayer HealthCare Animal Health

Dr. Cristiano Von Simson, Director, Veterinary Services, Bayer HealthCare Animal Health North America, speaks to Animal Radio about the Chatty Cat Challenge.
The Chatty Cat Challenge was an online opportunity for America's cat owners to tell the world what their cats would say are the secrets to their health and happiness. The Chatty Cat Challenge actually came out of an effort by Advantage® II for cats to encourage cat owners to take a moment to think about what they do to manage their pets' well being.
Two keys to feline well being are regular veterinary care and monthly, year-round flea prevention. Many cat owners don't realize, one, that fleas are not just a problem in the spring and summer but, also, year-round; and, two, that flea bites can cause cats more than just a little itching, so killing fleas is important. For example, just one flea can bite up to 400 times a day, because all they do is feed. That can't feel good!
So what Bayer HealthCare did, through the Chatty Cat Challenge, was to ask cat owners to tell them what makes their cat happy and what keeps them healthy. And since cat owners love their cats and love showing them off, they wanted to make it fun by inviting owners to share photos, memes and videos of their cats, plus 100 words or less on what keeps their cat healthy and happy, but in their cat's voice.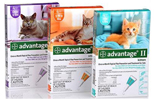 They accepted video, photo and meme submissions, accompanied by a 100-word-maximum narrative, from the cat's perspective.
They are no longer accepting entries, but have opened the entries to an online, public vote to pick the top ten, through October 21st. After that, a panel of judges will pick the grand prize winner. Nine finalists will each receive a one-year supply of Advantage® II for cats and a premium cat carrier and the grand prize winner will receive a three-year supply of Advantage® II for cats, a premium cat carrier and an iPad® mini.



The Dogfather's Grooming Tip with Joey Villani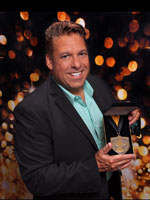 Caution When Using Topical Flea Treatment
When searching for a topical flea and tick preventative medicine, you may find them in department stores. Unfortunately these usually have no veterinary studies behind them and are not endorsed by a veterinarian. They may be the least expensive, but these are not the safest products for your pets.
But no matter what you buy, or where you buy it, there is always the possibility that there may be a serious reaction.
We all know that fleas and ticks are a big problem. It is just something that we have to deal with. By dealing with them, we try to prevent them. One way of preventions is a topical application on your pet.
If you are going to use a topical medicine on your pet, do your homework first. A topical medicine means that you are going to apply it directly to your pet. Topical flea treatments are applied directly to the back of your pet's neck.

There are companies that have had problems with their topical medicines. A good idea is to talk to your veterinarian and see what they use on their own pets and what they recommend for your area, and for your pet in particular.
Make sure you buy the right treatment for your pet, which is sold by their weight, and never use dog flea medications on cats!
Don't want to use a topical medication but still have fleas? Keep your pet clean and bathe them on a regular basis. Clean pets repel fleas naturally, as studies have shown that fleas don't like a clean environment.




Animal Radio® News with Stacey Cohen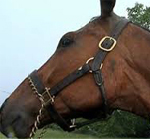 Mr. Ed Would Have A Lot To Say On This Matter!
After a horse called Scuppy bit a boy in the face, a Connecticut court concluded that horses are a naturally vicious species and therefore Scuppy's owners should have restrained the horse (who had never bitten anyone before( to prevent the injury. Now, horse owners and equine enthusiasts are asking the State Supreme Court to overturn the decision. Classifying horses as vicious would make owning the animals uninsurable and jeopardize the state's profitable horse industry. Horses are far from vicious and are even scared of flies!

Zero-Tolerance For People Wearing Animal Prints
A wildlife park in the U.K. has started banning animal print clothing after zookeepers noticed the fashion choice was confusing the animals. According to The Mirror, the Chessington World of Adventures Resort introduced the zero-tolerance policy and has even brought in "Animal Print Bouncers" to make sure visitors don't get in wearing anything patterned after zebras, giraffes, leopards, tigers, or other wild animals. Officials say they discovered that some of the animals were either trying to communicate with people sporting animal prints or running away from them in fear. They add that the new rule is especially important now that they've introduced a ride that brings guests on an off-road safari adventure.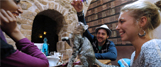 Purr Therapy
A new cafe in Paris is offering patrons a dose of stress relief with their coffee and croissants. The Cat Cafe has a dozen resident cats to provide what could be called "purr therapy." The manager says a cat's purring has been shown to help relieve arthritis and rheumatism and to lower blood pressure and heart rate. The cafe is meant to appeal to Paris residents who can't have pets in their small apartments. It seems the whole concept is a hit because so many people showed up for the cafe's recent opening that about 300 had to be turned away.
Spend Eternity With Your Pet
New regulations will allow New York animal lovers to spend eternity with their pets. The Daily News reports that officials have finalized rules allowing pet cemeteries to accept the cremated remains of humans. The cemeteries can bury pet owners' ashes as long as they don't charge a fee for it and don't advertise human burial services. New York's Division of Cemeteries put a halt to human burials at pet cemeteries in 2011 after an Associated Press story about the practice. It later relaxed the ban on a limited basis and began working on permanent rules.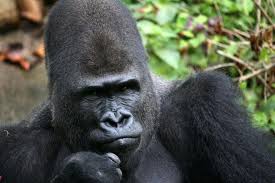 Gorilla Receives Therapy
Don't expect to see Patrick the Gorilla on a psychologist's couch, but the Dallas Zoo is getting him therapy. The male gorilla is being shipped off to Riverbanks Zoo and Gardens in South Carolina, which specializes in working with gorillas who have behavioral problems. Patrick has never gotten along with female gorillas and has bitten or tried to fight every one of them he's met. The zoo will have a going away party for the 430-pound gorilla.
Man Fined For Feeding Strays
A New Jersey man is out a couple hundred dollars after pleading guilty to feeding a few cats. According to the Burlington County Times, Harry Heck was accused of leaving cat food on private properties belonging to local city officials to attract some of the feral cats he and other Burlington residents call a public nuisance. Heck says he was trying to show the officials what the neighborhood is going through and urge them to do something about the cats. But a Florence Municipal Court judge called Heck's actions disgraceful and despicable. Heck pleaded guilty to littering and was slapped with a $250 fine and court fees.
The Las Vegas Zoo Is Reportedly Closed For Good
Federal officials and city inspectors visited the zoo over complaints about enclosure and diet conditions. The entire zoo keeping staff recently quit and their formal report should be out within two weeks.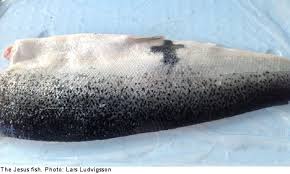 Jesus Salmon Provides Blessed Dinner
Despite his three decades in the salmon industry, one Swedish man says he's never seen anything quite like what he's calling the "Jesus Salmon." Lars Ludvigsson tells The Local he was filleting the tons of fish that come across the assembly line at a factory in Gothenburg last week when a co-worker started shouting about something he'd found. It turns out the discovery was a fish with black scales on its white stomach that formed a perfect cross. Lars says he dubbed it the "Jesus Salmon" for fun and the name stuck. Some of his fellow assembly line workers were convinced the fish was a sign from God, but Lars didn't hold it in quite the same regard. He said he kept the "Jesus Salmon" to himself and enjoyed a "blessed dinner" the next day.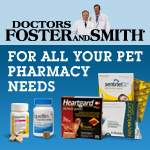 NEWS UPDATE brought to you by Drs. Foster & Smith, affordable pet supplies. Low prices every day, so you save on every order.

Listen to the entire Podcast of this show (#723)