My Adventures with the World's Most Misunderstood Mammals
Dr. Merlin Tuttle, The Secrete Lives of Bats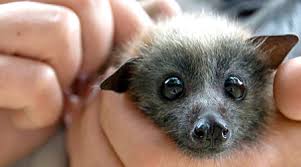 When you mention bats, most people shutter. Dr. Merlin Tuttle believes bats are misunderstood and that in many countries, they're a welcome friend. Oh, he also says without bats there would be no tequila.
How do you feel about bats? Everyone has a bat story. Dr. Merlin Tuttle has thousands of them, and none involve him running away screaming or calling an exterminator. Tuttle, an ecologist and founder of Bat Conservation International, has spent his lifetime searching the globe for every bat species known to man, documenting his experiences through photography and writing.
When Tuttle was young, he remembers exploring a well-known bat cave with his dad. He stumbled upon thousands of bats as they were nesting; disrupting their sleep and causing them to fly all over him, inside his shirt and up his pant legs. Tuttle, who would one day be known as the "Real Life Batman," wasn't remotely afraid. "I soon realized that they meant no harm and were only seeking places to hide. In fact, they had more to fear than I did. They neither scratched nor bit me as they swarmed over me, and I had to hold quite still to avoid inadvertently crushing them."
Tuttle states that most things people think they know about bats are wrong. This comes from the fact that bats are active only at night. They live in places that people are often superstitious about, they fly erratically and they can show up unexpectedly. People naturally fear what they understand least.
In parts of the world were large bats live out in the open no one fears them. They are actually eulogized as folk heroes. It's when they are tiny and can't be well seen, is when people fear them the most.
So do bats really suck your blood? Tuttle states absolutely not! First of all, he explains that out of all of the hundreds of species of bats, there are only three species of vampire bats. These vampire bats only live in Latin America, and only one of those species ever causes any problems for humans, and this only happens if you decided to go spend the night in the jungle without a mosquito net.
He tells us about a place in Austin where a million bats have been living under a bridge for thirty years. Despite early predictions that they were going to prove dangerous, not one person has been attacked and not one person has contracted any disease. And in fact, the bats eat fifteen tons of crop and yard pests a night and bring in $12 million tourists dollars every summer.
On the reality side, Tuttle tells us that bats have one of the finest safety records of living among people of any animal on our planet. Tuttle has worked with bats for 55 years on every continent where they exist. He has personally handled and photographed and researched hundreds of species of bats. He has been surrounded by millions of them at a time in caves, and never once has he been attacked or contracted a disease from a bat.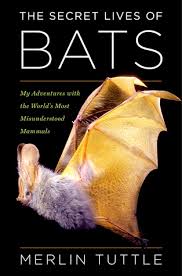 Bats are essential to the environment and to the economy. They are responsible for keeping insect populations in balance, seed dispersal and pollination. They are also responsible for the pollination of over 500 plant species, including different types of mango, banana, cocoa, durian, guava, and agave (so no bats, no chocolate or tequila!). They also contribute nearly billions of dollars to human agriculture each year by controlling crop pests.
Tuttle just returned from a trip to Cambodia where the people tie up dried palm leaves in bundles to make bat houses. He tell us of about one woman who made ten of these structures and was selling her bat guano (bat poop) for almost $10,000 annually as fertilizer. It is one of the world's finest fertilizers.
Check out his book, The Secret Lives of Bats. Not only does it contain great information, you will also find pictures of some of the many varieties of bats. You will be surprised as to how many bats are actually cute! Tuttle has encountered bats as cute as any panda and as strange as any dinosaur, from tiny bumblebee bats to flying foxes with six-foot wingspans. He shares harrowing details of moonshiner standoffs, close encounters with tigers, cobras, and poachers, and daring feats just to get close. He did it for love of bats and the thrill of scientific discovery, and it's all in the book.




2015 Trendiest Pet Costumes
Chris Yandek, Wonder Costumes DarthVaderDog.828.jpg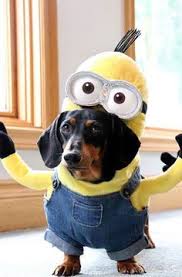 Some pets really like to be dressed up for Halloween, or so we think. Wonder Costumes' Chris Yandek has a list of the most popular pet costumes and you can rest-assured the worthy "Minion" is on it.
What is your pet going to wear this Halloween? Will they be one of the trendy ones? For the first time in nine years, Halloween falls on a Saturday, and it is expected to be bigger than ever, with more people and animals dressing-up and celebrating all weekend long.
Chris Yandek uses his expertise to elaborate on what the popular pet costumes will be for 2015 and why Wonder Costumes leaves no one behind when it comes to locating that hard to find costume of your favorite TV and/or Movie characters.
Chris states that with the recent Minions movie, you can expect to see a lot of little furry Minions running about this Halloween. Angry Birds will also be popular for pets. And let's not forget the superheroes, which will also be popular this year. You could be Batman while your dog would be Robin; you could be Luke Skywalker and your dog could be Darth Vader.

You might also still see costumes from the past like Ninja Turtles, Wonder Woman and even the Wizard of Oz
Not all pets enjoy dressing up, but you know your pet and whether or not they enjoy wearing a costume at Halloween.


Products With A Cause
Lucy Pet Foundation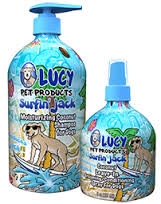 Lucy Pet Products is a part of the Lucy Pet Foundation, which helps fund the foundation. In other words, the Lucy Pet Products, consisting of shampoos and leave-in conditioners, are products with a cause.
Not only are these great products, but also appealing to the eye. They come in great metal containers that you won't want to hide away in the bathroom or in the cupboard.
The line consists of Shampoos and Leave-In Conditioning Sprays with natural ingredients for dogs. You will find Purple Rain, a Calm and Clean Lavender Shampoo and Leave-In Conditioning Spray; Berry Berry Smellicious, a Tropical Freshening Shampoo and Leave-In Conditioner Spray; Big Apple Shampoo and Leave-In Conditioning Spray with Skin Soothing Apple Oatmeal; Surfin' Jack Shampoo Leave-In Conditioning Spray with moisturizing coconut; and Pup a Dub Dub, Gentle Puppy Fresh Shampoo and Leave-In Conditioning Spray, gentle enough for puppies 8 weeks and older.
These shampoos and leave-in conditioning sprays are not only great for your dog's coat, you can even use the conditioning sprays as a touch up between your dog's baths, to keep them smelling fresh and clean.
The Mission of The Lucy Pet Foundation is to reduce pet overpopulation by having mobile spay/neuter clinics across the country and to support causes that benefit animal welfare. The Lucy Pet Foundation currently has two buses that travel around Southern California focusing on spaying and neutering. These buses are state of the art surgery units. Their next focus is in generating more funds to expand the work of these buses and have more across the country.
The Lucy Pet Foundation not only offers free and reduced spays and neuters, they also do microchipping, vaccines and de-wormings. Spaying and neutering is not only great for pet population control, but it has been proven that an animal will live on an average of 40-percent longer after having this surgery.

Here is a list of upcoming free or reduced fee mobile spay and neuter clinics in California (Please call and reserve space):
October 19, 23, 28, 30
SPAY/NEUTER CLINIC
Location: Baldwin Park, 4100 Baldwin Park Blvd., Baldwin Hills
Check in 7:30am
ACCEPT COUNTY AND CITY VOUCHERS
Please call 1-855-499-5829 or Email: Info@lucypetfoundation.org to schedule an appointment.
October 21
SPAY/NEUTER CLINIC
Location: Inland Valley
Check in 8:00am
Prices Vary
ACCEPT COUNTY AND CITY VOUCHERS
Please call 1-855-499-5829 or Email: Info@lucypetfoundation.org to schedule an appointment.
October 17
VACCINE CLINIC
Location: 350 S. McPherrin Avenue, Monterey Park, CA
8:00am - 11:00am
Please call 1-855-499-5829 or Email: Info@lucypetfoundation.org to schedule an appointment.
October 29
PRESENTATION BY DOC HALLIGAN
Location: Rolling Hills Country Club, 27000 Palos Verdes Dr E, Rolling Hills Estates, CA
12:00NOON
Remember, you must get on a list to have your pet seen at these locations. Please call The Lucy Pet Foundation toll free at 1-855-499-5829 or Email: Info@lucypetfoundation.org to schedule an appointment, or register at the events.
See the current list of clinics at http://www.lucypetfoundation.org.
http://www.lucypetproducts.com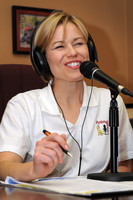 Pet Halloween Costumes: Spook-tastic or Just Crazy? -Dr. Debbie
Will Fluffy or Benji be dressed up for Halloween this year? Pets are increasingly recognized as family members and often included in the holiday costume craze. But are pet costumes just for human folly, or do pets actually LIKE sporting the costumes, hats and accessories?
Admittedly, I fall among those that do indulge in this practice, but my pets enjoy wearing Halloween costumes. Years of positive reinforcement with treat rewards, and my dogs will happily wear anything in the off chance of a tasty morsel. The mere sight of a costume starts my Labrador prancing and bouncing as if on a trampoline.
In my home, Halloween pet fun has evolved a step further than most, as I proudly maintain a sizeable collection of pet costumes. After 13 years, the collection of doggie costumes includes firemen, doctors, princesses, cowboys, police officers, pumpkins, caterpillars, pirates and skeletons spilling from the overstuffed confines of the cabinet. My pet costume collection is akin to Katherine Heigl's character in the movie "27 Dresses," in which her mass of bridesmaid dresses fills a closet and generates smirks from others.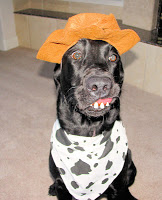 Call me crazy, but I adore seeing my critters ham it up for Halloween. And clearly I am not alone. According to consumer surveys by the National Retail Federation, 170 million Americans will be celebrating Halloween. Among those individuals 15.1-percent will be dressing the family pet in costume too. That's a lot of consumer spending on pet wear when budgets are tight, but the smiles and giggles arising from seeing your pet dressed in a spooky or silly costume, is well worth the expenditure.
Some might argue that pet costumes are frivolous or humiliating, but I disagree. Dogs enjoy costumes when introduced in a positive manner, just as they do with gradual acclimation to car travel or swimming. Plus, a dog is devoted companion and wishes to please its owner. My own dog family adores the celebration and attention they receive. Cats on the other hand, may not enjoy any part of dress up and are often indifferent to the idea of pleasing or serving us, as it is often the other way around.
Featured veterinarian known as "Dr. Debbie" on national pet radio program, Animal Radio. Ebook author of "Yorkshire Terriers: How to Be Your Dog's Best Friend"; "Pugs: How to Be Your Dog's Best Friend"; "Mini Schnauzers: How to Be Your Dog's Best Friend"; and "Shih Tzu: How to Be Your Dog's Best Friend."

It's a Wacky Wednesday Here at the Animal Radio® Studios
WackyWed Contest IS ON - LIKE your FAVORITE pic and the three pics with the most LIKES & SHARES are this week's winner will receive a great gift basket from Himalayan Dog Chews.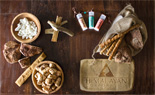 TO ENTER Send us your FUNNY pet pic to WackyWed@AnimalRadio.com - (Please put WACKYWED in the subject line & give us your pet's name, your name & where you hail from) If YOUR pic is chosen then spread the word to your friends & family on Wednesday - the pics w/the most LIKES and SHARES will be the winner!
This week we are giving away a healthy dog chew Gift Basket from Himalayan Dog Chews. The basket consists of 3 Yaky Charms, 1 Yaky Puff, 1 leanlix, 1 mixed pack of Himalayan Dog Chews and 1 extra large Himalayan Dog Chew all from Himalayan Dog Chews, which are made by using traditional methods with yak and/or cow milk and all natural products with no preservatives or binding agents. They're also gluten-free!


Join Animal Radio® on Facebook for Wacky Wednesday! Win great prizes every week for your wacky pet pictures. Last month we gave out goodies from Endure Flap, Bare Bites, SynergyLabs, Magiclatch, Glandex and more. Visit us on Facebook now.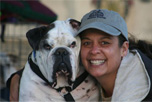 Animal Radio® News - Lori Brooks
Website Lists Diseases People Can Catch From Pets
The CDC (Centers for Disease Control) has launched its redesigned Healthy Pets Healthy People website with expanded information about diseases people can catch from pets, farm animals, and wildlife. Users can now learn simple actions to protect themselves and their pets. Approximately 75-percent of recently emerging infectious diseases affecting people began as diseases in animals such as Ebola, avian flu and salmonella. The redesigned website also includes specific precautions that people with weakened immune systems, children, and pregnant women should take when interacting with animals.
Dogs Don't Need Buns
Odd animal trends like the "dog bun" could actually harm your pet. If you haven't seen photos of this yet, it's where a dog's hair is gathered into a bun on top of its head. Or, if there's not enough hair, the dog's ears are pinned up with a rubber band or something so it looks like a bun. And that's the problem. Veterinary experts say pulling a dog's ears up like that can damage the ear, causing wounds and cuts, which then risk the chance of being infected. The bands can cause circulation problems and damage the dog's fur. Like humans, a dog's outer ear is protection for the inner ear canal and the ear drum, so a dog bun essentially removes the natural protection of the ear drum and the ear canal, so that can cause issues as well.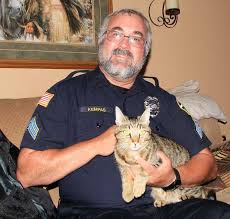 Stealing Cat Owned By Cop
How funny is it that a police Sergeant in Oregon owns a cat that loves to steal! After sharing the antics of his thieving cat with his fellow police officers, the sergeant has created a Facebook page for his cat Tigger whom he affectionately calls Kleptokitty. Tigger has been stealing for many years, not that stealing is funny, but it's funny when a cat does it and brings everything from dozens of socks (one of his favorites) to old fast food boxes and even a small baggie of marijuana home to share with his owner.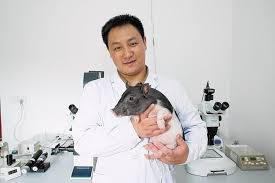 Micro-Pigs
Tiny pigs, which were created by scientists in China using new genetic editing techniques, are to be sold as pets in the near future and the prospect has triggered a furious debate between animal rights groups and scientists. The news was made public in the journal Nature, which said the micro pigs weigh about 33 pounds and the Beijing Genomics Institute will sell them for about $1,500 to raise cash for the institute with buyers being able to select the animal's color and coat pattern. Some say the creation of pet micro-pigs could cause considerable pain to the animals. Others say the use of gene editing techniques would be an improvement in standard animal breeding methods and cause less suffering.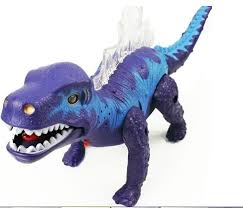 Purple Or Blue Dinosaurs?
Imagine repainting science, as in putting new colors to things we've never seen, with our own eyes. Imagine if some dinosaurs were really purple or turquoise! We're learning a lot more about this subject now that a new study is out detailing that scientists have been able to learn the skin or hair colors of animals by examining the melanosome structures found in fossils more than 34 million years old! Why are melanosomes so exciting? Melanosomes contain melanin, the pigment that gives certain colors to skin, fur or hair, and scientists can use the size and shape of melanins to determine their original color. This first study focused on bats. What color were ancient bats? Brown. Not a shock, but the experts say it is a big deal, "Since so little is preserved in the fossil record, the color of extinct animals has always been left up to artists' interpretations and know they will be able to tell for certain the color of ancient animals.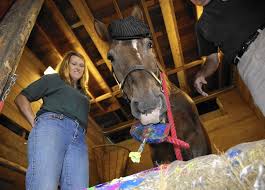 Horse Takes Up Painting
There's a big new artist living at an Equestrian Center just outside Chicago. Nick is a 22-year-old Appaloosa-Clydesdale who has retired and taken up painting. He used to pull a carriage and lead a drill team. These days, Nick can turn out six or more abstract art pieces during a 20-minute session. After that, the 1,600-pound horse gets bored. Nick is the fourth painter at the center. It all began as a way to give older horses something interesting to do. Nick has arthritis. He was taught by using "clicker" or positive reinforcement training. Each time Nick does something right, he hears the click and gets a treat. At first, he had to touch the paintbrush with his nose, then his lips. He then had to learn to hold it with his teeth, and then to hold it and put his head down. Finally he learned to swipe the canvas. His artwork sells between $5 to $15.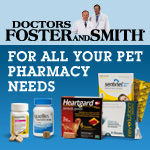 NEWS UPDATE brought to you by Drs. Foster & Smith, affordable pet supplies. Low prices every day, so you save on every order.

Listen to the entire Podcast of this show (#828)