My Boyfriend's Dog
Joyce DeWitt, Three's Company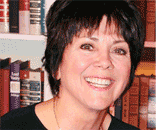 Joyce DeWitt is our special guest this week and she's "talking dogs." She'll be starring in a Hallmark made-for-TV movie about dogs.
Joyce DeWitt played Janet on Three's Company back in the 70's and 80's along with John Ritter and Suzanne Somers.
Janet doesn't have any dogs at this time, after losing her dog Coconut, who went to Dog Heaven. She stated she is not quite ready to let another dog into her life. Another concern she has is that she still spends a lot of time traveling and it wouldn't be fair to leave a dog behind.
Currently, she's doing a movie on Hallmark called "My Boyfriend's Dogs." She says the dogs in the movie are so cute and are such individuals. There were three dogs with each of them having their own trainer on set. Joyce is not sure, but if the dogs aren't with the same trainer, they probably are just meeting for the first time in in the making of this movie, and they seemed to get along great.
Joyce tells us that there is an underlying story in the well-written script about being in relationships and whether or not we can see if a person is right for us or not. Our fiends might be able to see that, but we can't always. Unfortunately, the heart goes the way the heart goes. But even if the relationship comes out the way you want it to or not, Joyce tells us that there is something to be learned or we wouldn't have wasted our time doing it.
In the movie, Erika Christensen ("Parenthood") adopts a trio of canine companions while looking for love when she stars in "My Boyfriends' Dogs" a Hallmark Channel Original Movie World Premiere Saturday, October 18 at 9pm ET/PT, 8C.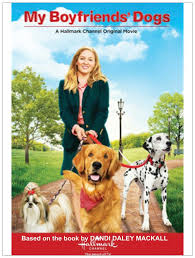 The film stars Christensen as an unlucky- in-love woman who has only been able to find the loyal companionship in the unconditional love of her ex-boyfriend's pups. "My Boyfriends' Dogs" is based on the popular fiction novel of the same name, written by Dandi Daley Mackall. Joyce DeWitt ("Three's Company"), Teryl Rothery ("Debbie Macomber's Cedar Cove"), Emily Holmes ("Snakes on a Plane"), Jeremy Guilbaut ("The L.A. Complex"), Tyron Leitso ("Being Erica") and Jesse Hutch ("Arrow") co-star.
Bailey Daley (Christensen) is a hapless young bride who has run away from the altar with not one, but three dogs she adopted from past relationships. Running into a small diner one rainy evening in a soaked wedding dress with her dogs at her feet, Bailey launches into the story of her strange predicament to the restaurant owners, Louie (Michael Kopsa, "Fringe") and Nikki (DeWitt). She explains that she hasn't been able to find the right love, always longing for the more loyal, stable companionship she finds in her ex-boyfriends' canine companions. Against the knowing advice of her mother Dina (Rothery) and best friend Amber (Holmes), Bailey tries to transform herself into the perfect fit for each new guy she meets — athletic Wade (Hutch), moody Jonathan (Oliver Rice, "On Hollowtree Farm"), and, finally, wealthy Eric (Guilbaut). As each relationship ends, Bailey adopts her ex's dogs, but remains hopelessly single. Until, a twist of fate that stormy night leads her to realize that true puppy love happens only after one stops searching for it.
Hallmark has a special project consisting of a series of films, called the "Pet Project" which is aimed to find homeless animals a forever home. Hallmark Channel, owned and operated by Crown Media Holdings, Inc., is a 24-hour basic cable network that provides a diverse slate of high-quality entertainment programming available in high definition (HD) and standard definition (SD) to a national audience of 86 million subscribers.
http://www.hallmarkchannel.com
E-Cigarettes and Pets Don't Mix
Dr. Ahna Brutlag, Pet Poison Helpline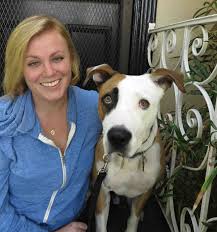 With the advent of electronic cigarettes, veterinarians are seeing more and more nicotine poisoning events. The pen-like smoke vaporizer usually is flavored, which makes it even harder to keep away from dogs. Dr. Ahna Brutlag from the Pet Poison Helpline is here to explain.
Since the legalization of marijuana in Washington and Colorado states, there have been an increased number of pet marijuana poisonings. Now, electronic cigarettes, or e-cigarettes, are sparking heated debates as lawmakers, medical professionals and industry grapple over the relative safety of the nicotine-delivering devices.
But for pet owners, there is no debate. Nicotine poses a serious threat of poisoning to dogs and cats, and e-cigarettes back a powerful punch. The problem is that many pet owners don't realize it. Poison Helpline wants to change that trend by providing information to all pet owners.
Dr. Ahna Brutlag of the Pet Poison Helpline states that they have seen a pretty impressive spike in the overall number of pets exposed to either e-cigarettes themselves or what people refer to e-liquid, which is the liquid nicotine refill for e-cigarettes and other e-pipes and contraptions.
Are dogs drawn to the smell of nicotine? Dr. Brutlag says we know that dogs are not discriminate and will eat just about anything they can get their paws on. It's possible that this just seems like a new fun toy or a new food source. But while some nicotine comes in different flavors, like strawberry or chocolate, it might entice them even more.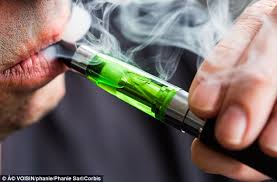 Liquid nicotine poisoning in pets has a rapid onset of symptoms – generally within 15 to 60 minutes following ingestion, with possible vomiting. Unfortunately, most people would view this as a good sign that the animal has rid its body of all of nicotine. The problem is the concentration of nicotine in e-liquid itself is very, very high. You can have a dog that is only exposed to a few ccs or milliliters of liquid, but that packs a really powerful punch. So even though the dog may vomit, that nicotine may have already been absorbed into their body because it happens so rapidly.
Once the absorption takes place, you see vomiting. Next you will see a period of stimulation, which is sort of the smoker's high that people seek with these e-cigarettes. A dog may get very anxious, very ramped up and start pacing and panting. Their heart rate and blood pressure gets elevated. This is the first phase of nicotine poisoning.
The next phase is that subsequent to that, you see a depressive phase. After the animal is all ramped up, then you will see them almost "crash" and they become very depressed and very lethargic. That is when we can start to see thinks like respiratory depressions, where their breathing rate slows to the point that it can be harmful to them. Their heart rate can also slow to the point where it can be harmful. We can see these guys slip into a coma or effectively have a respiratory paralysis, where they simply can't breathe fast enough to sustain their life.
There is no true antidote or reversal agent for nicotine. But, these animals can be saved if caught early. If they have made it all the way to the depressed stage where their respiratory rate is low, they can be ventilated until their body has metabolized out that nicotine and they can breathe on their own.
Nicotine is so highly toxic to dogs, that the smaller the dog, the more at risk they are.
If you even think your dog has ingested any e-liquid, don't give them anything by mouth because they might start vomiting. We don't want to induce vomiting, which may worsen the problem. You should immediately call your veterinarian or an animal poison control center such as the Pet Poison Helpline. If you act very quickly, the better prognosis for your pet.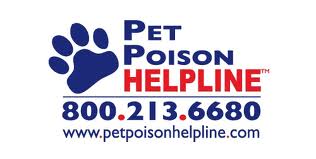 If you have a pet, it is important to have a pet emergency kit. Information is key! There are so many toxins that can affect our pets, which would never be a problem for people. Make sure you know what things can harm your pet.
Pet Poison Helpline, an animal poison control center based out of Minneapolis, is available 24 hours, seven days a week for pet owners and veterinary professionals that require assistance treating a potentially poisoned pet. The staff provides treatment advice for poisoning cases of all species, including dogs, cats, birds, small mammals, large animals and exotic species. As the most cost-effective option for animal poison control care, Pet Poison Helpline's fee of $39 per incident includes follow-up consultation for the duration of the poison case. Pet Poison Helpline is available in North America by calling 800-213-6680. Additional information can be found online at www.petpoisonhelpline.com.
"HERO PEOPLE OF THE WEEK" - Stephen McGarva, Rescue At Dead Dog Beach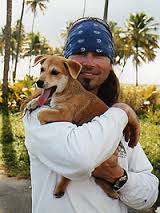 This week's Hero Person risked his marriage, as well as his life, to save stray dogs on the beaches of Puerto Rico.
Steve McGarva and his wife Pam thought that moving to Puerto Rico would be an adventure. Happily married, and not yet ready to start a family, the couple thought the move would be a good step forward for Pam's career and provide a beautiful location for Steve to work on his art and to pursue is great love of adventure sports like hang gliding and kite surfing.
His first day on the island, Steve dropped his wife off at work and went to Playa Lucia, which at first glance, is postcard perfect. White sand, palm trees and beautiful blue water seemed to invite tourists and locals alike. But it was on this beautiful beach where Steve went to go kite surfing that he came across a sick and abandoned dog, that looked like a pile of palm fronds or coconut husks in the sand, in horrible condition. He couldn't walk away. He dropped his gear and made friends with the dog, who was incredibly friendly. The dog could barely stand and looked like a child's stick figure drawing. Steve then went to a store and bought out everything they had in dog food and took it back to the beach. Even if the dog didn't make it through, Steve wanted the dog to know that is was loved and that it had a full belly.
When Steve took the food back to the beach, an additional 16 noses started peeking out from the surrounding vegetation. Steve knew then that he didn't have enough food for everyone.
This find would jeopardize his marriage, challenge his sanity, and change the course of his life.
Steve was curious and asked the locals about these dogs, as well as the fishermen, who would shy away from his questions. He then found out that Playa Lucia is actually known to locals as Dead Dog Beach, and is a notorious dumping ground for the island's unwanted dogs. All of these dogs were once someone's pet that perhaps misbehaved, and this is where they dropped them off.
These dogs clearly had human inflicted wounds on them, like entry and exit bullet holes. Some had been used as target practice. They were also sliced with machetes. Left to fend for themselves, in constant danger of being poisoned or worse, these dogs are considered a plague to the local tourism industry.
Once Steve McGarva began to care for these helpless animals, he too became a target. Even though he was only trying to help solve the problem and find a solution, he found out that there weren't any shelters or humane societies. He then contacted the media, thinking it was going to be a good thing bringing attention to the matter.
He was very diplomatic in his approach and didn't point any fingers. He just said he wanted to do the right thing for the animals, which would be a win-win for everyone.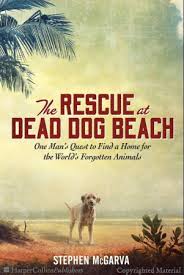 After that, he thought the next time he went to the beach, he would see some amazing changes, which he did. Steve said his "pack" had grown to about 50 dogs at that time, and someone had actually slaughtered approximately 25 of the dogs.
Steve had enough. He isn't one to shy away from a bully, so he started pushing back. Unfortunately, he was also pushed back and started getting threats on his life, especially from the local hotels that didn't want the media to know about the situation, because they felt it would harm their tourist industry. The hotel would shoo these dogs away in front of the tourists, but the tourists didn't know that they were rounded up and eventually killed.
Steve eventually learned that U.S. dollars were going toward shelter and humane societies on the island, but there were none. The money was being taken. So Steve's actions were jeopardizing someone's pockets.
Steve and his wife were eventually run off the island with death threats. The locals also shot at Steve. Steve and his wife then left the island to deliver some of the dogs to the U.S. Steve then stayed back in the U.S. while his wife went back to work in Puerto Rico. But when his wife went to work, the locals broke into their house and ransacked it. It seems Steve pushed back too hard too many times during the two years he was there. His wife then left the island once and for all and joined him back in the U.S.
Sadly, Steve knows that his entire pack has been killed since he left. Steve knew they could beat him up on the island and take everything from him, but they couldn't touch him off the island. Now, he is even angrier and is fighting back.
You can read all about his story in his new book, "Rescue at Dead Dog Beach."
Stephen also founded The Achates Legacy Foundation, a non-profit organization that works to end the abuse of strays and build animal friendly communities and Mexico and Puerto Rico.
Thinking Globally. Acting Locally. Do you know someone that should be nominated for our Hero Person of the Week? Send us an email to: YourVoice@AnimalRadio.com.

Animal Radio's HERO PEOPLE is brought to you by Zeuterin a safe, permanent and virtually painless alternative to surgical castration.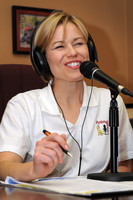 How to NOT Train a Dog -Dr. Debbie
The other day I was walking my dog in a community area and encountered a lady with two Shih Tzu's. As we approached, her dogs rallied with barking and tugging on their leashes. I asked if her dogs were friendly, so as to decide if we could approach. The lady scowled, embraced her still barking dogs and grumbled, "Do they look like they're friendly?"
Realizing this dog owner was more unsociable than her dogs, I decided to vamoose, but not before I envisioned this blog topic- how pet owners mold unsocial dog behavior.
Unwanted doggie behavior such as lunging and barking on the leash become established when the dog owner hasn't made it clear what the appropriate behavior is, fails to correct and redirect to a more suitable behavior, or simply reinforces the undesirable behavior through actions or words. Face it- there aren't bad dogs, just poorly trained ones.
Avoid making these top 5 training mistakes:
1. Secluding your dog in the back yard
Keeping your dog in lock down almost guarantees problem behaviors will develop such as biting, inter-dog aggression and phobias to anything from noises to car travel. Isolated dogs lack the experience and confidence when faced with novel situations while socialized dogs adapt easily.
I see it all the time- the dog owner prides herself in keeping her dog safe. "I didn't want Fido to catch any diseases as a pup, so I didn't let him out of our backyard till he was a year old." The overwhelming fear of infectious diseases like parvovirus causes some well-meaning owners to confine their new dog or puppy to the limits of house and yard. Even more extreme is never allowing a puppy to step foot outside until after their last puppy vaccinations! Puppies are most adaptable to new experiences between 6 and 16 weeks- this is the time to expose them to unfamiliar places, people and animals.
That doesn't mean you should take your eight week old puppy to dog parks, but rather to use good sense selecting low dog traffic areas and visiting with family and friends outside of the home that have properly vaccinated pets.
2. Skipping obedience training
Going to school is a must for any new dog to a home, whether a puppy or adult. No two dogs are the same, and each learns differently. Formal obedience training is a useful tool to gently reaffirm who's in charge and sets the rules in the house. Statistics show that dogs that go through formal obedience training are less apt to develop behavior problems and be relinquished to shelters.

3. Reinforcing fear at the veterinary office
In the exam room I cringe when I see a dog owner comforting a nervous, fearful or aggressive pet. That "good boy" and pat on the head reinforces your dog's behavior, making it more likely that on the next hospital visits he'll behave the same, or worse. Some problem behaviors escalate making it difficult for the veterinary staff to examine or treat the animal. This may mean additional costs for sedation or anesthesia for routine medical needs.
It's natural for a pet owner to want to reassure a pet when he is frightened and it can be difficult to hold back the urge to soothe him. However, the best strategy is to ignore those fearful behaviors in the vet office. Don't be tempted to kiss, snuggle or hold Fido on your lap when he is misbehaving. Rather, place the dog on the floor, refocus your dog's attention to you, and cue him to "sit" or "lie down".
4. Not using food as a reward
Food shouldn't just be for the taking. Don't leave food out for your dog to graze whenever he wants and don't give treats just for the sake of giving a treat. Present food and treats as a reward for good behavior such as sitting quietly, going to a pillow, or performing a trick or obedience work. This places you at the top of the household hierarchy. You become the provider of great edibles in the house, and your dog will be motivated to listen to your requests in other situations.
We all love to spoil our dogs and give treats at times. But be sure to give treats for a reason, or you will have a spoiled doggie brat on your hands.
5. Not exercising your pet enough
Inadequate exercise can result in obesity and boredom, and may lead to problem behaviors like separation anxiety, destructive chewing and excessive barking. Dogs should get 30 to 60 minutes of sustained physical activity each day for optimum mental and physical benefit. And no- letting Buffy run around the backyard during the day is not adequate exercise.
Not all breeds are cut out for all exercise- a Labrador may enjoy retrieving games or swimming, a Jack Russell terrier may thrive with jogging or Frisbee, while a Basset hound will be satisfied with a leash walk.
Your dog can't be a well-adjusted, socialized canine citizen without you, as the pet owner, taking an active role in training. Put the time in, and you'll be thanked many times over with an outgoing, friendly canine pal that can accompany you on life's adventures.
Featured veterinarian known as "Dr. Debbie" on national pet radio program, Animal Radio. Ebook author of "Yorkshire Terriers: How to Be Your Dog's Best Friend", "Pugs: How to Be Your Dog's Best Friend", "Mini Schnauzers: How to Be Your Dog's Best Friend", and "Shih Tzu: How to Be Your Dog's Best Friend"
http://www.drdebbie.net





6th Annual Get Your Licks on Route 66
Susan Sims, Fido Friendly Magazine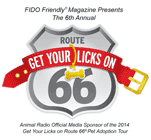 Every year, Susan Sims from Fido Friendly Magazine gets on the road to help spread the word about adoption and help out shelters along the way. They start in Los Angeles and travel along Route 66 to Chicago. They are currently in Kansa City, Missouri. So far, they have adopted out close to 300 animals.
Powered by Ford with Animal Radio as a media sponsor, the tour travels down America's Favorite Highway stopping at shelters along the way to support adoption events. In the first five years, the tour helped place over 2,000 pets in to new forever homes.
This year's Official Spokesperson is actress, best-selling author and animal lover Danica McKellar. Danica, best known for her role as "Winnie Cooper" on The Wonder Years, was recently seen competing on Dancing With The Stars.
If you can't take home a new family member, they also have a spinning wheel with lots of prizes set up at different shelters along the way, with the money raised going to that shelter.
Here is a list of their upcoming schedule. Check back often to see if they've added more shelter stops.
10/18/14 - Kansas City, MO
Wayside Waifs
3901 Martha Truman Rd.
Kansas City, MO
Hours: 2pm - 6pm
10/19/14 - Kansas City, KS
Great Plains SPCA
5428 Antioch Drive
Merriam, KS
Hours: Noon - 4pm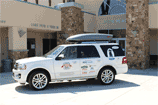 Also look for them on the road in their 2015 FORD expedition. They will be traveling down the Mother Road with their two rescue hounds, Junior and Jake, helping to save lives, one shelter at a time!
To learn more about this life saving tour and the cities where they will be holding events, visit their website www.fidofriendly.com or www.getyourlicksonroute66.com.
See more at: http://www.petpr.com/news/fido-friendly-magazine
http://www.fidofriendly.com/blog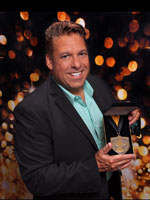 The Dogfather's Grooming Tip with Joey Villani
When Your Dog Is Too Old To Be Groomed
Joey was recently contacted by an irate family member who said their groomer told them that they were no longer going to groom their 14-year-old Poodle, because the grooming was becoming a little to stressful to the dog.
Before anyone gets upset about this, Joey wants to commend the groomer for his decision. That being said, the groomer then should have given the client a solution.
Joey reminds us that grooming is beauty and after many years, it can start to become a little stressful for an older pet. There is no one age that this happens, as it can be different for all pets.
Just because you have been going to the same groomer for many years, doesn't mean your pet can tolerate it in their old age. Things can change with animals over the years, with some older pets getting a little senile.
Joey tells us of horror stories where an animal actually passed away while being groomed, just because of the stress. This should never happen, as a groomer should know when an animal has had enough and can't tolerate it anymore.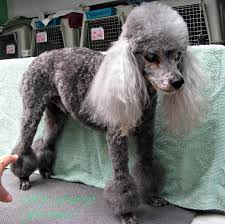 There are alternatives as your pet ages. You can change their haircut completely, to a low maintenance cut to make it easier on your pet. Or, take your pet to a groomer that is located with veterinary facilities. This way, if something happened, at least you would have a veterinarian on hand.
Just because your groomer tells you no more, you shouldn't be upset, as it is the right decision for everyone. The last thing you want is to get "that call" that your dog has passed away from a stressful grooming.
Dr. Debbie also mentions that she has received requests from owners to have their dogs sedated so they can be groomed. She states that that is the last thing you want to do to an elderly pet.
So, if your groomer says it's best if you don't bring your elderly pet back, don't get angry at the messenger – they're just looking out for your pet!

It's a Wacky Wednesday Here at the Animal Radio® Studios
Join Animal Radio® on Facebook for Wacky Wednesday! Win great prizes every week for your wacky pet pictures. Last month we gave out goodies from Dexas, Stella & Chewy's, WetNoz, Best Friend Botanicals, PetMate, West Paw Design and more. Visit us on Facebook now.
This week's Wacky Wednesday prize is the PetSafe® Drinkwell® Pagoda Ceramic Fountain, which continuously circulates and filters your pet's water.
Think of it as a waterfall of health for your pet! The Pagoda keeps your pet's water cleaner and fresher than a normal water bowl. It holds up to 70 ounces of fresh, filtered water and the ceramic design is easy to clean and will look great in your home.
The patented dual free-falling streams aerate the water for freshness and encourage your pet to drink more water, providing the best hydration solution.
Features:
- Holds up to 70 ounces of water
- Replaceable charcoal filter removes bad tastes and odors
- Ceramic design is more hygienic, easy to clean and looks great
- Upper & Lower Dish provides two drinking areas
https://www.facebook.com/PetSafeBrand




Animal Radio® News with Tammy Trujillo
Inventor or Criminal or Both?
Karen Hanover was a recent guest on Animal Radio and discussed a new device she and her mother created called Escape Alert, microchips that would be implanted by a veterinarian in pets that would use GPS to track them if they ever got lost. Now word is coming out that Hanover signed a plea deal this past March in federal court stating that she bilked 48 people out of nearly a million-and-a-half dollars through get-rich-via-real-estate seminars across the country. She reportedly has resigned from any involvement with Escape Alert, but it is still not clear to what extent she was involved. A Kickstarter campaign has been taken down. An application for a patent on the device's technology was filed last month.
Lifesaving Surgeries On A Goldfish and a Lizard
Most of us have heard about a veterinarian in Australia who removed a tumor from the head of a very treasured goldfish. Now a vet at that same hospital, the Lort Smith Animal Hospital, has performed a life-saving surgery on a pet lizard named Sam. Dr. Paul Ramos removed an eye on Sam, a blue tongue lizard. Surgery on reptiles is tricky because they take longer to go under anesthesia and don't automatically start breathing on their own when they wake up like people and other animals do. Sam is now sporting a very stylish pirate eye patch while she heals.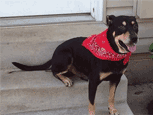 Dog Survives Euthanasia
There is a very special dog in Alabama and he's being called Lazurus with good reason. The medium-sized black and brown dog was euthanized by the shelter in Ozark after no one came to adopt him. He was left for dead. But somehow, overnight, he recovered from what should have been a lethal injection. Now he is living with a family in Birmingham and has another rescue dog to play with. He's doubly remarkable, he had been taking to the shelter after being hit by a car and seriously injured.
Clearing Up Those Hard To Understand Pet Policies
California has become the first state in the nation to enact a set of protections for people who buy pet insurance. Assembly bill 2056 goes into effect in July of next year. It requires insurers to explain their policies more clearly, standardize their definitions and give people a 30-day trial period, during which a person can get a full refund. The law will make it mandatory for pet insurers to disclose things like reimbursement benefits, preexisting condition limitations and a clear explanation of limitations of coverage including coinsurance, waiting periods, deductibles and annual or lifetime policy limits. The pet insurance industry is expected to grow to at least $750 million by next year, while Americans spend more than $15 billion annually on veterinary care.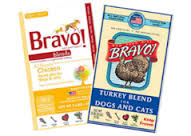 Bravo! Pet Food Recall
Routine testing has turned up salmonella in some of Bravo! pet foods for dogs and cats. The recall covers several chicken and turkey flavors sold around the country. Salmonella can make animals sick and can be quite serious for older pets. It's also potentially risky for humans who handle the pet food. The flavors involved are Raw Food Diet Bravo! Turkey Blend for Dogs and Cats; Bravo! Blends All Natural Chicken Blend Diet for Dogs and Cats; Premium Turkey Formula Bravo! Balance Raw Diet; and Bravo! Blends All Natural Chicken Blend Diet for Dogs and Cats. If you have any of these, you should take them back to the store where you bought them for a refund.
Great News For Those Of Us Who Are Fans Of The Bully Breeds
According to the American Temperament Test Society, pit bulls are safe, friendly, family dogs. In the latest tests, the American Pit Bull Terrier rated 86-percent, the American Bulldog got an 85-percent rating and Staffordshire Bull Terrier got a 90. That's not very far behind 'America's Favorite Dog,' the Labrador Retriever, who scored a 92. The American Temperament Test Society, Inc. (ATTS) is a national not-for-profit organization (registered in the state of Missouri) for the promotion of uniform temperament evaluation of purebred and spayed/neutered mixed-breed dogs.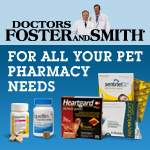 NEWS UPDATE brought to you by Drs. Foster & Smith, affordable pet supplies. Low prices every day, so you save on every order.

Listen to the entire Podcast of this show (#776)