If You See These Things In Your Cat - It's An Emergency
Dr. Marty Becker, America's Veterinarian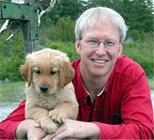 Animal Radio Veterinary Correspondent Dr. Marty Becker tells us the thins to look out for that indicate a health emergency for your cat.
Dr. Becker is currently practicing veterinary medicine, which means he is constantly learning from textbooks, conferences and networks. Today, Dr. Becker is going to tell us things that are emergencies with your cat. So in order to compile his list, he networked with two well-known veterinary emergency specialists, to verify that his list was correct.
With no need to put it on the list, you would of course always take an unconscious pet to a vet.
In no particular order:
If Your Cat All Of A Sudden Has An Inability To Use Their Hind Legs
It's not uncommon for a cat to get a thrombus, which is called a Saddle Thrombus. This is when the aorta goes down, which is the biggest vessel that leaves the heart and goes down each leg into an artery. A clot can all of a sudden form, which causes them to suddenly not be able to use their rear legs. If your cat starts wobbling and shows weakness and can't pick his feet up normally, rush him to the vet. The sooner they see the cat, the better.
If Your Cat Is Unable To Urinate Or Takes Multiple Trips To The Litter Box
Sometimes people just think their cat is constipated and they don't realize that they are not able to urinate. So if you see your cat going back and forth to the litter box, and you look in the box and it's clean, rush him to the vet. This can become a big problem in a big hurry.
If Your Cat is Bleeding From A Wound or Orifice
You should rush your cat to the vet if you see any bleeding from the mouth, ears or rectum, or any visible wound.
If Your Cat Ingests a Poison
The number one thing to worry about around your house are lilies, which are extremely fragrant and toxic to cats.
Attacked By A Dog, Hit By A Car Or A High Fall
If any of these occur, you should rush your cat to a vet.
If Your Cat Doesn't Eat for 24 Hours
You never know if a cat has stopped eating because of an obstruction or because he may be impacted with hair.
The number one thing on this list that Dr. Becker sees the most is a cat being unable to urinate. But if you see any of these things in your cat, it is best to play it safe and take them to a vet immediately.
The number one thing on this list that Dr. Becker sees the most is a cat being unable to urinate. But if you see any of these things in your cat, it is best to play it safe and take them to a vet. Use your best judgment, as you know your pet.
Dr. Becker has been practicing veterinary medicine for more than 30 years and is a best-selling author, syndicated columnist and a frequent guest on national shows. You can also find Dr. Becker on Vetstreet.com, a new animal health and lifestyle website dedicated to giving pet owners the most accurate information possible to keep their pets healthy and happy. Follow Dr. Becker on Facebook and Twitter.




Get Your Pet Up & Running!
Abe Lerner, Pet Health Coordinator at NutralifePet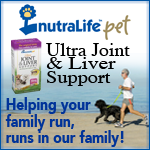 Abe Lerner is the Pet Health Coordinator at NutralifePet. Starting in the late 90's, Nutralife began providing their customers with high quality human dietary supplements. In 2010, they created a pet division, NutralifePet, which is dedicated specifically to pets.
Although they offer their customers a wide range of dietary supplements, their flagship human product is their Original SAMe (or S-Adenosyl-Methionine, which is a naturally occurring substance found in all living beings and pronounced as "Sammy") supplements. Understanding that pets have their own unique health needs and can also benefit from SAMe, they set out to design a product addressing the needs of pets. The result was NutralifePet's Ultra Joint & Liver Support, a SAMe supplement catering exclusively to pets.
SAMe contributes to overall pet health in a few areas like joint health. Biological SAMe is essential in providing cartilage support and lubrication of joints. This enables the pet to move freely and enjoy his quality of life.
Unfortunately, there are instances when the body does not produce enough SAMe. Older pets would be a prime example of pets that don't produce enough SAMe naturally. They can benefit from supplementation from an external source of SAMe. Overweight pets apply a lot of pressure on their joints, weakening them. They too can benefit from a SAMe supplement. Truthfully, SAMe supplementation is often recommended in all pets to maintain their healthy joints.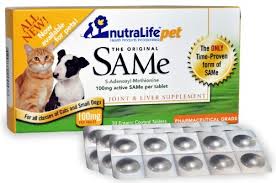 Abe explains that after an animal has been on NutralifePet's Ultra Joint & Liver Support with SAMe for a short time, you can actually see that it promotes a "Spring in their Step." He said you shouldn't wait until it's too late to start using it. The best time to use it is before you actually see your pet slowing down or even limping, as a preventative supplement. You can even give it to very young pets, which will actually help the body produce more SAMe on its own.
Another area in the body where NutralifePet's Ultra Joint & Liver Support with SAMe is beneficial is the liver. Unfortunately there are a lot of pets that have liver disease, especially stray cats. They have dangerous toxins that they get from scrounging for food in garbage cans. These animals may have loss of appetite or weight loss. This supplement actually gives them a better production of the bile and strengthens the liver as well.
NutralifePet is offering a special for Animal Radio listeners. Just use the coupon code "Animal Radio," at checkout and receive a special introductory offer of buying 1 box of Ultra Joint & Liver Support and getting one free. Just log on to Nutralifepet.com or call their toll free number. 1-844-PET-SAMe.
http://www.nutralifepet.com






The Happy Healthy Dog Summit is ONLINE and FREE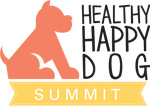 The Healthy Happy Dog Summit will train YOU to provide the happiest, healthiest life possible for your pup! You'll see 30 world experts including Sonya Fitzpatrick (Animal Communication), Victoria Stillwell (Puppies 101) and Dr. Nicholas Dodman (How Dogs and People Communicate). The Happy Healthy Dog Summit is ONLINE and FREE. Learn more at: http://AnimalRadio.com/SUMMIT.
SUBJECT: SIT! For the Healthy Happy Dog Summit!
The Healthy Happy Dog Summit will train YOU to provide the happiest, healthiest life possible for your pup! With 30 world experts sharing their knowledge, they'll teach you the best ways give your dogs the wonderful lives they deserve!

WHY ATTEND?
Our dutiful dogs depend on us for more than just food and shelter, and we depend on them for more than entertainment--they are our some of our truest friends (and beloved family members), and deserve to be treated as such! It's our duty to make sure they're doing well by asking the right questions and always looking to improve our lives with them. Woof!

Register for FREE now at the following link: http://AnimalRadio.com/SUMMIT

The Healthy Happy Dog Summit will train you about:
- Canine care & grooming
- Positive training & problem behaviors
- Traveling safely
- Proper nutrition & healthy exercise
- Recognizing illnesses
- And much more!

Here are a few of the incredible experts who will speak:
- Dr. Ian Billinghurst, Raw Food 101
- Sonya Fitzpatrick, Animal Communication
- Dr. Jean Dodds, Are We Giving Our Dogs too Many Vaccines?
- Victoria Stillwell, Puppies 101
- Dr. Nicholas Dodman, How Dogs and People Communicate

With 25 additional speakers, this invaluable (and FREE) resource is intended for dog owners everywhere! The Healthy Happy Dog Summit takes place from October 26 - November 2, 2015!

Register for FREE at the following link today: http://AnimalRadio.com/SUMMIT


Shampoo Your Pet As Often As You'd Like
Lucy Pet Foundation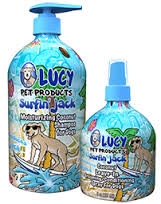 Ladybug, the Animal Radio Stunt Dog, has been on the receiving end of many baths lately. This is due to the recent arrival of Lucy Pet Products Shampoos and Leave-In Conditioning Sprays, which come in many different wonderful fragrances.
It is not harmful to bathe your dog frequently, if you use the right product. With Lucy Pet Products, Ladybug has been receiving weekly baths and her skin and coat look terrific.
In between her baths, she gets a refresher with a little spritz from the Leave-in Conditioner. She now has a beautifully conditioned coat that smells great! For between baths, all you do it spray it on their coat and brush it in.
Lucy Pet Products are products with a cause and proceeds support the Lucy Pet Foundation, a 501(c)(3) registered animal charity. When you buy Lucy Pet Products, you are not only getting great products, you are also helping animals in need.
You can find Lucy Pet Products at Petco and your independent specialty pet retailer. And if they don't have it, ask them to carry it!
The Mission of The Lucy Pet Foundation is to reduce pet overpopulation by having mobile spay/neuter clinics across the country and to support causes that benefit animal welfare. The Lucy Pet Foundation currently has two buses that travel around Southern California focusing on spaying and neutering. These buses are state of the art surgery units. Their next focus is in generating more funds to expand the work of these buses and have more across the country.
The Lucy Pet Foundation not only offers free and reduced spays and neuters, they also do microchipping, vaccines and de-wormings. Spaying and neutering is not only great for pet population control, but it has been proven that an animal will live on an average of 40-percent longer after having this surgery.

Here is a list of upcoming free or reduced fee mobile spay and neuter clinics in California (Please call and reserve space):
October 28, 30
SPAY/NEUTER CLINIC
Location: Baldwin Park, 4100 Baldwin Park Blvd., Baldwin Hills
Check in 7:30am
ACCEPT COUNTY AND CITY VOUCHERS
Please call 1-855-499-5829 or Email: Info@lucypetfoundation.org to schedule an appointment.
October 29
PRESENTATION BY DOC HALLIGAN
Location: Rolling Hills Country Club, 27000 Palos Verdes Dr E, Rolling Hills Estates, CA
12:00NOON
Remember, you must get on a list to have your pet seen at these locations. Please call The Lucy Pet Foundation toll free at 1-855-499-5829 or Email: Info@lucypetfoundation.org to schedule an appointment, or register at the events.
See the current list of clinics at http://www.lucypetfoundation.org.
http://www.lucypetproducts.com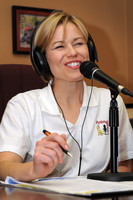 E-Cigarette Toxicity in Pets -Dr. Debbie
Think that vapor cigarettes (a.k.a. electric cigarettes or e-cigarettes) are a healthier alternative to traditional cigarettes? The vapor habit might be better for you and decrease your pet's exposure to second hand smoke, but can increase the chance of a pet's toxic ingestion of nicotine. A recent story from England told of the tragic death of a puppy that died after chewing on an e-liquid container.
Ivy was a 14 week on Staffordshire Bull Terrier that chewed on her owner's bottle of e-liquid used to refill the electric cigarettes. Within 30 seconds of nibbling on the container, she fell sick with vomiting and disorientation and was rushed to a veterinary office. Sadly Ivy died within 24 hours due to heart and respiratory failure.
What's in E-Liquid?
The ingredients in e-liquid vary but include carriers such as propylene glycol, polyethylene Glycol 400 and vegetable glycerin, as well as flavoring agents and nicotine. The amount of nicotine in e-liquid varies with some products not containing any nicotine, to others ranging from 18 mg/ml to 100mg/ml.
How toxic is nicotine?
The toxic dose of nicotine for pets is 0.5 to 1mg per pound of body weight. The fatal dose is 4mg per pound. So if you consider a 20 pound dog, toxicity would occur if 10mg were ingested, and the pet would die if 80mg were ingested. Therefore with the high nicotine levels in e-liquid, it wont take much to reach those fatal levels. That hypothetical 20 pound dog could die from less than 1ml of the highest potency liquid nicotine.
Pets likewise can develop toxicity if other sources of nicotine are ingested such as cigarettes, chewing tobacco, nicotine gum, or nicotine nasal sprays. The typical amounts of nicotine in these products are: Cigarette 9-30 mg; Nicotine gum 2-4 mg per pieces; and Nicotine patches 8.3 - 114 mg.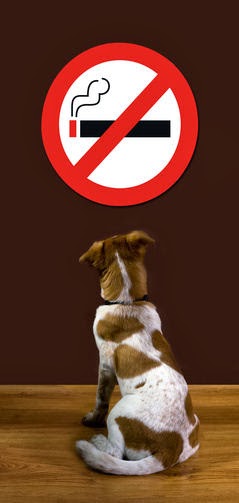 Even cigarette butts can be toxic if enough are ingested - cigarette butts retain 25-percent of the nicotine in the original cigarette.
What are symptoms of nicotine poisoning?
Symptoms usually develop within one hour of ingestion. Pets may display excitability, rapid heart rate, drooling, vomiting, diarrhea, weakness, seizures, and coma.
How are pets treated for nicotine toxicity?
The first step is to decontaminate by inducing vomiting. Nicotine typically causes vomiting when ingested, but further decontamination is advised at the veterinary office. Other emergency care includes intravenous fluids, medications to manage elevated blood pressure and heart rate, and anti-seizure medications. Nicotine is metabolized by the liver and excreted within 16 hours after ingestion. Pets that survive the initial four hours after ingestion have a favorable chance of survival.
The vapor cigarette trend is becoming more popular world wide. It's important to recognize that nicotine is a toxin and poisonous to animals and children. Consider the e-liquid a hazardous material and store it safely in a locking cabinet, away from children and pets.
To read more about Ivy's toxicity after ingesting E-fluid go to "Dog dies after chewing e-fluid container."
Featured veterinarian known as "Dr. Debbie" on national pet radio program, Animal Radio. Ebook author of "Yorkshire Terriers: How to Be Your Dog's Best Friend"; "Pugs: How to Be Your Dog's Best Friend"; "Mini Schnauzers: How to Be Your Dog's Best Friend"; and "Shih Tzu: How to Be Your Dog's Best Friend."

It's a Wacky Wednesday Here at the Animal Radio® Studios
WackyWed Contest IS ON - LIKE your FAVORITE pic and the three pics with the most LIKES & SHARES are this week's winner will receive a Dog Sensor from Hachiko.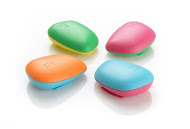 TO ENTER Send us your FUNNY pet pic to WackyWed@AnimalRadio.com - (Please put WACKYWED in the subject line & give us your pet's name, your name & where you hail from) If YOUR pic is chosen then spread the word to your friends & family on Wednesday - the pics w/the most LIKES and SHARES will be the winner!
This week we are giving away a Smart Dog Collar Sensor and App from Hachiko. Hachiko is a sensor that simply attaches to any harness or collar and measures a dog's activity using Bluetooth technology that connects to an iPhone 5 phone or higher. Hachiko allows users to invite caregivers and followers to share information regarding the dog's activity, as well as how much food, water and treats they've had while away.


Join Animal Radio® on Facebook for Wacky Wednesday! Win great prizes every week for your wacky pet pictures. Last month we gave out goodies from Endure Flap, Bare Bites, SynergyLabs, Magiclatch, Glandex and more. Visit us on Facebook now.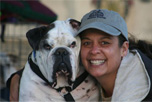 Animal Radio® News - Lori Brooks
Climate Change Affects Size and Shape of Animals
There's plenty of evidence that species are relocating in response to climate change. But is climate change also affecting the size and shape of animals' bodies or the way they function? A more recent study looked at 11 bird species in Germany from 1889 to 2010 to see if the steadily warming climate had caused them to shrink. Researchers found no change consistent with climate. But another study published this month found that their wings had become significantly shorter, meaning they are less able to fly long distances. A previous study done earlier this year found that the surface area of the parrots' bills had increased by as much as 10 percent, apparently in response to the warming climate.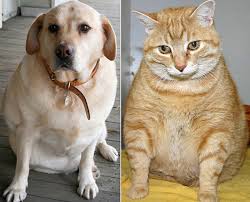 Obesity Is A Growing Problem in Pets
October is National Pet Obesity Awareness Month. Being overweight can seriously impact our health and that of our pets. Obesity is a growing problem in people, with the Centers for Disease Control estimating that close to 70-percent of adults are obese or overweight. The statistics are almost as bad for our pets. The Association for Pet Obesity Prevention estimates that nearly 54-percent of cats and dogs in the US are overweight or obese. How can you tell if your pet is a healthy weight? You should be able to feel your pet's ribs easily; see a waist when viewing your pet from above; and Not see a sagging stomach when you view your pet from the side.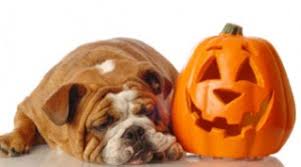 Halloween Hazards for Pets
Pets often find it truly scary during this time of year. Be warned, "The things that make Halloween a treat for people can overwhelm many pets," and some parts of Halloween can be dangerous. Good advice to pet owners is simple. While you're enjoying the fun, make sure your pets have a pet haven in a room where they can feel safe, comfortable and relaxed. Keep your pets away from the festivities in their safe room. Masks and costumes change how people look and smell to a pet, so even familiar people may become frightening to your pet. When going out trick-or-treating, leave your dog at home. Dogs can be easily excited by the Halloween commotion, and a bite or a lost dog will bring a quick end to all of the fun everyone was looking forward to. The top Halloween hazards for pets are escaping and being poisoned. Both animal shelters and veterinarians see a spike in their business during the Halloween season.
Spay or Neuter Your Pet With Just One Shot
People should spay or neuter their pets, but researchers at Cal Tech, have come up with another, much less expensive and less invasive option, just one shot - an injection. The researchers found that a single shot into muscle tissue in mice was able to stop sperm and egg production. In just two months after receiving the injection, scientists found the mice were unable to reproduce and did not appear to experience any other side effects. The study at this point was just a proof-of-concept in mice. More research needs to be done to assess if it would be affective in dogs or cats. The Cincinnati Zoo is now conducting a pilot study with female cats.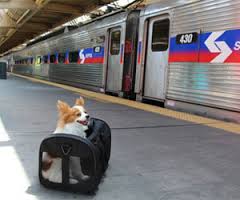 Pets on Trains
Traveling with your fur kids is not usually easy and sometimes not even possible, but now Amtrak is letting passengers bring their pets aboard their Northeast Regional train. The service started this week after a successful trial in Illinois. Just keep in mind Amtrak charges $25 for your pet and the pet and carrier must be a combined weight or 20 pounds or less and be placed underneath your seat. Of course, service animals are always allowed at no additional cost.
Anonymous Hero Saves Dog From Burning Home
An anonymous real life hero saved the life of a dog that was trapped inside a burning home in Tennessee. As someone who witnessed it describes it said, "This guy in a gray mustang pulls up says, 'I do this for a living,' and he runs in and he comes out about two minutes later with this beautiful dog in his arms." Less than a minute later the roof of the home caved in. Adding to the joy of saving the dog that was being cared for by a pet sitter while his owners were out of town, are three cats who were believed to have died in the fire, that were found in the neighborhood. The home was a total loss.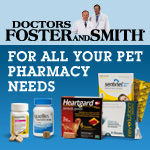 NEWS UPDATE brought to you by Drs. Foster & Smith, affordable pet supplies. Low prices every day, so you save on every order.

Listen to the entire Podcast of this show (#829)