A Hollywood Studio Where Dogs Learn To Fly
Megan Blake, Air Hollywood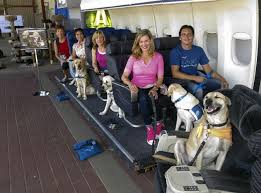 Actress and animal advocate Megan Blake is teaching dogs to fly on airplanes using a Hollywood studio set and aircraft simulator. For $300, you can desensitize your pup from all the noise and vibrations that happen on a real plane.
Security checks and bumpy air are all in a day's training at a Hollywood film studio to prepare your dog for a safe and calm flight.
The Air Hollywood class is billed as the first in a real fuselage on a sound stage with a simulator that mimics takeoff, turbulence and landing. Hollywood extras create crowds and chaos that come with terminals, luggage carts and the blare announcing arrivals, delays and departures.
The idea was the brainchild of Talaat Captan, president and CEO of Air Hollywood, the world's largest aviation-themed film studio, who noticed a dog owner having a rough go getting a pooch through airport security. He thought this would a great idea to help people as a service.
Former actress, Megan Blake, developed the program and teaches the class with three other instructors and her dog Super Smiley. An animal trainer and lifestyle coach, Blake also has a psychology degree from Georgia State University.
Air Hollywood is a working Hollywood studio where most of the airplane and airport scene for movies and television are shot. The class is using the same studio where parts of "Lost," "Bridesmaids," "Kill Bill" and 500 other movies were made. Television scenes from "NCIS," "Modern Family" and "The Newsroom" have also been filmed there.
A lot of people are traveling with their pets as well as their service dogs, so last year; Air Hollywood conducted a test class with 60 puppies from Guide Dogs for the Blind.
These classes will help you to know what to expect when traveling with your pooch. Classes will be held every month or two and will be open to well-behaved dogs of any age.
The classes start out by a person and their dog going through the chaotic experience of simply being in the terminal. Next, they board the plane. In the plane, they will experience turbulence, as the plan tilts up and down. There will also be plane noises as well as the announcer on the speaker. This way, both the people and the dogs can be de-sensitized to all of the stress that can occur when you travel.
The class is a one-day seminar. There are two sessions, one in the morning and one in the afternoon. The morning session starts at 10:00am, where you go through the entire airport experience including the simulator fuselage. They then break for lunch. After that, you will go through the entire experience one more time, ending at 3:00pm. This allows you to practice it twice.
If you have to fly with your pet and they have never been on a plane before, this is an excellent way to see how they will manage.



Animal Superstitions
Kim Campbell Thornton, MSNBC.com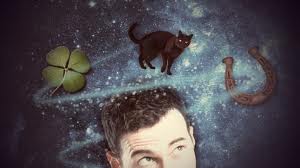 As Halloween approaches, we're examining all the strange superstitions from Black Cats to Fat Rats. Self-proclaimed expert Kim Campbell Thornton shares the stories behind the myths and legends.
Do people still view black cats with suspicion? Beliefs about dogs and cats have shaped language, culture and actions.
It's that time of year when leaves change color and begin to fall (at least in other parts of the country), the days grow shorter, and black cats take on a more ominous significance than at other times of the year.
You might think that old superstition that a black cat crossing a person's path brings bad luck has fallen by the wayside in the 21st century, but shelters and rescue groups report that black cats and dogs are often the last to be adopted.
Over the millennia, people have invested cats and dogs with all kinds of beliefs or notions, both positive and negative. Often, the belief is associated with the animal's color or markings.
In some regions of the world, it is believed that when a black cat crosses your path, you will have bad luck. But in other parts of the world, it is a good thing and will bring good luck, by taking away the bad luck. If a bride and groom see a black cat on their wedding day, there are going to have a great marriage.
Other superstitions associated with black cats are that an unknown black cat sitting on the porch brings prosperity and that if a black cat walks toward you, he brings good luck.
Like black cats, black dogs are often burdened with superstitious beliefs. Phantom black dogs abound in folklore and fiction, including Arthur Conan Doyle's fearsome Baskerville hound. Seeing the dog usually portends a death in the family or some other disaster.
Dogs and sometimes cats are also associated with the afterlife. In cultures around the world, they played a role in death rituals or were viewed as guides to the underworld.
Zoroastrians brought dogs to view corpses. The dog's job was to determine that there was no sign of life and to scare away any lurking demons. The Zoroastrians also believed dogs could slay demons in the night.
Happily, lots of good beliefs are also associated with cats and dogs. In ancient India, cats symbolized wealth and status. In more recent times, the image of a cat on a fencepost was a signal from one hobo to another that a good-hearted woman lived in the home.
Hearing a cat sneeze is thought to bring good luck. A bride who hears a cat sneeze on the morning of her wedding will lead a happy life.
It was once believed that the lick of a dog had healing power. Saint Roch, the patron saint of dogs, was reportedly licked back to health by a dog after he contracted the plague. Today, we know that while a dog's lick might not be curative of disease, petting a dog can help to lower our blood pressure and reduce our stress levels.
Doing harm to an animal has its own superstition. Killing a cat brings 17 years of bad luck. That's even worse than breaking a mirror.
Kim Campbell Thornton is the personal assistant/mentor/activities director for one Cavalier King Charles Spaniel and one longhaired Chihuahua and is the Creature Comforts columnist for MSNBC.com.



Animal Radio® News with Stacey Cohen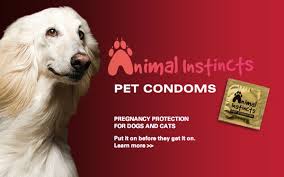 Condoms For Cats & Dogs
A new website is supposedly offering an unusual way to control the pet population, condoms for cats and dogs. PetCondoms.org claims to offer a special brand of protection dubbed Animal Instincts. But anyone trying to purchase a pack of the condoms will quickly realize they're out of luck. As soon as they click on one of the links, a message pops up telling potential customers: "C'mon, there's only one real fix, spay or neuter your pet." The site is actually part of a campaign by San Francisco's Society for the Prevention of Cruelty to Animals, and directs visitors to their real website, SFSPCA.org.
Goldilocks & The Siberian Bear
In a twist on the classic Goldilocks story, a Russian couple says a bear broke into their home and started to eat their food. The couple's house in a remote Siberian city is being renovated, so they were spending the night in their sauna. They woke up to several loud crashes coming from the house. When they looked out the window to see what was going on, they saw a bear who had apparently decided the pot of borscht they had left out to cool was just right. The couple told police they sat in the sauna and helplessly watched as the animal feasted. The cops eventually arrived and fired a few shots into the air to scare the bear away, but not before it had finished all of the beet soup.
Skunk Haven
An Ohio woman is trying to prove that skunks aren't the "smelly little creatures" people may think they are. Deborah Cipriani has converted her home into the country's only rescue center for domestic skunks. She has 50 skunks that have free reign of her five-bedroom house, dubbed Skunk Haven, and some of them even sleep in her bed. Cipriani says skunks really are beautiful animals, explaining that she bought her first in 2000 to help cope with the death of her mother. She also hosts an annual animal lovers event known as Skunk Fest every September.
Are Gray Wolves An Endangered Species?
Four Washington state lawmakers are sending a letter to Washington's Department of Fish And Wildlife. The letter says the department shouldn't be joining federal wildlife officials who propose delisting of gray wolves as an endangered species. Don Barry at Defenders of Wildlife says delisting isn't warranted. State Senator Kevin Ranker is leading the legislators' effort. Washington's Fish and Wildlife director said the state's wolf-management plans are adequate. The agencies and friends of the wolves continue arguing over whether gray wolves endanger livestock.

Dog Completes Half-Marathon On His Own
An Indiana dog has been awarded a medal for completing something many humans shy away from. Boogie the dog was awarded a medal for completing a half marathon Tuesday. He met up with runners at the race starting line in Evansville and just kept going. When Boogie crossed the finished line, no one knew whom he belonged to. Police sent out an alert and many people began posting about him on Facebook. It was only after his owner noticed he was missing and went looking for him at a local animal shelter, that he found out about Boogie's big accomplishment. Unfortunately, a week later, Boogie passed away from a heart attack.
Rats Go To College
Students at San Jose State University in Northern California are complaining about rats that are running around campus. The rodents are often seen scurrying through classrooms and on school grounds that are near ongoing construction sites. Video of a rat that recently ran on stage during a guest speech has gone viral. University officials say they're launching an investigation to see if there's a bigger rat problem and whether the scavengers pose a health or safety hazard.
Cat Competes For National Pet Insurance Award
A Northern California family cat is in the running for a national pet insurance award. After racking up a $1,200 vet bill being squashed in a garage door incident, Ariel, the Carter family cat, is now in the running for the "Most Unusual Claim of the Year" award by Veterinary Pet Insurance Company. The two-year-old Himalayan feline will receive a trophy, treats and a $10,000 donation made in her honor to the Pet Emergency Center of Marin if she wins the public on-line vote.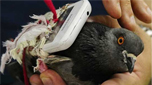 Pigeon Smuggles Cell Phone Into Prison
A man and woman in Brazil are in police custody after allegedly trying to smuggle a cell phone into a prison using a pigeon. According to Orange News, Cristielli Mansa wanted to give the phone to her incarcerated boyfriend, so she strapped it to the back of the bird and sent it flying over the prison wall. The pigeon cleared the ten-foot barrier, but fell to the ground in front of a guard on the other side. Officers immediately ran outside the prison and found Mansa and another man. Her accomplice had a second bird with a package stuck to its wings containing a battery and almost $200. Both suspects were arrested for attempting to smuggle items into prison and animal cruelty.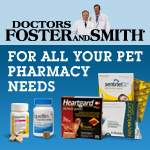 NEWS UPDATE brought to you by Drs. Foster & Smith, affordable pet supplies. Low prices every day, so you save on every order.

Listen to the entire Podcast of this show (#725)