There's A Fox In The Chicken Coop
Olivia Fox & Strawberry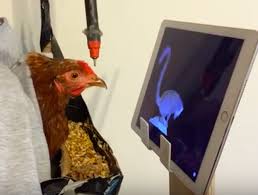 You may have seen the viral video of Strawberry, the chicken that watches TV. She's our guest along with her guardian, Olivia Fox. According to Olivia, TV isn't the only bad habit this chicken has. Apparently Strawberry enjoys some of the sweeter things in life.
Strawberry is a Rhode Island Red who was adopted from Animal Place. Olivia has had many chickens, but she states Strawberry has the biggest personality and a mind of her own and is not afraid to express it!
After she had part of one leg amputated, Strawberry needed to recover, which means being kept off her feet.
Chickens are smart and can do things like simple math problems. They also have around twenty-four calls to communicate with other chickens and can recognize over 100 different faces. As a result, they can get bored, with Strawberry being no exception.
During her recovery time, Strawberry was placed on a sling to get her off her feet and she was left with nothing to do. As a result, she tried to escape.
It was Olivia's husband who thought that maybe Strawberry would like to watch television. They then turned on their iPad and that was it - Strawberry was hooked! They decided to turn on National Geographic, thinking this might entertain her and it worked. However, they still needed to monitor her TV watching, as some of the Nat Geo shows have predators known to chickens, like snakes and alligators, that she didn't needed to see!
Olivia states her biggest mistake was introducing Strawberry to Pop Tarts during this time and now she doesn't want to go back to normal chicken food.
Strawberry's recuperation is going well, as she is learning to stand up and now has great balance.

The video of Strawberry excitedly watching Nat Geo on her tablet has been viewed over a million times on Facebook alone.

Strawberry the Chicken even has her own Facebook page so her fans can follow her recovery.




Cats vs. Dogs - Who's Smarter?
Dr. Ernie Ward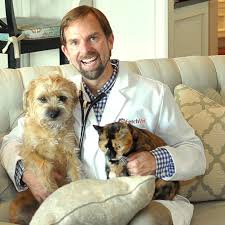 The extremely charismatic Dr. Ernie Ward is back on Animal Radio to answer the age-old question about which pet is more intelligent, the Dog or the Cat? You may be surprised by the answer, unless you own a cat... or a cat owns you!
When asked whether cats are smarter than dogs, Dr. Ward knows no matter how he answers it, he will be in hot water with pet owners!
Intelligence is a very complex subject, states Dr. Ward, and dogs and cats display their intelligence in different and unique ways. But when you look at the anatomy of the two species, cats end up on the better side. In fact, cats have over twice the number of neurons, or brain cells, than dogs.
All of this extra brain mass is going to do a couple of things for cats. Number one, it helps them avoid a lot of work. Cats usually like to lie around and beg for food and want us to take care of their every need and desire. Cats are also dextrose. They can take their paws and grasp objects and they can claw and climb. Dr. Ward likes to state that cats are just one opposable thumb away from planetary dominance! So cats have the edge on dogs when it comes to the brain anatomy.
So why does a dog seem to forgive you if you make them upset, but a cat never seems to forget and will hold a grudge? Dr. Ward states that there is research to back this statement. Studies show that cats can retain an event or information for up to 16 hours, while our poor pooches can only hold that information for about 5 minutes.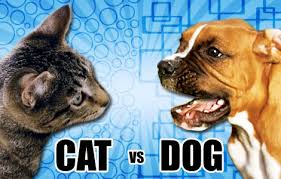 Dr. Ward gets this call all of the time where people say they came home and their dog messed on the carpet. They then rubbed their dog's nose in it and gave them a spanking. However, Dr. Ward states that your dog doesn't remember going to the bathroom five minutes ago, so it does no good. This is important for us to understand the psychology and basic brain activity of our pets, because this tells us how to train them. Now our cats, on the other hand, are probably holding a grudge.
This means when you train a dog, it is timing of the treat. For example, if you are trying to train your dog to sit, it is the gap between the sit and the reward that has to be instantaneous. There was a recent study done between humans and robots to see who could teach a dog to sit faster. Sadly, the robots won. This is because a computerized robot was able to dispense a treat faster and more consistently than humans.
So does a dog really know when you're coming home before you walk in the door? There has been a lot of studies on this subject, but we still don't know how our dogs know when we are just minutes away. There is the thought that there is a mineral in a dog's brain that helps them sense the earth's magnetic field, which also helps them cue in on your energy.
Dr. Ward is a Vet expert for Fetch magazine and Petplan Advisory Board member. You can follow Dr. Ward's blog and work in Fetch Magazine at PetPlan.com.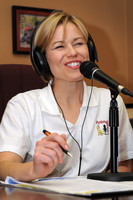 Pet Halloween Costumes: Spook-Tastic or Just Crazy? - Dr. Debbie
Will Fluffy or Benji be dressed up for Halloween this year? Pets are increasingly recognized as family members and often included in the holiday costume craze. But are pet costumes just for human folly, or do pets actually LIKE sporting the costumes, hats and accessories?
Admittedly, I fall among those that do indulge in this practice, but my pets enjoy wearing Halloween costumes. Years of positive reinforcement with treat rewards, and my dogs will happily wear anything in the off chance of a tasty morsel. The mere sight of a costume starts my Labrador prancing and bouncing as if on a trampoline.
In my home, Halloween pet fun has evolved a step further than most, as I proudly maintain a sizable collection of pet costumes. After 16 years, the collection of doggie costumes includes firemen, doctors, princesses, cowboys, police officers, pumpkins, caterpillars, pirates and skeletons spilling from the overstuffed confines of the cabinet. My pet costume collection is akin to Katherine Heigl's character in the movie "27 Dresses," in which her mass of bridesmaid dresses fills a closet and generates smirks from others.
Call me crazy- but I adore seeing my critters ham it up for Halloween. And clearly I am not alone. According to consumer surveys by the National Retail Federation, 170 million Americans will be celebrating Halloween. Among those individuals 15.1-percent will be dressing the family pet in costume too. That's a lot of consumer spending on pet wear when budgets are tight, but the smiles and giggles arising from seeing your pet dressed in a spooky or silly costume, is well worth the expenditure.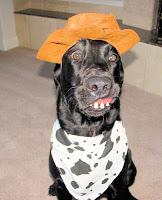 Some might argue that pet costumes are frivolous or humiliating, but I disagree. Dogs enjoy costumes when introduced in a positive manner, just as they do with gradual acclimation to car travel or swimming. Plus - a dog is devoted companion and wishes to please its owner. My own dog family adores the celebration and attention they receive. Cats on the other hand, may not enjoy any part of dress up and are often indifferent to the idea of pleasing or serving us, as it is often the other way around.
Halloween may not be for every person, and is clearly not for every pet. The added stress of trick-or-treaters, ringing doorbells and spooky costumes may create an unwilling pet participant for any such Halloween wear. Know your pet's personality and avoid dress-up if he is anxious, fearful or attempts to chew at his doggie duds.
All tails will be wagging at my house on Halloween as my costumed canine kids anxiously await the arrival of the first ghost or goblin. Oh, and of course they will be expecting doggie cookies too!
Featured veterinarian known as "Dr. Debbie" on national pet radio program, Animal Radio. Ebook author of "Yorkshire Terriers: How to Be Your Dog's Best Friend"; "Pugs: How to Be Your Dog's Best Friend"; "Mini Schnauzers: How to Be Your Dog's Best Friend"; and "Shih Tzu: How to Be Your Dog's Best Friend."




Lucy Pet Foundation
The Mission of The Lucy Pet Foundation is to reduce pet overpopulation and the euthanasia of over 80,000 cats and dogs per week in the United States by having mobile spay/neuter clinics across the country and to support causes that benefit animal welfare. The Lucy Pet Foundation currently has two buses that travel around Southern California focusing on spaying and neutering. These buses are state of the art surgery units. Their next focus is in generating more funds to expand the work of these buses and have more across the country.

The Lucy Pet Foundation not only offers free and reduced spays and neuters, they also do microchipping, vaccines and de-wormings. Spaying and neutering is not only great for pet population control, but it has been proven that an animal will live on an average of 40-percent longer after having this surgery.
Free Spay & Neuter for Los Angeles City Residents! Here is a list of upcoming free or reduced fee mobile spay and neuter clinics in California:
November 1: Superior Store, 6140 Lankershim Blvd., North Hollywood, CA Spay/Neuter APPOINTMENT ONLY; Vaccine Clinic 10:00am-2:00pm
November 2, 19: Vallarta Supermarket, 10175 N. San Fernando Rd., Pacoima, CA Spay/Neuter APPOINTMENT ONLY; Vaccine Clinic 10:00am-2:00pm
November 4, 26: Superior Store, 10211 Avalon Blvd., Los Angeles, CA Spay/Neuter APPOINTMENT ONLY; Vaccine Clinic 10:00am-2:00pm
November 5, 22: Superior Store, 133 West Avenue 45, Los Angeles, CA Spay/Neuter APPOINTMENT ONLY; Vaccine Clinic 10:00am-2:00pm
November 8, 21: East Valley Shelter, 14409 Vanowen St., Van Nuys, CA Spay/Neuter APPOINTMENT ONLY; Vaccine Clinic 10:00am-2:00pm
November 9, 29: West Valley Shelter, 20655 Plummer Street, Chatsworth, CA Spay/Neuter APPOINTMENT ONLY; Vaccine Clinic 10:00am-2:00pm
November 11: Vallarta Supermarket, 13820 Foothill Blvd., Sylmar, CA Spay/Neuter APPOINTMENT ONLY; Vaccine Clinic 10:00am-2:00pm
November 12: Superior Store, 3480 S. La Brea, Los Angeles, CA Spay/Neuter APPOINTMENT ONLY; Vaccine Clinic 10:00am-2:00pm
November 15: Food 4 Less, 1748 West Jefferson Blvd., Los Angeles, CA Spay/Neuter APPOINTMENT ONLY; Vaccine Clinic 10:00am-2:00pm
November 16: Food 4 Less, 5100 N. Figueroa St., Los Angeles, CA Spay/Neuter APPOINTMENT ONLY; Vaccine Clinic 10:00am-2:00pm
November 18: Vallarta Supermarket, 19725 Vanowen St., Winnetka, CA Spay/Neuter APPOINTMENT ONLY; Vaccine Clinic 10:00am-2:00pm
November 30: Superior Store, 9801 Laurel Canyon Blvd., Pacoima, CA Spay/Neuter APPOINTMENT ONLY; Vaccine Clinic 10:00am-2:00p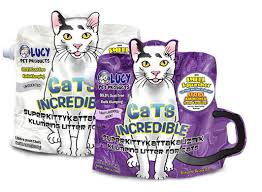 County and City Vouchers accepted. But remember, you must get on a list to have your pet seen at these locations. Please call The Lucy Pet Foundation toll free at 1-855-499-5829 or Visit Website to schedule an appointment, or register at the events.
Lucy Pet Products, Inc. is a family owned and operated company based in Thousand Oaks, California. Lucy Pet Products are "Products With a Cause." Part of the proceeds from the sales of Lucy Pet Products are used to help fund The Lucy Pet Foundation. Their products can be found in pet specialty stores across the USA and are exported worldwide, or Visit Website.




7 Halloween Treats To Keep Your Pets Safe
Robert Semrow, Animal Radio Listomania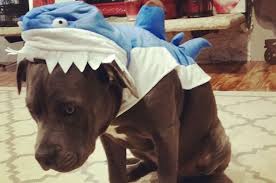 Halloween comes around every year and every year you hear the warning about pet safety on this one day. Don't people learn! I and other pet experts will tell you, Yes and No. So for those of you who need a gentle reminder and others who need a firm talking too, here's my list of things to consider for Halloween Pet Safety.

To begin with, while Halloween is about the dressing up and candy for humans, it's the exact opposite for our pets. It's an uncomfortable horror show when the humans they observe and love turn into costumed goofballs who certainly need a week or twelve of human training classes.

So, if you are going to dress up your pets, here are a few tips and ideas:

To begin with, never force a pet to wear a costume or outfit. For many pets it's the equivalent of a human being forced to wear a wet suit. It's uncomfortable, makes them overheated and the embarrassment, in this age of the Internet, may never fade. However, if your pet will tolerate an outfit, give them time to adjust to it. Put it on for a short period and let them adjust to wearing and reinforce that it's not a permanent thing. Additionally, consider alternatives to full outfits. There are pet paints, pet nail polish and pet bling that are less irritating and just as fun. The key to all of this is pet safety and making sure anything you are putting on or near the pet is safe for them.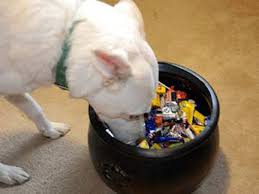 Next up is the Trick or Treaters. If your neighbors only dressed up as postal workers and delivery drivers that would be upsetting enough to most pets, but add to that ghouls, goblins, witches, devils, superheroes and more and you can see the confusion that your pets have. Your dog instinctually wants to protect its family. Consider giving your protector the night off by putting them in a bedroom with the TV or playing music. Also, the doorbell is like a starter's pistol to your pups. Doorbell rings, strangers are here and I must alert my family. After the 15th doorbell, your dog figure's everyone is out to get you. Do not allow your pet access to the doorway area. Consider having a "Please Knock" sign or even greeting the trick or treaters outside.

Next up is the candy and foods associated with Halloween. Please keep your pets away from all candy, as it can be severely dangerous for your pets. Same with lit pumpkins, too close and they can knock it over or even burn themselves. And a glow stick looks like a tempting new toy, which if bitten and /or ingested can have serious consequences.

Finally, please make sure your pets ID's are up to date and can be read easily.

Halloween is a lot of fun for the family, just not our pets. Keeping them and your visitors safe is not a trick or a treat; it's your responsibility. Share your Halloween tips on our Animal Radio Facebook Page.
Visit Website




Tails Inc. Pet National Events for November 2016
Janice Gork, Tails Pet Media Group, Inc.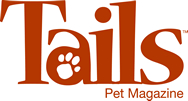 Passionate about rescue and adoption, Tails Pet Media Group, Inc. was founded in 2000 by Janice Brown. What started as a magazine, is now a mission! Tailsinc.com is an interactive website and online community committed to connecting the animal welfare community with the general pet-loving population. Tails Inc. features expert knowledge, advice, pet product reviews, local resource guides, community event news and monthly contests, in order to promote and encourage people to live responsibly with their pets.
Here is a list of upcoming November Events around the Country:
WHAT: 14th Annual PugsGiving - the LARGEST celebration of pugs and pug rescue in the State of Florida! Also: door prizes, hourly raffle prizes, a HUGE Silent Auction, vendors, and games with prizes, a Pet Blessing, The Pug Boutique, Pet Photography, the Wall of Rescues and more!
WHO: Pug Rescue of Florida
WHEN: Saturday, November 5, 11AM-5PM
WHERE: Ramada Gateway Convention Center, 7470 Highway 192 West, Kissimmee, FL
COST: $5-adults, children under 12-free
INFO: 727.410.1339 or pugrescueofflorida@gmail.com
WHAT: A Pittie Affair - dinner, drinks and dancing. Join like-minded animal lovers for a special night out on the town, while raising money for a great cause
WHO: Players for Pits - seeks to dismantle the negative stereotypes surrounding "Pit Bulls" in our society
WHEN: Sat, Nov 5, 6PM-9pPM
WHERE: Crowne Plaza Hotel, 1250 Roosevelt Rd, Glen Ellyn
COST: $65-advance; $75-day of
INFO: Visit Website. Tickets must be purchased online before event.
WHAT: Pawchella - for the pet-friendliest festival including raffles, games, music, and tasty treats for you and your furry-legged friends
WHO: San Antonio Humane Society
WHEN: Saturday, November 5, 11AM-5PM
WHERE: San Antonio Humane Society, 4804 Fredericksburg Rd., San Antonio, TX
INFO: 210.226.7461 or communication@sahumane.org
WHAT: Sip & Shop - Kick off the holiday season with good dogs, bad sweaters, and great wine - an afternoon of wine tasting, small bites, holiday shopping. Prizes will be awarded for ugliest sweater, most creative, best person/dog sweater combo and more!
WHO: Homeward Pet Adoption Center
WHEN: Saturday, November 19, 1PM-5PM
WHERE: Northwest Cellars, 11909 124th Ave NE, Kirkland, WA
COST: $25-advance; $30-door
INFO: 425.488.4444 or lindsay@homewardpet.org
Want to list your event for free? Click here. Please note that non-profit events (fundraisers, adoption events, etc.) will be listed for free and for-profit events will incur a fee. Please email the advertising team if you wish to advertise your for-profit event in their directory.
Tails has local focus, but national reach - with magazines in 10 different cities across the United States, and 150,000 issues printed per month, 12 times a year, and an ever-increasing audience of over 1 million people. Pet lovers can pick up their free magazine at pet-related businesses and vet offices, grocery stores, health clubs, bookstores, coffee shops, restaurants, libraries, park districts, and other "mainstream" locations. Currently they are in over 10,000 individual locations.
To find out where you can get a copy of your own, send an email to locations.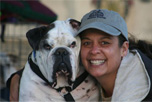 Animal Radio News - Lori Brooks
Pairing Cats to Children With Autism
The MU Research Center for Human-Animal Interaction is introducing a new research program titled, The Feline Friends Project. The project will pair children with autism with a cat and monitor the impact the cat has on the child's anxiety level and social skills. The research center has published several studies that outline the benefits that children with autism receive from having pets in the home, citing increased social skills as a primary benefit. With this study, researchers hope to find possible benefits unique to the behaviors exhibited by cats. Rebecca Johnson, director of the research center, says dogs have been good companions in previous studies, but many children with autism are sensitive to the sound of their bark and autistic children can sometimes view their playfulness as aggression. Johnson believes the less aggressive and quieter behavior of cats will appeal to the children. Johnson says the research center has a long history with the Columbia Humane Society and Second Chance Animal Shelter, as well as the families involved in the study. The Feline Friends Project is currently raising money to pay for the food and other supplies the cats will need throughout the study.

Your Next Pet Could Be A Robot
Your next dog, or your parent's next dog, could very well be a robot. Hasbro has launched a new life-like robotic dog. It's a companion pet pup to go with their companion pet cat already on the market. Both are designed to bring comfort and companionship to aging adults. The robotic cat, with its really soft fur, gently vibrates when it purrs, while the puppy barks and cocks its head when you speak. But they are far from being the only robot pets on the market. The company Hansa Creations has created a collection of interactive cats and dogs of various breeds. There's also Paro, the cuddly seal robot developed by Japan's National institute of Advanced Industrial Science and Technology, which is used as an interactive therapeutic tool in hospitals and senior living facilities around the world. BUT are they effective at offering the same health benefits as our real animal best friends? According to a few small studies, they just might be, but more research is needed. One study done in a nursing home showed that a robot companion can be a big benefit to seniors and can even be as effective as a living animal. Another study with the seal robot Paro studied two groups of seniors for three months where participants in both groups completed tests to measure their loneliness, depression and quality of life. Researchers found that loneliness scores decreased in the group that spent time with Paro the robot seal, but increased in the control group, which spent more time on field trips, playing bingo and other social activities. When interviewed, some of the people in nursing homes said that they actually preferred robotic pets because they would not have to worry about them if they had to be admitted to the hospital. However, the authors of the study caution that social policies, which might make robot pets more accessible and affordable to socially isolated seniors living in institutional settings, should be weighed against policies making living animals more accessible and affordable for everyone.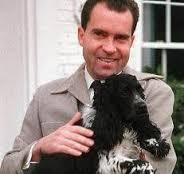 Presidential Pets
Pets, particularly dogs, pop up all the time in White House lore. Richard Nixon might never have even gotten there if he hadn't used Checkers the Cocker Spaniel as a diversion from a campaign finance scandal. Lyndon Johnson posed, for reasons we will never understand, picking up his Beagle by the ears. The décor at one Obama White House holiday party was many variations on the theme of Bo. This tradition goes way back. James Garfield had a Newfoundland named Veto. Calvin Coolidge had four cats, seven birds, nine dogs, two lion cubs, a raccoon, a bear, a wallaby, an antelope and 13 ducks. Donald Trump doesn't have any pets, and the animal anecdotes about him seem to be … unsettling. If Trump has ever in his life had a pet, his campaign doesn't know about it. There's some question, in fact, about whether he's ever even had an animal friend. For a while, there was a story about Trump begging for prayers for a Lab who was undergoing major surgery but that was a hoax. If he wins the election, we could have the first president in history to refuse to pardon the Thanksgiving turkey.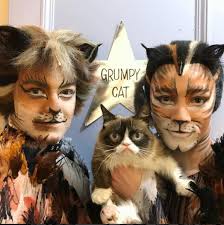 Grumpy Cat's Broadway Debut
Grumpy Cat, the internet's most famous feline, not only unveiled a waxwork of herself recently at Madame Tussauds wax museum in Washington D.C, she also joined the cast of the Broadway musical "Cats" to close out the show in NY. Grumpy was cheered on by the cast and by the audience as she received a placard commemorating her Broadway debut.
Pet Therapy Reduces Homesickness In College Students
It doesn't matter how happy you are to get away from your hometown, virtually every college student gets homesick. This has been associated with a higher attrition rate in first year college students. Loneliness and isolation are among the top two contributors to dropping out of school. As a result, universities have poured tons of resources into figuring out how to ease the transition and a recent study brings adorable news. According to researchers at the University of British Columbia, pet therapy can significantly reduce homesickness in students. In the published study, researchers gave forty-four homesick UBC students a survey measuring their sense of belonging on campus including life satisfaction, and of course, their homesickness. These students were then divided into two groups. One that received eight weeks of dog therapy and another that was told their sessions would begin after the first group finished. At the end of those eight weeks, both groups took the satisfaction survey again. Unsurprisingly, the students who underwent dog therapy reported more life satisfaction and less homesickness and the group who didn't undergo dog therapy actually had an increase in homesickness. The bottom line? Pets can fix almost anything or everything, even if you have to give them back at the end of the day.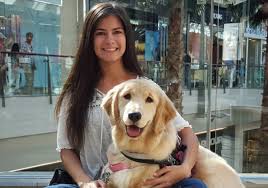 Instagram Shows Service Dog's Training
Instagram users have been watching an energetic Golden Retriever named Harlow grow into a service dog for the past 15 months. Each day she becomes more skilled and her Instagram page is growing in popularity with more than 70,000 followers. Harlow's owner is 20-year-old Jaquie Blake of Florida who has an autonomic nervous system disorder that frequently causes her to faint and get very dizzy. Harlow is training to be her medical alert and mobility service dog. She notifies Jaquie when she senses something bad is about to happen, such as if she is about to pass out. Jaquie says without Harlow she would be very limited in what she can do and that leaving the house by herself would be out of the question, let alone pursuing a college education and eventually Jaquie's dream career of being an occupational therapist. Harlow knows how to get her own leash, retrieve house keys and pick up virtually anything Jaquie drops. She can put away laundry, close the dishwasher, turn lights on and off at the switch and picks up groceries from the bottom shelf at the store. When Jaquie says, "Water bottle, I'm thirsty," Harlow goes to the kitchen, opens the refrigerator, grabs a bottle of water from it, delivers the water bottle to Jaquie then returns to shut the fridge door. Watch them on Instagram.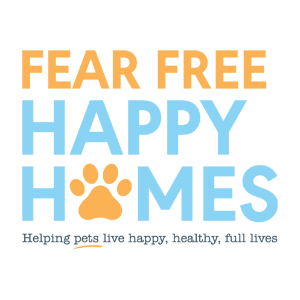 NEWS UPDATE brought to you by Fear Free. "Take the 'pet' out of 'petrified'" and get pets back for veterinary visits by promoting considerate approach and gentle control techniques used in calming environments.

Listen to the entire Podcast of this show (#882)