Dog That Knows 1,000 Words
John Pilley & Hilary Hinzman, Chaser

You may have heard about Chaser, the Border Collie that not only knows 1000 words but can understand sentences. John Pilley got Chaser when he was 72, and has chronicled this amazing story. Your dog may be just as brilliant!
Border Collie Chaser has a way with words. She knows over a thousand of them, more than any other animal of any species except humans. In addition to common nouns like house, ball, and tree, she has memorized the names of more than one thousand toys and can retrieve any of them on command. Based on that learning, she and her owner and trainer, retired psychologist John Pilley, have moved on to further impressive feats, demonstrating her ability to understand sentences with multiple elements of grammar and to learn new behaviors by imitation.
John Pilley is a psychologist who taught for 30 years. When he retired, he read a report of Rico, a border collie whose owner taught him to recognize 200 items, mostly toy and balls. Even though Dr. Pilley hadn't had a dog in over 10 years, his wife surprised him with Chaser, a Border Collie for his birthday in 2004.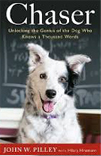 Dr. Pilley decided to repeat the previous experiment that was used on Rico, using a technique he had developed for teaching dogs. His goal was to see if he could teach Chaser a larger vocabulary than Rico acquired.
In three years, Chaser's vocabulary included 800 cloth animals, 116 balls 26 Frisbees and a medley of plastic items. Not only does she know verbs and nouns, she also understands sentences.
Dr. Pilley stated that it was not necessarily Chaser or Rico who is exceptional; it is the attention that is lavished on them. Any dog lover can adopt John's training methods. Dr. Pilley's goal is to develop methods that will help increase communication between people and dogs.
http://www.wofford.edu/psychology/chaser/
JetSetVets
Dr. Cindy Bressler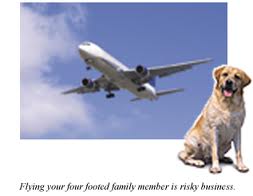 Dr. Cindy Bressler has a unique job. She's a vet for the other side of the tracks. This entrepreneur started the country's only private-jet, ride-along-vet, concierge pet service. For a small fortune, between $1,200 and $15,000 an hour, she and her team wild administer IVs and drips and handle any other medical issues.
Dr. Cindy Bressler launched JetSetVets this year to meet pets' needs in the air. JetSetVets is designed for sick pets with rich owners from the Hamptons to Beverly Hills.
Bressler has a house call practice in New York and the Hamptons. Over the past few years, she has been asked to accompany pets on the private jests of some of her clients. This enabled her to continue the medical treatment of these animals while they were in transport.
Seeing the need for this type of specialty service, Bressler took on two partners to start JetSetVets, Los Angeles and Beverly Hills veterinarian Patrick Mahaney and Blue Star Jets, a New York-based company that promises to have a small, medium, large or jumbo jet ready to go anywhere in the world in less than four hours. Together, they are believed to be the country's only private-jet, ride-along-vet, concierge-pet service.
The vets will dispense medicine, change dressings, monitor IVs and drips and handle any other in-flight medical care a pet needs. The company will also prepare animals for trips, apply for travel documents and work with veterinary hospitals as needed in emergencies.
Surgery is out. The plane will make an emergency landing and the medical team will get the pet to the nearest animal hospital; but other alternative treatments are available, such as acupuncture, massage, laser treatments and even an on-flight chef to prepare specialty meals.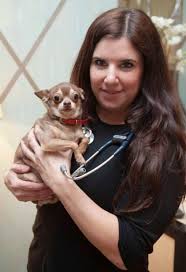 While Bressler is a licensed veterinary and can practice in air space anywhere around the world, she is not licensed to practice anywhere but New York when she is on the ground. Therefore, she has to make sure that wherever they land, that there is a licensed practitioner available.
Bressler tell us the story of one of her clients who flew frequently between New York and Los Angeles, with their pregnant dog. Bressler was along to monitor the dog and was prepared if she went into labor. Fortunately, the dog waited until they landed in New York to have her puppies!
This is such a specialized service, that Bressler says she only goes on jet calls about half a dozen times a year. While the service is in a class by itself, so is the cost. Renting a jet can cost between $1,200 and $15,000 an hour, while Bressler and Mahaney charge $200 an hour. Nurses, chefs, medical equipment, drugs, and other services, as well as added jet-related costs, are extra. Using a commercial flight is out of the question, as they need the space to have all of their special equipment.
JetSetVets also gives back to animals in need. A portion of the booking flight is donated to a charity of the choice of the person booking the flight. This enables JetSetVets to donate a large amount of money per flight to a charity. If the person booking the flight doesn't have a preferred charity, JetSetVets will then donate a portion to different animal charities around the world.



Unconditional Love
Jennifer Holland, Unlikely Loves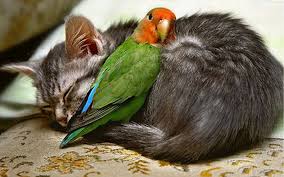 Jennifer Holland is the author of Unlikely Loves: 43 Heartwarming True Stories from the Animal Kingdom, which explores interspecies animal attachments that can only be called love. These stories are wonderful tales of parental love, playful love, and the love of a big, wild, modern family. There are animals that can't stand to be apart; animals shielding each other from insult or harm; animals caring for each other during illness; animals providing parental protection, and, sometimes, refusing to let go even when their love goes unanswered. And Jennifer has the pictures to prove them!
So just how did Jennifer collect al of these picture and stories? She looked for pictures and then tried to track down the source of the photo or the owners of the animals, to see if they were true pictures and what was going on between the animals. It was very important to Jennifer to get the real story and correct facts before putting it in her book.
There are some real strange and odd animal loves, and Jennifer feels the ones with reptiles always appear the strangest. She tells us about one of the stories where a tortoise joins up with a litter of puppies, and acts just like one.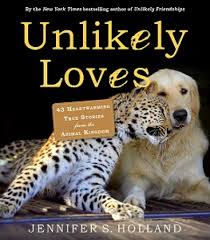 When asked if Jennifer ever came across one of these love stories that, well, let's just say had an un-happy ending, she says she left them out of the book! Jennifer had a rule that if the story ended badly, she wasn't going to include it. She does tell us that one of the stories she didn't put in her book was between a leopard and a mouse, with a questionable outcome. It does happen, as it is predator and pray out there!
While a lot of the stories are of domesticated animals, there are a few of wild animal loves that Jennifer has included in her book. Jennifer mentions that it probably happens less in the wild, as the animals are struggling for food and survival.
Jennifer S. Holland is the author of the New York Times bestseller Unlikely Friendships: 47 Remarkable Stories from the Animal Kingdom. A conservation biologist, she has written for National Geographic, Destination Discovery, and The Discovery Channel Online, specializing in science and natural history. She lives in Silver Spring, Maryland, with her husband, two dogs and dozens of snakes and geckos. Her unlikeliest love story: One of her dogs found and saved the life of her runaway pet chameleon, Hank.
http://www.workman.com/authors/jennifer_holland/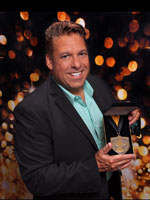 The Dogfather's Grooming Tip with Joey Villani
4 Questions to Ask Your Groomer
There are some things that groomers don't do automatically; you need to ask them. However, most groomers will tell you the obvious, such as if your dog has an ear infection or their nails need to be cut. But, there are other things you should know. Being the pet owner, you may not know what those things are.
There are four questions you should always ask when you go to your groomer:
First, you want to know what condition you dog's ears are in. When the groomer is cleaning your dog's ears, if there is any kind of infection or something doesn't look right, they can tell you about it.
Secondly, you should know about your dog's nail care. A tip if that if you hear your dog's nails clicking on the floor, they are too long. Your dog may actually be walking on his nails, which can be painful and can cripple a dog. Your groomer should be able to tell you how often you should be clipping your dog's nails. If you'd like, they can even show you how to do it at home.
Thirdly, one which is very important and one most people don't inquire about, is the condition of your dog's teeth. The first part of digestion is chewing. If your dog has bad teeth or any type of gum disease, you dog will have problems. Infections from the teeth actually go through your dog's body, affecting their organs, and can diminish their life by 4 to 5 years, depending on how serious it is.
And lastly, which no one ever inquires about, is their pet's eyes. Joey has had dogs come in with actual wholes in their eyes because of the hair and gunk buildup. This happens a lot with longhaired, flat-faced dogs, such as Shih Tzus. You can help at home by taking gauze or wet paper towel and wiping it out every day, following up with combing.
These are the four items you should pay special attention to. Talk to your groomer and they will walk you through the steps, so you can take care of these things at home. Try it! It's really not that hard and the benefits are great!


Animal Radio® News with Stacey Cohen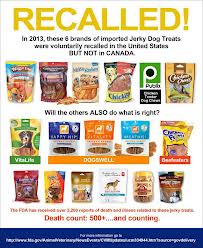 Jerky Treats Made In China Are Sickening Our Pets
Meat or plant-based "jerky" pet treats have been tied to mysterious illnesses in thousands of dogs, according to the U.S. Food and Drug Administration, which is asking the public for help in getting to the bottom of the issue. Bernadette Dunham, director of the FDA's Center for Veterinary Medicine, said in a statement on the agency's website. "This is one of the most elusive and mysterious outbreaks we've encountered," "Our beloved four-legged companions deserve our best effort, and we are giving it." In some cases, pets have become severely ill after eating the treats, which are sold as jerky tenders or strips made of chicken, duck, sweet potatoes or dried fruit. Since 2007, about 580 pets have died as a result of illnesses related to the products, the FDA said. The agency said it remains unclear why these pets are getting sick. With the outbreak under investigation, the FDA is calling on pet owners to come forward if they have a pet that became sick after eating jerky treats. Most of the treats involved in these incidents were made in China.
Woman Slaps Man With Mackerel
An investigation is going on in Sweden over an alleged fish slap. According to The Local, the victim, a man in his 60's, told the cops a woman who is also in her 60's broke into his home wielding a mackerel. The suspect allegedly woke him up from his nap and slapped him across the face with the fish. Police say the man knows the suspect, who also supposedly stole more than $300 from him and took food from his refrigerator.

Woman Performs CPR on Chicken
An Australian woman's blind chicken is still among the living after she performed CPR for more than three hours. According to Orange News, Roberta Rapo's pet bird, which her daughter has named Chooky Wooky, was recently blown into the family's backyard pool. After scooping Chooky out of the water, Roberta started pumping her chest and blowing air down her beak. And while the effort seemed like a lost cause, Roberta says her daughter wouldn't let her stop. Just over three hours later, Roberta was shocked to see the bird hop back to life. She says Chooky Wooky even started showing off by quickly laying an egg after she had been revived.
Super Sniffers Detect Cancer
Man's best friend could be on the cutting edge of cancer research with their apparent ability to detect changes in their owners. Doctor Cindy Otto of the University of Pennsylvania is working to detect cancer in humans with the use of dogs called Super Sniffers. She says dogs' noses have millions more odor detectors than humans.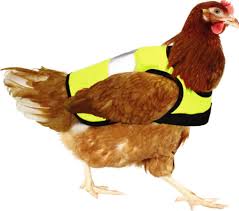 A High Visibility Jacket For Chickens
A British company is looking to keep chickens crossing the road safe. The "High-Vis Chicken Jacket" by Omlet, which also makes chicken coops, is made from reflective material to keep chickens safe at night. The jacket is equipped with two holes for the chicken's wings and is fastened with Velcro. It's also insulated so chickens wandering around on cold nights will also be warm. The High-Vis Chicken Jacket will run around $20.
Second Giant Fish Discovered
For the second time in less than a month, a rare oarfish has washed up on the California coast. The second carcass of the huge eel-like species was found last Friday on the beach in Oceanside. The 14-foot fish was discovered just five days after a marine instructor snorkeling off Santa Catalina Island saw a dead 18-foot oarfish in shallow water. The two discoveries of the rare huge fish are highly unusual according to scientists. University of California Santa Barbara research biologist Milton Love suspects the deaths of the giant fish are not coincidental but he says he doubts humans had anything to do with their deaths. They also think these fish are where tales of sea serpents originated from.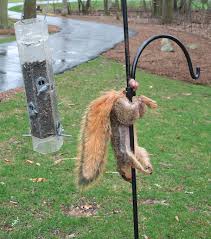 Bank Posts Inappropriate Picture on Facebook
The French bank Caisse d'Epargne is apologizing for posting an inappropriate picture on their Facebook account. According to TheLocal.fr, the bank says they were trying to take advantage of social media networks when they posted a picture that seemed to show a squirrel with its testicles caught on a bird feeder. The picture was accompanied with a message promoting insurance that will cover "Any temporary injuries." The bank says it regrets the posting and that it hurt their Facebook followers and potential customers.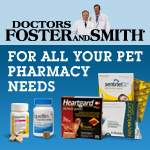 NEWS UPDATE brought to you by Drs. Foster & Smith, affordable pet supplies. Low prices every day, so you save on every order.

Listen to the entire Podcast of this show (#727)