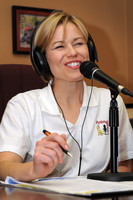 Black Widow Spiders Poisonous to Pets - Dr. Debbie
Pet Threats Come in All Sizes
Our doggie family ambled along on our typical morning walk along the community trail. With a family of two Labradors and a Yorkie mix, my crew is always up for fun and they investigate anything and everything.
Sometimes it's a crunchy cockroach snack or the fortunate edible remnant in a discarded candy wrapper. My dogs enjoy the "date game" where they snatch up shriveled fruit fallen from date palms, crunching away before the mom and dad notice. And sometimes it's a half-hearted game of chase with an unsuspecting rabbit. A more gut wrenching episode once involved my Labrador ingesting a rat with tail slipping down his gullet like a piece of spaghetti. My furry kids are professional trouble finders so I try to keep a watchful eye for things that make them go "Oooh," and make me go "Ugh!"
Female Black Widow Spider
While walking along the pedestrian pathway we came upon today's discovery - spiders and lots of them living in the recesses of a block wall. The hairs on my arm stood up as my Yorkie mix approached their lair. I recognize what these spiders are and what could happen to a 16-pound pup.

The long legged spiders were over 1 1/2" in length, black in color with a distinctive orange hourglass mark on its underbelly. Meet the black widow spider, a common arachnid found in every state in the U.S. except Alaska.
The Black Widow Bite
Black widow spiders contain a potent neurotoxin that causes pain, swelling and can lead paralysis. Female black widows are the dangerous ones, while the males rarely ever bite. While some black widow bites go unnoticed, others cause immediate pain at the site or result in pain at the nearest lymph node. Pain intensity reaches its maximum within 1 to 3 hours after the bite, but can last up to 48 hours.
Symptoms of a black widow bite appear within 8 hours after bite an include muscle twitching, restlessness, rigid abdomen and difficulty breathing. Symptoms may result in high blood pressure, a racing heart rate, seizures and collapse. Dogs are more resistant to a black widow bite, but still can suffer serious illness. Cats are very sensitive to the toxins and can suffer fatalities.
Symptoms of black widow bite include: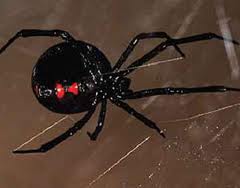 - Pain and numbness around bite site
- Anxiety
- Racing heart rate
- Muscle pain and stiffness, especially abdominal muscles
- Difficulty breathing
- Paralysis
- Seizures
Treatment for Black Widow Spider Bite
Call your veterinarian if you suspect your pet was bitten by a black widow. Initial home emergency care of a black widow bite may include ice packing bite area and oral antihistamines like Benadryl. Your veterinarian will need to see your pet to evaluate and treat the more serious symptoms. Treatment may include medications to control muscle spasms and seizures. Blood pressure and blood sugar are monitored and intravenous fluids may be administered. An antivenin is available for more serious confirmed cases of black widow bite.
Prevention
Avoidance of spider habitats is the best prevention. These eight-legged critters favor dark recesses both indoors and outdoors. Look for cobwebs with a distinctive funnel-shaped opening at the top. And keep a close eye on your dog when out exploring. Inquire about spider control methods with your pest control company.
With pet noses so close to web level, the risk of black widow bites is just natural to being a dog. Our morning spider encounter ended without any drama, thankfully. After one firm "No," my doggies retreated to unearth some other lucky find. Here's to hoping it doesn't involve any rats or bugs next time.
Featured veterinarian known as "Dr. Debbie" on national pet radio program, Animal Radio. Ebook author of "Yorkshire Terriers: How to Be Your Dog's Best Friend"; "Pugs: How to Be Your Dog's Best Friend"; "Mini Schnauzers: How to Be Your Dog's Best Friend"; and "Shih Tzu: How to Be Your Dog's Best Friend."




Lucy Pet Foundation
The Mission of The Lucy Pet Foundation is to reduce pet overpopulation and the euthanasia of over 80,000 cats and dogs per week in the United States by having mobile spay/neuter clinics across the country and to support causes that benefit animal welfare. The Lucy Pet Foundation currently has two buses that travel around Southern California focusing on spaying and neutering. These buses are state of the art surgery units. Their next focus is in generating more funds to expand the work of these buses and have more across the country.

The Lucy Pet Foundation not only offers free and reduced spays and neuters, they also do microchipping, vaccines and de-wormings. Spaying and neutering is not only great for pet population control, but it has been proven that an animal will live on an average of 40-percent longer after having this surgery.
Free Spay & Neuter for Los Angeles City Residents! Here is a list of upcoming free or reduced fee mobile spay and neuter clinics in California:
November 12: Superior Store, 3480 S. La Brea, Los Angeles, CA Spay/Neuter APPOINTMENT ONLY; Vaccine Clinic 10:00am-2:00pm
November 15: Food 4 Less, 1748 West Jefferson Blvd., Los Angeles, CA Spay/Neuter APPOINTMENT ONLY; Vaccine Clinic 10:00am-2:00pm
November 16: Food 4 Less, 5100 N. Figueroa St., Los Angeles, CA Spay/Neuter APPOINTMENT ONLY; Vaccine Clinic 10:00am-2:00pm
November 18: Vallarta Supermarket, 19725 Vanowen St., Winnetka, CA Spay/Neuter APPOINTMENT ONLY; Vaccine Clinic 10:00am-2:00pm
November 19: Vallarta Supermarket, 10175 N. San Fernando Rd., Pacoima, CA Spay/Neuter APPOINTMENT ONLY; Vaccine Clinic 10:00am-2:00pm
November 21: East Valley Shelter, 14409 Vanowen St., Van Nuys, CA Spay/Neuter APPOINTMENT ONLY; Vaccine Clinic 10:00am-2:00pm
November 22: Superior Store, 133 West Avenue 45, Los Angeles, CA Spay/Neuter APPOINTMENT ONLY; Vaccine Clinic 10:00am-2:00pm
November 26: Superior Store, 10211 Avalon Blvd., Los Angeles, CA Spay/Neuter APPOINTMENT ONLY; Vaccine Clinic 10:00am-2:00pm
November 29: West Valley Shelter, 20655 Plummer Street, Chatsworth, CA Spay/Neuter APPOINTMENT ONLY; Vaccine Clinic 10:00am-2:00pm
November 30: Superior Store, 9801 Laurel Canyon Blvd., Pacoima, CA Spay/Neuter APPOINTMENT ONLY; Vaccine Clinic 10:00am-2:00p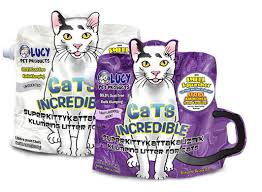 County and City Vouchers accepted. But remember, you must get on a list to have your pet seen at these locations. Please call The Lucy Pet Foundation toll free at 1-855-499-5829 or Visit Website to schedule an appointment, or register at the events.
Lucy Pet Products, Inc. is a family owned and operated company based in Thousand Oaks, California. Lucy Pet Products are "Products With a Cause." Part of the proceeds from the sales of Lucy Pet Products are used to help fund The Lucy Pet Foundation. Their products can be found in pet specialty stores across the USA and are exported worldwide, or Visit Website.




5 Ways Pets Serve In The Military
Robert Semrow, Animal Radio Listomania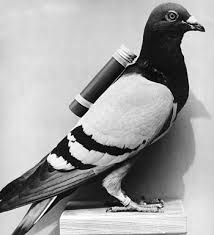 Veterans Day is upon us and I want to take a minute to thank each and every veteran, their families and those who support their efforts. It is something that all of us should be appreciative of, and on behalf of those who don't get a chance to say to those of you listening to this, thank you for what you do, what you've done and for helping us become the nation we can be. Your sacrifice and efforts are appreciated. I also want to take a short bit of time to recognize how pets have participated and contributed to the military efforts over the years.

Birds were used for a variety of uses, most famously for sending discreet messages and the sharing of Intel. It's the story of legend, but they earned it from their efforts as messengers, traveling long distances in short periods of time. They have also been used to detect chemical attacks as well.

Horses are another beloved animal that has served and continues to serve an important role in the military. Horses have played important parts in many wars, serving as transportation as well as being a symbol of strength and dignity. They serve as ambassadors and are treated as Royal members of the guard.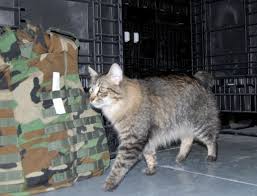 Cats have also served in our military, often being embraced for their natural instinct and ability to hunt the enemy down and capture them. In this case, the enemy is most often rodents carrying disease and causing other issues.

Still, it's no surprise to anyone that when we think of military participants, we most often think of dogs. As you review the history of dogs and the military, you will find that in nearly every American war and throughout the existence of the military, dogs have been active participants. From bomb sniffing, to security to search and rescue, you will find dogs working in the service of the military to serve and protect alongside their human counterparts. In recent years, we've all been wowed by the stories of dogs jumping out of planes and dogs working in combat zones to protect troops.

Why have dogs played such a large role in serving the military? Well, that is easy! Their sense of smell is nearly superhuman and they have the unique ability to detect the slightest variations in chemicals, foods and more. Their intelligence and willingness to be trained to perform specific tasks is also another strong reason for their use and inclusion in the military. Their willingness and dedication to their handlers has also made them unique in their resilience and capabilities.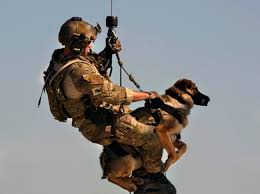 These days, more and more pets are also finding their newest calling as Posttraumatic Stress Disorder (PTSD) pets. These pets play an important role in bringing back a traumatized and/or injured veteran. The stories told by those benefiting are inspiring, heart wrenching and something we should all be aware of.

Pets are a part of our lives in ways they might not have ever imagined, including serving in the military. Their contributions and efforts have earned them praise, memorials, dedications and most importantly, gratitude.

Share your military pet stories on our Animal Radio Facebook Page.
Visit Website





Tails Inc. Pet National Events for November 2016
Janice Gork, Tails Pet Media Group, Inc.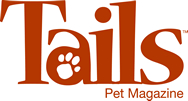 Passionate about rescue and adoption, Tails Pet Media Group, Inc. was founded in 2000 by Janice Brown. What started as a magazine, is now a mission! Tailsinc.com is an interactive website and online community committed to connecting the animal welfare community with the general pet-loving population. Tails Inc. features expert knowledge, advice, pet product reviews, local resource guides, community event news and monthly contests, in order to promote and encourage people to live responsibly with their pets.
Here is a list of upcoming November Events around the Country:
WHAT: Sip & Shop - Kick off the holiday season with good dogs, bad sweaters, and great wine - an afternoon of wine tasting, small bites, holiday shopping. Prizes will be awarded for ugliest sweater, most creative, best person/dog sweater combo and more!
WHO: Homeward Pet Adoption Center
WHEN: Saturday, November 19, 1PM-5PM
WHERE: Northwest Cellars, 11909 124th Ave NE, Kirkland, WA
COST: $25-advance; $30-door
INFO: 425.488.4444 or lindsay@homewardpet.org
Want to list your event for free? Click here. Please note that non-profit events (fundraisers, adoption events, etc.) will be listed for free and for-profit events will incur a fee. Please email the advertising team if you wish to advertise your for-profit event in their directory.
Tails has local focus, but national reach - with magazines in 10 different cities across the United States, and 150,000 issues printed per month, 12 times a year, and an ever-increasing audience of over 1 million people. Pet lovers can pick up their free magazine at pet-related businesses and vet offices, grocery stores, health clubs, bookstores, coffee shops, restaurants, libraries, park districts, and other "mainstream" locations. Currently they are in over 10,000 individual locations.
To find out where you can get a copy of your own, send an email to locations.
Visit Website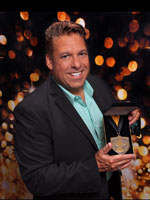 The Dogfather's Grooming Tip with Joey Villani
How To Groom A Cat
A woman who has a Persian cat recently contacted Joey Villani. Her cat was badly matted and needed grooming, but she didn't know how to go about it.
Joey explains that a cat can be difficult to groom and that a cat's temperament is going to determine what you can do at home. However, if your cat is so badly matted that the fur is hard and the matt is close to the skin, go to a professional.
Cats have extremely thin skin. Trying to clip a cat at home can be dangerous because of this. When clipping is done at a groomers, it is a process that usually takes two people. You need someone to hold the cat and keep them calm and another to stretch their skin to do a good job without injuring the cat.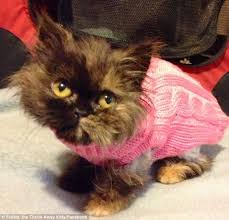 If you cat has to be clipped down, try putting a little t-shirt or sweater on them so they feel that they still have something on them. While a cat won't know exactly what happened, they will feel a little strange without their fur. Some cats will even hide after being clipped. But if they have something on them, it will make them feel more secure like they still have their fur.
To avoid all of this, brush and comb your cat weekly and you will never have a matted cat. This will also leave them with a nice, healthy coat that they will be able to maintain themselves. But if it is already matted, go to a professional and let them get it back in order so that you can then maintain it in the future.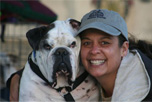 Animal Radio News - Lori Brooks
No More "Double" Handling At Dog Shows
Dog show officials in England have sparked a battle with trainers over plans to ban one of the secret techniques employed during competitions. The Kennel Club has moved to crack down on the controversial use of what's called 'double handling' due to fears that it leaves dogs feeling stressed. The technique involves a second trainer, hidden from view, attracting the attention of the performing dog by using a whistle or toy to make it look more alert and focused. The club says it will have officials sitting in the audience in an attempt to crack down on double handling. Several well known trainers say it doesn't matter, the double handling will continue as it has for the last thirty years, but maybe just won't be so obvious and over the top now.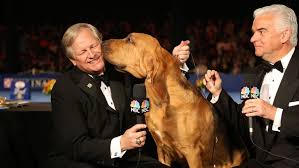 Beverly Hills Dog Show Broadcast for First Time
USA Network has announced it will broadcast the Beverly Hills Dog Show for the first time ever. The show will feature More than 1,000 dogs from more than 200 breeds, which will air on Easter Sunday of next year. One of the hosts will be the funny and familiar John O'Hurley.
Custom Made Subscription Dog Food
With dog meals including blueberries, chia seeds, human-grade chicken and basil, Ollie, another startup, is looking to freshen up the dog food industry starting in New York City with a line of custom-made subscription dog food. Of course it is all made fresh and Ollie's uses a unique algorithm to customize each order, ensuring your dog gets a balanced diet. Some of the factors it takes into consideration include weight, activity level, allergies and age. Their hope is to not only provide food dogs love but also help combat health issues like obesity and diabetes. Here's how it works, pet parents choose between two options of chicken or beef. Once the made-to-order meal is prepared, the company ships out the food weekly or bi-weekly using a subscription service. Naturally the convenience and freshness does come at a cost. For two weeks of food for small dogs, its estimated the food will cost $42 a box, medium dogs will set you back $70 and a box for large pups is $100 for two weeks worth.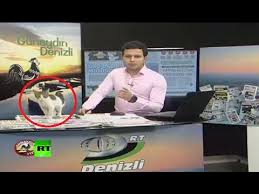 Kitten Crashes Television Studio During Live Broadcast
A kitten became an unexpected guest on a morning television program in Turkey recently after it wandered into the studio while the host was reading the news. It was quite comfortable and really stole the show when it hopped over onto a table full of newspapers. The host attempted to complete the segment as the kitten continued to crawl across the desk before settling on the keyboard of his laptop – all of this on live TV. When the show ended, a staff member fed and immediately adopted the curious kitten.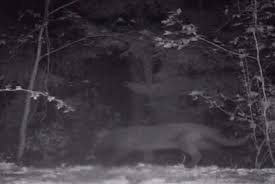 Is It a Mountain Lion or a Large Cat?
What was believed to be a mountain lion seen running through a New Jersey winery has definitely been identified as a mere large house cat. It was the winery that first shared the video of the alleged mountain lion in September. New Jersey's Department of Environmental Protection later reviewed a photo of the same animal taken by a trail cam. They said mountain lions have not existed naturally in those areas for about a century, but the grainy photo and video still left no doubt. Officials were actually quite relieved and said, "We'd much rather that it be a house cat than a mountain lion."
Catnip Festival
London's "Catnip" Festival will be coming up soon during our Thanksgiving weekend. It's a huge special event that hopes to give you the opportunity to celebrate your favorite online cat videos! The slogan for the event is pretty clever too. The festival's website states it will be, "A massive night of banging caterwauling mewsic, cat-ivities and fierce feline performers! Lets make hisstory!" It is all the idea of a guy and his friend who exchanged online cat videos as they kept in touch. They had so much fun looking for videos to top their last exchange that they wanted to share the love. Fifteen percent of profits raised will be donated to shelters. And in typical cat fashion, it's a late night event starting at 10:00pm on Nov. 25th through until 6:00am the next morning.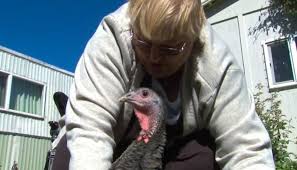 Emotional Support Turkey
A woman who lives in Washington State is trying to have her pet turkey certified as an emotional support animal. Mary Pearce got Sammi as a baby turkey and she's now six months old. Pearce uses a wheelchair and says, "A turkey can be domesticated just as well as a dog or a cat." Pearce has Lupus, which gives her chronic pain and bouts of depression, but she says having Sammi around helps her cope with her health issues. Sammi loves eating bread, enjoys taking baths and plays with her furry siblings, Pearce's pet dogs. The animal lover says, "I've never thought about having a turkey as a pet, but, now that I have her, I don't ever want to give her up." Pearce is working on getting Sammi certified as an emotional support animal, which requires a doctor's prescription. Emotional support animals differ from service animals because they do not perform tasks directly related to the individual's disability and federal laws protecting the use of service animals do not cover them.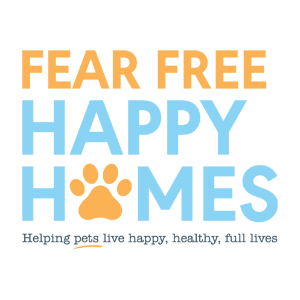 NEWS UPDATE brought to you by Fear Free. "Take the 'pet' out of 'petrified'" and get pets back for veterinary visits by promoting considerate approach and gentle control techniques used in calming environments.

Listen to the entire Podcast of this show (#884)