America's Got Talent Loser Wins
Doogie Horner, Some Very Interesting Cats…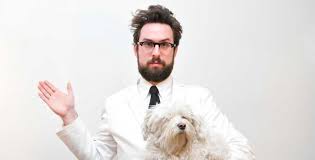 Comedian Doogie Horner was almost booed off the stage on America's Got Talent. However, he was able to turn the "boos" into cheers. He's now riding high with a brand new book featuring fictional feline stories.
In the original and funny new take on the feline species, "Some Very Interesting Cats Perhaps You Weren't Aware Of," Doogie Horner whimsically imagines their secret lives in 100 hilarious full-color illustrations, all accompanied by short, quirky stories, which will have you looking at their cats in a whole new light.
There's the alien cat, Xort, who reports back to his planet: "Have trained my humans to feed and pet me. They suspect nothing." There's the mountain climber cat, Snowball, who is planning a perilous route up the North Curtain to Mt. Bookcase. Or Mystico, the magician cat-no one could figure out how he sawed a dog in half. (The answer was simple: He didn't like dogs.) And then there's Hjalmar, the Viking cat, whose motto is: "Pillage. Plunder. Nap." Plus cool dad cat, English major cat, star-crossed lovers cat, weight lifter cat, evil twin cat, and undercover cop cat-who was embedded with the enemy so long he'd begun to like the taste of Milk-Bones.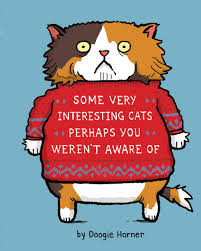 Are the stories in his book true? Doggie says some are but others aren't. You will have to see if you can tell the difference.
Doogie Horner is an author, illustrator, and comedian. His previous books are 100 Ghosts: A Gallery of Harmless Haunts and Everything Explained Through Flowcharts, and his humor writing and illustration have appeared inWired, Fast Company, Playboy, McSweeney's, The Believer, The London Times, and BoingBoing. He lives in New York City with two cats, one named "Bitey #2" (yes, there was a Bitey #1) and another named "Kitty."
http://www.doogiehorner.com





NBC's David Frei is Back
National Dog Show Presented by Purina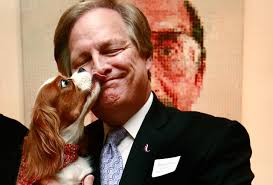 Co-host of NBC's Thanksgiving Day National Dog Show, David Frei is back to celebrate all the new breeds you'll be seeing on the worldwide TV special, along with John O'Hurley. According to John, David is the "Substance" while he is the "Style."
David Frei is a natural choice to serve as expert analyst since he is one of the most authoritative voices in the dog show world. An AKC-licensed judge who has officiated at dog shows all over the world, Frei has hosted USA Network's coverage of "The Westminster Kennel Club Dog Show" from Madison Square Garden since 1990. He has co-hosted "The National Dog Show presented by Purina" since its inception in 2002 and along with O'Hurley has become a Thanksgiving Day fixture in American homes.
During a holiday when everyone is fighting for control of the TV remote, the National Dog Show brings families and their pets together for two hours of man's best friend entertainment. So remember, with the fall football and dog show seasons approaching simultaneously, the stars of the Kennel Club of Philadelphia's National Dog Show would like to remind you - just in case you've forgotten: They will take all the attention they can get. Unlike football players, dogs are not terribly controversial. Dogs are just adorable, patient, law-abiding, obedient, loyal coachable, unassuming and unflinchingly at your side every step of the way.
The 14th annual National Dog Show Presented by Purina, which airs immediately after the Macy's Thanksgiving Day Parade, will spotlight seven new, AKC-recognized breeds, bringing the total to 199 breeds showcased during the show.
The seven news breeds to be introduced are: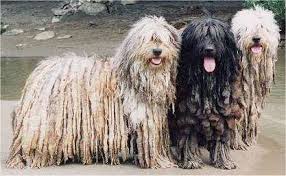 Bergamasco(Bur-ga-mass'-ko)
A sheepdog with a strong work ethic, the Bergamasco's most unique characteristic is its coat, which contains "dog hair," "goat hair" and "wool" that combine to form black or gray felt-like mats. The mats grow over the course of the dog's life, reaching the ground at approximately 6 years of age. The coat can actually smell like a sweater when it is wet. But despite its formidable appearance, the Bergamasco is really a trim, athletic sheepdog.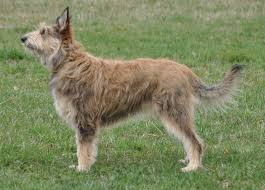 Berger Picard (Bare-Zhay-Pee-Carr)
A medium-sized, active and athletic herding dog, the Berger Picard was bred to be a working companion, enthusiastically performing its job while also responding well to training. This breed has a shaggy, wiry topcoat with a short, dense undercoat to produce a weatherproof coat that is overall rough to the touch. The Picards coat comes in shades of fawn with or without gray underlay and trim on the ears as well as brindle. Monthly brushing is necessary to prevent matting, with occasional bathing and hand-stripping of the ears to neaten.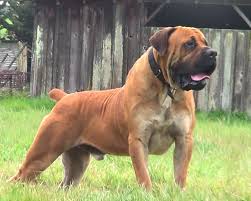 Boerboel (Bore-bul)
The Boerboel is a large dog that is strong, confident and muscular with a distinctive, blocky head. Despite its size, it is the most agile of the mastiff-type breeds. The word Boerboel means "Farm Dog" and it serves as a capable working dog as well as a loyal companion in its home country of South Africa. The skin of a Boerboel should be dark on his stomach and under his fur, as well as the roof of his mouth, which protects against heat and sun. The coat is short, dense coat can be brindle, brown, cream, reddish brown or tawny.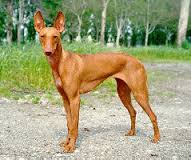 Cirneco dell' Etna (Cheer-Nec-Ko)
The Cirneco dell' Etna has been present in Sicily for over 2,500 years and shares a common origin with the Pharaoh Hound and other breeds throughout the Mediterranean basin. As a hunter of small mammals and fowl, the Cirneco is a hardy, compact dog that was successful in hunting under adverse conditions - high heat, on rugged terrain formed by volcanic lava and with little food or water over extended periods of time. The affix "dell' Etna" was only added to the name Cirneco in 1939 when the Italian Kennel Club accepted the first breed standard. Etna comes from Mount Etna, the largest active volcano in Europe, situated on the east coast of Sicily and the area with the highest concentration of Cirnechi.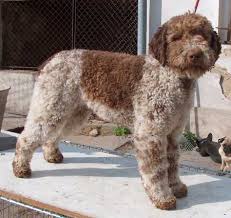 Lagotto Romagnolo (Lah-gah-to Ro-man-yo-lo)
Ancient breed of retrieving water dogs in the lowlands of Comacchio and marshlands of Ravenna, in Italy. During the centuries, the great marshlands were drained and turned into arable land. Subsequently the Lagotto changed from being a water dog to an excellent dog for searching for truffles in the flat open country and in the hills of Romagna, a job that it performs with passion and efficiency. Small to medium-sized dog, well proportioned, powerfully built, of a rustic appearance, with a dense, curly coat of woolly texture. The dog should give the impression that he has the strength and endurance to work all day in difficult and challenging terrain.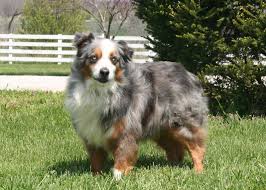 Miniature American Shepherd
Small size herding dog, developed in the United States. This is a highly versatile, energetic dog, an athlete with superior intelligence and a willingness to please those to whom he is devoted.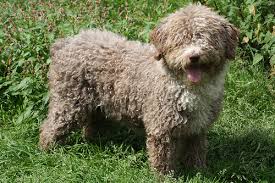 Spanish Water Dog
The Spanish Water Dog's origins are unknown and debated by many experts. What is known is that this rustic multi-purpose breed was developed in Spain many centuries ago to fulfill a variety of purposes including herding, hunting, water work and companionship. Starting in 1975, the breed was brought out from obscurity and in 1985, it was recognized by the Real Sociedad Central de Fomento de Razas Caninas en Espana.
David Frei is also the founder of Westminster's therapy dog charity, Angel On A Leash. The Angel on a Leash therapy program champions the use of therapy dogs in health care facilities, schools, rehabilitation, hospice, extended care, correctional facilities and crisis intervention. Through advocacy, education, research and service, Angel on a Leash, promotes the role of the human-animal bond in enhancing human health and quality of life.
http://www.nbc.com/national-dog-show


No More Stinky Dogs!
Lucy Pet Foundation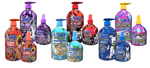 Judy Francis is responsible for washing the dogs at Animal Radio and Hal Abrams is in charge of washing the cats. Hal states that he will not put a cat in a tub of water, but he wants them to smell as good as the dogs here.
The reason the dogs smell so wonderful is because Judy is using the Lucy Pet Products. She recently used the Surfin' Jack Moisturizing Coconut Shampoo and Leave-in Conditioning Spray, which left the pooches smelling like the beach.
Because it is too hard to bathe the cats, but he still wanted them to smell good, Hal used the Surfin' Jack Moisturizing Coconut Leave-in Conditioning Spray. He was able to just spray it on the cats and brush it through. It conditions their skin and keeps them smelling like coconuts.
Judy claims that she has gotten used to the animals in the studio smelling so good, that when she pet sits other animals, she notices their smell right away. She has made it her mission to get rid of all the stinky dogs and make them smell fresh with the Lucy Pet Products!
No matter what your preference, you are sure to find your favorite from Surfin' Jack Moisturizing Coconut; Blue Lightning Blueberry ; the Big Apple Skin Soothing Apple Oatmeal; Purple Rain Calm and Clean Lavender; Tropical Freshening; and Gentle Puppy Fresh Shampoos and Leave-in Conditioners.
You can find Lucy Pet Products at Petco and your independent specialty pet retailer. And if they don't have it, ask them to carry it!
The Mission of The Lucy Pet Foundation is to reduce pet overpopulation by having mobile spay/neuter clinics across the country and to support causes that benefit animal welfare. The Lucy Pet Foundation currently has two buses that travel around Southern California focusing on spaying and neutering. These buses are state of the art surgery units. Their next focus is in generating more funds to expand the work of these buses and have more across the country.
The Lucy Pet Foundation not only offers free and reduced spays and neuters, they also do microchipping, vaccines and de-wormings. Spaying and neutering is not only great for pet population control, but it has been proven that an animal will live on an average of 40-percent longer after having this surgery.

Here is a list of upcoming free or reduced fee mobile spay and neuter clinics in California (Please call and reserve space):
November 13, 16, 23
SPAY/NEUTER CLINIC
Location: Baldwin Park, 4100 Baldwin Park Blvd., Baldwin Hills, CA
Check in 7:30am
ACCEPT COUNTY AND CITY VOUCHERS
Please call 1-855-499-5829 or Email: Info@lucypetfoundation.org to schedule an appointment.
November 18, 20
SPAY/NEUTER CLINIC
Location: Inland Valley, 865 E. Grand Ave., Pomona, CA
Check in 8:00am
Prices Vary - Please Book Surgeries
ACCEPT COUNTY AND CITY VOUCHERS
Please call 1-855-499-5829 or Email: Info@lucypetfoundation.org to schedule an appointment.
Remember, you must get on a list to have your pet seen at these locations. Please call The Lucy Pet Foundation toll free at 1-855-499-5829 or Email: Info@lucypetfoundation.org to schedule an appointment, or register at the events.
See the current list of clinics at http://www.lucypetfoundation.org.
http://www.lucypetproducts.com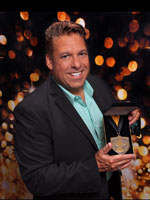 The Dogfather's Grooming Tip with Joey Villani
Don't Forget About Your Pet's Eyes
It's important to take care of your pet from head to toe. However, most people seem to forget about caring for their pet's eyes. Most pet parents make sure to get their pet's nails clipped, their coat groomed and shampooed, but the eyes are very important as well.
Joey recently received a call from a client who told him that her dog's eye has to be removed due to an infection. The infection was caused by not paying attention and doing daily care. Some dogs do secrete a lot more liquid, which some people call "eye boogers."
It is very important to remove this goop from their eyes. If you find that it has dried and is crusted, just use a warm, damp cloth and lay it over the eye. This will help to soften it so it can be easily removed. If you don't soften it, because it is caught on the skin, it can almost be like removing a scab from around your dog's eyes.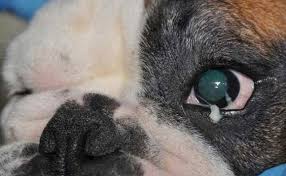 Groomers will wet the area and use eye drops and saline solution, which is very gentle. Saline solution is basically salted water that people use to clean their contact lenses. To do this, just spray it on to moisten the area. Next, just take a paper towel and run it across the corner of the eye, and it will come right off onto the towel.
Joey tells us that he checks his dogs eyes every single day - its important!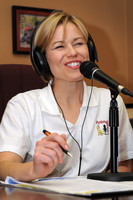 Ticks Hitchhike on City Dogs Too - Dr. Debbie
Ticks are common parasites known to infect people, pets and spread disease. Over 850 tick species exist worldwide, although fewer than a dozen species are of risk to pets in the U.S. But here in Las Vegas, pet owners often dismiss the existence of ticks with the likes of Bigfoot or the Loch Ness Monster. Think ticks are only a problem for pets that travel or visit the mountains? Think again.
The Tick Tale
Ticks are parasites known to infect mammals, reptiles and birds and feed on their host's blood. Although of tiny size, ticks ingest 200 to 600 times their weight in a blood meal.
Ticks are attracted to a host's movement, body warmth or exhaled carbon dioxide and then latch on. Through this feeding behavior they can transmit diseases to pets such as Lyme disease, Rocky Mountain spotted fever, Ehrlichia, Babesia and Tularemia. Disease transmission takes some time and may occur after 36 to 48 hours of feeding behavior.
Some ticks can live months or up to a year off its host without a feeding, so year-round prevention is important for pets at risk for continued exposure.
Battling Ticks
There are many topical tick control products available for pets. Speak with your veterinarian for an product that is effective and safe with your pet's individual health in mind. Cats are sensitive to some ingredients, may develop toxicity, and should never be treated with a product labeled only for dogs. Additionally, pet owners using multiple products on their pet should first consult with their veterinarian to ensure safe use of combined products.
In addition to topical tick control, environmental treatment with foggers, sprays or pest control service should be considered for heavy infestations. Limit tick habitat zones by maintaining landscaping, avoiding overgrown grass and keeping shrubs and plants trimmed.
Pet Screening
Perform daily tick checks during tick season. Examine your pet for ticks in areas that the parasites hang out - around the head, behind ears, armpits and between toes.

When removing a tick, avoid handling it directly. Wear gloves or handle with Kleenex since ticks can pass infections to people as well. Grasp the tick with tweezers close to the skin. Extract the tick by pulling straight out of skin. Don't squeeze, twist or leave any legs behind. Disinfect the area and dispose of ticks in rubbing alcohol.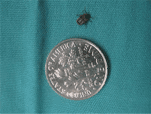 Here's a photo of a typical tick, born and bred in Las Vegas and recently extracted from one of my Shih Tzu patients named Kane. Kane never leaves the state, doesn't hike in the mountains, and enjoys the comforts of a house-dog lifestyle. A tick was discovered on Kane after a day of supervising his owner's yard work and shrub trimming.
Maybe Kane's story will be an eye-opener for city dwelling pet owners. Pet parasites like fleas, ticks and mosquitoes still lurk in that urban jungle.
Visit the Dogs & Ticks website for more information ticks, diseases and prevention.
Featured veterinarian known as "Dr. Debbie" on national pet radio program, Animal Radio. Ebook author of "Yorkshire Terriers: How to Be Your Dog's Best Friend"; "Pugs: How to Be Your Dog's Best Friend"; "Mini Schnauzers: How to Be Your Dog's Best Friend"; and "Shih Tzu: How to Be Your Dog's Best Friend."

It's a Wacky Wednesday Here at the Animal Radio® Studios
WackyWed Contest IS ON - LIKE your FAVORITE pic and the three pics with the most LIKES & SHARES are this week's winner will receive a Brushless Dog Paw Wash & Paw Wash Mitt from Paw Wash.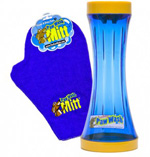 TO ENTER Send us your FUNNY pet pic to WackyWed@AnimalRadio.com - (Please put WACKYWED in the subject line & give us your pet's name, your name & where you hail from) If YOUR pic is chosen then spread the word to your friends & family on Wednesday - the pics w/the most LIKES and SHARES will be the winner!
This week we are giving away a Paw Wash and Paw Wash Mitt from Paw Wash. The Paw Wash is made of polycarbonate plastic and uses all-natural hydraulic water action to scrub away dirt and mud in seconds. This eliminates the need for messy buckets, hoses and abrasive brushes. The unique, grooved hourglass design creates a vortex of cleaning power and the squeegee top suctions liquid from the fur. It is also great to use to remove harmful ice melt and keep your dogs paws safe and healthy. It is dishwasher safe.


Join Animal Radio® on Facebook for Wacky Wednesday! Win great prizes every week for your wacky pet pictures. Last month we gave out goodies from GoFer, Absorbine Pet, Himalayan Dog Chews, Hachiko and more. Visit us on Facebook now.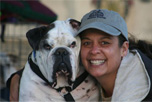 Animal Radio® News - Lori Brooks
Neurotic and Unstable Cats Might Want To Kill You
Some people think of cats as cute and cuddly, which is true in some cases, but if you ever thought your cat was anxious, insecure, suspicious or even aggressive toward you, you were probably right, according to findings from a new study in the Journal of Comparative Psychology. This new research calls cats neurotic and unstable. Researchers from the University of Edinburgh in Scotland and the Bronx Zoo in New York compared the personalities of domestic house cats to those of four different types of wildcats. To better understand feline personalities, the researchers rated a number of animals' behaviors on what psychologists call the Big Five human personality traits: Extraversion, Agreeableness, Conscientiousness, Neuroticism and Openness. House cats in this experiment were most like lions, potentially because they live in semi-social surroundings and lions are the most social of cats. The bottom line from the study, the take away? Domestic house cats have similar personality structures to African lions with high inclinations toward dominance, impulsiveness and being neurotic. One research says if domesticated house cats were bigger, they probably would consider killing you!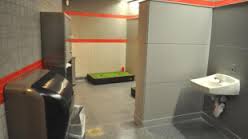 Chicago O'Hare Airport Opens Pet Potty Stations
You may not dread flying through Chicago O'Hare Airport now if you are traveling with your pet as the airport is opening an indoor bathroom for animals! The room is in the Rotunda area of Terminal 3 and is designed to accommodate passengers traveling with service animals or pets and is complete with artificial grass, miniature fire hydrants and a pop-up sprinkler system to wash away urine. The room, which has a door with a glass pane that opens and closes automatically, will have two, 2-foot-by-4-foot pet relief areas. The room is also wheelchair accessible and includes two sinks for passenger use. Of course, like most airports, Chicago O'Hare, one of the worlds largest airports, also has 3 outdoor relief areas that have real grass, gravel or wood chips, are fenced in and have plastic bags and garbage cans.
Top States Where People Are Most Likely To Dress Pets For Halloween
Here is the list of the top 10 states where people live that are most likely to dress up their dog in a costume. Number one is Virginia, where 64-percent of residents dress dogs in costumes, followed by New Jersey, Pennsylvania, South Carolina, Missouri, Ohio, New York, Wisconsin, Michigan and Oklahoma, according to the Big Heart survey.
People Who Don't Want to Vaccinate Their Children Extend Same Attitude to Pets
People who embrace the anti-vaccination movement and forego immunization for themselves or their children against certain human diseases are in some cases extending their attitude to pets. So you can be a pet or a people anti-vaxer these days. A number of veterinary clinics now say they have clients who refuse vaccination for their dogs or cats. In some cases people don't want to vaccinate their dogs because they're scared that the vaccine will harm the animal, believing the vaccine is impure and that it does more harm than good. One Canadian veterinarian says these anti-vaxer pet parents are much more into natural remedies and unscientifically proven medicine and says most of his anti-vaccination clients are city dwellers and it is less of an issue with dog owners in more rural settings.
$350 Million Spent on Pet Costumes
The National Retail Federation estimates that 20 million pet owners dressed their pets up in on Halloween this year, spending $350 million on the costumes!!! That's a total of about 15 percent of all Americans who bought costumes for their pets.
Why Are Americans Spending So Much On Their Pets?
Time Magazine says that, "Pets have more status today," and "More than nine in ten owners consider their pets to be members of their family." By the way, ebay is one of the best places for choice when it came to buying pet costumes with more than 1.5 million pet costumes for sale the week before Halloween! And their best-selling pet costumes this year were Superman, a lion, panda and Batman.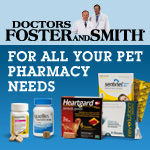 NEWS UPDATE brought to you by Drs. Foster & Smith, affordable pet supplies. Low prices every day, so you save on every order.

Listen to the entire Podcast of this show (#832)