Fox's Cause-For-Paws - An All Star Dog Spectacular
Michael Levitt, Executive Producer

There's no question that all of the TV networks are vying for the pet-owners' attention on Thanksgiving. NBC has the dog show. Animal Planet has the Puppy Bowl. The Hallmark Channel shows hours of kitties playing. And now FOX enters the fray with the Paws for Cause Spectacular. Executive Producer Michael Levitt breaks exclusive news about the star-studded special featuring Hilary Swank, Jane Lynch and Betty White.
Michael Levitt and actress, producer and animal advocate Hilary Swank partner with FOX to bring viewers a television first this Thanksgiving! "Fox's Cause For Paws - An All Star Dog Spectacular," a one-of-a-kind event celebrating man's best friend, airs Thanksgiving night, Thursday, Nov. 27 (8:00-10:00 PM ET/PT) on FOX.
Hilary Swank will be co-hosting the show with Jane Lynch, and throughout the special, other celebrities will introduce the audience to rescue dogs, giving viewers the opportunity to foster or adopt a new best friend. Among the celebrities scheduled to participate are Scarlett Johansson, Josh Duhamel, Miranda Lambert, Kristen Bell, Fergie, Paula Abdul, Betty White, LeAnn Rimes, Kesha and Carrie Ann Inaba.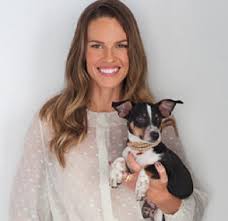 Michael Levitt is a producer of live event television, such as award shows and reality shows, but in his personal life, he happens to be a big dog rescuer. Michael rescued a dog in 20l1 when his sister was dying of cancer, and there is the saying, "Who rescued who?" which he definitely learned firsthand with this dog. His rescued dog, named Trooper, a Pit Bull, is the greatest ambassador for the breed. He also rescued a second dog, named Nelson, who's a Boxer/Pit mix and was a stray in New York City. Michael was in California at the time and kept in touch with the rescue that had Nelson. Six months later, Michael went to New York to meet Nelson, and that was it! Two days later Nelson came home with him to be a part of his family.
These two dogs inspired Michael to get into rescuing. As a rescuer, you are saving one dog at a time, but as a television producer, he knew that he could do so much more to come up with something that would have a massive impact on a national level.
During the show, viewers will be provided with information regarding adoptable animals in their local areas. Additionally, the special will give viewers the opportunity to make donations to raise funds for rescue organizations throughout the U.S. It also will promote awareness of many dog-related issues and topics to encourage people to choose to adopt one of the more than eight million rescue animals currently in the U.S. shelter system, patiently waiting to become part of a loving family in a forever home. With millions of dogs left behind in animal shelters nationally, your new best friend could be waiting for you!
The special will include awards and celebrity presentations showcasing a variety of canine categories, including Cutest Puppy, Best Celebrity/Dog Lookalike, Guiltiest Dog, Best Licker, Smartest Dog and Best Viral Dog Video.
https://www.facebook.com/FOXTV




Best In Show
David Frei, Angel On A Leash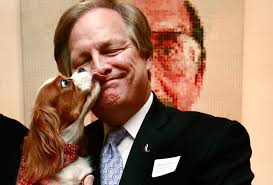 Its time again for our yearly rendezvous with the co-hosts of the National Dog Show on NBC. Thanksgiving tradition for 20 million pet-lovers now includes this celebration of man's best friend. David Frei joins us live from the streets of Manhattan.
David Frei will be co-hosting the National Dog Show Presented by Purina on Thanksgiving Day, along with John O'Hurley. David and John have been hosing this for many years, with David stating that they are, "Like an old married couple!" John is the funny guy with David being the more serious one and keeping them both on track.
The annual NBC Thanksgiving Day broadcast is set for November 27 on NBC, immediately following the Macy's Thanksgiving Day Parade. A total audience of some 20 million viewers is expected to watch the broadcast, from noon-2 p.m. in all time zones. There will be 1,500 - 1,700 dogs from 180-plus breeds at America's second-oldest show.
Dogs start off by competing by breed level, with one chosen as Best of Breed. For example, an Irish Setter (sporting group) may be chosen as best of breed, which will then go on and compete with other breeds winners in the sporting group. The winner of each group (toy, sporting, non-sporting, hound, working, terrier and herding) will go into the final round with one being selected as Best In Show.
There are also two new breeds, which will be added this year, the Wirehaired Vizsla and the Coton deCulear. These are not necessarily new breeds, with most breeds being added to the dog show having been around 100's of years. It's just that they are newly recognized by the American Kennel Club (AKC) and thus eligible to be in this show.
Wirehaired Vizsla (Sporting) - Originating in Hungary, the Wirehaired Vizsla was developed by hunters and falconers who desired a sturdy, versatile hunting dog able to withstand harsh winters whether in fields, forests and waters. The Wirehaired Vizsla is a distinguished, versatile hunting dog of medium size, bred for substance and a dense wire coat. Balanced in size and proportion, the Wirehaired Vizsla is robust and lean and its movement is powerful yet graceful with far reaching drive enabling the breed to hunt in all elements and cover any terrain encountered by the walking hunter. This natural point and retrieve breed possesses an excellent nose for hunting and tracking feather and fur on land and in water. The breed's most distinguishing features are its weather resistant dense wire coat and its facial furnishings, specifically its beard and eyebrows.
Coton deCulear (Non-Sporting) - Developed by natural selection in Madagascar, the Coton's "cottony texture" of the white coat, rectangular silhouette and convex topline define the breed. Intelligent, quirky and clown-like, Cotons quickly became a favorite of the island's aristocracy, who proclaimed them, "The Royal Dog of Madagascar." With long flowing coats in the show ring, family pets are often kept in "easy care" short
To be recognized by the AKC, there has to be an accurate number of the breed in this country even though they might be highly recognized in another country. They also have to have a good geographic distribution. This means that they can't all be living on a farm in Michigan. They also have to have a parent cub that's advocating for them, like the Chinook Club of America that helps write their breed standards against which they are judged, and helps to make sure that they are breeding true to type.
David Frei is America's foremost expert on all things canine as Director of Communications for the Westminster Kennel Club and expert analyst for the National Dog Show Presented by Purina on NBC. He is also the founder of Westminster's therapy dog charity, "Angel On A Leash," which has a simple goal: to create the best therapy dog programs in health care facilities and other settings across the country. http://www.angelonaleash.org
http://www.nbc.com/national-dog-show
4th Annual Pet Photo Contest
Steve Pinetti, Kimpton Hotels & Restaurants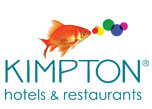 Kimpton has a collection of 62 boutique hotels and restaurants across the US and a reputation for friendly service and great design. Among pet lovers, they're also known for taking pet-friendliness to an extreme.
Kimpton rolls out the "Grass Carpet" to our pets and provides pet amenities such as plush beds, bowls, placemats, toys, and treats all free of charge. They also supply the guests with concierge recommendations on pet-friendly parks and businesses in the area.
Steve Pinetti tells us that the first time you stay in one of the Kimpton Hotels, you are a guest. But the next time you come back, you are family! They extend this same emotion to your pet.
Kimpton has never charged extra fees for pets. There is no weight or size restrictions or limit to how many pets you can bring with you as well. And if you don't have a pet, you can take advantage of their "Guppy Love" program where they will bring you a complimentary goldfish to have in your room during your stay. Surprisingly, about a third of the people who ask for a goldfish are not pet owners. Having a goldfish in their room just seems to have a calming affect on them.
While dogs are about 75-percent of the animals they see at Kimpton Hotels, they've also seen their fair share of cats, birds, ferrets, rabbits and fish to name a few. Once, they even had Animal Planet stay at their Hotel Triton in San Francisco with two iguanas and a small monkey. There was also another time where they had two pythons that checked in and fortunately they had two pythons that checked out!

On November 17, they are rolling out Kimpton's 4th Annual Pet Photo Contest and Animal Radio is honored to help choose the Grand Prize winner. When they rolled it out four years ago, they thought it'd be a fun little way for their guests to show off their pets and they'd get a hundred entries or so. To their surprise, about 3,000 enter the contest each year - dogs, cats, chickens, bunnies, turtles, lizards, even a baby calf has entered - it was amazing!
The contest runs for exactly two weeks from November 17-30. Just upload a photo of your pet on their contest page at KimptonHotels.com/petcontest. Or you can upload a photo on Twitter or Instagram using #kimtponpetcontest2014. Last year's winner was Raven, a Rottweiler from Massillon, Ohio.
Once uploaded, the public votes by "Liking" their favorites. The five entries with the most "Likes" by November 30th will win great prizes from Kimpton's partners like Olive Green Dog, Polka Dog Bakery, Bergan, PawstoClick, and FIDO Friendly Magazine.
From those five, Animal Radio has hard part where we will pick one Grand Prize winner to win the "Ultimate hosPETality Getaway" including a 3-night stay at any Kimpton Hotel, airline tickets for two on Jet Blue, and more. Just go to KimptonHotels.com or call 1-800-KIMPTON
http://www.kimptonhotels.com/petcontest
"HERO PEOPLE OF THE WEEK" - Mary Fayet "Free To A Good Home"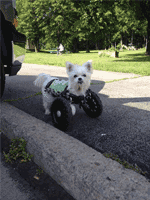 This week's Zeuterin Hero Person is Mary Fayet. She's admits to being a "Foster Failure" and has a home filled with infirmed and elderly animals. So it's no surprise that her dog, Lexi, has no use of her front legs and gets around with a wheel attachment.
Lexi was born with deformed front legs, which just didn't grow or develop properly. Other than that, she is perfectly healthy. At 3 months she was posted on Craigslist, "Free to Good Home."
Mary Fayet has been a Foster Mom with Posh Pets Rescue since 2005 and she reached out to the owners stating she would take her in. She told the family she had experience with dogs with disabilities and they relinquished her. As soon as Mary got Lexi to the car, she knew she was adopting her. Lexi is one of her quickest foster fails!
A dog like Lexi is nothing new to Mary. She and her husband have been taking in small dogs that are geriatric, are in hospice or have neurological problems. Mary said that there are tends of thousands of people out there for puppies, but she doesn't have the energy for puppies anymore. She states, "Give me your old, your slow ones, and I'm really good to go!"
Lexi was a typical puppy. She got into the typical stuff, such as chewing, but she got around by hopping like a rabbit. At 7 months she was at the age where Mary could order her cart. The first day she was very unsure. After that day and a few rollovers she learned very quickly ad now "owns it!"
Mary takes Lexi to work with her and said it normally takes her about 10 minutes to get from her office to her bus stop. But when she has Lexi, it takes her about 30 minutes or more. This is not because Lexi is slow, it is because of all of the attention she receives. People stop her and want to take their picture with her and tell Mary stories about their own childhood pets. Lexi has become so popular, she even has her own Facebook page.
Currently Mary is fostering several dogs for Posh Pets Rescue. Along with Lexi, Mary has Bromley, a Pomeranian, who is about 15 years old and has a Stage 5 Heart Murmur; Gabe, a 3-year-old Chihuahua who is blind, has damaged vocal chords and can't walk as a result of being stomped on at the age of four-days-old; and Pumpkin, a Chihuahua who had a broken back and was found on the streets of Brooklyn, New York.
Posh Pets Rescue is dedicated to the rescue, rehabilitation and placement of homeless animals, many of who are rescued at the very last moment from euthanasia at the city shelters. They provide safe haven to all those who find their way to them through whatever circumstance, whether abandoned, injured or neglected. No matter the breed, health or age, they believe that all should live secure, healthy lives and they work tirelessly in their attempts to find the right homes with people who will love their pets for a lifetime. Posh Pets Rescue does not have a shelter, but relies solely on a network of foster homes. They receive no public funding and count on the generosity of fellow animal lovers to help defray their costs, which include vet bills and other medical expenses for the many animals who come to them sick or in need of special care, as well as food, supplies and other items needed for the safety and comfort of their rescues. To learn how you can help, please visit PoshRescue.org.
Thinking Globally. Acting Locally. Do you know someone that should be nominated for our Hero Person of the Week? Send us an email to: YourVoice@AnimalRadio.com.

Animal Radio's HERO PEOPLE is brought to you by Zeuterin a safe, permanent and virtually painless alternative to surgical castration.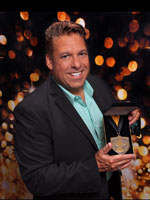 The Dogfather's Grooming Tip with Joey Villani
Dealing With Foxtails and Burs
You may have noticed a few more foxtails and burs this year clinging to your pets fur.
These can create a lot of matting, especially in your dog's ears and on his tail. Some of these can be hard to get out, and may require that your dog be shaved.
Foxtails and burs can also get caught in your dog's pads of his feet and can cause irritation. This can trigger your dog to chew on his feet leading to possible infection.
If you're a dog owner that likes to take your dog out into the woods, or in grassy fields, make sure that you check your dog thoroughly when you get home. Check their ears, check their tail and check the inside of the pads of their feet.
If you take your dog to a groomer, make sure you let them know that your dog frequently picks up burs and have them check your dog thoroughly. The groomer may actually remove the hair on your dog's feet if necessary to get them out, or even leave the coat in their for protection. Either way, they will have to go in there and remove them.

With brushing and combing you can get them out, but whatever you do, don't leave them there for any length of time. This will create more knots, more matting and also possible irritation.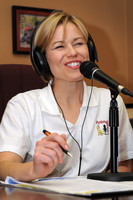 E-Cigarette Toxicity in Pets -Dr. Debbie
Think that vapor cigarettes (a.k.a. electric cigarettes or e-cigarettes) are a healthier alternative to traditional cigarettes? The vapor habit might be better for you and decrease your pet's exposure to second hand smoke, but can increase the chance of a pet's toxic ingestion of nicotine. A recent story from England told of the tragic death of a puppy that died after chewing on an e- liquid container.
Ivy was a 14 week on Staffordshire Bull Terrier that chewed on her owner's bottle of e-liquid used to refill the electric cigarettes. Within 30 seconds of nibbling on the container, she fell sick with vomiting and disorientation and was rushed to a veterinary office. Sadly Ivy died within 24 hours due to heart and respiratory failure.
What's in e-liquid?
The ingredients in e-liquid vary but include carriers such as propylene glycol, polyethylene Glycol 400 and vegetable glycerin, as well as flavoring agents and nicotine. The amount of nicotine in e-liquid varies with some products not containing any nicotine, to others ranging from 18 mg/ml to 100mg/ml.
How toxic is nicotine?
The toxic dose of nicotine for pets is 0.5 to 1mg per pound of body weight. The fatal dose is 4mg per pound. So if you consider a 20 pound dog, toxicity would occur if 10mg were ingested, and the pet would die if 80mg were ingested. Therefore with the high nicotine levels in e-liquid, it wont take much to reach those fatal levels. That hypothetical 20 pound dog could die from less than 1ml of the highest potency liquid nicotine.
Pets likewise can develop toxicity if other sources of nicotine are ingested such as cigarettes, chewing tobacco, nicotine gum, or nicotine nasal sprays. The typical amounts of nicotine in these products are: Cigarette 9-30 mg; Nicotine gum 2 - 4 mg per pieces; and Nicotine patches 8.3 - 114 mg.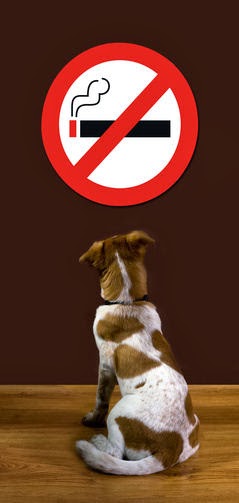 Even cigarette butts can be toxic if enough are ingested- cigarette butts retain 25% of the nicotine in the original cigarette.
What are symptoms of nicotine poisoning?
Symptoms usually develop within one hour of ingestion. Pets may display excitability, rapid heart rate, drooling, vomiting, diarrhea, weakness, seizures, and coma.
How are pets treated for nicotine toxicity?
The first step is to decontaminate by inducing vomiting. Nicotine typically causes vomiting when ingested, but further decontamination is advised at the veterinary office. Other emergency care includes intravenous fluids, medications to manage elevated blood pressure and heart rate, and anti-seizure medications. Nicotine is metabolized by the liver and excreted within 16 hours after ingestion. Pets that survive the initial four hours after ingestion have a favorable chance of survival.
The vapor cigarette trend is becoming more popular world wide. It's important to recognize that nicotine is a toxin and poisonous to animals and children. Consider the e-liquid a hazardous material and store it safely in a locking cabinet, away from children and pets.
To read more about Ivy's toxicity after ingesting E-fluid go to "Dog dies after chewing e-fluid container."
Featured veterinarian known as "Dr. Debbie" on national pet radio program, Animal Radio. Ebook author of "Yorkshire Terriers: How to Be Your Dog's Best Friend"; "Pugs: How to Be Your Dog's Best Friend"; "Mini Schnauzers: How to Be Your Dog's Best Friend"; and "Shih Tzu: How to Be Your Dog's Best Friend."
It's a Wacky Wednesday Here at the Animal Radio® Studios
WackyWed Contest IS ON - LIKE your FAVORITE pic and the pic with the most LIKES & shares is the week's winner and will receive a FANTASTIC item for your dog from Kyjen.
TO ENTER Send us your FUNNY pet pic to WackyWed@AnimalRadio.com - (Please put WACKYWED in the subject line & give us your pet's name, your name & where you hail from) If YOUR pic is chosen then spread the word to your friends & family on Wednesday - the pics w/the most LIKES and SHARES will be the winner!
This week's Wacky Wednesday prize is a great item for your dog from Kyjen.
Kyjen introduces the Ginormous versions of their best-selling signature Plush Puppies. These oversized toys will keep your dog busy... even longer than before! Buying just one will bring your dog more fun than a basket full of regular single squeaker plush toys!"


Join Animal Radio® on Facebook for Wacky Wednesday! Win great prizes every week for your wacky pet pictures. Last month we gave out goodies from Dexas, Stella & Chewy's, WetNoz, Best Friend Botanicals, PetMate, West Paw Design and more. Visit us on Facebook now.





Animal Radio® News with Tammy Trujillo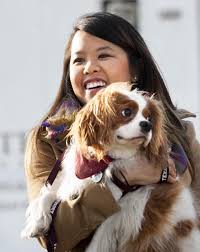 The Controversy Over Dogs And Ebola Continues
The husband of the Spanish nursing assistant who recovered from Ebola, but whose dog Excalibur was killed, says he is angry. Javier Limon says Excalibur was the son they never had and that officials never gave him a chance to argue against the decision. At least one online petition trying to save Excalibur had nearly 400,000 signatures. Meanwhile, Nina Pham, the nurse from Dallas who beat Ebola has been reunited with her King Charles Spaniel Bentley. Here in the U.S., officials have opted to quarantine any animals that may be suspect.

Misleading Pet Food Labels
After all the recent recalls of tainted pet food, tests done at Chapman University in Orange, California show that you should not trust that what's on the label of your pet's food is actually what is in the package. Researchers looked at both wet and dry, cat and dog food, and used DNA to determine what types of meat they contained. About 40-percent of them had meat that was not listed on the label. Wet food was more likely to be wrong than dry food. The ingredient that was most often present, but not listed, was pork, which is a common allergen for pets and could cause a problem for an allergic animal. The study could not determine if the mislabeling was accidental or intentional. The FDA has been told about the results.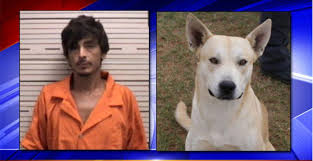 Dog Helps Police Catch Owner
There's that saying that a dog is man's best friend and in Prattville, Alabama recently, one dog turned out to be the police's best friend. Officers were serving a search warrant on a suspected meth lab. A man ran from the house followed by his dog. An officer caught up to the dog, pointed to the running man, and said 'go get him'. The dog named Bo took off with officers in tow. Bo found the man hiding in some tall grass. Officers arrested him when they saw the dog had stopped and was wagging his tail.
Track Your Pet With Your Smartphone
Over 10-million pets are lost each year and only one in ten gets back home. But a new company called Pawscout thinks it can do better. It's coming out with a new ID tag that can track a pet's location through a network of smartphones. The tags will be coming out in February and the will be partnering with the ASPCA to get them into the hands of more pet owners. Pawscout is also creating a community with a free mobile app where you can great a profile for your dog or cat and once everything is up and running early next year, it will be able to tell you where your pet is within a 250 feet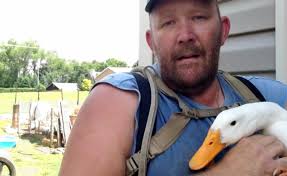 Ducks Can't Be Service Animals
An Army veteran in Ohio who says his pet ducks help him cope with PTSD has been fined for keeping them. Dan Welker has given away eight of them, but still has six and is arguing for a change in the law. He keeps them in a fenced yard, but they also come in his house. He says they really like a recliner.
Filmmaker Receives Award For Using Computerized Animals
Director Darren Aronofsky is being honored by the Humane Society of the United States for using computer-generated images instead of animals in this year's biblical flood epic "Noah." He says that it was obvious from the start that using live animals would be dangerous for them and that the easiest and most humane way to show the biblical animal kingdom that he envisioned was through visual effects. HSUS says the film shows that animals can be a large part of entertainment production without risking their welfare. Aronofsky will receive the Humane Society's inaugural Humane Filmmaker award at a benefit gala in New York later this month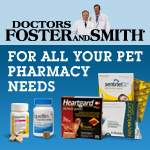 NEWS UPDATE brought to you by Drs. Foster & Smith, affordable pet supplies. Low prices every day, so you save on every order.

Listen to the entire Podcast of this show (#780)