Every Dog Deserves A Second Chance
Jon Katz, Second Chance Dog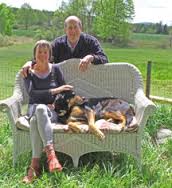 Bestselling author Jon Katz is back on Animal Radio®. A few years ago he was on top of the world. Then came the end of his 35-year marriage and he went broke. He needed a second chance. Along came Frieda, a Rottweiler-shepherd mix that also needed a second chance. Jon says "I had no idea that Frieda would enter my life and alter it in the most profound way, but that's one of the beautiful things about animals. They change you, and you almost never see it coming."
Fortunately, at the time Jon was living in upstate New York and he was looking for someone to share his life with, and the person turned out to be right across the street in one of his barns. Maria Wolf was an artist who was renting his barn at the time.
While he and Maria grew closer, Jon was having a tough time gaining her dog, Frieda's, trust. Frieda is a Rottweiler-Shepherd mix who was a junkyard dog that had been abandoned by her previous owner in the Adirondacks, where she lived on her own for three years. It took the SPCA a year to catch her, where she then lived for another year.
It was love at first sight for Maria. She thought Fried was adorable! The SPCA basically said just take her, with no forms to fill out and no home check, they just wanted her adopted!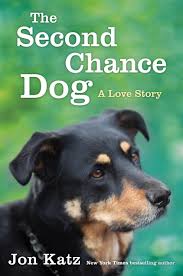 When Jon met Maria and Frieda, he compared them to Thelma & Louise, stating that they were both man-haters. Jon knew he was not going to get Maria if he didn't work things out with Frieda. Frieda was ferociously protective and barely tamed. She roared and charged at almost anyone who came near. Jon even called her the "Hell Dog." But to Maria, Frieda was sweet and loyal, her beloved guard dog and devoted friend. Armed with a singular determination, unlimited patience, and $500 worth of beef jerky, Jon refused to give up on Frieda, or on his chance with Maria.
It took about six months before Jon was actually able to get a leash on Frieda. He says it was a very challenging training experience. Frieda lived in the barn, and it was another six months before he was able to get her in the house and surprise Maria, which occurred on Christmas Eve.
Now, Frieda (meet Frieda here) has become Jon's writing dog. She sits in front of his study and guards the door. As a result, no one bothers Jon while he is writing, and now he is crazy about her! She is also the muse for his latest book, Second Chance Dog.



Marijuana Killing Animals
Elyce Kirchner, Investigative Reports NBC In San Francisco
Half-a-million marijuana plants have been recovered on US Forest Service land so far this year. It's a form of trespassing on National Parks that's abusing the land as farmland. However, it's not what they're growing but how they're growing it, that's killing wildlife, tainting water supplies and endangering hikers. NBC affiliate Elyce Kirchner reports.
Elyce tells us that there has been a lot of talk about the controversy surrounding the legalization of marijuana, but little talk about what growing it is doing to the environment. It has been found that illegal pesticides are wreaking havoc on our national parks and on federal land in California. The growers are using these pesticides to keep the animals away, without realizing what impact it is having on the environment and wildlife.
One such rare species of animal, called the Pacific Fisher, a raccoon sized animal that's on the soon-to-be endangered species list, is being impacted the most. Researchers have found of the 300 still alive in northern California, six have died from ingesting the chemicals (per the necropsy results). They estimate 86 percent of the living population has been exposed to the chemicals, meaning, there is a marijuana grow site using them in their habitat. They have also found two spotted owls have been exposed and fear the Humboldt Marten and Sierra Nevada red fox will be impacted as well. These pesticides are similar to rat poison, and are so strong, a 1/4 teaspoon can kill a lion.
Volunteers, dedicated to reclamation of the land to its natural state after marijuana grow sites have been removed, are crying out for more funding to not just eradicate the plants, but to clean up the toxins left behind that are impacting the environment.
Last year, a government task force in California spent $23 million hunting down and seizing marijuana plants on public land, but there's little funding set aside for the cleanup, which is all left for the volunteers.
Because these chemicals and pesticides are so strong, they stay in the land for a long time and we're just seeing the impact now.
Members of the Hoopa Valley Indian Tribe also fear the environmental impacts since their water supplies run close to the locations where the deadly chemicals are used, and they are no longer drinking from the river, which they did for generations.
Read more on the story.
Tinsel & Tails
Mike Ruiz , Celebrity Catwalk
Celebrity Photographer Mike Ruiz is here to talk about the Celebrity Catwalk event and what some well-known "A-list" celebs are doing to help companion animals nationwide.
Every year celebrities lend their time and talent by hitting the catwalk for charity, raising funds and awareness for National Animal Rescue. Jamie Foxx, Nicole Richie, Mya, Heather Mills and Melissa Rivers are a few of the luminaries who have hosted this fashion event which fuses the worlds of fashion and entertainment into one unforgettable evening.
This year, the Celebrity Catwalk is presenting the 2nd Annual Tinsel & Tails, a Holiday Tastetacular. Proceeds from Celebrity Catwalk go directly to non-profit organizations that work tirelessly to put a dent in those staggering statistics. With the help of today's hottest designers, stars from film and television participate as celebrity models in this highly anticipated fashion & lifestyle event.

Amateur and iconic chefs will be serving their signature dishes. Dogs and owners will enjoy Cocktails & Doggie Bags; Pup-parazzi Photos; and Holiday Themed Costume Contests. Animals available for adoption will also be in attendance.
The event will be held on December 7, 2013 from 1:00pm-4:00pm at Calumet Photo, located at 20 West 22nd Street (2nd Floor) between 5th & 6th Avenues in New York City.
One of the celebrities who will be in attendance is Photographer Mike Ruiz. Ruiz, who is of French Canadian and Filipino-Spanish ancestry, was born in Montreal in 1964. At the ripe age of 20, he moved to the states with just $300 in his pocket and a desire to be in the entertainment world. After modeling for a decade he moved to Los Angeles to study acting. He appeared in the independent film Latin Boys Go to Hell, but found the work unsatisfying and undemanding.
At the age of 28, Ruiz began in the field of photography. "I found a camera under my Christmas tree and within minutes, I was obsessed. I began shooting everything in sight."
His work has appeared in numerous American and international magazines such as Vanity Fair & Conde Nast Traveler. He photographed the album cover for Kelly Clarkson's All I Ever Wanted. He has also directed several music videos for such artists as Kelly Rowland, Kristine W, Jody Watley, Traci Lords and Shontelle.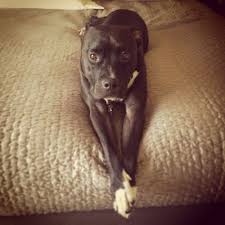 Ruiz has appeared on several reality shows, including Kathy Griffin: My Life on the D-List, America's Next Top Model, and RuPaul's Drag Race, as a celebrity photographer and guest judge. He also rounded out the panel of expert judges on the third season of Canada's Next Top Model.
Ruiz is also the proud dad of Oliver, a black rescue pit bull he adopted while in LA. Ruiz states that not only are black dogs the last to be adopted, being a black pit bull gives them little chance of ever being adopted. He says most people want a little white fluffy dog, but Oliver is so sweet, he has the heart of little white fluffy dog! Ruiz encourages people to think outside the box when looking for an animal to adopt, because you never know where you'll find that special connection.
http://www.celebritycatwalk.com



Suffering In Silence
Dr. Marty Becker, America's Veterinarian
Often when an animal is sick it goes un-noticed. Some believe that's because they can't show weakness in the wild, or they will be attacked. Animal Radio® Veterinary Correspondent Dr. Marty Becker will tell you what signs to look from problems such as dental, brain aging, metabolic, and chronic pain; how these can be diagnosed and treated; all which indicate your furr-kid is sick.
Some signs are that their activity level is not the same; their eyes might look dull; their appetite has changed; and their bathroom habits might have changed. If a dog that normally chows down his food doesn't want to eat, there's usually something wrong; if a dog that normally chases everything and loves going on walks is all of a sudden not interested in any of these things, there's usually something wrong; and if they normally have firm stools and all of a sudden their stools are soft or runny, there's usually something wrong. You don't have to be a veterinarian to notice these things.
You may also see your dog not eager to jump in the car or get up or down on the couch or bed. They may also refuse to go up or down stairs. When they walk, instead of one leg after the other, the may do a bunny hop with the back legs moving at the same time. They may also have a hard time getting into a standing position.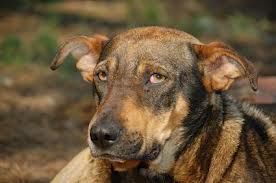 For cats, if a cat skips a meal, that is usually a pretty serious medical issue, and you should see a veterinarian right away. They have probably been hiding this for weeks and you just haven't noticed it. They may also stop using the litter box all of a sudden, because it is too painful to climb over the edge; they may also stop grooming themselves in hard to reach spots; they may also not want to get up in the window or climb the scratching post; or that may also not do their morning stretch and sharpen their claws like they normally would. Again, you don't have to be a veterinarian to notice these things.
You may also see signs in the temperaments of both cats and dogs. Your normally laid back dog might even start to growl at you or you cat will hiss. When they do this, you know they are in a lot of pain.
When you do bring these pets to the veterinarian's office, they get really anxious and they have this epinephrine surge, which masks their pain and discomfort. They will then start to walk and act normal, without any signs of discomfort. It is best during these visits that hey have little or no anxiety so your veterinarian can get an accurate account of what's happening.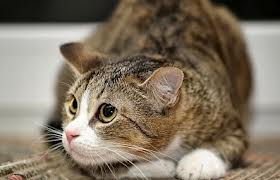 Dr. Becker tells us one case where an animal was obviously in pain, but all blood work came back normal. They then decided to do x-rays of the teeth, where they found a severely abscessed tooth.
We all know our pets, and Dr. Marty Becker is no exception. He says he can tell within 5 seconds of looking at one of his pets that they don't feel well, and you should be able to do the same with yours.
You can see Dr. Marty Becker on Good Morning America & GMA Health on ABC News Now. Dr. Becker has been practicing veterinary medicine for more than 30 years and is a best-selling author, syndicated columnist and a frequent guest on national shows. You can also find Dr. Becker on Vetstreet.com, a new animal health and lifestyle website dedicated to giving pet owners the most accurate information possible to keep their pets healthy and happy. Follow Dr. Becker on Facebook and Twitter.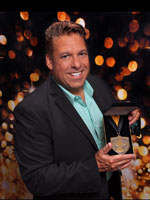 The Dogfather's Grooming Tip with Joey Villani
Lingering Affects Of Fleas
We had a rough flea season this year with many fleas. As a result, we are having a lot of lingering affect of these fleas, or what you think might be lingering fleas, but is not.
Just like people, some dogs and cats can tolerate different things. If you have an animal that is sensitive to fleas, it only takes one flea to set off a bad reaction.
The easiest way to find out if your pet has fleas is to put a white paper towel for small animals, or a large white towel for large dogs, underneath them. Spray it down with rubbing alcohol until it is pretty damp. Next, rub your hands over their coat. What will happen is that the flea dirt, which is that the droppings that fleas leave behind (which is actually dried blood) will fall. The alcohol will hydrate it and it will turn into a blood spot. You will then know whether or not your pet has fleas, even if you don't actually see them.
If you don't see any fleas and there is no flea dirt, chances are your pet doesn't have any fleas. However, the lingering affects of fleas can still cause an allergic from the saliva. Fortunately this only lasts a short period of time. However, your pet has probably been scratching, irritating their skin and making it worse. They sometimes continue with this until it becomes a bloody mess and can become infected.
Once the flea bites your pet, if they are allergic, there is not much you can do. You can take them to your veterinarian, where they will probably receive a shot of cortisone, which is the most effective. You an also discuss with them the use of Benadryl to counteract the problem. Benadryl is safe for pets with the right dosage, but please consult with your veterinarian to get the proper dosage for your pet.
If your animal is having a slight reaction to the fleas, your groomer may also have cortisone shampoo, which works very well.
Whether it is a bad or slight allergic reaction, if you don't take care of the problem, things are going to get worse and you can end up with a very large vet bill at the end of the day.

Animal Radio® News with Stacey Cohen
Cow Gas Turned Into Fuel
Argentine scientists have found a way to transform the gas created by the bovine digestive system into fuel, an innovation that could curb greenhouse gases that cause global warming. Using a system of valves and pumps, the experimental technique developed by Argentina's National Institute of Agricultural Technology (INTA) channels the digestive gases from bovine stomach cavities through a tube and into a tank. The gases, which otherwise are commonly known as burps, or "eruptos" in Spanish, are then processed to separate methane from other gasses such as carbon dioxide. Methane is the main component of natural gas, used to fuel everything from cars to power plants.
FDA To Regulate Pet Food
The Food and Drug Administration proposed rules that would govern the production of pet food and farm animal feed for the first time. The regulation would help prevent food-borne illness in both animals and people, officials at the agency said, as people can become sick from handling contaminated animal food and from touching pets that have eaten it. The proposal comes six years after the biggest pet food recall in history, when a Chinese producer contaminated dog and cat food with melamine, a compound used in plastics, causing the deaths of animals across the United States.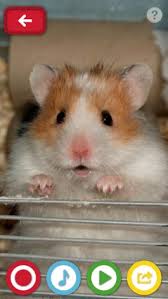 Let Your Pets Do The Holiday Cards This Year
Well its here, that time of year when you think about holiday cards. Nowadays lots of people use electronic ones, so how about your pet doing the card this year? My Talking Pet is the most downloaded app from the Apple App Store. The 99-cent program from WOBA Media lets you animate the mouths of animals and people in photos and with sound file make them talk. You can upload your own photo or choose from a gallery, speak a message into a microphone and then share it as a video greeting on Facebook or e-mail it out to friends.
Animal Awards - Dogs Are Cutest - Snakes Are Scariest!
Dolphins are smart, dogs are adorable, elephants are powerful and rattlesnakes are frightening. Those are the findings of YouGov.com's first ever "Animal Awards." Nearly a third of the respondents give dolphins the nod for brains and consider them the "most intelligent" animal. But a large percent think chimpanzees are the smartest, while dogs are taking third place. But dogs rank first for looks, with most believing our canine friends deserve the "most cute" title. Cats are landing in the number two spot, with rabbits having third place. Meanwhile, a good chunk have no desire to encounter a rattlesnake, which has been named the "scariest" animal.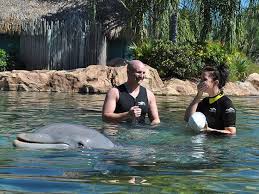 Wedding Proposal With The Help Of A Dolphin
A British man says he got a quick "yes" when he proposed to his girlfriend via a dolphin. According to Orange News, Alex Rigby planned the romantic gesture when he and his now fiancee, Debbie Preston, were recently in Florida for a family wedding. Alex fulfilled one of Debbie's dreams by taking her swimming with dolphins, and then made her even happier when he had one of the marine animals swim toward her with a buoy that said "Debbie, will you marry me?" However, the dolphin wasn't responsible for the engagement ring. Alex planted it back on the beach for Debbie to get when they returned to dry land.
Worst Flea Infestation Ever
The warm temperatures and relatively dry summer, in combination with a mild winter last year, have opened up the to a flea infestation. Dr. Cary Waterhouse of Lake Union Veterinary Clinic in Seattle said, "At a time of the year when I might see one or two flea infestations in the course of a week, I am seeing as many as six per day." Waterhouse says dogs and cats appear to be equally affected, and being indoor-only does not seem to guarantee immunity to the problem. He says in addition to environmental factors, several social factors play a role in the recent increase in flea infestations, namely more dog-dog interactions (at a daycare, dog park, or pet-friendly workplace) and multi-family dwellings (condominiums and apartment complexes with common hallways). "Fleas are even savvy enough to hitch a ride in a backpack, purse or clothing, making the 'indoor exclusive' cat at-risk as well," said Waterhouse. "The dog can easily expose the indoor cat to fleas as well, so it appears nobody is safe." Prevention of the infestation is obviously the best measure to avoid problems. Many products exist which, when used properly, can safely protect a pet from infestation. "Some over-the-counter products, in addition to being somewhat ineffective, have been linked to adverse reactions and pet deaths, so talk to a veterinarian before starting a product," said Waterhouse.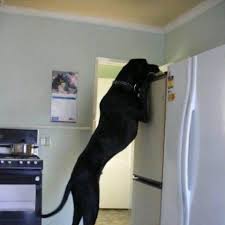 Tallest Dog Dies
Giant George, the Tucson Great Dane who had the title of the World's Tallest Dog, has died. George passed away peacefully surrounded by loved ones; one month before his eighth birthday. Guinness World Records said the 250-pound blue Great Dane was the tallest dog ever on record. He stood 3 feet, 7 inches tall from paw to shoulder.
One Year Later, Superstorm Sandy Pets Still Affected
Hundreds of pets lost or abandoned after Superstorm Sandy made landfall a year ago are living as strays or sitting in narrow kennels and cages at shelters across the country, waiting to be found or adopted, pet rescue volunteers say. Some families whose homes were decimated by the hurricane had no other alternative than to surrender their dog or cat to a nearby animal shelter, said Trish Lane, who operates the Facebook page Hurricane Sandy Lost and Found Pets from her home New Hampshire.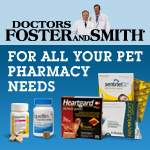 NEWS UPDATE brought to you by Drs. Foster & Smith, affordable pet supplies. Low prices every day, so you save on every order.

Listen to the entire Podcast of this show (#728)