Music For Cats
David Teie, Composer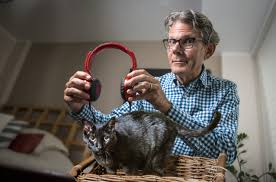 Composer David Teie created a CD containing music for cats. It was designed with specific harmonies and sounds that appeal to the feline persuasion. Surprisingly, the album is also getting rave reviews from humans that like it too. David joins us and explains the method behind his madness.
Music for Cats was born from efforts to bring real, scientifically credible music to as many members of the animal kingdom as possible. Cats were the first choice of David Teie because they're widely kept as pets, allowing him to easily share music with them.
For the last 6 years, he's operated in this pursuit with limited resources. But with the help of the funding from his Kickstarter campaign, he will be able to make his first full album.
Music For Cats started as a test of the theory of how music affects human emotions. David put some ideas together and felt he had come up with the "recipe" of how music affects us and where it comes from.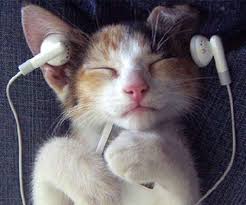 If David got his "recipe" correct, he would be able to take the ingredients that are now designed for humans and exchange the ingredients for another species.
The first test was done on monkeys, which was successful. After that, David wanted to bring the music to animals that are more common in households, so he decided on cats.
They started with categories of sounds that triggered emotions in humans like sounds we heard in the womb as our brains were developing and how we use our voices. David then tried to translate these categories for cats. What were the sounds that a cat heard as its brain was developing? All music has pulse, so David figured that a cat would relate to a suckling sound and purring.
It's hard to believe that in Music for Cats there are no natural cat sounds. Everything you hear comes from instruments. This is so a cat won't get used to the sounds and tune it out.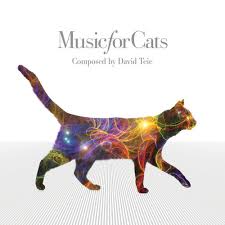 The CD Music for Cats is not only doing well with cats, but humans are enjoying it as too. This was done on purpose, because if the music was irritating to humans, they wouldn't play it for their cats. David did this by layering a low base music for humans that cats can hear but since it is below their vocal range, it doesn't mean anything to them. This music is what David calls "shared" music, which allows you to appreciate music with your cat at the same time.
Next, David states he will make music for horses and then for dogs, which he states will be very complicated because of the difference between the breeds and their connection to human voices. To do this David will collaborate with Alexandra Horowitz, because she tries to think like a dog!
David's goal is to ultimately create music for captive species around the world.




What Horses Can Teach Humans
Dr. Allan Hamilton, Lead With Your Heart
During the week, Dr. Allan Hamilton is a real-life brain surgeon. During the weekends, he spends his time with horses. Dr. Hamilton has a unique way of listening to these horses. His resulting insights translate far beyond the training ring and are relevant in boardrooms, living rooms, classrooms and even meditation rooms.
It might seem strange that a brain surgeon would be writing about horses. However, it's not strange to Neurosurgeon Allan Hamilton, who has been training horses for over thirty years. He claims training horses is his "right brain" job while his "left brain" does the neurosurgery with pinpoint accuracy.
Over the years, Dr. Hamilton has learned many things from horses that he has been able to apply to the rest of his life. He has learned that horses teach you that you are more connected to the world around you than you think. Horses are great teachers of being mindful of those connections.
When you spend a lot of time training horses, according to Dr. Hamilton, and you come up against an obstacle with a horse, the problem is almost always you!
Horses also don't have agendas like we do. For example, if you are training a horse and you are looking at your watch thinking I've only got 20 minutes to work on this or you're thinking about the horse finally getting over a jump, the horse senses that you are not really mindful of the partnership with them but that you are after something from them. What happens next is that the horse starts to sense that you are not there for them. You're not showing integrity, you are after something from them and the horse begins to think that you are turning back into that predator that always makes them so leery.
Agendas hurt relationships. They hurt relationships with our spouse, with our children and our partnerships with horses, so it is much better thinking that you have your lifetime with them and you are going to invest in that, and whether we get over that jump today, really isn't as important whether we make progress as partners.
Dogs are also a lot like horses. Dr. Hamilton tells us of an American Folklore tail about how humans developed their own separate language and started hunting down all of the animals. The creator then separated all of the animals from the humans, and the humans all of a sudden said they were sorry and made a big mistake and asked for forgiveness, and at the last minute the horse and the dog jumped over to stand next to the humans.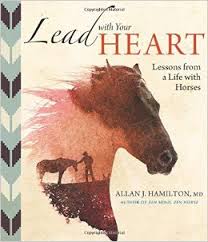 We do have these unique relationships because we grew up together with theses two domesticated species that changed our lives so much. But you have to remember that they are exquisitely tuned in to us. They are sifting through subliminal messages and body language. Dogs even have places in their brain that respond to human faces. They are very sensitive to what we are thinking and feeling.
So are humans the only species that lies? According to Dr. Hamilton, he believes we are the only species that state falsehoods, which doesn't mean we are the only species that is sneaky. For example, Dr. Hamilton's dog will see a sandwich on the counter. He will look back and forth form the sandwich to his master and won't do anything. But, as soon as Dr. Hamilton leaves the kitchen, he will try to get at it. The dog knows what he is doing, but is not deceitful.
Both horses and dogs don't have hidden agendas. For example, a horse will not lure you over just to knock your block off. They both broadcast loud and clear what they are feeling.
Dr. Hamilton has worked with kids out of the criminal justice system along with horses, and he tells the kids that there is no deceit in their relationship with the horses and that they will get out of it exactly what they put into it.
Like humans, horses yearn for harmony, kindness and tranquility. In the herd, they share values of fairness, forgiveness, leadership, partnership, kinship and trust.
Lead With You Heart will benefit you whether searching for greater spiritual depth or simply wanting to better understand your four-legged partner.
Dr. Hamilton is a busy guy. Not only does he do brain surgery and train horses, he has also served as a medical script consultant on more than 150 episodes of the hit TV Series Grey's Anatomy and four seasons with Private Practice.




Natural Flea Collars Made Out Of Wood
Norman Strohdach, Derevos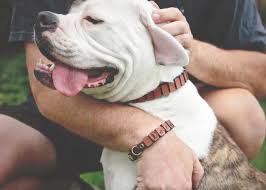 Norman Strohdach's first invention was a toilet seat for cats, of which he's sold 10,000. His current invention is a cedar wood pet collar that naturally resists fleas and other biting pests. Anyone looking for a natural solution to fleas should hear what Norman has to say.
Having a pet with fleas and ticks is no treat. Instead of putting spot-on treatments and sprays filled with dangerous chemicals on your four-legged BFF, Norman Strohdach says to protect them naturally with Derevos. His collars are made with high quality leather and beautiful cedar wood - a natural defense against insects and fungus. Plus they smell great! They are not only for dogs, but also cats and there is a human bracelet as well.
The wood they use is an Eastern Aromatic Red Cedar as well as Siberian Cedar Wood. This wood has a very distinct property of killing and repelling biting insects. So not only does it work on fleas and ticks, it also works on mosquitoes, bed bugs, virtually all biting insects except for spiders, which they hope to have a collar for soon.
Cedar wood has been used for years in closets and chests to keep moths and other bugs away from clothing and linens. Cedar is an anti-microbial wood. In fact, you can bury cedar in the ground and in 100 years pull it up and there will not be any fungi or mold on it.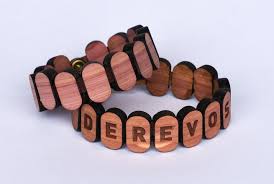 Derevos facts:
- Safe for pets and their families: Contains no harmful chemicals or poisons
- Long-lasting: Lasts two to three months
- You can also rejuvenate flea repellent by applying cedar oil to the collar
- No more plastic collars: Choose from several beautiful Eastern Aromatic Red and Siberian Cedar Wood designs
- Great for your pet and you: Derevos also offers bracelets and anklets. No more annoying mosquito bites!
To provide pets and their owners with the safest possible flea collars, Derevos just launched a Kickstarter campaign. The campaign (ends Nov 24) so you only have a few days to be the first to get your hands on this new collection along with great perks.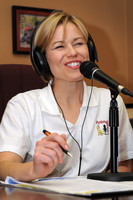 Don't Stuff Your Pet With Thanksgiving Leftovers - Dr. Debbie
Thanksgiving is all about enjoying time together - family, friends and great food. In many households the family pet may also sample a taste from the holiday table; a morsel of turkey breast for Tabby or a side of fixings for Fido. Tuned in to those enticing smells, our pets know how to manipulate us with a flutter of sad puppy dog eyes or incessant meowing.
Sharing these Thanksgiving goodies with our pets can put their health in jeopardy, but many of us do it. Over 60-percent of pet owners confess to sharing their holiday meal with their pets, but that doesn't make it wise.
Here's Why
Dogs' and cats' digestive systems thrive on a stable, consistent diet. Toss in a few leftovers and your pet will respond with a thankful tail wag, but it could leave him with gastroenteritis and leave you with vomit and diarrhea messes sprinkled about the house.
Sharing Thanksgiving leftovers can risk more than just an upset belly though. Feeding human food to our pets can trigger pancreatitis, an inflammation of the pancreas that results in release of digestive enzymes into the abdomen. Pets with pancreatitis develop vomiting, diarrhea, lack of appetite and abdominal pain, often demonstrated by a hunched abdomen. Pancreatitis is painful and life-threatening and may result in bleeding disorders or heart arrhythmias. Treatment for pancreatitis includes hospitalization, intravenous fluids, pain medications and anti-nausea medications.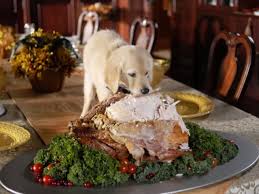 Pancreatitis risk is greatest in obese pets or those that ingest especially fatty foods like greasy meat trimmings, sauces and other rich side dishes. Be especially cautious with Schnauzers, who have an increased risk of pancreatitis due to breed predisposition.
Thinking of handing that turkey bone to your dog? Fugettaboutit! Any bones even cooked bones have the potential to splinter, damage the digestive tract, or cause an intestinal obstruction. Bone chewing also leads to damaged, chipped teeth, which may require root canal surgery or surgical removal. You are better off to just brush those pearly whites than risk tooth pain and a costly dental procedure.
If you are looking for a safer way to include your pets in the holiday cheer, have a handful of pet treats on the ready. Better to stick with snacks you are certain will agree with your pet's digestive system. But if you must look on the table for your pet's treat, offer a small amount of white turkey meat without the skin or bones. Skip the sides, sauces and deserts. And be wary foods that are toxic to pets such as raisins, grapes, onions, macadamia nuts and chocolate.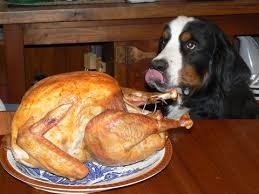 After the meal is done, do a thorough cleanup and discard the turkey bones in a secure, outdoor garbage can away from pet access. Store leftovers in the refrigerator or where pets cannot reach them. Keep on the watch for the curious pets with a nose for trouble. Pets will ingest the turkey string, foils and any items with juices dripped on them.
Being thankful for your pets doesn't mean you have to stuff them with leftovers. Veterinary clinics across the country see a surge in sick pets every year after Thanksgiving. Be informed about Thanksgiving dangers and you'll avoid that unwanted emergency room visit this holiday.
Featured veterinarian known as "Dr. Debbie" on national pet radio program, Animal Radio. Ebook author of "Yorkshire Terriers: How to Be Your Dog's Best Friend"; "Pugs: How to Be Your Dog's Best Friend"; "Mini Schnauzers: How to Be Your Dog's Best Friend"; and "Shih Tzu: How to Be Your Dog's Best Friend."




Lucy Pet Foundation
The Mission of The Lucy Pet Foundation is to reduce pet overpopulation and the euthanasia of over 80,000 cats and dogs per week in the United States by having mobile spay/neuter clinics across the country and to support causes that benefit animal welfare. The Lucy Pet Foundation currently has two buses that travel around Southern California focusing on spaying and neutering. These buses are state of the art surgery units. Their next focus is in generating more funds to expand the work of these buses and have more across the country.

The Lucy Pet Foundation not only offers free and reduced spays and neuters, they also do microchipping, vaccines and de-wormings. Spaying and neutering is not only great for pet population control, but it has been proven that an animal will live on an average of 40-percent longer after having this surgery.
Free Spay & Neuter for Los Angeles City Residents! Here is a list of upcoming free or reduced fee mobile spay and neuter clinics in California:
November 19: Vallarta Supermarket, 10175 N. San Fernando Rd., Pacoima, CA Spay/Neuter APPOINTMENT ONLY; Vaccine Clinic 10:00am-2:00pm
November 21: East Valley Shelter, 14409 Vanowen St., Van Nuys, CA Spay/Neuter APPOINTMENT ONLY; Vaccine Clinic 10:00am-2:00pm
November 22: Superior Store, 133 West Avenue 45, Los Angeles, CA Spay/Neuter APPOINTMENT ONLY; Vaccine Clinic 10:00am-2:00pm
November 26: Superior Store, 10211 Avalon Blvd., Los Angeles, CA Spay/Neuter APPOINTMENT ONLY; Vaccine Clinic 10:00am-2:00pm
November 29: West Valley Shelter, 20655 Plummer Street, Chatsworth, CA Spay/Neuter APPOINTMENT ONLY; Vaccine Clinic 10:00am-2:00pm
November 30: Superior Store, 9801 Laurel Canyon Blvd., Pacoima, CA Spay/Neuter APPOINTMENT ONLY; Vaccine Clinic 10:00am-2:00p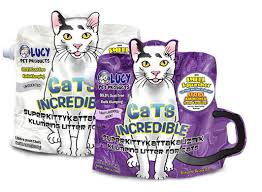 County and City Vouchers accepted. But remember, you must get on a list to have your pet seen at these locations. Please call The Lucy Pet Foundation toll free at 1-855-499-5829 or Visit Website to schedule an appointment, or register at the events.
Lucy Pet Products, Inc. is a family owned and operated company based in Thousand Oaks, California. Lucy Pet Products are "Products With a Cause." Part of the proceeds from the sales of Lucy Pet Products are used to help fund The Lucy Pet Foundation. Their products can be found in pet specialty stores across the USA and are exported worldwide, or Visit Website.




5 Things In The Pet World I'm Thankful For
Robert Semrow, Animal Radio Listomania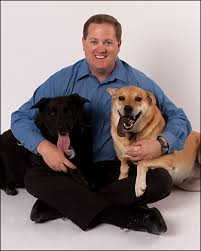 Thanksgiving is here and I find myself once again thinking about how blessed I am to be a part of the pet world. It doesn't matter if you are deeply involved in the pet world or someone who is owned by a pet, your life is fuller and richer because of it. So in honor of being thankful and acknowledging it, I'm going to share 5 things in the pet world that I'm grateful for this year.

To begin with, I am thankful to have known, loved and be loved by the wonderful pets in my own family and those I meet in public. It's truly changed my life in ways that I could have never imagined and to say it has been a blessing is an understatement. From Sugar to Zoey, to our fish, tortoises and more, our family pets have been as much a member of the family and had as big an impact on my family as anyone can. So when someone out there wants to knock me or ridicule me for saying I'm a pet parent, I say go ahead, I know I'm blessed to be a pet parent and that my family is blessed to include humans and animals. My pets taught me the true meaning of unconditional love, living in the moment and to find joy where it may otherwise not exist.

Next, I'm thankful for those who care, when there are so many to care for. I am so humbled to meet so many wonderful people who give selflessly and tirelessly to care for homeless pets and pets in need. From those with special needs to those abandoned or lost to causes that impact the wellbeing and safety of our pets - Thank you! You make a difference and it is appreciated.

I'm also grateful for advances in medicine, technology and information. The advances that we continue to see in the pet world are encouraging and inspiring. Things that may have resulted in different outcomes in the past are being overcome by the use of technology, new medicines and an open-mindedness that allows for innovation and inspiration.

I'm also thankful for those who do what they do because it's their passion. From creating charities to creating products that make a difference, the pet world is filling up with pet loving folks who are motivated by passion more than profits. They are willing to stand up and say why not, instead of accepting what is. They keep the pet world evolving for the better and I appreciate that.

I'm thankful for all of you who create, speak to, listen, read, write and share in the pet world. It is no secret that the pet world is a tremendously large community. Still, as a community we do not often receive the warmth and welcome we should. As humans, we are flawed and individualistic. As part of the pet world, may we come together and cherish what's right and not focus on what's wrong. Let's strive to make the pet world even better, safer and more enjoyable.

Last, but not least, Thank you Animal Radio, those who appear on it and those who listen to it. Thank you for being a part of my pet world family!

Share what you are grateful for on our Animal Radio Facebook Page.




Tails Inc. Pet National Events for November 2016
Janice Gork, Tails Pet Media Group, Inc.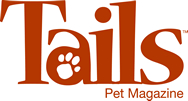 Passionate about rescue and adoption, Tails Pet Media Group, Inc. was founded in 2000 by Janice Brown. What started as a magazine, is now a mission! Tailsinc.com is an interactive website and online community committed to connecting the animal welfare community with the general pet-loving population. Tails Inc. features expert knowledge, advice, pet product reviews, local resource guides, community event news and monthly contests, in order to promote and encourage people to live responsibly with their pets.
Here is a list of upcoming November Events around the Country:
WHAT: Sip & Shop - Kick off the holiday season with good dogs, bad sweaters, and great wine - an afternoon of wine tasting, small bites, holiday shopping. Prizes will be awarded for ugliest sweater, most creative, best person/dog sweater combo and more!
WHO: Homeward Pet Adoption Center
WHEN: Saturday, November 19, 1PM-5PM
WHERE: Northwest Cellars, 11909 124th Ave NE, Kirkland, WA
COST: $25-advance; $30-door
INFO: 425.488.4444 or lindsay@homewardpet.org
Want to list your event for free? Click here. Please note that non-profit events (fundraisers, adoption events, etc.) will be listed for free and for-profit events will incur a fee. Please email the advertising team if you wish to advertise your for-profit event in their directory.
Tails has local focus, but national reach - with magazines in 10 different cities across the United States, and 150,000 issues printed per month, 12 times a year, and an ever-increasing audience of over 1 million people. Pet lovers can pick up their free magazine at pet-related businesses and vet offices, grocery stores, health clubs, bookstores, coffee shops, restaurants, libraries, park districts, and other "mainstream" locations. Currently they are in over 10,000 individual locations.
To find out where you can get a copy of your own, send an email to locations.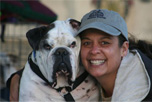 Animal Radio News - Lori Brooks
Dogs Copy Us Only If It Benefits Them
In experiments with 40 dogs who were regular pets, a team from the Canine Cognition Center at Yale found that dogs only copy a person's actions IF doing so is essential to getting what they want (this is not true of children.) When people repeatedly demonstrated actions that were useless in solving a puzzle, dogs ignored the action if there was a more efficient way to complete the task. Dogs are surprisingly human-like in their ability to learn from social cues, like pointing, so the experts were surprised to find they ignored the human demonstrator and learned how to solve the puzzle on their own. In this experiment, the researchers put dog treats inside a box. Lifting the lid was the only necessary action for getting the treat. But when researchers taught dogs to use the box, the instructors first flipped a switch on the side of the box. However, the dogs soon figured out the switch was irrelevant to getting the treat, so they stopped using it. Previously, the researchers had children watch a teacher solve a puzzle by first moving a lever and then lifting a lid to pull out a prize. Kids continued performing both actions, although the flipping the switch was irrelevant for solving the puzzle.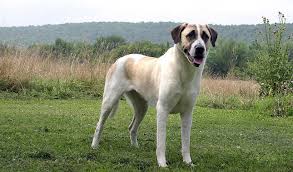 Dog Breeds That Are Most Likely To Run Away
There is an interesting list out. It's a list of the dog breeds that are most likely to escape, get out of the yard or run away. To find out if some dog breeds may be more prone to getting lost than others, Business Insider asked Whistle, a company that makes a GPS and activity-tracking dog collar, for help. Their lost-dog data comes from the Whistle app's option to start a "tracking event," a feature that helps locate lost dogs with real-time GPS signal. The breeds most likely to run away from their owners in the US, ranked by median tracking events per month is the Australian Shepherd, Bernese Mountain Dog and Standard Poodle at 0.9 time per month. A little more likely to run away at 1.2 times per month are Great Danes, Saint Bernards, Great Pyrenees, a few of the different types of Coonhounds and Pit Bull Mixes. At the second most likely to run away or get out is the Bloodhound at 1.5 times per month and the #1 dog that runs away the most is the Anatolian Shepherd, which typically escapes at just over twice a month! Note: Dogs under 10 pounds are not represented on this list because this brand of GPS collar is too big for them and little dogs fit through holes in fences much more easily.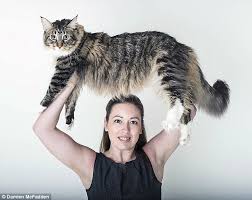 World's Longest Cat
We've all seen big cats and we talked about one that was mistaken for a mountain lion a few weeks ago, but the Guinness Book of World Records has named a nearly 4-foot long cat named Ludo the world's longest cat alive. Ludo is a Maine Coon and lives in the UK. He measure 3 feet 11 inches long, just a hair shorter than the longest cat ever that was also a Maine Coon. His owner got him as a 3-month-old kitten after seeing the breed in the Harry Potter films, but she quickly realized Ludo was larger than most other Maine Coons. His owner says because of his unusually huge size he's not as agile as most cats, and he cannot hide as easily either, so he's always easy to find.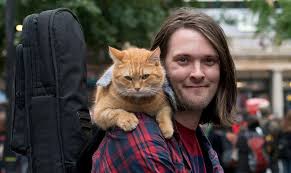 Homeless Man Turns Life Around With The Help of a Cat
"A Street Cat Named Bob" is the heartwarming true story of a stray cat that helped change the life of a London street musician. It recently premiered in London recently on the big screen. The movie is based on the best selling book of the same name and stars, "Clash of the Titans" actor Luke Treadaway as James Bowen, a recovering drug addict who ten years ago found an injured cat at the shelter where he was staying. He named the cat Bob and nursed him back to health. The two were inseparable and Bob the cat sat on his new owners shoulders as he played music on the streets for money. That was all it took. It was such a unique sight to see that it caught the attention of increasing numbers of people and led to a life turnaround and bestselling book for the formerly homeless man. While producers had several cats on hand for the shoot, Bob starred as himself.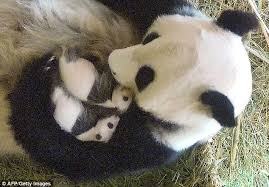 Twins Pandas Officially Named
Twin panda cubs born at the Vienna Zoo in August will be officially named at a ceremony later this month after animal lovers in an online poll picked a name for the male cub. The Austrian zoo had already chosen the name Fu Feng for the female cub and after 12,000 people voted, the male cub will be named Fu Ban, which means "happy companion." They probably felt comfortable naming the female because she is a little bit bigger, but both of the baby Giant Pandas now weigh about ten pounds each. They've come a long way after being smaller than a stick of butter when they were born three months ago. Of course, twins are rare in these animals and rarely do both of them survive so it will be a real celebration at the ceremony.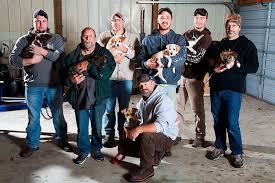 Beer Fund Turns to Puppy Food Fund At Bachelor Party
When you think of a bachelor party, rescuing puppies probably isn't the first thing that comes to mind. And, truthfully, it wasn't the plan for a group of buddies in Tennessee who were celebrating their friend's wedding either. They were all staying in a cabin in the woods and cooking some bacon when a hungry looking dog showed up at their front door. The skinny pup was friendly and too cute to resist, so they gave her some food and water. After making friends with the dog, the men noticed that she was very protective of a certain area where there was a small hole in the ground nearby. So they looked inside the hole and saw a puppy peeking out. Then, very carefully, they were able to dig out seven puppies from the den. Suddenly the men who had planned to go four-wheeling in the woods had a change of plans and their beer fund became a puppy food fund. So the eight friends each took a dog home (the mommy dog plus 7 puppies). Now all these pups live within a few miles of each other and they have loving forever homes with the guys who saved them.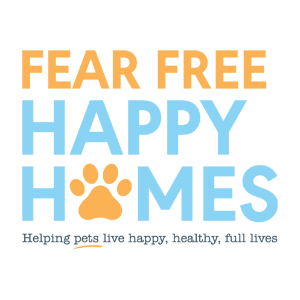 NEWS UPDATE brought to you by Fear Free. "Take the 'pet' out of 'petrified'" and get pets back for veterinary visits by promoting considerate approach and gentle control techniques used in calming environments.

Listen to the entire Podcast of this show (#885)